Keeping baby clothes organized in the nursery should be a top priority. In this article, we'll show you how to organize baby clothes in the nursery so you can have a system in place.
You'll have bodysuits, onesies, sweaters, jumpers, and cute dresses everywhere once you've unpacked the baby clothes you've been buying since you were expecting. There is still hope if you already dread these tiny outfits taking over the nursery.
We'll show you how to organize baby clothes, so everything has a place. You'll be able to store all of the baby's clothes in a closet or dresser while still having access to them.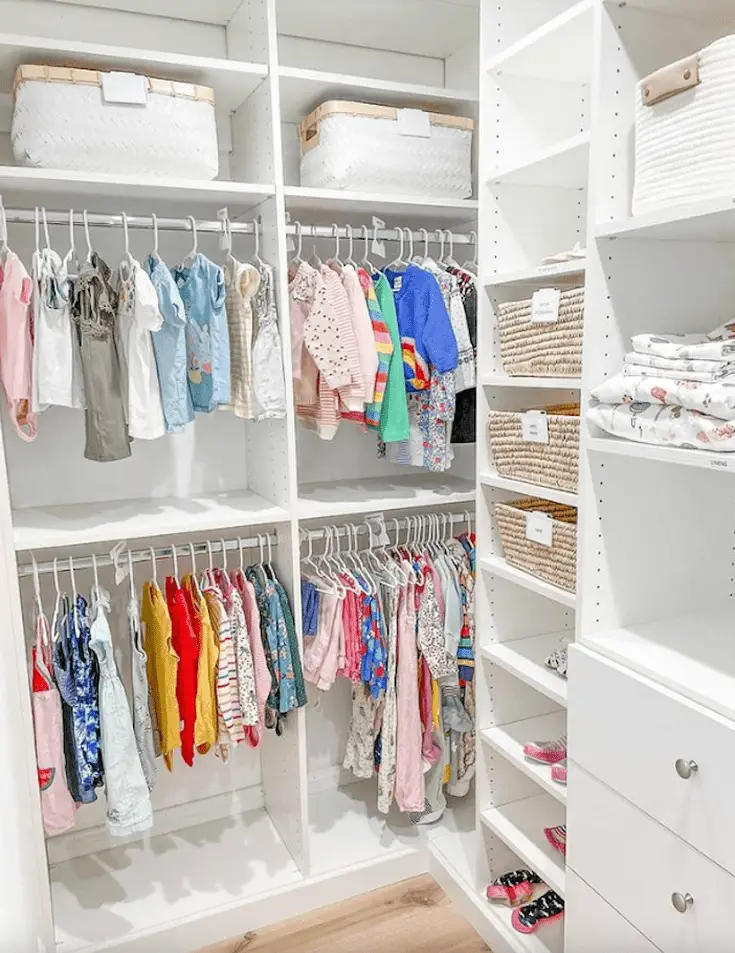 Many say organizing the nursery closet is crucial to keep those numerous garments and shoes easily accessible. Babies go through a lot of clothing every single day. Thanks to these ingenious tricks and advice for organizing baby clothes in the nursery dresser and closet, you and your child will be on the e right track. You'll also manage to save some money, time, and sanity in the process.
So if you are worried about how to organize baby clothes, use these easy techniques to bring about order and organization and simplify your life.
How to organize baby clothes?
Time sure flies! It appears that your kid was dressed in tiny baby clothes only yesterday. They may be too small for you, but you can keep them and give them to someone else later, or even use them again if you have another baby. Whether they're too small or you have clothes that are too big right now, properly storing baby clothes is critical to keeping them safe until you need them. Fortunately, it's also very simple.
How to organize baby clothes: Organizing the Clothes
Step 1:

Clean your clothes by washing and drying them. Before storing your baby's clothes, wash them well to remove any dirt or residue. Ensure they're also completely dry, so there's no excess moisture when stored. Mold or mildew could grow as a result of moisture. Taking your clothes out of storage will smell nice and fresh because you cleaned them.

Step 2:

Sort the clothes into piles based on size. Collect all your clothes in one place and begin sorting them into piles. Sort them by size so that the pants, shirts, socks, and shoes are all the same size. You can also further organize the piles by separating items like shirts and pants.

Step 3:

Terminate any items that you do not wish to keep. Take time to think about each item as you go through your clothes. Separate them into their pile if you don't want to store and keep them. You can give them away or eliminate them to make room for other items. Consider donating your unwanted clothing to a friend or family member who might need it. Donate your unwanted baby clothes to charity so they can be used by someone else!

Step 4:

Fold all the clothes to make them take up less room. Once you've sorted your clothes, begin folding them so they can be stored neatly. Then, stack the folded clothes into neat piles to save space. Stack similar items together. Fold all the pants into a pile and stack them on top of each other.
How to organize baby clothes: Packing up the Clothes
Step 1:

 Use sealable storage containers appropriate for your storage space. Determine where you want to store your clothes to assist you in determining the size of your storage containers. Choose storage containers that will fit into your chosen space and have sealable lids to keep dust out and your stored clothes safe.
For example, if you're storing clothes under a bed, you may want to use short, wide containers, whereas taller, thinner containers may be preferable if you're storing them in a closet. Look in your local department store for storage containers, also known as storage totes. They are also available for purchase online.
Step 2:

Place your clothes in vacuum storage bags for long-term storage. If you intend to keep your baby clothes for an extended period, place them in vacuum storage bags. Suck out the air from the sack according to the packaging instructions to seal it. 
Vacuum storage bags are excellent for keeping dust at bay and reducing the space your clothes take up in storage. Vacuum storage bags aren't strictly necessary, but they're convenient and effective if you plan to keep your clothes for more than a year. Shop your local department store for vacuum storage bags. They're also available on the internet.
Step 3:

Sort your clothes into the appropriate containers. Fill your storage containers with neat piles of baby clothes. Keep them organized by size so you can easily identify them when you take them out of storage. You can store items in a specific order, such as 1-3 month clothes next to 4-6 month clothes.

Step 4:

Use paper and clear packing tape to label your containers. Write or print a label for the clothes inside the storage container on paper. Stick the label somewhere visible on the container, so it's obvious what's inside. For example, you could place the label on the lid or the front of the container.

Step 5:

Close the containers' lids and store them away. Place the lid on top of the storage container after you've filled it with clothes and sealed it shut. Pack the containers in your preferred storage locations to be neat and tidy for future access. Some lids may snap or click into place. Make sure they're properly sealed!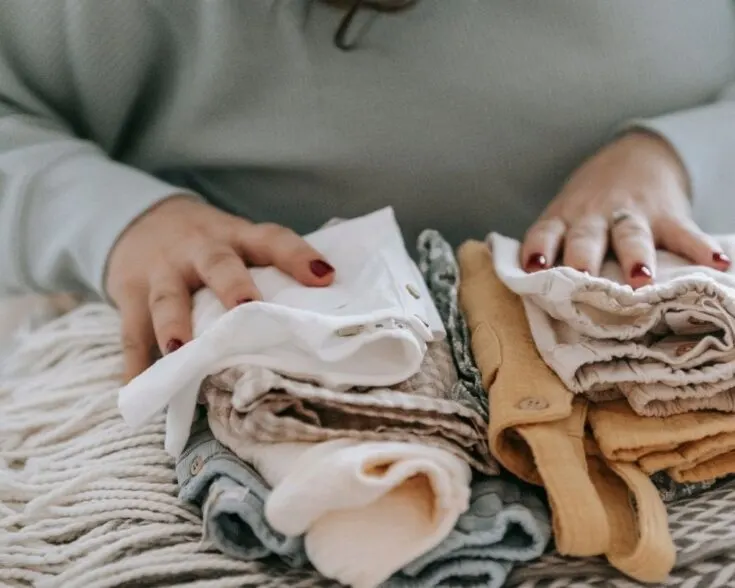 How to organize baby clothes? Some clever tips to help 
Determine What Baby Clothes To Hang Vs. Fold
It's time to sort through the baby's clothes and decide what to hang versus fold. Consider hanging dresses, matching outfits, sweaters, and jackets while folding jumpsuits, onesies, pajamas, pants, and so on. Here are some clever tips: 
Sort Baby Clothes By Categories
When sorting baby's clothes, keep like clothes together. Baby clothes will be easier to store and find if they are organized.
Baby Clothes Should Be Organized By Size
Organizing baby clothes by category makes sense, but organizing clothes by size will also be extremely beneficial. You're likely to have baby clothes in sizes ranging from 6-9 months to 9-12 months, so sort by size as well.
Designate Drawers For Each Clothing Type
A nursery dresser is one of the finest buys you can make in the nursery because it serves as both a diaper changing station and a clothing organizer. How to organize baby clothes?
Keep diaper essentials in the top drawer of the dresser and baby's clothes in the other drawers. Try to designate one or two types of clothing for each drawer. One drawer could, for example, hold onesies and pants, while the other could hold jumpsuits and pajamas.
Use Vacuum Seal Bags For Clothes Newborns Can't Use Immediately
Remember how we suggested you sort the baby clothes by size? Use vacuum seal bags or clear bins to store clothes the baby cannot wear. You'll still keep them in the nursery, possibly in the closet or under the crib, but they won't take up useful space in the drawers or on the closet rods.
Apply Drawer Dividers
Using drawer dividers, organize baby's clothes in the nursery drawers. It's an excellent way to keep the dresser organized.
Select To File Fold The Baby's Clothes
Choose to file fold the baby clothes that will go in the drawers. The notion is to "file" baby's clothes so that you can quickly locate each item. You'll also keep the drawers organized because you won't have to rummage through piles of clothes to find a specific item.
Label The Dresser Drawers
Don't forget to label the drawers in the nursery dresser! As everyone knows where each type of clothing goes, labeling makes it easier to get baby clothes out quickly and then keep the drawers organized with baby clothes.
Get Clothes Hangers For Baby
The simplest way to organize baby clothes is to hang them in a nursery closet. Use a wardrobe, hang shelves, bring a clothing rack, or mount a clothes rod to hang baby's clothes in hangers if you don't have a built-in nursery closet.
You Can Use Baby Closet Dividers
Nursery closet dividers could be the key to keeping your nursery closet organized. The purpose of closet dividers is to ensure that you can easily find what you're looking for while putting laundry away properly.
Buy Baskets
The key to making the most of small nursery closets is to maximize space and incorporate easy-to-use closet storage solutions. Of course, baskets are our preferred solution!
Include More Closet Rails
Nothing transforms the nursery closet faster and more dramatically than adding extra railings to double the hanging space. You'll be able to hang more baby clothes with ease.
Use Clothes Organizer
Using a hanging garments organizer is one of our favorite ways to organize baby clothes. This is especially beneficial for children who attend daycare. Take some time once a week to organize your baby's clothes for the week, and you'll save so much time in the mornings.
Add More Shelves Or A Cube Unit
If you're still working to fit the baby's belongings into the nursery closet, consider adding more shelves or bringing in a cube storage unit to free up space for the baby's clothes.
Storage Over The Door
Installing an over-the-door storage solution is another brilliant way to store a baby's clothes, such as socks or accessories.
Store Baby's Outgrown Clothes In Clear Bins
Your child's clothes will quickly outgrow them, and you must have a system to store them.  If you intend to save the outfits for a future sibling, simply transfer the clothes from the dresser and closet to clear bins, freeing up much-needed space. If you prefer to donate the closet, keep the clothes in a designated basket until you are ready to drop them off.
Bring A Clothes Hamper In
How to organize baby clothes? To collect dirty laundry, keep a clothes hamper near the changing station.
Include A Utility Cart
How to organize baby clothes? Consider adding a utility cart like this one to the nursery if you need more space for baby clothes.
Also Read: 7 Best Father's Day Hampers You Should Go For
How to organize baby clothes? 20 organizing ideas
How to organize baby clothes? It's difficult to believe that such small goods can take up so much room, but they do. If you don't plan ahead, your baby's nursery might quickly become overwhelmed by onesies.
We've assembled a list of 20 patterns to help you organize your baby's clothes.
In a Dresser
These organization techniques may be useful if your nursery furniture includes a dresser. Whatever the size of the piece of furniture, it can be "hacked" to store baby clothes. So, How to organize baby clothes?
Baby clothes are frequently sold in sets, such as matching bottoms and tops. However, when all the items are thrown into a large dresser drawer, it can be difficult to put together an ensemble.
How to organize baby clothes? You can use a few ornament boxes to address the problem of always searching for a matching pair! These boxes already have small squared-off pieces. Do you know what precisely fits in those boxes?
Yes, you guessed it! A set of baby clothing that matches.
Babies require a plethora of small clothing items to get through the day. Socks, bibs, caps, and even mittens are commonplace, but blankets and towels are abundantly required. How to organize baby clothes?
A large drawer can hold all of those small objects. Sort them into baskets to keep them separate. Furthermore, because baskets come in various shapes and sizes, it is simple to locate the ideal receptacle for any clothing item.
You'll never have to wonder what's in those drawers with a dresser. It's an excellent method to spruce up a worn-out dresser. Plus, when your child grows older, you may allow them to personalize it with colorful chalk.
Instead of writing the drawers' names, you may draw symbols or drawings. You can find chalkboard paint online, in most home improvement stores, and craft stores.
If you can't locate baskets or boxes that fit in your dresser drawers, you could always make your own. The dividers are made entirely of cardboard and contact paper! It's a simple craft, but it may make a big impact on the arrangement of your clothes.
Any box can be intruded on for cardboard. Furthermore, you may purchase contact paper in almost any pattern you like.
Put out-of-season clothing or items that are still too large in plastic baskets. They may be purchased online or at a store, and you can quickly hang them with command hooks.
When your baby is little, load the freezer bags with socks, onesies, and sleepers. You can then progress to swimming suits, hair accessories, and even caps as he or she matures.
People enjoy purchasing baby clothing. So you'll probably get a lot of small clothing during your pregnancy and after the baby is delivered. Savvy baby shoppers will buy various sizes to ensure your baby looks cute at all ages.
The issue arises when you cram all your garments into your closet without proper organization. It's easy to lose track of what sizes you have. So, how to organize baby clothes? That is when the plastic washing baskets will hold your soiled baby clothes. It will also make it simple to grab a basket and head to the washer.
Clothes pin or hanging rods
How to organize baby clothes? As previously stated, keeping all those shirts and bottoms together can be a big pain. Consider using the closet instead of a dresser to keep your outfits organized. Using a couple of slim bookshelves is another excellent approach to maximize storage space.
You can use the bookshelf to store small shoes or baskets of onesies and sleepers. The remaining clothing will be handled by the many hanging rods.
You don't waste any available storage space when you have a small house or a small room. These track-mounted storage baskets are an excellent way to use an unused closet door. You can keep out-of-season clothing here. They're also great for storing extra diapers. They would be simple to personalize or decorate. 
Shower curtain hooks make it simple to hang a variety of infant products. They can hold all of those tiny shoes and bibs. Even baby blankets might be threaded through them. Shower curtain hooks are available in a variety of attractive styles. You should be able to discover several that match the decor of your nursery.
On the wall
You can store clothes in places other than closets and dressers. These organizational hacks are creative!
You can use a lovely shelf or two to add extra hanging space. By attaching a dowel to a wall shelf, you can make a little closet that you can mount anywhere there is space. You can readily paint them to fit your nursery decor.
This configuration will most likely work best when clothing sizes are still small. You can afterward convert the dowel into pegs for hanging hoodies or jackets.
This one is on the door rather than the wall, but we think it counts. A hanging shoe organizer is a wonderful way to store clothing while occupying very little space. 
You could simply coordinate these clothes by the days of the week or month. Make a color pattern out of it, and your clothing storage will serve as decor! You may make a rainbow or symbolize your favorite sports team's colors.
Baskets as organizational tools are obvious, but putting them on the wall is a fresh concept. These wire baskets provide a whimsical and nostalgic touch to the nursery. Putting the baby's name with the wooden blocks truly sets the tone.
These baskets are ideal for storing pajamas or diapers. Furthermore, the added splash of color from the outfit can serve as decor.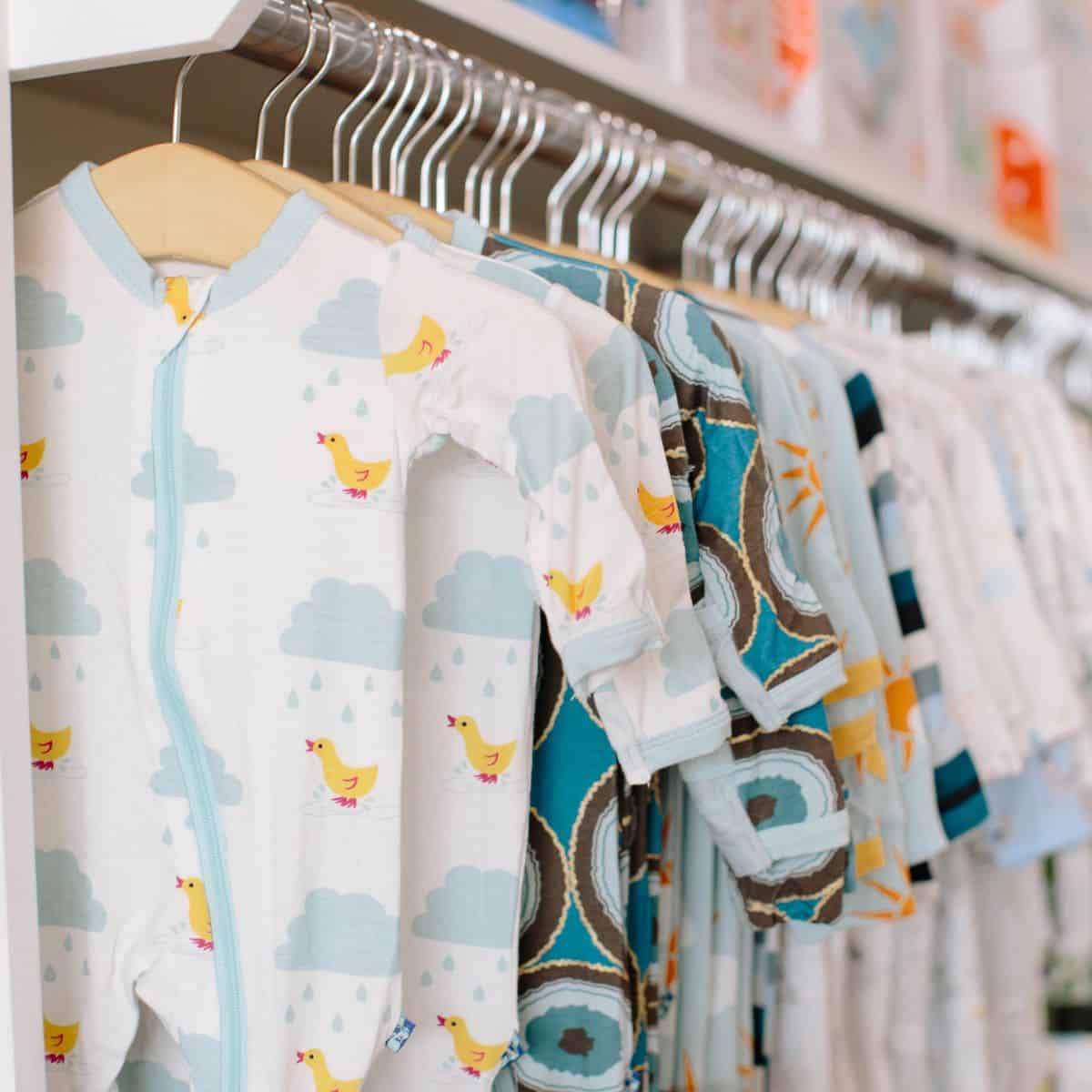 On the Floor
Cribs take relatively little floor space. That is, nevertheless, a good thing. It takes place for more clothing storage units. So, how to organize baby clothes? 
You can use a metal rolling cart for a variety of purposes. It can be used as a bar cart or to store your crafts. The nicest part, though, is using it to keep all of your child's shoes, baby blankets, and onesies!
Many companies sell rolling metal carts in a variety of various colors. There are other options available. If you can't locate a color you prefer, spray paint should suffice.
How to organize your baby's clothes? Use bookshelves! If you don't have one, you create a closet for your baby's clothes. Nothing can prevent you from organizing your nursery. And converting a bookcase into a closet is brilliant!
It should be simple to find a bookcase to hack. Visit your local store, order one online, or go yard sale shopping on the weekend. They're also simple to paint to fit your nursery's color design.
A set of plastic toy boxes is ideal for organizing baby clothes. The bins are readily labeled and may accommodate a variety of products. Furthermore, when your youngster grows, you can convert them to hold their toys.
Many companies sell a good-sized toy bin shelf with primary-colored bins. They can be found online also.
A lot of space beneath the crib may be used to store clothing. How to organize your baby's clothes?  If you're handy, you can make a bespoke drawer to fit perfectly under your baby's crib. Plastic containers or cardboard boxes are available for folks not skilled with power tools.
When your youngster is ready to move to a "big" bed, why not seek one with built-in drawers? Many companies also produce a few under-bed drawers for various bed sizes, and you can find other options elsewhere.
Takeaway 
How to organize your baby's clothes? While adorable, baby clothes can be difficult to keep organized, especially when they are little and newborns outgrow them rapidly. Don't worry if you don't know where to begin regarding keeping track of everything. Numerous storage options and organizers available on the market will leave your baby's nursery tidy and calm. 
We've gathered some of the greatest methods on how to organize baby clothes, from clothing rack dividers with size labels to an ornament box. We hope the information will help you. Even incorporating just one of these will make the entire experience less stressful.