What Does BTS Stand For- Know What Your Favorite Band Stands For
Your favorite K-pop band that keeps you entertained, ever wondered what does BTS stands for? From the Director-General of the WHO to John Cena to Papa Mochi: James Corden to their beloved fanbase, the BTS ARMY, everyone gushes over the super talented, passionate yet humble K-pop sensation BTS. Their songs have topped charts in more than 100 different countries, with their concerts selling out in less than 90 minutes, to their albums breaking record sales every single comeback season.
BTS has also been featured on the international cover of Time magazine, with a very befitting title, 'Next Generation Leaders'. If you are still thinking about what does BTS stands for, you will find on google that it stands for "Bangtan Sonyeondan", but it could have a lot of meanings that fans create, right?
Debuting in 2013, this septet consists of RM, Suga, and J-Hope who make up the rap line, and Jin, Jimin, V, and Jungkook making up the vocal line with RM leading the group. The members are all involved in the songwriting, lyric writing, and production process.
What Does BTS Stands For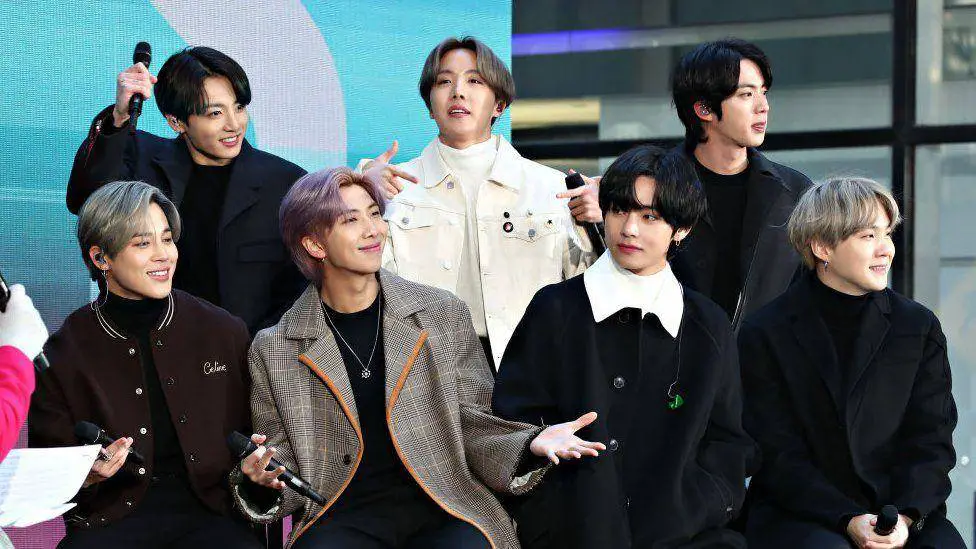 While you may know all about their handsome, charming faces, do you know what does BTS stands for? Prepare yourself for some heartwarming content.
Most people often mistake BTS to stand for 'Behind the Scenes', but in actuality, BTS(written 방탄소년단 in Korean) stands for Bangtan Sonyeondan which translates to Bulletproof Boy Scouts. In Japanese, they are known as Bōdan Shōnendan (防弾少年団), which translates similarly in meaning.
J-Hope, aka Jung Hoseok, spoke up about the group's meaning and essence:
"It has a profound meaning…' Bangtan' means to be resilient to bullets, so it means to block out stereotypes, criticisms, and expectations the society throws on us, that aim on adolescents like bullets."
When BTS refreshed to adopt another western meaning, Beyond the Scenes, the group conveyed that their name meant "growing youth BTS who is going beyond the realities they are facing, and always marching forward." BTS' entertainment agency, BigHit Entertainment (now, HYBE labels) also claimed that BTS represented youth who go against all hardships to keep moving forward – a refusal to settle for unhappiness and negativity.
If one listens to BTS music throughout their journey, it's clear what core values they preserve and holds uptight. Their lyrics focus and preach themes of mental health, loving oneself during your worst times, independence, youth, loss, dealing with toxic relationships, and more generally getting through tough times in life. Their songs also reference literature, Greek and psychological concepts even including an alternate BU(BTS Universe) storyline. Though BTS is primarily a pop band, they started as a hip hop group to evolve into a multi-genre sensation with diverse music styles. Now you clearly know what does BTS stands for, right?
However, Bangtan is about more than their beautiful written lyrics, captivating music style, or dope dance moves. It's about them managing to establish a close emotional connection with their fanbase, the BTS ARMY, which is the largest and most impactful in the world. The ARMY, another acronym that you might want to know about while talking about the band, stands for, Adorable Representative MC for Youth.
These fans share stories on how the Bangtan boys impacted their lives positively, how their music has felt like a warm hug on a lonely day and how they consider the boys to be their best friends.
The band's Korean label has also released a bunch of movies so far, all abbreviating to BTS; Burn The Stage (2018), Bring The Soul (2019), and Break The Silence (2020), each portraying an exclusive behind-the-scenes look at the band's musical journey and world tours.
In short, the name BTS has now become a symbol of hope and happiness for many, judging by their loyal fanbase, or like the ARMY would say 'BTS, aka the Boys That Save'.
There could be a lot of meaning BTS army has given them, now you know what does BTS stands for. What's your favorite?
Are you a fan of Hentai? You must know these details on Hentai too.