A Detailed Study of Earl Monroe Net Worth: All you Need to Know
"When people ask me what I miss most about the game, it's being in the locker room and getting to know the guys." – Earl Monroe
The above-mentioned quote was said by a man who is not only a rich professional but also a self-made individual. He negated the conventional way of growing up and living an ordinary life. Instead, he wrote his own fate; immersing himself in the process of self-development. Perseverance, determination, and hard work are what define him. Yes, I am talking about "Earl the Pearl", Earl Monroe, the famous American former basketball player.
The genius, self-made player earned most of his wealth by playing basketball. Currently, he has a net worth of $9 million. As people say, the more mesmerizing is how he earned the scores as a basketball player, rather than the numbers of the scores. Let's know more about him. From his early life to his career-in every phase of his life he has truly shined like a pearl.
An Overview of His Life
Born: November 21, 1944, Philadelphia, Pennsylvania
Nationality: American
Spouse: Marita Green
Children: Rodney and Maya
Early Schooling: John Bartram High School
Nickname: 'The Pearl', 'Black Jesus'
College: Winston-Salem
Career Time: 1967–1980
Career: Baltimore Bullets
New York Knicks
Estimated Net Worth: $ 9 million
Earl Monroe Net Worth: The Biography and Early Life
At present, Earl Monroe has two children- one son Rodney and one daughter Maya. He got married to Marita Green. This 76-years old talent's life journey is as amazing as his performance in the playground. He was born in Philadelphia, Pennsylvania. In his early days, as a resident of South Philadelphia, he used to spend a long time in the playground playing soccer and baseball. Yes, at that time he was more interested in these sports rather than basketball.
For his excellent self-invented moves in the playground, he has attributed the name " Thomas Edison", in his high school. He studied at John Bartram High School. Initially, by the age of 14, he gained interest in playing basketball which brought most of the Earl Monroe net worth later on. He then, throughout his youth, played at the center. At that time, he invented tricky and useful moves like the "shake-and-bake" style while playing in asphalt playgrounds.
After he graduated from John Bartram High School, he went to a college preparatory school which was affiliated with Temple University. He also worked as a shipping clerk in a factory to earn his bread and butter, while constantly focusing on his passion for playing basketball.
During that phase, he used to play at Leon Whitley's recreation center in Philadelphia. Leon Whitley, himself, was also a good player. He played at Winston-Salem Teacher College as a part of their 1953 championship team. He encouraged young Monroe to join Winston-Salem to play for coach Clarence"Big House" Gaines. In this way, Monroe started traversing on the path of becoming a successful, professional basketball player.
College Days
After his school days passed over, he shined in his college career too. He joined Winston Salem and got recognition as a professional basketball player. He played successfully at Division II Winston-Salem State University that was located at Winston-Salem in North Carolina. With the guidance of Coach Gaines, he bagged 7.1 points as a fresher. After that, he scored 23.2 points as a sophomore, 29.8 as a junior, and 41.5 points as a senior player. In between 1966-1967, he scored 1329 points in total. In this phase, he got his popular nickname of "Earl, the Pearl".
Talking in detail about his sports career at college, he rose to prominence as NCAA College Division Player of the Year honors. He led Rams to the 1967 NCAA College Division Championship and achieved a 77-74 victory over SW Missouri State in the Final. In his whole four years at Winston-Salem State University, his total acquired points are 2395 points in 110 games. He still is considered the leading scorer in the history of CIAA basketball.
When he graduated from Winston-Salem, he passed the national teaching exam as well. He participated in the 1967 PAN American Games, to be a part of the 1967 USA Basketball Team. But, his dream of representing the country was not fulfilled at that time. The committee did not select Monroe declaring his style as "too street, too playground, too black", as Earl Monroe said. So, this is how he got fame in the early days of his career. Now, let's read more to know the secret of the huge amount of Earl Monroe net worth.
How Earl Monroe Net Worth Grow: His NBA Career
After receiving much acknowledgement in his school and college career, a new phase in his professional life began. While talking about Earl Monroe net worth, it will be unjust if we do not discuss this significant phase of his life.
In his career at NBA or National Basketball Association, he played for two teams- the Baltimore Bullets and the New York Nicks. Later, he got a chance to enter the prestigious Naismith Memorial Basketball Hall of Fame.
Baltimore Bullets( 1967-1971)
He started his Baltimore career in 1967. With an average of 24.3 points per game, he won the NBA Rookie of the Year Award in a season. Later, he scored 56 points in a game against the Los Angeles Lakers which was a franchise record.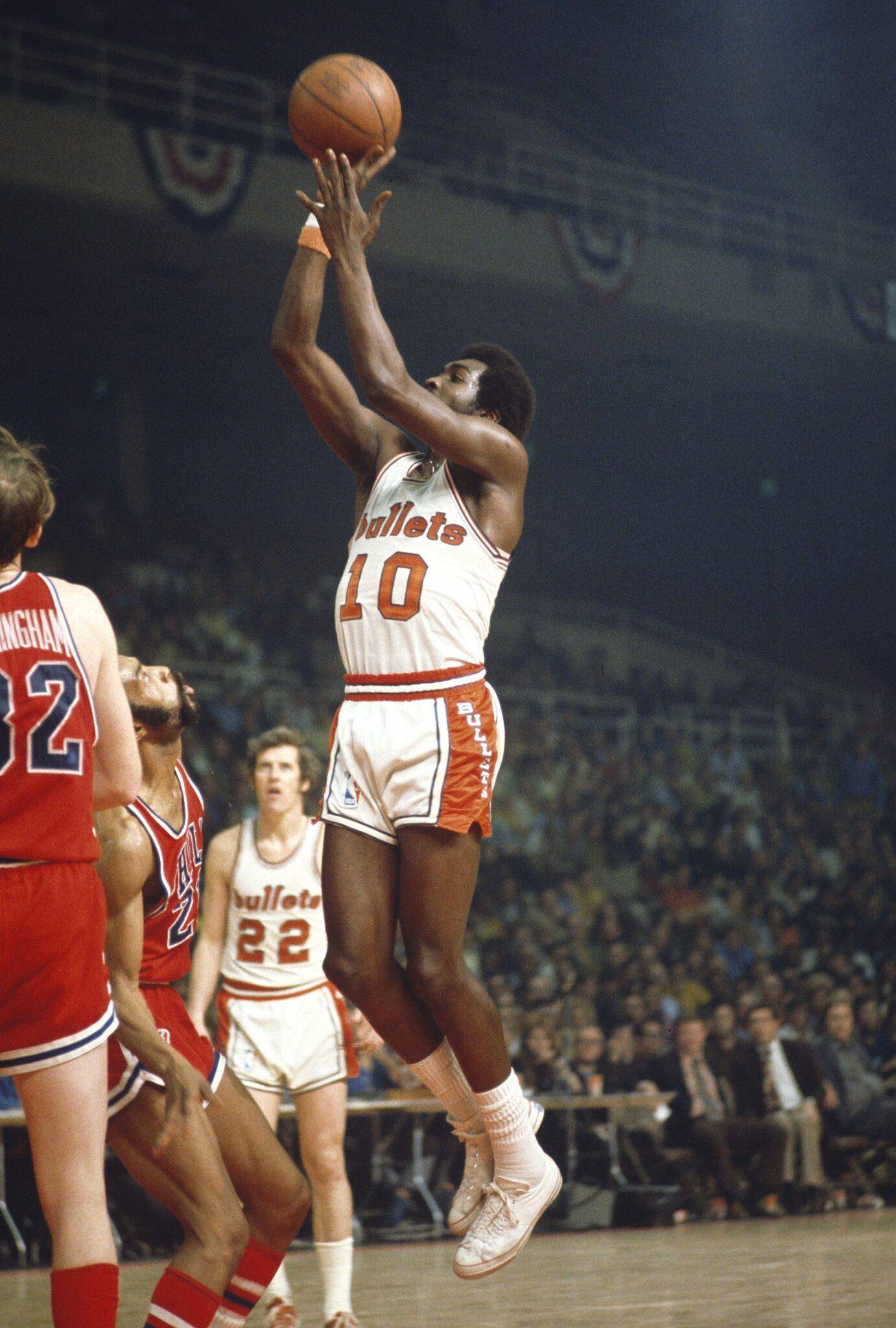 Monroe and Wes Unseld, his teammate became the deadly combination for the opponent teams. Thus, gradually Monroe emerged as a hero at the playground. In 1970, he set another record of 13 points in one overtime which led to a double-overtime victory over the Detroit Pistons, another proficient basketball team based in Detroit.
After, the legend scored more reaching a top benchmark of success. He played 328 games in total with the Baltimore Bullets and averaged 23.7 points and 4.6 assists along with 3.7 rebounds.
New York Nicks(1971-1980)
Joining the New York Nicks, Monroe formed the famous "Rolls Royce Blackcourt" with Walt Frazier, another Hall of Famer.
In 1971, he began another part of his NBA career with New York Nicks. With a lot of struggle in the initial period, he finally embraced success later on in this phase. The Monroe-Frazier pairing was so popular as it was one of the few pairs who at once showcase two Hall of Famers.
In 1971-72, Monroe scored 21.7 points in his three games with Bullets and later scored more in 60 Knick games. At that time, the Knicks reached the 1972 NBA finals, defeating the Bullets with a score of 4-2. Also, they defeated Boston Celtics at 4-1. In the final game, the Knicks was defeated by the Los Angeles Lakers.
After that, Earl Monroe played more games and averaged a high score most of the time. Overall, in 592 games in nine seasons with the Nicks, he bagged an average of 16.2 points, 3.5 assists, and 2.6 rebounds.
Earl Monroe Net Worth: The Growth
As we discussed earlier, Earl Monroe net worth largely depends on his career as a professional basketball player. Most of his wealth grew out of this. At present, he is counted among the greatest Knicks players of all time. In a nutshell, he played in a total of 926 games throughout his NBA career. And, he acquired a total of 17, 454 points with 3594 assists.
In his complete career, the average point is 18.8 along with 3.9 assists and 3.0 rebounds. Moreover, he also signed an endorsement deal with Jordache for a signature line of basketball sneakers. The sneakers portray his nickname"pearl" near the heels. Later, he also published a book, with the title of "Earl, the Pearl". Overall, currently, Earl Monroe net worth is $9 million.
Bottom the Line
"If for any reason someone were to remember me, I hope they will remember me as a person who could play the game and excite the fans and excite himself." That's how Vernon Earl Monroe defines his success. Here is everything about Earl Monroe net worth. I Hope the write-up has enriched you with some essential knowledge. You can read another interesting article on Sundar Pichai's net worth here.