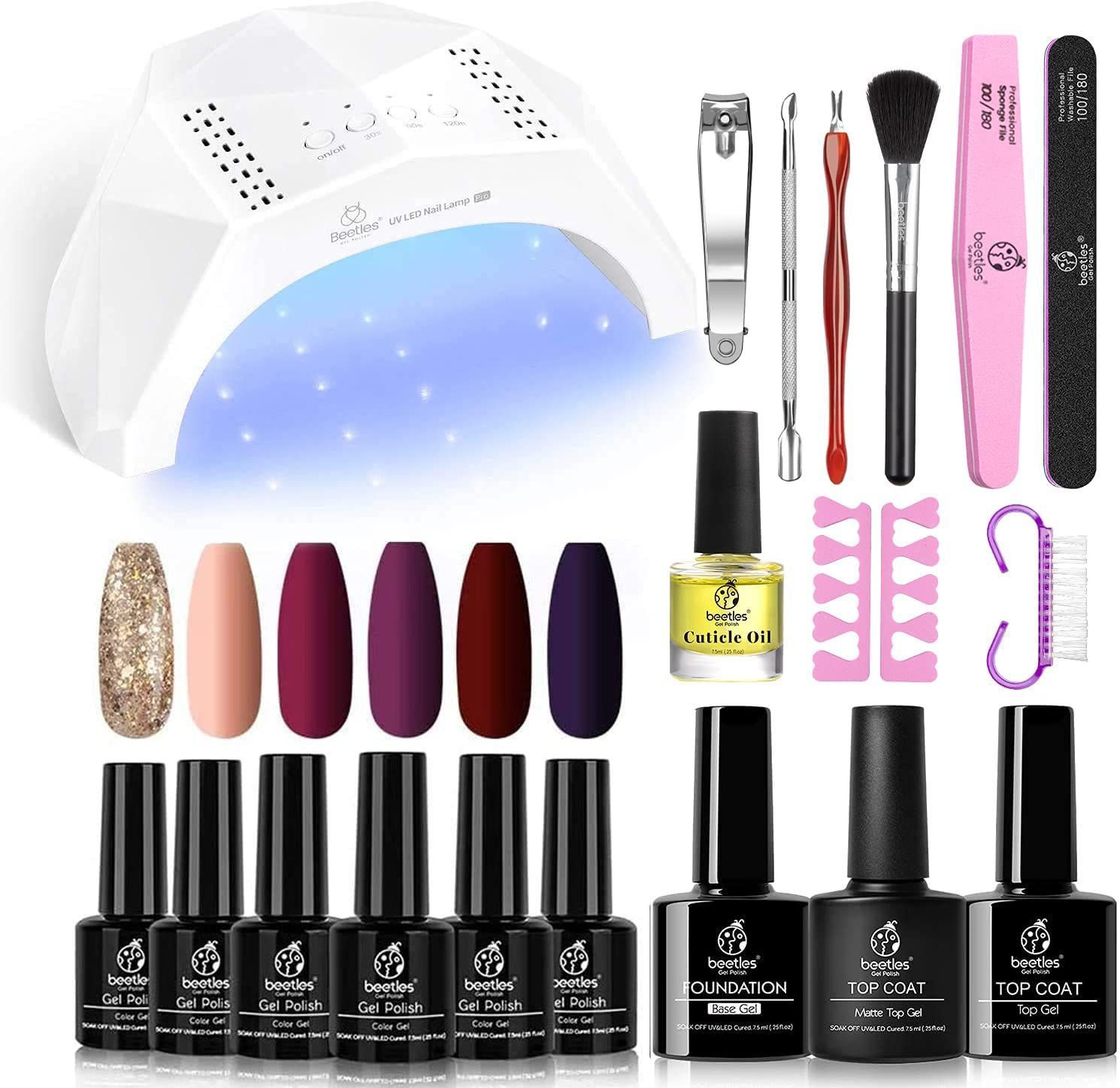 A UV nail lamp is used to dry gel and acrylic nails. You have to 'cure' them under this lamp when applying gel nail polish. After applying every coat, you have to dry it under the UV nail lamp for a few seconds before applying the next coat.
The gel nail polish does not dry like UV nail polish. Have you upgraded from French manicure to gel manicure already? It comes pros and cons to getting a gel nail polish and manicure. So, decide if this will be a routine and you are up for the extra time to maintain it.
Now here's the deal. Are you focused on the health of your nails or need a shiny look that does not chip away during the weeks of activity? They look more polished, well-manicured, and long-lasting than traditional nail polish. But, there is a downside. Getting a gel manicure regularly can damage your nails and make them brittle. Also, it is difficult to remove them by dipping the cotton swab in nail polish remover.
Removing a gel nail polish is a task. So, you can get the UV nail lamp and enjoy painting your nails in the hues and tones of your choice that last long or switch between regular and gel nail polish, so you get the best of two worlds.
Various nail products like nail extensions, acrylic nails, detachable nails require you to care for your nails. More extended use of UV nail lamps can damage nails. You can look for specific features when buying the UV nail lamp. An LED nail lamp is different from a UV nail lamp. Which one is better? Let's take a look.
Features To Look For In A UV Nail Lamp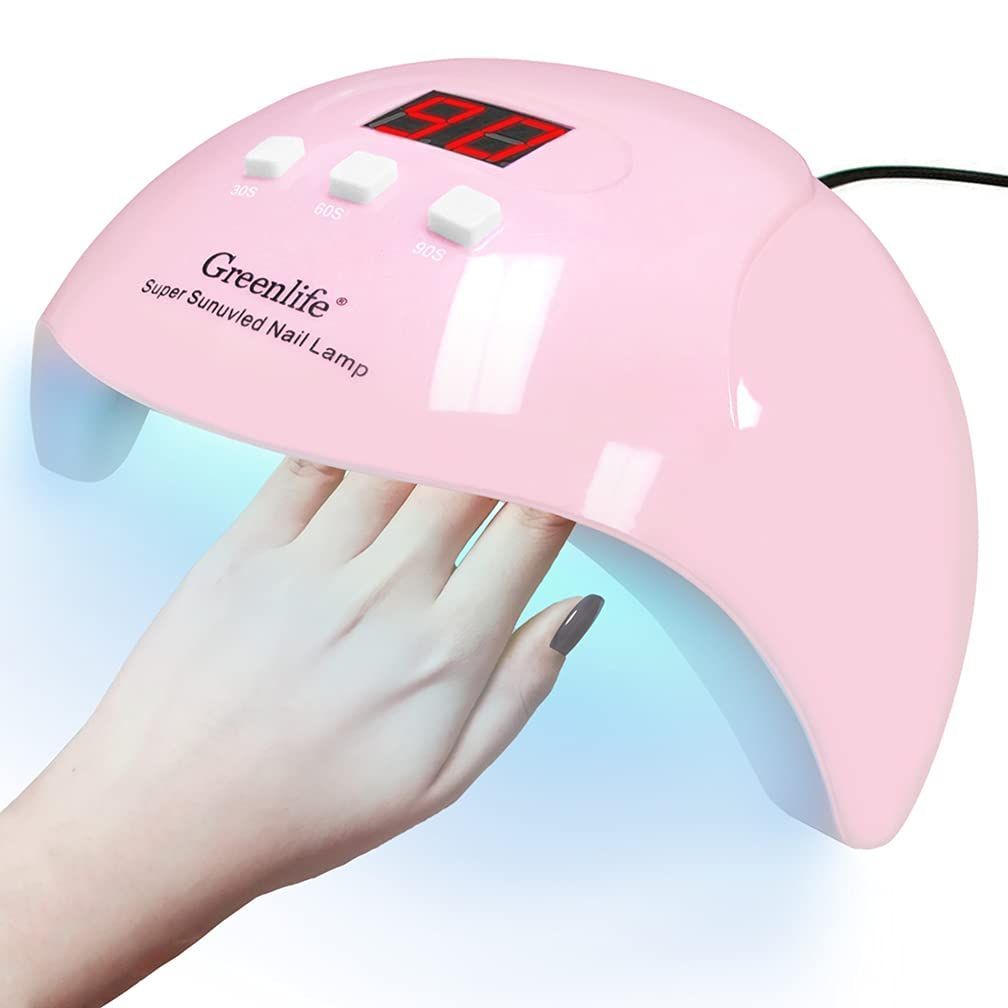 Not every UV nail lamp is the same. A few can get too hot, a few do not have sensors, while others come with a timer, LED screens, easy adjustments, etc. You can get a professional UV nail lamp for thirty dollars or less. These are the features to look for when buying one for personal use.
Spacious
Minimal drying time
Suitable for all voltages
Does not heat up too much
Easy to clean
Cures finger and toenails
Corded or cordless
Lightweight
Portable
Does not tan skin
Protection for skin
You can get a UV nail lamp for less than ten dollars if you look at the optimal drying feature alone. These tools effectively give your nails the sheen and polished look when applying gel nail polish and curate. The following are the top brands that most customers have opted for with more than ten thousand reviews.
Top Brands For UV Nail Lamps
MelodySusie
Sunuv
LKE
Kepma
OVLUX
There are umpteen brands with tailored features to choose from. It depends on how often you use it and the type of settings you are looking for. A few UV nail lamps come with timers for 30 seconds to one minute, manual settings, sensors, etc. Most of these tools cost less than thirty dollars and give your nails a needed look.
It is not recommended to use wet hands inside nail lamps. But it is safe to do so with a few brands. Every brand comes with features, and no one size fits all. But the most important feature to look for is quick-drying time and hassle-free maintenance.
LED Vs. UV Nail Lamp
LED nail lamps are expensive. Manicurist of Blake Lively, Jennifer Lopez, prefers to use LED nail lamps instead of UV as they are faster and last longer. Check if the gel nail polish you use cures with LED or UV. A few brands cure only with LED nail lamps. Getting a gel nail polish needs some homework on your side, and it's worth the time because these nails do not chip and look chic.
Why Are UV Nail Lamps Are Better?
UV nails lamps are ideal for personal use because they are inexpensive, and you can wait a few extra seconds to cure. That won't hurt, will it? Get gel nail polish using a UV nail lamp that costs ten bucks or less. They are safe and easy to use and are preferred by most customers. So, now the ball is in your court, will that be an LED or UV nail lamp. I am glad this post helped you make the right choice already!
Things To Know
You can cure LED gel nail polish with a UV lamp, but you cannot cure a UV gel nail polish with a LED nail lamp.
You cannot dry a gel nail polish without a nail lamp UV or LED
LED nail lamps are safer than UV nail lamps because they cure in lesser time
Gel, paraffin, or dip manicure? Choose from the newer varieties of manicures and get coat curing under UV lights.
Conclusion
Gel manicures have become a rage because women love it when they have to use their hands and the nail polish won't chip. These little pleasures bring us a smile because it feels good to have polished nails no matter how long you work with your hands. You don't need a re-touch, and you can bid farewell to chipped nails forever. The UV nail lamps are the trusty sidekick of gel nail polishes, and they cure them to perfection.