Split Dyed Hair- Ideas, How To Do It, and More!
Block dye and split dyed hair fashions are bold, fearless, and constantly a delightful change to go through. The craze just had a major renewal, and it is abruptly showing up universally. This modern color style can be accomplished with one natural shade and another vibrant tone or two complementary luminous tones if you are more adventurous. It is time to get more innovative and channel your best personality Cruella De Vil.
Though split dyed hair color is prevalent, it can be tough to do perfectly. But with some level of practice, you will dominate the technique in no time. This article offers a step-by-step tutorial, some pretty split dyed hair ideas, and more. So, pull out all of the coloring strategies for this one, and start!
Is It A fashion Trend For The Bold Ones?
Being quarantined and the lack of traditional female delights, such as seeing beauticians, have somehow affected us so much. Many ladies employed their creativity and came up with multiple ways which let them not only cheer up but also maintain a stylish hairstyle. The split hair coloring will excite you if you have already tested many hair trends (from an ombre to neon roots).
What is the split hair dye?
It is a process where the hair is split into two divisions to be dyed individually in different shades or colors. Usually, a traditional parting in the center is chosen for split dyed hair. The effect is a two-tone look with distinct shades on the left and right sides of the parting. Usually, bright and opposite colors are utilized to form split hair, like blue and pink, lilac and mint, purple and acid green. But you can select a calmer variety- for instance, the color chocolate and blond. Or further, try black and white, mix blond with red or brown with black.
There are multiple choices for split dyed hair. It is not required to be a plain parting. Divide the hair into segments of your preference. You can, for instance, divide the upper layers of the hair from the lower strands, making a diagonal parting, or make not two but three or more dye blocks. The outcome is based entirely on how far your creativity goes. There should not be a limit to your creativity, right?
Who should attempt the split dye?
It cannot be expressed that this approach might be contraindicated for a person. This elegant and bold hairstyle is a matter of an individual's preference. Still, it certainly motivates people who are not scared of bright colors and bold experiments with their appearance.
Suppose you wish to test the split dyed hair but have that shade on top like the natural hair color or a shade you've newly done. Unfasten the lower hair strands by making a flat parting at the rear at the level of your ears, and dye just them. If you are prepared to transform entirely, a standard split will do.
There are no limitations on the content: on the opposite, split dyed hair is based on a mixture of different colorings. Radical blends are extremely popular: black and white, black and purple, red and black, pink and purple, mint green, and light brown.
There is also no restriction on the length of the hair strands: they can be extended, short, or medium size.
Choose Your Colors Carefully
Selecting one new hair shade is not easy; choosing two for your split hair could be more difficult but can also be more compelling! To find the most pleasing colors, think about what serves you and what does not. Currently, ombre split shades are in and can be an excellent place to begin.
The great thing about split dyed hair is you get to be innovative, but you also like to pick two colors that somehow complement each other. This particularly applies to someone trying DIY looks—if the dye bleeds, and you need to make sure the dyes don't blend into something you were not expecting.
However, if you are heading to do a split dyed hair trend, we suggest seeing a skilled hairstylist or even seeing a student salon where your hair will be done under the upkeep of licensed experts. This way, you can make sure you'll obtain the look you desire, and you'll be utilizing salon-quality products that do not compromise the goodness of the hair. To help boost your following split color experience, here are some of our favored matches:
Pastels—Pastel styles, such as baby pink and baby blue, lavender, and mint green, look outstanding next to one another.
Complementary Shades—These are the shades across from each other on the shade wheel, such as red and green or blue and orange.
Black and Blonde—Strive for silver or ashy blonde shade for a vicious look.
One Natural Side—Choose a wild color for one side of the head and keep the different sides natural. Reward: It's less work!
When selecting the colors, you will want to pick colors you treasure and match your fashion sense. Hair is a significant way to represent yourself and show off your creative side!
How to prepare and care for split dyed hair colors
The preparation
Salon experts love to assist their clients in looking their best and always do their best to give splendid recommendations. Nevertheless, before reaching into the salon to get the hair done, here are a few things we recommend you do to prepare:
Do your study and pick the colors
Call the salon and get a passage
A few days before the appointment, be sure to deep condition the hair
Have photos prepared for what you desire your hair to seem like
By accomplishing these things before the appointment, you are helping both yourself and your dresser. If you are still peeking for a good salon, consider planning an appointment with online salon experts and accomplish hair goals!
The aftercare
After having your hair colored, you will want to preserve the vibrant shades. Nothing is more annoying than losing the hair color a week after dying the hair. Some things you can accomplish to help preserve your hair color are as follows:
Utilize sulfate-free conditioner and shampoo
Wash the hair using cold water
Use leave-in remedies to shield hair color
Use heat protectant mist before employing hot tools
These are only a few things you can perform to help keep your hair color intact. It's significant to remember that colored hair requires a little extra care and attention; with that, the results can remain for longer.
At home coloring tips for split dyed hair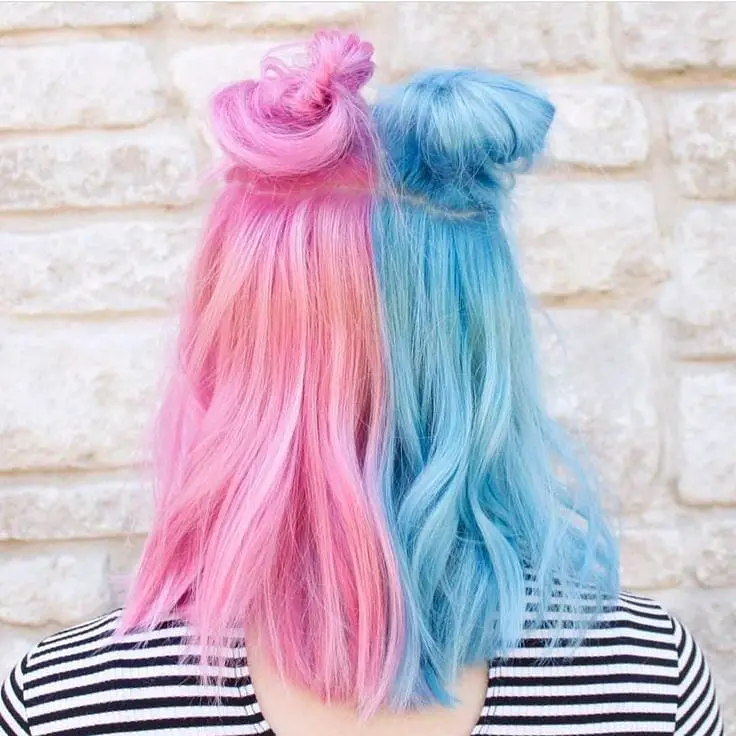 Split dyed hair can be problematic for a beginner, so numerous people go to the experts to get it accomplished. But if you desire to dive into this trend yourself at home, then here are some tips to bear in mind:
Use the exact brand of professional dye, not boxed color. Chemicals from various brands can interact adversely and induce a hair disaster.
Never over-condition your hair. The conditioner does not allow colors to take as well, so do not bother about over-prepping the hair. Just make sure you have detangled the hair.
Apply Vaseline on the scalp where your hair parts to avoid the dye from bleeding. Also, pat some on the neck, ears, and forehead to keep the color from staining your skin.
Wash the hair sections individually. Tie up one side and rinse the other to stop bleeding. Repeat the procedure for the remaining side.
Have somebody to assist you with the process!
While you can dye your hair at house, it does not mean you always must. Box color can be toxic to your hair, and there is a substantial possibility that it will not look as good as you desire it to. We always suggest seeing a skilled stylist when coloring the hair because you are highly likely to end up with the hair you have been desiring.
Split dyed hair- Challenges you may face
Like different hair trends, some challenges follow. If you want easy, breezy hair color jobs, split dyed hair isn't for you. If you wish to maintain the color, it does take money, time, and a stylist you count on! However, it can be an amusing trend, and if you adore the look, you can rock it!
Detailed Steps For Getting Split Dyed Hair
For this sample, we will be accomplishing a monochromatic pink shade using three different hues of pink, but feel unrestricted to test with different dyes. Just consider the adjustments you want to make, but you will be employing roughly the same design. This hair color trend was created for creatives, so do not be scared to try new and compelling color mixtures.
Step 1: In the first step, section your hair in the center from front to back and take segments from the top to behind the ear on either side of your head, forming a front and back segment. Work from the same extreme point and make a third section. The front area will now be merged with the section on the different sides to form a larger front segment.
Step 2: Now the part you are waiting for: the color! Beginning at the back nape area, use your chosen color from the scalp to the rears. Utilize a foil at the base to prevent staining your neck. Furthermore, you can place a foil at the lid of the back segment to maintain a split and neat workspace. If you are operating with a particularly dark color, you might need to spread some vaseline to the ears and neck for added security against staining.
Step 3: Work in tilted forward subsections and spread the color at the root. Pull through the center using your fingers and dissolve into coral color. How far you obtain down the root shade before melting is entirely up to you and your imagination! Resume working your way until the section is done and repeat on the different side.
Step 4: To ensure that the partitions of color remain crisp and illustrated, establish a foil on the finished sections for the split. Then, split the final and front sections vertically for comfort and accessibility. Next, use another shade from scalp to ends and place finished subsections onto the aluminum foil. Process without heat for nearly 20
minutes.
Step 5: Once you are done processing, wash the hair and shampoo using color charge shampoo to lock in the shade and add vibrance. Follow using a color charge conditioner for maximum saving. Finally, count a bit of polish to the hair with a serum to prolong the life of the dye with fade fight technology that locks dye inside the cuticle for ultimate color retention.
Step 6: Style as hoped and appreciate this fabulous split look. Part your hair straight down the break to show off your neat lines, or part your hair off the flank to show off a combined section. Split dyed hair color looks outstanding on curly, wavy, and super straight hair. The styling is simply as much a possibility for ingenuity as the dye job itself. Have joy with it!
Creating a beautiful split dye hair dye can be a lot of pleasure. All you require is a bold customer and gifted coloring methods. The key to this color style is to operate as clean as feasible. The better detail-oriented you can be with this dye technique, the more reasonable.
Remember, it is essentially like doing two different dye jobs simultaneously. You'll require twice the quantity of dye and twice the portion of time. If you are a favorably technical colorist who is not afraid to attempt something new, this will be the ideal challenge.
One of the most satisfying parts of this great, loud hair color approach is testing with different color mixtures, sectioning designs, and blending methods. It is ideal for showcasing your craft and creativity with bold, unique preferences. Get ready for some entertaining experimenting.
Split Dyed Hair Color Ideas For Going All In
1. Pastel Rainbow Split
It can be challenging to pick between pastel shades because they are all gorgeous. By incorporating these stunning styles with a half-and-half hairdo, you will all attract attention to yourself.
2. Fire And Dark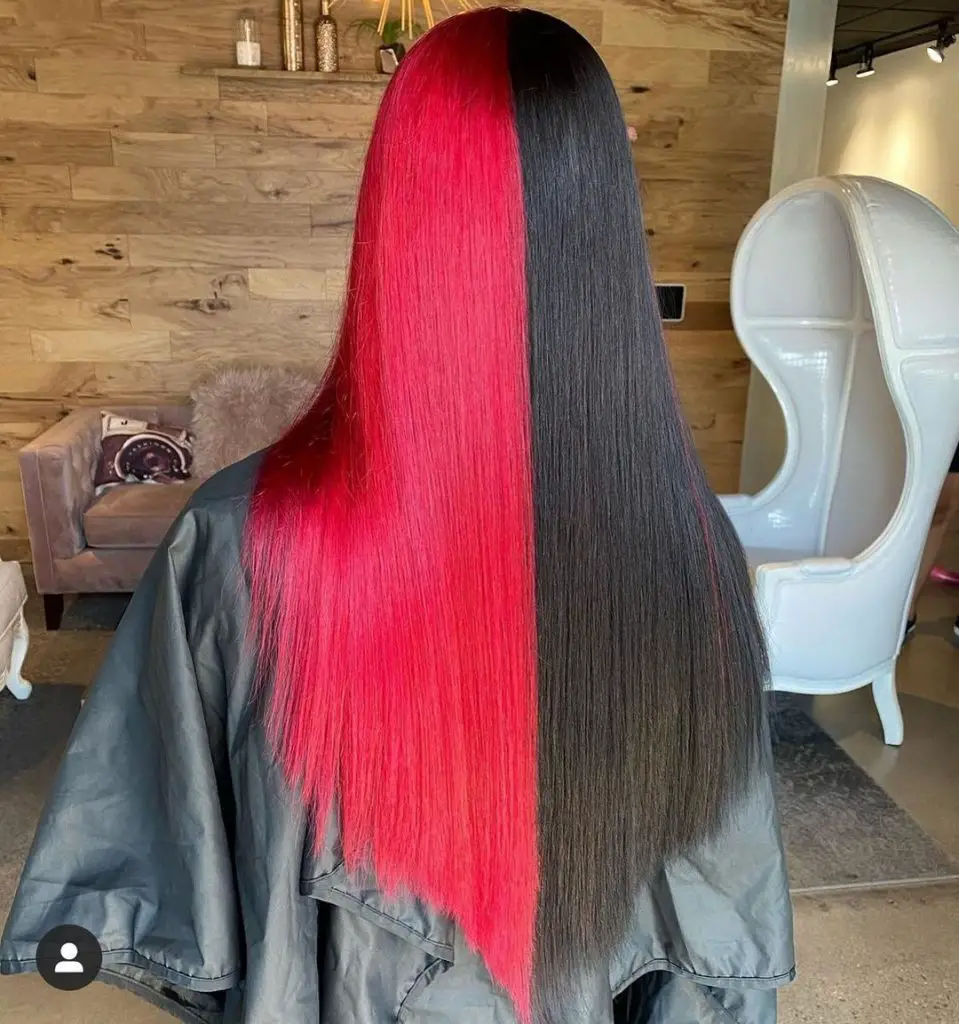 You can create a style that will not be readily forgotten by those who witness it by combining the femininity of blaze red with the beauty of dark hair in one hair.
3. Green & Natural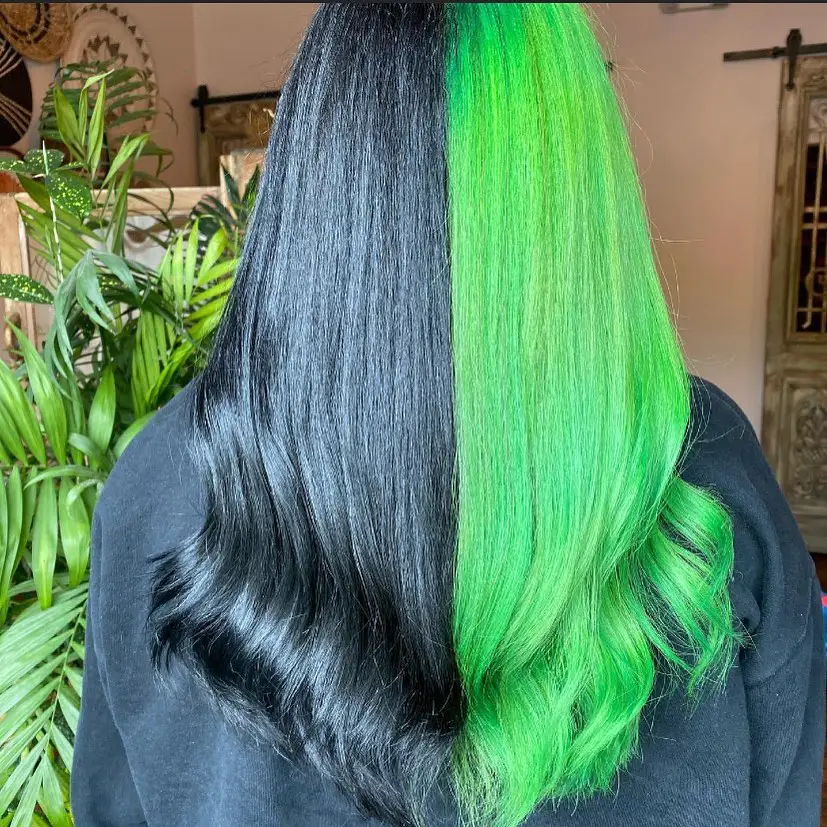 Original hair associated with green, the emblem of naturalness, will be a significant choice for women who cherish naturalness.
4. Split Pixie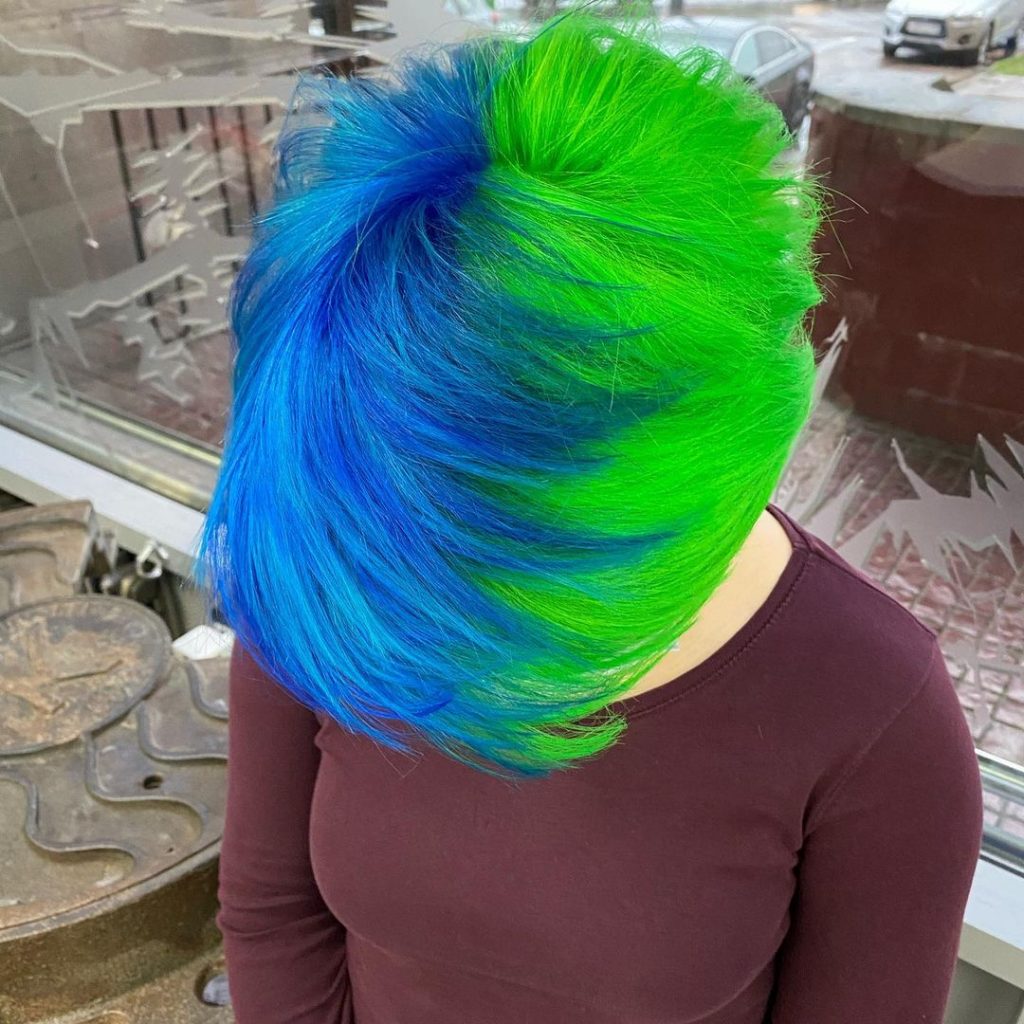 Pixie hair is a bold hairdo that needs conviction and expresses magnificence. You may make the perfect duo by connecting this daring haircut with a particular coloring method.
5. Blonde or Brunette?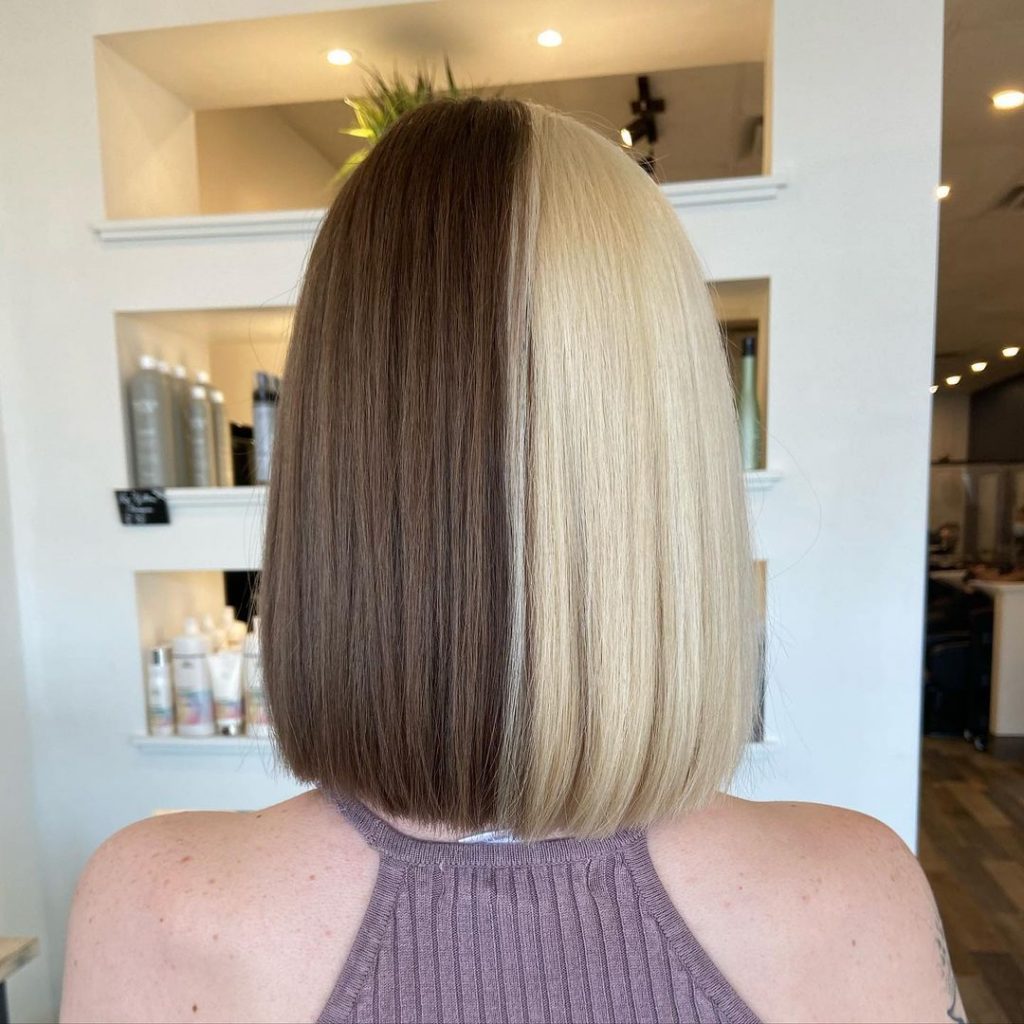 Blonde or brunette? This is among the most common predicaments that most women encounter while making a hair color judgment. We have a renewed deal for you; why not try out both?
6. Split Bangs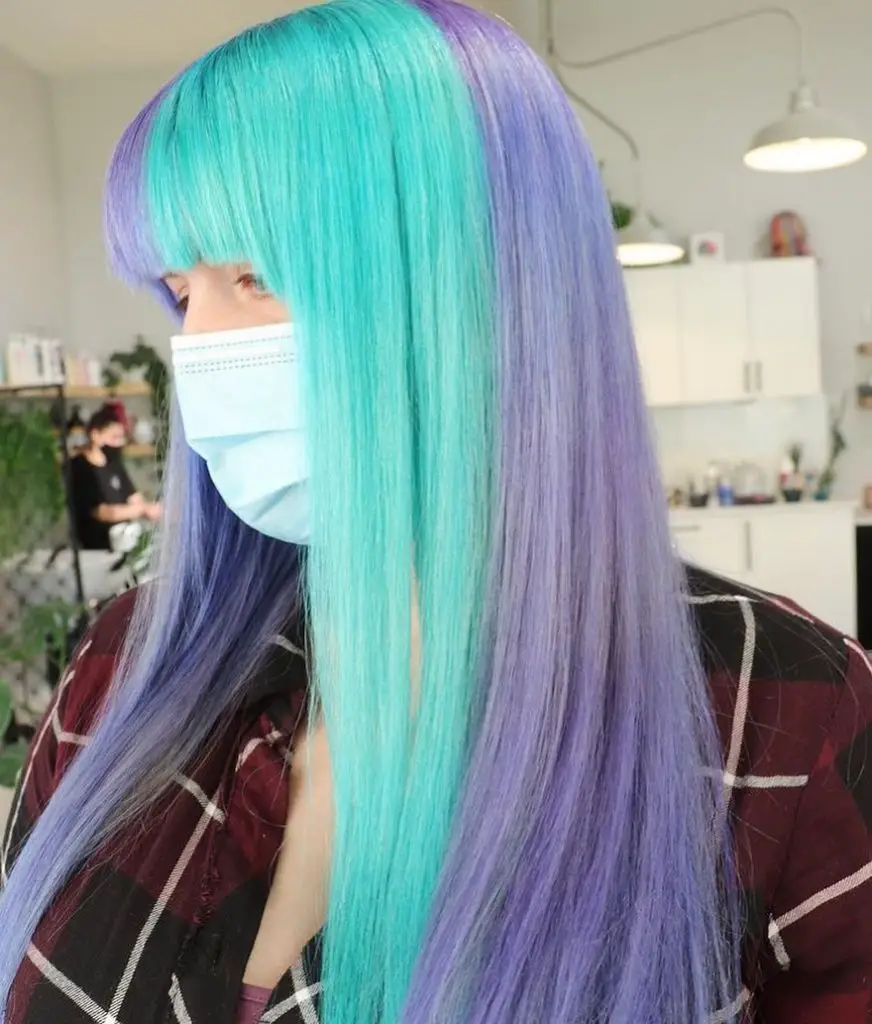 The half and half dye procedure you will use merely on your bangs will accentuate your beauty by concentrating attention on your face.
7. Clouds And Forest Split Dyed Hair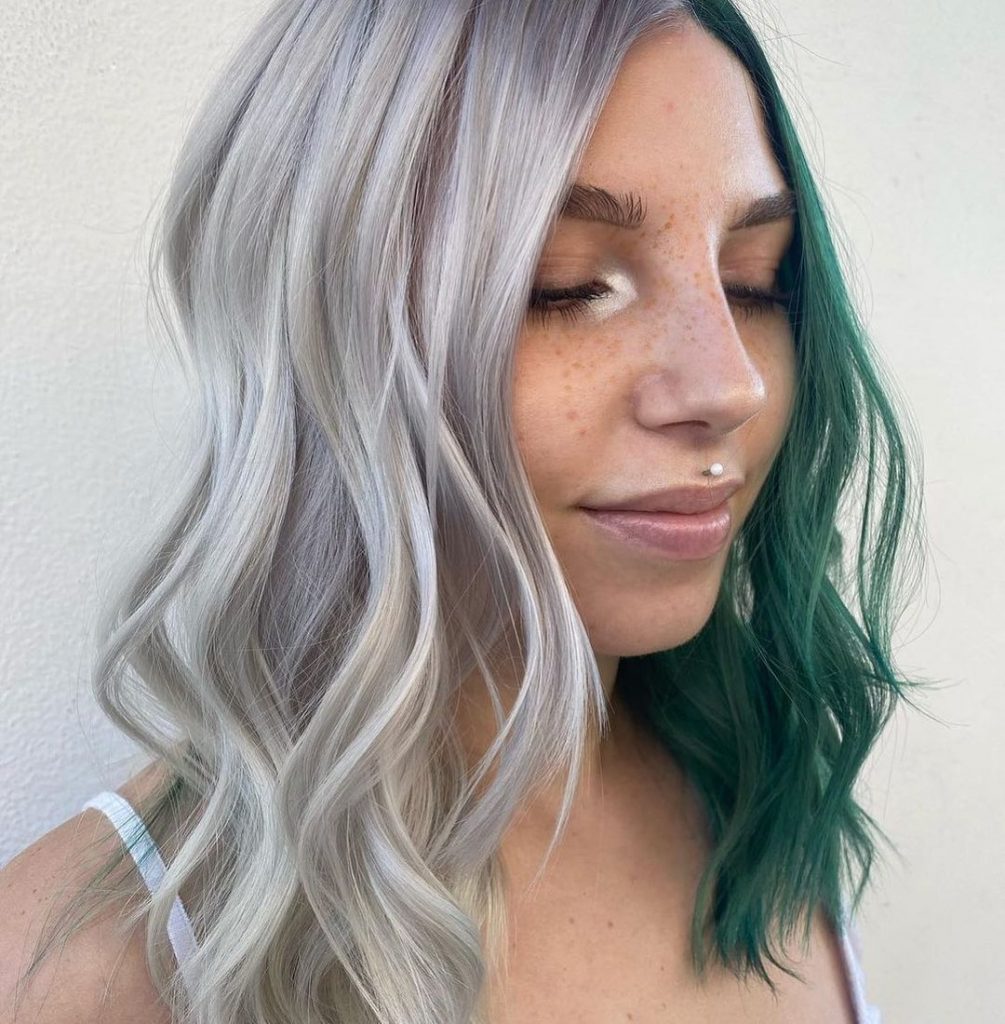 Beautiful gray and green tones construct a fairy-tale look reminiscent of shadow and forest.
8. Masculine Cuts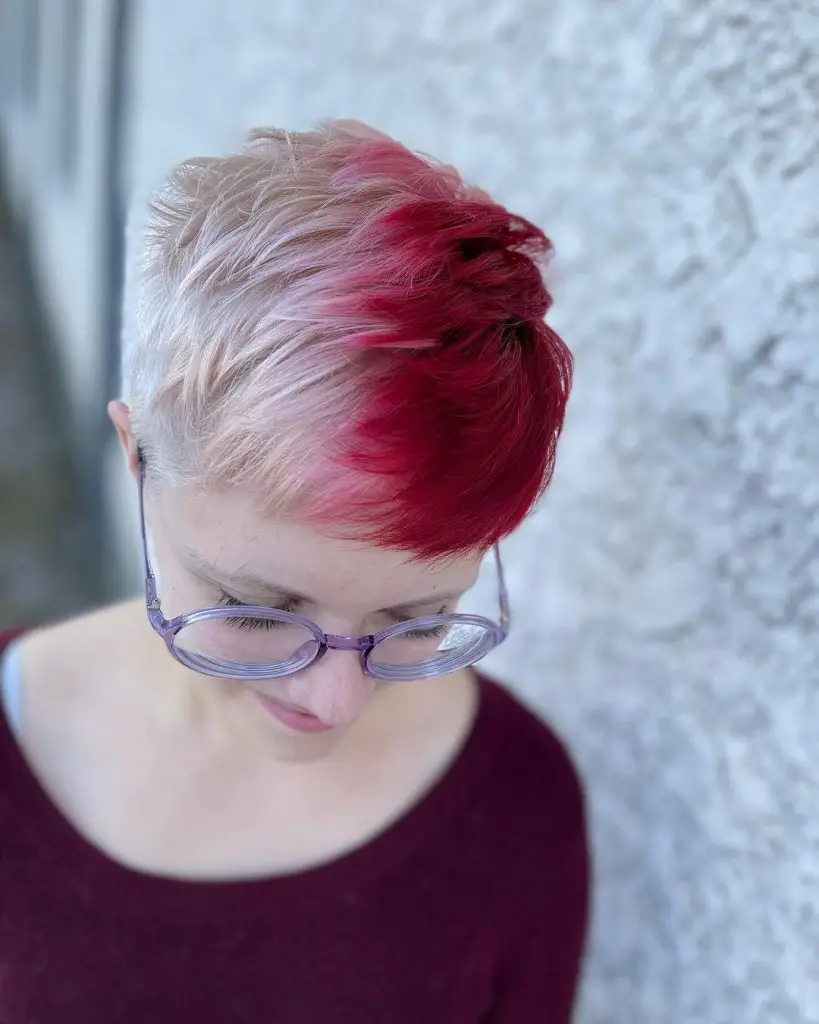 Masculine cut pixie is the ideal point for completing striking shades. The top of the hair is left long for the dyeing process, and this is the fascinating class for pixie cuts.
9. A Little Split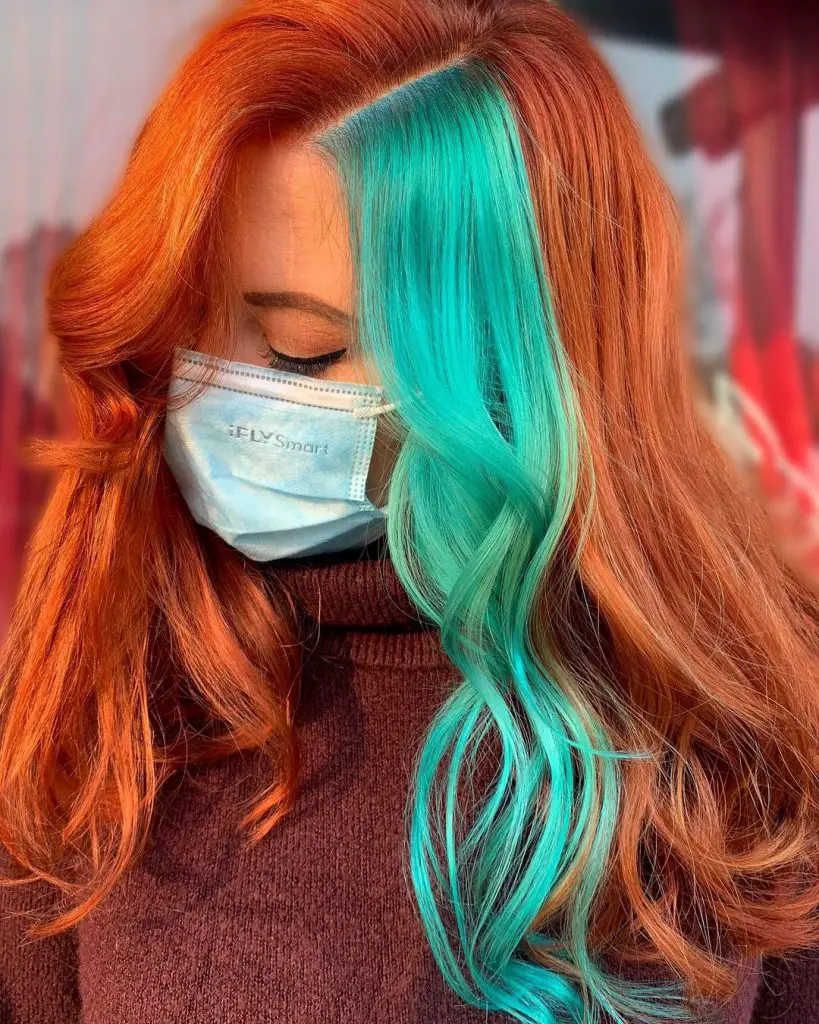 One of the most successful modern hair coloring treatments is the different coloring process, which is accomplished on a properly divided hair division as a half and half dye.
10. Split Green Ombre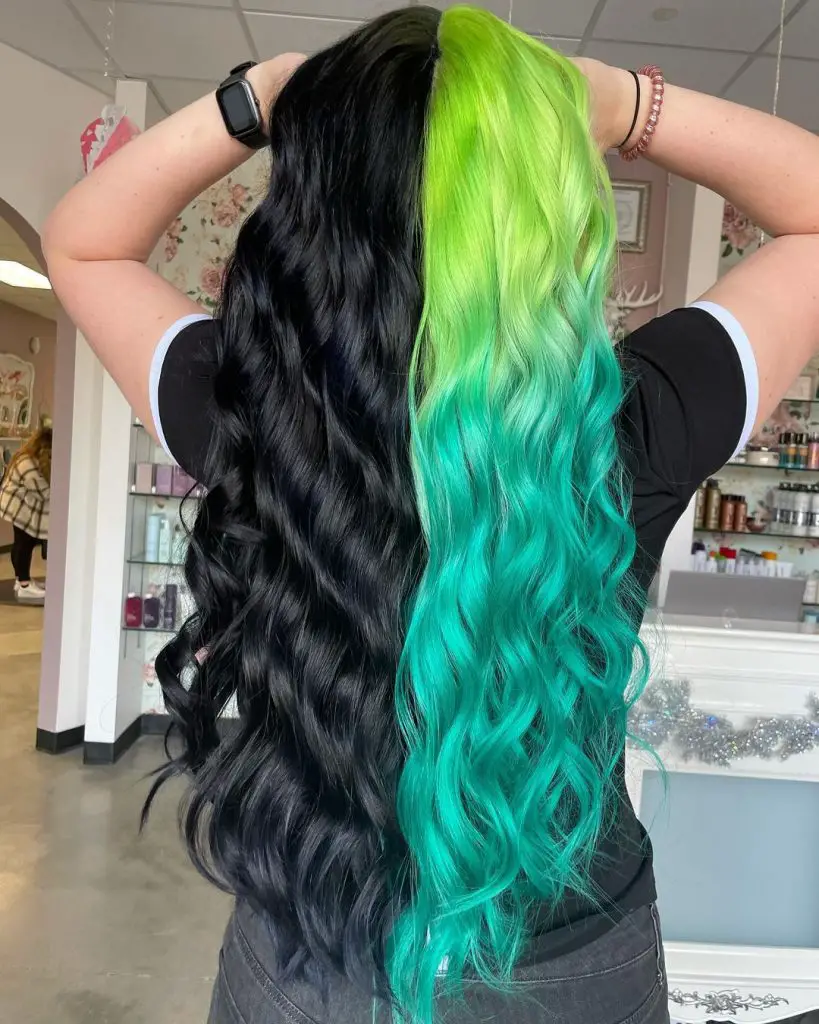 Professional hairdresser help is a must for this excellent hairstyle. Although it needs longer to make than the traditional half and half coloring strategy, The effect is worth all the processing period.
11. Cruella Bangs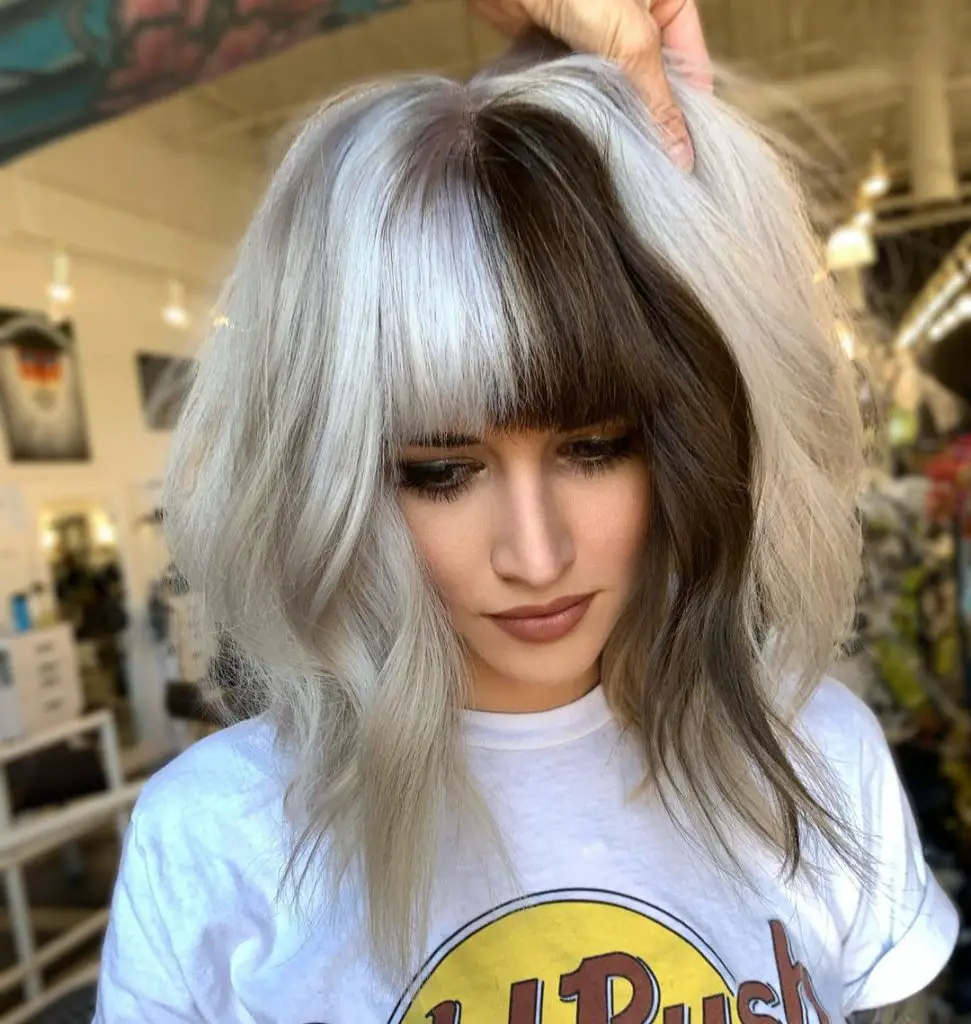 The half and half color process for the wide and long bangs images is the trendy style of Cruella, which evolved very popular likewise after the film Cruella.
12. Black & Ashy Blonde Split Dyed Hair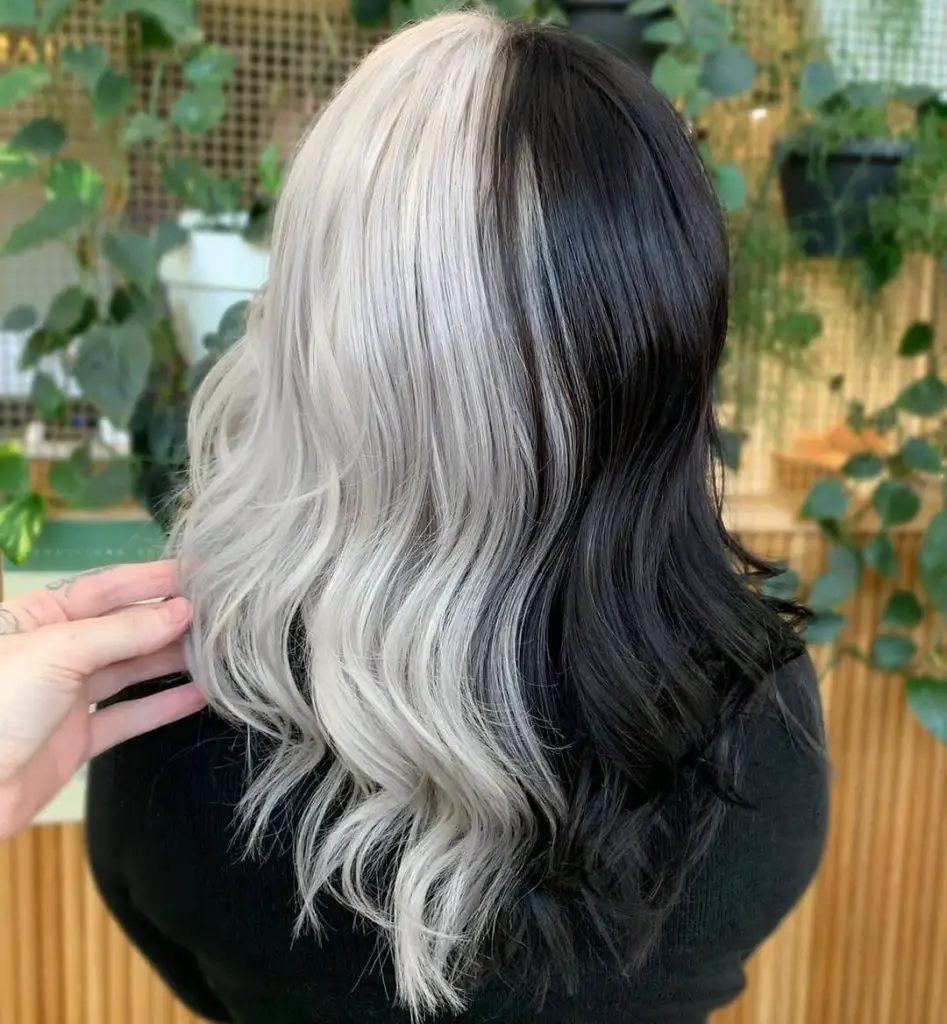 Ashy blonde is among the most desired tones as it works for every skin color and does not bend orange. Black is among the noblest of the traditional hair colors. If you want these two shades and wish to try them, the half and half hairstyle is the right pick.
13. Pink Split Dyed Hair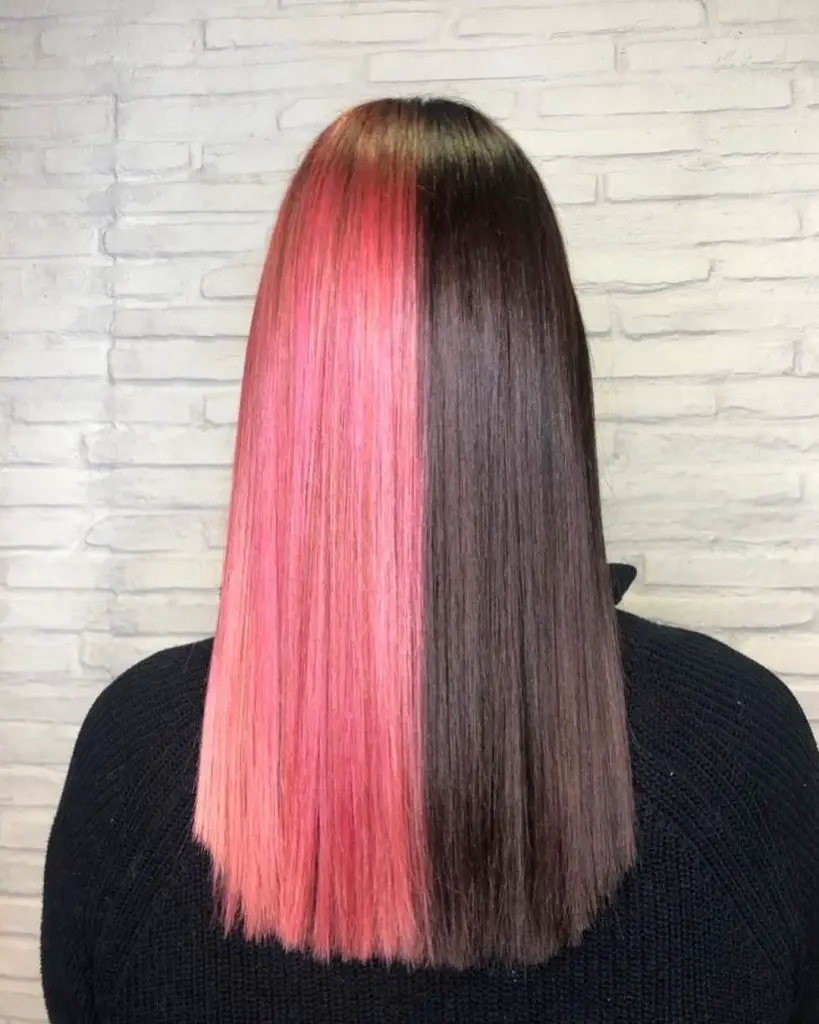 Since we were kids, pink has been one of our favored shades. Pink hair is a shade that nearly every female pictures of, and it is trendy among anime fans. What's blocking you from it a shot? Here's an outstanding example.
14. Sunset Split Dyed Hair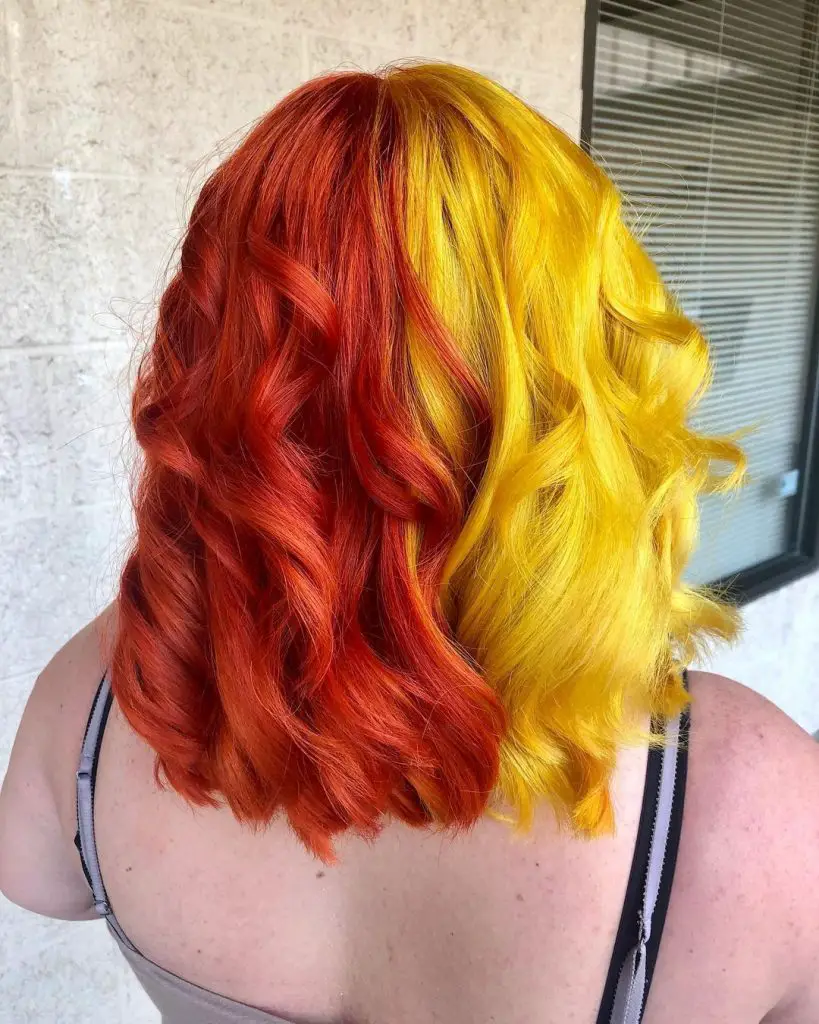 An excellent mixture of sunset colors. It presents a warm-toned hair shade with vivid yellow and vibrant red, making it a wild color option for women with relaxed undertones.
15. Cotton Candy Split Dyed Hair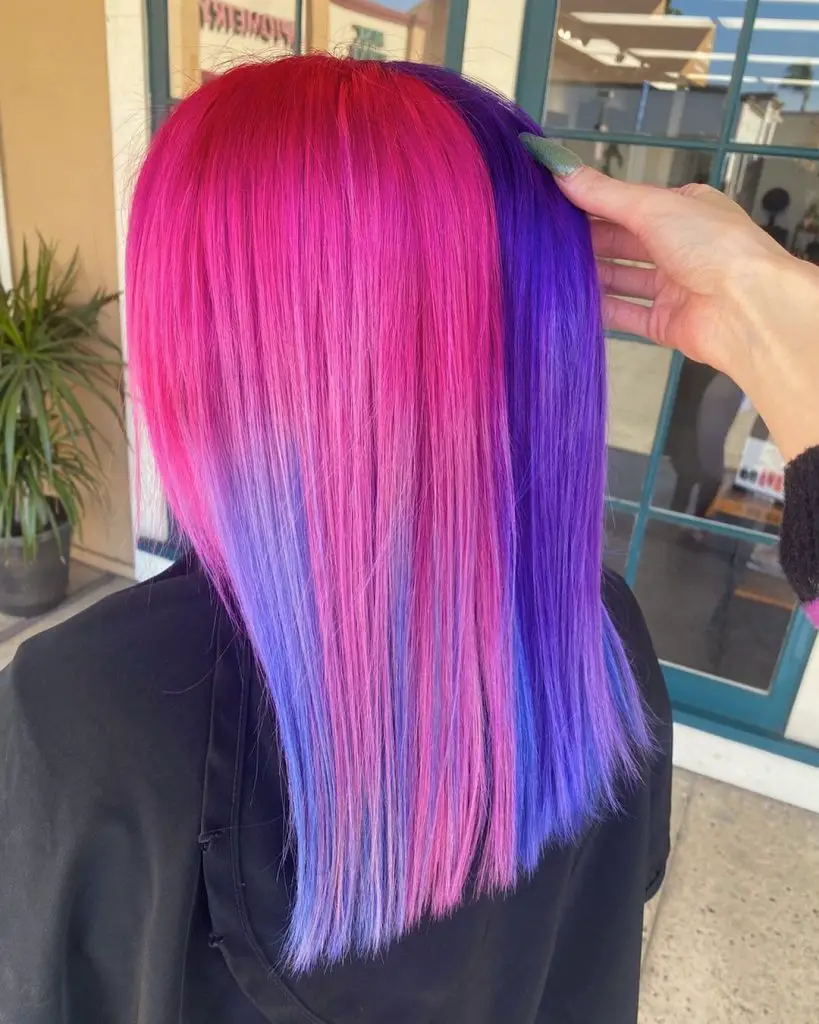 Cotton candy shades are among the most attractive. This hair color completes both the vintage fashion and the romantic style completely. Also, half-and-half dye adds a modern twist.
16. Black And Rose Gold Split Dyed Hair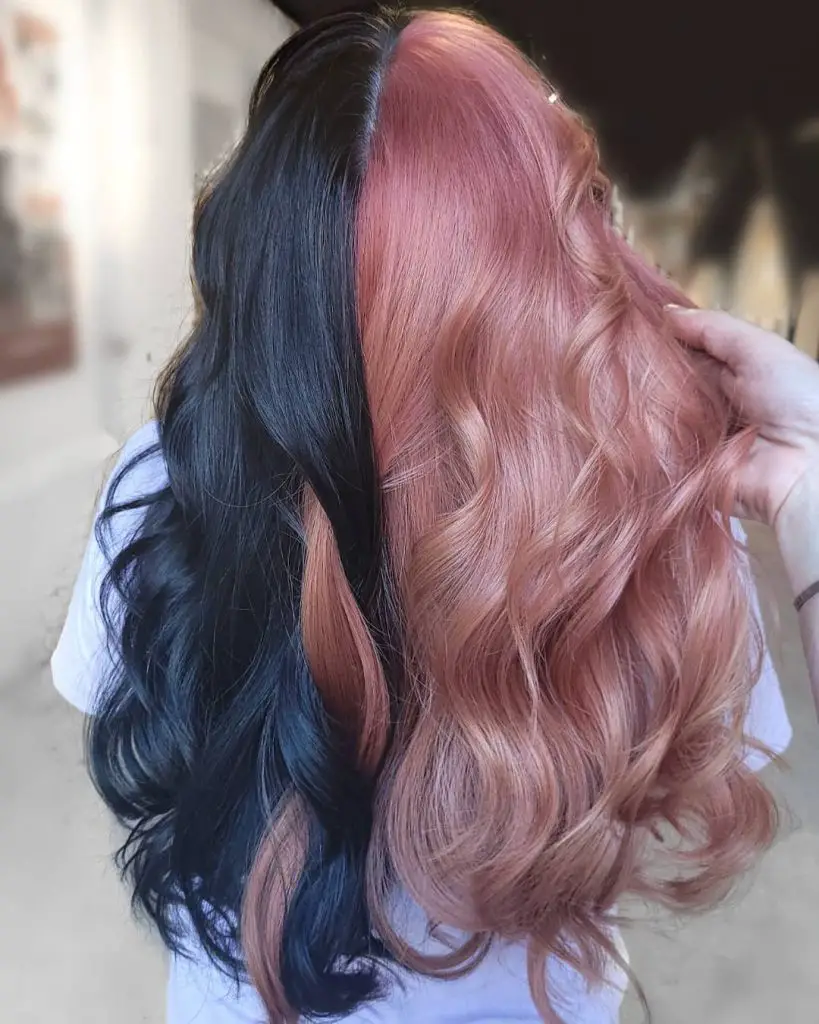 Rose gold is a hair color style obtained from the ideal pink and blonde tones blend. When you check the color, which is excellent on its own, with the elite of dark hair, the effect is astonishing.
17. Pastel Colors Split Dyed Hair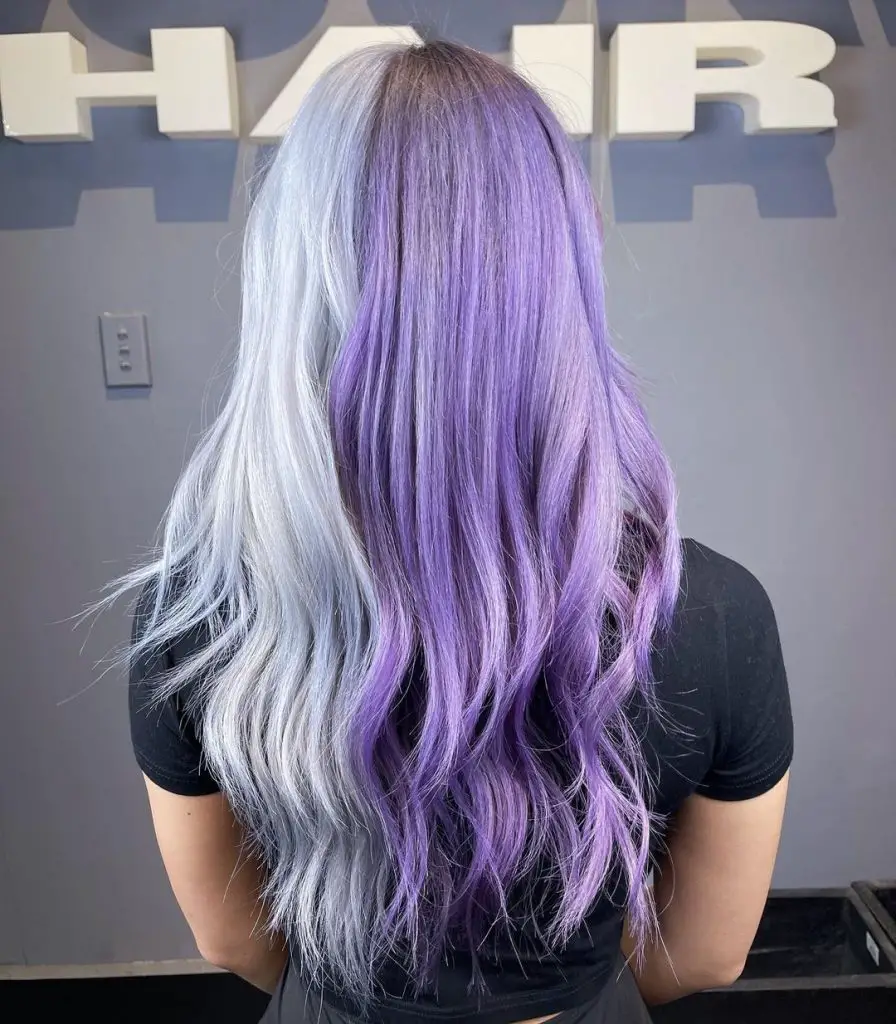 It will be genuinely challenging to pick when you are misplaced in the intriguing world of pastel colors. Hair dye that is half and half is a fantastic technique to get rid of this difficulty quickly.
18. Cute Colors For Split Dyed Hair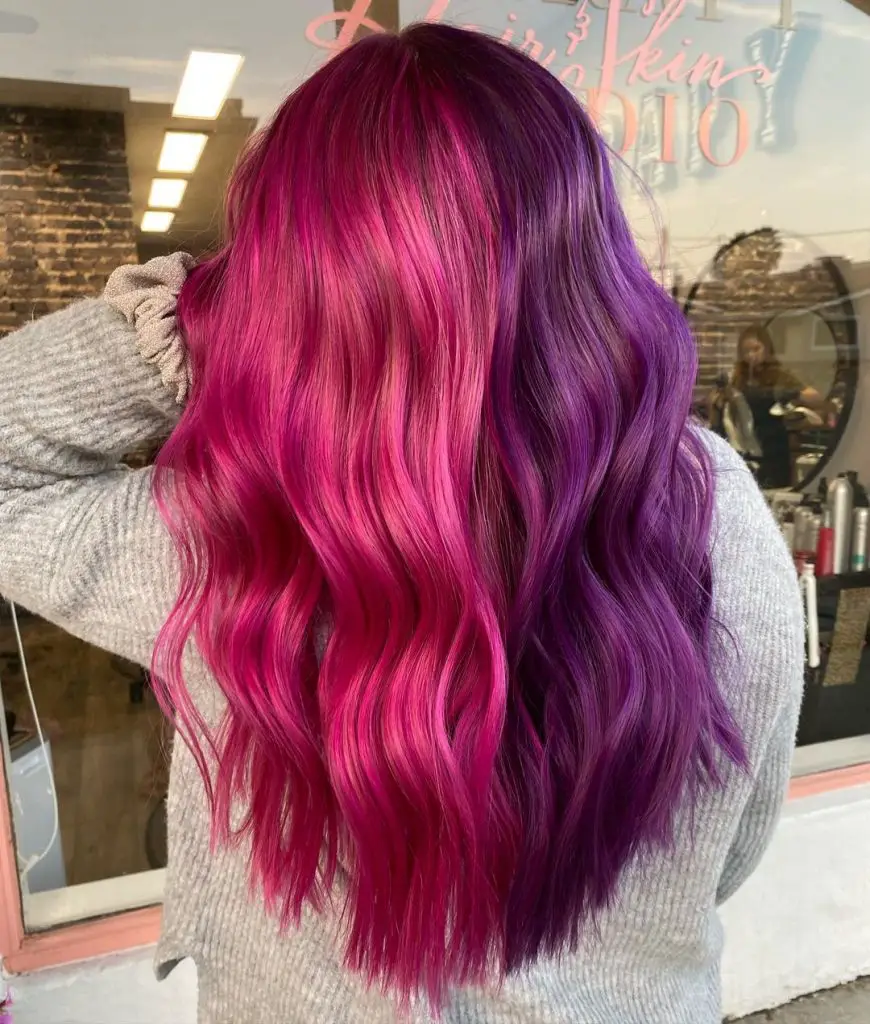 Sweet tones of pink and purple are two trendy colors recently between two popular shades that it is tough to choose; trying both makes a unique style.
19. Matching Brow With Split Dyed Hair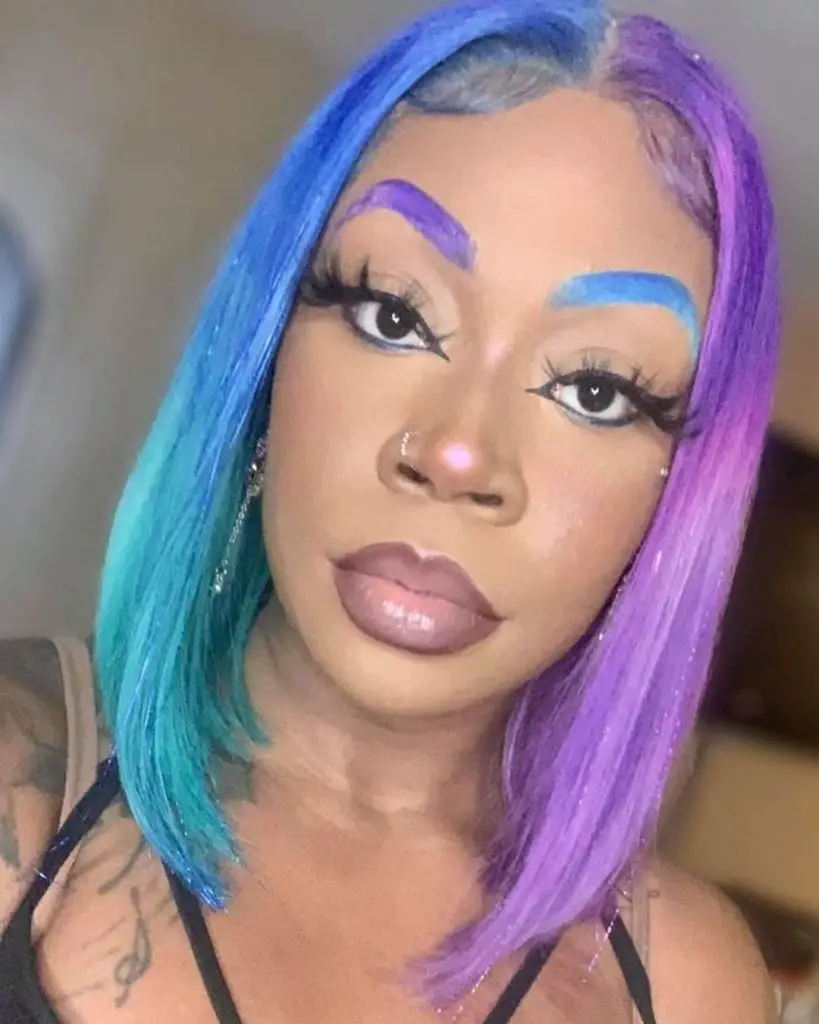 Matching eyebrows make for a great and distinct look if you like to play around with this delightful but difficult-to-make-up hairdo. This is our selected hairstyle for women who appreciate mixture and individuality.
20. The Cutest Split Dyed Hair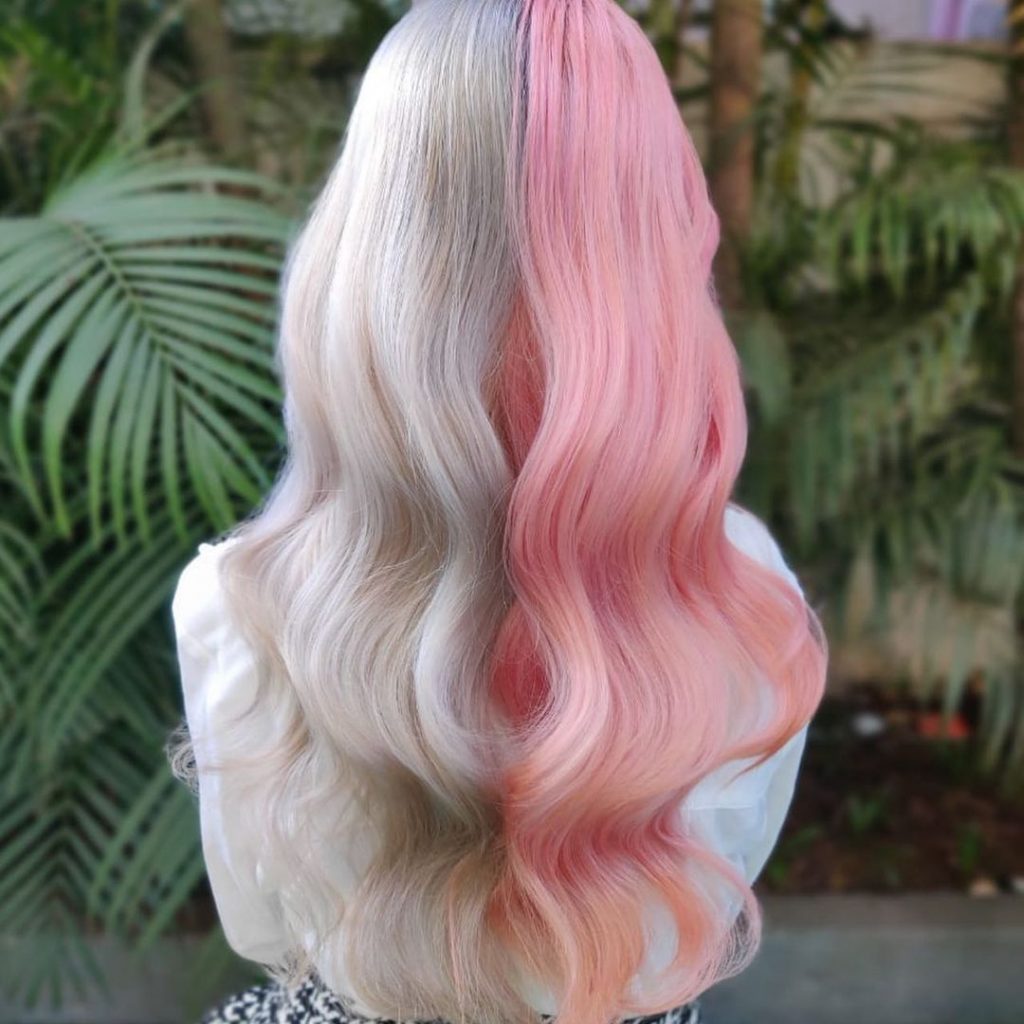 The cutest shades, soft pink and blonde, crash at this hairdo. We comprehend that concluding is complex and that testing both takes guts. Nevertheless, after seeing this example, you will not need any extra courage to try the split dyed hair color.
21. Frontal Split Dyed Hair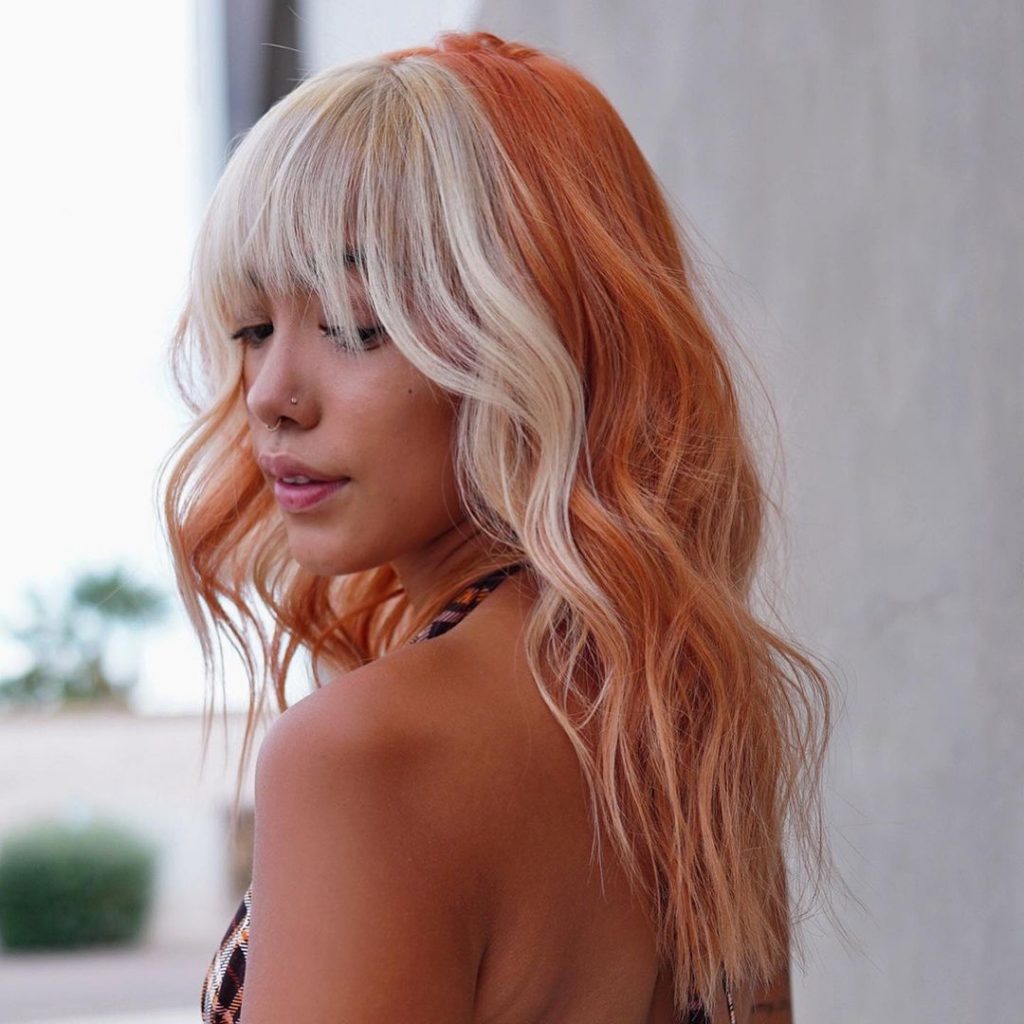 Models having bangs are great if you wish to split the hair uniquely. By exaggerating the dense and long-cut bangs in different ways, you can complete one of the most panoramic forms of the half and half hair dye technique.
22. Pumpkin Spice Split Dyed Hair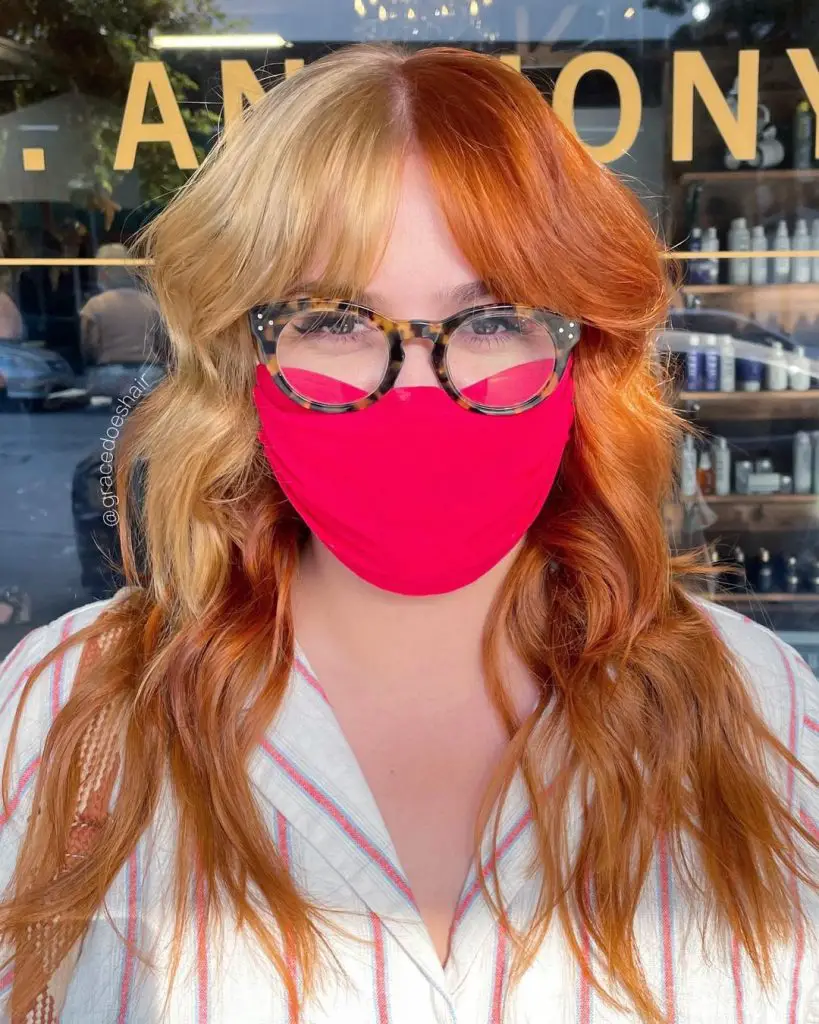 One of the shades with warm undertones is a pumpkin. The chemistry of pumpkin with blonde is both excellent and fascinating. We suggest that you try this hairdo to illuminate your face and give yourself a new appearance.
If you are looking for a change, this might be the ideal way to complete it. As far as directions go, half and half hair have been confirmed to be quite adaptable.