Acrylic Nail Ideas- Which One Are You Going To Pick?
Acrylic colours are in trend repeatedly, and we clearly understand why. Are you looking for excellent acrylic nail ideas? Well, look no further.
If you wish to draw attention to your beautiful hands, one of the nicest and easiest ways to achieve this is using acrylic nails. They are created with powder and a mix of liquid monomers and then shaped to your natural nails by the beautician. The best thing about acrylic nails is how versatile and beautiful they are.
You can easily experiment with different shapes and lengths. They help provide your hand with a more beautiful appearance when you have longer nails and leave quite a room for beautiful nail art. If you are a lady who likes to change her manicure often and wishes to have something more fun and modern, consider going for longer acrylic nails, or you can also keep it simple with neutral swirls. Different types of nails suit everyone's personality. Find out which one suits your personality by scrolling through these acrylic nail ideas.
What are acrylic nails?
Acrylic nails are false nails created by the stylist using a blend of acrylic liquid and powder monomer that hardens or solidifies when exposed to air. These artificial nails are set up on your natural nails by the stylist. This allows you to achieve more durable and stronger nails that can be transformed to get nails of various lengths and shapes. You can use acrylic nail ideas if you wish to have nails that make a statement, like a coffin and stiletto shape.
Another great feature of acrylic nails is that they mould themselves with every nail idea. This allows you to experiment, express yourself and have fun with different needs. The application is simply effortless and should not cause any discomfort.
Let's explore different acrylic nail ideas so that you can have fun with your brand-new nails.
Acrylic Nail Ideas
1. Oriental nail designs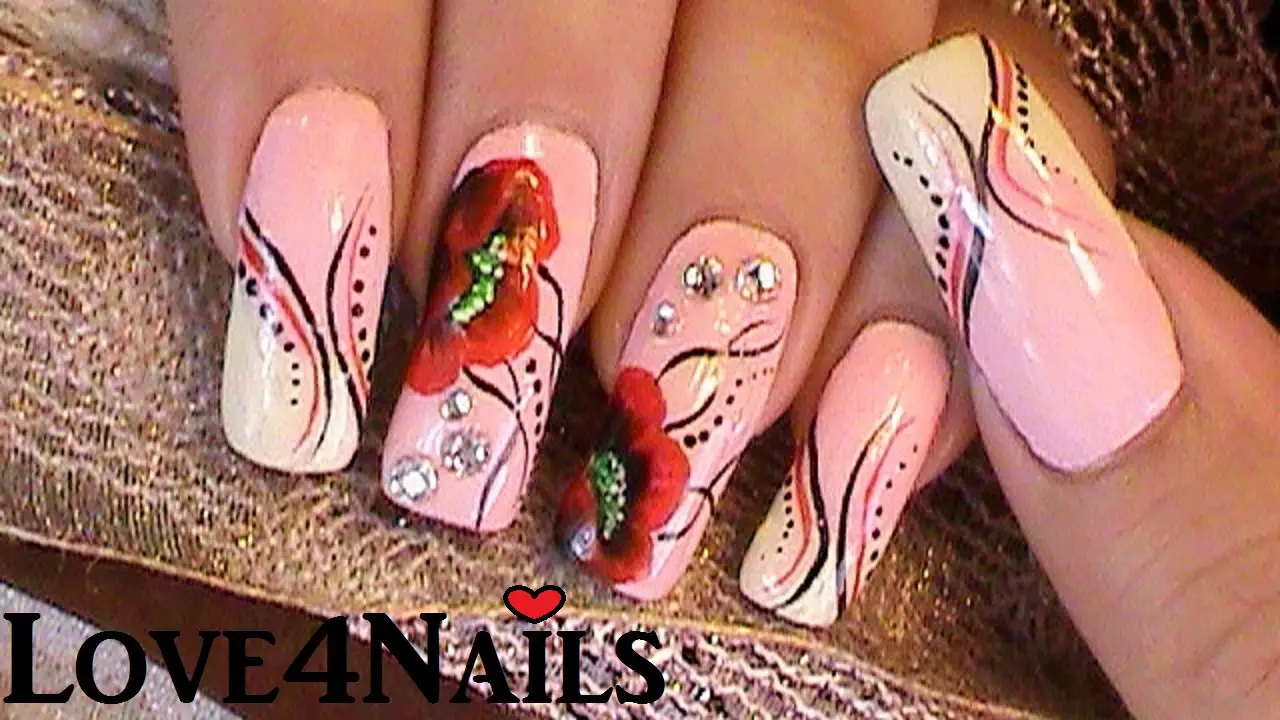 The East has been a pretty great inspiration for beauty and fashion. It wouldn't be surprising that oriental nail design is among the hottest nail designs you can receive in 2022. This particular style is defined by details in bright colours and may feature one or more popular images; for example, you can get a dragon on your fingernail, a cherry on another and a lotus on one finger. Isn't that different and beautiful to look at.
Feel free to experiment with various prints and colours for nails that you love. Not only do they appear beautiful as ever, but they also help you honour the east and celebrate your heritage. Why not receive some artistic inspiration from these acrylic nail ideas and try them on as soon as possible.
2. Pastel matte ombre nails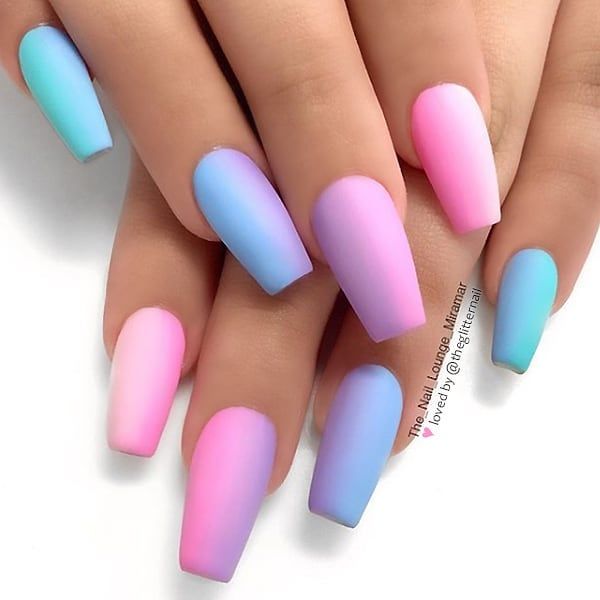 These acrylic nail ideas are for every woman who wishes for something pretty, subtle, and modern. Pastel shades are timeless and can be used every year in fashion and beauty. They are pretty easy to wear and pose a feminine approach to them. Not only feminine, but they also pose a thoughtful approach that you will fall in love with. On the other hand, you can have more fun using ombre and mixing two colours. One slightly darker and one lighter. This forms an exciting finish and provides you with the standard manicure.
3. Pastel acrylic Nails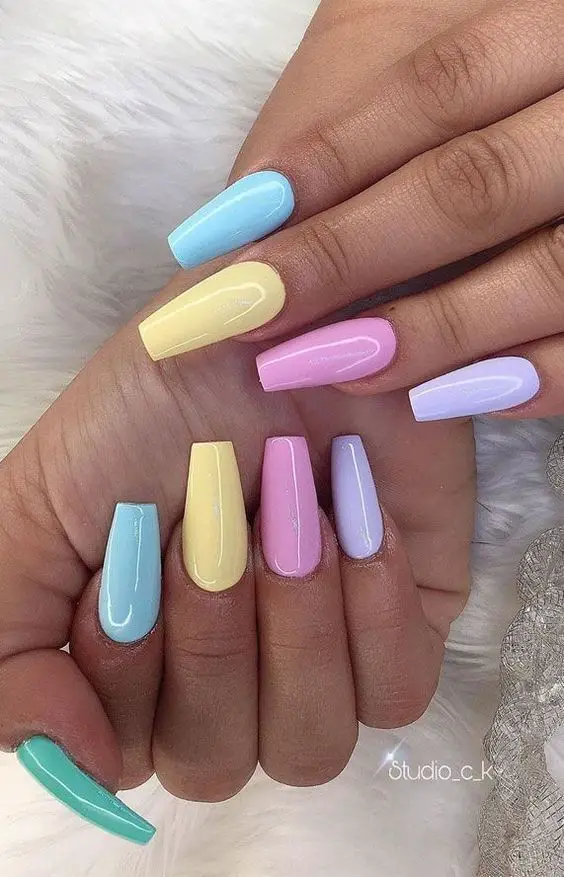 What is not to adore about these pastel acrylic nails? These shades are ideal for women of every age and are flattering as ever. Pastels have always been a firm favourite in the world for quite a few reasons, and that is because they are effortless to wear and appear super cute.
You can wear pastels everywhere, including some formal occasions and night outs. They have unique detailing that appears super cute. You can also paint each nail using a distinctive pastel shade based on how daring you want the results to be. Pastels appear excellent with every neutral wardrobe. They tend to add a different splash of colour to your whole outfit, making your hand The most attractive feature of your outfit.
4. Short square acrylic nails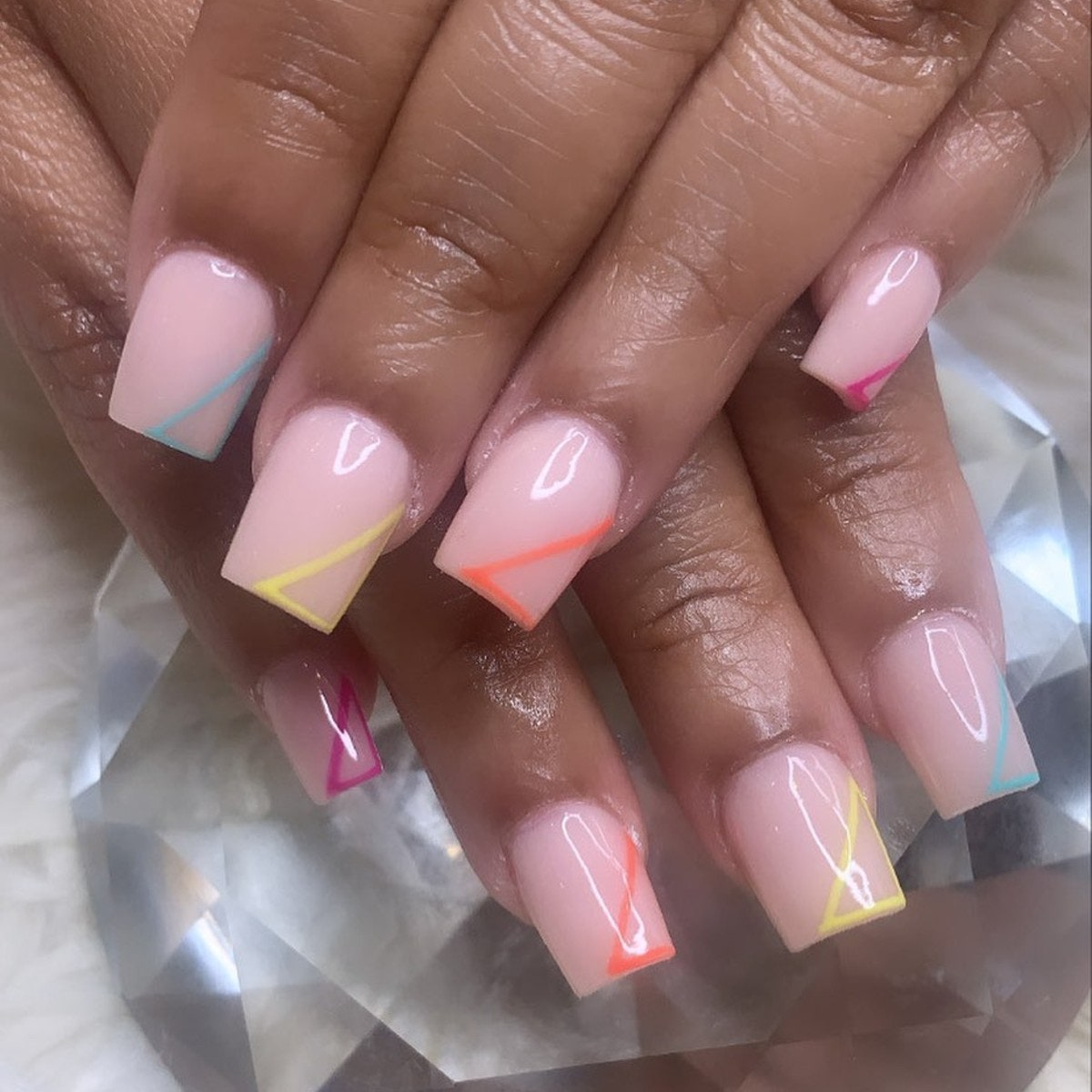 You do not have to keep your acrylic nails too long to make a statement. Shorter acrylic nails are just as chic as long nails. The favourite thing about shorter acrylic nails is that they do not require much maintenance and are less likely to break. Also, you are not limited to various activities when you have short means, which is a plus point. You can also have fun with different nail art and shapes.
Square nails are pretty exciting and offer a variety of choices from the standard round and oval choices. They are defined by their street corners and flattop and appear especially great on women having longer fingers. You can also opt for a French tip manicure to highlight the shapes.
5. Coffin shaped acrylic nails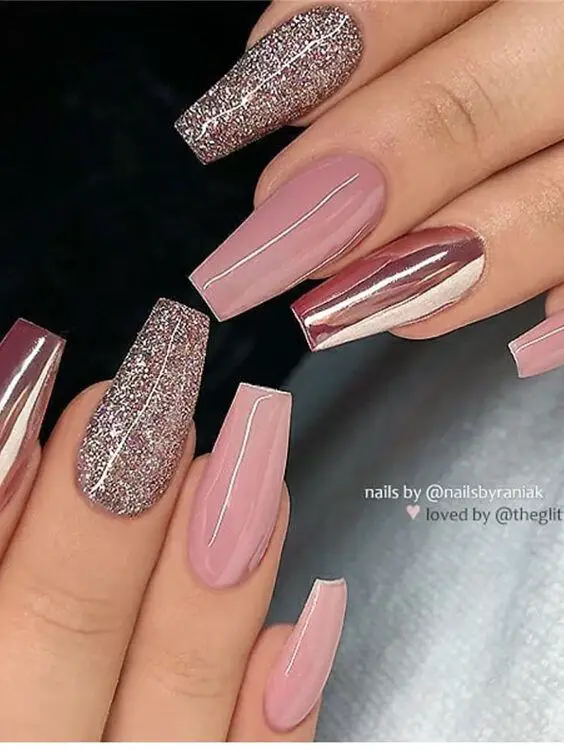 The name coffin may appear a bit spooky to you, but don't worry, the name is only given due to its resemblance with the coffin shape. Fashionistas and celebrities love these nails because they are incredibly bold. They help elongate your fingers and give an extremely feminine finish. The shape is quite appealing for people who wish to have fun with their new nail art. It provides you space to test different options, including a classic French tip to modern approaches highlighting the Square shape top.
Although they appear super cute and bold, these nails have a downside. They tend to break easily and are slightly harder to maintain.
6. Simple acrylic nails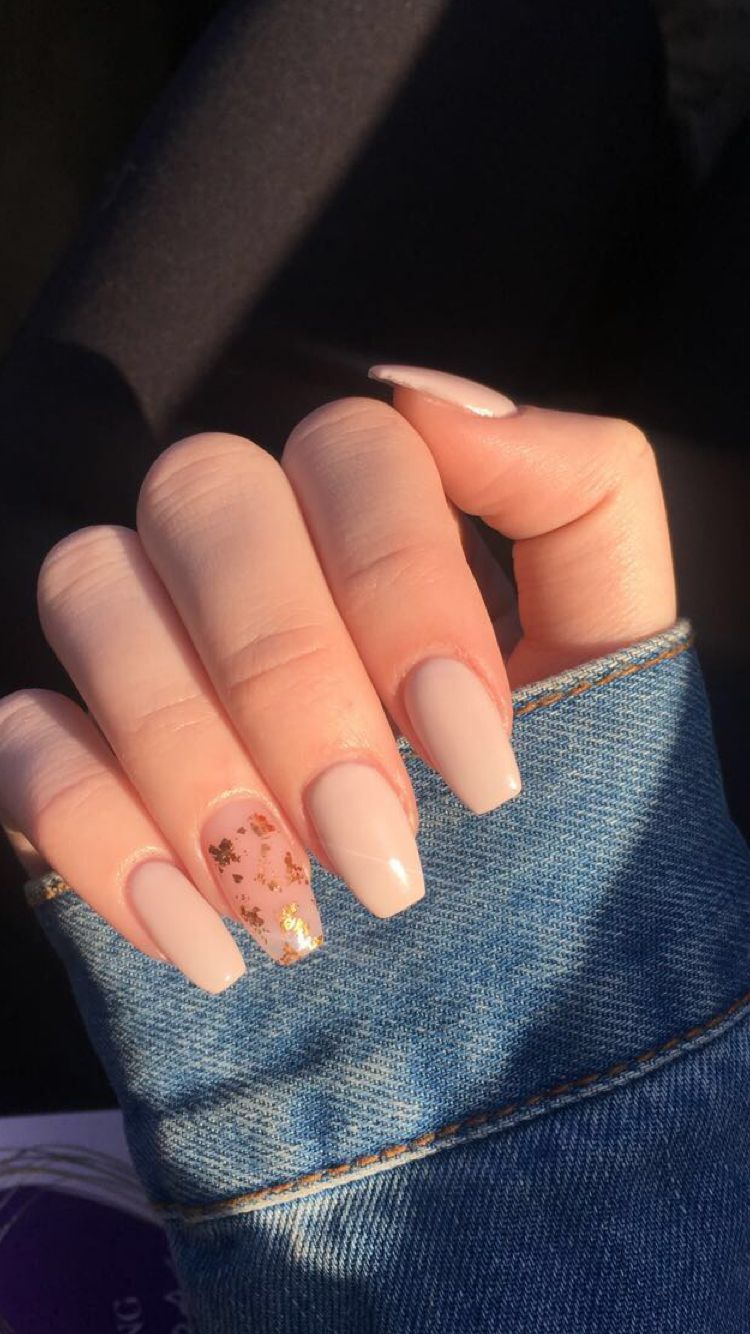 If you already got a bold nail art and wish to try something more straightforward, these simple acrylic nail ideas might be the ones you're looking for. Simple nails appeal to women out there who have a laid-back aesthetic and wish to have a no-fuss option to try out everywhere.
You can opt for your favourite colour, and with minimal effort, you will get the most adorable nail design at your house. This is an excellent option for a woman with new nail painting skills.
7. Spring acrylic nails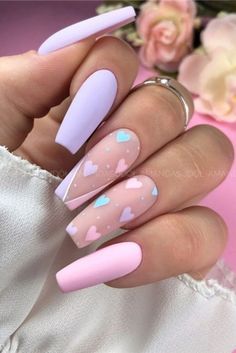 After hearing the word spring, some of you might be jumping as it is the happiest time of the year when life changes and transforms into something new. What better way to reflect your feelings regarding spring than a manicure that celebrates the season?
It does not have to be something bold and bright, although that can be done too, and it can be as simple as adding subtle floral details to the means. Pastels are a widespread choice for spring. They are also straightforward to wear and look good on every occasion.
8. Red acrylic nails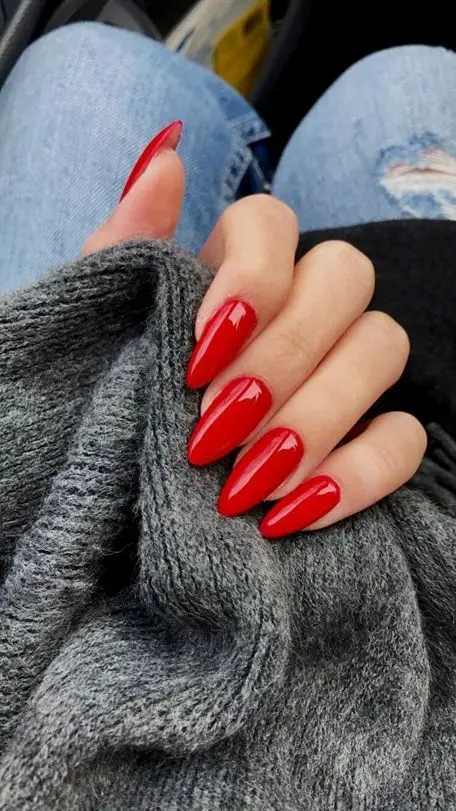 Some colours are ideal to be worn every day because they are cute and subtle, and they are worn to make a statement, such as red. Red falls into the latter category, and going for red nails will automatically get your hands noticed at first. It is a colour associated with confidence, seduction, and passion and is the ideal choice for trying something daring and fun.
There are different shades to choose from, beginning from deeper burgundy hues to cool red tones. Some women might shy away due to the intense red colour, but you can go bold and wear a similar lipstick to enhance your look.
9. Long acrylic nails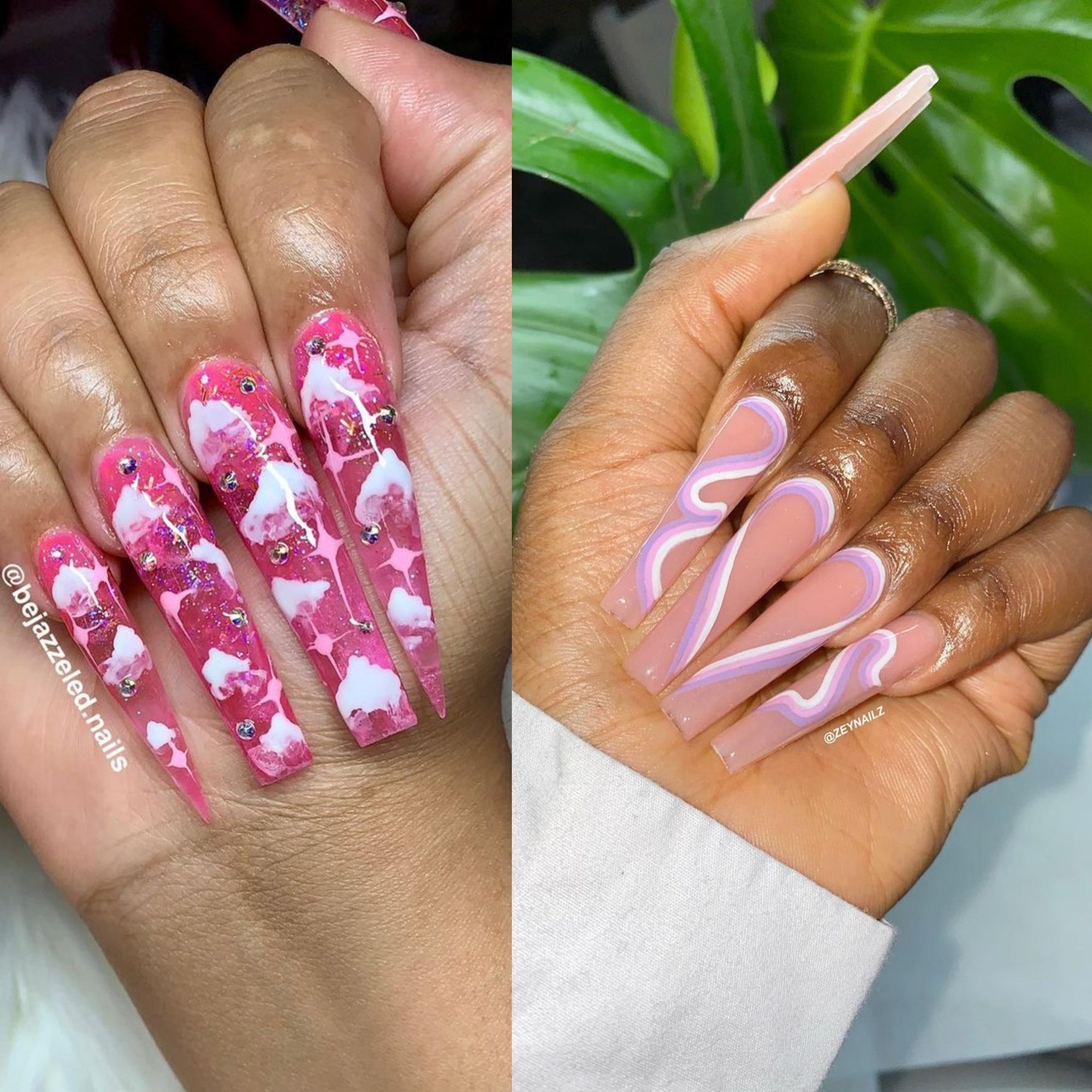 Have you ever wondered why acrylics are so much into trend these days? This is because they can be done in different lengths and shapes. This is the ideal option for a woman who wishes for longer nails or embraces a different shape that might be too challenging to achieve with just natural nails. Long nails possess a feminine quality, but they are also helping along getting your fingers. Going for a longer lens also gives more versatility in designs.
Alternatively, you should try opting for nude, pink, and pastel acrylics for a chic and pretty finish if you like a more subtle way
10. Black acrylic nails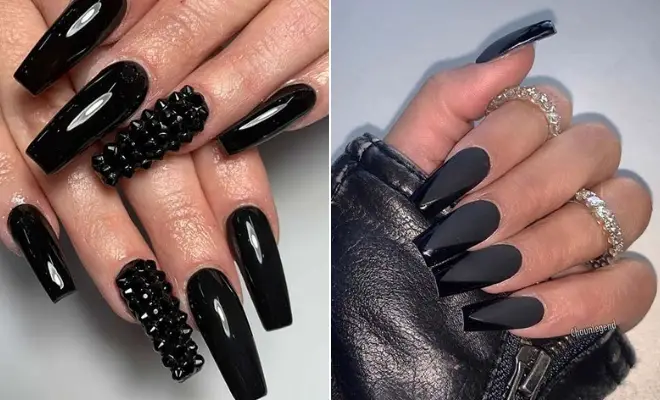 Same as red acrylic nails, black colour also demands attention. Black acrylic leaves are ideal for people who want their hands noticed as they always make a statement look. Black is mainly associated with sophistication and strength and is highly appealing due to its versatility. It can be matched and mixed with different garments and different accessories.
Black is also incredibly stylish and achieved with less effort than other hues. Paint your nails a solid black shade, or you can also experiment with different patterns such as negative spacing for those who want to be more daring. Although it is a colour you should possibly keep out of the office, you can quickly wear it out in a fashion-forward event or a date night.
11. Dotted acrylic nails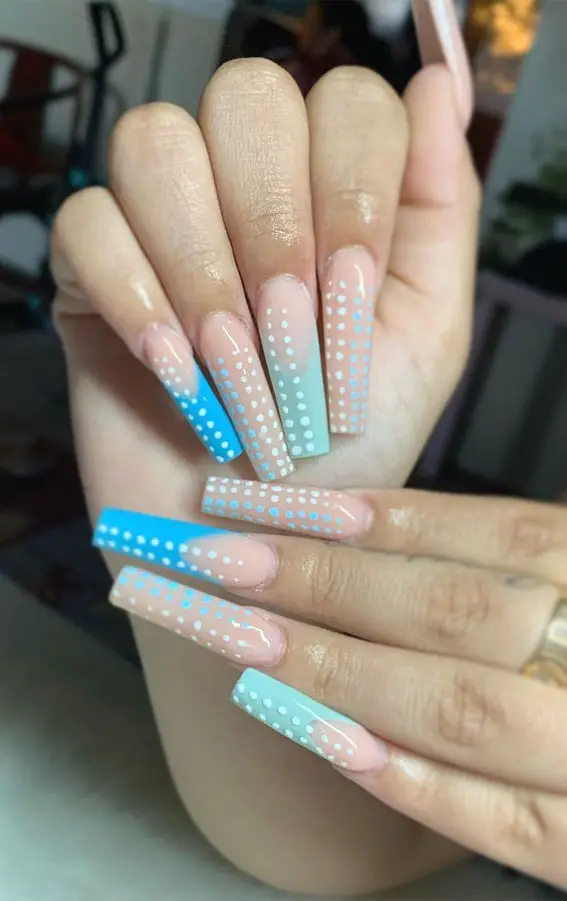 You do not have to spend a lot of money in Anil at the salon or spend hours at home trying to create a stylish manicure. Dotted nails are the living proof of the statement mentioned above as they are effortless to create and great to making an impact. Polka dots are classic and timeless, as you already know, and they can be done in different sizes and colours.
Likewise, you can mix it up by forming bigger and smaller dots on your fingernails or blending different shades. Try experimenting with ombre bases and cover them with small circles for a modern yet simple appearance.
12. Funny faces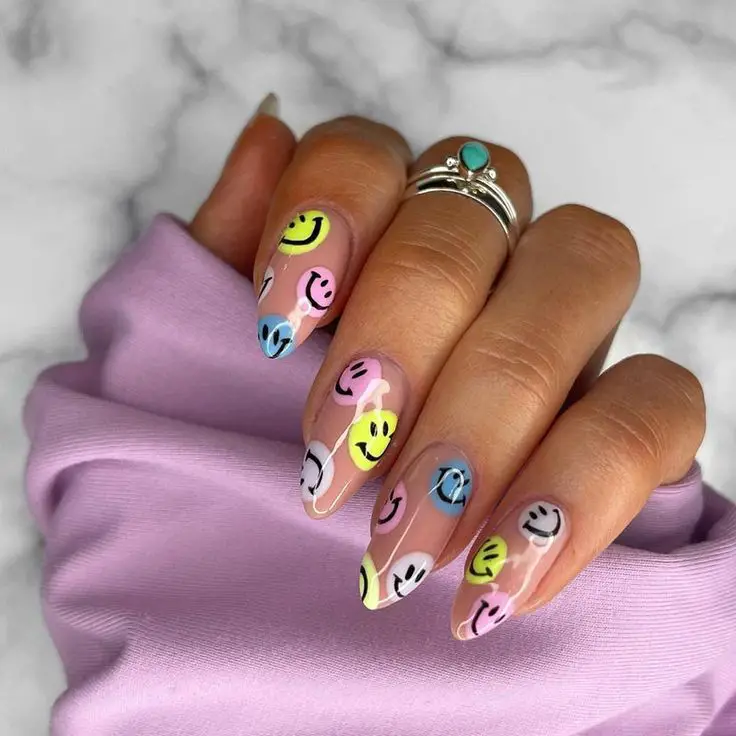 What can be better to convey your emotions through your nails? Smiley nail art is quite cheerful and can quickly bring joy and positivity to everyone surrounding you by just looking at them. Let this design impact by showing the emojis. Try going for a solid background and lighter colours.
13. White daisies on nails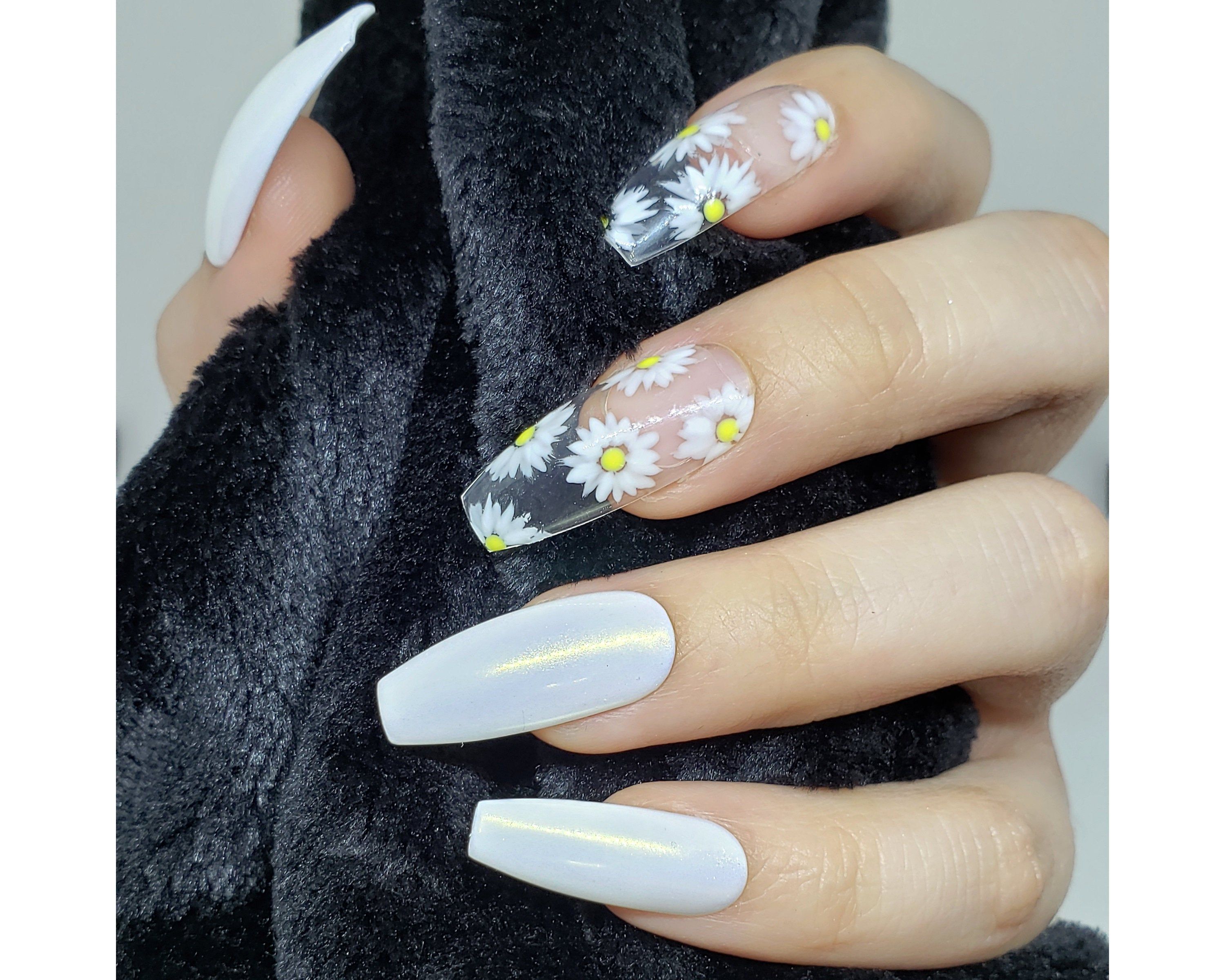 At some point, you might have considered going for floral nail art as it is one of the girly trends these days. Well, daisies on solid green nails are especially striking combinations. These blooms not only appear great on your nails but are also highly symbolic. They represent purity and innocence. The green base allows these white flowers to grow the focus of the look and pays homage to our mother nature. This colour is genuinely connected to the natural world, making it flattering.
14. Animal prints with checks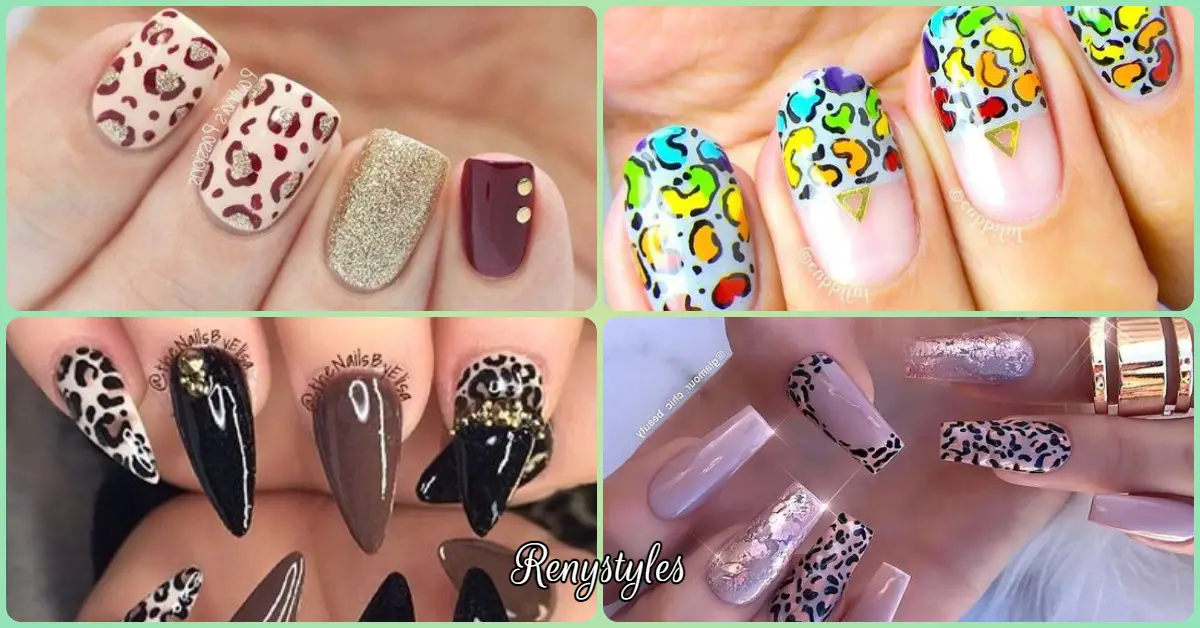 Checks are among the timeless patterns because they are effortless with many variations. You can simply experiment with different sizes and colours, complementing all the patterns. A unique example of this can be the animal prints and check nail art that creates your fingernails filled with checks and focuses more on a feature with your beloved print. One more option is to split different fingers in half so that each print gets equal numbers. For a fun game, you can choose any animal print such as cheetah, leopard, tiger, and giraffes.
15. Baby blue heart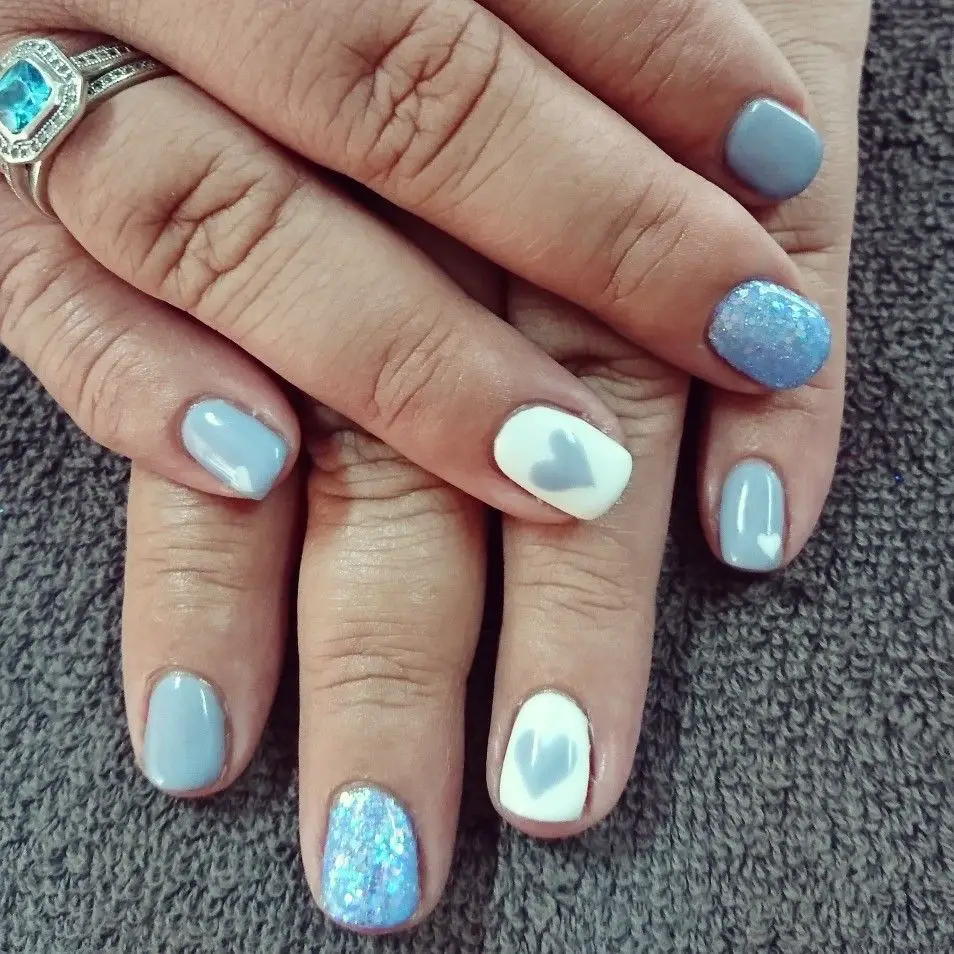 This nail art is effortless to create and appears soothing. It has such a gorgeous look, and the colour is highly calming and will evoke tranquillity feelings in your heart. Hearts are the universal symbol of love and provide an adorable appearance. It may be used to celebrate the ones closest to you or remember what you hold dear. This is quite a simple yet beautiful look that's easy to practice at home and suit all locations you want to go to.
16. Acrylic nail ideas featuring banana nail art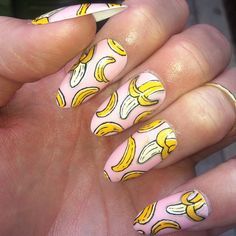 This fruity nail art is something you must try. It is beautiful for the spring and summer months because it is enjoyable and bright. Although you may opt for the neutral base to make the fruits pop a little bit, this is always best. Pink is a specifically great option to try because it appears lovely when you pair it with yellow and will get your hands easily noticed. If this is your favourite fruit and you want to experiment with new colours, this manicure might be the one you're looking for.
17. Acrylic nail ideas with black and white tips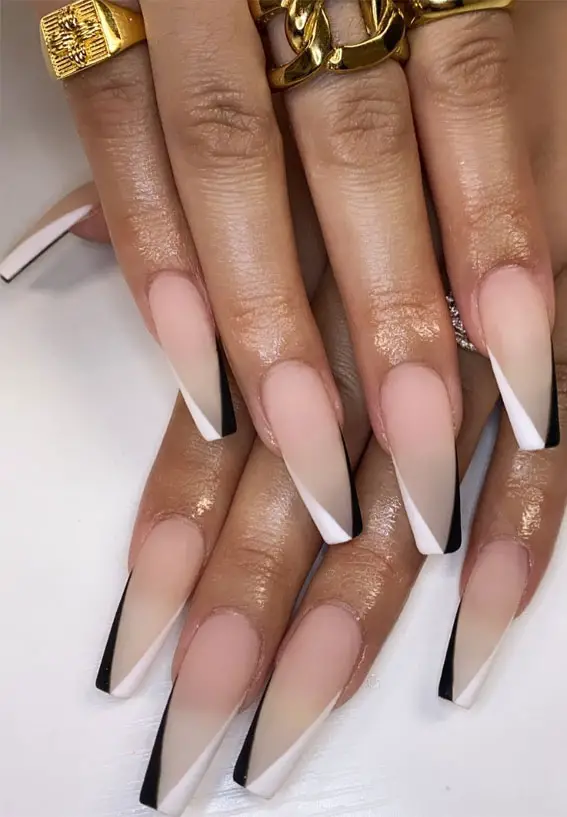 White and black come together to form a classic blend that has been quite favoured in the fashion world. These two contrasting colours appear quite well and mix and match everything and anything you want to dress.
It has a minimalistic yet sophisticated appearance and lends the colour well to different settings. To make your tips even more interesting, you may try experimenting with symbols and patterns for each. You can also wear a toned-down look or opt for the same pattern in all your fingers. To combine a hint of pop to your appearance, try wearing it with your favourite dress and lipstick.
18. Acrylic nail ideas with colourful nail tips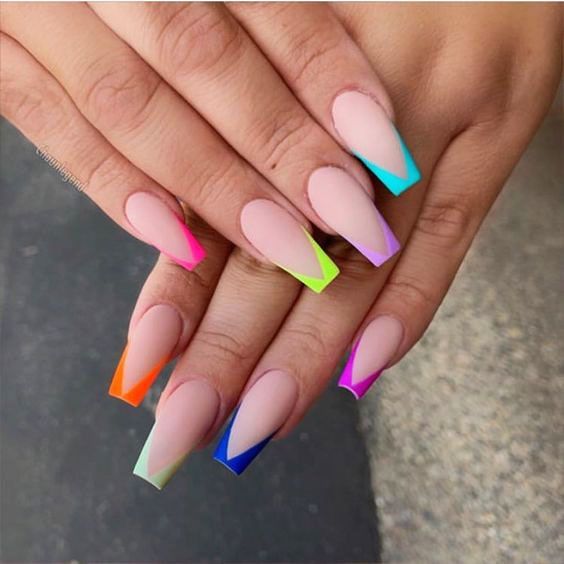 If you love light colours and wish to add a modern approach to the manicure, try using these colourful nail tips. This is a new twist on the evergreen French manicure, but rather than painting the tips properly, you will need to experiment with different shades. These shades can be anything from neons to pay stills, based on your personal choices and how bold you wish your artwork to appear. Try adding simple patterns and details for a detailed appearance and make a statement with minimal effort.
To add fun to your look, try wearing interesting and chunky jewellery pieces, which will further draw more attention to your overall look.
19. Fun Nails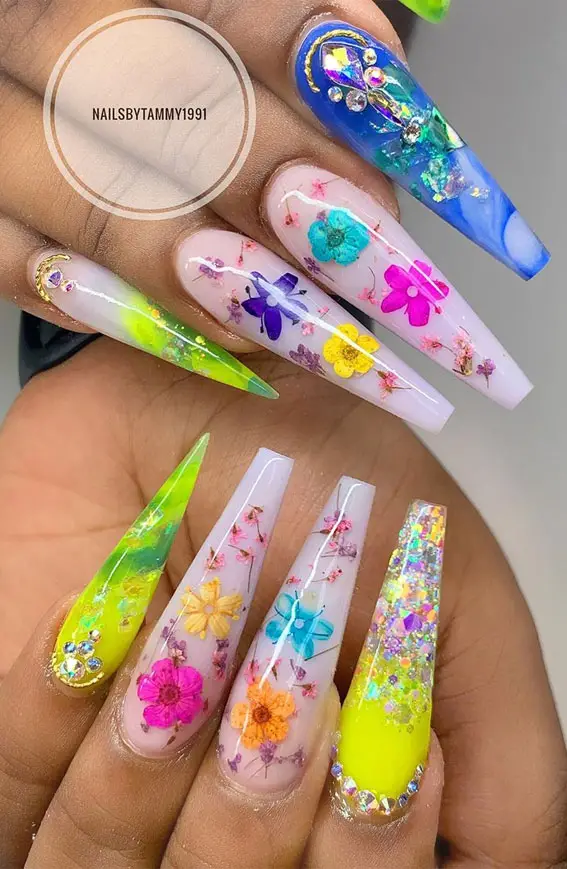 Nail art is a great way to express yourself and allow your personality to shine a bit more. It is among the most accessible aspects to alter your appearance, allowing you to get highly creative with your nails. Fun nails are unique as they will bring a smile to your face. You may also try playing around with different symbols, colours, patterns, either mixing several on one fingernail or choosing something different for all your fingers.
They might not appear highly practical because they won't suit every corporate Environment. Still, if you want your manicure to be temporary and do not want to commit to bold and vibrant shades, you can embrace such acrylic nail ideas.
20. Acrylic nail ideas featuring lace nail art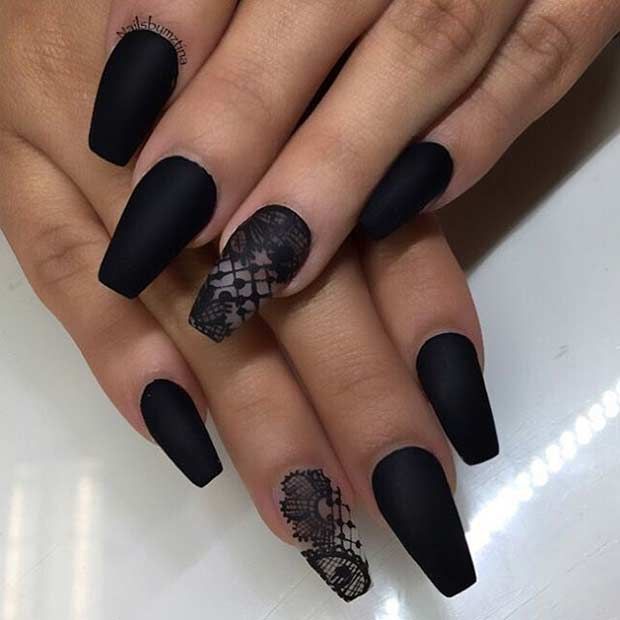 The fabric lace is usually associated with glass and luxury. It is stunning and delicate and often adorns the finest garments. Now the lace fabric serves as a great inspiration for nail art lovers. This trend uses romance and femininity and makes for an elegant and pretty manicure.
This blend is simple and significantly less dramatic than going for vivid colours. It lends itself quite well to all the different occasions you might be planning to visit. It is gorgeous when you're going for a formal event but appears excellent in romantic and relaxed settings.
21. LV inspired logomania nails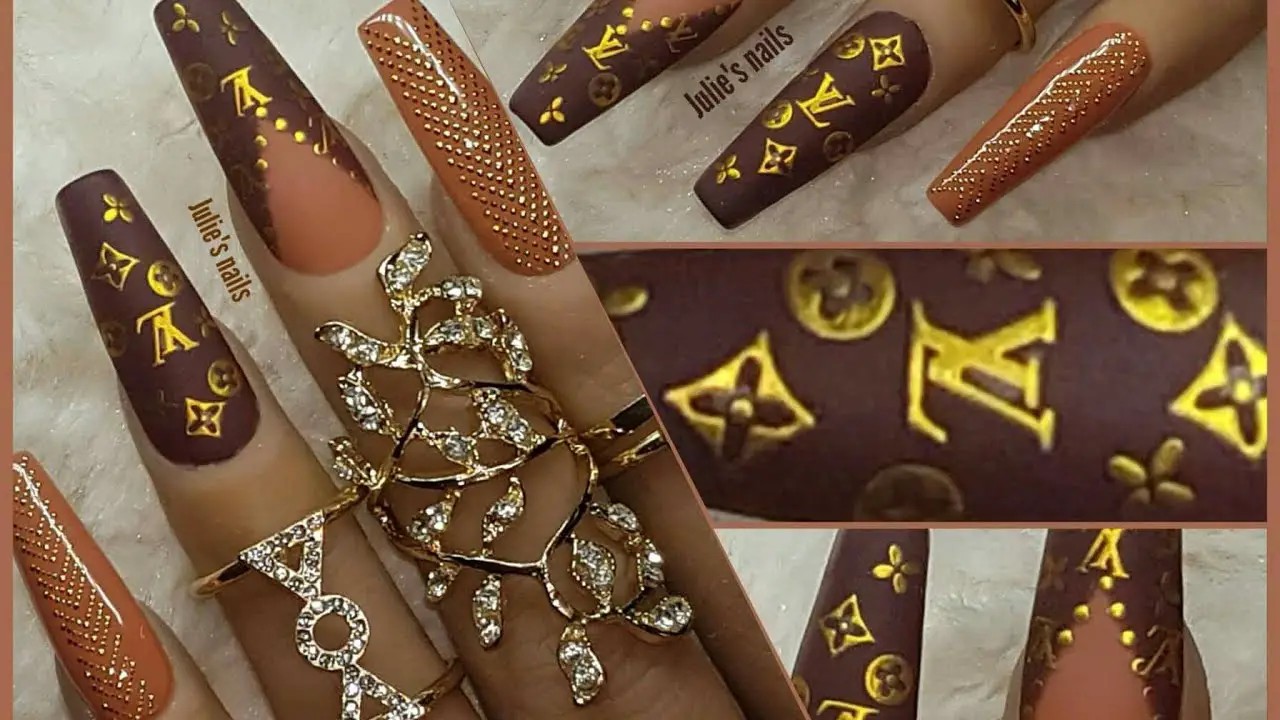 Logo Nails are also relishing their movement within the spotlight as they are incredibly eye-catching. Plus, it is a fantastic way to share the brands you like with the world and showcase your fashion knowledge to everyone surrounding you. Although there are different designs to choose from, one of the trendy ones is Louis Vuitton because of their easily recognisable and distinct logo.
These Louis Vuitton-inspired acrylic nail ideas have a luxurious appeal, which is fantastic because this brand is linked with being elite and is a symbol of money and power. You might want to go for brown bees having golden detailing and keep the colour classic. This makes them look extra interesting yet subtle, lending well to different occasions.
22. Acrylic nail ideas featuring nature-inspired nail art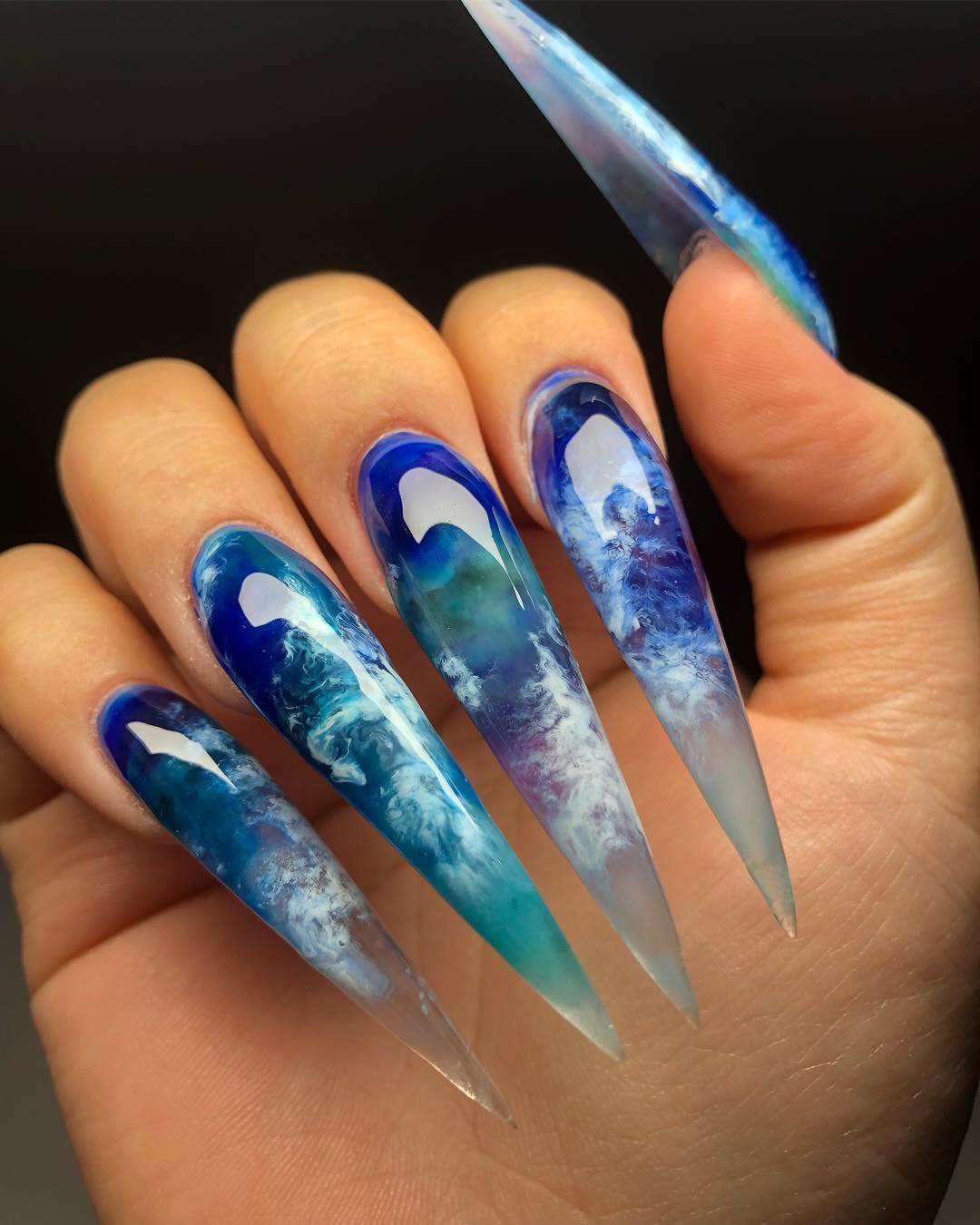 The world is occupied by natural beauty, and sometimes we forget to appreciate it. One great way to remind yourself to honour nature is by getting inspired with nail art featuring nature. This may be anything from trees, oceans, mountains and flowers to stars moons in the sun.
The beauty of this particular work is a significant variation you can experiment with. There are tons of images, and you can find anything that appears most appealing to you. If you wish to get a manicure that symbolises serenity and tranquillity, then different shades of blue are a fantastic way. They are breathtaking and create a soothing effect to look at.
23. Acrylic nail ideas featuring white and nude swirls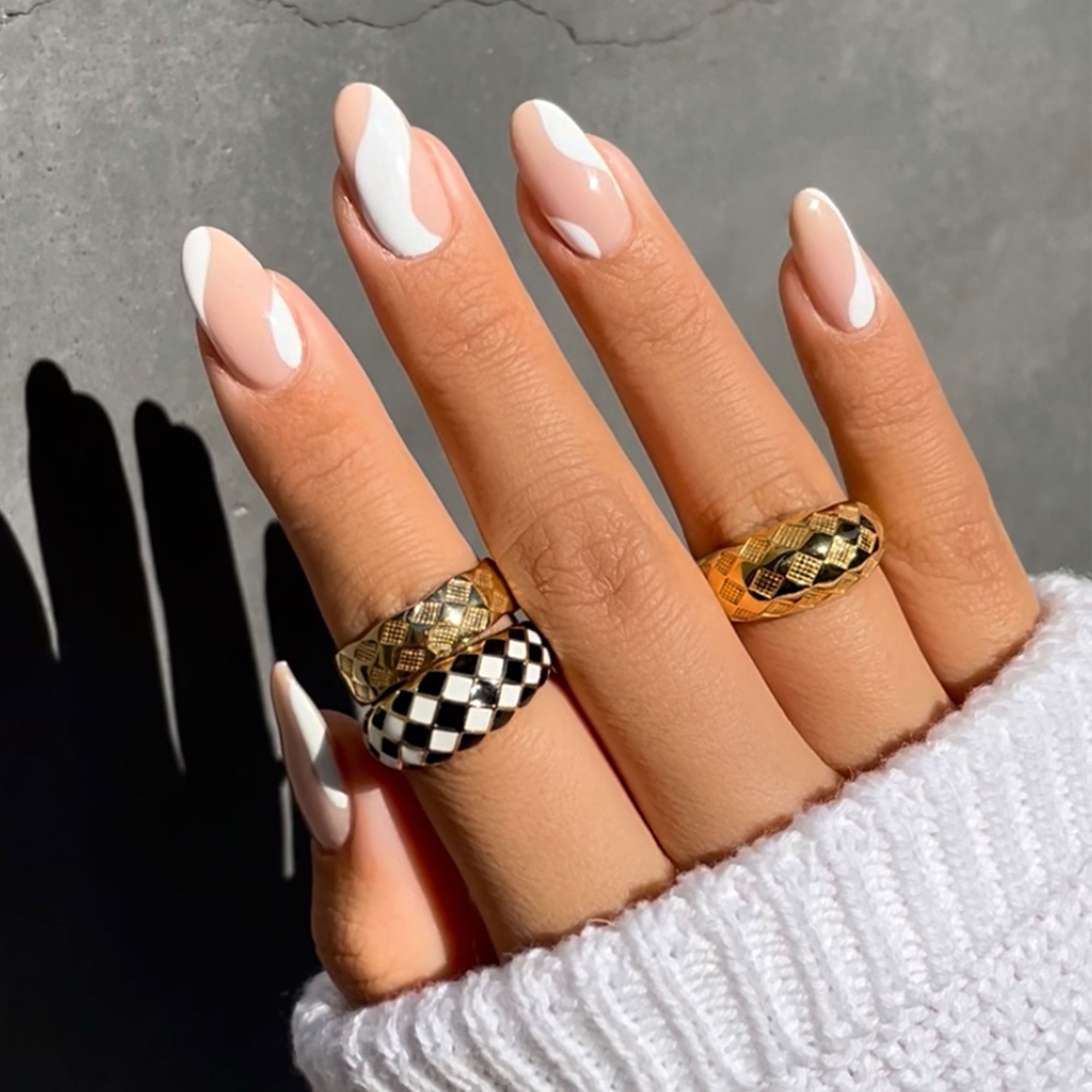 Nude and white swirls prove that not all manicures have to be done using bright colours to make a statement. You will adore this combination as it is incredibly subtle, making it even easier to wear. The nude shade goes pretty well with everything, and white lacquer has been a favourite for nail art as it is so green yet crisp. Adding swirls of different sizes at different angles makes a simple and modern appearance. Wear these to a date or a fashion event or simply at your home; this artwork is perfect for every occasion.
24. Pastel checks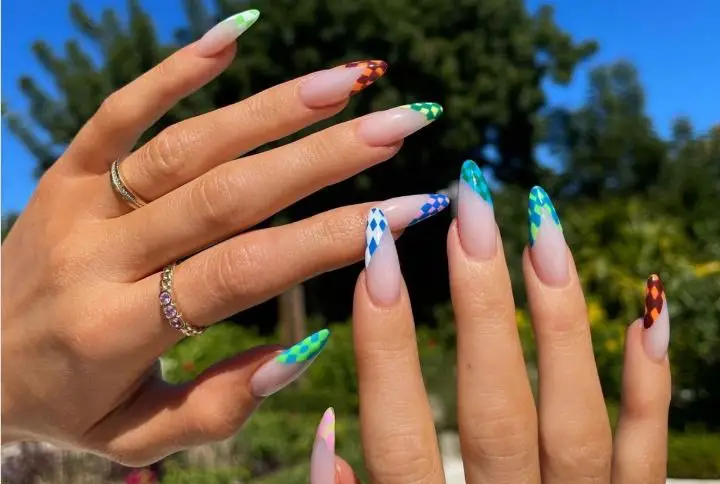 If you wish to have a manicure with a 70s appearance, then the space till checks are the perfect choice for you. Going for these groovy nail art is an excellent option because of how versatile they are. You can create them in different shades and also make each fingernail similar. Or you can try using different colours based on the desired results.
Try using different shades and showing the world how dramatic you want your nails to be. Pastels will go well with almost all the occasions and are extremely easy to wear, but if you wish to rock them, why not embrace the old retro vibes and go for vintage clothing to add a statement with eclectic jewellery.
25. Acrylic nail ideas featuring pastel stars and clouds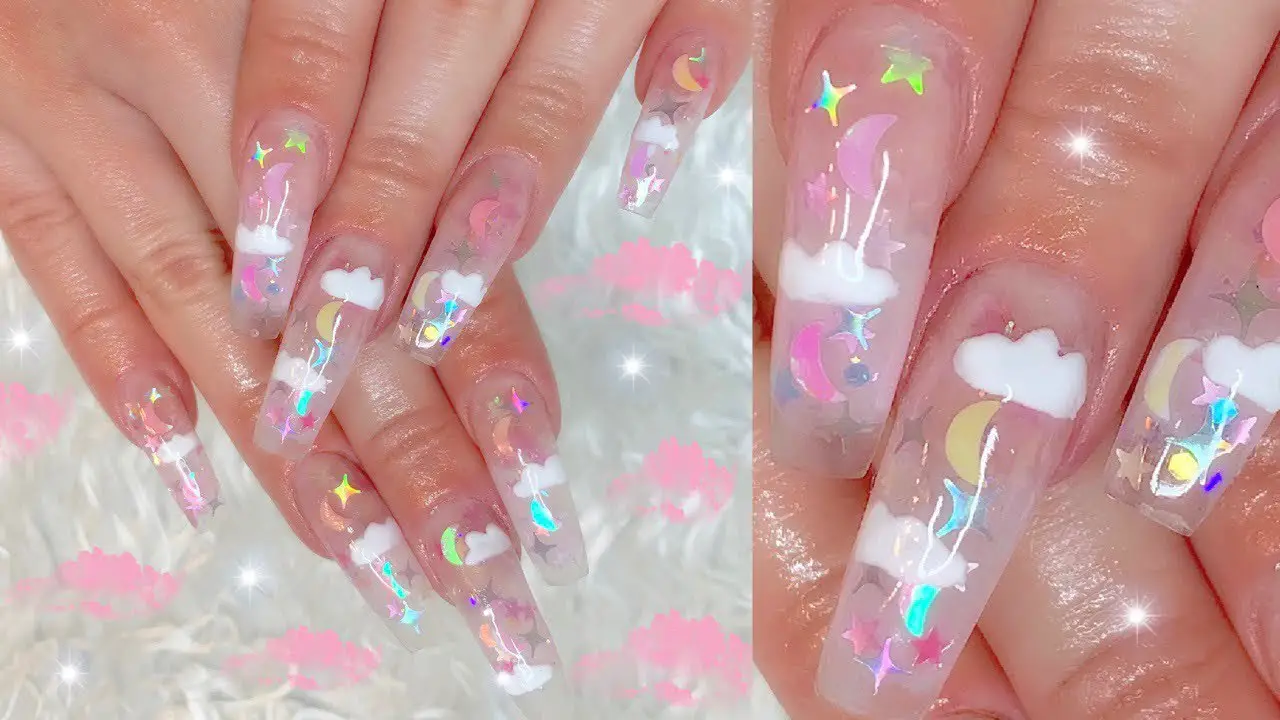 Stars and clouds are a gorgeous combination as they create a dreamy feel. This is even more simple by using pay still shades. This combination makes you think of all the good times and contemplate your future. Clouds showcase personal growth and your capability to overcome every hardship, while stars are linked with hope and guidance. This combination is a thought-provoking way to showcase how you should look on the bright side rather than remembering the foggy days. This is a truly remarkable statement, so if you wish for pretty and symbolic nails, this one might be the one you're looking for.
26. Acrylic nail ideas featuring constellations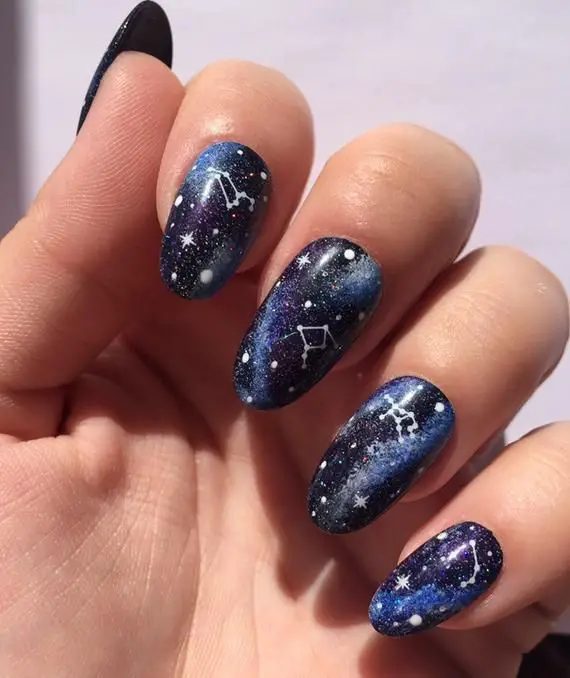 If you are looking for an incredibly appealing option for your nail art this year, then constellations might be just one. You might pick them because you are stargazing or because they represent guidance, protection and hope. There are different constellations, so this gives you plenty of choices to pick from.
When choosing a colour combination, try opting for blacks or darker blues as a base coat because they look fantastic to represent the night sky. It is also a way to allow the Goldstar constellation stickers to pop. Think about how mysterious the universe is every time you have a peek at your super cool and gorgeous nail art.
27. Acrylic nail ideas featuring daisies and strawberries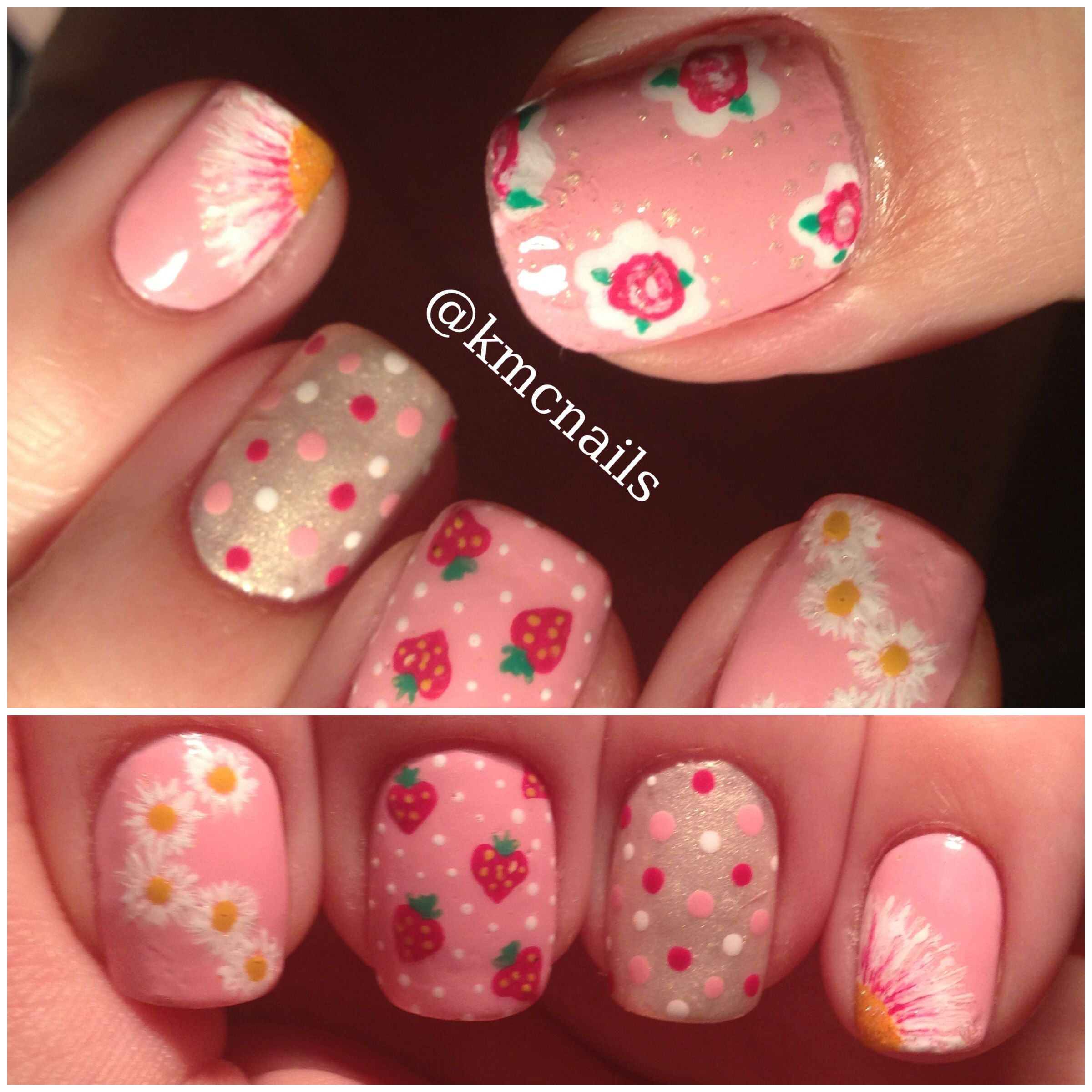 No nail art can give you as much summary vibes then these daisies and strawberry nail arts. This combination appears extremely cheerful and sweet. The fruit's red colour on the top makes it even more eye-catching and vibrant. They are also symbolic and often linked with temptation, passion, and sensuality. On the other hand, Daisies are a bloom that showcases purity, love, and innocence. So when done together, these acrylic nail ideas are pretty exciting and meaningful.
28. Sweet tooth nail art
If you are already craving sweet candies and cakes all the time, this sweet tooth nail acrylic design might not be the one that fits you. Ice cream cones, macaroons, and confectionery look excellent enough to eat. When nailing art, there is no limit to what you can do and what you cannot do. This artwork is all about experimenting and playing around with bold and bright colours with attractive detailing. You can also make them look 3-D by adding nail jewels and experimenting with lacquer.
Try painting each nail with a unique shade, have fun using different ombre techniques, or go for exciting tips. There are so many ways to get creative about acrylic nail ideas.
29. Watercolor effect pastel nails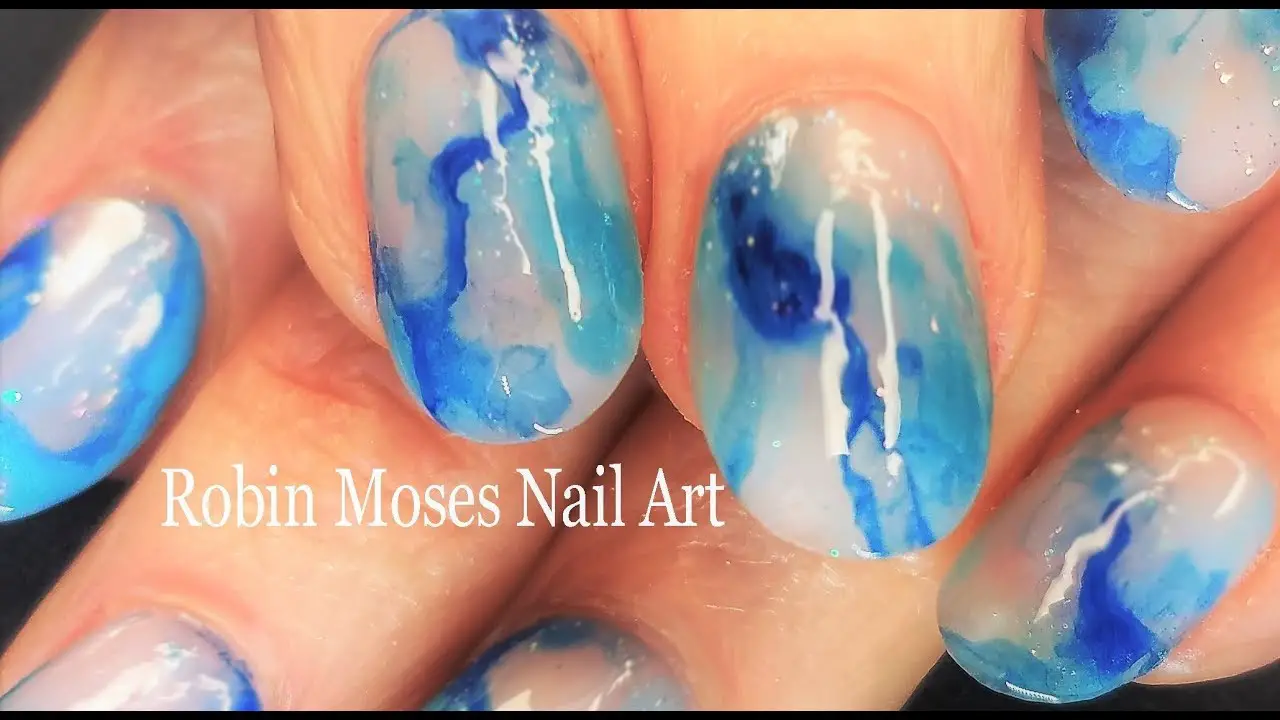 You have seen so many acrylic nail ideas using pay still colours. Pastel shades are excellent as they are feminine and dreamy. They also work incredibly well as easy to wear because of their soft colour. But if you wish to get an update for pay still shades, this one might be the one you're looking for. Watercolour effect-based nails are a technique that blends different colours as you would paint on the canvas. These acrylic nail ideas create a dreamy and eye-catching combination. You can complement them by wearing a similar pace outfit or tone down the look with solid neutral shades.
30. Fluorescent nail ideas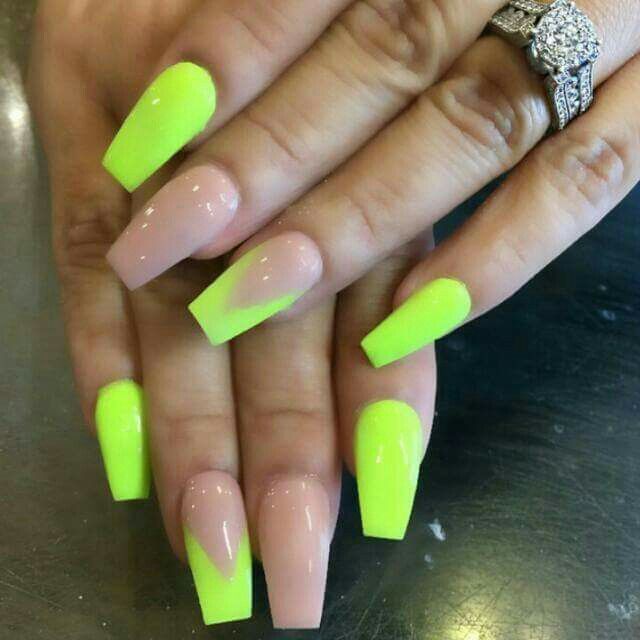 Fluorescent nail art requires attention because the pigments are incredibly bright and bold. If you wish to get a highly daring manicure and create a statement without trying too hard, then this one is a must-try. Although you can pick from a wide range of tones, one of our genuinely favourite ones is this yellow colour that is fit for summer. It is a colour that evokes optimism and happiness due to its luminous colours.
Such acrylic nail ideas are quite luminous and a must-try.
31. kid core nails art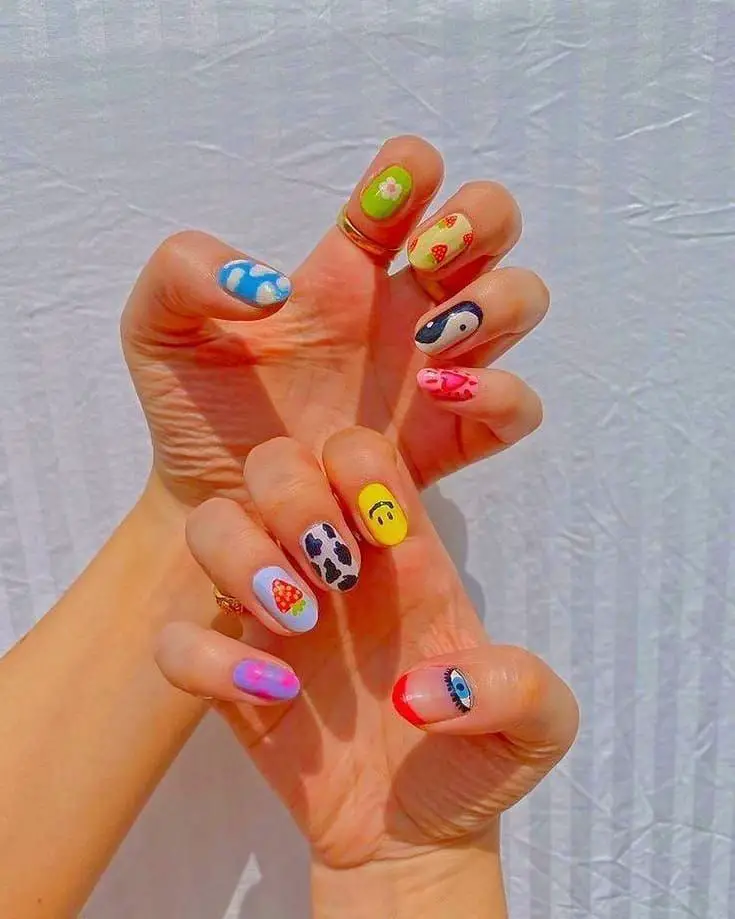 Is there a better way to channel your hidden child than this cute kid code nail art? The incredible thing about this artwork is that it channels out your playful side. If you wish to have bright and bold nails and something that brings a smile, this is worth trying. While it might not be The most loved manicure and appropriate one for a workplace, it is fun to wear for a relaxed event that evokes the fun side of your personality.
Embrace sweet decals, vivid colours, and all the glitter with gems you can get from the stylist. Try such acrylic nail ideas to embrace your inner child.
32. Silver feature Nails
Silver feature nail arts are gorgeous for a slightly futuristic and stylish appearance. Highlighting one or more nails using shimmery and bold shades makes them stand out. Maybe you wish to draw attention to your nail art with your engagement ring? Or perhaps you wish to have fun with your new manicure, and it's worth a try.
The silver colour is often associated with Grace and Glamour. Still, it also has robotic and ultramodern fields, giving your nails a brief appearance, and you may agree on it. Because of how simple this style looks, this nail art works best when you have longer nails to make a statement. That being said, nothing can stop you from trying it out with short nails too.
33. Stripes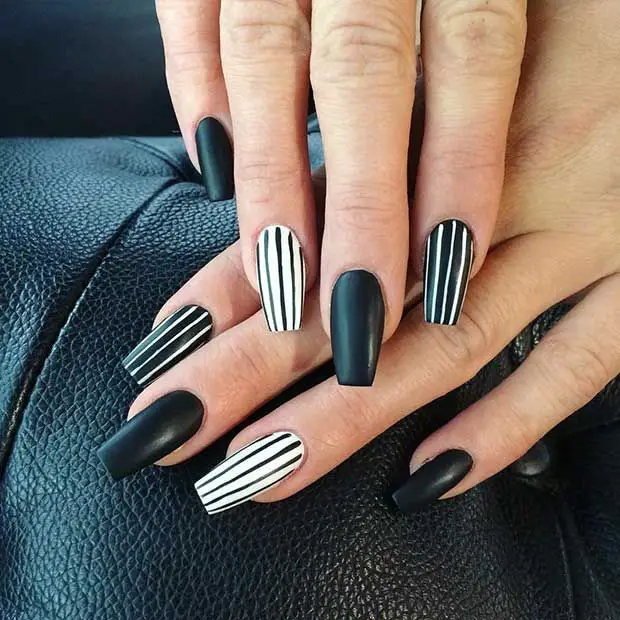 We all can agree on one thing that is stripes at one of the most classic patterns. They are a style staple for beauty and fashion and make for a fun and fantastic nail design. Going for stripes is a subtle yet fun way to experiment with new colours. Depending on your desired results, you can pick different shades on one nail or keep it unique with two or three shades.
These can be complementary colours or clash with opposite shades to form a dramatic nail design. It is incredible how something so easy can also appear so compelling, so now you can choose your favourite colours and create this super classic manicure for yourself. These acrylic nail ideas are great to try.
34. Unique French manicure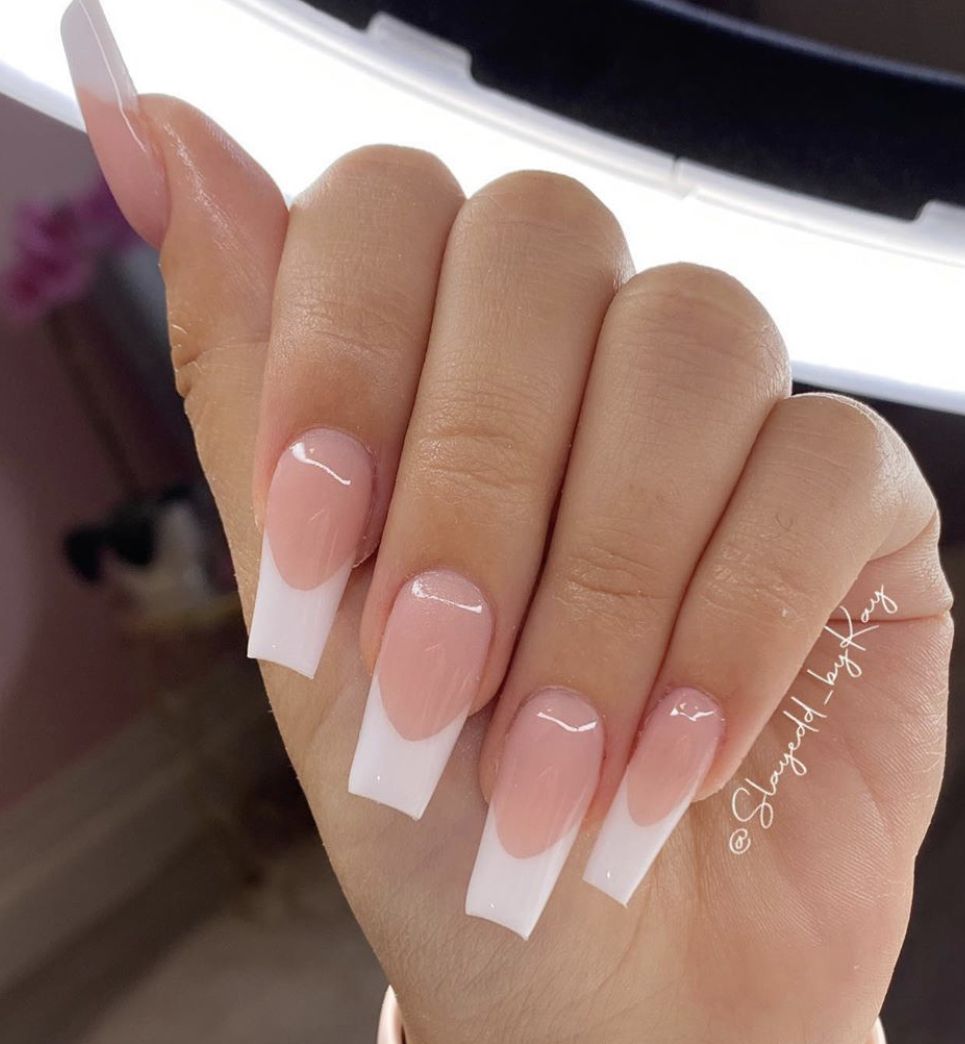 Do you know what defines the classic French manicure? Yes, you guessed it right, it is the white tips. If you are a lady who adores colours and wishes it was something a bit more modern, let us take you to these French manicure acrylic nail ideas. This particular nail art is a fun way to experiment with different colours and is especially striking when complemented with a clear or no nude base. This allows the colours to pop. It is effortless to wear and comparatively straightforward to personalise and create. Play around with various colours to discover a combination that works well for you.
If you want to draw attention to your fingers, try adding your favourite rings.
35. Girl power nails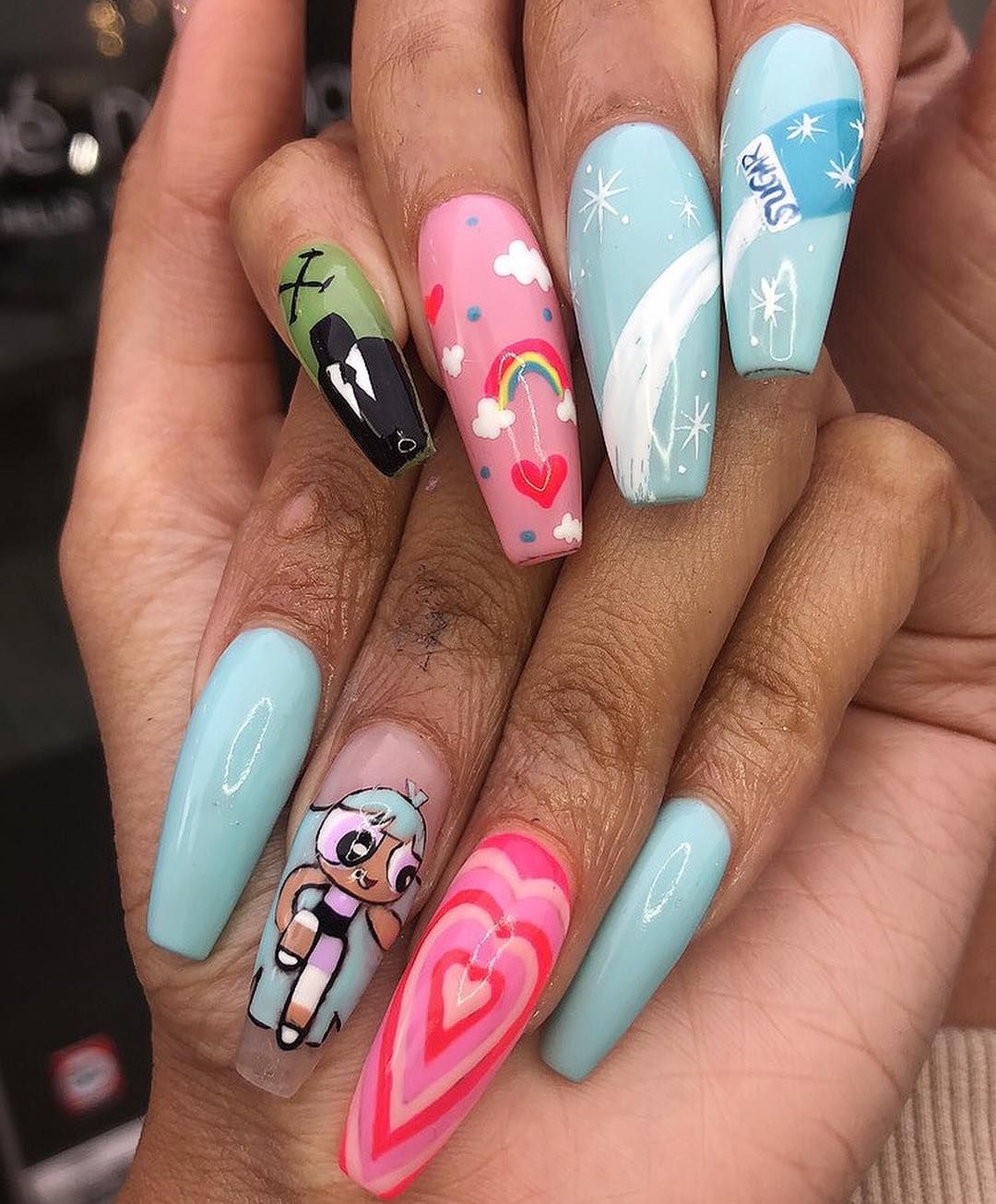 Your nails play a crucial role in determining your overall look, and it is one way to express yourself and showcase the things you love the most. Girl power nails give you that opportunity to honour and celebrate what it means to be a woman. It encourages you to be more independent and empowered and be a bit more confident.
These fantastic nail designs are effortless, with only a few colours and minimal detailing. If you want to add a statement, you can add glitter fun decals, your nails play a crucial role in determining your overall look, and it is one way to express yourself and showcase the things you love the most.
Girl power nails give you that opportunity to honour and celebrate what it means to be a woman. It encourages you to be more independent and empowered and be a bit more confident. These fantastic nail designs are utterly simple, with only a few colours and minimal detailing. You can add glitter and diamante if you want to add a statement. Show your support by wearing these girl power acrylic nails.
Are Acrylic Nails Safe?
Artificial nails could turn out to be harmful to the natural nail beds, mainly if done repeatedly and without gaps; it would be great to take a break every three to six months. They may also cause an infection or annoyance, and a small number of people might have an adverse reaction to the chemicals used in these products.
Some women might also find the fragrance unpleasant. Before using acrylic nails, you require to file down the cover of your natural nails, which will make them touch thin and weak. It is necessary to go to an experienced nail technician to get them done and removed precisely to limit this damage.
How Can You Make Acrylics Last Longer?
There are numerous pros to acrylic nails, including that they let you create the perfect look fitted to your personality and fashion sense. You can test with different nail shapes and lengths and arty or cute nail designs. They last for long, generally between six to eight weeks, though the time can be based on the growth of the natural nails.
You will require to have them filled in, usually every two to three weeks, to assist them last longer. It will be most suitable to take care before immersing in various activities and limit contact sports. You are also required to take care of the hands, and nails maintain them clean and moistened. Wear gloves when you are employing cleaning products and detergents.
How much does it cost to have acrylic nails with designs?