Red hair Green eyes, also known as the Redhead green eyes is a rare combination of genetic traits seen in human beings. The red hair green eyes combination occurs due to the inheritance of the recessive traits. This combination is uncommon among humans and one of the most vibrant inheritances that you can get.
Usually, this combination is among people with an Irish bloodline. It is also seen in regions like Britain, Norway, Denmark, Iceland, Finland, etc., you know that getting this combination is sparse. People think that the makeup tips and trends to match their Red hair green eyes combination are limited. If you are one of them, don't you worry because here are a few of the makeup tips you can use to top that Redhead Green eye look of yours.
6 Cool Stylish Makeup Tricks for Red Hair Green eyes Combination
Red hair and green eyes are rare traits. There is nothing wrong with flexing it. Just enjoy that vibrant look of yours by following a few makeup trends and ideas. Here are six cool makeup ideas to make your green eyes pop and the red auburn hair rock.
Bronze Eyeshadows
Nothing is as basic yet elegant as a fine bronze shimmer eyeshadow palette. The bronze eyeshadow not only gives your face a splendid look but also makes your green eyes pop. Take a bronze palette of your favourite brand and apply the lightest shade in the palette over your entire eyelid.
To create a shimmering effect, choose the darker shade and slightly pat on the mid-region of your eyelid. Then top the look with dark eyeliner and voluminous mascara. If you want your eyeshadow to stay a bit longer than usual, you can use lash glue. Just take a bit of your lash glue in a cotton swab and gently apply it over your eyelid.
Rust Eyeliner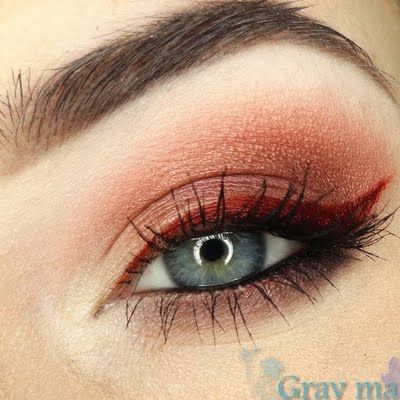 The truth is that no other colour can match the green eye more than the rust-coloured eyeliner. It makes your green eyes pop and creates a beautiful moss on brick look. There are various top-notch brands like Nyx which provide you with this colour.
Also, make sure that you draw a simple stroke using it and make the line thin as thick might not be suitable. You can top the look with bold or nude lipstick and less voluminous mascara.
Aubergine Eyeliner
Another eyeliner shade in the platter is the aubergine hued eyeliner. This colour makes your green eyes pop too. It also goes well with your red hair, especially if it is auburn. The thing is that aubergine or violet coloured eyeliner goes well with both red hair and green eyes. So, you do need to worry whether it suits your hair or not.
Aubergine eyeliner can also be used to pop blue, black, and hazelnut coloured eyes. The colour is readily available and provided by top-notch brands like Laura Mercier, Trish McEvoy, Maybelline, etc.
Side bangs
Yes, you're right. Imagine your red hair getting flamboyant side bangs or curtain bangs, intensifying and defining your green emerald eyes. Remarkable, isn't it? As said above, no haircut can define your eyes as the side bang does. So if you are searching for a haircut to define your red hair green eyes look, then here is an option.
Cheek Freckles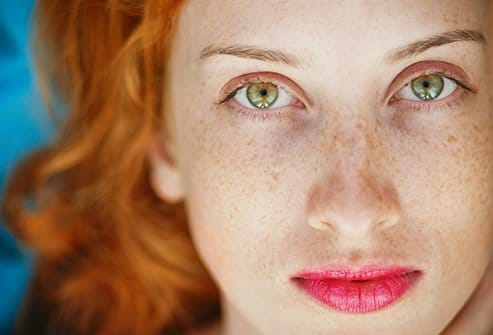 Well, this doesn't require a special introduction. Almost everyone knows the influence of freckles, especially fake freckles, in our fashion industry. The fake freckles trend is always on social media platforms, and people are dying to get them.
If you possess red hair green eyes to look at, you must get these, especially on your cheeks. It gives your face a greek goddess look, especially with your green eyes. Is it possible to get fake freckles on your cheek without sun exposure (as freckles due to sun exposure are not relatively healthy)? Of course, yes!
All you have to do is to buy a brown eyebrow pencil with an ultra-slim tip. As you know, freckles are teeny tiny dots, and so for creating fake freckles, you will need an eyebrow pencil with a precise tip. Slowly create dots around the region below your eye bag and also on the region of the upper nasal bridge. Make sure you don't overdo it. You can also use grey eyebrow pencils but brown looks more natural.
Green highlights
You can also top your red hair green eyes combination by getting green highlights on a few of the streaks of your hair. It not only matches your eye color but also gives an overall stylish look. Green highlights along with a few purple streaks add personality to your hair even more.
If you are not willing to get highlights from a salon, which uses chemical dyes, you can always prefer artificial hair streaks which are available online, that too with plenty of options in the platter.
Minimalist grooming and makeup
For people who have red hair green eyes combinations, nothing can match the elegance created by your look. So, it is always advisable to go for minimalist natural makeup. Make sure you don't over accessorize yourself, both makeup wise and accessory wise because it conceals the natural beauty you have got there and may dominate it.
So always remember the quote "Minimalism is not about having less. It is about making room for what matters".
Famous celebrities who have Red Hair Green Eyes Combination
Emma Stone

Amy Adams

Jessica Chastain

Drew Barrymore

Julianne Moore

Maureen O' Hara

Kamila Herman

Susan Coffey

Lindsay Lohan

Karen Gillan

Senta Berger
Cessation | Red Hair Green Eyes
Red hair Green eyes combination is still the one almost many craves to get. Many even seek help from their hairdresser and beauticians to get the desired look. The combination is not only classic but also goes with almost every vintage dress, especially autumn looks. Hope you enjoyed reading this fashion article. Feel free to share your styling tips for redheads and green eyes.