Forehead Reduction Surgery- Procedure, Risks, And More!
Forehead reduction surgery helps reduce the length or height of the forehead. This cosmetic procedure is helpful for anyone who wishes to acquire a small forehead.
The forehead may be larger or smaller based on genetics or hair loss from the frontal scalp. Other cosmetic procedures may increase the height of the forehead, making it appear larger. Forehead reduction surgery is also known as hairline lowering surgery as it helps balance the face's proportions.
Forehead reduction surgery is a different procedure compared to a brow lift. Anyone thinking about this surgery must know everything beforehand, including recovery time and risks involved. Here's all you need to know.
Forehead Reduction Surgery
When it comes to information on forehead reduction surgery, there are many important aspects one needs to know, including the procedure, risks, cost involved, finding a surgeon, alternate options, and if you are a suitable candidate or not.
The surgeons under general anaesthesia perform this procedure. Sometimes local anaesthetics are implemented to help reduce bleeding and pain.
Forehead reduction surgery- Procedure
The plastic surgeon will perform the following steps during the reduction surgery.
Your hairline and the forehead portion to be eliminated will be identified and marked using a surgical skin marker. Exceptional care is taken to ensure that this cut or mark, along with the hairline, shields the nerves and hair follicles.
The entire forehead, starting from your hairline to merely above the eyebrows, is anaesthetized using a local anaesthetic to help ease the pain.
An incision or cut is done along a substantial portion of your forehead and hairline (also known as pretrial cut). The doctor will delicately separate your skin from the connective tissue beneath and cut out the marked portion for elimination.
The uppermost incision along your hairline is then dragged down to connect with the forehead incision. Doing so seals the gap and reduces the forehead height.
Your skin is again sutured together in a way that helps minimize scars formation and is covered entirely by your hairline upon hair regrowth.
You should also note down that although forehead reduction surgery is performed to reduce forehead height and might alter the appearance of your brows, it does not significantly raise your eyebrows.
Forehead reduction surgery- Recovery
Most people usually return home within just a few hours after the surgery has been completed. You will have to return to the doctor's office to remove sutures after a week or as advised by your surgeon.
The doctor might also advise you to return for post-operative and observational checkups nearly 2 to 4 weeks after your surgery. Like other surgeries requiring incisions to be made, you must take great care for a forehead reduction surgery. The aforementioned includes allowing it to heal entirely and keeping the wound clean to avoid infection.
Also, make sure you check now and then to spot any signs of infection in the area surrounding the incision. The doctors will also provide guidelines on how to care properly for the surgery post incisions, including dealing with swelling, pain, and other risks of surgery.
How will you find out if you are a suitable candidate for a forehead reduction surgery or not? You might constantly be thinking about the surgery but still, be confused if you are eligible or not. Here are some points to find out.
Are you an ideal candidate?
Forehead reduction surgery can be performed to balance your face's proportion and overall structure of your face. If you have any of the following conditions, you might want to go for a forehead reduction surgery.
You have a high hairline and wish to lower your hairline.
If you have a large forehead and looking forward to shortening it.
If you have thick hair that appears disproportionate to your hairline length.
Heavy or low eyebrows and wish to change the face proportion.
If you have recently had a hair grafting process and want to increase the hairline.
If you have had a brow lift procedure recently and you wish to bring the hairline slightly forward.
However, if you fall under any of these criteria, know that there are some other possible facts the doctor will consider to decide if you are the perfect candidate for this surgery or not. To achieve a successful forehead reduction surgery, you are also required first to have an excellent scalp laxity. Scalp laxity refers to the ability of your scalp tissues to stretch.
For people having a family history of pattern balding, going for a reduction surgery might not be the right option. If you have some other medical conditions that might increase the risk for complications, you must discuss beforehand with your surgeon to remain safe and secure.
Forehead reduction surgery is not advised for someone who has already undergone a coronal eyebrow lift or used a strip excision for a hair transplant. Patients require a contrarily thicker or fuller hair density, so the hairline lowering procedure is not supported for patients whose hair seems thinning or who are actively losing a lot of hair.
Scarring differs from patient to patient on various factors, but patients with deeper skin tones might experience more prominent scarring nearby the incision area.
Side effects and potential risks of forehead reduction surgery
All the surgical procedures you can name come with certain complications and side effects. Some risks involved with this procedure include the following:
Excessive bleeding after the surgery or during the surgery.
Side effects as a result of general anaesthesia.
Allergy to local or general anaesthesia.
Infection on the area where the incision was made during the surgery.
Nerve damage on the place of an incision.
Loss of hair where your hairline was parted.
Scarring once the incision completely heals.
For maximum people going for a forehead reduction surgery, the benefits after the surgery generally outweigh the side effects and complications involved. If a practiced and skilled professional expected the surgery, the probability of having a scar and long-term side effects is minor.
A small study from 2012 revealed that even in those patients who encountered side effects after forehead reduction surgery, very few people had these side effects for over a year.
Cost of forehead reduction surgery
As you already know, Forehead reduction surgery is a cosmetic procedure, so it is most likely not covered by any medical insurance. Most surgeons will need the person who wants this surgery performed to book a consolation before the surgery to give you a detailed estimated cost.
The cost might vary based n a lot of factors such as the extent of surgery, the skill of the surgeon, and other things. The average price of this surgery is somewhere near 3000 dollars.
How to find the right surgeon
When you search for a cosmetic surgeon, always make specific the surgeon is board certified. You can always search for great surgeons on the American Board of Facial Plastic and Reconstructive Surgery and The American Board of Plastic Surgery to find an ideal surgeon certified by the board near you.
Throughout the consultation, you must also want to examine and consider asking the following from the cosmetic surgery team:
regarding years of expertise with cosmetic operation and forehead reduction surgery.
Before-and-after pictures of previous surgery clients.
Customer assistance and, if possible, positive reports on their social media handles.

What are the favoured surgical techniques?

What are the difficulties and risks of this reduction surgery?

Where will the forehead reduction procedure take place?

What advantages will I particularly see myself if I undergo a forehead reduction surgery?

Would you mind presenting details of the certifications of the nurses who will administer the anaesthesia?

Would you please present details as to the type of anaesthesia that doctor will give?

What will you do in the situations of an emergency throughout my forehead reduction surgery?
Once you choose the doctor, your consultation with the right doctor starts the moment you land at the specialist office. Take a careful look at the office and discover a few key features:
Make sure that the office holds itself to an excellent level of cleanliness.

Ascertain the level of personal conduct and professionalism of the surgeons and the staff.

Note if the office appears warm and inviting and will the place be a relaxed atmosphere for you if you opt for a forehead reduction surgery there.
Goals of forehead reduction surgery
Eventually, a forehead reduction surgery will help bring appreciative stability and an overall more firm appearance to your face as a whole. In various cases lowering your hairline could make you look seem younger as the hairline stops appearing to be decreasing post-operation.
Your skin is stretched following hairline lowering surgery, and it is usually stated that furrows and frown lines are decreased in the forehead following this procedure. Those, as mentioned earlier, also present the youthful look that patients relish post-operation.
This hairline improvement can aid in reducing temporal hair loss and change the display of the hairline. A widow's peak may be supplemented or reduced in a forehead reduction procedure. The plastic surgeon might also encourage you to do further hair transplantation to support the process.
Hair reconstruction can be a helpful way for a person to cover a scar or reduce the influence of regrowth time post-operation. The surgeon will best inform you of the procedures to properly achieve the appearance goals you have.
Alternative options for a forehead reduction surgery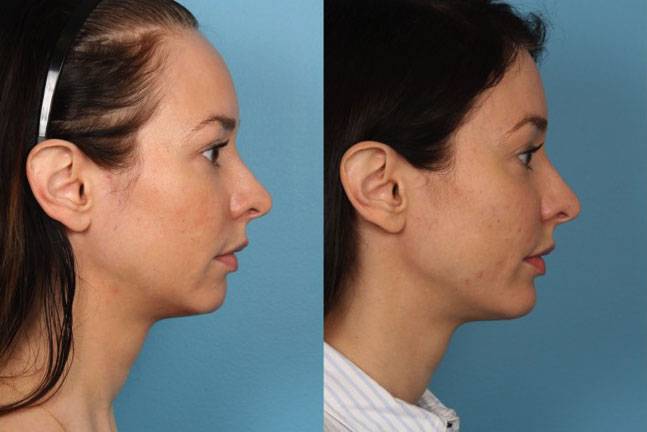 If you are not an ideal candidate for forehead reduction surgery, there are some other options you can take help from. These include:
Hair grafting
If your forehead looks longer due to a high hairline, a different alternative may be hair transplantation, also known as hair grafting.
This method includes removing hair from the back of your scalp and resetting the hair follicles along the front portion of your hairline. This method can also assist in reducing the forehead, giving you similar results to forehead reduction.
Brow Lift
If the forehead seems longer due to your low brows, an alternative option to forehead reduction surgery may be a brow lift.
This method includes manipulating your muscles or displacing the skin of the brow area to raise the brows higher on your face. In some instances, lifting your brows can make your forehead seem shorter.
Patients must refrain from alcohol and manage to have a high quality of nourishment while heading the operation. It is suggested that patients abstain from smoking or using anti-inflammatory pills such as Advil or aspirin.
The Bottom Line
Forehead reduction surgery is also called hairline lowering surgery. It is a cosmetic procedure used by surgeons to reduce the length of your forehead. You may be a great candidate for this surgery if you have seen that your forehead is very long and disproportionate to your hairline or face.
There are some risks for forehead reduction surgery, including scarring, damaged nerves, and complications on the incision area. If you are searching for an alternative for forehead reduction surgery, talk to your doctor about a hair transplant or brow lift.