How To Plan A Hiking Trip In 9 Organised Steps
Planning a hiking trip can be easy or difficult based on how you carry out the procedure of planning. Visiting unfamiliar places for hiking is thrilling and we would love to go anytime, but without proper planning, it could become really difficult to keep up with it.
Planning a hiking trip for a better experience, memories, and reminiscence is a must. Once you start planning a hiking trip, you will be able to gain full knowledge of the technical complexity of your trail, weather conditions expected for your hiking term, and the area where you are planning a hiking trip. There are many amazing and motivating films you can watch for planning your hiking trip.
This information is designed for you to pack all the right and needed equipment and to avoid any issues in navigation later on. You just have to follow 9 steps before you are all set to go for your first hiking experience.
At least one day before you are going hiking, remember to check and follow all these steps for a smooth and fascinating hiking experience.
9 Steps For Planning A Hiking Trip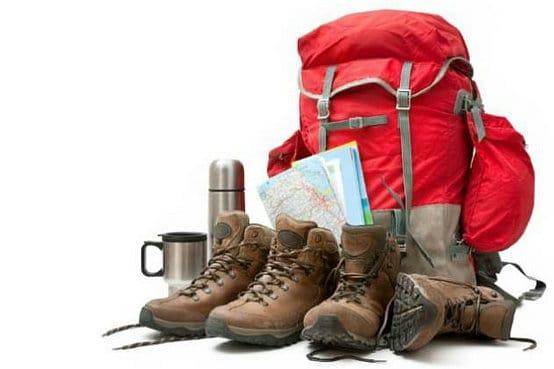 Get ready to achieve your best hiking experience by following just 9 steps.
1. Plan The Route Of Hiking
The first and foremost important thing one should do for planning a hiking trip is choosing the area you want to hike. The area should be such that you are fascinated and motivated with excitement to complete your hiking process. If you are confused between areas or have any problem choosing which area to go for, google maps are always there to help you out.
Just use terrain view and look for mountain regions nearby. Usually, in proximity to mountains, there will be some hiking trails you can choose from. Some hiking trails are located very far from cities or civilizations, depending on what attracts you the most, you can choose yours.
To begin with, start searching for information on the internet including certain forums or blogs related to hiking. GPS trails can be used as they come in handy. You can easily use them as they are not only meant for showing important information like an ascent, descent, or distance but other than that you can also just download them and carry them in your smartphone which you take everywhere.
This makes your location and trail easy to be seen anytime. However, battery drain issues are real, it is also safe to carry with yourself a printed map. Electric devices are reliable but not 100%, you never know what happens above the mountains. Also, the signal might be unavailable for GPS, in that case, carry a map especially if you are going on long hiking trips.
Sometimes if it possible for the trails to change due to flash rivers or landslides. You can always purchase printed maps from tourists' offices. Another great option you could use is buying the National Geographic Mapping software, it is paid but reliable. Nothing is costly when we talk about your safety. It is great for planning the distance and measuring which route to take.
Once you have the route planned for planning a hiking trip, another important thing that you must calculate is the time you have to take to conduct your hiking. For this, you can take total ascent, distance, and physical preparedness to determine the total time needed. If you have thought of going along with other people, make sure that the required time you have chosen or calculated should be based on fit people in the group.
Once you have done all the required things in step one of planning a hiking trip, we can proceed further to decide and determine what to do next.
2. Planning The Journey To The Point You Have To Start
Once you have selected which route to follow. You are ready to plan your journey to the starting point. Starting point means the point where you have started walking from your car, bus, train, etc. Usually, these starting points are remote in nature which makes them quite difficult to reach.
Again, look for online information from blogs or forums. You can seek information on the schedules of trains or buses and see if there is parking or not. If you are planning a hiking trip with more members, you can choose your own car to start with. But the roads you want to travel will require 4*4 vehicles, just keep that in mind.
3. Know The Temperature, To Begin With
If you have planned a hiking trip just 2 or 3 days before you want to start with, you can just check the channels for a weather forecast. Usually, these are accurate and you do not need many resources. Getting the data of temperature for remote locations like that of mountain peaks is quite hard. If you have come across this case, you can just check the temperature from the stations nearby.
To proceed with, you can calculate the difference in altitude between the hiking area and the weather station nearby. The temperature keeps decreasing with rising altitude. You can expect approx 6.5 degrees celsius, for every 1000 meters of distance.
If you are set to planning a hiking trip very long before you want to go hiking for example you are waiting for your holidays to begin to start a hiking journey, you can always search the averages of all the temperatures for online resources. In this case, choosing your hiking gears and apparel based on the expected temperature on average. Just in case the weather changes drastically, carry some alternatives.
4. Check the Precipitation
Getting an idea of precipitation for planning a hiking trip is not a big deal. You can check the historical precipitation data or any weather forecast to know the precipitation. In case you have witnessed high precipitation on average just pack many pieces of clothing along with waterproof gears. This is important if you do not want to run around wearing clothes entirely wet again and again. Bring clothes that dry easily.
5. Know The Ground Cover And vegetation Of Area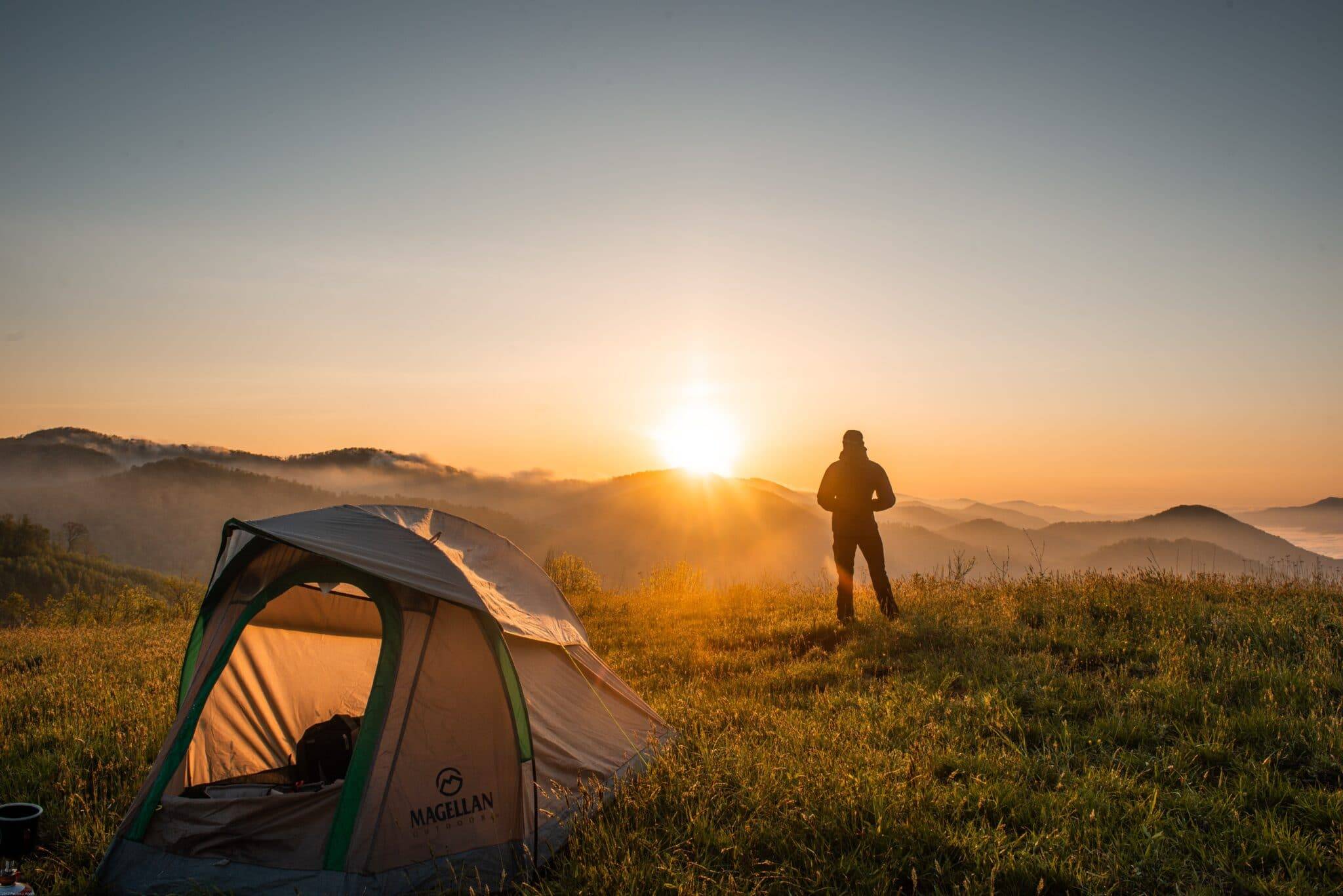 For planning a hiking trip you should know everything about the type of ground cover and vegetation of your hiking area. You can acquire all the related information from any map or using satellite imagery. Other ways to know this is by using blogs and forums where information is already mentioned.
Finding or acquiring knowledge on the ground cover is more crucial because there are chances that the trail to your destination is entirely covered with snow. Normal footwear you have taken cannot help you cover such grounds. Having appropriate equipment and footwear becomes highly important. You can take ice axes, crampons, and gaiters as equipment with yourself.
6. Check The Availability Of Water
While you are planning a hiking trip, you have to make sure you are checking important things like food and water availability in that region. It does not matter if the hike is short or long, you should have enough water to sustain your living.
If you have come to know that water facilities are good over there, you can exclude the extra load of water in your baggage. If the facilities are not there, you can pack some bottles either full or empty to be filled later in your way.
7. Check The Day (How Long)
When planning a hiking trip, another thing to decide is how long will the day be. Some days are very short in a year while some are big. Usually, daylight is not an issue. Hiking can be done for nearly 8 or more hours in the daylight without needing any artificial light.
This is the case when you are hiking nearby on sunny days. However, if you have decided to go hiking in Iceland that is very far from the equator in winter, you should already know that the daylight will be very short comparatively. In such places, having a powerful source of light is a must-have.
You can take along a headlamp to carry out a smooth hiking experience even if you are short of daylight. You can check out the sunset and sunrise time of various cities before proceeding based on which city have fascinated your desire for hiking.
8. Animal Check
Mountain regions are preferably very famous for residential of dangerous animals like snakes, spiders bear in some areas where you wish to do hiking. You should always take precautions and information about all the animals residing there.
To access the needed information, you can seek help from online resources. Many govt. websites, forums, and blogs have all the information on different animals living there.
Some precautions in the form of safety gear should be taken if you have read more about dangerous animals living there.
9. Check For Natural Hazards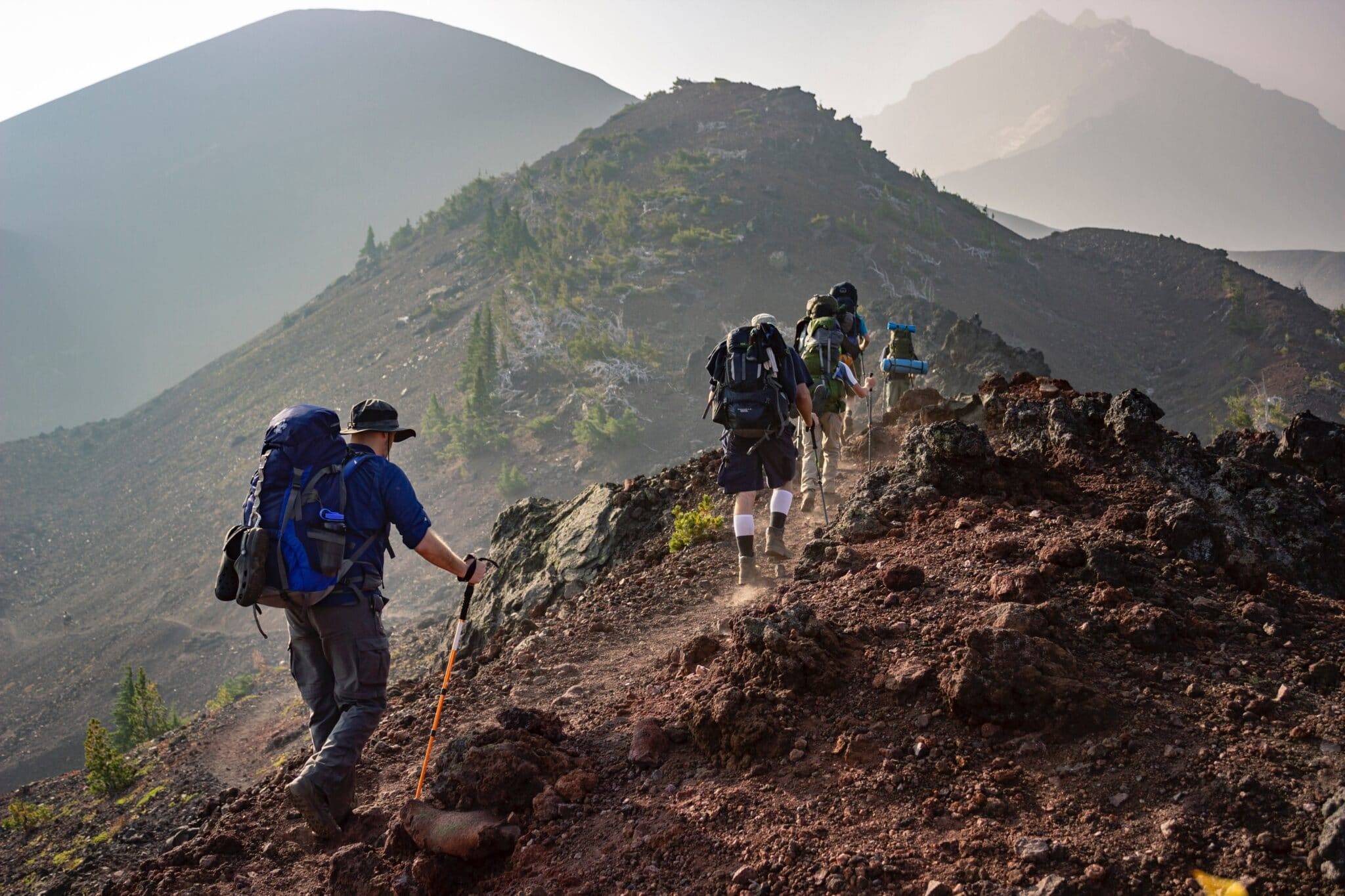 When you are planning a hiking trip, you should be well informed about any natural hazards recently taken place there. In the mountain regions, the most common types of natural calamities or hazards that can take place are falling rocks or landslides, floods, and avalanches.
You can access all the required information on websites designed by the government. Other resources include blogs and online forums related to hiking. Just search the information and know everything you need to.
These were the 9 steps you should know to carry out your hiking experience smoothly. Other than these steps, you should know certain tips on hiking before you are planning a hiking trip.
Some Tips For Planning A Hiking Trip
As a beginner, you require perfect and comfortable shoes, adequate snacks, water, and of course a hiking buddy (If you are alone, it is even better to have your own company sometimes). However, some other important things should also be considered like:
Inform someone that you are planning a hiking trip before you are set to hike.
Do not carry too much unnecessary baggage, know what's important and carry those items only.
Carry enough water in case you are tired.
Choose a trail that you can keep up with within the beginning. Afterward, you can raise your level higher.
Try to ask for the company while hiking.
Bring a cell phone with you in case there is an emergency. Remember turning it off to conserve as much battery as you can to use in an emergency. Carry an extra set of batteries if possible.
Always walk on the designated trails, do not carried away by shortcuts.
Remember to do some stretching before planning a hiking trip to stay away from the risks of muscle injuries.
Some Tips And Tricks
1. Things To Pack For Planning A Hiking Trip First Time
If you are planning on a very short hike, you do not require much. A hiking trip planned to high mountain ranges requires a lot of equipment and basic hiking gear. The most important things you should include while planning a hiking trip include:
Navigation tools.
Enough water to drink
An adequate amount of food.
Clothing items for protection from the rain.
Safety items like whistle calls, flashlights, firestarter, etc.
First-aid kits.
Multi-purpose knife or tools to be used.
Sun protecting gears or sunscreen.
Backpack to carry essentials
Trash bag
Bug spray in case it takes too long
Toiletries
2. What To Wear
Clothing
In winter you have to wear layered clothes to keep warm. If you feel they are keeping you wet, you can always wear a pair of hiking pants beneath woolen clothes or layered clothes to stay dry as well as warm.
If you are planning a hiking trip in the summers, do not wear shorts if you want to do hiking in the woods. You can wear pants light in weight instead of shorts so that they can keep you at low risk of bug bites or irritation.
Avoid taking cotton clothes because they are known for holding moisture. Bring a hat with yourself. You can wear light-colored clothes and tall socks to give you some extra protection from bugs.
Shoes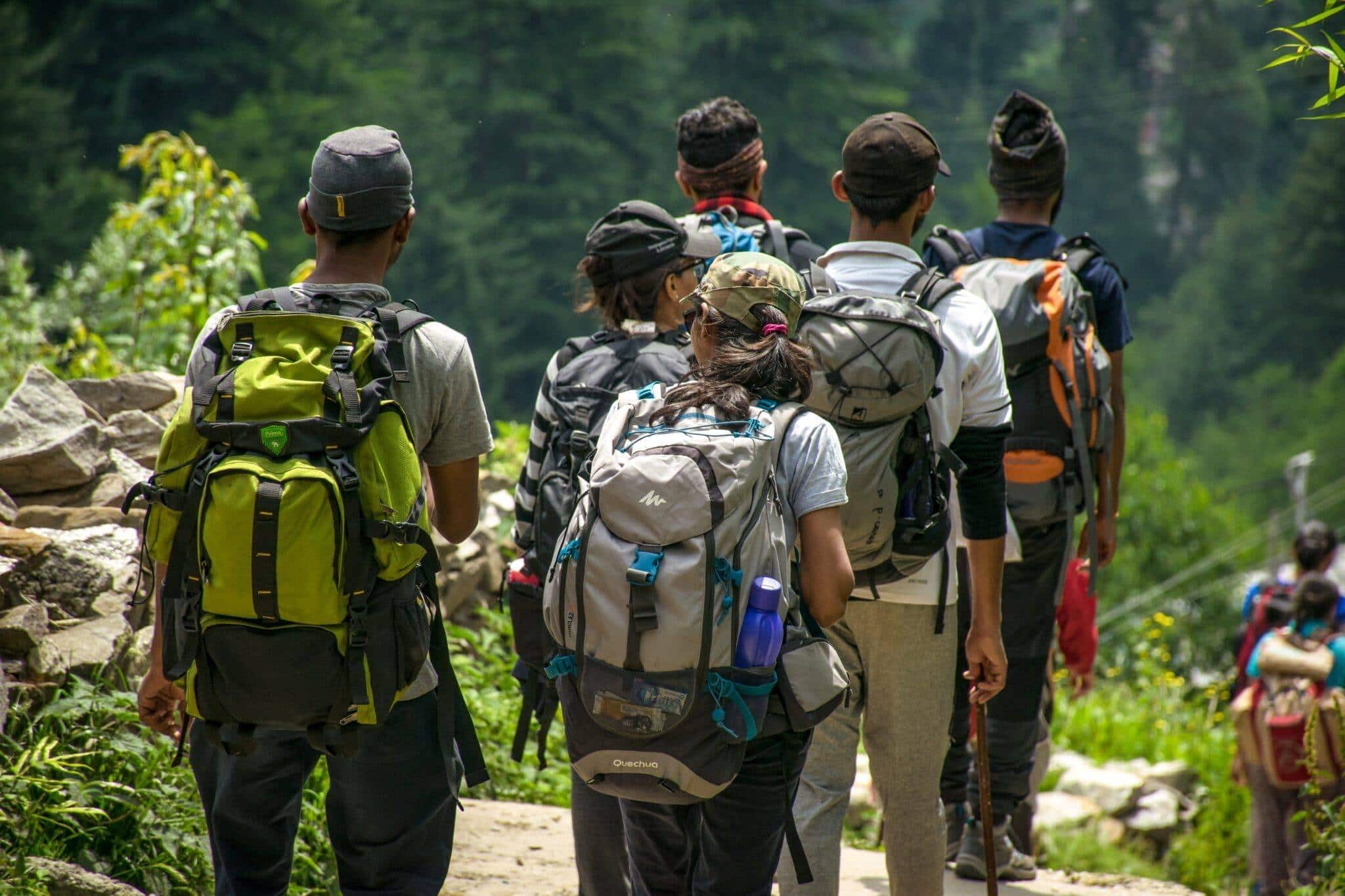 You can take good pair of hiking boots depending upon the terrain, material, and the cut they have (usually low cut is suggested if you are a beginner). Whatever shoes you have chosen while planning a hiking trip, make sure to keep the following tips in mind.
Lace your boots snuggle to avoid any blisters and movements while walking
Always wear synthetic socks or wool socks to protect your feet against blisters.
Break-in new shoes before you have headed hiking
Find any shoes that provide you an excellent grip and support.
Bring first-aid kits having blister medication or ointment.
While trying out the shoes, make sure you have ample wiggle room for toes.
To decide the fit, wear socks while trying on.
3. What To Eat
Before Your Hike Session
Before you have headed towards hiking, follow the instructions given by the American Heart Association on the type of food you should eat for 2 hours before doing any type of workouts. Your pre-hike food should have healthy carbs for energy like:
Whole-wheat toasts
Brown rice
Fruits and veggies
Whole-grain pasta
Whole grain cereals
Low-fat yogurt.
Although, you might be thinking that protein is great for maintaining health so you should eat protein but it is not so. Saturated fats and proteins take a lot of time to digest. This can make you feel very sluggish while you are in the middle of your hike. Your focus should only be on food items that are easy to digest.
After Your Hike Session
Protein should not be consumed before a hike, the best time to eat protein for hiking is 30 to 60 minutes after you have completed your hike. It is highly important to recover any muscle injury or build muscles.
What To Pack For Planning A Hiking Trip
When you are planning a hiking trip as a beginner you will not feel the necessity to drink a lot of water. Even if you feel it's wasting your time, keeping your body hydrated is very important. You can take small sips of water while you are on your hike frequently. Your aim should be drinking 32 ounces before hiking.
For a hiking session of an hour or so, do not waste your time taking too much food. If it is longer than that, you can carry 50 to 100 calories of healthy carbs to give you the energy to hike.
Presenting you a list of lightweight snacks to carry if you are planning a hiking trip. Do not eat them while walking. Just take a rest in between and enjoy these food items.
Dried fruits
Trail mix
Granola bars
bananas
Seeds, nuts, or nut butter
Dried vegetables or freeze-dried veggies
Whole grain tortilla
Cereal
Dried beans
These were some tips on food items to carry, clothes to wear, and footwear to use when you are planning a hiking trip. Those who are experiencing it for the first time should try to follow as many tips and planning guides as they can.