Best Rock Climbing Movies-Know How To Do It Right Along With Brilliant Tips To Keep In Mind
One of the most popular, thrilling, and fascinating activities loved by this generation is none other than rock climbing. In this activity, various participants climb up, down, and cross artificial rocks and natural rocks. The sport is quite tough for a beginner but each practice session adds experience and pleasure to the journey.
The goal is to reach the top or endpoint of the rock without falling. The excitement and felicity once you reach the top cannot be expressed in words.
The experience seems quite daunting at the beginning but you have to keep in mind that an expert you consult now or your masters who teach you were always beginners at some point in their life that didn't give up.
Presenting you with some tips and movies to help you gain confidence and achieve your desired climbing goals in the year 2021. Let's keep going.
5 Amazing Rock Climbing Tips (Know How To Do It The Right Way)
Climb using your feet: Know that your lower body is much stronger than your upper body. Your weight should be on your feet while climbing as much as possible to avoid falling. As a beginner DO NOT make the mistake to put extreme pressure and weight on your upper body.
Quite feet should be maintained: beginners are often seen scared and hurried to climb scrapping their feet unknowingly. DO NOT go recklessly and find a route that is below your limit. Take some time, pick a foothold, step your feet on that foothold, keep calm, and step up.
Keep your weight on the skeleton: While hanging, keep your arms straight and not sucked close to the wall or flexed. This will allow the muscles to rest rather than being engaged constantly.
Breathe: Have you noticed other beginners shaking and scared halfway through? This s solely because they don't breathe frequently and for a longer time. Keep a check on breathing.
Engage in positive self-talk: Sounds Weird, right? You may think of this as another lecture or motivation quote, but the effect it does on any activity you do is worth releasing. Do not let the fear overtake your excitement and fascination for rock climbing that got you there in the first place. As said earlier, every expert was a beginner once.
Rock Climbing Movies/Documentaries To Binge-Watch Before Going For Climbing Session
There are some excellent movies shot on Rock Climbing out there. You can watch these legends climb the TOP that will encourage you and boost your confidence. Some Movies that are must-watch include:
1. Blood On The Crack, 2019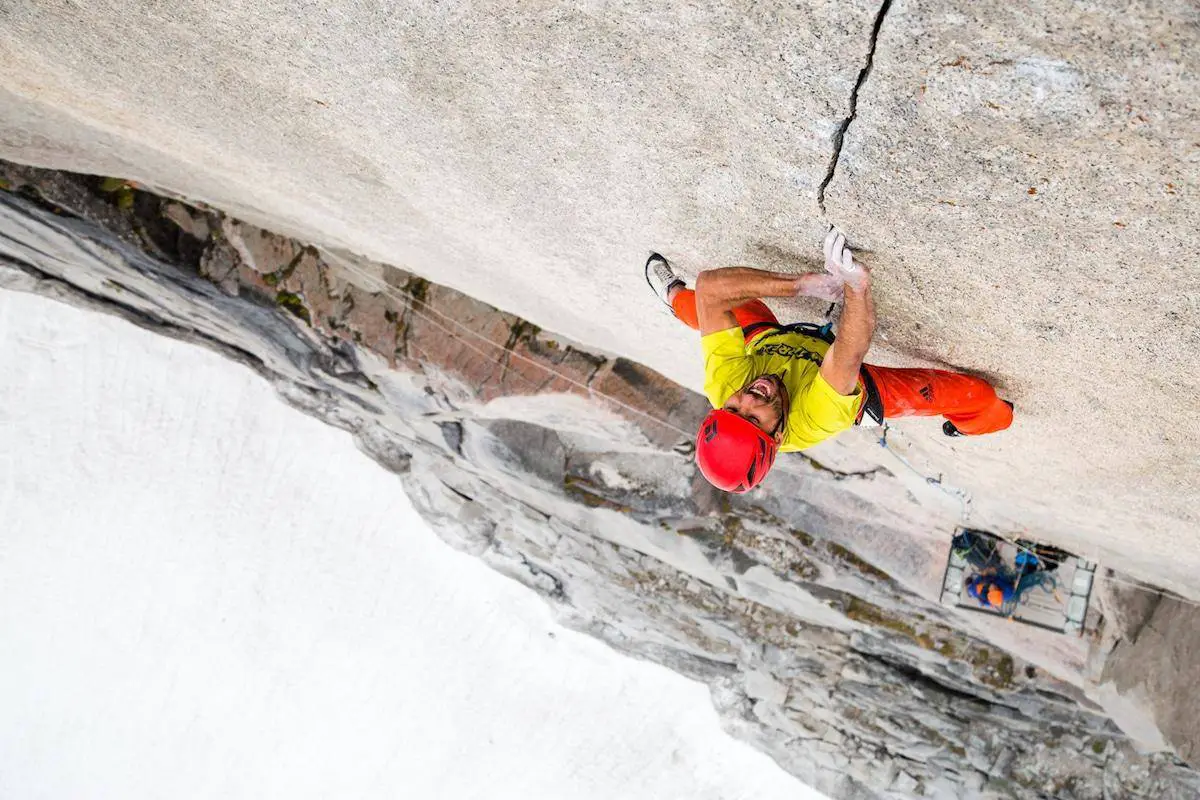 Directed by Heather Mosher, Blood on the crack is among the most fascinating and brilliant rock climbing movies to be made.
The story revolves around 2 climbers, Jacob Cook and Kevin Jorgeson. Both the climbers decide to take the most daunting crack climbs in the whole world.
Jacob and Kevin head to the Bugaboos with the intention to perform the second ascent of the memorial route of Tom Egan. The memorial of Tom Egan consisted of the most excruciating and thrilling crack climbs, also famous for reducing the fingerprints into shreds. Watch their thrilling and unbelievable journey to learn and grow before your first experience as a rock climber.
2. Beneath The Ice, 2019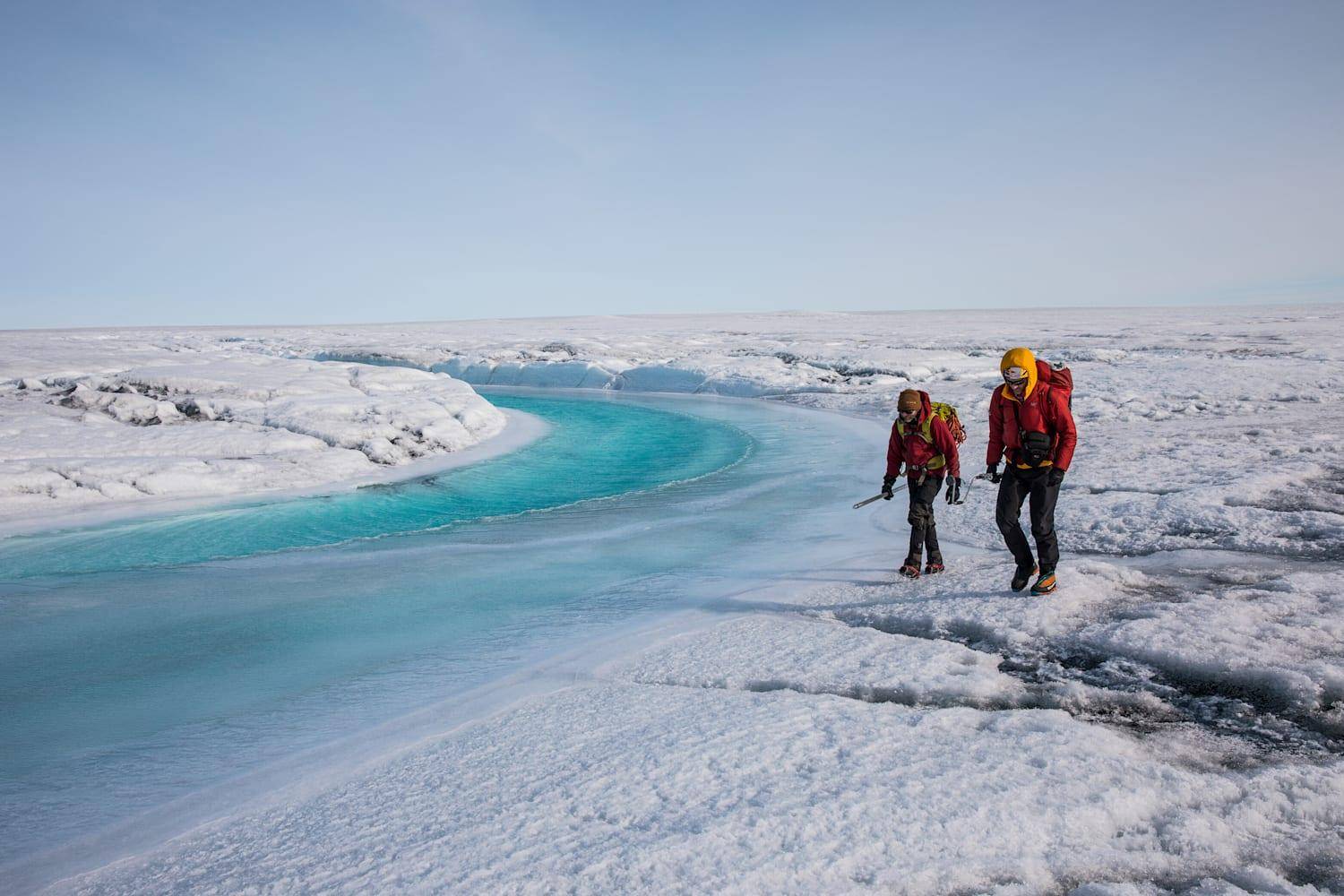 Another masterpiece that fascinates and motivates rock climbers. Directed by Will Gadd, this movie definitely makes up to the list of best rock climbing movies.
Will Gadd is known for his amazing and unmatched climbing skills on slippery ice. His knowledge and fascination for climbing led him to an unexplored territory of climbing present beneath the ice sheet of beautiful Greenland.
Will confirms that he had been to some of the most daunting and thrilling places to showcase and test his ice climbing skills. He has seen insane difficulties stuff while climbing, but this place was on another level of dangers.
Will sets out to explore this territory along with glaciologist Jason Gulley. The temperature plunges down to -30 degrees celsius on the glaciers. View their journey to explore ice glacier in an unbearable environment and learn how they explored Greenland ice cap melting.
3. The Dawn wall, 2018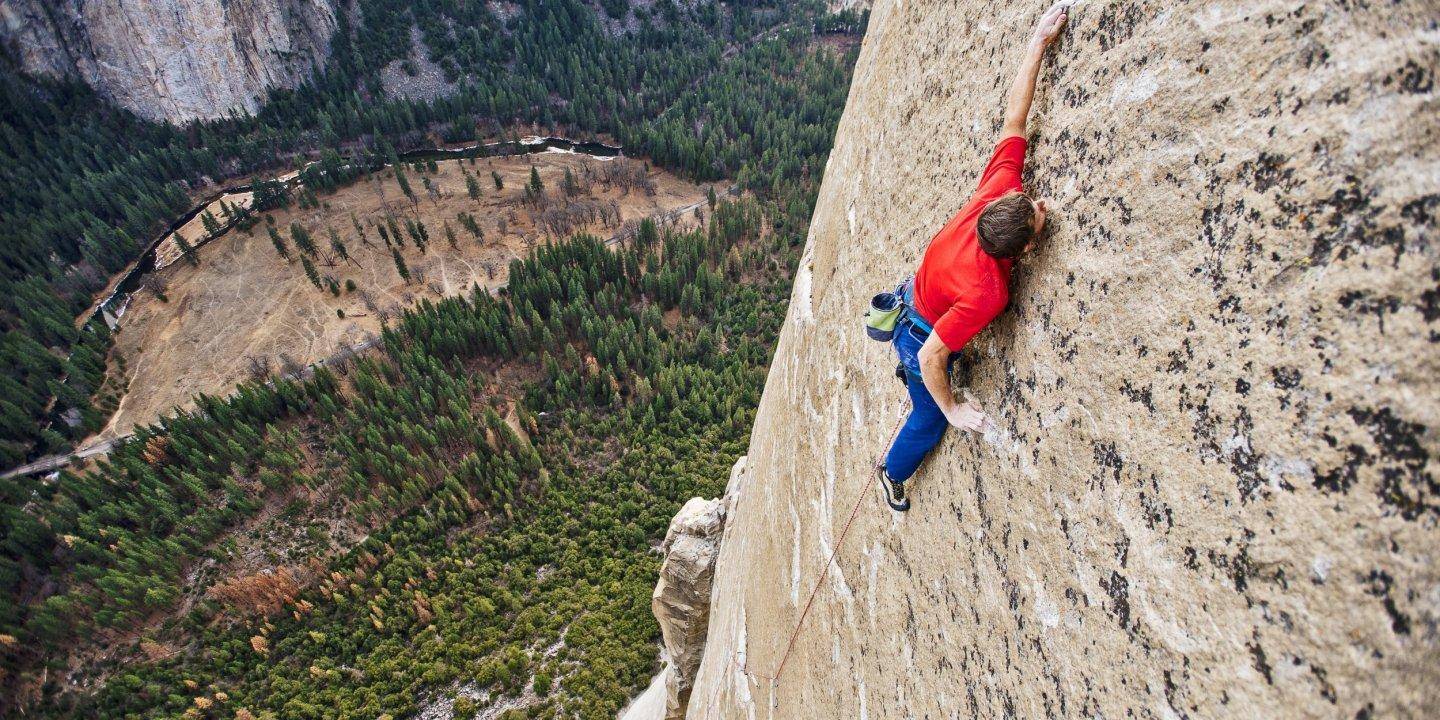 The ultimate determination of rock climbing movies is unstoppable to watch. Directed by Peter Mortimer and Josh Lowell, here comes another great movie.
The legend in climbing, Tommy Caldwell is the person this movie revolves around. His emotional tale will leave you inspired for a long. The movie is about Tommy's rollercoaster ride in which he escapes from the hands of kidnappers in Kyrgyzstan which took Tommy to his ultimate goal and dream which was to climb the El Captan's toughest route named The Dawn Wall.
The story does not end here, actual drama comes into play from the struggles of his friend and partner Kevin Jorgeson. Having never climbed together before, both struggle to keep up. This movie will give you insights into one's mindset before climbing.
4. Cerro Torre: A Snowball's Chance In Hell, 2013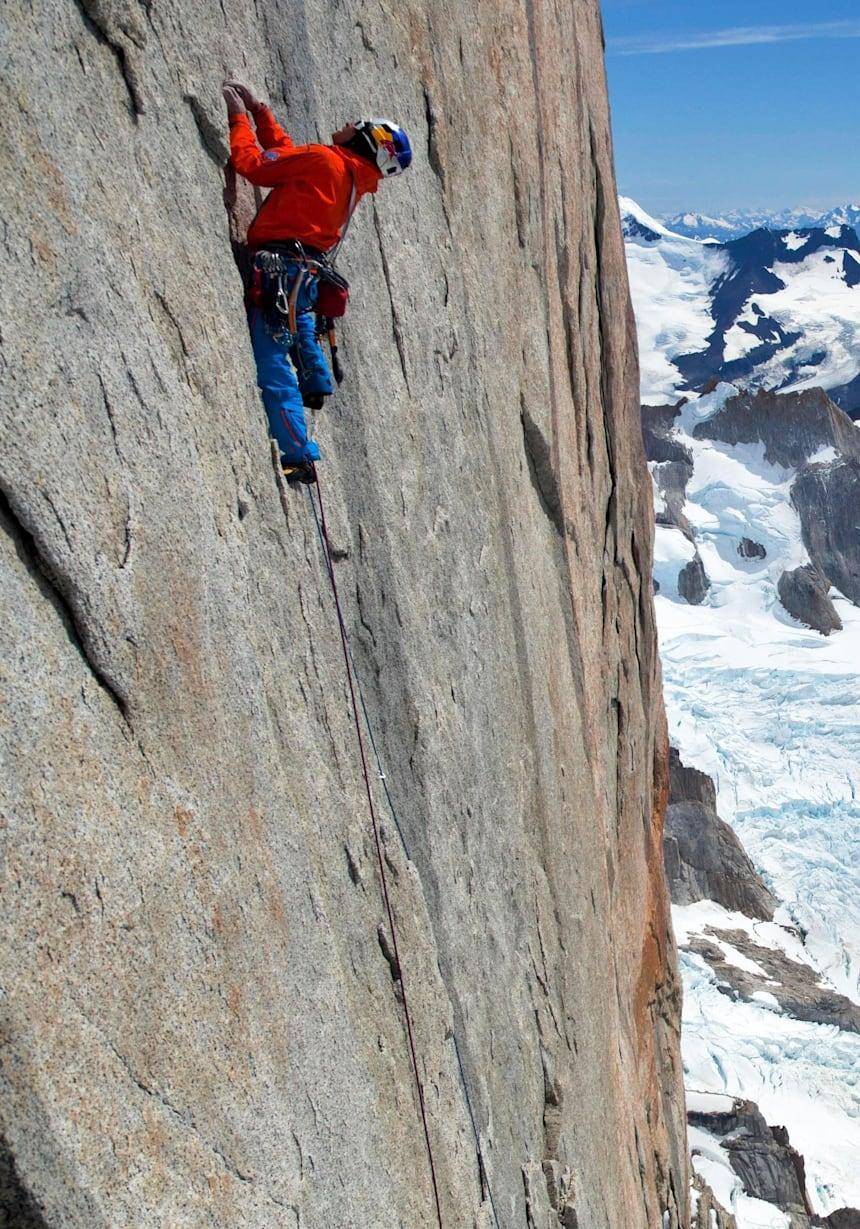 As the name suggests, the movie is about one of the toughest mountain Cerro Torre. It is one of the best rock climbing movies directed by Thomy Dirnhofer.
When Cerro Torre was first spotted by David Lama, he was instantly fascinated by the mountain range and his fascination led him to a great motivation that he would climb Cerro Torre. On an average height of 3,128 M, Cerro Torre was already in news for a climber's death that fell from the heights, it also had a giant ice mushroom on the top of its peak.
When David lama announced and published everywhere about his unaided plans, the legendary climber Jim Bridwell who was was popular for climbing Cerro Torre in 1979, came forward to provide him a piece of advice. The advice was-" you haven't got a snowball's chance in hell. It was clearly ignored by David lama. This led to an intense and emotional story of David lama's journey where he tried and tried and kept trying.
Being one of the most amazing rock climbing movies, you would not want to miss this one out.
5. Free Solo, 2018
Interested in dramatic cinematography? Here is one of the amazing rock climbing movies for you, directed by Elizabeth Chai Vasarhelyi.
The movie revolves around the stressful yet incredible journey of Jimmy Chin and Alex Honnold. Watch how Alex Honnold knocks off the best prize in Yosemite ( a ropeless ascent).
It is worth watching by every rock climbing lover.
6. Lunag Ri, 2018 (Second Attempt)
Another movie starring David lama in it. Directed by Michael Ginthoer and Martin Hanslmayr is the second attempt at Lunag Ri on the Himalayan range.
Not taking hours of your time, this documentary about David Lama and Conrad Anker will inspire you to start your journey as soon as possible. Both the prestigious climbers leave all the odds behind to climb Lunag Ri which is at a height of 6,907 M Himalayan peak.
Watch the challenges faced by them like the weather issues, health predicaments at high altitudes, etc, and how they did not give up after having faced numerous problems. Because this is what the climbers do when they are immensely fascinated by the love they possess for mountains and climbing them.
Undoubtedly one of the most amazing rock climbing movies.
7. Africa Fusion, 2016
Another stunning movie from best rock climbing movies directed by Nic Good.
It's a masterpiece and all the rock climbers would agree. Alex Honnold is hard to ignore when it comes to rock climbing as he is extremely brilliant to watch. It becomes much more interesting and we couldn't help but stay captive with his skills.
The movie is about Alex Honnold and his partner in the climb, Hazel Findlay. Both the climbers decide to jet off to South Africa from The United Kingdom. Alex is well known for climbing with a different style that is without ropes. He is always on the brink of death which makes all the movies nail-biting.
Explore the brilliant experience of Alex and Hazel in this masterpiece.
8. Meru, 2015
Directed by Jimmy Chin and Elizabeth Chai Vasarhelyi.
It is the best American rock climbing movies, it documents the first ascent of the Shark's way to the thrilling Meru peak, present in the Indian Himalayas. Starring Conrad Anker, it has also been nominated a few times and won the award for Best American Documentary at the Sundance Film in the year 2015.
Why this movie? Unlike other movies, it focuses on presenting all the difficulties faced by climbers along with all the materials they possess in a raw form mostly unedited. The Meru section of the Himalayas is extremely difficult and requires technical rock climbing skills that very few people possess.
Passion for something takes a human being beyond his limits. It's rightly said and proved by people who risk their lives to enjoy the utmost difficult and fascinating sports like rock climbing.
9. Assault On El Capitan, 2013
Directed by Jeff Vargen here comes another excellent movie from the best rock climbing movies of all time.
The documentary follows Ammon McNeely, a 42-year old climber along with his partner Kait Barber who is just 22 years old who sets out for their second attempt to climb the Wing Of Steel Route Of El Capitan.
The pair is brave enough to take this forbidden route to reach their destination and complete their target. Both try their fullest to climb the difficult wall.
10. Age Of Ondra, 2018
Featuring the not lesser popular Adam Ondra, this movie is directed by Peter Mortimer, Josh Lowell, and Zachary Barr and is listed as one of the most thrilling movies from the rock climbing movies genre.
Adam Ondra is recognized widely for this amazing climbing skills and is said to be one of the strongest climbers. He has climbed successfully a large number of mountains, and he pushes his limits to climb more difficult rocks that he has never done before.
He does a lot of strange things before climbing the rocks and is therefore named "weirdo" by one and only Alex Honnold. Watch him do strange things like rolling on the ground and practicing the steps of rock climbing before he climbs the actual mountain.
This film is a must-watch for the fascinators of rock climbing as one of the best rock climbing movies.
Watch these amazing rock climbing movies. A sport involving great enthusiasm, energy, and will-power is a must try once in a lifetime. The thrilling chills it will give you on the top and the amazing scenery or views are indescribable. Undoubtedly a bosting experience. Always consult expert trainers and take care of your safety. The joy you will feel once you reach those heights cannot be measured.
Interested in amazing movies of the romantic genre. Have a look at this list of the most perplexing movies to watch in 2021 with your loved ones.