Astonishing DIY Indie Wedding Invitations For Your Amazing Day
Looking for absolutely stunning DIY Indie Wedding Invitations for your special day? These creative ideas and DIY procedures are going to help you a lot with choosing the right wedding invitation card for your day.
There are a lot of things regarding the cost and style that you should keep in mind before choosing your DIY indie wedding invitations. While wedding invitations generated through the paper press and hand-lettered invitations are great for saving a lot of time and are truly elegant, the cast can leave you in a great dilemma if you are planning a budget wedding or a low-maintenance wedding.
However, if you are great at DIY work or your close friends are great at it, just plan budget-friendly DIY indie wedding invitations as they are more than beautiful. You can also DIY the designs and print them at home using your own printer. It may help you save a lot.
Let me show you some of the most important and beautiful reasons why DIY wedding invitations are in this year and great for you.
Benefits Of Having DIY Indie Wedding Invitations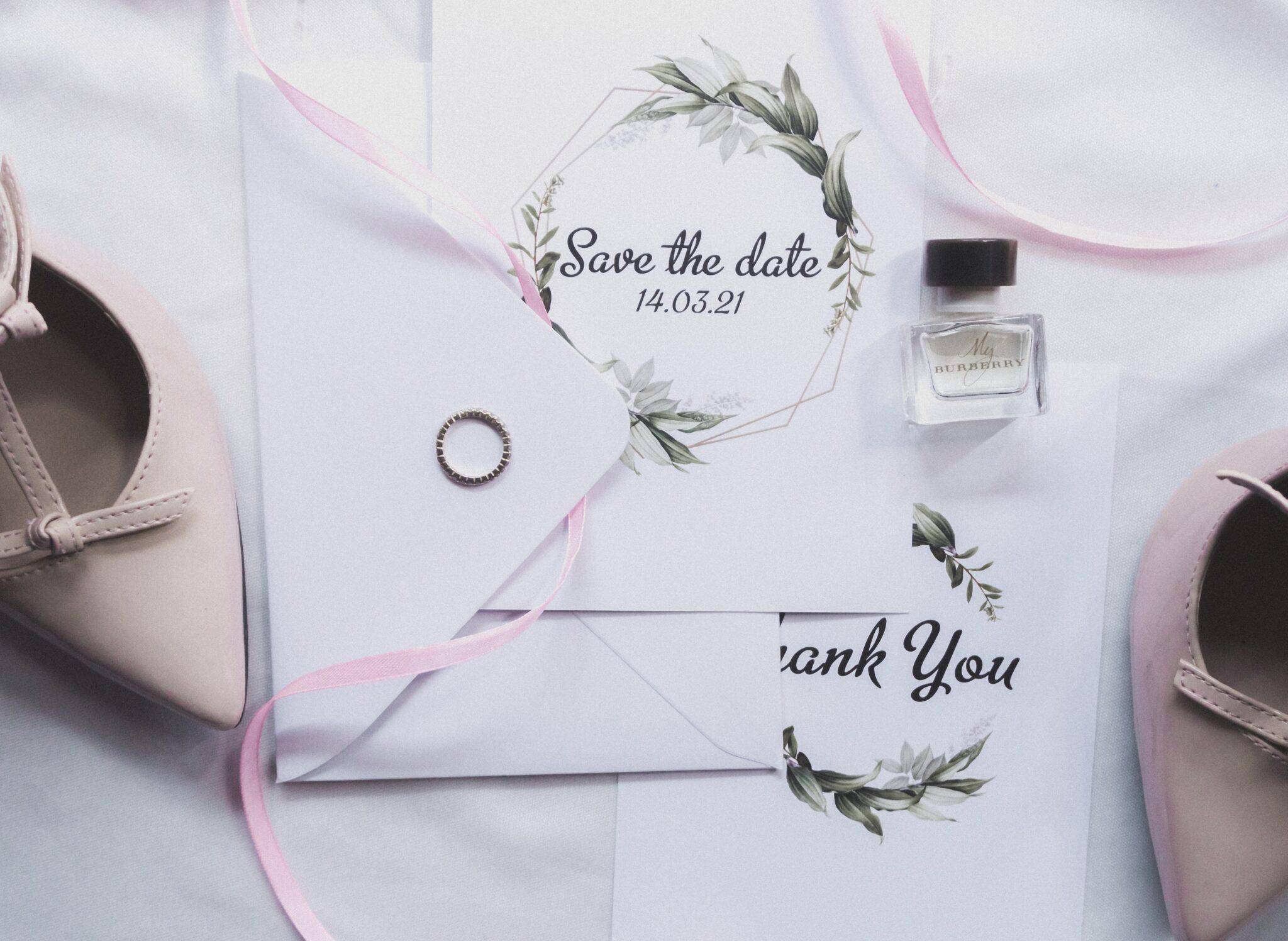 You will find out many talented and experienced graphic designers who would love to help you in delivering amazing downloadable files that you can easily customize at your home and get printed. The cost of going for this method or asking your friends to help is extremely low when compared to the one you buy or get customized from bridal shops. Cost is definitely one of the biggest benefits of having DIY indie wedding invitations rather than investing hundreds of dollars.
This way you can also avoid paying someone else for painting the invitations and customize them. Printing your own wedding invitation cards using downloadable templates or using a certain type of ink and craft paper or leather to prepare them helps you find a style that suits you well. You can easily save a lot of time by printing them whenever you are comfortable or free.
This guide helps you navigate the DIY indie wedding invitations route along with steps in deciding what to do and some creative ideas to consider which includes a lot of fun elements. Let's start with designing your dream wedding invitation card.
How To Proceed With Your DIY Indie Wedding Invitations (Planning)
1. Plan The Cost
It does not matter if you are printing the card at home by getting them customized, the cost included should still be considered as the cost of paper, graphic designer (if you have considered one), and printer ink are still present in your budget. If you are going for a high-quality paper that's printed with heavy saturated or acrylic paints, the cost might reach somewhat higher than you expected.
Make sure to consider the size of paper you have to use, the type of paper, whether the invitation will be folded or flat, embellishments, ink, etc. Embellishments can also increase the cost like belly band or wraps or bows. Along with these things, you have to keep in mind the cost of envelopes and postage. All these elements combined will help you in determining the cost of DIY indie wedding invitations.
2. Consider The Style
Before you spend hours searching online and offline about these invitations, you need to decide the theme you wish to go for. Do you prefer a simple and elegant look for your invitations, you need a bold and colorful look? or you are planning for a watercolor style for the invitation cards? You may spend some time looking at invitations or I am assuming you already have decided the type of invitation you want.
If you have not decided and stuck between few designs, you may create a Pinterest board to decide which one goes the best as per your wedding theme, take help from friends and family, they would love to suggest you some brilliant and aesthetic ideas.
Also, make sure the design you have chosen is elegant yet easy to be prepared and printed at home, you don't want to waste ink on unpleasant styles although they appear cool in pictures.
3. Schedule And Plan What Has To Be Done Next
Printing your own DIY Indie wedding invitations is undoubtedly budget-friendly and fun but assuming that it would be easier and you will be able to do it really quickly, is a wrong thought sadly. You need to give yourself grace, patience, and enough time while you are printing your own invitations at home as it may get a little bit complicated.
Make sure you have everything planned out days before your wedding as sending invitations to distant friends and relatives should be done 7 to 8 weeks before the marriage. You need to plan everything out. Also, make sure you have at least 10% more supplies of your invitations than you need in real to avoid any mistakes that might lead to reprinting the whole thing again. In case you forget to mention some people, you need to have extra wedding cards to be distributed later.
5. Consider A Print Shop If It Fits
There are many online suppliers like Shutterfly, Zazzle, and Minted that offer some great and gorgeous varieties and templates to be printed at affordable prices. If you find something useful there that fits your budget very well, go for it.
Typically, most people often end up getting the best designs as per their needs on such websites. Look for your dream wedding invitation card and you will receive it somewhere. You may also consider Etsy as it offers talented designers and great options to customize the template for your wedding invitation.
After you have your dream card that you cannot resist, you can also save time by considering a vendor that prints cards at low prices. You may opt for this method if you do not like spending time on your printer or the number of cards required is too high to be printed at home.
5. Plan The Customization Of Your DIY Indie Wedding Invitations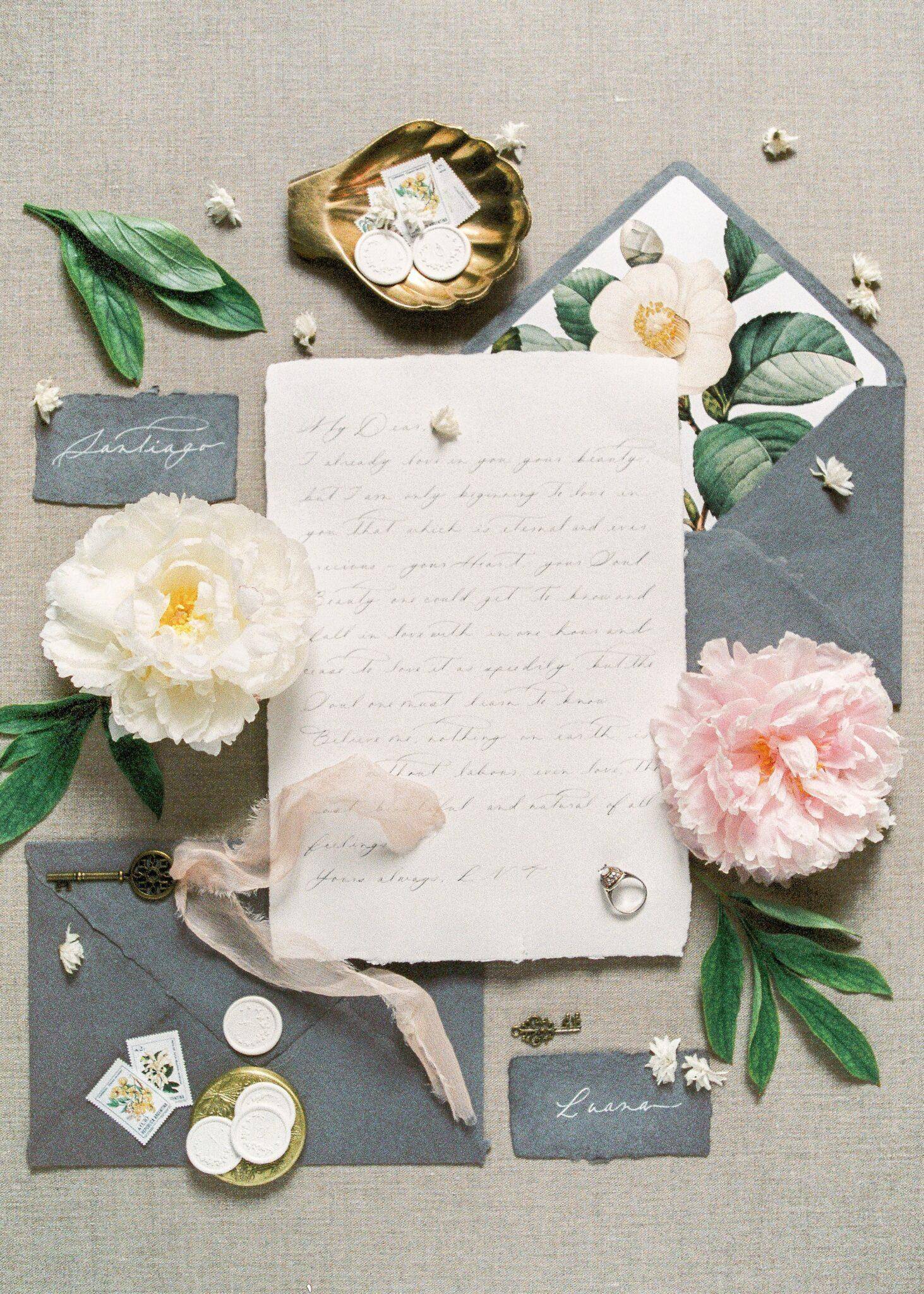 According to famous designers that suggest using DIY indie wedding invitations if you are low on budget, you basically have two options to go for. One is you may choose to customize the template yourself, another option is you may ask a designer to opt for it for you if you are utterly confused.
If you are willing to do everything by yourself, it will limit the ability to put a lot of changes. The most inexpensive option you want to consider is choosing a template from online websites or Pinterest and change the given details as per your requirements. But, if you are looking for any elements in the template to change, you may want to consider a designer who can work according to the instructions you give. It will not cost much as they only commit to some changes. Also, if you choose a designer, they will also be able to accommodate and provide you ready-to-print templates that need only a courier.
While you are going through the editing process and finalizing the design and wordings to be written, make sure you are making it run through multiple eyes before finalizing it to be printed. Sometimes you might make mistakes that you cannot notice, it is better to check now than to regret later.
6. Finding The Accurate Fit
Even if you have gone for a DIY way to design your DIY indie wedding invitations, you still want them to look gorgeous and professional. For this to occur, you may choose a design that blends well for professional press and looks. The trick is going for a design that reaches the edge of margins and having no white margins left.
This effect has a name in the printing industry known as Full-bleed. It is always in trend and looks extremely gorgeous. It can be achieved by anyone, you do not have to worry about contacting professionals. All you have to do is create a design that appears slightly larger than the size of the final cut.
The extra design left on the edges can be trimmed and discarded later. For instance, if you wish to make a 6*8 standard size DIY indie wedding invitation card, you would actually require to make a design of 6.25*8.25 inches, as some parts will be trimmed from all the sides to ensure that it goes right to the edge.
The best bet you can place is to center the design on a bigger or larger paper, giving you enough space and plenty of room for trimming it neatly. Remember neat work equals professional work. Also, most of the printers we have at home are not able to print all the way reaching the edges, this will make it appear like your design was cut off.
7. Choose The Right Paper
It is again an important part to get your DIY indie wedding invitations done right. When it comes to using paper, you should always go for something unique and different from the regular paper you use. Generally, it is seen that the thicker your paper is, the more luxurious and alluring it seems. Many people prefer using 120 lb uncoated cardstock paper that looks precious and beautiful. You may also use thick paper having a bit of a texture as well, for example, a felt texture or linen.
You may head to the nearest stationery store or any print shop to get such papers. Do not leave it online. You want to feel the thickness and texture of the paper before investing in it because you are going to needs tons of such papers. Also, just take one paper at a time and run it through the print design from your printer to see if it fits well for you.
8. Consider The File Types
If you have chosen a designer nearby, make sure you let them know ahead of time about the kind of file you will be needing for print to save time and alleviate too much rush back and forth. While printing at your house, it is best if you convert the picture if it is in a JPEG form to PDF format. The PDF format always gives higher and better quality than the rest.
Each option for printing the invitations has a different requirement for the file type, whether you are getting it printed from a stationary or local shop, or you are printing at home. You may run few samples using different file types to see which one gives the best effects.
9. Plan The Ink Usage
Now that you know your DIY indie wedding invitations will need how much paper and what type of paper you want to use, it is time to decide the ink ad its cost. If you are printing the invitations at home having colored backgrounds, they will require a lot of ink which will affect the cost and budget you have decided on.
Also, if you have old printers they can show certain imperfections when the fields of color are large. This will cause the paper to show through and include color touches in the templates you have created. It is always nice if you choose stationary for printing purposes.
10. Check The Printer And Computer Before Printing
If you still want to print everything at home and your printer is brand new, it is crucial to make sure all the equipment is in good working condition. Usually, the computer or laptop screen may not provide you with the exact description in terms of hues and saturation of how your design will appear once it is printed.
Home printers are always seen to be a shade or two darker, although they are cost-effective. The local printers are a bit lighter when it comes to printing.
You have to spend some time printing tests and then adjusting the settings of your printer to get the desired colors and saturations. If you are having them printed from outside, make sure you are running some samples before finalizing. After selecting the option you have decided to go for, it is time to hit the print options.
11. Chose the Envelopes
Once you are done with your DIY indie wedding invitations, the type of paper, the cost of ink, and how you want to get it printed, It's time to decide the envelopes. Of course, you will require pretty envelopes to put those gorgeous wedding invitation cards once they are printed and set to be packed.
You want to find the invitations having a slightly larger size for them to fit perfectly along with a design and font that do justice to your alluring wedding cards. Go for similar themes and fonts while choosing.
If you wish to add a pop of color to the invitation cards, make sure you are choosing an envelope that has slightly lighter colors and hues so that address is seen properly. You can also use envelope liners to dress the invitations whether you have used patterned options or metallic colors.
12. Plan For Easy Assemblings
Assembling the cards is important. The quickest and easiest way to receive a clean cut for the wedding invitations is to use a sharp blade or a paper cutter that's entirely new. You can ask others to help you in creating great DIY indie wedding invitations by getting you through the last procedures. You may either assemble layers or add envelope liners. You want to use double-sided tape or glue dots for getting everything sorted out.
Using double-sided tape instead of using glue is a better option and you can use the same to seal all the envelopes too.
13. Head Towards The Post Office
Once you have your DIY indie wedding invitations completely put together with all sorts of embellishments and inserts, you can use the envelopes and cover them up. After getting everything done, set towards the post office to have the postmaster weigh it.
You have to keep in mind that while sending them to the post office, their shape and size also matters and may add up to the cost overall. Mention on the posts and the postal worker while calculating the postage in case extra cost and accommodations to be made like printing "hand cancel' please" on all the envelopes.
These were some important things that tell you everything about planning your own DIY indie wedding invitations rather than spending dollars on getting them printed from a shop. Once you have understood how the cost to be planned goes, you may also have a look at these creative and beautiful DIY indie wedding invitations that are given below and decide which one appears to be the most tempting one to you.
Try these 20 uniques and tempting DIY indie wedding invitations for your special day.
DIY Indie Wedding Invitations (Ideas To Choose From)
You would not want to invite people to your wedding with invitations you are not satisfied with, right? There are endless ways using which you may amp your creativity level for your DIY indie wedding invitations.
As these are about DIYing, you can easily customize them and select everything from the type of paper you want to the prettiest envelope you have seen. That's the most amazing part of having to DIY everything.
You may consider using different hues, embellishments, mixed materials, fun shapes, and some hand-printed artwork for creating the vibes that suit you.
Let's proceed to the most amazing ideas you may use:
Try To Use Color Blocking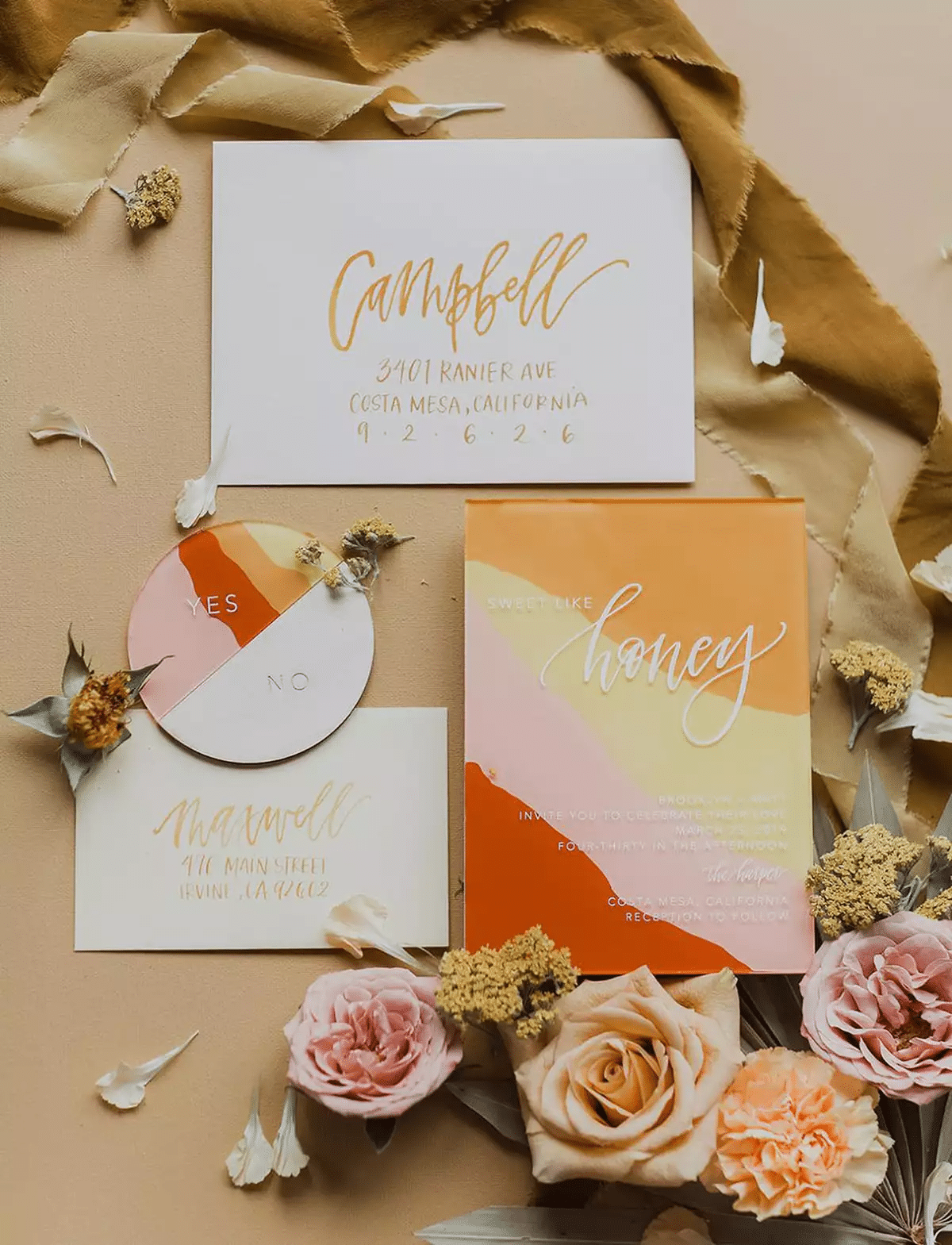 Having a wedding invitation with sunny deposition is truly worth going for. Having a warm color palette that consists of sunshine hues and retro spins is a mood-changing experience and vibes to go for. You can enhance the color block style using creative embellishments too. Go with basic colors or neutral colors that fit the envelope as well. When you remove your card gently from the envelope, it should be able to bring that smile to your face.
Mix Leather With Linen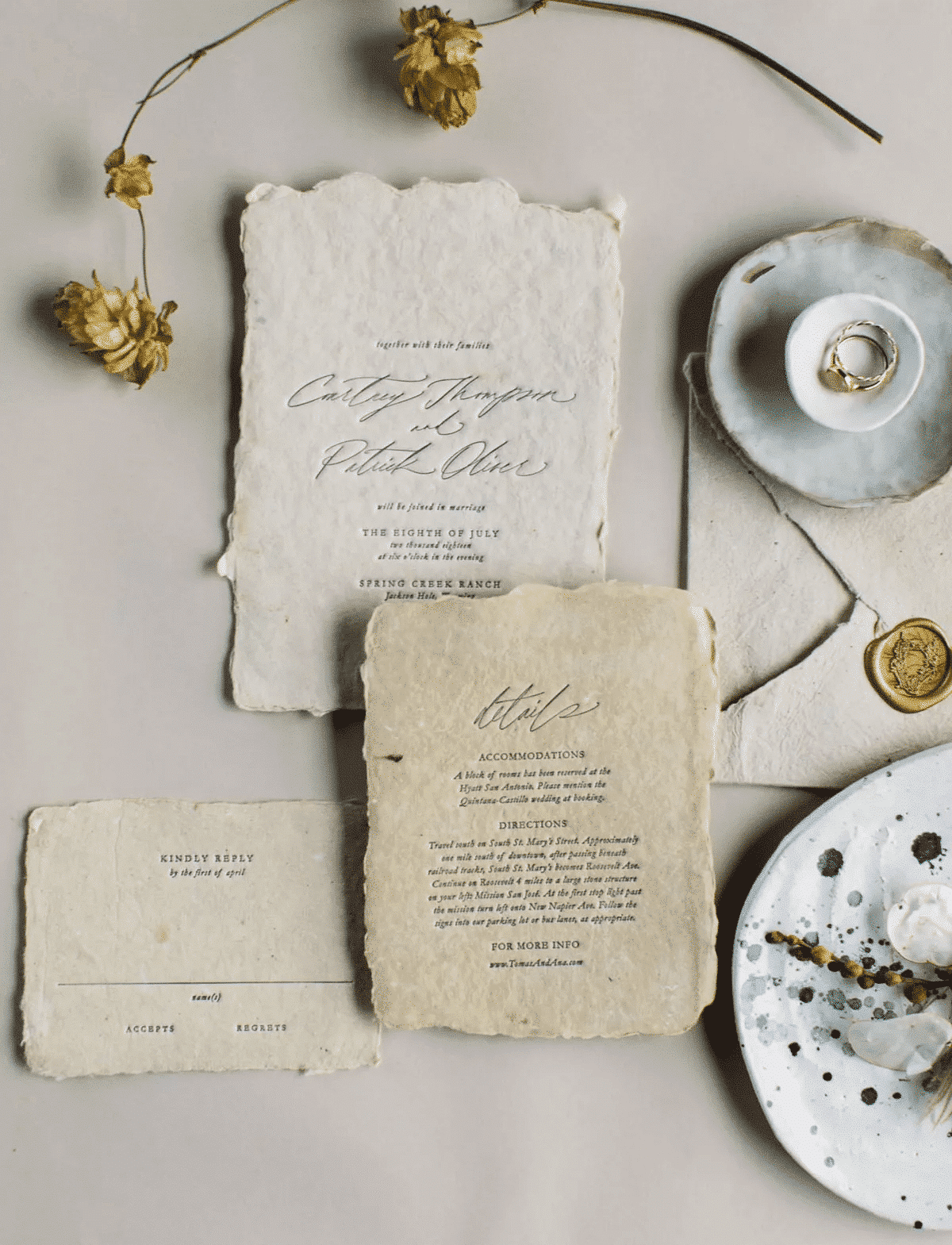 If you are planning a garden party for your wedding, this one suits you the best. Just look at the pictures, isn't it more than perfection? Linen and leather mixed invitations appear royal and classic. Nothing matches the sheer elegance the material has. While removing the invitations out of the envelope, you should feel the heavy paper and classic stature it has.
Complete your invitations by making torn edges that elucidate vintage romance. These appear so aesthetic and alluring at the same time, it's pretty hard to resist them. Just buy the material of paper from the stationary and get your design customized to be printed from your printer or a shop.
Try Transparent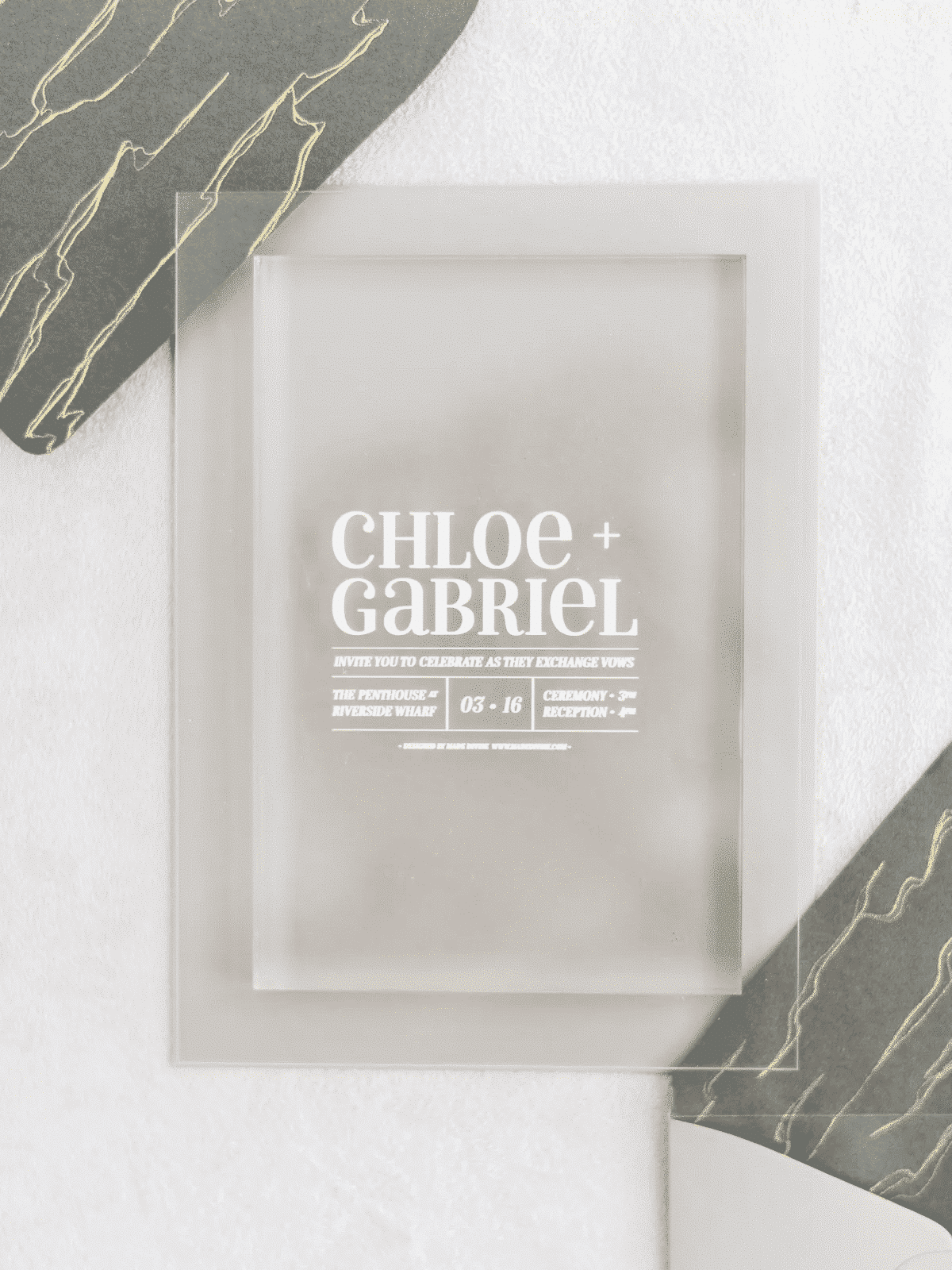 This design is something that appears not over the top yet classy. A transplant acrylic invitation as your DIY indie wedding invitations is a superb choice. Just go for simple white letterings to achieve contemporary minimalism.
You might know "less is more" when it comes to using transplant invitations. The aesthetics use a hierarchy in visual form to highlight important details such as your name with your beloved.
In Love With Chinoseire?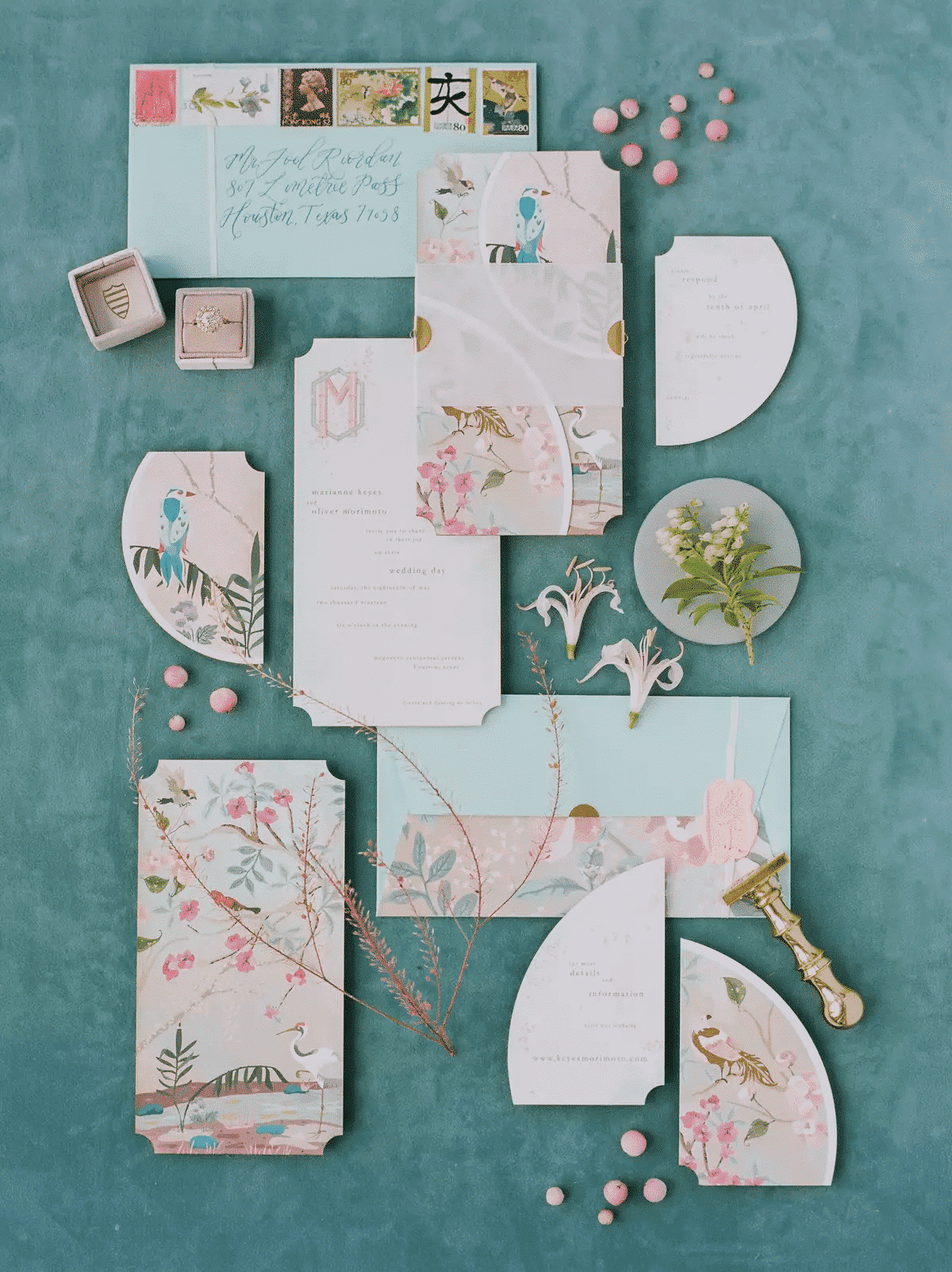 Chinoiserie is a new concept to many people while some have been using it for years as they have already fallen for the look that it provides. For those of you who are not familiar with Chinoseire, it is a European interpretation of various Chinese motifs. I am pretty sure you might have seen it a lot lately but couldn't recognize the name.
These are pretty and colorful suites inspired by Chinese motifs. They have an aqua and teal color combination that appears splendid and so alluring that we cannot get enough of it. It has some hints of pink which illustrates cherry blossoms along with bas relief birds. Sounds aesthetic right? It creates a picture in your mind that makes us love it even more. You may download similar templates and choose a font to get yours today itself.
Illustrations Are Fun And In Trend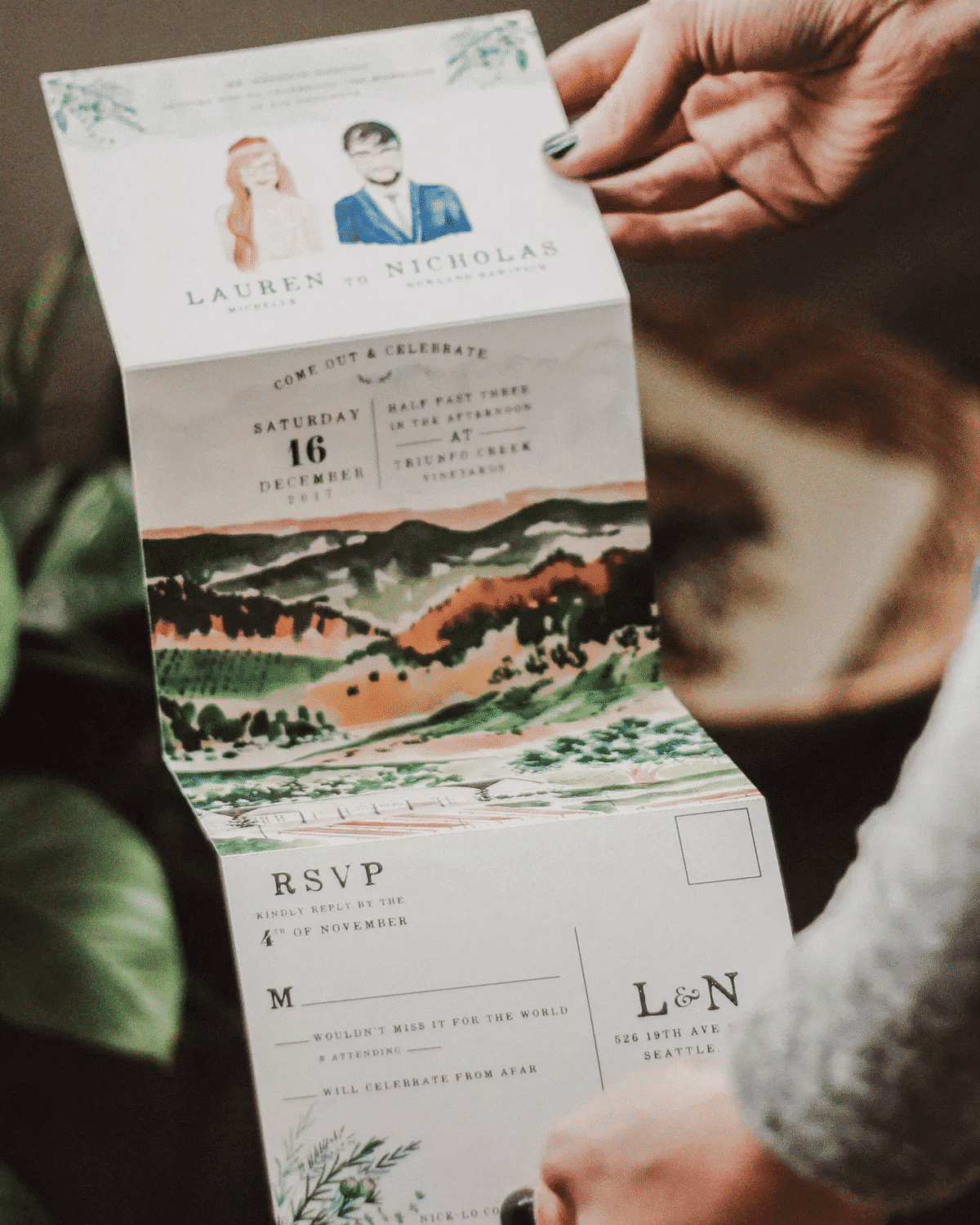 Are you bored with traditional DIY indie wedding invitations? We get you. Try these amazing illustrated fold-out invitations in watercolor, They are so fun to DIY that you will fall in love with the process and how they turn out after completion.
These make a pretty good alternative to the traditional cards. The whimsical design features the groom and the bride together with scenic landscapes of a vineyard making a beautiful place to tie the knot of togetherness. Another panel of this invitation is for the guests is to tear it off and use it for sending it to their RSVP. This idea is so damn attractive and fresh to be used.
The Royal Wedding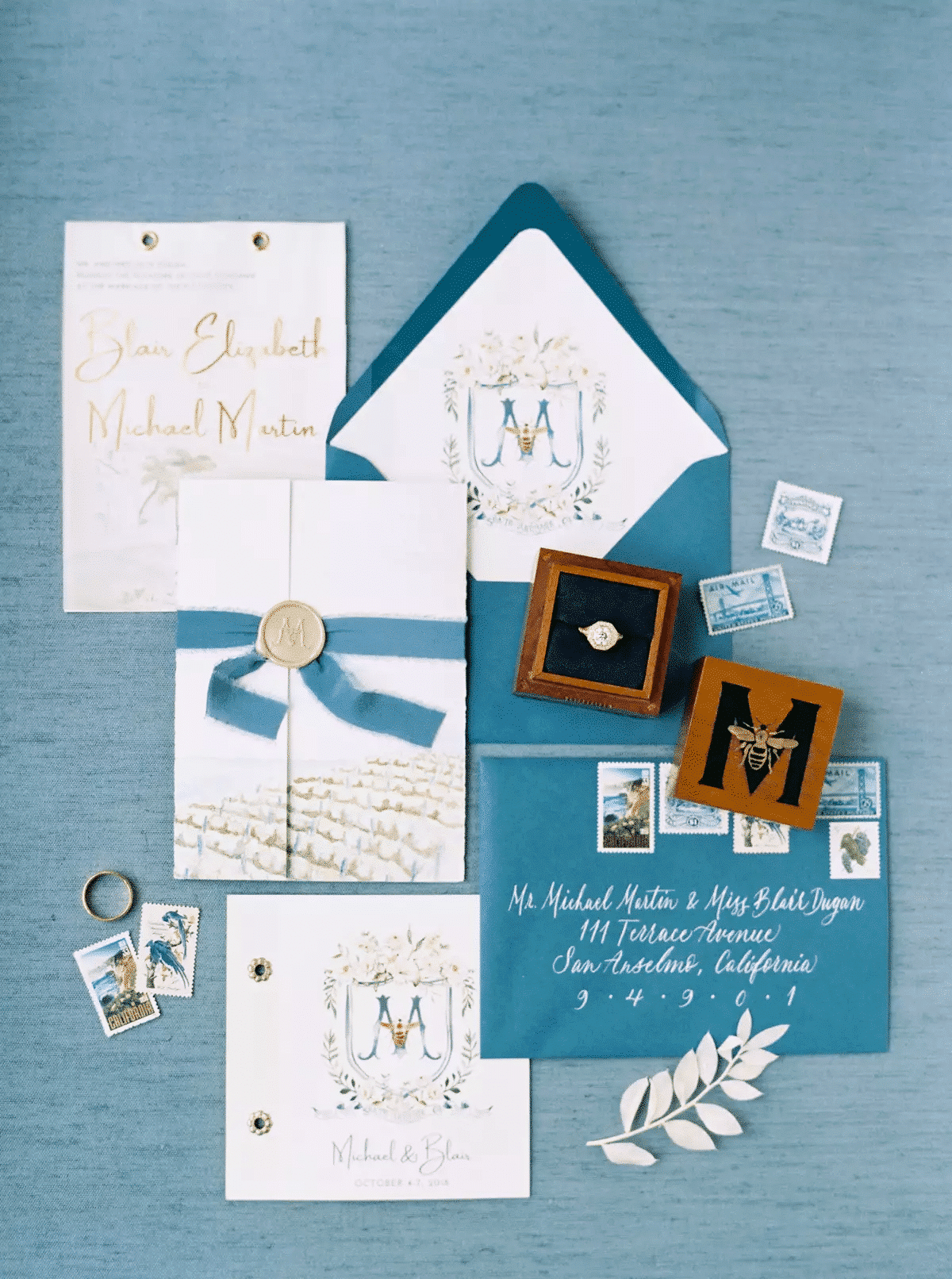 You are no less of a princess the day you get married and otherwise. If you are looking for DIY indie wedding invitations that appear as classy and royal as you are, this one is the best to choose from. Complete your DIY using teal-themed invites and custom-designed crests that look flawless.
Do not let the chances of a fairytale wedding vanish with few not-so-nice things. This idea is just from the fairytale you needed. Go for it. You may use envelopes having ribbons to open them as it will enhance the entire look of your royal wedding.
Use Watercolors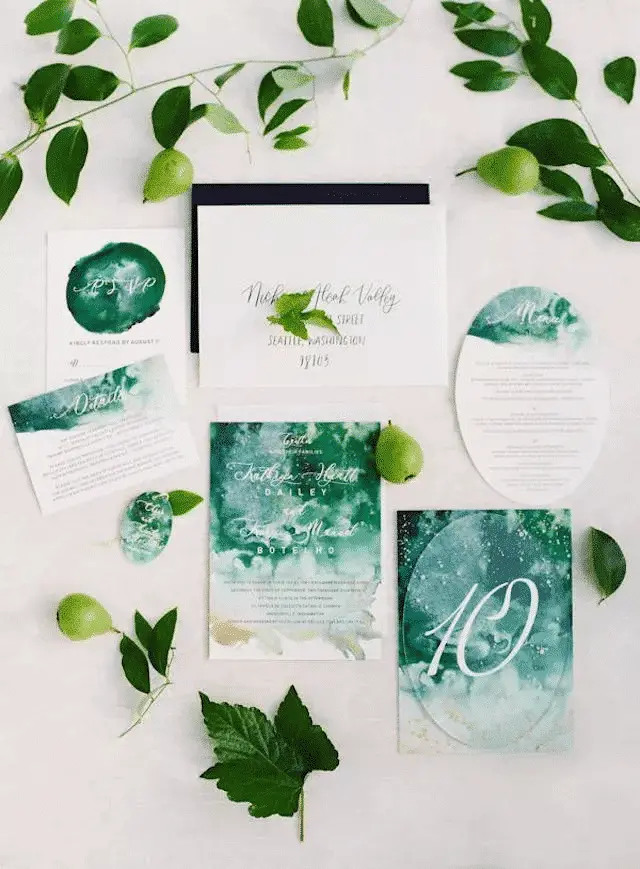 Watercolors make the stunning choice for your DIY indie wedding invitations. If you are good at watercolor paintings, you may design one for yourself and then get others printed easily.
These gorgeous watercolor invitations are inspired by woodsy canopy trees. You might be able to picture the trees and their vibes right now, it feels fresh and soothing, isn't it?
These are incredibly magical and the aura is splendiferous. All the pieces coordinating together in these DIY indie wedding invitations from RSVP card to the menu are perfectly harmonious and give all the attendees a closer look at what they are about to receive and what your wedding is going to look like.
Try Forgo Paper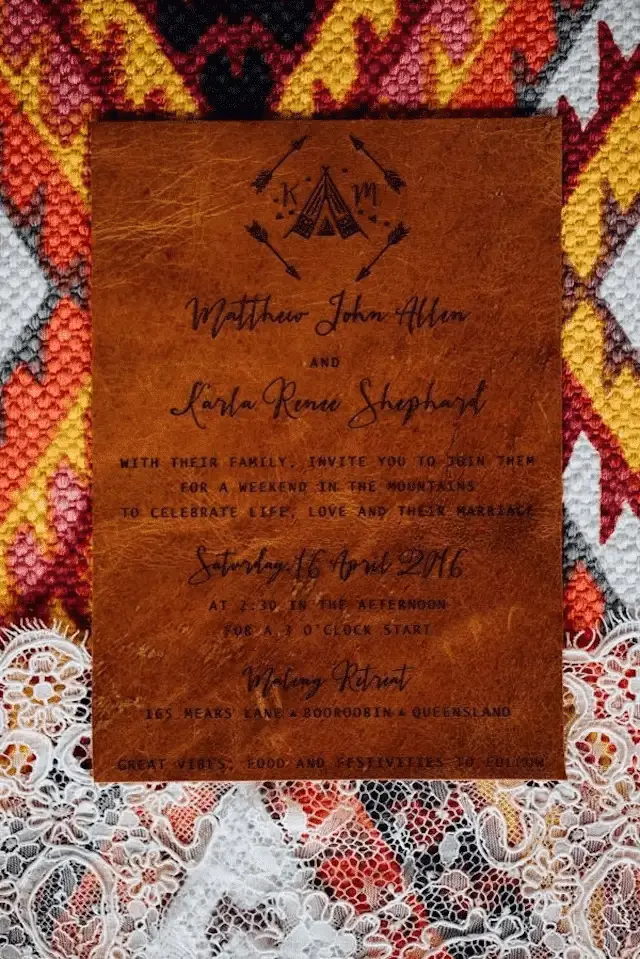 If you are looking for extremely simple yet gorgeous DIY indie wedding invitations, you need to have a look at this card. There is nothing over the top in this one yet it appears extremely classy. You just have to invest some dollars on the card as you are good to go. The ink usually used on such cards is black, so you may even use a black and white printer which saves a lot of money.
Just forget paper this year, these leather papers used as invitations are breathtaking and add unexpected texture to your card making it a major point of attraction. They are perfect to complement free-spirited brides having indie weddings.
Work With Rustic Palette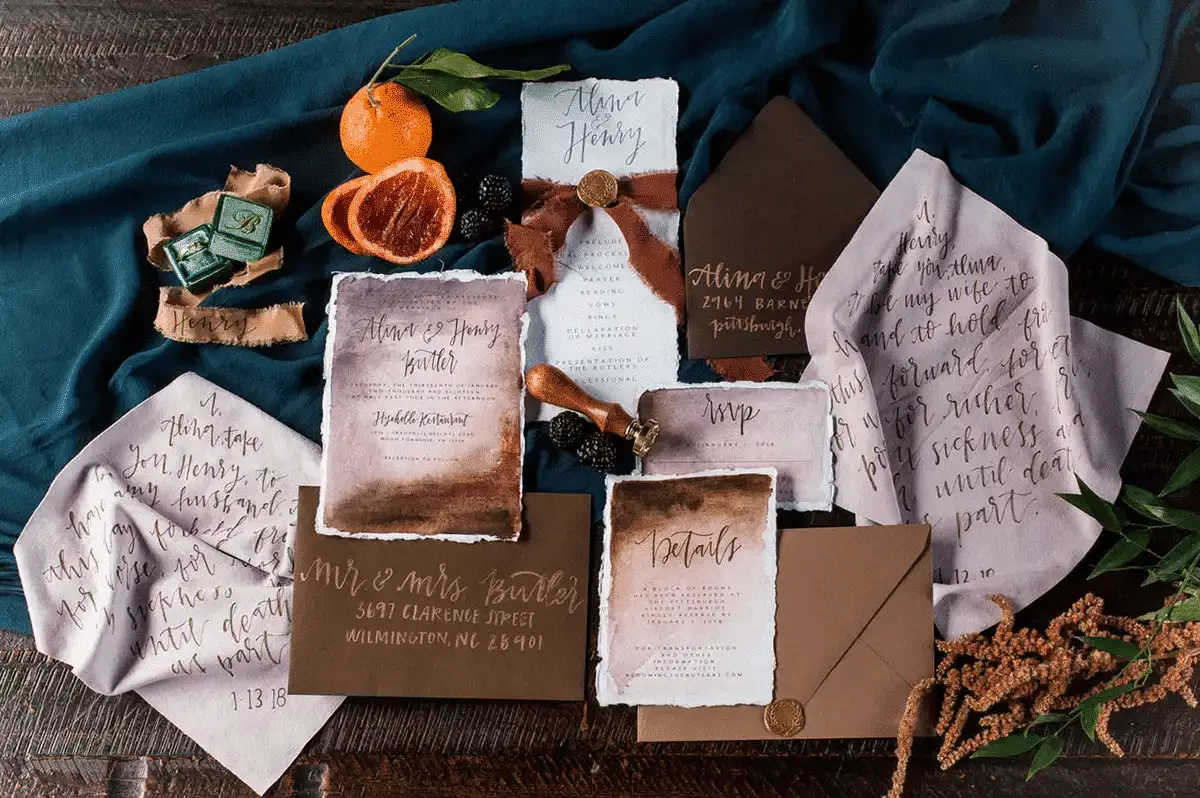 Using a copper and violet palette for designing your DIY indie wedding invitations sounds interesting. When rustic hues are combined or mixed with elegant embellishments, they end up making the most beautiful art of work. You can use silk ribbons and wax seals to add to the elegant persona of your invitation cards. Calligraphy wedding invitations and deckle edge invitation envelopes will make the invitation suite really stand out.
Create An Indie Print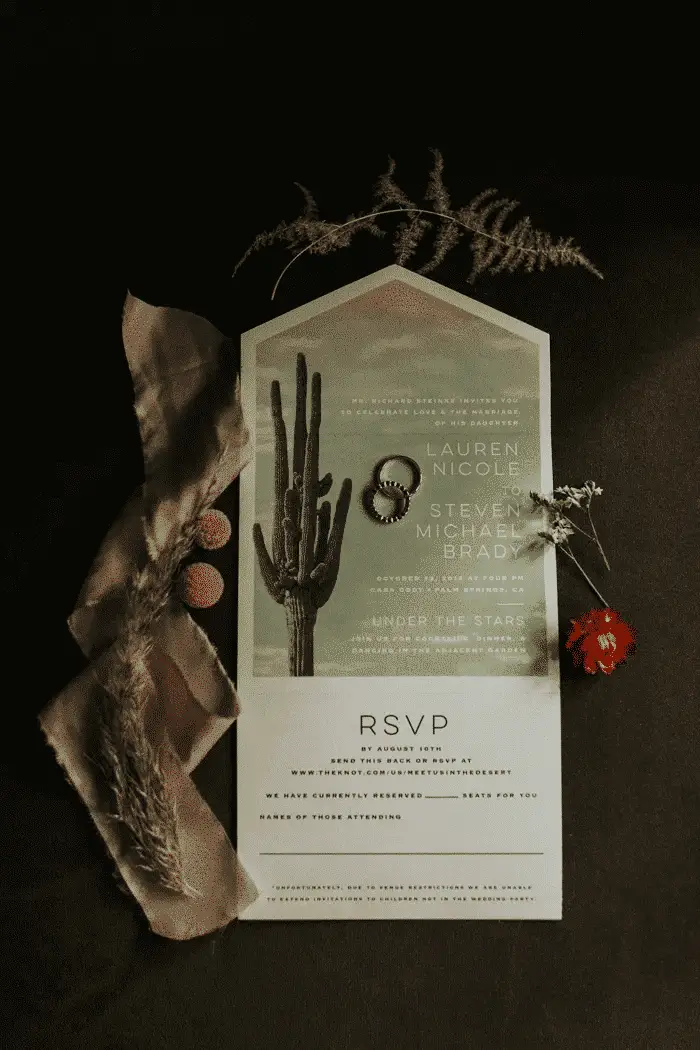 Planning to prepare a DIY indie wedding invitation card, what else to look for other than indie prints which are all in trend nowadays. If you love something related to desert prints, then also you may try this one. These indie cactus prints with pretty viridian color blocking are definitely going to set the tones as per your vibes on your wedding.
You may also attach a perforated RSVP postcard to be dropped in the mail. Try to use this idea once and see if you like it on the paper. Also, use hard and thick paper.
Play With Edges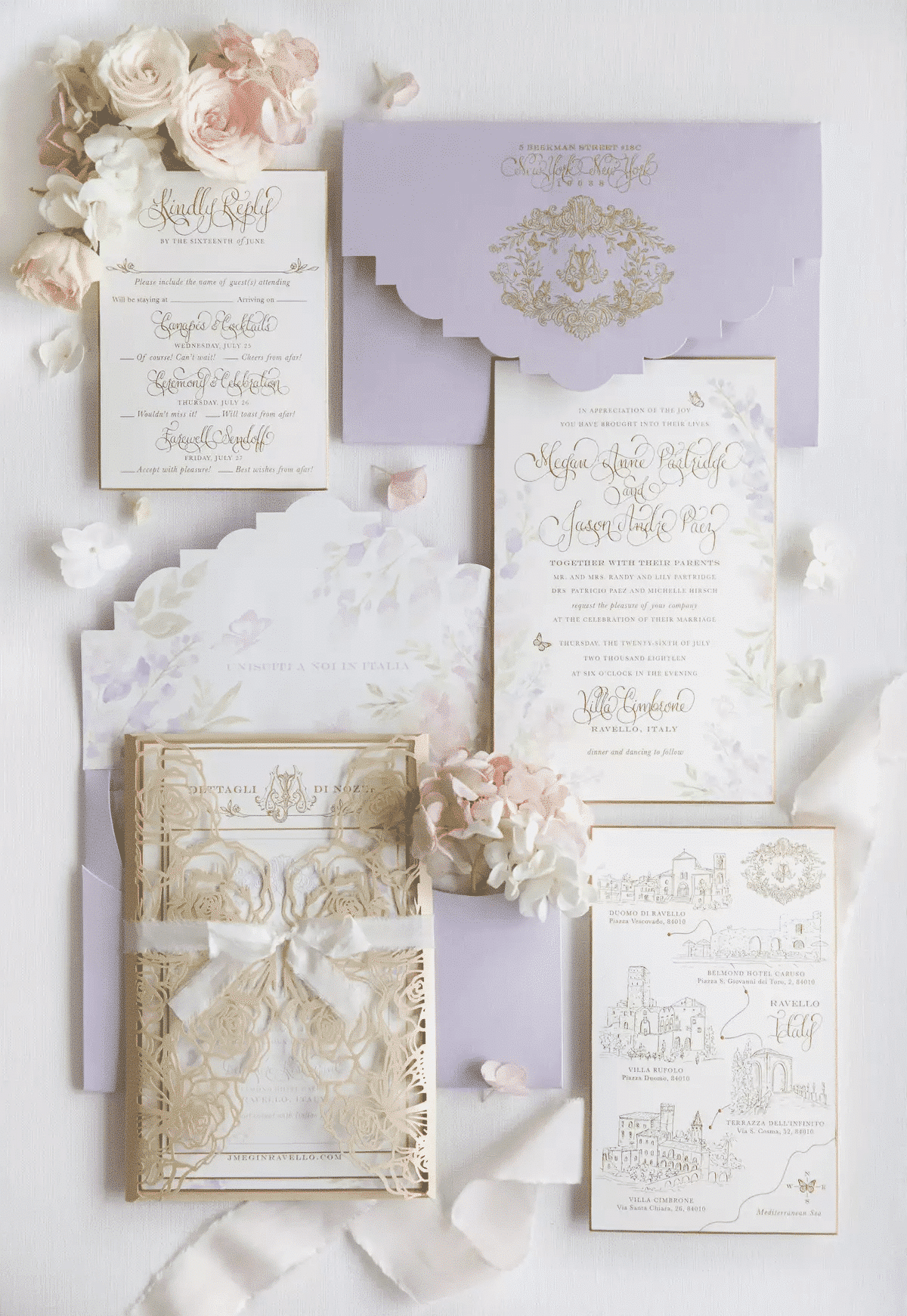 Edges play a great role in elevating the entire look of your DIY indie wedding invitations. You can play with watercolor art combined with engraved butterflies and golden beveled edges. Nothing beats this fairytale combination.
You may use lavender envelopes to cover your beautiful cards, it will look mesmerizing. The Lavender color itself is enough to add a touch of glam. All the pastel colors give beachy vibes we fall in love with. For this DIY indie wedding invitation, you may use lavender envelopes that feature an ornate gold seal. Trust me, no guest will ever forget how your wedding looked like. Inspire others to use it as well.
Depending upon the type of embellishments you are about to use and the complexity of the invitation cards, you have to make sure you are contacting the vendor or stationary person at least 9 months earlier to set everything in time.
Crystal Inspired DIYs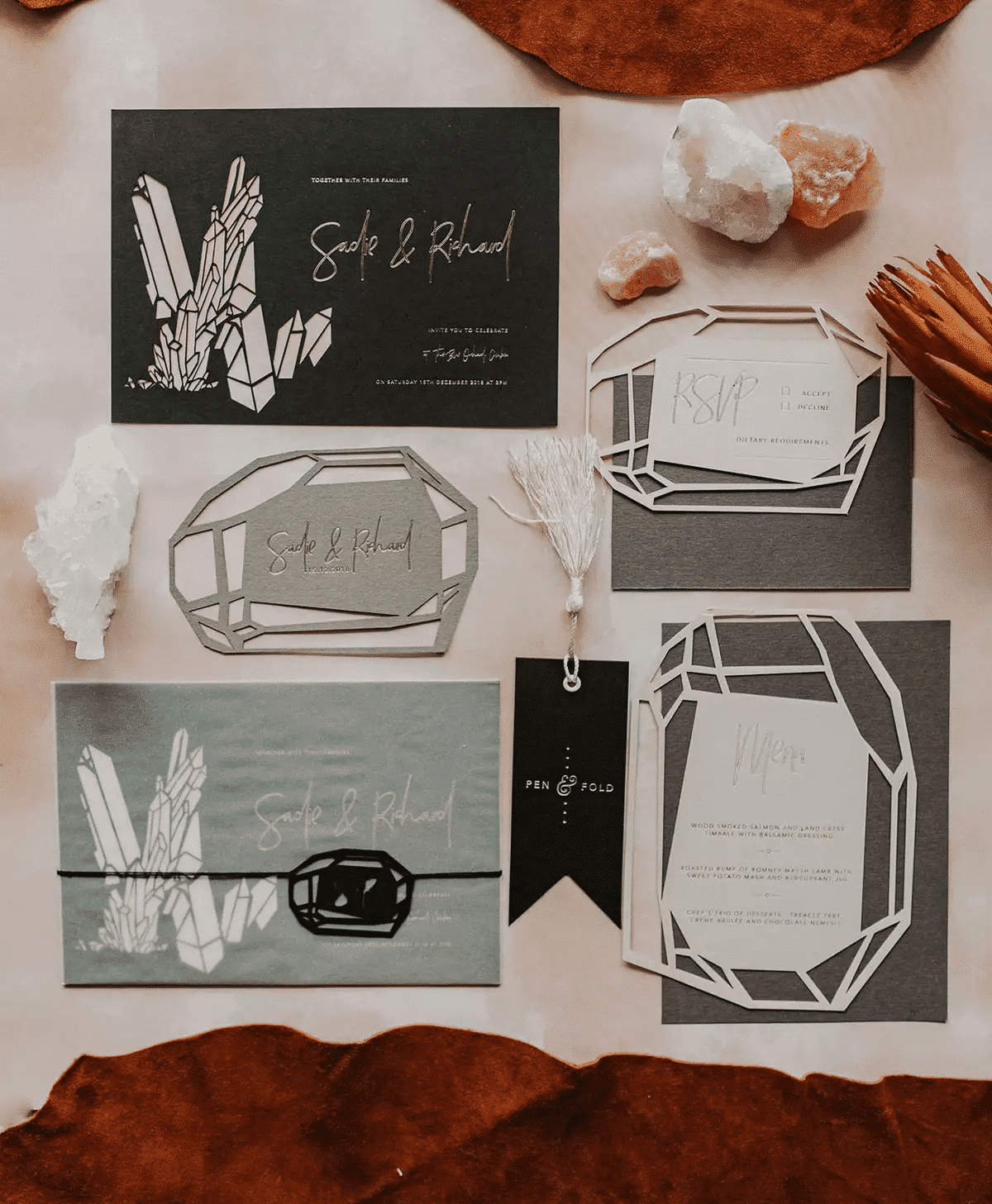 If you are looking for something unique and cool for your wedding card designs, you may DIY this card. If the number of guests is easily countable or you are working on a small wedding after quarantine, you may DIY them at home easily without even using printers and stuff.
Crystal-inspired invitations are electric and edge making them a perfect combination for all the coolest brides to be. Also, all the bohemian brides are definitely suggested to try making one. You may make foil-pressed letterings and intricate dynamic laser-cut designs that will lend an artistic touch to the DIY indie wedding invitations.
This is indeed the best option as it is very simple but it looks complicated as if you have spent hours trying to get one.
Embrace Warmer Tones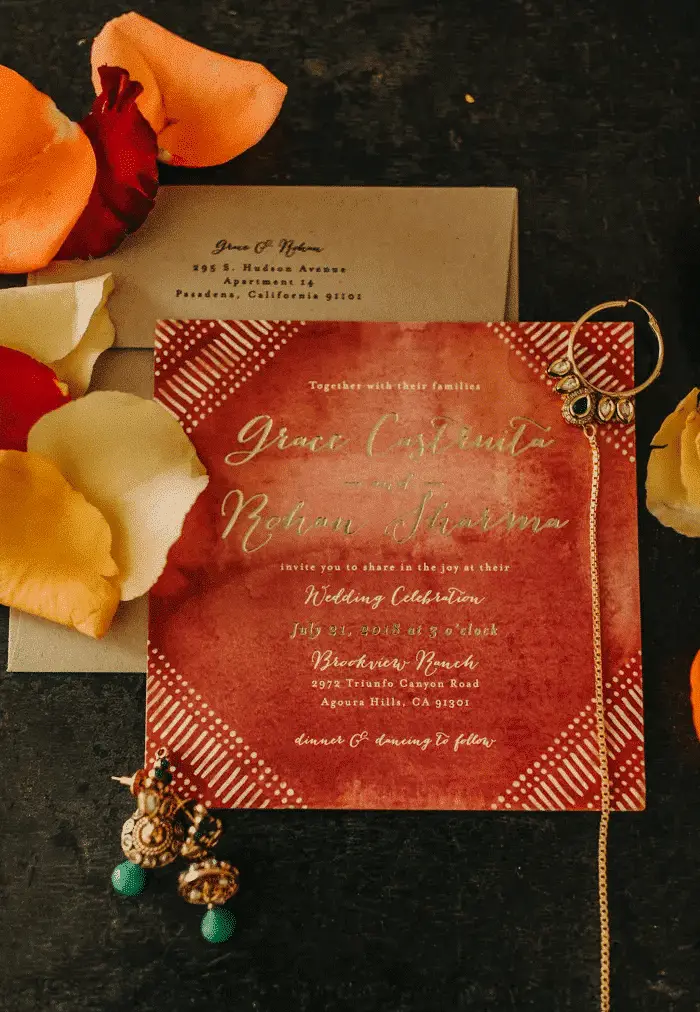 Who wants simple and neutral cards when you can have some stunning tones and hues to play with? If you love playing with different hues, contrast, and saturation of a single color, this idea fits you well.
usually, the burnt tones are amazing to add a splash of color to your DIY indie wedding invitations. This template having warmer colors is inspired by Indian weddings. If you don't know how Indian weddings are, you are surely missing out on something. It's all about colors and warmer tones.
You may try to keep the patterned corners with gilded letterings to enhance the effect overall. We will expect nothing else than having these gorgeous designs if you are going to get a traditional Hindu marriage.
Play With Shapes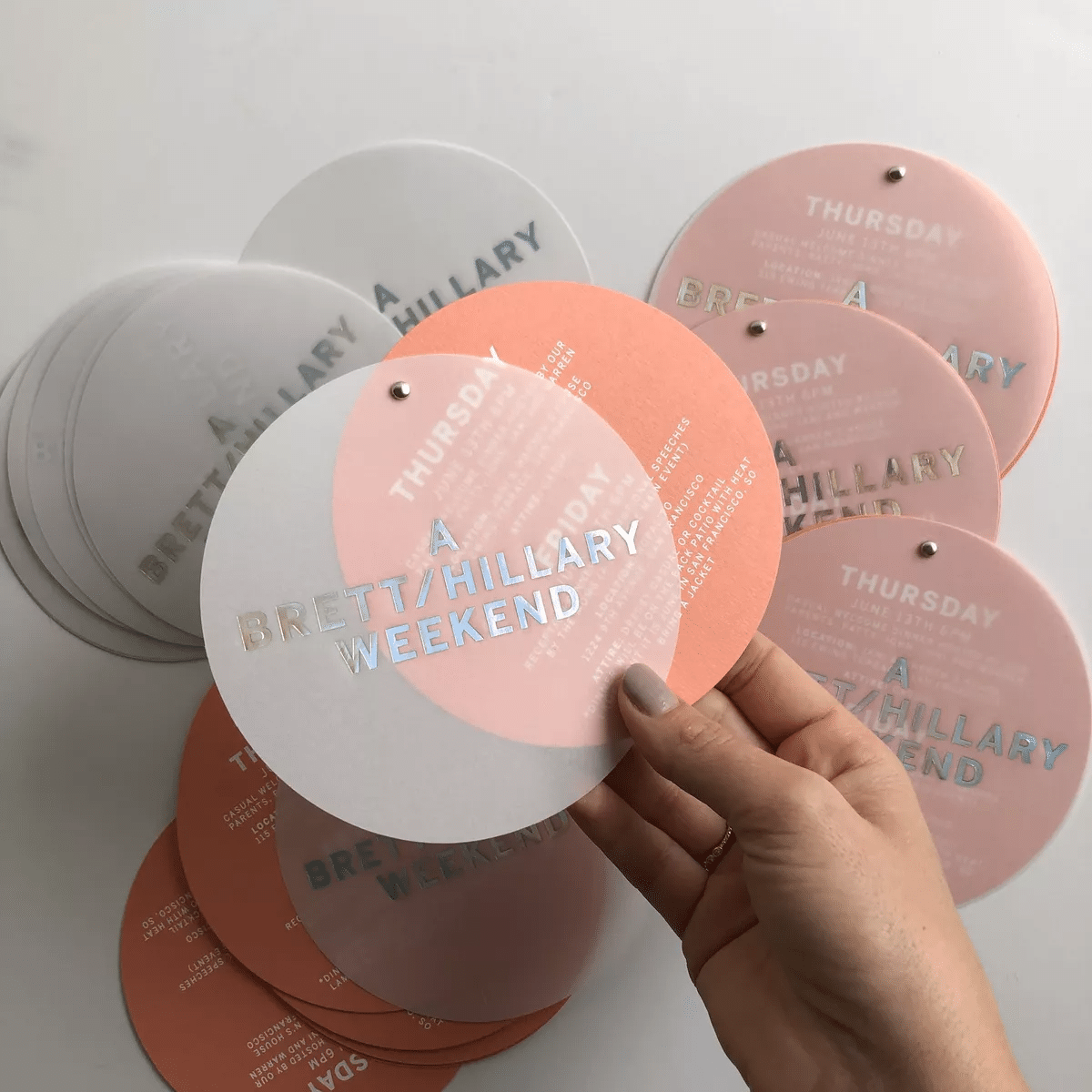 The least you can do to make your DIY indie wedding invitations more attractive is by using certain shapes and figures that are different from the regular ones.
What's your favorite shape? Is it a circle or maybe a pentagon or hexagon? Whatever attracts you the most and appears enticing, just stick with it. For me, nothing says time to party better than circular-shaped DIY indie wedding invitations. They are raw and breathtaking. You may add a playful twist by adding variations in color and borders with golden hues. You may also add orange invites that are topped using dazzling holographic foil lettering. Simply Breathtaking!
Look at the card above, the top vellum paper portion that swirls to reveal the intricate details for the day fits so well with your card, isn't it?
Simplicity Cannot Be Outdated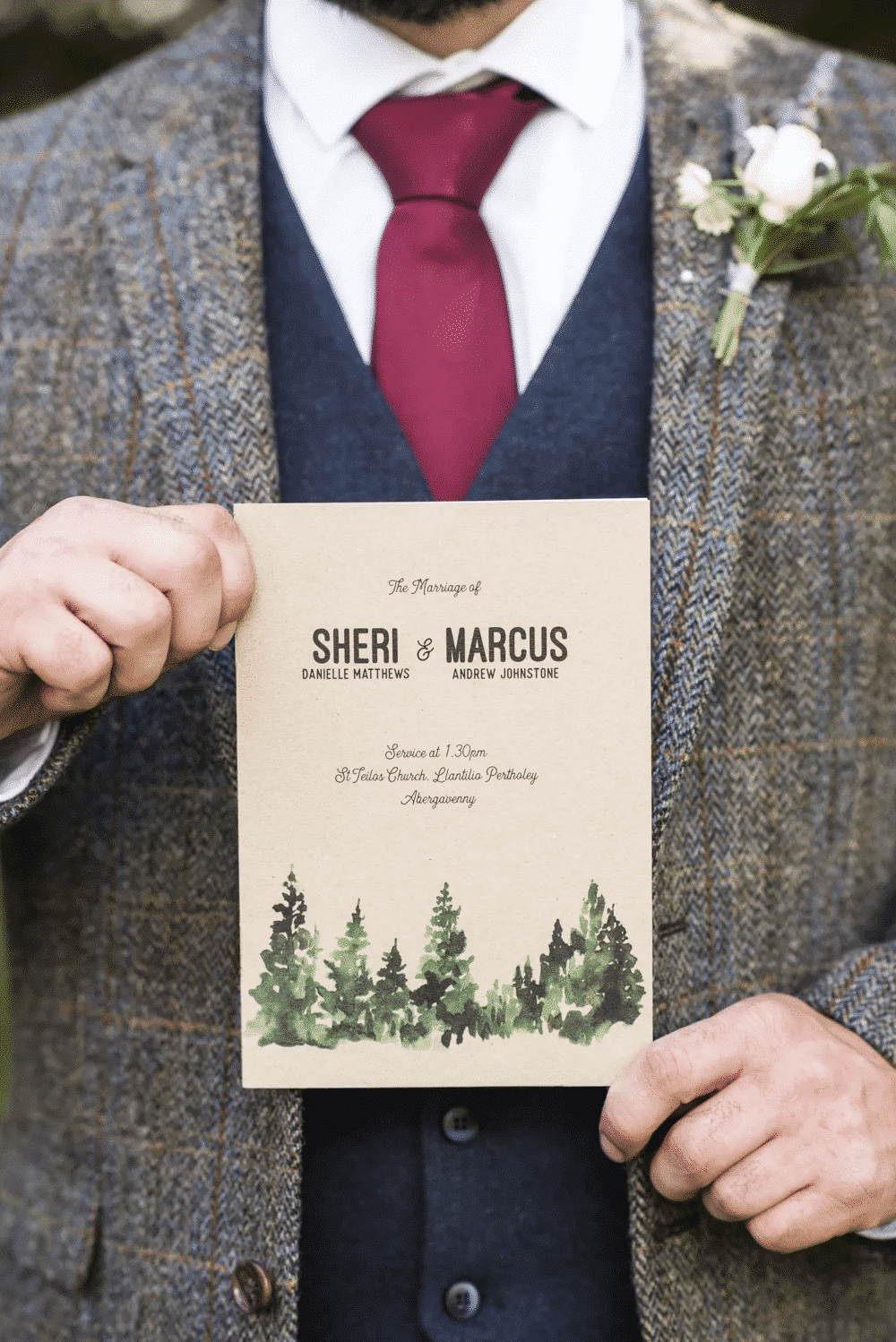 We often underestimate how simple designs might end up making the greatest marks. The same goes for your DIY indie wedding invitations too. As you have decided to go for a DIY, you can't risk choosing a template that's over the top with its efforts required. You want something simple yet beautiful that can be easily made and copies can be generated for your fairytale, right?
For instance, consider this option. Sometimes simple cards are best, especially when it is setting tones for your barn wedding. You can choose evergreen artwork in viridian hues or a cherry blossom artwork comprising of beautiful pink variations.
All earthy Feels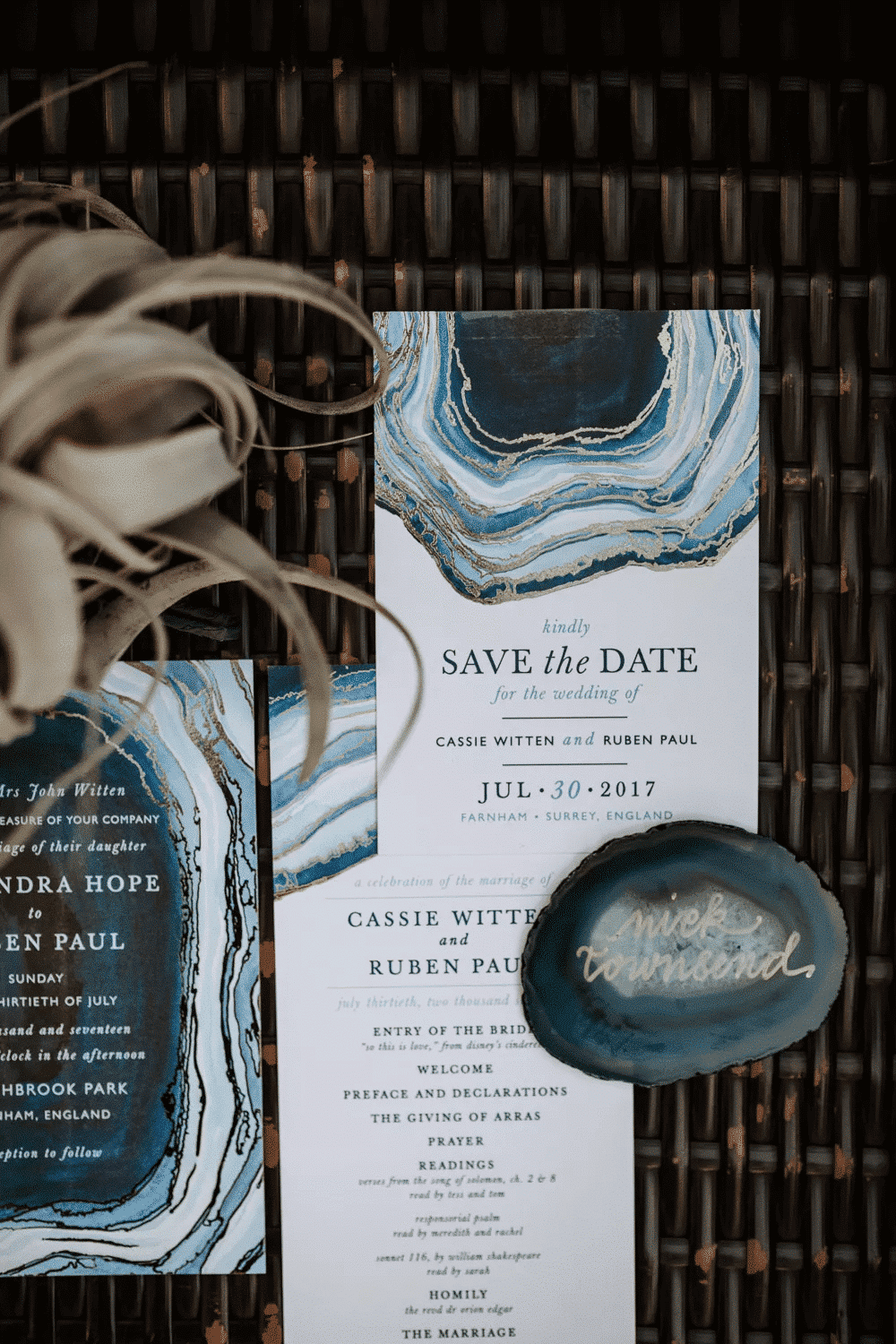 We love earthy tones for how minimalistic they often appear. Would you love to choose them for your special wedding day? If yes, here you go.
You may create an edgy and earthy feel using geode-inspired print in beautiful and vivid turquoise combined with metallic gilded edges. This makes everything you have ever imagined with your wedding card templates.
While this design is highly effective in converting all the details of your fairytale wedding, it also appears classy and soothing to the eyes of people seeing it. They are not going to get rid of it even after marriage as it seems.
Vintage Vibes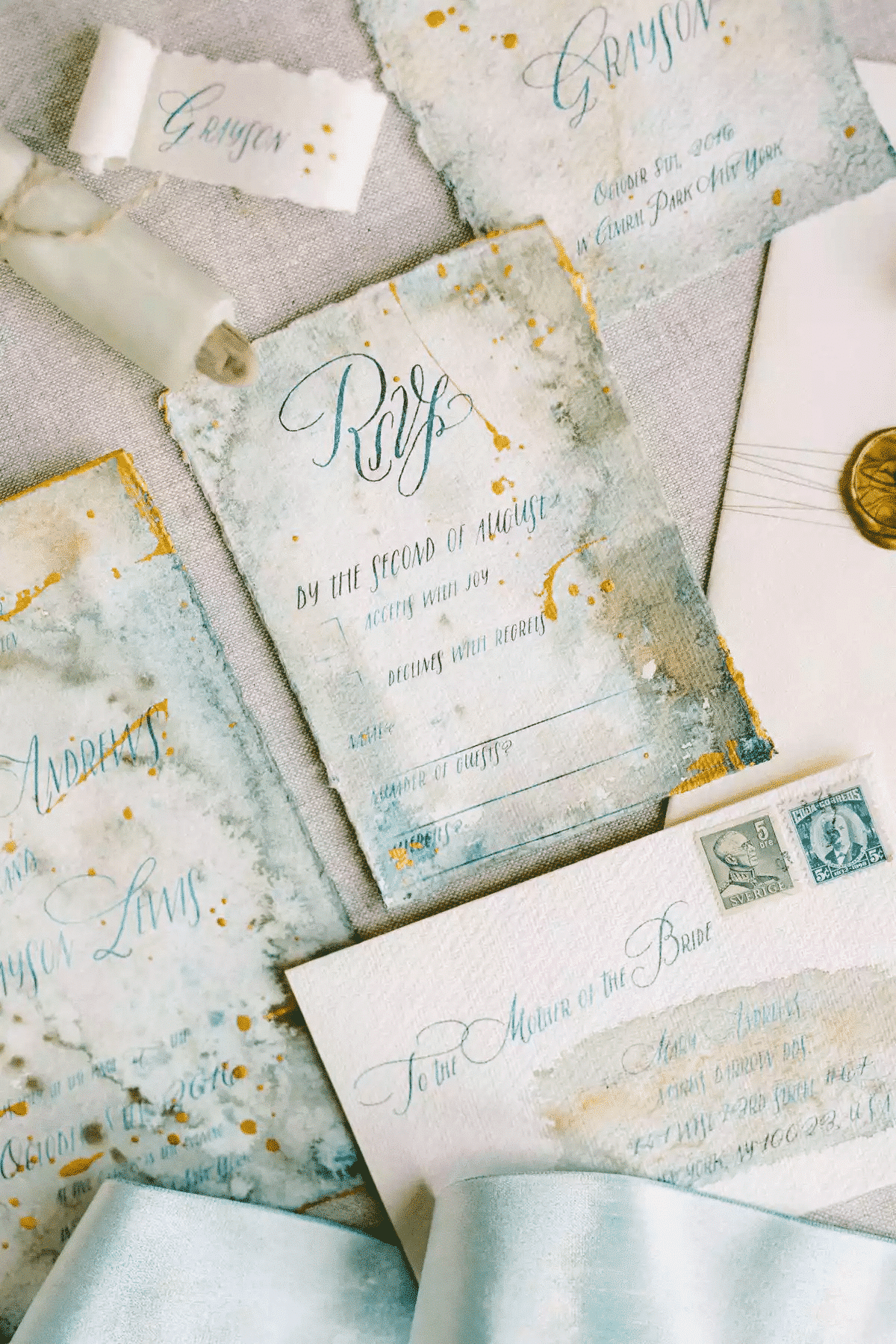 We cannot skip vintage vibes in DIY indie wedding invitations as they are highly popular and many people prefer using them for all occasions. You want everything to seem perfect on your day including the theme you have selected, if you have decided to go vintage, here is an idea you may find attractive.
This vintage DIY indie wedding invitation comes with a color palette of blues, warm greens, and gold hues. The cards have beautiful watercolor splashes with photogenic calligraphy. Not to forget the parchment paper is reminiscent of vintage printing making the wedding card appear super vintage and aesthetic.
Also, while you are done with choosing and designing one having your favorite colors, just ask the vendor to get others done for you.
Have A Touch Of Your Destination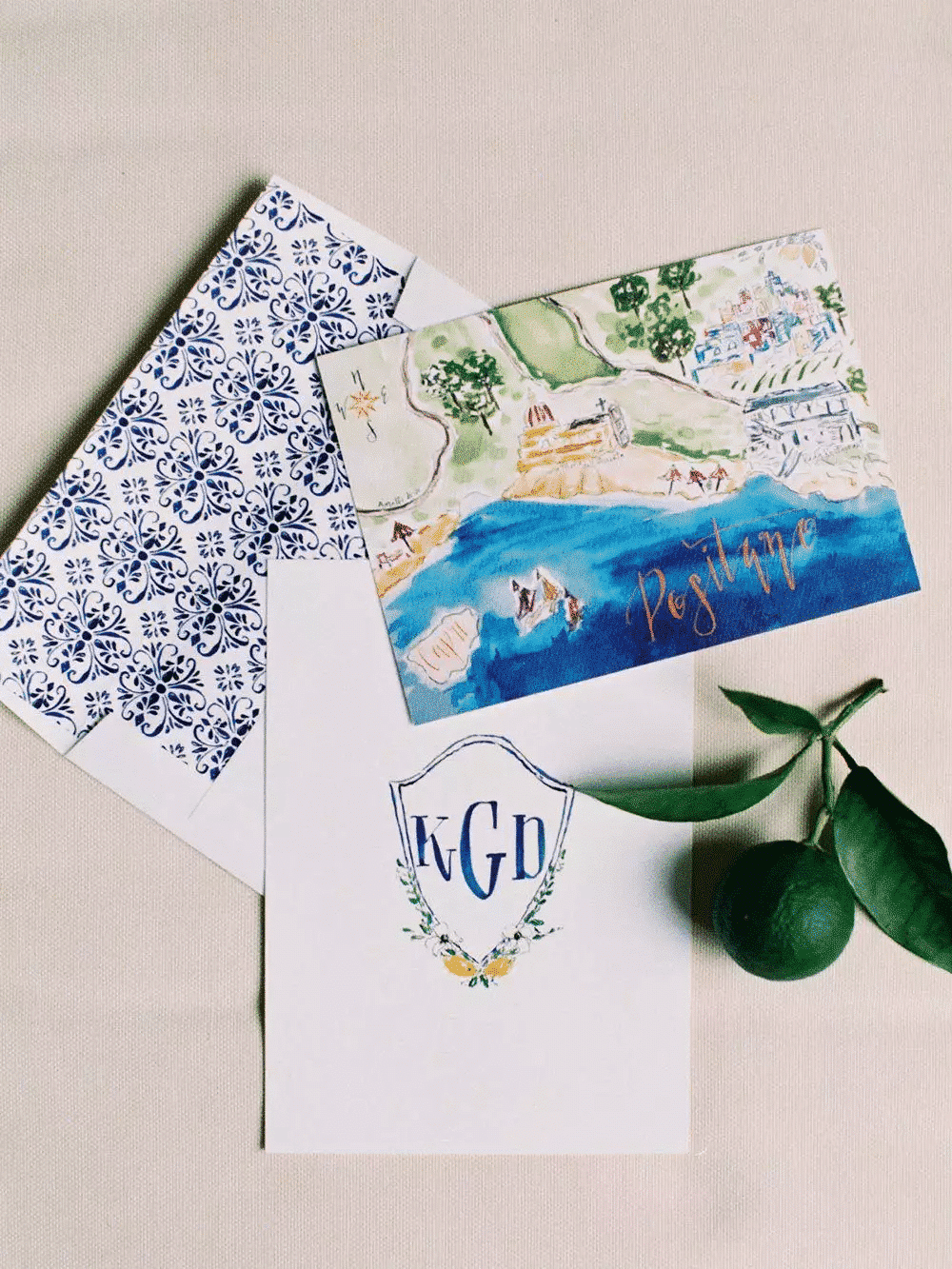 Planning a destination wedding? Well, even if you plan a low-budget wedding that enables you to save cost and have DIY indie wedding invitations, you still have great options that are cost-effective and you can have your dream wedding planned.
If it's near a beach or so, plan a watercolor map that gives a hint of your location to the attendees. You can also add some color variations and embellishments that speak for your cards beautifully. Even having a card with tile patterns liners that are found inside of the envelope will hint towards your destination wedding. This idea is definitely cool and you are about to see many people use this in near future.
Minimalistic DIY Indie Wedding Invitations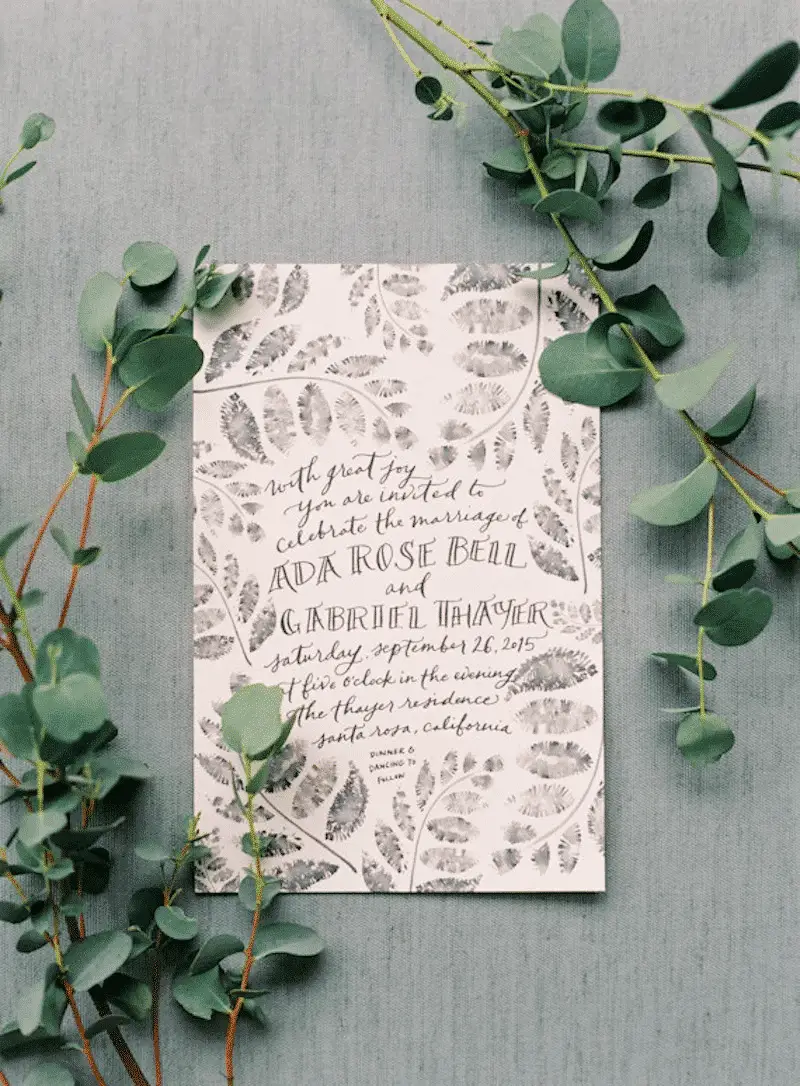 Keeping all the colors in your card minimal is also a great option to design your card. It will not elevate the cost of ink used making it extremely affordable. For instance, consider a black and white color scheme or hues that mark along with stamped botanical prints showing minimalism at its best.
If you are planning a really intimate ceremony tucked away in a secret location, maybe a garden or so, what more you can do to design your card. It is going to match your wedding. This one is super cute, try this one out.
Make It Little Personal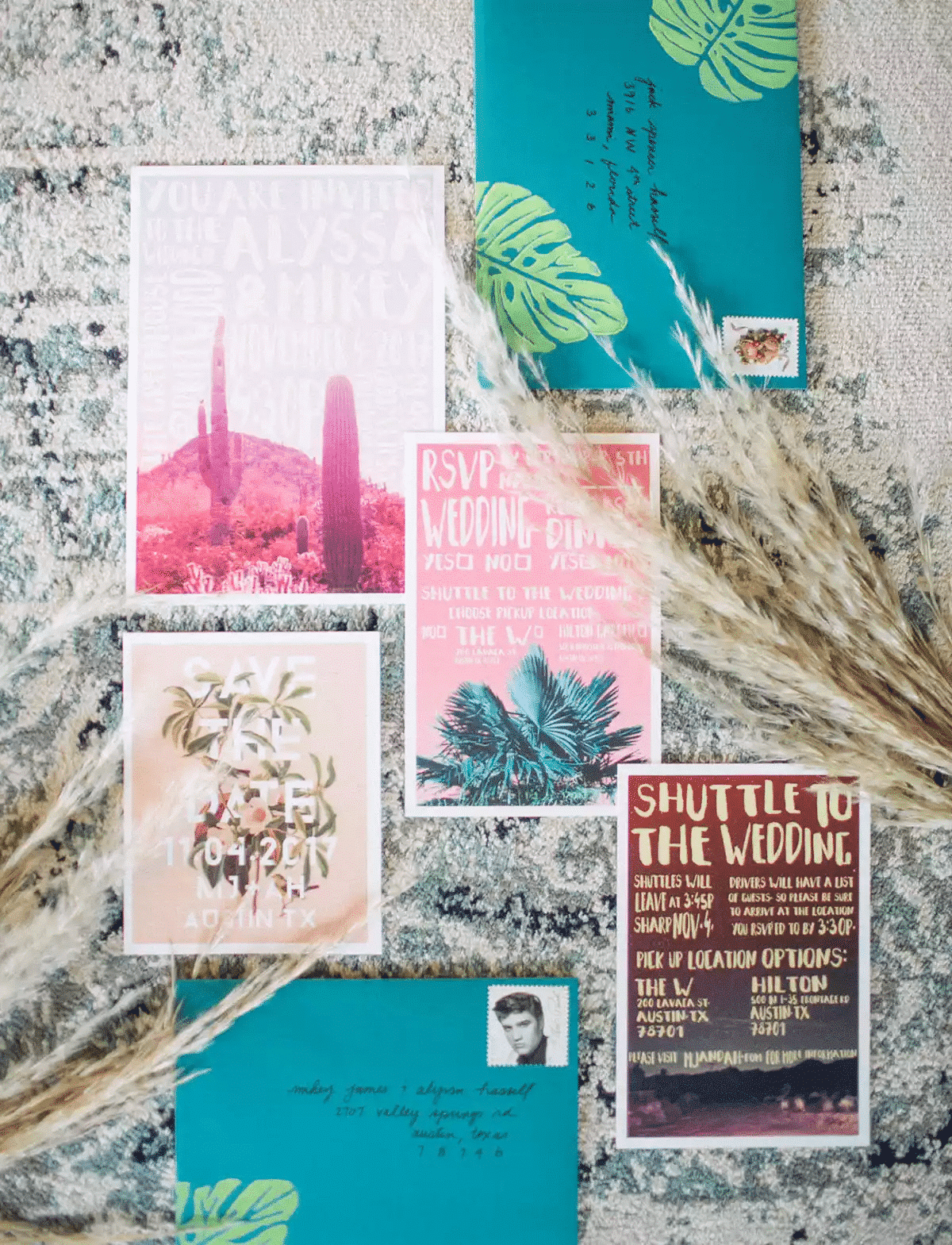 We are absolutely in love with the modern desert vibes provided in this spunky wedding invitation giving it sort of a personal touch and persona. Just look at the amazing eye-catching palms in this wedding invitation, the graphic designers have done full justice with this one.
The envelopes are a great highlight for your DIY indie wedding invitation. Make them stand out along with your suite.
Get Back To 70s Vibes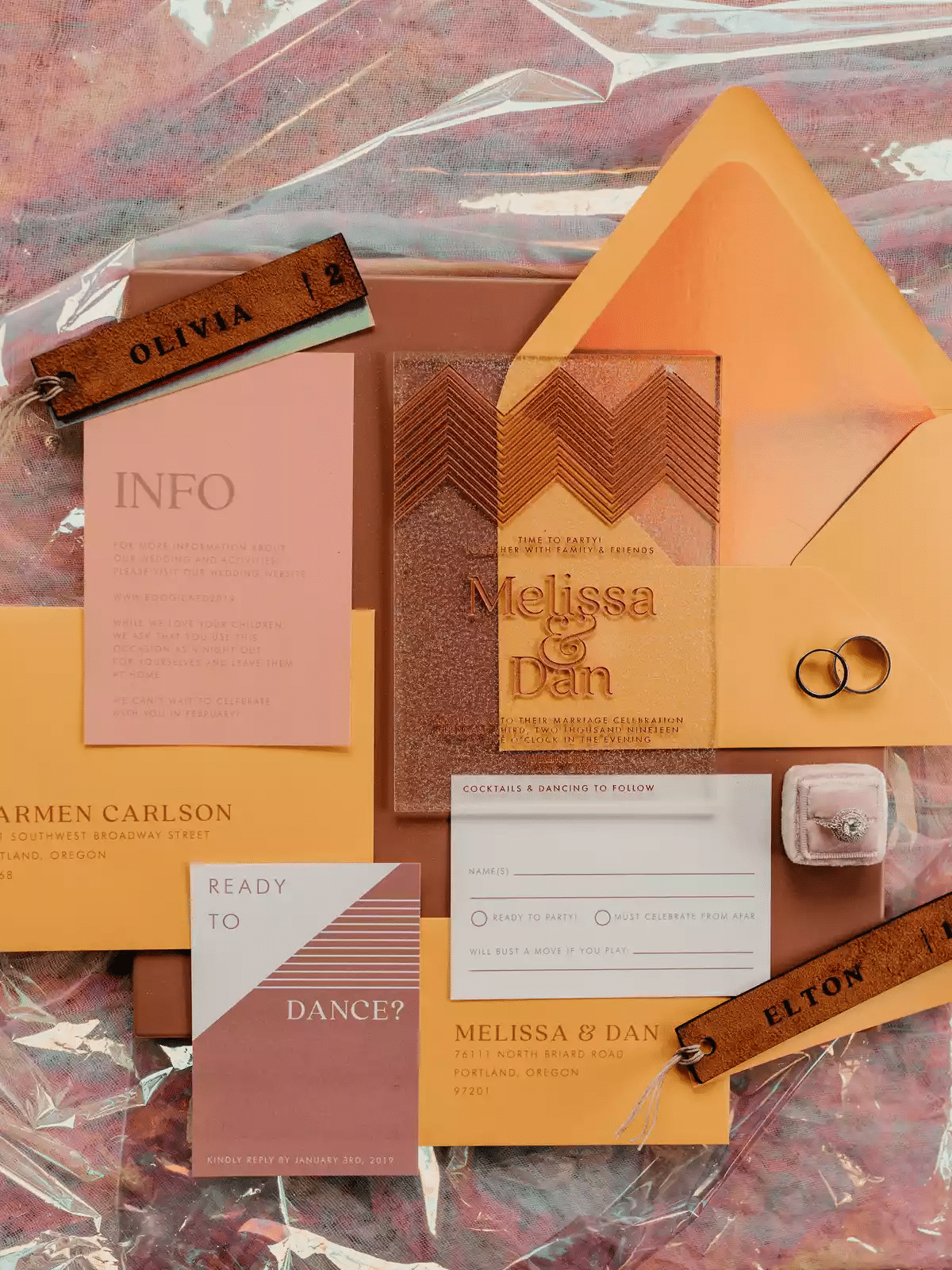 Nothing serves better for your attendees that age close to your parent's age. They are going to praise you with these amazing ideas, also if you are fond of the 70s and 80s design, do not hesitate, just try this one out. After all, it is your DAY!
Acrylic invitations can be taken to different heights after you use glitter and sparkle all over them. These groovy cards inspired by disco add a modern twist to the good old 70s. Also, just look at the RSVP cards that say "ready to dance", it will make all the guests go Aww! seeing your card. Why not spread happiness and positivity with your DIY indie wedding invitations.
Bohemian Glam
In love with bohemian desert vibes? Most of us are, for sure.
Combining beautiful dreamcatcher, desert landscape artwork, and feather motifs makes it a great option. It appears extremely enticing and beautiful. While purchasing the paper, try to go for a handmade paper to enhance the vibes and quality. This is a free-spirited wedding invitation you are about to love once it is completed.
Try mixing few dark tones to elevate the style with furry dreamcatchers. All you see is magic in these DIY indie wedding invitations. I think you must have already fallen in love with these, isn't it?
Look For Inspiration Outdoors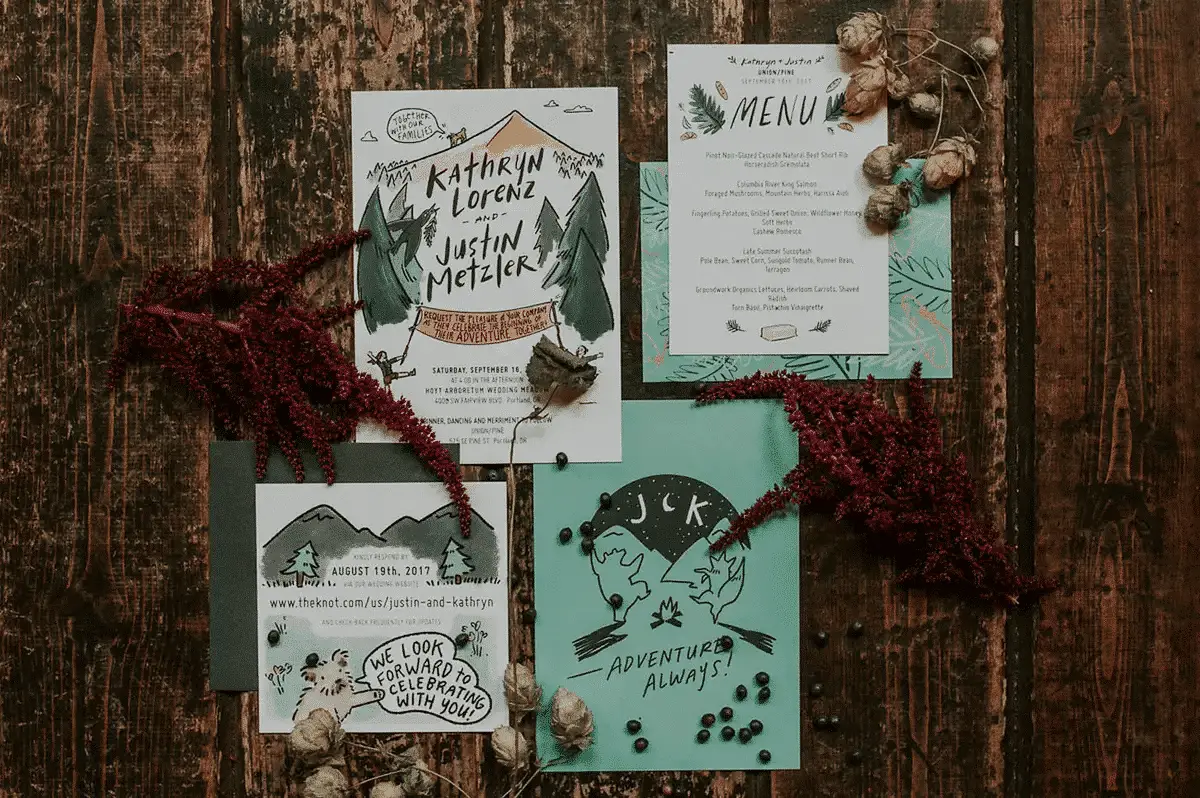 Many people are extremely fond of outdoor activities and open areas with soothing breeze and magical surroundings, if you fall into the category of these people, you should definitely find ideas that fit with your taste perfectly.
Planning a pacific northwest wedding? This calls for outdoor-themed wedding invitation suites that come to life with adventures. Look at these quirky ideas that appear dazzling. You can find beauty in everything around you and have great ideas from nature. Use teal-colored sheets with white thick sheets or transparent ones for these DIY indie wedding invitations.
You can also use pastel colors and create different fonts for your name with your beloved and the menu for the wedding. Do not forget to mention the RSVP details. Just prepare one and get others printed the same, also these are pretty easy yet beautiful, you will find many templates having your favorite colors.
Play With Patterns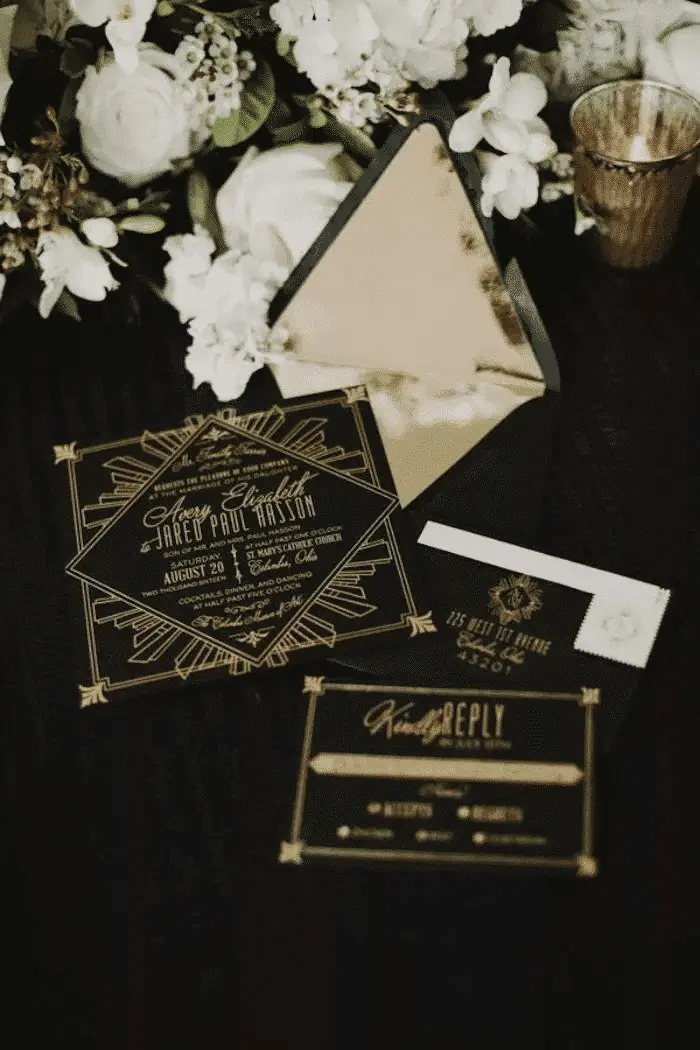 Playing with different patterns with your DIY indie wedding invitations is also a trick to learn. Going back to the 70s is fine, but have you ever imagines what wedding cards looked like back in the 20s? Well, ask your grandparents and take some pretty ideas.
Bringing these roaring designs from the 20s back to life with alluring invitation suites is a true example of sophistication and class. You want your wedding invitation cards to stand out like magic making them unique. If that's the thing, you cannot miss these designs. Crisp lines, black and golden detailing, and geometric pattern are again in trend.
These were some of the prettiest and most beautiful DIY indie wedding invitations you must try for your wedding to make it more memorable than ever. Follow the tips to plan the cost and other important these for your DIY indie wedding invitations above.
If you are looking for some tips to plan your micro wedding, follow these excellent tips to get started for it is going to be the most cherished day of your life.