Mini Air Conditioner | Buyers Guide
Getting the cool air, just having chill vibes, is what we want while working. But the problem is the Air Conditioner is very costly and consumes lots of power. Frankly speaking! I don't want a spike in my electricity bill just to have a chilling vibe. So what are the solutions for it?
I researched, and what I found is a Mini Air Conditioner! This machine really impressed me in all aspects, and I was amazed because of its cost-effectiveness, compact design, durability, and many more features that I'll discuss further. It does have some flaws too, and people take this little masterpiece for granted and test it beyond its limits.
Let me inform you that Mini Air Conditioner doesn't have the capacity to cool your whole room or hall. It can just cool your surroundings around your working desk or so. If you have a small room, then it could be useful for you.
But it's not 100% sure that it will cool your room; it is useful for the ones who want a blast of chill air in the summer season while working on your desk. So if you want to know more, let me explore you more to little cooling machines.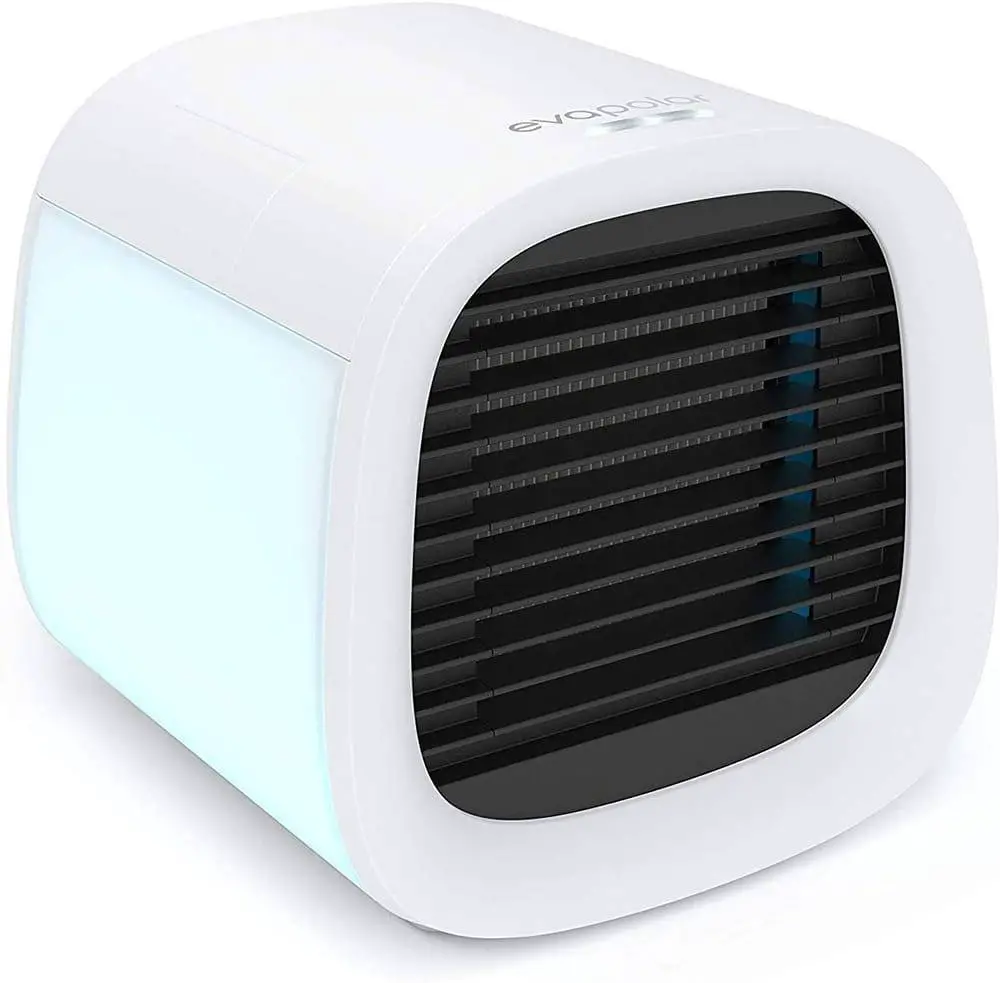 What is a Mini Air Conditioner?
The mini air conditioner is nothing much but a machine which takes or pulls in warm air from the surrounding and pushes cold air out by passing it to the cold water. By this, it drops the temperature of the air passed through it quickly. This ends up decreasing the temperature of your surroundings. The area of the surrounding, which can be cold, depends on the air conditioner's size and functionality.
In a mini AC, just like the usual one (With Filters), you have to fill it with water and wait for a couple of minutes for filters to impregnate and become damp. After that, you can just plug it in and enjoy the chill breeze coming out of the Mini Air Conditioner.
The filters are the main reason which cools the humid air or warm air. I will explain the working of the Mini AC further, which will elaborate on the simple technology used in a compact manner.
How does a Mini Air Conditioner work?
Firstly, there are two types of Mini AC.
With filters.

With a compressor.
Mini Air Conditioner (Filters)
In this Air conditioner, it only consists of filters that are made from different types of materials and a fan with a pumping system.

The Air gets cooled because of soggy filters, and they turn soggy because of the water pumped into it.

The concept of the Mini Air Conditioner is the same as other Air Conditioners or Air coolers.

The fan on the front sucks the air from the backside of the mini AC.

The filter is soggy, so the water makes the filter cool, and while the air is passing through, it becomes cold and chill.

Indirectly the Mini Air Conditioner acts as a dehumidifier and sucks out the humidity from the air.

You can pour up to 600 ml of water on average.

The key factors of this Mini AC are portability and power charging.

Even your laptop can charge this Air conditioner.
Mini Air Conditioner (Compressor)
The Mini Air Conditioner with compressor has various components in it.
Compressor

Draw in Air Hose

Vent Out Hot Air Hose

Condenser

Evaporator

Cool Air Exhaust

Rotary Compressor
Working Of Mini Air Conditioner
In a Mini Air Conditioner with a compressor, it, as usual, sucks the hot air from the surrounding, and later on the whole function is different from filter one.

Later the hot air is condensed on cold coils, and this drops the temperature of Air.

At this point, the heat is transferred in the coils where it has refrigerant, and this heat transfer turns refrigerant fluid into gas.

From this heat transfer, we get cool, chill air.

This chill air leaves moisture which is collected in the bucket.

Later on, the air is compressed and sent in the condenser coil, which is the exhaust gas.
Benefits and Flaws of Mini Air Conditioner
Every product in the market is not perfect and can't be considered as one of the greatest of all. Each product has its flaws. So with benefits, I'll include the cons of Mini Air conditioner too. So let's start with the benefits of this product.
A mini Air conditioner is best in terms of pricing, and filter ones are cheaper. The filter ones are cheaper because of their cheap parts and high availability of the parts in the market. After that compressor, the other ones are quite expensive because of the parts used in it, and the type of technology used in it.
Portability is the feature why everyone prefers a Mini Air Conditioner. Mini Air Conditioner has batteries that can be charged at a time. The run time differs from product to product. From a few of them, you can get 8 hours of run time or 5 hours. The best part of it is, you can charge it from Laptop and portable chargers.
The design is the factor that attracts customers. The machine is made so compact that it can easily fit in your baggage. You can place it on your working desk or near your lamp. The compact design never affects the durability of the Mini Air Conditioners.
Flaws
This problem is caused mostly in Min Air Conditioners with filters. While pouring 600ml of water can cause some leakage problems. While traveling, you have to be careful to take it as it has water in it.
Mini Air Conditioner with compressor comes with coils and compressor units. There are many heat transfer processes, and gas is compressed. Heat transfers can cause overheating of condenser coils.
Cessation | Mini Air Conditioner
Winding up, this was a piece of short information on Mini Air Conditioner. I hope you liked it; if you have any other questions related to it, feel free to mention them in the comment section. If you have any facts or information to share, you can comment down below.
This article is both a Buyers Guide as well as an informative blog on Mini Air Conditioner. This will definitely help you to choose your favorite products and you can know its flaws if it is not mentioned in the package.