When it comes to your hair, how do you want to style it? Choosing a style that makes your hair look gorgeous will obviously be the best choice depending upon what suits you best. But oftentimes it happens that you have to compromise on something or the other.
These compromises could include you having to neglect the health of your hair just so you could style it in a way that makes you look good. There are hundreds of hairstyles you can choose from but not all of them are healthy for your hair. So what is one of those hairstyles that makes you look good along with being great for your hair's health as well?
It's the box braids! Or to be more specific the medium box braids. This hairstyle is a great way to protect your hair by making boxy divisions that only add to your look. This hairstyle is very versatile and you can experiment with it a lot as well.
When it comes to medium box braids, what matters is that you choose a style that suits you best and you find out what's best for you by experimentation. As long as you are willing to fail, you will eventually end up with a style that you love and adore and that makes you stand out in a crowd.
This article explains ways that you can adorn medium box braids on yourself and make them look fabulous. The article also explains what a medium box braid is some other information related to it. So without further ado, let's get to it!
What Are Medium Box Braids?
Medium box braids are a hairstyle made to both make you look great as well as to protect your hair. It is considered one of the best protective hairstyles for natural hair out there. If you do not know what hairstyle you should be going with, you might want to consider this as your option.
Medium box braids are made by parting the hair into sections of boxy divisions and then braiding it from the roots to any length between the shoulder and the chest. If you do not have very long hair and also don't want to try using extensions, then instead of jumbo box braids, these medium-sized box braids would be a great option for you.
The advantage of choosing the medium-sized box braids as your hairstyle is that these make for very pretty pleats and they also give you the benefit of bringing out your facial features more and that too without much effort being put into them. This hairstyle is very popular and you would also see a lot of celebrities wearing their hair in this style.
If you go to a hairstylist, they would also recommend using this hairstyle if you have issues like weak hair or fringed hair that make your hair look bushy, which is something not everyone wants. It is also a great hairstyle if you are experiencing hair fall. So it's a win-win all around.
As the times have changed, change has been brought to a lot of aspects of life and the box braids are not excluded from that. The medium box braids that people used to wear back in the 90s are very different from how ladies wear their hair these days.
Medium box braids are so popular because they don't make your hair look thick or bulky. These braids are medium in length as the name suggests and they are very easy to style. You can easily make updos or buns from them, in a much easier way than with long box braids.
Advantages Of Medium Box Braids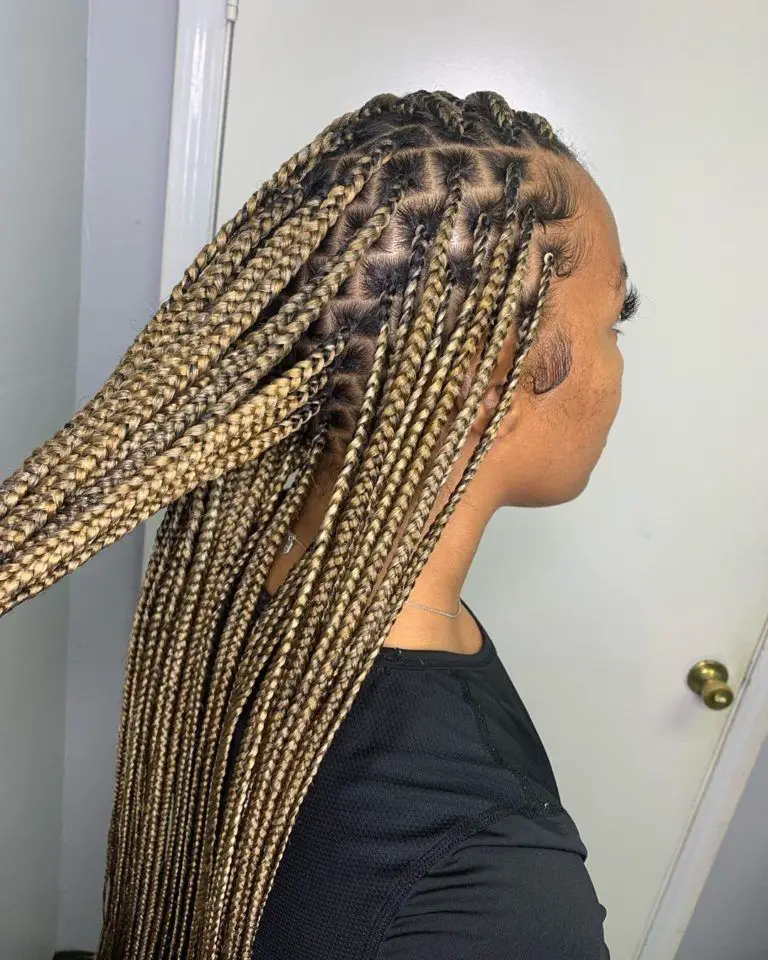 The medium-sized box braids come with a number of advantages and these are:
They protect your hair from falling off.

Medium-sized box braids provide strength to weak hair.

They are also a great solution for getting rid of bushy hair or frizzled hair.

Very easy to make at home once you have got a hang of the process.

The style is worn by a number of celebrities and a lot of stylists recommend it.

They bring out your facial features more.

There are a lot of techniques and ways in which you can wear this hairstyle.

No need for extensions with this hairstyle.

The hairstyle is very versatile.

They are very low-maintenance and don't take much time to make.
10 Ways In Which You Can Wear The Medium Box Braids
Chunky Medium Braids

Triangle Parts

Shoulder Length Box Braid Bob

Medium-Length Half Updo

Braids With Gold Cuffs

Accessorized Braids

Box Braid Bob

Gold Cuffs Braids

Braids With Side-Parts

Braids With Beads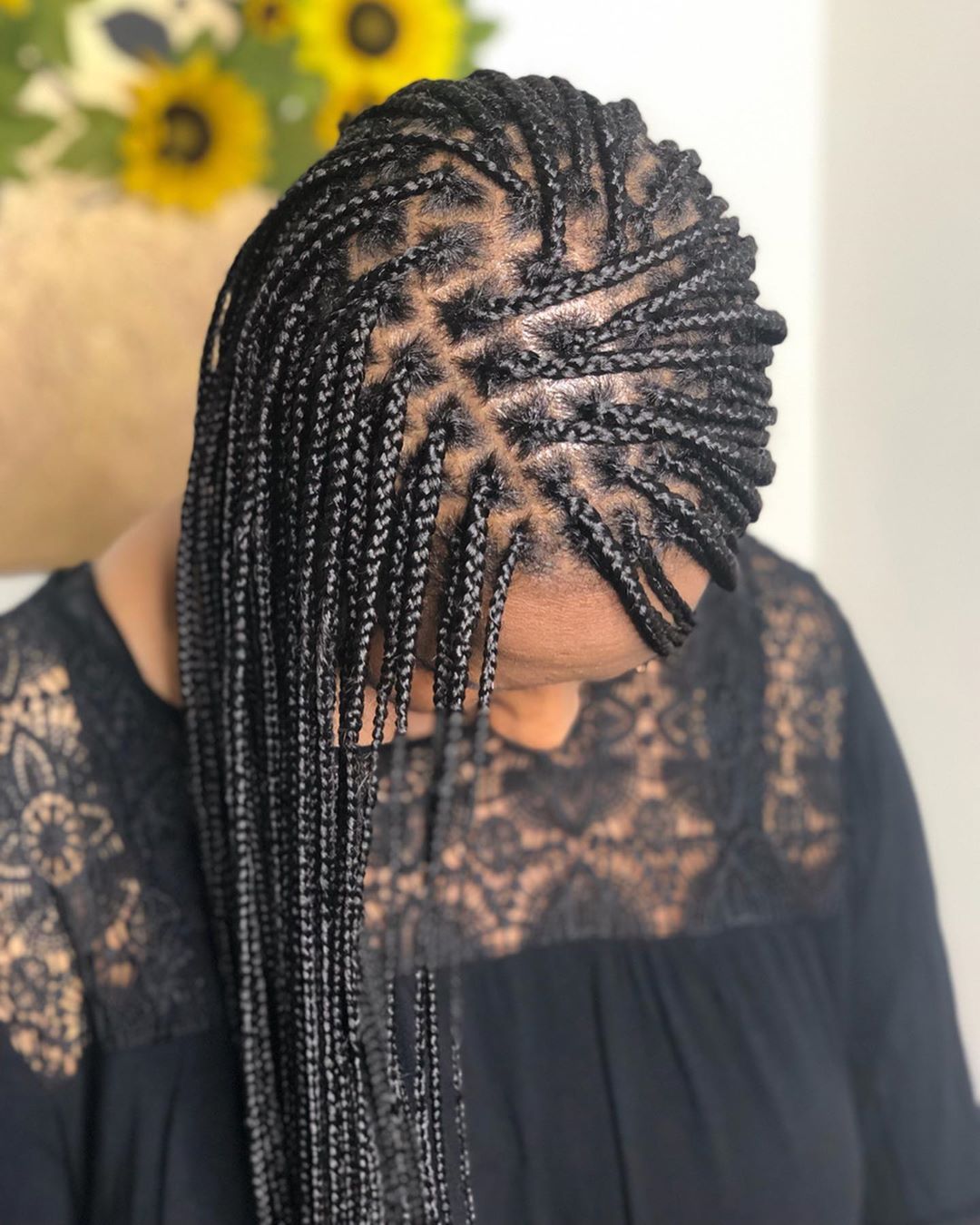 All these ways in which you can wear your hair in the medium box braid hairstyle are great. You can choose any one of these depending on the style you like best. Even after you are done braiding your hair, you can opt for a lot of things like adding accessories to them like cuffs or beads.
You can also go for forming buns and wearing your hair like that. Going for the bob look when you have the hair in braids sounds like a very fun idea as well, it makes your hair look gorgeous and elegant at the same time. Even with the braided bob, you have options like shoulder-length braid bob or normal box braid bob.
Triangle parts or the side parts are also styles that will give you a very unique look. Or you can also choose to go for the medium-length half updo. As I mentioned before, this hairstyle is truly very versatile and if you can find something you like, you will thank yourself for putting in the effort.
Cessation | Medium box braids
Medium box braids are a protective hairstyle but that does not mean it does not have to look good. If you have enough innovation in you, you can make anyone jealous with the elegance that you would carry your hair with.
There are innumerous ways in which you can flaunt your hair with medium-sized box braids. As long as you keep your experimentations going on till you find the best style, it will be all good. Do not let anyone else tell you whether you should be trying something or not, what matters is that you should love what you are doing with your hair, after all, they reflect your personality.