Low Protein Dog Food To Feed Your Pet-Know Everything
As compared to other sources of food for your dogs, low protein dog food contains a minimal amount of protein. When your dog has certain health conditions that are important to manage, you need to incorporate low protein dog food in their diet.
If your dog has allergies, kidney problems, liver cirrhosis, etc, it is mandatory to replace normal food with low protein dog food by consulting doctors from the pet clinic.
Although, dogs are fond of protein sources when health issues occur high protein sources in their diet can be highly dangerous for their health. It is very important to consult your doctor before switching.
We have gone through several food items and food brands based on the amount of protein present in them. Check out all the information you need to know to protect your beloved pet from any worse condition to happen.
Importance Of Low Protein Dog Food
To develop tissues and cells, synthesize different hormones, to produce enzymes, dogs need a good level of protein in their meals. Protein is important for all living beings as it complements their overall growth and development. Similar to other minerals and nutrients for consumption, protein also needs to be processed by different organs mostly these are kidneys, small intestine, and liver.
We know that the breaking down and digestion of food takes place in the small intestine for many mammals. These are then absorbed inside the blood of your dog. The function of the liver in dogs is the processing of byproducts of protein metabolism while the kidney helps in eliminating the nitrogenous waste including other toxic and unnecessary materials that need to be excreted.
This is the reason that helps us understand that any sort of problem in any organ responsible for processing and removing food items required a low level of protein so that it can be easily processed. The main purpose behind reducing the amount of protein is to allow the affected area or organ to get in shape or heal itself. When it is not healed and processes high protein content it takes a lot of energy and the organ can damage further.
By low protein, we do not recommend using NO protein at all because your pet requires a certain amount of protein for normal growth. If the main organs like kidneys or liver are affected it is recommended to lower the protein content highly.
Many diets in veterinary focus more on levels of phosphorus in their diet instead of using protein. This was done based on an observation made by them. Dogs going through kidney issues, fared better when the doctors reduced the amount of phosphorus given to them. However, these are decided by the doctors, as the owner of your loving pet, you should consider giving them low protein dog food.
Some Low Protein Dog Food
It is very important to figure out if your dog needs a low protein diet permanently or temporarily. You should know that all the foods for dogs are not alike. Only a few out of all the food items contain high quality along with great composition to provide optimal nutrition for your dog.
We have shortlisted some of the best low protein dog food that you can feed your lovely pets if they are dealing with any sort of health predicaments.
1. Holistic Select
It is specially made for overweight or obese dogs and it is natural. This dog food is grain-free and is made depending upon the weight management formula. It is designed specifically to provide support to the digestive systems in different stages of dogs with natural fibers, peptic enzymes, and probiotics.
This diet is a formula diet and it makes sure a specific amount of protein along with important nutrients are given to the dog for their health management and proper growth.
Many owners are highly concerned about their dog's weight and go for this option to maintain their dog's weight. This contains grain-free, low protein dog food which makes it easier for the dog to control weight and built muscles. They are also able to have a check on energy levels.
Some important features of this holistic low protein dog food
It is the best way to treat dogs having any type of problems related to digestion.
It has quality protein content to ensure a balance of nutrition naturally.
It is immensely useful in having a check on obesity.
It is low in calories.
It is produced by the United States Of America.
2. Hill's Science Diet Dog Food (Dry)
When the food prepared for dogs is dry you can easily estimate that it is for those breeds that are at least 7 years or more in age. It is made from all the natural ingredients including minerals, vitamins, and amino acids. It is also well equipped with amazing protein sources that are neither too high nor too low. It contains chicken, lambs, etc.
These ingredients work highly well to improve overall health and aging in their dogs. This food in dogs does not have any artificial ingredients, colors, or chemical flavoring agents. These products pass through a lot of tests and are clinically approved. They contain a lot of antioxidants that help in improving a dog's immune system.
Hill's Science Low Protein Dog Food Key Features
It is made for dogs having above 7 years of age, that is for senior dogs.
Older dogs can easily digest it.
It is composed of high quality and natural ingredients
It is important to support dog's immune system
It is made in the United States.
3. Nutro Ultra Weight Management
Again a low protein dog food that is designed specifically for adult dogs that are overweight in order to help them manage their weight. This food is made up of high-quality ingredients to give a balanced diet that can help the dog achieve a slim body and a healthy system.
Nutro ultra weight management dog food contains a low level of phosphorus and is a brilliant source of chondroitin and glucosamine. These are necessary for dogs to build a healthy joint in their body. It also works as an antidote for dealing with and preventing skin-related problems in dogs. Some other important ingredients are fruits, vegetables, and indispensable oil. All these ingredients help the dogs in their weight management.
Nutro Ultra Low Protein Dog Food Key Features
Specially designed for dogs having excess weight
includes certain ingredients high in quality
Works amazingly well for skin-related issues.
Helps in preventing allergies
Does not contain artificial flavors or colors
It is made in the United States
4. Canidae All Life Stages
If your dog is still very young, you can use this one. As the name suggests Canidae low protein dog food can be used for dogs of all ages from puppies to adult dogs. It can be used for all dogs irrespective of age, breed, and disease. Dry food is a great option. It has turkey food without the presence of wheat, soy, or corn.
If your dog has a problem with its kidneys, this low protein dog food is amazing and will work well.
These consist of probiotics that help in the improvement of digestion along with the presence of antioxidants that are good for the immune system working. Canidae all life stages dog food has omega 6 and omega 3 fatty acids for healthy skin. Your dog has a shiny coat on their body which appears glowing due to the presence of these fatty acids.
Canidae Low Protein Dog Food Key Features
It can be used for dogs having any age
It has natural and healthy ingredients
Consists of omega 3 and omega 6 fatty acids
Does not have any artificial flavors, colors, or preservative.
Not only these you can also go for other options like Blue buffalo life protection formula, Royal Canin veterinary diet, and Mattie's healthy treats.
5. Royal Canin Urinary SO Veterinary Diet
Want a low protein dog food for your canine pet? This one is probably the best and ideal one so far. The dogs suffering from any type of kidney disease should be consuming dry food because it helps in their kidney functioning and improvement. Dry food is specifically for any dog having chronic kidney disorders.
It is brilliant for healing the stones in the kidney along with reducing any load on your pet's kidney. It is highly loaded with the goodness of fatty acids like omega 3 and does not contain magnesium and phosphorus like compounds that should be reduced in their diet along with protein.
Royal Canin Low Protein Dog Food Key Features
As the name suggests, it will increase the dog's urine and limit the concentration of any stones in their kidney that could form minerals.
It is highly fortified with many essential compounds that could help to dissolve struvite urinary stones.
It has some important ingredients that increase acidity in the urine of your dog and will stop the buildup of any stones in their kidney.
As we have seen it has omega 3 as fatty acids, it will help in protecting your pet's urinary tract and help in fighting all sorts of infections or inflammations.
The amount of protein, phosphorus, and magnesium is highly limited so you do not have to switch to others.
6. Purina Pro Plan Veterinary Diets Canned Dog Food
This low protein dog food is specifically formulated to reduce any symptoms related to kidney disease or kidney failure. It does not have a higher concentration of sodium, protein, and phosphorus like compounds that are not good for your dog having issues with their organs.
They contain a high amount of omega 6 and 3 fatty acids inside. As we know the low level of phosphorus and protein is there it will highly help in reducing the immense workload on a dog's kidney and will make sure no further damage is done due to food consumption.
The fatty acids like omega 3 added in this low protein dog food along with B complex vitamins will help the dogs to protect their body and break down all the nutrients.
Purina Pro Low Protein Dog Food Key Features
It is specially designed for your dog having chronic or acute issues related to kidneys.
It has ingredients rich in water like beef, rice, corn grits, and certain by-products of meat.
It is highly palatable.
It gives a varietal range of all the nutrients needed.
It is made in the United States.
7. Blue Buffalo Life Protection Formula Dog Food
This low protein dog food is enriched and filled with LifeSource Bits Technology. If your dog needs special dietary food based on its health requirements, you can opt for this food. It is considerably low in fat. calories, and protein which makes it amazing for the dogs needing a low-protein and low-fat diet. The nutritional value is also higher.
It contains healthy doses of probiotics, carnitine, nutraceuticals, and certain macronutrients. If you are among those dog owners who are highly concerned about giving grains to their dog, this dog food is a great option for you.
Blue Buffalo Low Protein Dog Food Key Features
It has real meat inside like chicken.
It contains healthy grains, fruits, and vegetables.
It has a lower fat concentration due to which can also aid in weight loss if your dog is overweight.
It has LifeSource bits that are a blend of vitamins, minerals, and antioxidants.
It has natural ingredients and all of them are high in quality content.
It has no added preservatives, wheat, corn, soy, or poultry by-product food items.
Although the doctors do not suggest giving your dogs food low in protein because dogs are highly active in nature, some dogs do need less protein for functioning well. If you go buying dog food usually, then you have to figure out if all the nutrients and protein are present or not.
Your dog needs tasty food to stay happy and healthy along with protein and nutrients.
8. Mattie's Healthy Treats
It is again a dog food specially formulated for dogs having kidney disease because it complements the best with prescribed diets. It is composed of natural and simple ingredients that provide a low level of protein and phosphorus. This Low protein dog food is a tasty treat for your dog as dogs usually love the taste of cinnamon and pumpkin.
It has light rye flour, cinnamon, pure pumpkin, canola oil, and omega 3 fish oil necessary for dogs. The protein levels are nearly 6 to 7 percent in it.
Mattie's Low Protein Dog Food Key Features
It has low phosphorus and low protein
Does not possess wheat, corn, or soy.
If your dog is a picky eater, you should give this one because it tastes great.
It is brittle enough so that small breeds can easily break it down into small pieces to consume.
A great initiative because a percentage of sales generated or revenue collected through this is donated to canine kidney disease eradication.
9. Natural Balance Limited Ingredients Diets Dog Food
This diet contains hormone-free bison meat which is very popular and known for its high-quality content for protein. Bison meat contains low-calorie protein, unlike other meals. This diet can help your dog to reduce weight along with consumption of suitable protein. It will maintain high energy levels and help them achieve the ideal shape.
Not only bison meat, but it also has sweet potatoes for giving adequate energy and potassium to the dog based on how much is needed. It is also grain-free and you can give your dog this meal irrespective of their life stage. It is an amazing source for DHA which is very important in keeping your dog's brain focused and sharp.
Other than all these excellent features, it also aids in keeping their coat shiny and healthy.
Natural Balance Low Protein Dog Food Key Features
Works on limited ingredients formula
The meat source present is high quality and low calorie.
It does not have artificial colors, ingredients, or added preservatives.
It is free from grains rich in gluten.
It has brown rice that is rich in essential oils and fibers.
Contains flax seeds highly rich in fatty acids like omega 3.
As it only has one protein source, it will suit best for your dog having sensitivity to any food.
You can get different flavors depending upon your dog's taste like venison, fish, and chicken.
10. BLUE Wilderness Adult Grain- Free Salmon Dry Dog Food
If you are looking for a low protein dog food that could be a healthy alternative instead of a raw diet, you may consider using this dog food. It is an excellent low protein diet for adults. The most amazing and first five ingredients used in it are deboned salmon, tapioca starch, chicken meal, Menhaden fish meal, and peas.
Salmon is not only a high-quality protein source, but it is also rich in fatty acids like omega 3. Chicken is high in good protein. Tapioca starch is a source of gluten-free and starchy carbs. Peas are rich in legumes (fibers), and fish meal is again an excellent source of omega 3 fatty acids.
BLUE Adult Grain Low Protein Dog Food Key Features
It is a complete and balanced type of meal.
Contains deboned salmon as the main source of protein
It has added minerals, antioxidants, and vitamins.
No grains present
It does not have artificial or added colors, preservatives, or flavors.
Made in the United States.
How Do I Choose The Best Low Protein Dog Food?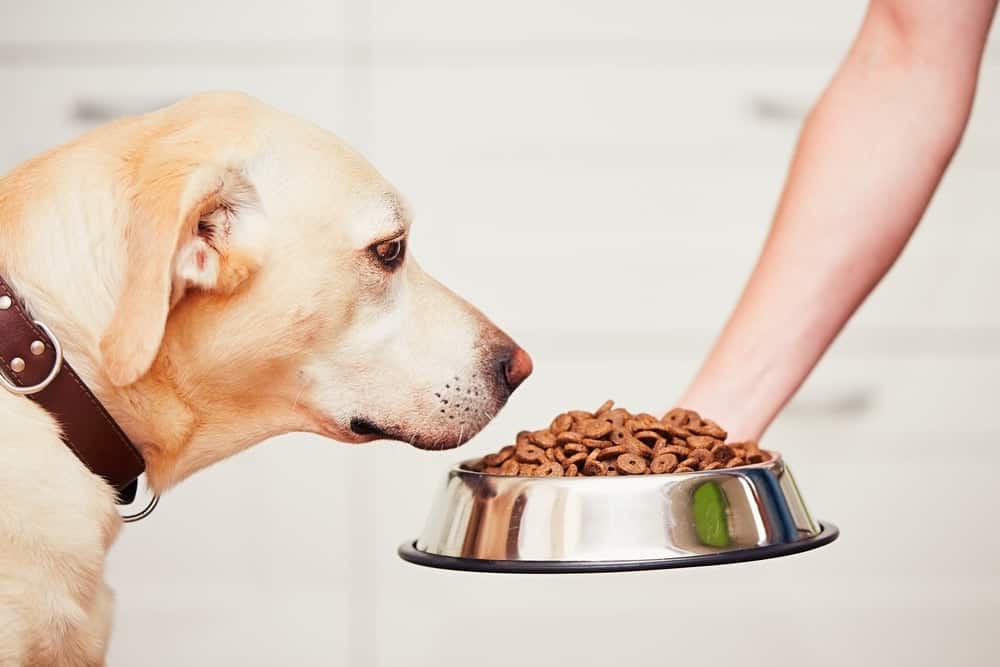 A portion of ideal dog food should have enough nutrition required for proper growth and development. Best food will help the dog overcome any diseases and keep them healthy, active, and happy. While you are about to purchase any dog food, there are certain things to keep in mind. Have a look at key factors given below to buy low protein dog food.
1. Quality
Do not forget to have a check on the list of ingredients given on the label. Remember that quality is always better than quantity specifically for people opting for a low protein ratio in their dog's food. As you are decreasing protein content you have to make sure the protein content you are choosing should have high quality to cope up with your pet's needs.
2. Levels Of Phosphorus
Another important factor to keep in mind is phosphorus content. If your dog gets food high in phosphorus content, it can be really harmful to them especially if they are already facing issues with liver diseases, kidney disease, or something related to their heart.
Also, have a look at the ingredients and purchase dog food rich in omega 3, amino acids, B-complex vitamins, and antioxidants as these are important for acting against low phosphorus levels in their body.
3. Age Appropriateness
Check if the formula is appropriate for the dogs or not. If you give your little puppy a Royal Canine veterinary diet that is specifically for adults, you will end up making terrible mistakes. First, check the labels for knowing the age factor related to dogs and then purchase the item. Low protein dog food is different for dogs of different age groups.
Advantages Of Low Protein Dog Food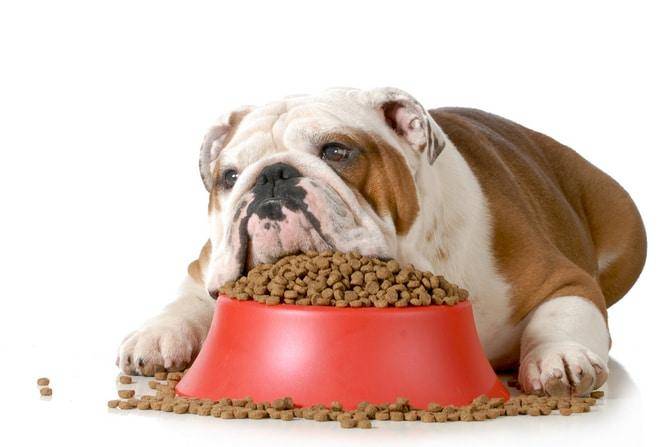 Now you already know why low protein dog food is so important for your dog if they have diseases, especially for canines.
The following are some important benefits of giving a low protein diet to your dog.
The organs involved in the processes of digestion, metabolism, and elimination of excretory wastes will get enough time to rest and heal going back to their initial healthy conditions. It will reduce the overall pressure of work put on each organ.
It plays a vital role in alleviating or minimizing the signs associated with diseases and disorders of such organs.
It will prevent these organs from accumulating toxic substances including nitrogenous waste in the blood and organs that can cause encephalopathy or some other hazardous health condition.
It also aids in eliminating and reducing certain kinds of crystals and urinary stones that usually accumulates in the kidney and urinary bladder of your dog and can lead to blockage.
What Health Conditions Are Considered For Swapping Low Protein Food?
You might be wondering when to switch your dog's diet from high protein to low protein, you can go through a check-up and see if the following conditions are there in your dog or not to switch them to low protein dog food.
Renal Failure
Recent studies have shown that when the diet is low in protein content it slows down the disease process when it comes to renal failure. renal failure is when the kidneys are not able to perform their function accurately or cannot produce and eliminate urine.
When the kidneys are no longer able to remove the nitrogenous waste, blood urea nitrogen will increase. When you keep feeding your dog a diet having high protein, you are increasing the chances of accumulating more waste inside them. This will lead to very severe and fatal conditions that could not be cured later.
Liver Disease
The liver is important in mammals for processing all the toxins present in a dog's body. If the liver undergoes any problem, the body will not be able to process toxins. These toxins also contain nitrogenous wastes.
When all this waste is not processed by their liver, it will eventually get accumulated and flow the blood. When it flows in the blood it will reach numerous parts of the body including the brain, and once the brain acquires nitrogenous waste it will result in Hepatic Encephalopathy.
It becomes highly important to reduce the protein due to these reasons.
Bladder Stones
It is very necessary to note that nearly 6% of all the urinary bladder stones found in dogs are urate crystals. These respond well when the diet is low in protein especially those coming with natural acid fires like cranberries.
If your dog has urate bladder stones, giving them low protein dog food is temporary because once that crystal dissolves the need for low protein will ultimately vanish and you can again switch to high protein options that keep your dog healthy and active.
As long as the quality of protein content is good, you can serve them with high protein diets once the problem is resolved. But when situations like chronic kidney disease, liver diseases, CKD, etc occur, a low protein diet is always better.
All in all, both high protein and low protein diet has their own benefits which cannot be neglected. While buying low protein dog food pay attention to the dog's age, ingredients, protein content, quality, etc.
It is highly advised to consult or make an appointment with your vet to discuss your pet's current health and see if any diseases are still underlying or not. Before making your final decision, consulting your vet and reading all the necessary information is highly important.
If you wish to read more valuable information related to your dog like how to brush their teeth, you may consider learning it from here.