The Boys is considered one of the greatest shows by Amazon Prime. Released in 2019, The Boys caught everyone's attention with its out of the box theme. This superhero series borderlines on the famous tale, "Never Meet Your Heroes".
The Boys Season 3 production is on the wheels. So, let's dive deep and see what the plot deals with and when can we expect another season.
The Boys Plot
Season 1 of The Boys begins with a vibrant tone. Hughie(Jack Quaid) and his girlfriend are all set to get married. However, Hughie's life gets torn apart when A-Train goes through his girlfriend. He is the superhero of speed and goes through her and squishes her like an orange. So, the vibrant tone immediately changes into dark and sombre, and brings out the real theme of this series.
The horrific image gets instilled in Hughie's mind. He keeps on playing that incident over and over again in his head. Hughie is determined to get his revenge. He wants to take down Vought, the headquarters of the superhero organisation. During his revenge mission, he meets Butcher(Karl Urban), an officer who resorts to helping him. As fate had it, Hughie finds out that Butcher has his interest in taking down Vought. He was posing as an officer to gain Hughie's trust.
Unwillingly, Hughie agrees to team up with Butcher as he has no other option. Homelander(Antony Starr), the leader of The Seven, is a public icon. He is the person all the citizens look up to. In reality, he is a notorious sadomasochist who has a deep-rooted psychiatric issue. He raped and killed Becca, Butcher's wife. He wipes away anyone who stands in his way. He considers himself as the messiah who wants to help the citizens, even at the cost of eliminating them.
Season 1 of The Boys laid down an intriguing plot. With frequent clashes amongst The Seven, and a crippling social structure, The Boys aims to show the reality of a world, if superheroes had existed. They're not always moral and caring. They're ruthless war-machines. Maeve and Homelander let a plane go down to show the fact that the world needs the superhereos. In reality, even though they reached on time to save the crashing plane, they didn't help. The supes have to get an official permission to enter the army, and this was the only way to show the vulnerability of the citizens without the supes.
Starlight(Erin Moriarty), the recent addition to The Seven, has a hard time adjusting to the reality of the heroes. She always believed in looking after the people. When she realises that it's all a sham to create a facade to gain the audience's trust, she plans on helping Hughie to take down Vought.
Butcher forms his army in his mission to get justice. Twist and turns of fate lead him to include M.M, Frenchie, and Female in his team. He finds out that superheroes are not born, they're made in a lab like an experiment. Compound V is injected into the body of kids at a very early age. Butcher makes it his life's mission to take down Vought, and the notorious Compound V that had disrupted so many lives.
Check out Season 1 bloopers of The Boys-
Season 1 ends with Butcher and his boys as fugitives, running to escape the clutches of Vought. Maeve, also begins to question the foundation of the superheroes. Her moral conscience has been traumatised after the plane incident.The dark and gory tales of the superheroes have wrecked several lives. Can Butcher stop it?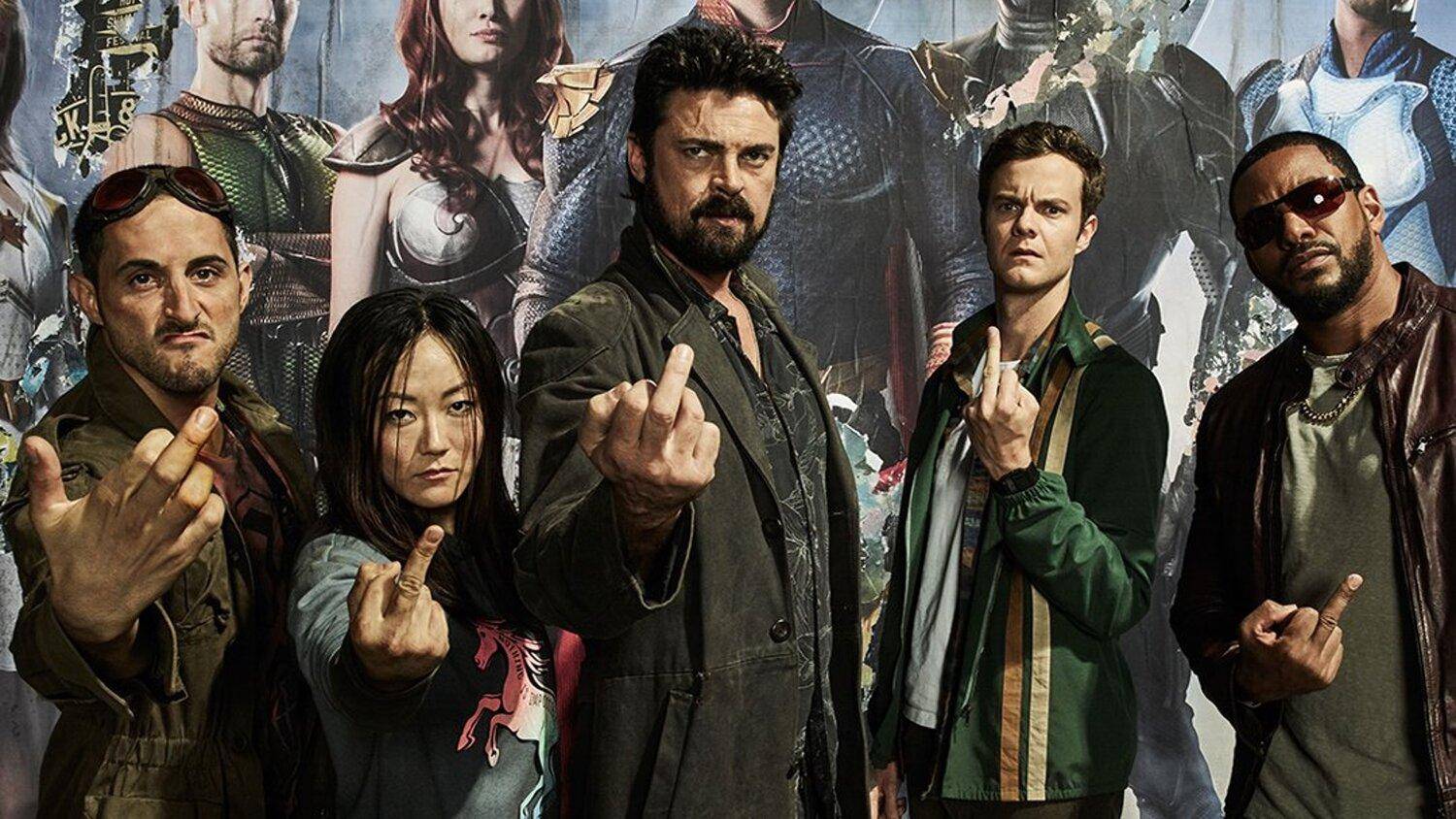 Season 2 of The Boys
The Boys season 2 paints an even darker picture. Homelander finds out that he has a son with Becca. Vought has kept them as a prisoner in one of their secret locations. Butcher also finds out that his wife is alive. This is a spoiler-free review, so I won't give out any Season 2 related details.
One important aspect of this season is that it highlights so many underlying issues of our society. You'll get a glimpse of all the crucial struggles of our daily lives. Be it the judgemental society trying to corner black-skinned people, or severe body image issues that stem from constant condemning remarks, you'll find it here. Our society talks about accepting people of all sexual orientations but does it do that? This hypercritical society is cooped up behind layers of the internet while passing remarks about the body, sexual preference, food, lifestyle, and whatnot.
Often LGBTQIA+ people are victims of the homophobic propaganda that has existed in our society for centuries. They act like they're open to acceptance, but in reality, they just want to humiliate you for your choices. You'll also find a hint of how Scientology aims to preach unholy agenda and brainwashes individuals. Season 2 of The Boys is a very well thought story line. It ends in a dark tone with lots of surprises.
Head over to Amazon Prime and catch out these two seasons.
Season 3 Announcement
Eric Kripke has told the audience that the recent happenings of the world have given the writers a lot of material to write on. Black Lives Matter, authoritarian President, disintegrating economy, a virus, and every crucial movement around the world will be included in the next season of The Boys.
Season 3 has already gone in production, as the cast and crew are seen quarantining in Toronto, Canada. The new season is expected to hit on screen by 2021 end or 2022 beginning.
"We hope to be shooting in early 2021, but that's up to a microscopic virus."We haven't got a specific date yet, but in the not-too-distant future, within a month or so," Antony Starr said in January 2021 (via Metro ). Discussing the new season three scripts, Starr said. "I think I've read the first four or five of season three. It's a lot of fun, I got to say it. It's a hell of a lot of fun. It's strange because we care so much about what we're doing and what we're going to be doing with these episodes, and we have very little control over it initially, especially.
Season 2 of The Boys has also tried to humanise certain characters by giving a background story. It has created a deeper understanding of our superheroes' wretched personality. Will the next season also dive deep into their twisted background?
New Cast members
Season 3 of The Boys will see Jensen Ackles taking on the role of the Soldier Boy,"the original superhero", a fighter in the World War II, and became "the first super celebrity, and a mainstay of American culture for decades".
Eric Kripke aims to enrich the script with dark humour and pathos with the inclusion of Soldier Boy. There is also a possibility that Jeffrey Dean Morgan will be included in the upcoming season. Other than that, all the main cast members will be returning. The fans can't wait to see Homelander, Deep, Maeve, Starlight, Hughie, Butcher, M.M., Frenchie back on screen for some well-packed action.
While you wait for The Boys Season 3, check out why you should watch Schitt's Creek – https://sleck.net/schitts-creek-8-astounding-reasons-to-watch-this-show/