Derry Girls has been hailed as one of the most critically acclaimed series by Netflix. Set in a town called Derry, the show borders on some serious issues while maintaining a perfect balance of wit and comedy. Derry Girls is genuinely hilarious with perfect puns amidst a sombre scenario.
The Plot Of Derry Girls
The show begins with Erin Quinn (Sairose-Monica Jackson), a teenage girl trying to be rebellious in front of her mother. She wants to wear a blazer and express her individuality, but her mother curbs her desire for freedom. Clare Devlin(Nicola Coughlan), her best friend, also sheds the idea of individuality as she can't be the only odd one out. Orla(Louisa Harland) is Erin's sister and kind of a quirky character who lightens up the room with some out of the box remarks.
Season 1 shows that Michelle(Jaime-Lee O'Donnell), a little rebel in a conservative society, is joined by her cousin James Maguire(Dylan Llewellyn), an English fella. From the very beginning, even though the girls welcomed James into their group, you could always sense the hatred of the Irish towards the Americans. You'll often notice the subtle digs of the girls towards James's nationality. His being English is a big concern for them.
Five of them together become a package. They steal an entire job board in search of a job, they make a priest question his faith and made him leave his priesthood. They try hard to mingle with the Protestants but it results in a fistfight. When the priest asks a room full of teenagers to point out anything common between Catholics and Protestants, they go numb. All they could figure out was their difference and hatred for each other. Even though both sides have been trying to reconcile, they end up in vain. They set up a house on fire in an attempt to clean it.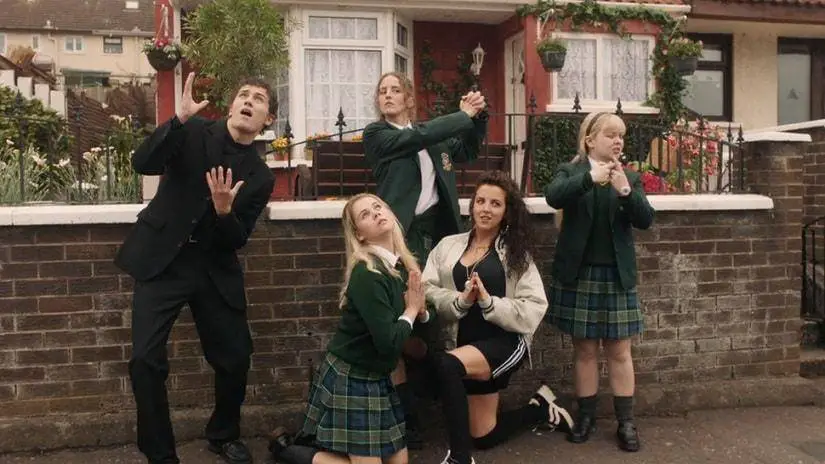 When a Russian/Ukrainian from Chernobyl points out that their "issue" is basically two flavors of the same religion, Clare is left spellbound. Even though she is the smartest one in the room, she couldn't figure out the real reason of Catholic Protestant dispute. Season 2 ends on a positive note. The reconciliation between the Americans and Irish starts a feast at Derry. President Bill Clinton came to Derry to address the crowd. After a wait of 25 years, the conflict will finally resolve and the people will learn the true meaning of peace.
The conflict and issue of Irish and Americans
The backdrop of this show is extremely grim and sombre. On the very first day of school, the news of a bridge bombing shocks the parents. They still send their "weans" to school anyway. They're so used to violence and the soldiers roaming everywhere, a simple bridge bombing becomes callous news. The people of Derry have given up on the idea of hope and peace.
The show is set in the 1990's when Northern Ireland was dipped in the decades-long conflict between Irish nationalists and United Kingdom loyalists, a period of sectarian violence known as "The Troubles". History has been a witness of this massacre and how it salvaged Ireland for decades claiming thousands of innocent lives.
Throughout the show, Creator McGee has presented a very realistic background. Constant Catholic and Protestant fights, soldiers storming a bus to take out an unclaimed bag and finally bursting it into flames, bridge bombing, an IRA trying to cross the border by hiding in the back of the car, the show has been in constant touch with realism.
Clare constantly makes the audience laugh with her wee nervous breakdowns, Erin is still trying to grasp the reality of the society while trying to find a love interest, Orla is too busy with her Step Aerobics, Michelle, the boldest one amongst them, is also prone to hilarious mistakes and impulsive decisions. James also joins the spirit of the Derry Girls and becomes a part of their team.
Perhaps, the cruelty and brutality of the Northern Irish conflict are presented when Granda Joe(Ian McElhinney), Erin's grandfather places his hand on Gerry's(Tommy Tiernan) shoulder as they witness the vandalism of the conflict. Granda has been very vocal about his dislike of Gerry, yet the conflict between the two sides brought them together.
What makes Derry Girls such a success?
When you're watching Derry Girls, you wouldn't understand how time passes by. A 12 episode show of two seasons has managed to win hearts worldwide. Those who have witnessed the Ireland and American conflict claimed the show has recreated a striking resemblance.
The charming wit of five teenage kids and their upbringing in such a grim backdrop is presented on-screen with absolute smoothness and finesse. The Irish dialect of wee and weans are bound to tickle your bones. At the same time, McGee has shown how the innocent souls suffered for years. Violence and conflict became part of their daily lives.
Season 3 of Derry Girls
Yes, the series has been renewed for another season. Unfortunately, Covid delayed the entire shooting. Season 3 was supposed to hit on-screen by the 2020 end or early 2021, but the waiting period has been extended. The cast of the show seems very excited to get back again and weave magic.
Nicola Coughlan has said in a recent interview that the cast has read the scripts, and McGee has outdone it once again. The third season is supposed to be even better than the first two. Moreover, Nicola has also been busy with her recent Bridgerton fame. You can check out our take on hot and sensational Bridgerton here – https://sleck.net/bridgerton-a-scandalous-spin-to-an-intriguing-victorian-tale/
Almost all the main cast members are returning. We can't wait to see if the season has any romance in store for any of the characters. With Clare coming out as a lesbian in a conservative society, we're hoping that she has set a benchmark. She might have inspired others to be their own version. A tinge of spark was also noticed between James and Erin. Sister Micheal ( Siobhan McSweeney) is another charming character. Her constant pissed off face at every situation has enhanced the humorous quotient of the show.
Why you should watch Derry Girls
Derry Girls isn't like any other sitcom you've ever witnessed. It doesn't make cringe jokes to generate laughter. The wit, the charm, the magic, the pain, the conflict, the anxiety, the trauma is flawlessly entangled in the daily lives of the residents of Derry. They always put on a brave face when countered with adversity. If you are craving for some genuinely hilarious show with a sombre backdrop, watch Derry Girls. It can be safely said that Derry Girls, an unconventional show, is one of the best sitcoms to air on Netflix.