Brooklyn Nine-Nine has garnered a lot of fame over the past few years. When the show completed its fifth season, Fox refused to renew it. The cancellation of the fan-favourite cop show led to an outrage on social media and everyone became aware of the show. Within 24 hours, NBC picked the show up and made it more popular than ever. Currently, the show is filming its 8th season with a remarkable cast ensemble.
Parks and Recreations, The Office, The Good Place fame Michael Schur, and Dan Goor are behind the creation of this amazing show. The show is set up in the 99th precinct of L.A. where five detectives and a Captain solve mysterious cases to make the world a better place to live.
Jake Peralta(Andy Samberg) is one of the finest detectives, yet he is a kid at heart. His biological father was absent when he was growing up, so he looks up to Captain Holt(Andre Braugher) as a role model. His best friend and a food fanatic, Charles Boyle(Joe Lo Truglio) is the kind-hearted person who can't help but look out for everyone. Boyle is Jake's biggest admirer and supporter. He'll do anything to make Jake happy.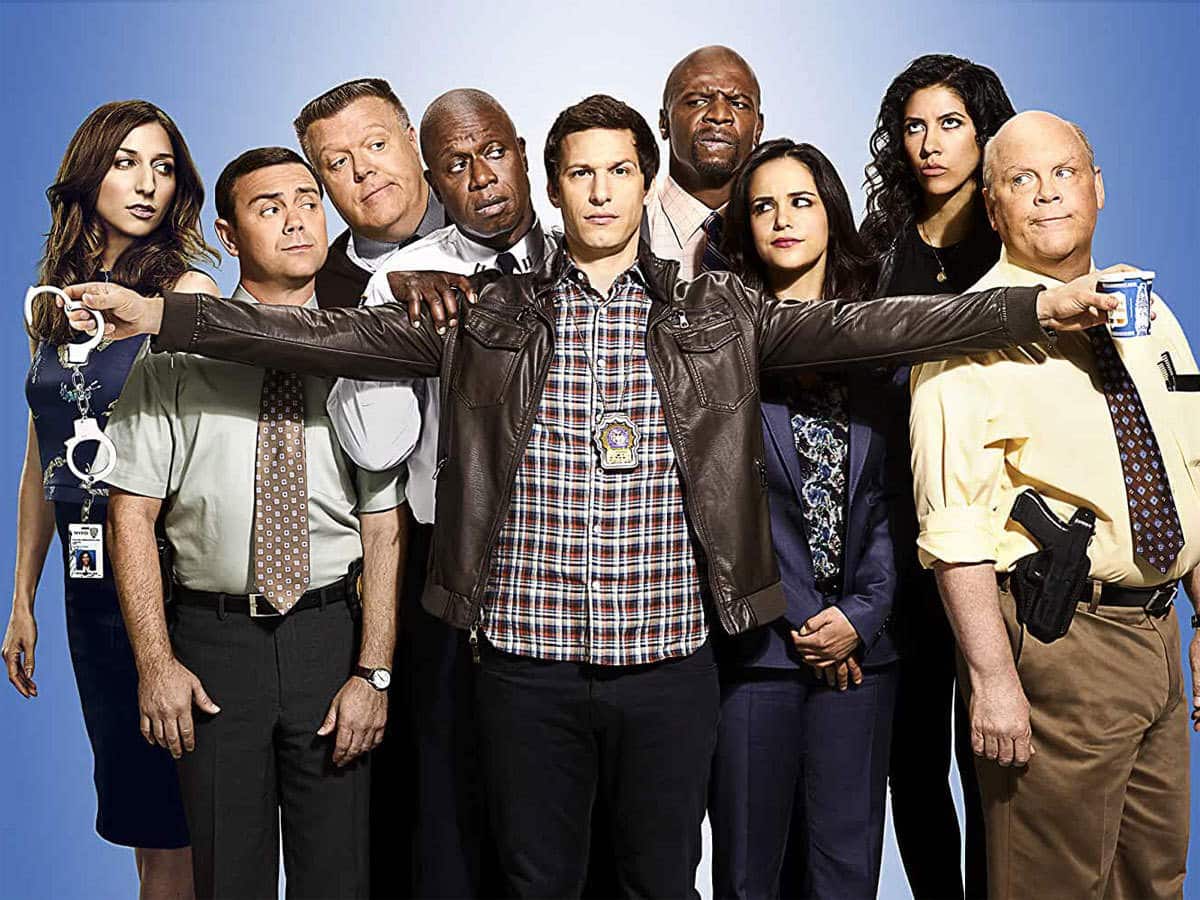 Amy Santiago(Melissa Fumero) and Rosa Diaz(Stephanie Beatriz) deserve special mention. The show has managed to break through all the stereotypes of feminism in society and made Amy and Rosa the perfect detectives. Nowhere in the show are they shown as subordinates. Brooklyn Nine-Nine treats both genders equally. Terry Jeffords(Terry Crews), a father of three and a yogurt lover, is another fan-favourite character.
We're here to convince you to watch this show. So, we have listed 9 wholesome reasons to watch Brooklyn Nine-Nine.
1. Unique storytelling
Brooklyn Nine-Nine sets an example of how sitcoms should be written. The show is a complete package of amusement, hilarious one-liners, creative cases, strong character growth mingled with the right amount of emotions. Our society has set up ridiculous notions for men. Jake shows how a tough L.A. detective is a huge fan of Die Hard and craves for human affection. His heart leaps with joy every time he gets to mimic his favourite character. Terry is often seen finishing his girls' school projects. He doesn't shy away from his parental duties just because he is a detective.
Captain Holt becomes the first black gay captain of the 99th precinct. He has struggled hard and left behind all the racial slurs to reach where he is. You'll also find the tough and strong Captain of the 99th precinct busy playing Kwazy Cupcakes.
The cases that the detectives solve isn't just regular crime. The writers have managed to send out a message with every episode. There has been a separate fan base for Jake and Doug Judy's episodes, but Brooklyn Nine-Nine never hides any truth from the viewers. Brooklyn Nine-Nine shows how a man's emotional needs should be given equal importance. They shouldn't be graded based on some macho quotient.
2. Breaking the stereotypes of Femininity
Yes, Brooklyn Nine-Nine has managed to treat women the way they deserve to be treated. Amy Santiago has been judged her whole life for being a nerd. But, she uses her intellectual capacity to solve even the most crucial cases. She was scared once because her getting married might give her subordinates the idea that she is weak. In the very next scene, you'll see Amy chasing down a perp in her wedding dress.
Rosa Diaz doesn't like colourful clothes or jewellery. She is very private about her personal life. Rosa is no less of a woman than anyone else. Her bad-ass leather jacket and boots and her definite swag makes her the standpoint in a crowd. She can take down a perp within seconds. And obviously, nobody can ignore the quirky remarks of Gina Linetti(Chelsea Peretti). She doesn't tolerate any drama and is extremely straightforward about her opinions.
Neither Rosa nor Amy nor Gina adhere to the norms of the society that defines how women should behave. They make their own rules and build their own path in a rigid society.
3. Peraltiago
Jake and Amy have been an inspiration for many hopeless souls out there. Their relationship started as mere colleagues, but Jake was smitten from the moment he saw Amy. They became the best of friends, and eventually, that friendship blossomed into a relationship.
The relationship between Peralta and Santiago is one of the purest forms of relationships ever shown on television. Despite being from the same profession, they don't envy each other. Rather, they're focused on pushing each other to be their better versions. No matter how childish and carefree Jake is, he was always responsible for Amy. Amy also supported Jake in his darkest times and never let him go. The show-runners have succeeded in showing what a healthy relationship looks like. They aren't scared of each other's success. Rather, they're more focused on getting Captain Holt's appreciation.
4. Racial Inclusiveness
Have you ever imagined a show where racial discrimination is discussed openly? Brooklyn Nine-Nine had a sole motive of educating the audience of the injustice going around us. One night, Terry was out looking for his daughter's doll when a police officer arrested him on the suspect of being an intruder. No matter how many times Terry tried to tell him the truth, his voice was unheard. Captain Raymond Holt also had to face abuses and racial slurs all his life for being black and gay.
The Black Lives Matter movement showed how much a community has suffered in silence for centuries. The show-runners scrapped out their entire season 8 script and rewrote it again based on the movement. The voice, the pain, the agony, the trauma, the oppression of the Black community needs to be heard.
5. Social Issues
Brooklyn Nine-Nine isn't just about racial inclusiveness, they also portrayed the struggles of LGBTQIA people. Rosa Diaz was cornered by her parents when she came out as bisexual. It broke her heart that her parents can't accept her for being herself. Captain Holt understood her pain and what he said next, impacted the whole world.
"Every Time Someone Steps Up And Says Who They Are, The World Becomes A Better, More Interesting Place. So Thank You."
Holt has always had a calm demeanour, but he couldn't stand to see his detectives in pain. As a gay black detective who himself struggled in the 80's because of his homophobic colleagues, he vowed then to make the world a better place.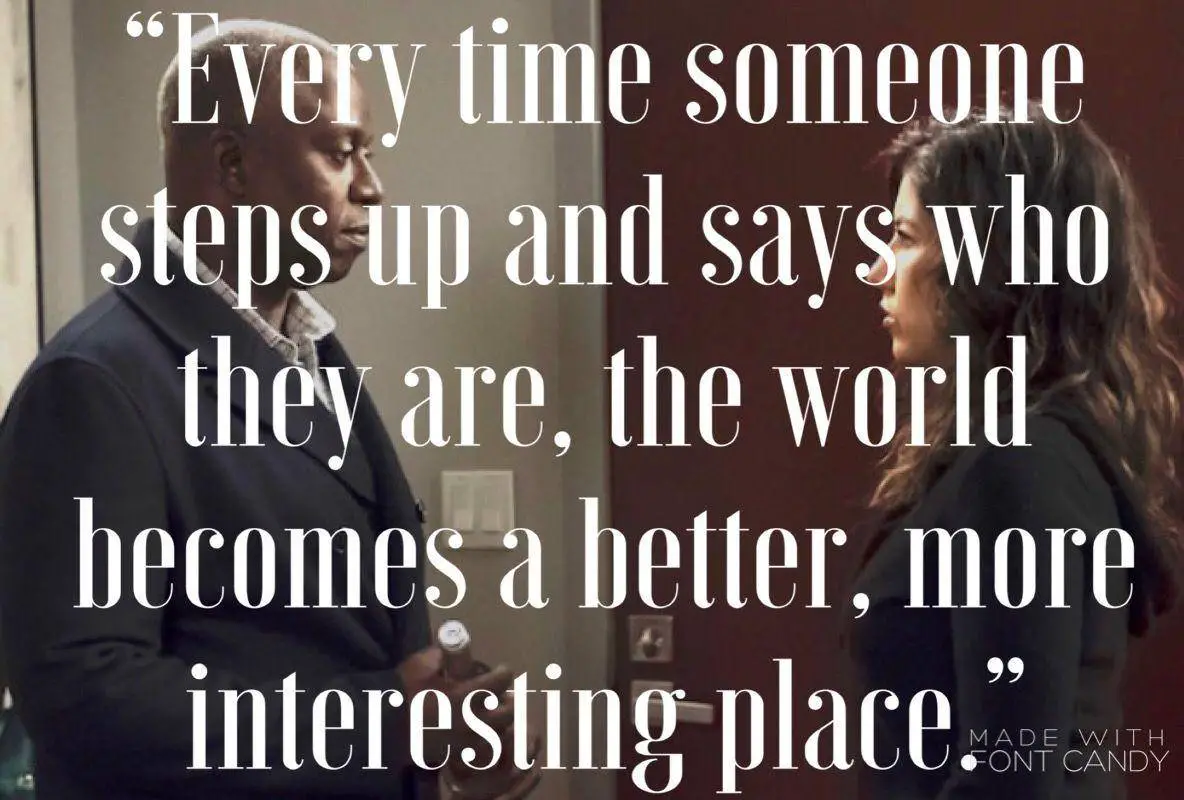 6. Quintessential Bromance in Brooklyn Nine-Nine
Charles Boyle is a person who has always looked out for others, even if it meant endangering himself. He took a bullet for Jake, and he has been his greatest cheerleader since day one. The bond between Boyle and Jake represents the truest form of friendship. He is also a great father and a great detective. Jake also turns to Boyle every time he encounters an obstacle.
He made sure that Nikolaj got a chance to meet his biological father. He was scared that Nikolaj might not want him anymore after seeing his actual father but that didn't stop him from doing what's right. He even wanted to pass up leadership of a task force for Jake. He always keeps his mind calm while solving a case and doesn't rush to a conclusion, unlike Jake. The world needs more people like Charles Boyle.
7. Gina Linetti and Cheddar
If you're reading the headline, then you know what I'm talking about. Gina Linetti is a Queen. You might doubt her quirkiness at first, but Gina's presence in the show makes Brooklyn Nine-Nine so much better. She has the perfect comeback for every situation. Even though she has no care for anyone and anything attitude, if you ever cross her friends, you're doomed.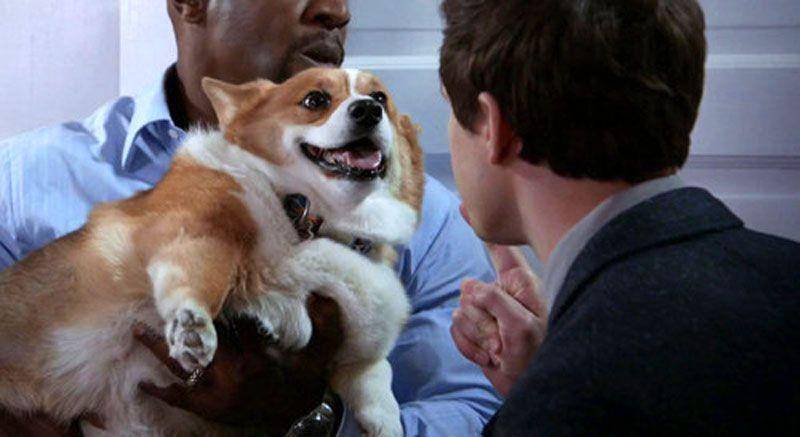 Cheddar, Holt's dog is another reason why Brooklyn Nine-Nine deserves your time and attention. His occasional appearance on the show lightens up the entire scenario.
8. Wit and Humour
Brooklyn Nine-Nine became insanely popular because of its one-liners. Be it Noice, Toit, or Vindication, every character has used a catchphrase that has created a stir amongst the audience. The fans of the show often found themselves uttering "Cool cool cool cool cool cool cool no doubt no doubt no doubt no doubt" when faced with adversity.
The writers have intermingled deep and dark sarcasm with serious social issues. As a result, the wit and humour in Brooklyn Nine-Nine are extremely hilarious and appreciable at the same time.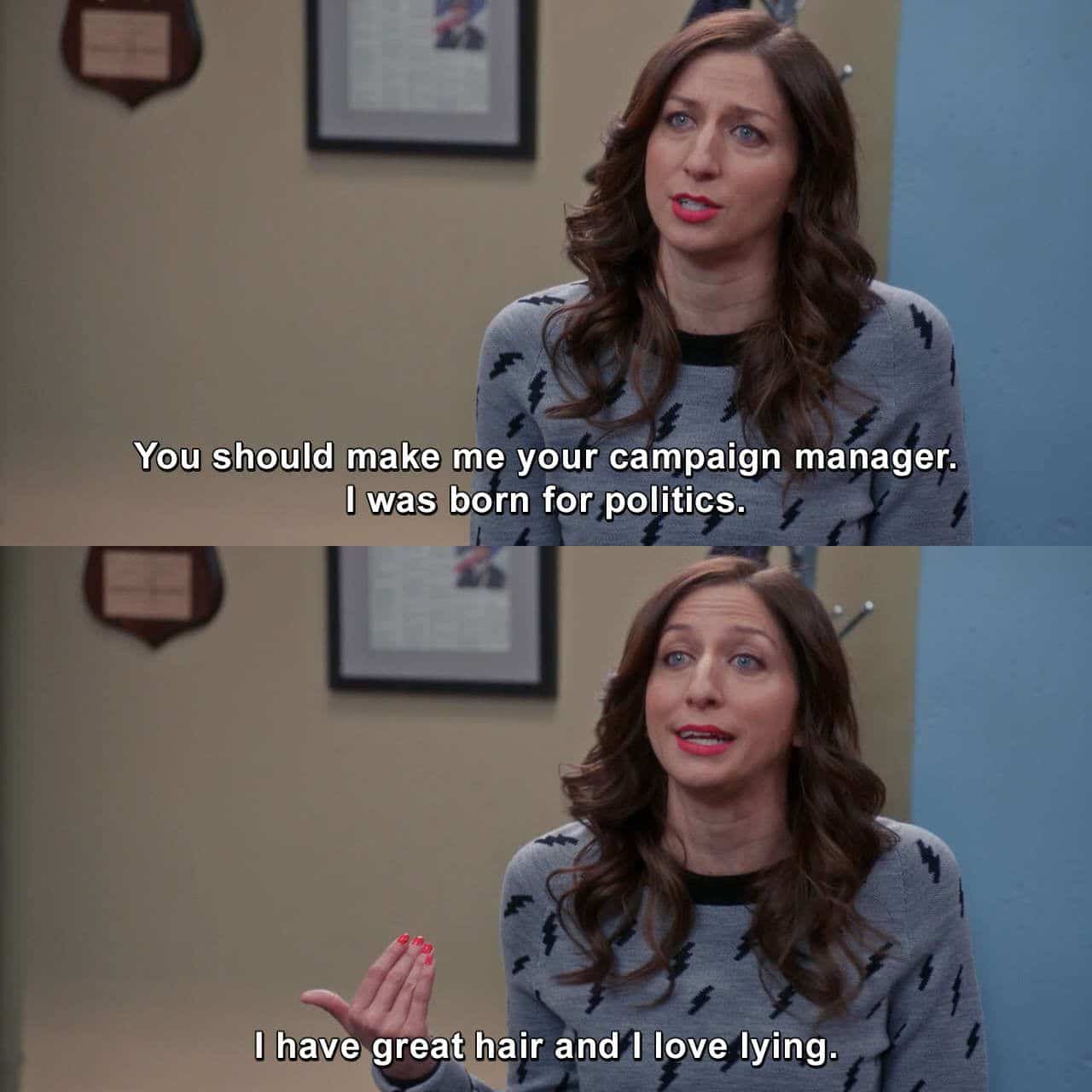 9. Scully and Hitchcock
Last, but not least, you have to watch out for the famous Scully and Hitchcock duo. Once upon a time, they were great detectives, but then they discovered their love for food. Ever since then, Scully and Hitchcock were always seen covered in food. It doesn't matter if a terrorist attacked the precinct, or an intruder escaped away, their mind was always focused on food.
Brooklyn Nine-Nine is a show that deserves to be seen. With great character development, gripping plot, amazing creativity, diversity, focus on social issues, this show can positively impact the audience. This show brings together communities and connects audiences worldwide. The love and appreciation for Brooklyn Nine-Nine resulted in 7 great seasons. Rarely, you come across a show that has the perfect amalgamation of wit and sincerity. Do watch Brooklyn Nine-Nine and let us know in the comments what you loved the most about it.
While you wait for the new season of Brooklyn nine-Nine, check out our review on another great show, Derry girls – https://sleck.net/is-derry-girls-is-one-of-the-best-sitcoms-by-netflix/