The recently released Netflix movie I Care a lot has generated a lot of buzz. It's not because we get to see Rosamund Pike and Peter Dinklage together, but this movie has a lot of potential. The stellar star cast is one of the reasons why the movie grabbed attention. The plot is unique and humorous that brings out a dark side of our society.
The Plot of I Care a lot
Marla Grayson is a law appointed guardian. Elderly people who are unable to take care of themselves directly go to a legal guardian appointed by the state. Their welfare is taken care of by this appointed individual. Marla takes advantage of these hapless individuals. She is always on the hunt for naive elderly people and possesses their wealth. She auctions off all their belongings as well as takes up their savings in the name of guardianship. Surprisingly, she does all of this under the jurisdiction of the law. She is so clever and uses the loopholes in the law system and takes advantage of it.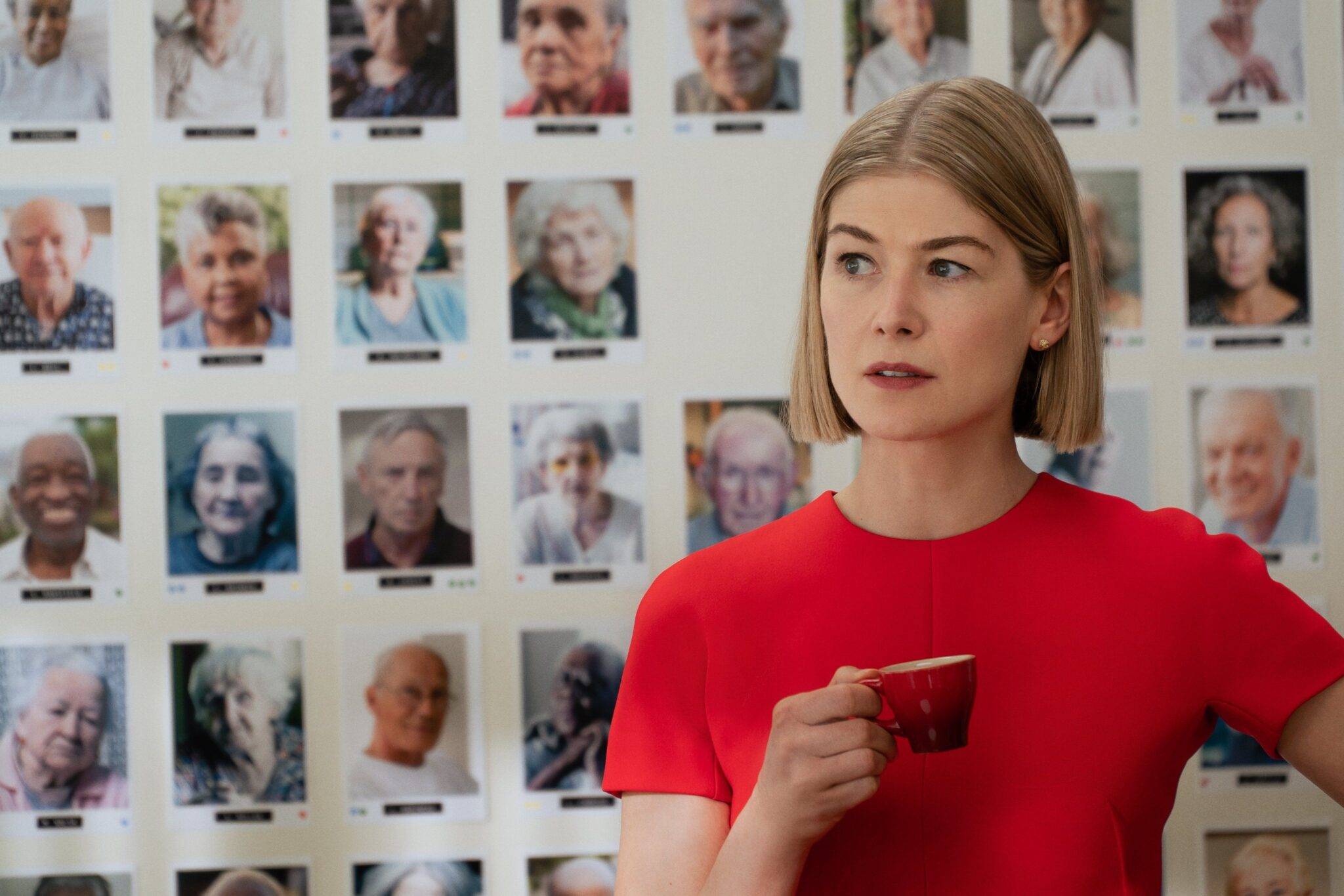 In the opening monologue, Marla talks about two kinds of people, lion and lamb. There are two types of people in this world, predator and prey. Marla considers herself as the lioness who is on the hunt for her next big client. She has got shady people involved with her. Be it the people from the old age home or the doctor who slips off the patient details, she buys everyone off. She even cuts off the members of the family legally and prevents them from having any contact.
Marla Grayson has been threatened by men time and again for her bold profession. She is too motivated to even pay any heed to these threats. She is providing a breakthrough in a society where patriarchal notions are imbibed in every individual. Marla sets the rule in her world-shattering stereotype about women being calm and modest in their profession. She isn't liable to anyone for answers except herself. She just cares a lot about her wards and wants the best for them.
I Care a lot sets up a plot where the protagonist takes charge of her fate. She is desperate to climb the social ladder. I Care a lot shows that you don't go anywhere by playing fair. You've to twist the narrative to get what you want. In order to get rich, play dirty.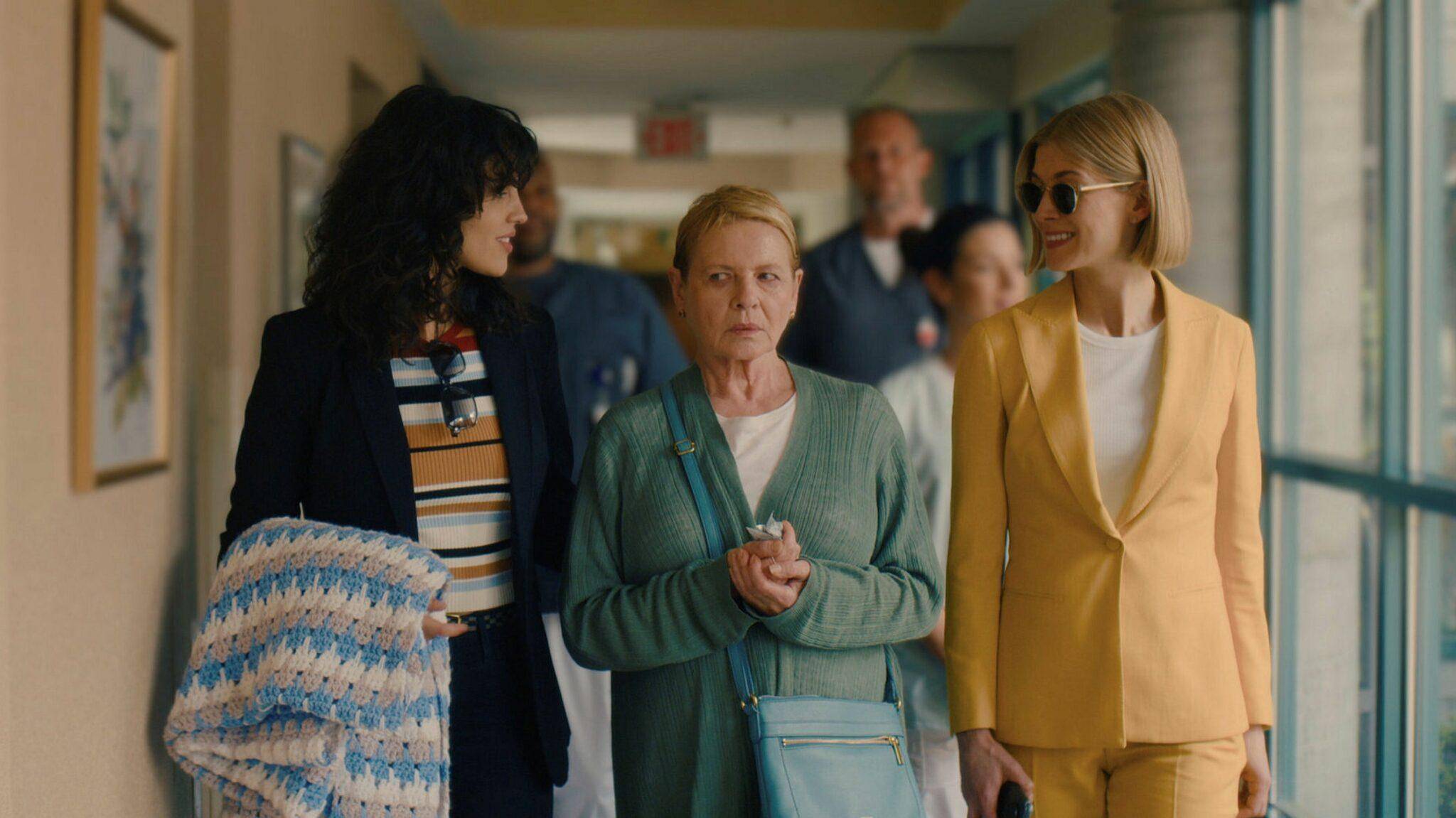 The twist in the tale
Marla Grayson was having a gala time robbing her clients in the name of guardianship. Unfortunately, fate had things differently planned for her. When the doctor informs her about a "cherry", Marla uses the law to bend the narrative and declares her mentally unstable to take care of herself. She welcomes Jennifer Peterson under her wings.
Unfortunately, Jennifer isn't the quiet little old lady she was expecting. She had deep ties with the Russian Mafia. She even claimed someone else's identity while living in the U.S.A. Roman Lunyov, the Russian Mafia is hell-bent on getting Jennifer out of that psychiatric facility. He sees right through Marla's scam.
What follows next is the clash of powers. Roman's fragile ego and masculinity feel threatened when he sees Marla outsmarting him at every turn. The clash between the existent norms of our abhorrent society and a woman making a breakthrough is beautifully presented by J Blakeson. He takes a dark comedic take on this supposed power clash. With subtle humour and sarcasm, Marla Grayson highlights the stigma in our society.
Men find it very hard to believe when a woman beats them. How Roman retaliates is what makes I Care a lot so much more interesting and tempting. Head over to Netflix to watch this amazing movie.
The Performance
Who are we to criticise Rosamund Pike? She was brilliant in her role as usual. Marla falls, gets beaten, threatened, and whatnot by the masochists, yet she stands up every time. Peter Dinklage adds flavor to this film. His hilarious take on the Russian Mafia and his obsession with desserts make his dark character somewhat colourful.
Eiza as Fran, Marla's love interest and partner in crime, is equally fearless. She stands by Marla at the darkest of times. Dianne West as Jennifer Peterson is astonishing. Overall, this film is a complete package. You'll find humour, sarcasm, love, mystery, thriller, and most importantly, entertainment. Our negligence towards our elderly has led to this mass exploitation by the opportunists. I Care a lot brings out the tenacity of a ferocious woman as well as the existent corruption in our society.
If you're on the lookout for superhero twists and turns, check out our take on WandaVision – https://sleck.net/wandavision-episode-7-introduces-the-big-and-scary-villain/