Keeping in mind the aspect of social distancing during pandemic outbreaks, Hyundai DAL-e, a customer service robot is unveiled. It assists customers without much human interaction.
On 25th January, the Hyundai DAL-e robot was launched for a pilot operation in Hyundai Motor Showroom.
DAL-e stands for "Drive you, Assist you, Link with you- experience" is a compressed robot that weighs 80kg(176lb) and measures (3.8-ft) 1160×600×600 mm. With its looped, humanoid body, it exudes a welcoming appeal. It is a compact and light-weighted robot as compared to the other robots available for customer services.
Powered with Artificial Intelligence, facial recognition, the DAL-e robot will offer services to customers in showrooms. Thanks to its built-in smart camera used for facial recognition. The DAL-e spots and approaches the customer. It can rush around the floor and can be lined up to offer bespoke customer services.
Using its precise recognition aptitudes and movement functions, the DAL-e robot launched can independently communicate with people. Recognize their interrogations and manage their accents with the help of language processing technology.
Customers can ask questions verbally or they can use the integrated touchscreen interface to query about vehicles and services.
DAL-e has a pivoted head and two arms for gesturing and will roll around the floor to assist customers using its omnidirectional wheels. It will provide the customers complete guide and proceed them to relevant places over the showroom's floor.
It looks at the face of customers and utilizes its speech and comprehension system to engage with them. It uses an automated and smooth speech to deal with and provide useful information about products and services to the customers.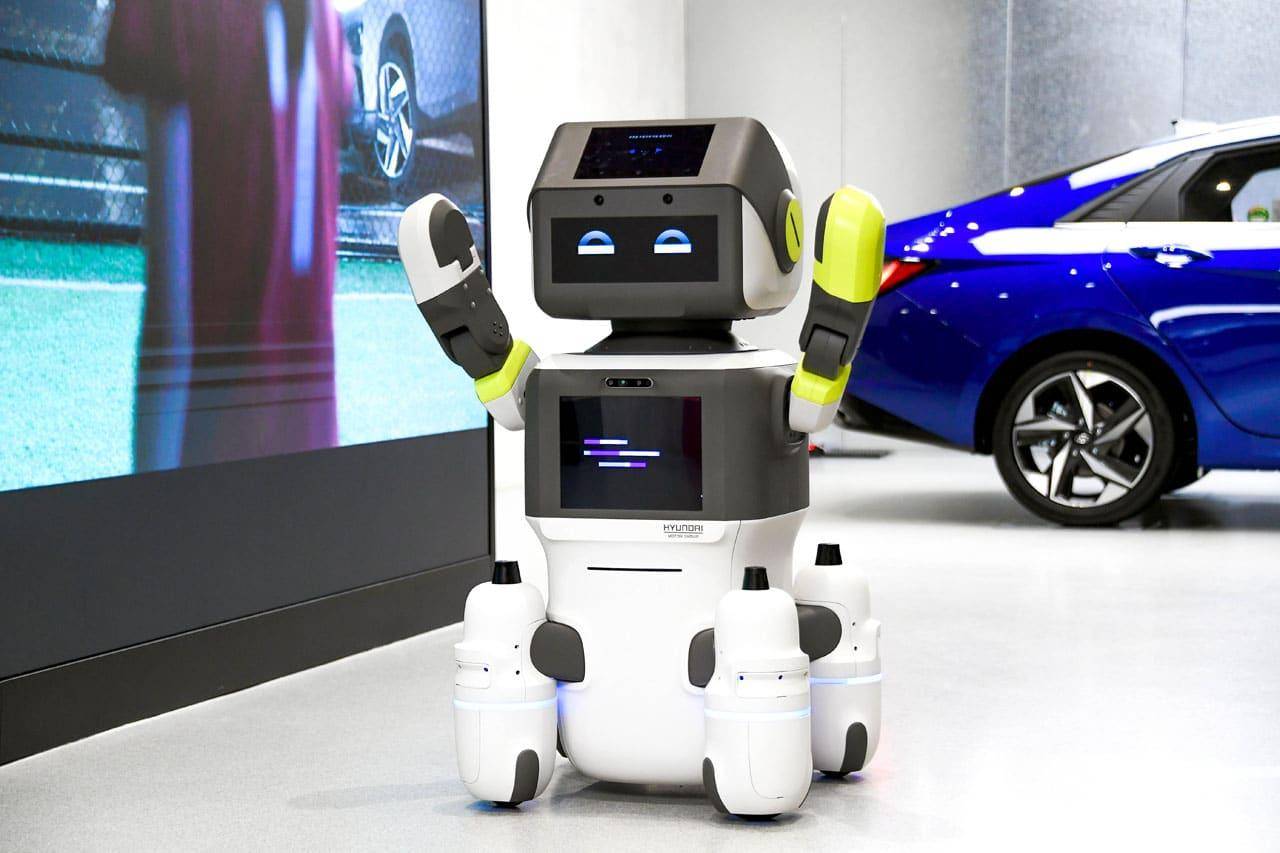 The DAL-e can beckon customers to take selfies with it and provide feedback using its movable arms. According to the company, the robot if the customer enters the showroom without a mask and advises him to put one on.
It is equipped with friendly, adorable physical features to closely interact with customers. At the top of its head is a touch screen, where people can find additional information like the cars available, about pricing and technology used, etc. It will be used to reduce the burden on human workers, said the company.
"The DAL-e is a next-generation service platform that can offer automated customer services anytime. It is expected to become a messenger capable of delivering consistent messages to customers in a more intimate and personal way than conventional robots," said the Vice President of the Robotics Lab at Hyundai Motor Group.
The company says that DAL-e can ease the human staff's workflow and offers hands-on help to those customers who do not fancy being served by human staff in light of pandemic, Covid-19. Also for those customers who visit the venue during peak times, for example, the weekend.
Hyundai Motor Company plans to update the DAL-e continuously based on its activity from pilot operations. Continuously perfecting its abilities as a smart android robot.
Hyundai Motors company unveiled DAL-e at its showroom in Seoul, South Korea. The robot has started its pilot operation there. Following the pilot operation, it may be used in various domains that require everyday intercommunications with customers, like the other showrooms of Kia and Hyundai.
You may find these interesting
Sony Xperia Pro – A Truly Magnificent And Powerful 5G Smartphone.
Sony A1 – A Truly Wonderful Camera For You