Microsoft Teams is one of the highly used software among PC users. It is efficient but has multiple problems too. For instance, a lot of people complain that they are unable to uninstall it. If you are one of them and searching for how to uninstall Microsoft Teams then you are at the right place! Here, we are going to divulge all the details on how to uninstall Microsoft Teams easily.
The problem with Microsoft Teams is that even if you uninstall and delete it, it will reinstall itself automatically. It's actually creepy enough for some people. Moreover, it keeps popping up after starting your desktop or laptop, which frankly, is very annoying.
However, uninstalling it itself is not very tough if you know the procedures behind how to uninstall Microsoft Teams. It is just a little bit tricky, that's all. Here, we will provide you more than one method of uninstalling Microsoft Teams. You will be able to choose any to your liking.
However, before that, we will take a look at why people wish to uninstall Microsoft Teams in the first place. We will also provide you information about alternative apps which you may use instead of Microsoft Teams.
What are the Reasons for Users to Uninstall Microsoft Teams?
There are multiple reasons behind this decision of people. Here, we will mention only a few for you to understand.
Microsoft Teams has a complicated filing structure. Thus, it can be difficult for people to navigate and use.
It is less flexible in comparison to other similar apps.
It has restricted the number of channels for teams. It only supports 100 channels, which can be problematic for some people.
People struggle with Microsoft Teams mainly because of the insufficient notifications. for instance, it doesn't provide a notification if a group of the same name has been created again.
You will be unable to use the calendar in Microsoft Teams.
How to uninstall Microsoft Teams: Step by Step
We can uninstall Microsoft Teams by using 2 methods in total. Here, we will discuss both one by one. Most of us try to uninstall it in 2 steps. For example, first by uninstalling Microsoft Teams and another by removing the Teams machine-wide installer. However, it will get reinstalled if you don't follow the steps we are going to discuss below.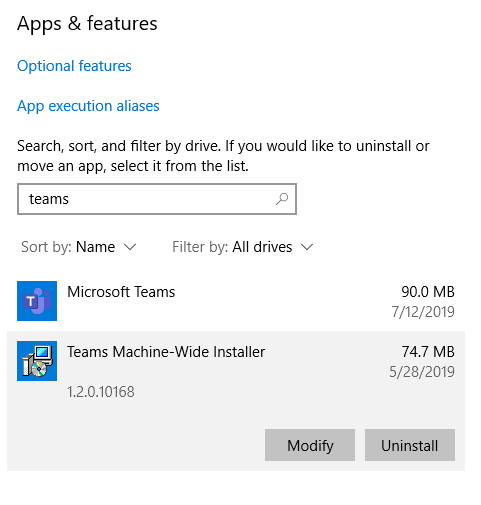 First Method of Uninstalling Microsoft Teams by Resorting to Windows Settings –
Step 1 – At first, click on the Windows icon on the lower-left corner of your PC.
Step 2 – Now, open the Settings by clicking on the Settings option.
Step 3 – Then, click on the Apps icon.
Step 4 – After opening Apps, locate the option called Microsoft Teams and Teams machine-wide installer.
Step 5 – Uninstall both of them to uninstall them permanently.
Second Method of Uninstalling Microsoft Teams by using Control Panel–
Step 1 – First, open the Control Panel.
Step 2 – After opening the Control Panel, click on the Programs option.
Step 3 – You will find an option labeled Program and Features. Click on it.
Step 4 – There you will find the option of uninstalling a program.
Step 5 – Under that, you will see both of the apps Microsoft Teams and Teams machine-wide installer.
Step 6 – Uninstall both of them one by one.
Step 7 – Restart your computer for the changes to take effect.
That's all! After restarting your computer, you will see that Microsoft Teams has been uninstalled. If you want to install it again, you have to do it manually. It will not get installed on its own if you use these methods.
What Other Apps can we Use Instead of Microsoft Teams?
This is the first choice for many people especially if they are in the IT industry. It can do many things including chat, notes, attachments, video conferences, etc. As such, it is really a smart choice if we overlook the problem of uninstalling it!
Though, it is not suitable for every business. There are many other apps which can do all the things as Microsoft Teams without creating any problem. For example, Skype, Google Meet, etc.
You can consider using them instead of Microsoft Teams. Moreover, other apps are available on the internet too with the similar features. You can search and use any of them as per your convenience.
Conclusion
Now you know all the procedures of how to uninstall Microsoft Teams. If you follow these directions carefully, then uninstalling it will be a lot easier and stress-free. Here, we have given you some additional information about other alternatives as well. So, you can use these any time you want. Easy-peasy!
These will provide you almost all the features of Microsoft Teams. Moreover, they are not as creepy as Teams, so you will be able to uninstall them whenever you want to. So, what are you waiting for?? Follow our procedure of how to uninstall Microsoft Teams and enjoy using your PC!
Microsoft brings solutions for all! Every operating system from Microsoft takes care of the user experience and it is thus an extremely easy operating system. The popularity of the OS is basically due to the fact that it is easy to learn the intricate details of the operating system. If you are unable to understand certain functions, you can always find detailed guides on the internet. This blog on How To Make A Copy Of A Word Document: The Simplest Thing To Know! is a good starting point.