How to shave your head in easy steps for starters and ideas on shaved head styles for men and women. Mohawks have toned down to shaved head styles; not the kind of style you would wear to your office, nope, not even with a bandana.
But, then, if you want to flaunt your style, you badass punk, the rebel, from the punk subculture, headbanging to rock music, these are ideas ranging from regular, edgy, to avant-garde, and more. Can you carry them with an air of debonair resoluteness?
Yes, Bella, oopsie-daisies, Bella, do not have punk shave head styles, but she does the mermaid braids and so forth. Metallic accessories, chains, belts, boots with rivetes, spikes, and pyramids, is the stereotypical style that raises the punk element and keeps it together.
And you thought only men created the 'buzz' with their shaved heads? Na, Gurrl, think again, what you got in that style kitty that comes with gazillion combinations with the use of colors, textures, hair cuts blended with the shaved buzz.
Oh yes, there, there, you made the 'buzz' look uber stylish with your individualistic style. Not a man's world anymore, you got the made the bald look bolder and in style, You win again! Pat yourself in pride now! Tada!
How To Shave Your Head In Easy Steps
You have your reasons to shave your head, but, do you know you can do it in style with a simple buzz and create a buzz? Well, that's a start. With a few tips, you can shave your head at home if you are not looking at styling options. But if you do, there is a galore of shaved head styles for men and women.
How To Shave Your Head – Basics
It is easy to maintain shaved head or a buzz on the head. You can shave head with a razor, clipper, and get a wet shave. Using an electric razor is one of the best ways to get it right and hassle-free the first time.
If you are shaving your head for the first time you might not have a clue about how sensitive your skin is, and if it has a mole or acne. It is essential to take a few precautions because you try the bald look.
Using pre-shave care such as moisturizing and hydrating hair makes it easier to shave it as dry or scruffy hair can be difficult to shave and can cause irritation and injuries. You do not want that to happen when you are shaving your head for the first time in the DIY mode without any prior experience.
How To Shave Your Head With clippers
Clippers are safest to use and shave your head close enough without irritating. You might not get an entire bald look, but this is an easy way to get the buzz look. It is hassle-free and reduces post-shave reactions such as redness. Also known as trimmers comes with detachable blades for precision and trimming.
It is best to choose one that suits your needs taking a pick from the mammoth products available. It makes your job easy and lets you style the side locks, beard, and get a full shave painlessly.
Read the instructions on the clipper manual before you get started
Lay down newspapers to hold the chopped traces
choose a mode, blade type, and speed that is comfortable for you
You have the option of trimming your hair if you have long hair
Use the clipper in the opposite direction of your hair
Start with the sideburns and work through different sections
How To Shave Your Head With A Razor
Take a warm shower to open up the pores before you want to start shaving your head with a razor. Choose from the best electric razors available that suit your needs. Most of them come with detachable accessories you wouldn't be needing for a simple job of shaving and trimming. It is best to choose an electric razor that is suitable for wet and dry.
Avoid using manual razors as it leaves itchy skin and ingrown hair. Invest in a good electric razor that comes with features good for you to shave and style.
Cut long hair with scissors
Use a clipper to get the stubble
Use an electric shaver that is exclusively designed to shave the head to get the bald look
Use an aftershave lotion to moisturize the scalp
Types Of Shaved Head Styles
The most common shaved head styles are buzz cuts, side shaves, and fades. There are umpteen variations in these shaved head styles if you want a simple yet chic-looking shaved head style that does not look edgy for a place of work of any dress code.
Buzz cuts with business suits? Yada, Yada, Yada! Side shave could not quite be the choice unless you are working for a creative organization such as a fashion, ad agency, or media. Buzz cuts and fades are your safest bet if you want to mix edgy with the corporate look. If you choose buzz fades or stubble.
Shaved Head Styles For Men
Going bald is a bold decision. There are benefits to choosing the bald style. It is easy to maintain and looks good on all outfits. You can choose a goatee, beard, or ginger look if you want to look badass. The military buzz cut is popular if you have a receding hairline.
Geometric cuts with fades, pompadour, mohawks, slide backs, and more. With hair length and texture of any size, it is easier to rock the shaved look blending the style with haircuts that look good on you.
Shaved Head Styles For Women
There is a galore of shaved head styles for women of any hair length. Get the badass, edgy look blending the shaved head styles with haircuts. Shaved head styles for women are head turners. You could as well blend a mermaid braid with a side shave and give it a Disney meets the punk look and create a new persona of haircut.
You can get a shaved head with a mix of imagination, creativity, and trimmer to get a side- shaved look that suits most of the haircuts. Pixies or bob cuts with side shave, or fades, or a full buzz if you will.
Shaved Head Styles With Short Hair
Short hair with side shaves rocks with most of the hair cuts. With pixies, bobs, crew cuts, and more the shaved head style is here to stay. When the bob and pixies got bored all by themselves, they had the punk subcultures to rock their blues with the side shave. You need a bit of the fire in your routine don't you?
The blend of shaved head styles with stereotype cuts adds spunk to the straight-laced and give it an edgy twist that is not too rebellious. A bit of a rebel is essential, that speaks the mind making a point, with original insight, instead of following the crowd. That's what buzz cuts and shaved head styles do when combined with other hair cuts, they create a unique persona.
Shaved Head Styles With Braids
Once a Bella, now a rockabilly. That happened when mermaid braids met the shaved head styles and exchanged personalities like Tess and Anna Coleman of Freaky Friday and a bombastic persona happened creating awe. The stunning possibility of mixing braids with shaved heads is an original experiment whoever pioneered it, did a good job.
Fish or mermaid braids with shaved faded or undercut give a novel look sailing away from the stereotypes. Box braids with shaved head cuts are the most common and you have options to choose from umpteen varieties. But, if you want a feminine look, you could blend it with side have or undercuts.
Shaved Head Styles With Long Hair
Long hair and shaved side head style is so skapunk. Once a trend started in the 90's patented to punk bands and subcultures have now entered the mainstream. The cult of shaved head styles is no more a niche aka rebellious and anti-establishment. It has evolved and mellowed down compared to its in-your-face predecessors.
Long tresses ain't your run-of-the-mill damsel in distress waiting for her prince charming in shining armor. That role-playing has worn out its welcome ushering a Bella who does not detour in roles set by patriarchy. She has risen, and how! With unbridled passion, setting her own rules, defying the standards, creating new standards or not, it is sure to create awe.
You carried that look so well, you stunner! and you are not even looking for a prize, because you just enjoy the ride and feel the spark creating a shock value, and not in an offensive way! Did your mommy ask you to wear a neatly styled braid? Not anymore. You are the girl, his mom warned about because you assert and stand up without coiling into a frame set by anyone else.
Shaved Head Styles With Colored Hair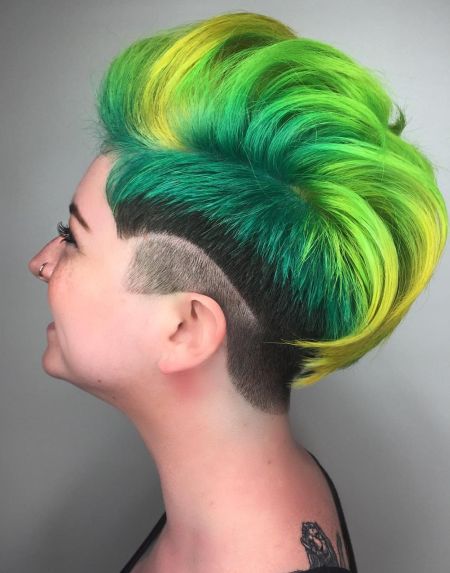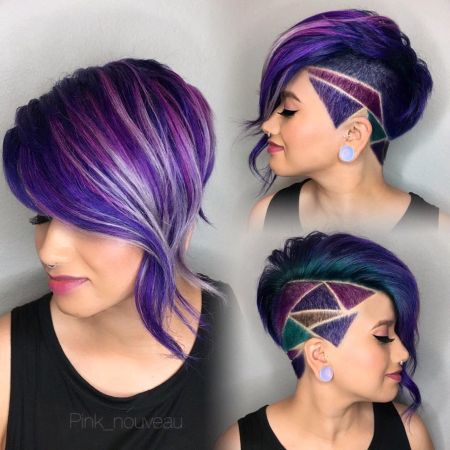 Color me blue, color me like tomorrow's a day brand new! Shave the buzz or the side fade with a color of your choice. Or if you want to blend the colored hair with a shaved side of your natural hair color, that is a 'neat' option too if edgy has become overrated, you tried, experimented with it over and over, so you could as well settle with simpler styles.
The colored hair with shaved head styles looks a total head-turner. Maybe tone down the colors if you have a workplace to go to that has a dress code. You could play with colors in subtler tones and blend them with the corporate style, and who wouldn't admire your bold move! Like you have nobody to answer to, you carried it so darn well!
Shaved Head Styles With Artistic Buzz
When the buzz got boring, it has some art flowing in motifs and colors, wearing in vim and valor. It takes guts to carry this look in your everyday life. If you care least about getting raised brows and love the attention that may come your way, you have a lot of options that suit your face shape and personality.
Add your faith in motifs of artistic buzz if tattoos are not your thing anymore. But you do it chic and nicely way to create a buzz that is not all the samey anymore. It has twists and turns, and the surprise element that gives the traditional buzz look a nice twist.
Oh, the traditional buzz I say because it is pretty much the standard and the foundation on which the edifice of shaved head styles has built umpteen stories of chic and stunning styles.
Shaved Head With Mohawks
Cut down the long traces and gel them into wearable mohawks that do not make it look like you just came out of a rock concert headbanging. Mohawks have come a long way alighting and gliding into the world of mainstream just like the avant-garde was made wearable, why wouldn't mohawks find their way?
It's not your everyday style, but you could donne it with a few lifts and the right color and shave head style. But how long? do you want it to be your patented style because you are hopelessly in love with the 90's era and play it over and over, the values, the candidness, the joy like you loved the 90's band and cannot get over it? Your love could make you stand out carrying this look, else, it's a passé.
Shaved Head With Tattoos
Tattoos have evolved from being inked in black and colors to white lacy doily artistry. A shaved head style with a tattoo is so rocker punk. The classic punk style from the yesteryears punk bands who showcased this subculture not waning away in the oblivion.
You could try the subtler or the in-your-face look with the buzz because as a rule of thumb, there is not subtly when you add tattoos to the shaved buzz. Now, why does that remind me of Rammstein? Ich Will, so at your will, and as you please!
Conclusion
How to shave your head and beyond is what you get from this post. With a galore of shaved head styles that blend into everyday and formal outfits, you have a chance to create your unique persona that is unmatched and uncanny. Originality can never be démodé and eternally celebrated like the sun, moon, and stars.
So, shine on your crazy diamond, just like The Beatles brought to the world of rock music an element of transcendence and spirituality, blending it. Make the most of the buzz and shaved head with any hair length and hair cut. Who can take that away from you? Nada, nada, nada! Make it happen, and lift your self-esteem a few notches up!