Rose gold hair color is trending and comes in the most stunning hues and shades. It is suitable for blondes as well as brunettes. You could do a rose gold hair color shade at home in a few easy steps. Know which rose gold color styles suit your hair color and skin tone best before hitting the salon.
This is a universal hair color because it blends well with dark as well as light shades. Rainbow, balayage, Ombre, sombre, choose any hair color style, with this color, it's bound to look good. If you love experimenting with hair colors, this is a must-try as it blends well with most colors. It also makes your hair look voluminous.
DIY Rose Gold Hair Color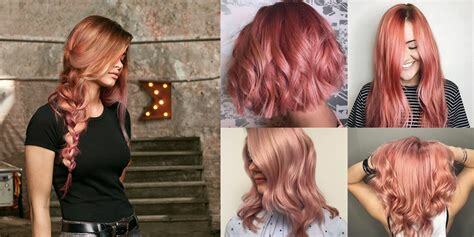 With this hair color you can choose from a glossy, matte, washed out, soft look, etc, . In addition, choose from umpteen hair coloring styles and techniques to get the best look with this hair color. Every brand has a different level of tonality and intensity. Therefore, if you want to get the perfect look, you need to navigate looking for details of the rose gold color shade you want before purchasing.
Avoid washing hair with hot water and using heating hair styling tools as much as you can when you applying this color. Use a color-protecting conditioner and shampoo your hair fewer times. Keep your hair cleansed and avoid sulfate-based shampoo.
Rose Gold Hair Color – DIY At Home
If you have light hair, you can start with dying your hair with rose gold hair color. If you have dark hair, bleach it to get a lighter tone before applying this color. If you are bleaching your hair at home, you have to select the right volume of developers because choosing the wrong one can cause damage.
How To Bleach Your Hair
Mix the bleach and developer as per the instructions on the cover
Part your hair in sections
Ensure your hair is washed and dry before you get started
Start from the tip of your hair and work up to the entire length
Wear a wrap to cover after applying bleach to your hair
Leave it on for 20-30 minutes
Keep checking in between if your hair color is getting a lift
DIY Rose Gold Hair Color
Use a rose gold color dye available in the market
Use a diluter if you need a lighter or pastel color dye
Make sections of your hair
Mix the color as per the instructions on the cover
Wear gloves and keep a comb handy
Apply evenly to your hair
Wrap it in plastic and leave it on for 30 minutes
Rinse till water is clear of the color
Use conditioner for colored hair
The bleach, and the rose gold color, give different results for different types of hair. Use the bleach till you get the desired shade of hair. For instance, if you get a yellowish tone, use a purple shampoo to get a bleached look before you start coloring your hair with a rose gold color. You can choose permanent, semi-permanent, or temporary dyes.
Rose Gold Hair Color – Long, Short, Medium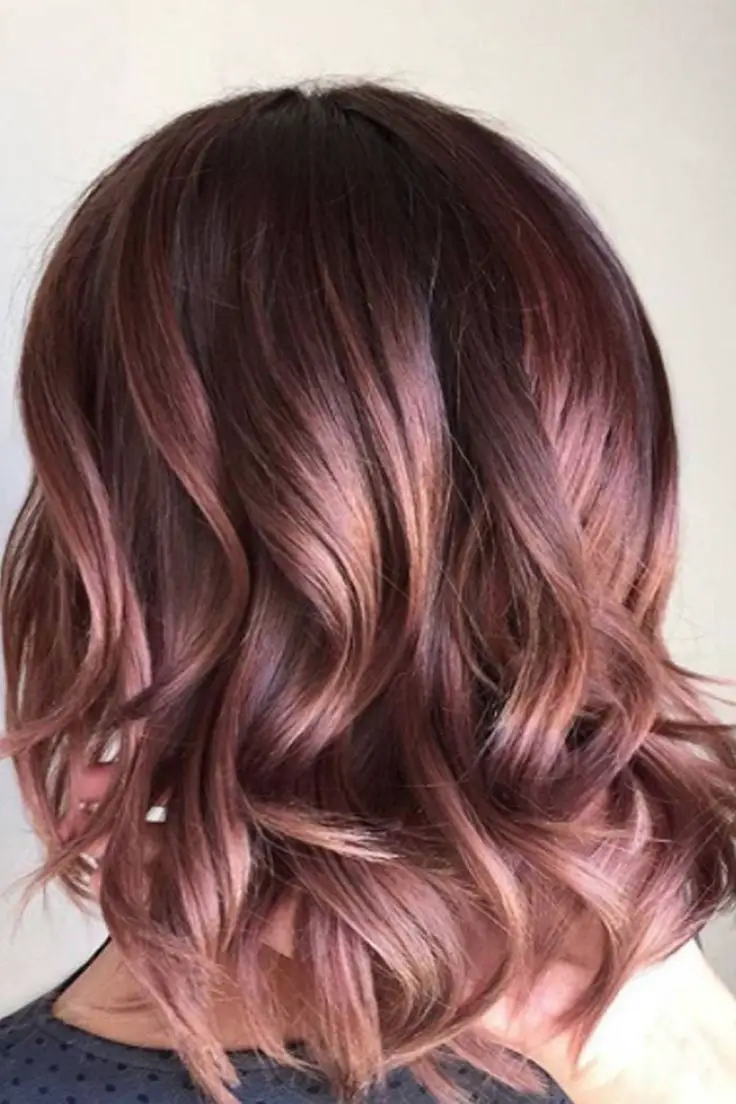 This hair color is suitable for men, women, and all hair lengths. If you have long dark hair, use a glossy hair color with highlights and blend it with lighter tones. If your natural hair color is light, you have many options for blending various colors with this shade.
Long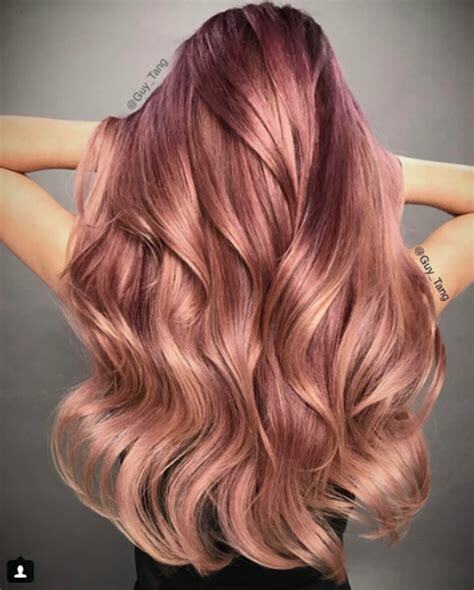 If you have light-colored skin and dark hair, choose darker tones of rose gold and blend it with auburn, burgundy, and pink. If you have medium to dark skin tone and dark hair, avoid pastel shades and blend it with balayage or ombre rose gold, lilac, or lavender. If you have light skin and light-colored natural hair, blend it with pastel shades and blonde highlights. You can experiment with colors keeping these basic rules in mind when choosing color blends with rose gold hair color.
Short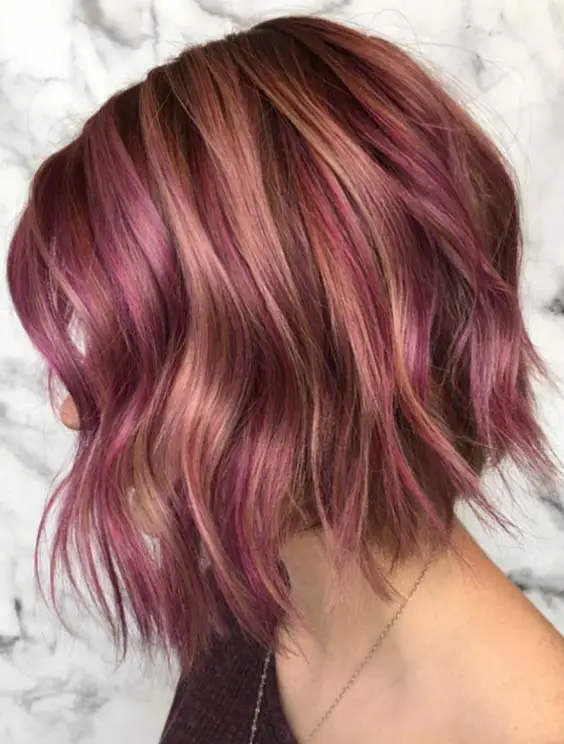 Before choosing a color tone of rose gold and other colors to blend, the rule of thumb is to pick what suits your skin color. If you have light skin, you can choose a dark or a light shade regardless of your hair color if you have short hair. However, if you have dark skin, avoid pastel or lighter shades. Instead, blend rose gold with purple, burgundy, and soft pink if you have a medium to dark skin color.
Medium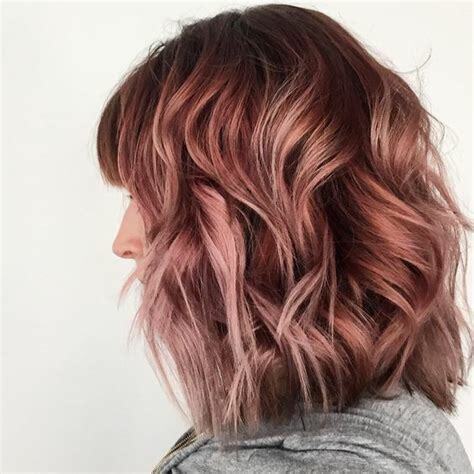 Ombre and balayage is the best coloring technique with rose gold and another lighter or darker shade that suits your hair color. For instance, highlights might not be suitable for medium hair length. Instead, use dark shades of pink for the most part and blend them with lighter shades to create a voluminous effect.
Men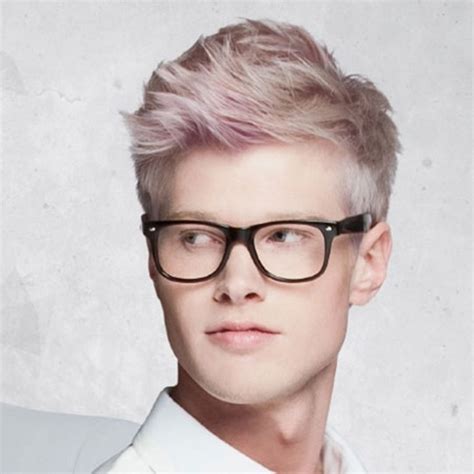 Rose gold hair color suits men too. This shouldn't be a surprise and is breaking the convention of hair colors in offbeat colors for good. Rose gold hair color makes men look beautiful. Maybe the era of heterosexual men is more acceptable because they have a sensitive side which you can easily relate to and be comfortable with.
Women
Waves, feathered, and layered hair cuts look good with rose gold hair color. Straight bobs are not an ideal choice for this color. However, you can blend it with various hair coloring techniques without using any other color to get a perfect look.
Rose Gold Hair Color – Shades
Rose gold gives a lovely texture to different hair colors, light and dark. When you choose the correct hair coloring technique, you get the best tone of hair color. You could get a DIY to get a basic style, but if you want to get the perfect look, it is wise to get it done from a professional.
Red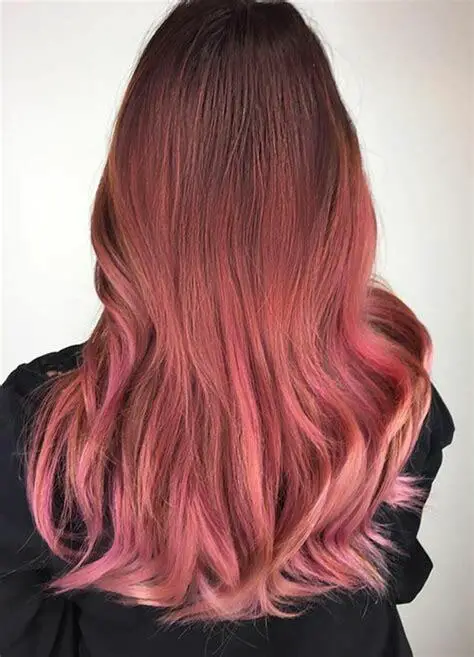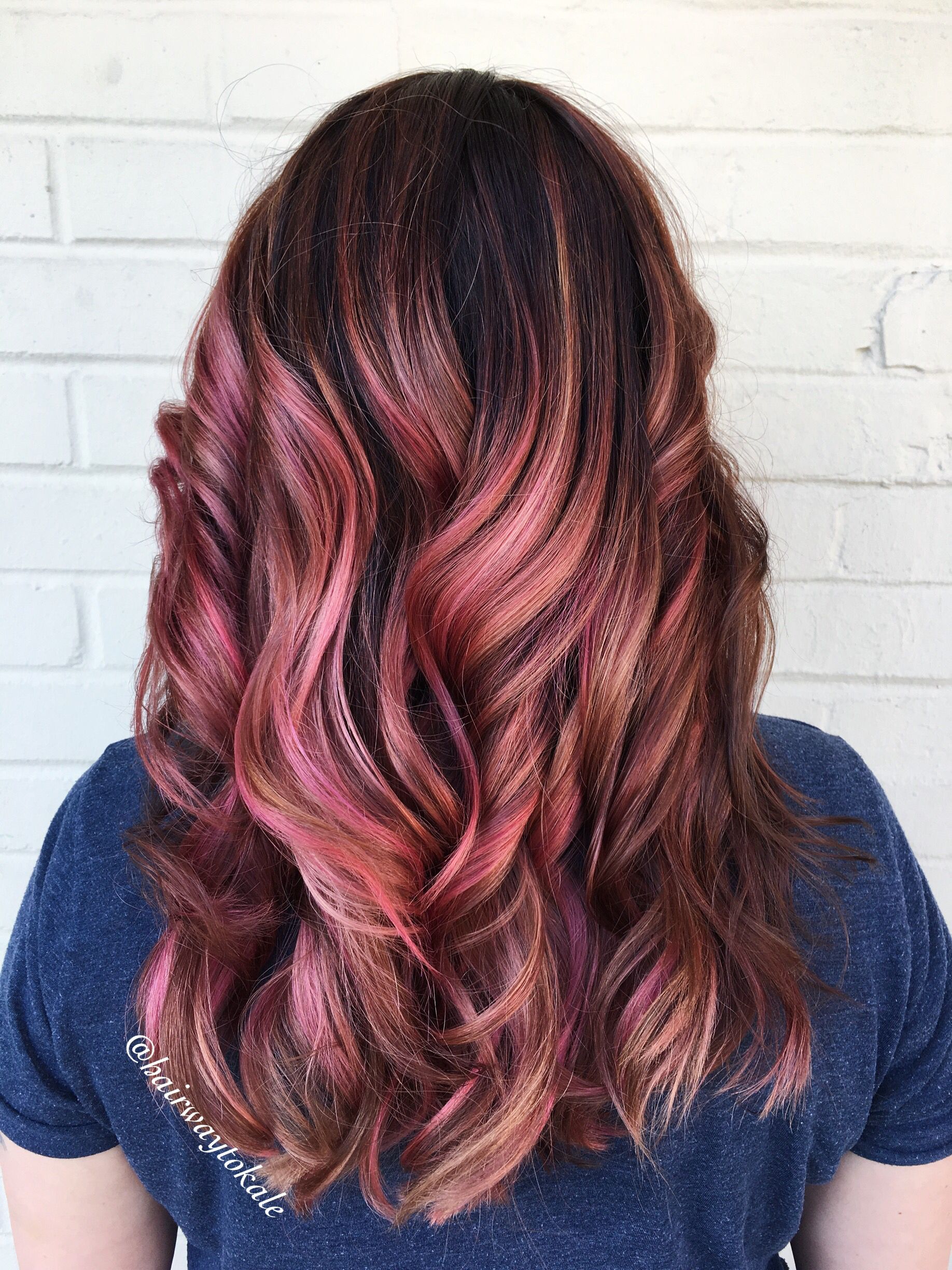 Brown and brunette-colored hair looks good with a blend of red and rose gold colors. You can choose from a various red shade blends such as auburn, raspberry, burgundy, red mahogany with dark hair color. Do not use this shade if you have light-colored hair.
Lilac
You can use lilac or lavender with rose gold on light as well as dark hair. Shades of lavender and lilac blend well with rose gold color. So if you need a darker or a light coloring technique like ombre, highlights, etc. it can be achieved with these shades. They look good on all hair types and natural hair colors.
Metallic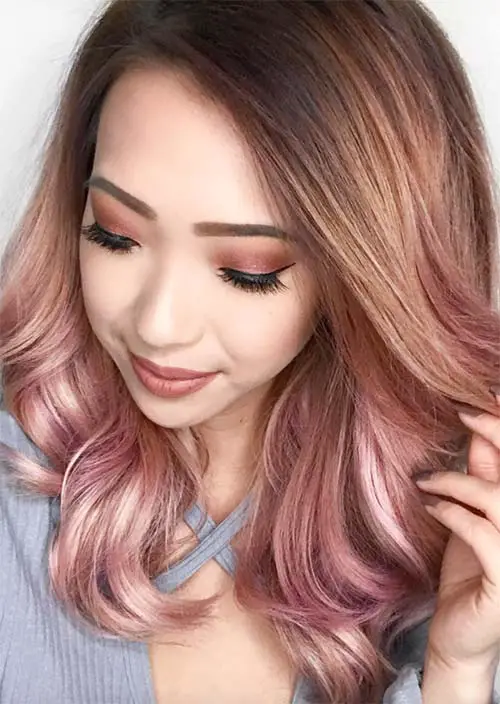 They suit people of all age groups. For instance, if you have grey hair, it looks good when you blend metallic silver or platinum with rose gold. It gives a lovely sheen, and the contrast between matte and metallic stands out.
Strawberry
This is a warm summer shade you can blend with rose gold in gloss as well as matte. It is suitable for light and fair skin. Blend it with lilac if you have dark skin. Avoid strawberry shade if you have dark skin and blend it with darker shades of purple or lilac if you want to use strawberry rose gold shade.
Peach
There is a slight difference between strawberry and peach tones. The peach color is lighter than strawberry shades and less intense. If you want to choose warmer tones with rose gold, peach is what you can go with. It looks fine with all skin and hair colors. If you have dark hair, blend it with a lighter shade of auburn or burgundy.
Light And Blush Pink
The pink and rose gold hair color looks like a fairytale romance. If you have lilacs thrown in, you could get the perfect fairytale look. Light pink shades are suitable for blonde and light-colored hair. Lighten your hair if you have dark hair and want to use this shade. Avoid using it with dark hair unless you blend it with shades of purple and auburn.
Ombre And Balayage
You can get the best look with this coloring technique no matter which shade you choose with rose gold color. If you want to use rose gold alone, choose Ombre on medium to light-colored hair. These hair techniques look great on most hair cuts when mixed with the hair colors mentioned above. Pink, red, peach, metallic are the best blend for these techniques.
Conclusion
Rose gold hair color looks good on men and women with the proper hair coloring technique and hair blends. Hair of any length looks beautiful in these shades. The best blend for rose gold are shades of lilac, metallic, and light pink.