Wearing a suit can change your outlook instantly, whether at a house party or a business gathering. The elegant aura that it brings! How impressive it is! Every man would ask for it!
But, wearing invites the hassle of cleaning. Be it your girl's pink floral dress or your two-piece suit; cleaning can be a headache. These are not your regular apparel like t-shirts or trousers. So, the cleaning process may also be challenging. Hence, many people ask- "how to clean a suit jacket?"
Your suit jacket may get a stain. It may attract dust when on a long road journey. Also, it can become worn out after wearing it many times. Whatever the reason is, the suit jacket can get dirty, and it may leave you crying while cleaning it. Here we are to ease your task. We can help you with the details of how to clean your suit jacket.
How to Clean a Suit Jacket- What you can do Easily at Home:
Maintaining a suit jacket includes two crucial aspects. One is storage, and another one is cleaning. If you cannot store it well, the cleaning process becomes more difficult. Nonetheless, here we share three essential factors to keep in mind. Check them out and maintain them at home.
Get a suit brush and roughly brush the suit off every time you wear it. It will help remove the dust, hair particles, dead skins, etc.
Use the proper hanger to keep the suit as it prevents wrinkles. So, when you clean it, you do not have to put in much effort.
Switch from your plastic suit bag to cloth bag. It helps the air to circulate better within the suit jacket.
A lavender leaf or basil leaf can keep your suit nicely. Put one in the suit bag.
Now, let's move towards how to clean a suit jacket when it gets dirty.
Do suit jackets need to be dry-cleaned?
You should opt for dry cleaning after every three-four years. The experts suggest dry cleaning it once a year, even if you do not wear it. If you wear it frequently, you may need to clean it every two years.
However, people may need a wash to remove stains and dirt from a suit jacket in many cases. So, how to clean a suit jacket without dry cleaning? Let's learn here.
How to Clean a Suit Jacket: Step-by-step process:
Well, so, dry cleaning and regular brushing are not enough. You may need some extra. Probably, your suit has got a stain or sticky dirt. Or, you may have worn it out many times. But, the dilemma-is can we machine wash a suit like other clothes?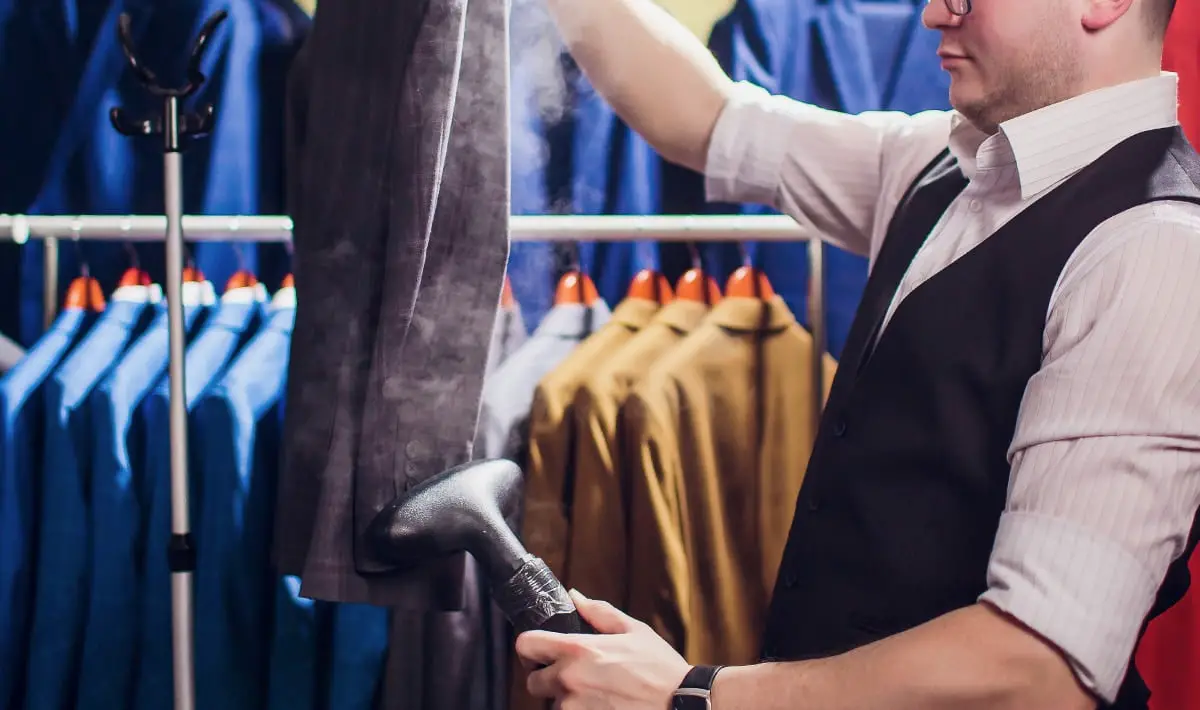 As the home improvement and cleaning experts say, hand wash is the best option to clean a suit. But, it would help if you went with the proper technique.
The steps of how to clean a suit jacket are-
Find out the Dirt or Stain
Get Right Cleaning Solution
Wash the Suit
Dry It at a Clean Place
Use a Steamer
Find out the Stain or Dirt: Find out the exact area first if you are about to clean any stain from your suit jacket. Once you mark the area, you can focus on cleaning that area before cleaning the whole suit.
Make sure to check the label on the suit jacket for cleaning instructions. Different suit types have different kinds of the cleaning process. While some are eligible for wet wash, some are recommended to be dry-cleaned only.
Right Cleaning Solution: People often ask what is the right cleaning solution for cleaning a suit jacket. You can find a wide range of chemicals in the market. But, for the better lifespan of the jacket, you can use homemade solutions of vinegar water. Take white vinegar and water in a 1:2 ratio. You can use lemon as an alternative.
Make sure not to use any harsh chemicals or regular detergent. It may disturb the fabric. The restriction is stricter with woolen suits than anything else.
Wash the Suit: Now, it is time to apply the mix to the particular area of the suit. Pour the mix and clean the specific area by rubbing with a washcloth or soft microfiber cloth. You can easily find a piece of microfiber cloth at any local general store. The shops offering supplies often keep such clothes.
Do not rub vigorously. It may lead the stains to go more sticky. Instead, go gentle. Slowly, rub the place and remove the dirt.
Dry it at a Clean Place: Do not use a dryer to dry the suit. Instead, hand it with a suitable hanger or make it lie flat on a blotting paper. Let it air-dry for 30 minutes. Well, vinegar has a weird smell. If you do not like the smell coming from your suit, do not hesitate to sprinkle a little bit of perfume.
Steam It: When you find your suit dry, remove the wrinkles and folds by steaming it. Use a steamer and remove wrinkles from the suits. Let the creases say goodbye to you.
Once you are done with the steaming process, take a stiff bristle brush and gently remove all loose dust from the suit.
Got an idea about how to clean a suit jacket? Probably, you have some more questions in mind. Let us answer them one by one.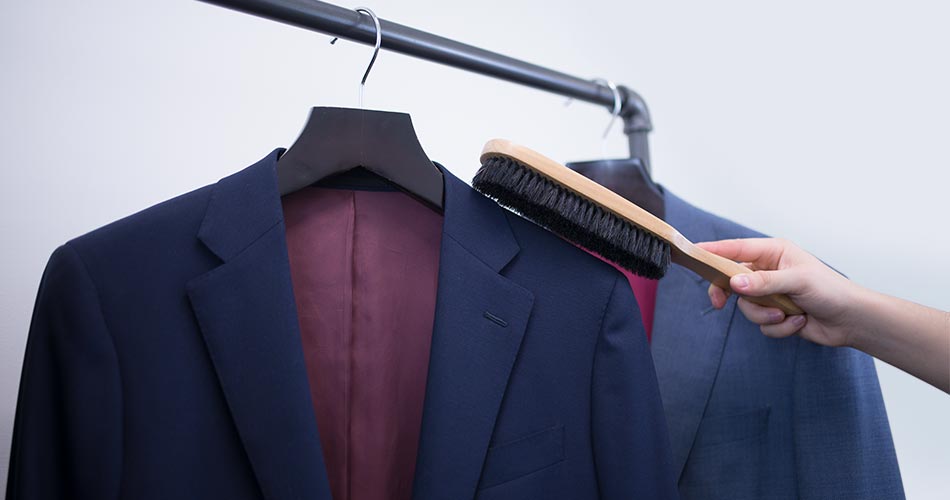 Cleaning a Suit Jacket: Some Frequently Asked Questions
Q. What happens if you wash a suit jacket?
Handwashing and dry cleaning are safe for suits. But, putting it inside the washing machine can be risky. It can damage the interlinings of the jacket.
Q. What is an alternative to dry cleaning?
You can opt for simple handwashing with a mild cleaning solution. But, for most suits, it is recommended to dry clean it at least once a year.
Q. Is water used in dry cleaning?
Usually, non-water chemical solutions are used in the dry cleaning process. Often, people ask how to clean a suit with dry cleaning at home. We suggest consulting professionals for the proper cleaning solutions.
Q. Can I do dry cleaning at home?
Yes, you can. But, it would help if you got a good idea about the right solution, tools, techniques, etc. Once you get the detailed knowledge, you can save your money.
Q. Why is dry cleaning so expensive?
The complete process takes a lot of labor and a good number of people. Also, dry cleaning materials are costly. Considering all of these factors, the cleaning experts have set the price high to maintain the quality.
Wrapping It Up
A clean suit jacket makes your personality pleasant and keeps you hygienic. However, you don't have to go through a time-consuming cleaning process with expensive materials to keep your suit nicely.
A little extra knowledge, care, and regular maintenance are enough! We have mentioned here how to clean a suit jacket easily. Let us know if it has been helpful for you. Only cleaning won't help until you regularly take good care of your suit. Take care of your suit and let it live with you for many years.
If you are fond of cleanliness, you probably want to clean your other belongings as well. Let's know how to clean a laptop fan here.