How often can you bathe a dog? Almost everyone who brings a new puppy at home or already having one is confused in this situation.
Dog owners find it very difficult to exactly determine how often it is correct to bathe a dog? A lot of dogs love rolling in the muds and digging up the holes in the ground. It is completely impossible to wash a dog 24/7.
If you are also confused in determining the bathing frequency, don't worry just keep reading this article. Here I will consider everything that you must know for deciding the right bathing frequency for your dog.
Why does your dog need a bath?
What is the exact point behind bathing a dog? Many people think that bathing is only to eliminate the unwanted smell and cleanliness of the body. Well, the reasons for bathing are not limited to this. It grants you an opportunity to give the dog a simple check-over to ensure that there are no unusual fleas or lumps. Bathing gives a chance to do a quick check-up by yourself but still, you should take your dog to a vet for a routine check-up.
Pick The Right Shampoo For Your Dog
The right shampoo can make a big difference in the bathing of your dog. Well, being honest, there is not one declared shampoo that could be considered as best for every single dog. I will recommend you to use a mild dog shampoo or a baby shampoo. You can easily find a dog's natural shampoo at almost every pet store. These types of shampoos work very well and are very gentle on a dog's skin, coat and eyes.
Some of the dogs have sensitive skin. Rinsing them with water and drying them with a towel could be the best way to remove the excess oil and dirt.
If your dog is mainly an oily breed, in this case, you may require a stronger shampoo. Tick and Flea shampoo can work very well in eliminating your dog's unwanted pests but make sure you use it frequently because it can turn harsh on the skin.
How Often Can You Bathe a Dog?
Here are the things that you should know about the bathing frequency of a dog:
If you are having a puppy younger than 7 to 8 weeks, you should completely avoid him from bathing. His body is not able to self regulate the body's temperature. So, here is the simple way to keep your dog clean and hygienic.
Take a warm cloth and wipe down your puppy gently.
If your puppy is over 8 weeks, a good rule of thumb is to bathe him once a month. If your puppy runs towards the muds and loves to dig up holes, you can bathe him quite more often. Just keep in mind to pick up the shampoo that is gentle on a dog's skin.
One more thing, if your dog's skin is likely to dry, you can wait a long time between the baths.
If you have a healthy dog, you can follow this rule of thumb:
Bathe him once a month in a shower or tub with warm water and gentle shampoo that is specially made for dogs.
If your dog has underlying skin allergies or any other skin condition, in this case, you will need to bathe him more often by using a medicated shampoo.
You should use a moisturizing formulation or soap-free shampoo so that your dog's skin doesn't get dry out. You can ask your vet for a recommendation.
Always remember that you shouldn't bathe your dog more than once a week, until and unless your vet has recommended it.
When you are bathing your dog, make sure that you are paying special attention to bumps, lumps, or skin changes, it could indicate a health problem. If you notice any serious issues, do inform your vet.
Things That You Must Know
Here are three things you should know about how often can you bathe a dog:
The Activity Level Of Your Dog
If your dog has the habit of running to muddy water, rain, or dig up holes, in this case, you will have to give him slightly more frequent baths.
Your Dog's Health And Allergies
If you are adopting a dog that is having health issues, take them to your vet very immediately.
Coat Type Of Your Dog
The long-coat dog will demand more grooming and baths than the short-coat ones. A lot of dog breeds including Huskies and retrievers can lose necessary oils from their body, and it can lead to skin drying out, so here you should ask your vet for advice.
How To Bathe Your Dog
Here I have provided the steps that will simplify "how to bathe a dog?".
Step 1: Collect All The Equipment
Here are the major pieces of equipment that you will need:
A Natural Dog Shampoo as I mentioned above in this article.
A dog conditioner
Brush
A Tub or sink to bathe
Step 2: Start Brushing
Get started by brushing from the head to the tail. It will help in eliminating the excess fur and loosening the dirt. It will also help in eliminating matted fur and knots from the longer coats. Make sure not to pull very hard through the tangles and mat.
Step 3: Make The Dog Wet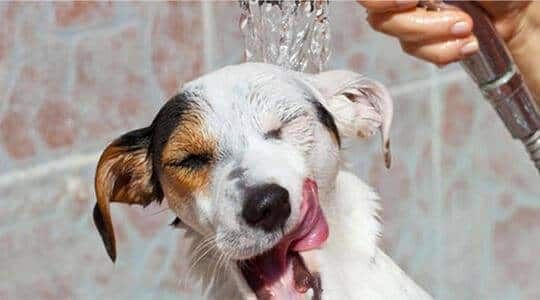 Make sure the water you use is warm, not hot. Dog's skin is pretty sensitive to hot water, so using the same water's temperature you use could be uncomfortable for your dog. Do not let the water go inside your dog's ear, otherwise, it could lead to infection.
Step 4: Apply Shampoo
Always apply enough shampoo so that you can get a good lather on the parts of the dog. Do not put the shampoo on the dog's head. It can go in the eyes and ear and can irritate. You can use a moist washcloth to clean the head's and face's dirt.
Step 5: Massage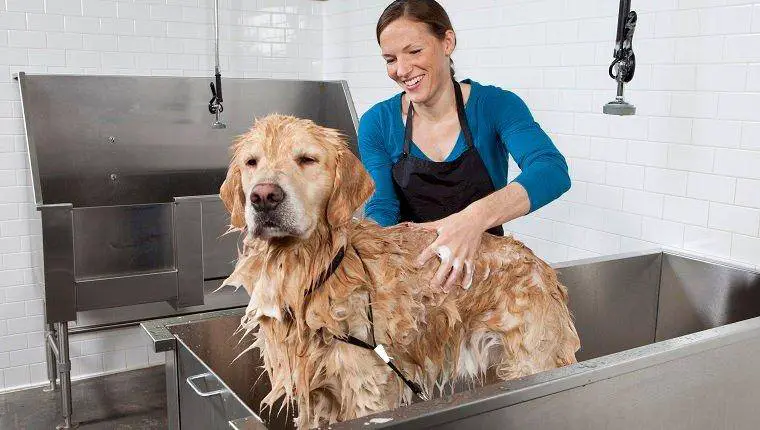 Now when the lather is formed, massage it into the fur. Leave the shampoo for a specific time (as recommended on the shampoo bottle).
Step 6: Now Rinse Thoroughly
Now it is time to rinse out all the shampoo (with the warm water). Be gentle while getting wet and rinse your dog.
Step 7: Use Conditioner
Follow the instruction on the bottle of conditioner. You can also repeat the rinse step if needed.
Step 8: Dry Your Dog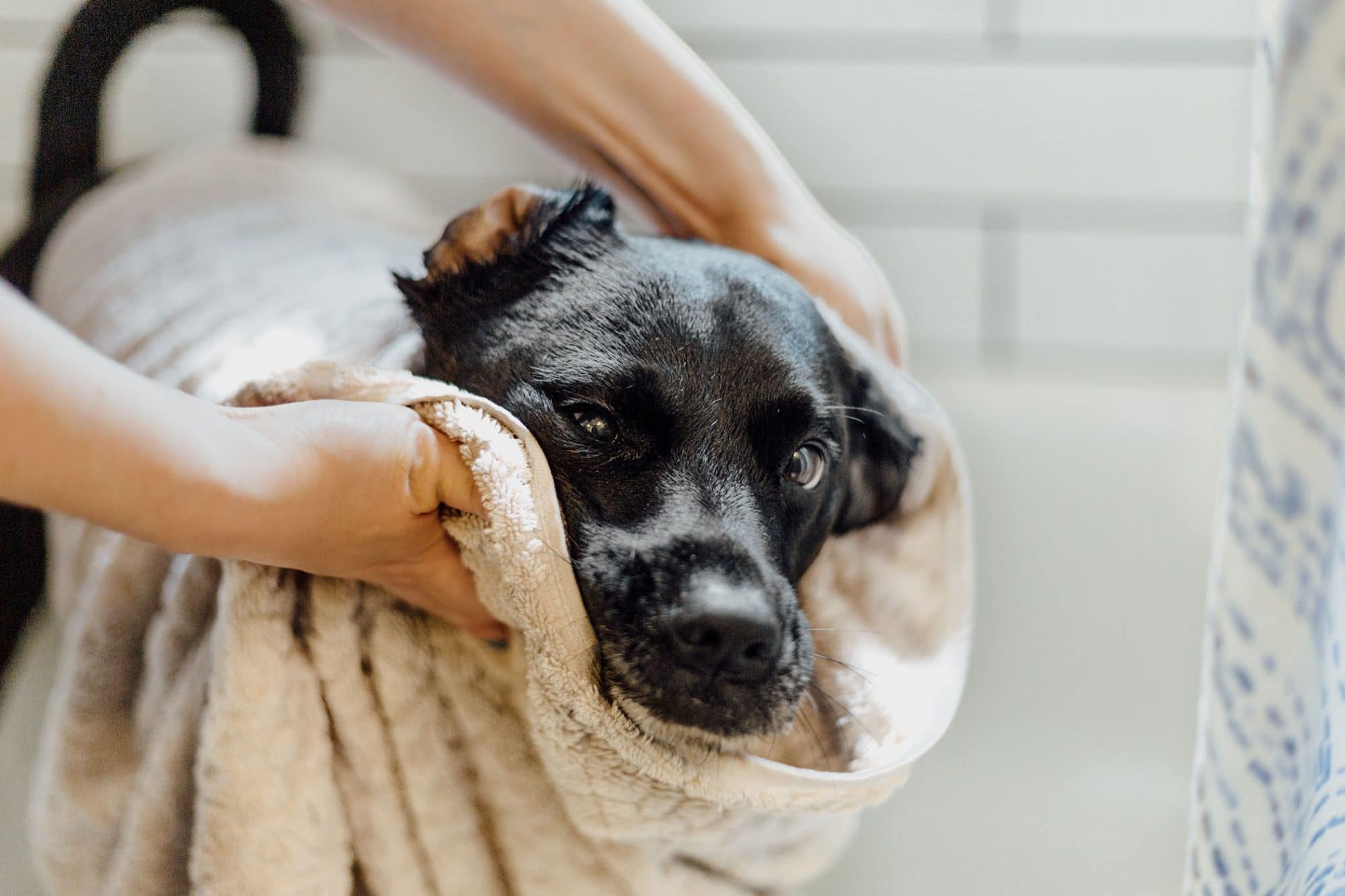 Rinse your dog very well and dry him with a soft towel. You can also use a dryer on the setting of warm or cool, there is also a possibility that your dog will freak out or recognize it as playtime.
Note: While using the dryer, make sure to keep the nozzle of the dryer at least 18 inches away from the fur and skin of your dog because it can cause burning and overheating on the skin.
Whatever you prefer, make sure to give your best in drying. After finishing the whole process, watch and enjoy your dog's after bath antics. Don't let him go outdoor without getting completely dry, otherwise, you will return to the tub.
Conclusion
I hope you have got the answer to "How often can you bathe a dog?". Sometimes bathing can be challenging for your dog so try to make it fun. Now I hope you have got enough knowledge about bathing frequency and procedure to bath your dog.
More articles that might help you
How To Brush Your Dog's Teeth Correctly? Know These Best Ways And Tips