The Umbrella Academy is one of the most popular Netflix Originals. The quirky twist to a superhero genre has won the hearts of fans from all over the world. Recently, the show got renewed for a third edition. The production of Season 3 is all set to begin in early March. While the fans were gearing up for the new season, Netflix announced that the cast of The Umbrella Academy has gotten bigger.
The Plot of The Umbrella Academy
The Umbrella Academy begins on 1st October 1989 when 43 women from all over the world gave birth at 12.00 P.M. out of nowhere. These babies were all blessed with supernatural powers. A wealthy billionaire, Sir Reginald Hargreeves(Colm Feore) adopts seven such children and thus begins the journey of The Umbrella Academy.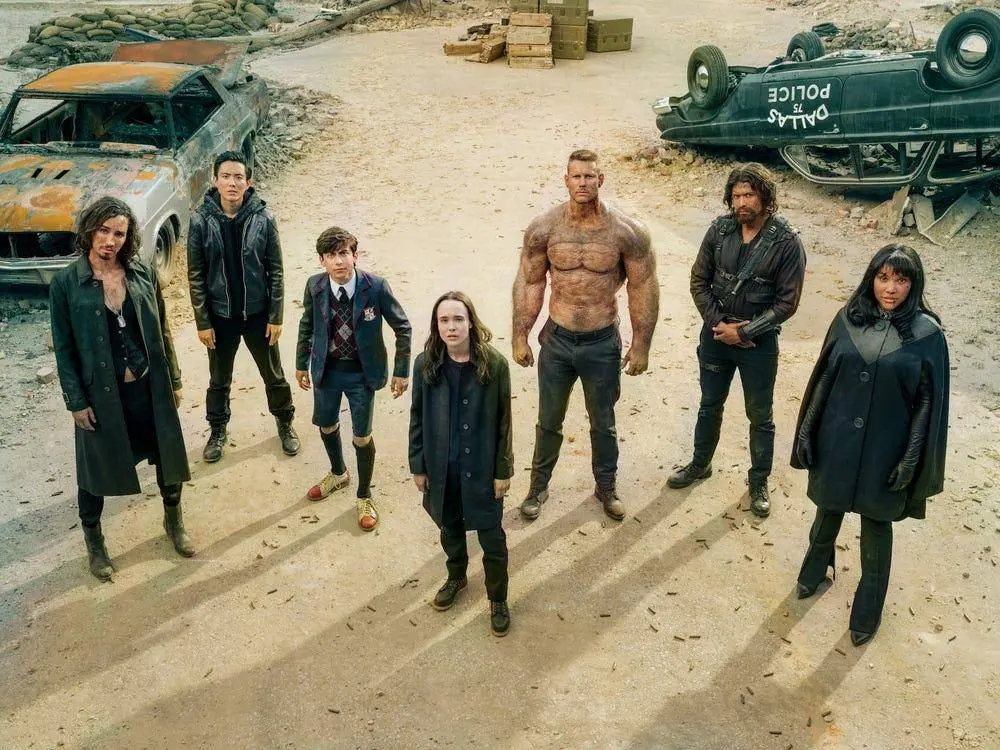 Luther(Tom Hopper), Diego(David Castañeda), Allison(Emmy Raver Lampman), Klaus(Robert Sheehan), Five(Aidan Gallagher), Ben(Justin H. Min), and Vanya(Elliot Page) were all named by their robotic mother, Grace (Jordan Claire Robbins). Reginald never bothered to call them by their name. He always referred to them as numbers 1,2,3, and so on. He was a strict father who never showed a tinge of emotion towards his children. His children grew up detesting him. They also lacked a bond among themselves. Their only companion was their mother and Pogo(Adam Godley), a monkey.
After losing Ben at an early age and Five disappearing 16 years earlier, all the children split apart. Luther stayed on the moon, Alison became an actress, Diego tried to keep the bad people away, and Klaus became an addict. Vanya focused on her piano classes.Vanya was always treated differently. She was the only kid with no superpower, so her siblings never gave her much importance.
After the death of Sir Reginald, the kids gather once again to mourn their father. All of a sudden, they see Five coming out of a time vortex to warn them about an impending apocalypse. Ben, who supposedly died long back, never crossed over and stayed in Klaus's consciousness.
Season 1 made the siblings realise that Vanya was the most powerful of all. Reginald gave Vanya pills to control her power. She was the reason behind the apocalypse. So, with Vanya, all the siblings time travel to save the earth from the disaster.
In Season 2, they end up travelling back to the 1960's. Their failure in time travel brought the apocalypse with them. Though the siblings appeared in different years throughout the 1960's, Five decided to gather them all. To prevent the apocalypse and to return their original timeline, all the siblings gather once again.
But Handler( Kate Walsh) had a different plan. She prepared her own set of soldiers to stop the Hargreeves siblings. They somehow defeat her and manage to travel back to 2020, thinking that they've finally avoided the apocalypse. When they reach their household, they realise that the Umbrella Academy doesn't exist anymore. Their father, Reginald, developed the Sparrow Academy, and he is also alive.
Season 3 Cast of The Umbrella Academy
Apart from the usual cast members, Netflix announced a bunch of fresh faces to be added as The Sparrow Academy. Season 2 finale showed that Ben is alive and he is the somehow the leader of the Sparrow Academy.
Cazzie David is all set to play Jayme, a loner with a fear-induced snarl. She remains quiet and doesn't say much and everyone should be scared of her snarl. Jake Epstein will play Alphonso, a pizza lover with a deadly sense of humour, he is a dangerous crime-fighter who enjoys conversing with his enemies using his biting sense of humour.
Justin Cornwell will be Marcus. A charming natural-born leader, he is the glue that keeps the family together. Obviously, Justin H. Min will play Ben but he won't be like his previous version. This Ben is scheming, villainous, and dangerous. He wants to gain his status as a leader by hook or crook.
Britne Oldford will play Fei, the smartest and kindest person ever. She is compassionate but if you dare to cross her once, you're doomed. Genesis Rodriguez is all set to be Sloane, a romantic individual who wants to explore the world outside the academy and is planning on doing it soon.
Existential dread-inducing Psykronium Cube, a newcomer, will play Christopher. He is a loyal telekinetic cube but he can drop a room's temperature and induce paralysing fear.
Season 3 Plot
With so many fresh faces, Season 3 is going to be more interesting than ever. Obviously, you can imagine the clash between The Umbrella Academy and The Sparrow Academy is inevitable. It'll be interesting to see how Sir Reginald Hargreeves pans out in this scenario. Moreover, with so much time travel, there has got to be a consequence. Will there be another apocalypse? Will The Sparrow Academy wreak havoc? Will The Umbrella Academy time travel again?
There were a lot of rumours about Ellen Page reprising the role of Vanya as he came out as a transgender, Elliot Page. He put all the rumours to rest. He is going to be back in action. Season 2 also introduced Ritu Arya as Lila Pitts who has the power to mimic any superhero power. She acts as a mirror reflection and absorbs all the power briefly.
Harlan Cooper ( Justin Paul Kelly) got Vanya's powers when she saved his life. It'll be interesting to see how he works himself out in this new season. Season 3 has also plans to emphasise the transformation of Ellen Page to Elliot Page through Vanya. The Umbrella Academy has always shown crucial issues like LGBTQ struggles, Black Lives movement, President assassination and what not. The writers have always managed to educate the audience with their twists in this superhero drama.
Will Hazel, Cha Cha, and Handler come back once again since the time travel started another timeline? With so many unanswered questions, we can look forward to the new season with lots of anticipation. Till then, check out what Netflix has to say about Dash and Lily Season 2 renewal – https://sleck.net/dash-and-lily-season-2-all-the-secrets-you-need-to-know/