Blend Comfort with Convenience with Amazing Bed in Closet Ideas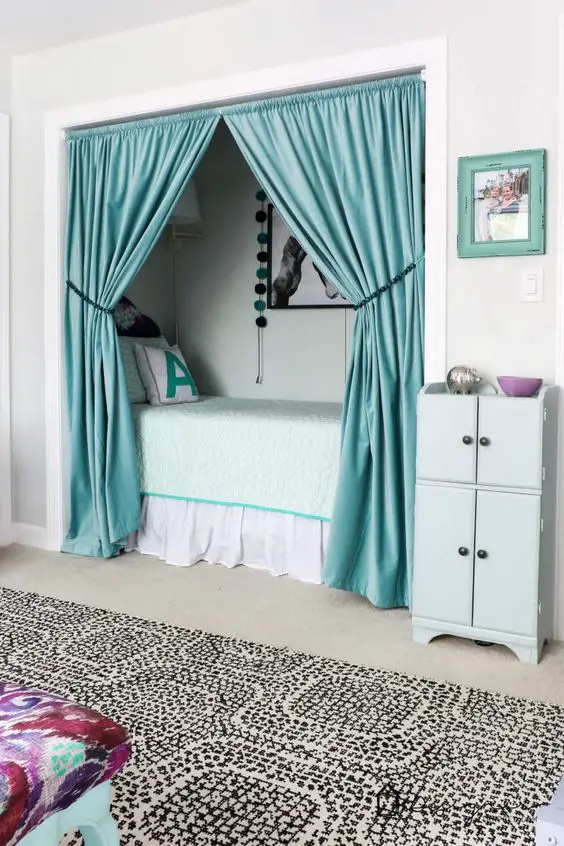 Looking for some bed in closet ideas? While some people love abundant open space to place a giant bed and have a sound sleep, some love to enjoy their privacy in an enclosed space. Different bed-in-closet ideas are bliss for them.
On the one hand, it helps them to organize their night suits, casual wear, accessories, and technological gadgets like mobile phones, chargers, and AC remotes. etc., in the closet.
And on the other hand, they can relish a comfortable sleep in a cozy bed covered from two or three sides.
Do you prefer to count yourself in this second category of people? High-five! I'm in this category too!
Being an intro-extrovert, I prefer to have an enclosed space to sleep when my introverted self is geared up. I'm calling myself an intro-extrovert as my moods fluctuate! And having some bed in closet ideas is the perfect treat for such a person!
I love having one or two such bed and closet combos in my home to relax my sore head after being tired of socializing too much outside. Such bed in closet ideas often give you calm and quiet vibes that you, as an introvert, need. I love it!
You, too, love it. But, you may get confused when designing a bed in a closet. Describing to your interior designer what you need is a real struggle. Therefore, here we are.
We will suggest some interesting bed in closet ideas you can try at home. You can show these ideas to your preferred interior designer and let them prepare the piece of furniture for you.
Also, we will answer some commonly asked questions that come to your mind regarding the bed in closet ideas. So, let's first begin with the ideas. Then, we'll move forward with the FAQs.
Top Bed in Closet Ideas to Incorporate in your Home
The bed in closet ideas are not only for introverted adults but also for little kids. It assures safety and comfort to babies, toddlers, and grown-up kids.
Different variations are available for it in terms of style, color, and theme. Have a look at some of them.
Books in Bed
I love it since I am a bookworm. Such bed in closet ideas indeed lead to a paradise for every book lover. Such designs usually include a bed surrounded by the book-shelves. It is usually made of wood. You can use any other material if you like.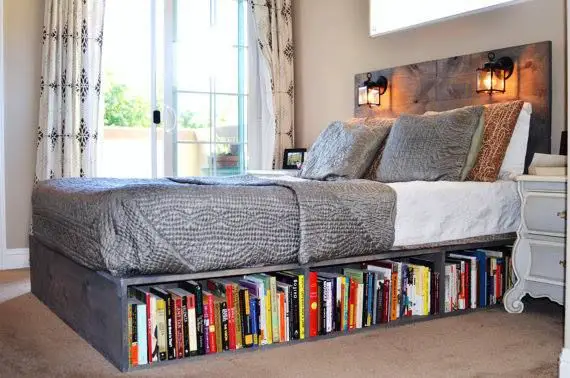 The books are placed on the shelves while the bed is attached behind the shelf's structure. If it is for a kid's room, you can design a double bed with such a book closet. And in some sections of the closet, you can keep other items related to art and crafts. They'll love it.
Wardrobe in Bed
Imagine you're a WFH person, and you've been working from your bed for today! Before going to bed, what do you want the most at night? A freshly-cooked pizza delivered by the food delivery boy and the nightwear near your hands! Isn't it?
Plan a wardrobe attached to your bed to ensure this comfort. A wide range of bed in closet ideas are available, which include wardrobes. You can keep your casual wares, home sandals, and many other accessories along with the night suits.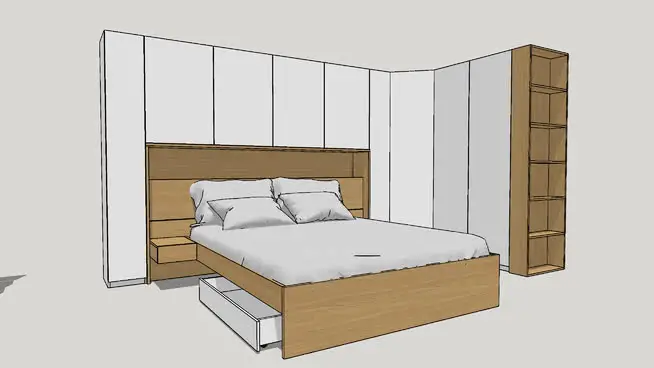 It is an ideal way to organize a small bedroom space. You do not have to spend extra space to plan a wardrobe. You can design it attached to the bed. Isn't it amazing?
Windows besides the Bed
We love to observe nature from a distance sometimes! No going outside, no hanging out with people, and no busy walks on the streets like regular days! Sometimes, we sit beside a window with a cup of coffee!
And what else can be better if you get an enclosed bed beside a window? It sounds so peaceful and serene. Right?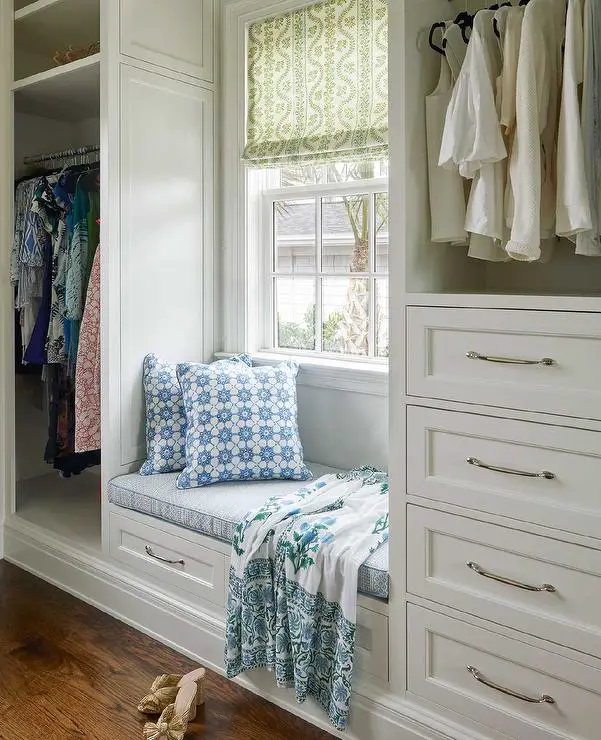 But, while designing the bed in a closet with windows, you must be careful. Make sure that you hire the best interior designer as per your knowledge because the such bed in closet ideas need more attention to the alignment of the details of the interior.
You can include multiple shelves and drawers in this design. But, according to my suggestions and many interior designers' advice, keeping it with minimalistic design and neutral color is the best. It brings the desired vibes with the windows beside it.
Royal Bed in Closet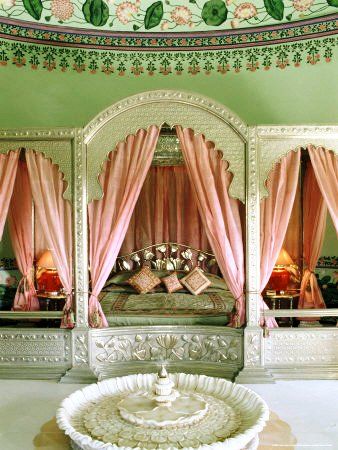 Who doesn't love royal elegance at home? Especially with a super elegant interior, you would also love to incorporate a royal look in your bedroom. Therefore, expert interior designers often come up with an amazing royal bed in closet ideas.
The beds are usually designed with high-quality, polished wood. Theme color like light shades of bottle green, yellow tint with a flesh tint color, etc., is used for these beds in closets. Long curtains of contrasting colors are used to decorate the space.
Bed Behind Curtains
If you love an enclosed bed but do not like to use any wooden or metal frame for it, simple curtains can do the job. Enclose the surrounding of your bed with designer curtains.
Such bed in closet ideas are popular choices among couples, especially those newly-wed.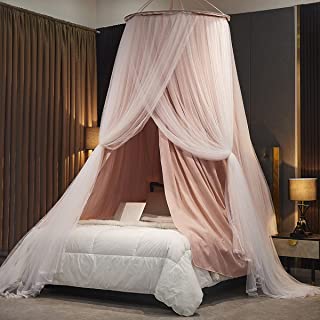 It adds a sense of privacy and comfort to their days spent together.
After all, cuddling your partner and enjoying romantic moments in an enclosed bed is what most couples look for!
Bed with Designer False Walls
If the curtain does not give enough privacy, you can add a false designer wall across the three sides or two of the bed. If you do not like to be covered with walls, you can also use it on one side of the bed.
You can find various types of walls available online and offline. If you like a fairy-tale look, you can use all-white thin walls with beautiful designs. Or, if you want to enjoy a modern look with a minimalist design, use a one-side wall with a wooden texture.
Bed in Wooden Crate
No. Crates are not for kids only! You can enjoy a crate-bed as well. Design a bed to incorporate a wooden crate frame around it. You can use various styles for it. If you like, you can cover the bed from one side only.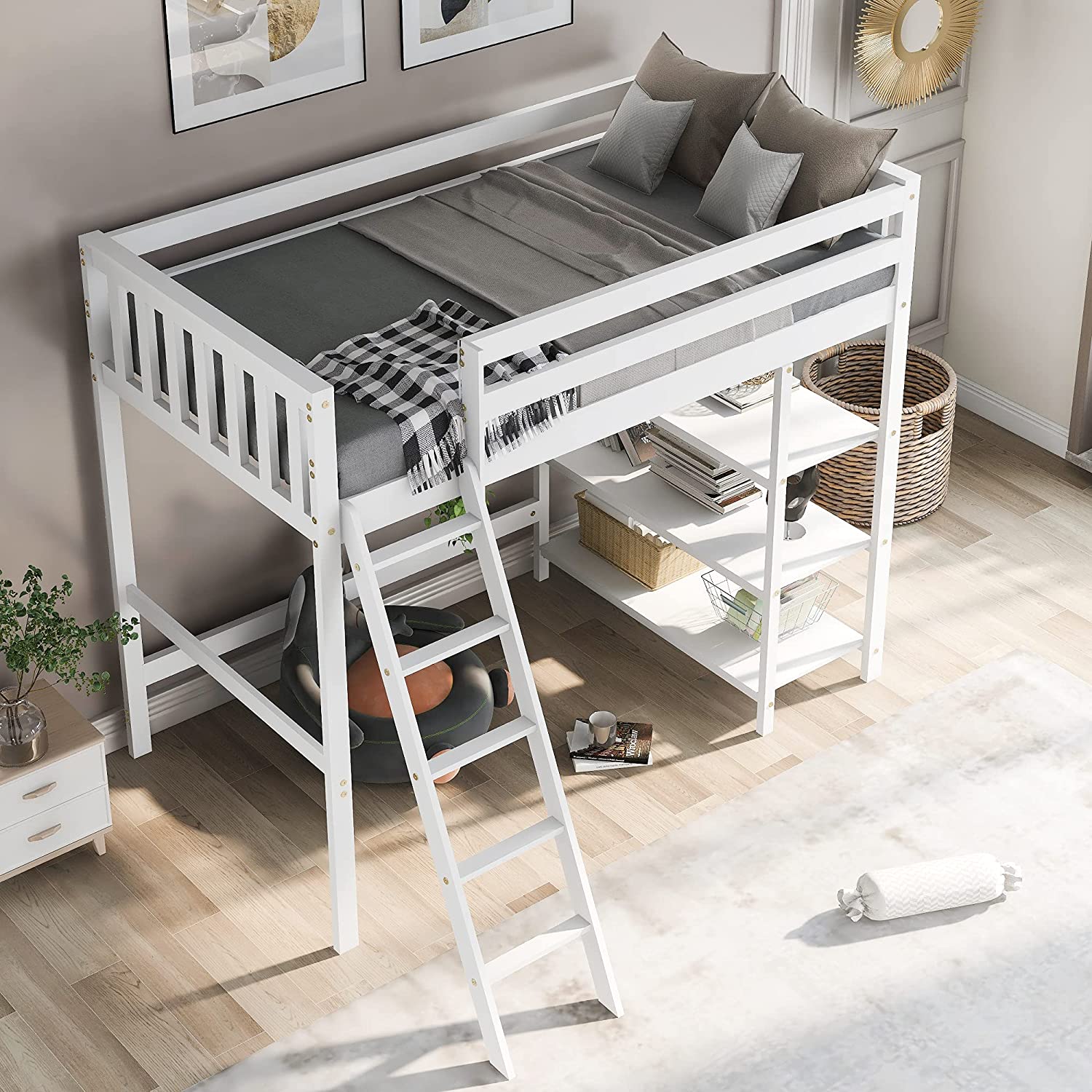 Also, you can ask your designer to plan a double-story bed with a wooden crate around it. Whether it is for toddlers or yourself, it will mesmerize all with its unique look.
Bed in Closet Ideas: Frequently-asked Questions: 
So, we have discussed some bed in closet ideas that everybody from your kids to the adults in your home will love. On the one hand, you can mesmerize your guests, and on the other hand, you can put your house on sale at a high price. Yes, such is the power of such amazing furniture pieces.
It helps to maximize the space, decorates the area, and improves the functionality of regular furniture like beds. The benefits of these ideas have made people think about them seriously.
And before adding such an item to their homes, many people want to clarify every detail related to it. So, there comes a plethora of questions in people's minds. Here, we'll be answering them all.
Can you put your bed in your closet?
Yes, you can do it. It is a good idea to maximize the space inside a small bedroom. Use the closet organizers as a platform for the bed and push it toward the closet.
Then, use a wardrobe beside it. Your closet's decorative, minimal, and super functional bed is ready!
What size bed fits in a closet?
It, to some extent, depends on the size of the closet. According to the interior designers, for a standard-size or queen-size murphy bed, you need a closet that is at least 64 inches wide and 83 inches tall.
Which kind of bed folds into the wall and looks like a bookshelf?
It is a murphy bed, one of the best space-saving furniture pieces. You can call it an interesting instance of excellent mechanical engineering. You can fold it and set it on the wall when not in use.
As a study says, according to the Center for Disease Control and Prevention, murphy beds result in an estimated 50 deaths a year due to the accidents caused by the bed. So, be cautious while using it.
Before You Go
So, it was all about the diverse bed in closet ideas. Also, we have answered some of the commonly asked questions regarding it. We hope now that all of your doubts have been cleared.
You can always ask us in the comments below if you have any more. If you do not have any, go for it. Call your preferred interior designer, and discuss the bed in closet ideas with them.
Want to add a dresser to the bed in the closet idea? Click here to learn more about how you can do it.