Baby Snowsuits are not important for everyone, but if your family prefers going outdoors or lives in a cold area, you can easily find cozy baby outerwear in the markets near you. Let your cute munchkins get ready for chilly temperatures.
In this article, we have provided you with the best baby Snowsuits to meet your requirements. So, if you want your little munchkin to feel warm and stylish without spending a huge amount of money, go for the snowsuits below.
9 Best baby Snowsuit ideas.
1- Patagonia Infant Hi-loft down sweater.
Patagonia is leading the market in outerwear due to its sustainability. Though this baby outerwear is not available at a low price, they last longer and are made sustainably. It fits very easily and offers a lot of warmth to babies.
The sweater is footless but has foot over hands so that the fingers of the babies remain warm during cold days. The dual zippers of the sweater make it easy to get in and out of the baby Snowsuit. Due to its extra length, it will be much easier for your munchkin to sit or stand. Besides its price, the other disadvantage is that it runs large. So before buying this snowsuit, you must try it and then decide.
2-  Columbia Baby Snowsuits.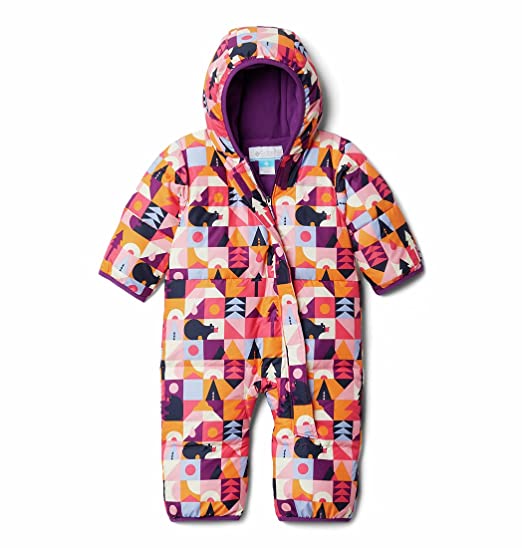 Columbia outdoor gear is gaining popularity due to its good quality baby items at a reasonable price. This baby Snowsuit is resistant to water and feels very soft and warm. 
This baby Snowsuit is quite large, and that's why many people stated that it runs too big. Still, many parents have given positive statements and reviews about this snowsuit. This snowsuit will keep your baby warm and is available in various colors.
3- Carter's hooded Sherpa Pram.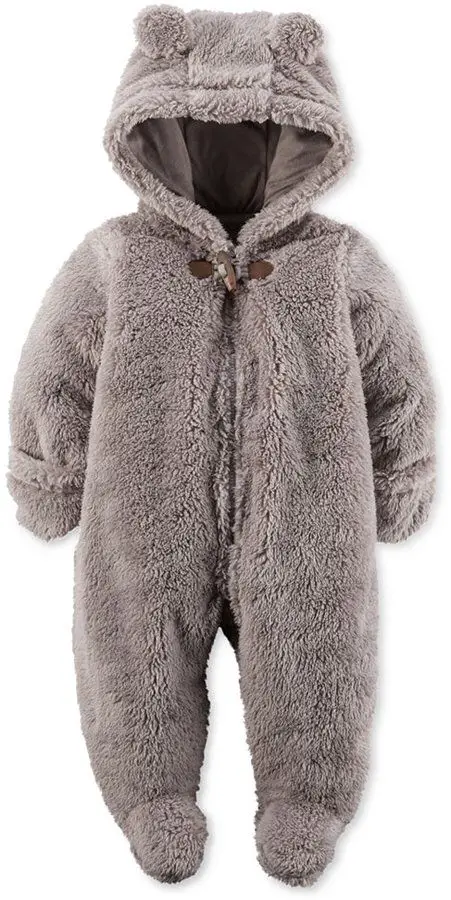 If you want a warm outer covering to cover your munchkin's hands and feet on very cold days, this baby Snowsuit is a perfect option. This snowsuit is lightweight, water resistant, and keeps your baby warm on outings. This is a favorite Snowsuit of many parents who prefer them for their young babies.
This Sherpa pram has fold-over hands and also consists of cute ears on the hood. This cozy suit is so nice that many parents reviewed that not soon after their baby wore this suit, they fell asleep. Also, this suit is only for babies up to 9 months, and older babies cannot wear it.
4- Obermeyer Kleine Baby Snowsuits.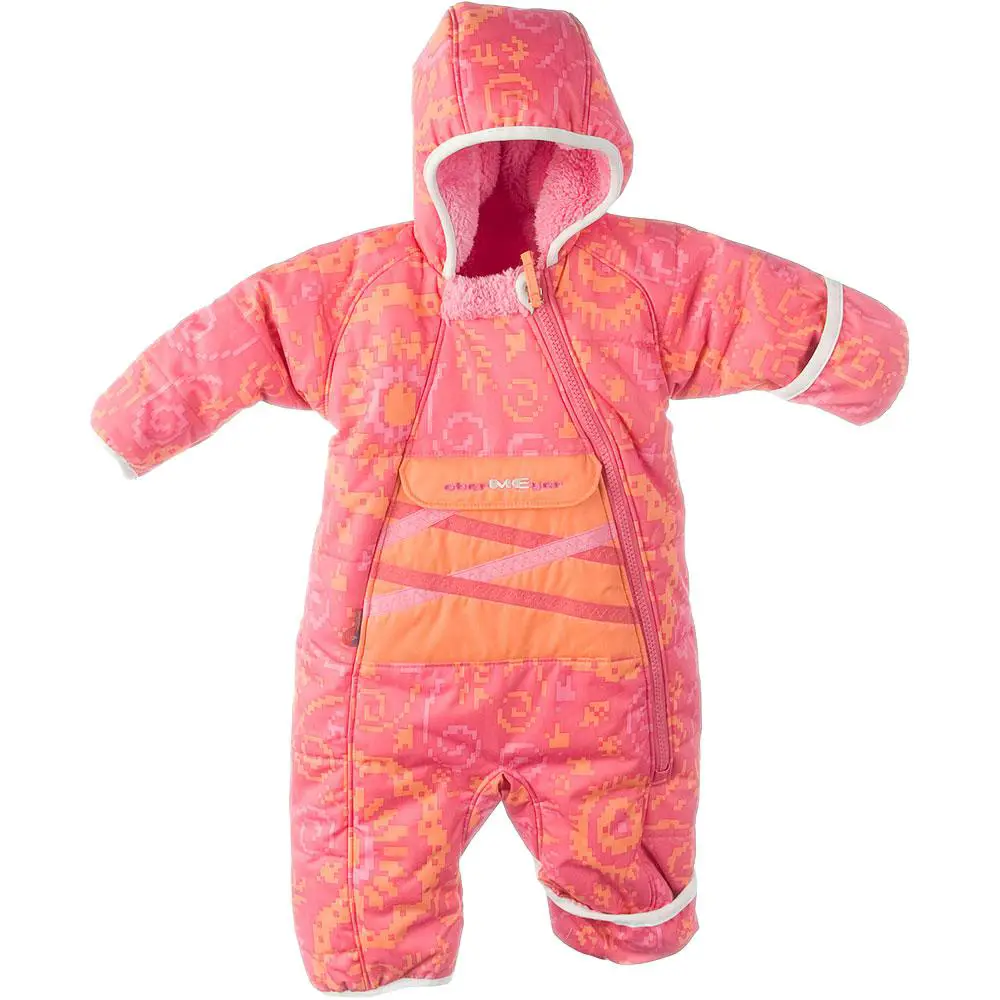 Obermeyer has managed to build its reputation for superior quality adult snow wear. Though these baby Snowsuits are expensive, they work great in cold weather. This snowsuit is very warm and works great for your baby.
The Kleine baby Snowsuit comprises double zippers, making it easy for babies to get in and out without any issue. Also, it's waterproof, windproof, and consists of cute ears on the fleece-lined hood. So, let your munchkin be ready for the outdoors in this cozy snowsuit.
5- The North Face Thermoball Eco snowsuit.
The North Face Baby Snowsuits have become very popular and are common outerwear for babies. This snowsuit is light in weight, environment-friendly, and will keep your baby's body cozy and warm on colder days.
This snowsuit works with boots so that your little munchkin can wear their snow boots much easier. It also contains synthetic fibers, which is great for babies with allergies as it's warm. Also, this baby snowsuit is not completely waterproof, so many parents may not prefer it for a long run in the snow.
6- L.L Bean Ultralight Snowsuit.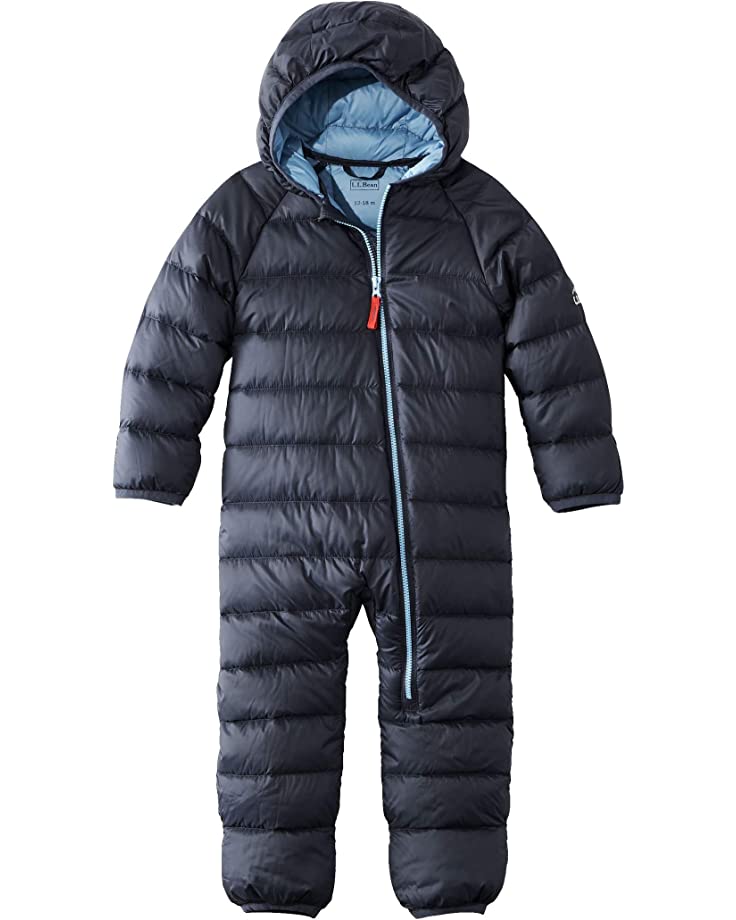 This snowsuit will surely provide warmth to your baby without being bulky. The outer and inner covering of this baby snowsuit is completely water resistant.
Its waterproof feature enables it to remain dry for a longer time, and being dry helps your baby stay warm outdoors. Also, its shielded hood and sock heater will surely keep your baby dry, warm, and happy. 
7- Hanna Andersson Baby Snowsuit.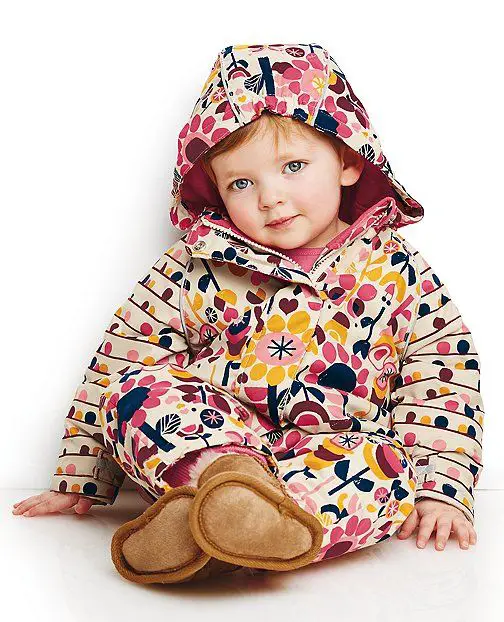 Hanna Andersson has been a very renowned brand for the past many years. It is well known for its soft and durable cotton features for children's clothing wear. However, the price of children's clothing is a little expensive but still in high demand.
This baby snowsuit is made of recyclable nylon, environment-friendly, water resistant, and windproof. So, you must grab these cute baby Snowsuits, which offer you superior quality in large sizes. It offers you a much better price than the low-quality brands prevailing in the market.
8- JJ Cole Bundleme baby snowsuit.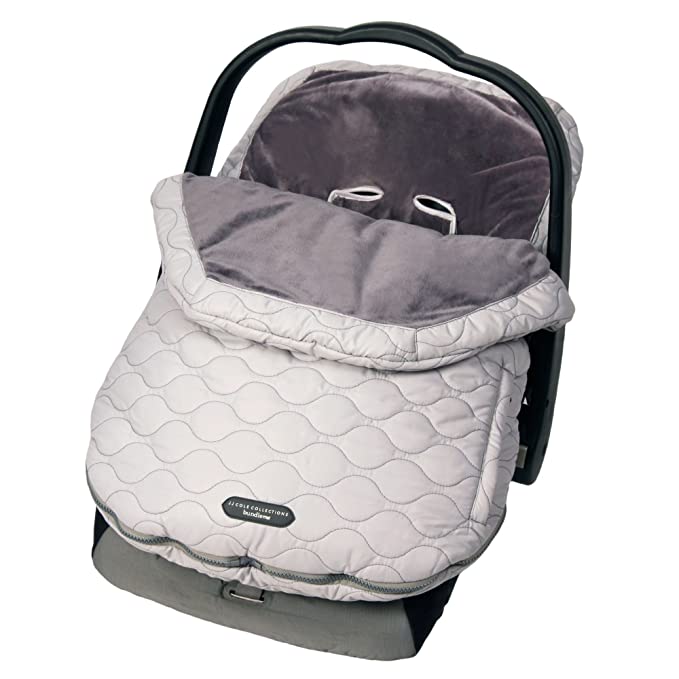 This baby snowsuit is quite cozy and comes in various colors, which is available at a reasonable price. You can easily zip it on or off as per the temperature. JJ cole also makes waterproof bags for babies.
This bunting bag is useful for young infants and can also be used with car seats. You just need to carefully follow the instructions to ensure your baby is safe. 
9- Patagonia Baby furry friends snowsuit.
This is a cute bear outfit that turns into a snowsuit. This adorable baby snowsuit is made up of fleece which can be recycled completely. So, we can say that this is an eco-friendly snowsuit too. Its elastic cuffs on both hands and feet enable your baby to easily walk or crawl.
This snowsuit consists of a zip from the neck to the ankle, making it easier to change the baby's diaper. But it's not waterproof or insulated, and very few color choices are available.
Cessation | Baby Snowsuits
As the winter months start, you need to consider your baby, keeping in mind the cold weather, especially during outings. Because Snowsuits are of great importance if you plan an outing with your little one during the coldest months of the year, it's best to prepare the perfect snowsuits for your munchkins to enjoy the outdoors.