How To Fix Crepey Skin? Know The Treatment, Causes, And Prevention
To get a detailed overview on how to fix crepey skin, the first few things we should be familiar with is- what exactly is crepey skin and what causes your skin to appear crepey.
The term crepey is given to this skin type because it resembles crepe paper. We are familiar with what crepe paper looks like. It's thin and wrinkled, similarly, the skin becomes wrinkled and thin in texture.
Although it looks quite similar to wrinkles, it is not always necessarily linked to growing age or old age. As we grow old, our skin grows old too and it appears flaccid and loose over time. Crepey skin usually affects very vast areas of your skin and makes them appear thin and more fragile.
The most common areas where you can feel the skin is crepey includes your under-eye region and upper inner arms.
Few Fast Facts On How To Fix Crepey Skin You Should Know
Few products can help you to treat different types of skin problems related to crepey skin.
You can make certain changes in your lifestyle that will prevent the occurrence of crepey skin.
You have to make sure your skin is hydrated if you want to get rid of or prevent crepey skin.
How To Fix Crepey Skin? Know The Causes
When talking about the causes of crepey skin to know how to fix crepey skin, you should know that this skin condition can occur due to genetics as well as your skin type. It is very common in older people and it usually appears in the late 40s of a person's age.
The most common reason due to which you can have crepey skin even at a young age is ultraviolet rays or radiations. It is said by the American Association Of Dermatologists that preventing your skin from harmful UV rays by limiting sun exposure helps in the prevention of crepey skin.
This damage to your skin can result from either using tanning beds or exposure to the sun without sunscreen creams.
Over time these radiations from the sun will damage and break the elastin fibers of your skin. Elastin fibers are the reason that your skin appears tight as these allow your skin to stretch and come back in its regular position.
These damaged fibers can even heal after exposure but a long-term exposure to sun and UV radiation coming from it will result in partial healing of these fibers due to which your skin appears loose and fragile.
If you have fair skin, you are more susceptible to acquire crepey skin types having wrinkles, low elastin, and damage. UV radiations are very harmful as the type UVB of UV rays can even cause cancer that is related to skin. Other than Sun exposure, few causes that can lead to the occurrence of crepey skin are:
Gaining or losing a large portion of the weight.
When the skin lacks moisture content.
Few medications you take, for example, Prednisone.
Deprivation from a good sleep.
Smoking regularly.
Poor nutrition and unhealthy mode of eating.
Overexposure to pollutants.
Other than these factors, aging is also responsible for crepey skin as when your skin gets old, the elastin and collagen fibers are produced in less quantity. Also, when you are aging, the skin will eventually produce less and less oil. Oils are important as they create a lipid barrier which is very crucial as it helps in sealing all the moisture content into your body.
Few changes in hormones also lead to drying of the skin and production of low oil content. Based on this we can conclude that dry skin is more susceptible to become crepey. If you are facing crepey skin that is visible in one season while vanishes in other seasons, the possible reason could be a lack of oil or low moisture locking in the skin.
How To Fix Crepey Skin? Know The Prevention Techniques
If you are very curious about how to fix crepey skin, you need to know various techniques that can lead to the prevention of such skin at first. You are now familiar with the causes that lead to crepey skin type, keeping that in mind, prevention is easily accessible to you.
The most reasonable and efficient way to protect and prevent crepey skin is by limiting sun exposure. You have to make sure your skin is not in direct contact with harmful UV radiation by seeking shades, wearing a sunscreen lotion, or wearing clothing that protects you from the rays. While going for sunscreen make sure you purchase one that has SPF protection or sun protection factor nearly 30 or above when you step outside.
As an individual age, they have to pay more attention towards a good skincare routine. Once you are in your 40s the skin is not able to generate as much collagen, elastin, or oil content as earlier that protects you from chemicals that generally result in causing irritation and inflammation in the skin.
Overexposure for Ultra Violet radiations we receive using tanning beds has been proved to damage the fragments of DNA in our skin causing cells to damage. This can also cause skin cancer and premature aging of the skin. It is highly advised to reduce their usage or do not use them at all.
We have shortlisted some prevention techniques other than sun exposure reduction to prevent crepey skin. These include:
Hydration On How To Fix Crepey Skin
Using an amazing moisturizer for your skin is mandatory if you want to protect it. Your skin also remains hydrated when you use moisturizer as it has the tendency to trap water under the skin. This will eventually lead to healthy and younger-looking skin. You can go for using tropical creams as these have high levels of retinol inside them. Retinol is proven to be very good for the restoration of skin's elastin fibers along with the thickening of collagen.
These factors may reduce the possibility of developing crepey skin in your body.
Nutrition
Have you ever heard what you eat shows on your face? It is very common and somewhat true. What people consume daily affects their skin highly. If you want to learn how to fix crepey skin and prevent it further it is important to have a balanced diet (Include colorful vegetables in your diet as these are full of anti-oxidants). Include the food items and nutrients given below:
Antioxidants such as flavonoids, tocopherols, and carotenoids.
Fatty acids having high omega 3 content.
Vitamins like C, D, A, and E. (Vitamin c is mainly important as it boosts collagen levels)
How To Fix Crepey Skin Using Home Remedies Naturally
There are few natural methods and home remedies that have been useful for many people in their treatment and prevention about how to fix crepey skin. Tips to follow include:
Massaging your arms, legs, and face.
Getting into a daily dose of physical workouts.
Reduction in stress levels.
Using natural ways like moisturizer prepared from honey and mud.
Make a homemade scrub by mixing olive oil and sugar and use it as an exfoliator to treat your skin.
When trying any of the tips given below or other tips you have heard or read it is important to have a conversation with your dermatologists because all the ingredients might not be suitable for your skin type.
You may use products having glycerin or hyaluronic acid, these both can help you in preventing the appearance of crepey skin and improve the overall quality of your skin. These ingredients have the ability to hold the moisture content due to which the skin remains hydrated for a long time and looks plumpy.
You have various oils at your house, if you feel like using them, go for it and know how to fix crepey skin using oils. The common oils use may refer are coconut oil, cocoa butter, olive oil, etc. The use of cocoa butter provides you with moisturized and healthy-looking skin.
How To Fix Crepey Skin Using Various Treatments
The main question that arises in your mind after going through the causes and preventive measures is that how to fix crepey skin that is already present on your body? There are multiple ways of treating crepey skin and improving the health of your skin.
The skin type you have, the causes of crepey skin in your body, and the location where crepey skin is visible are certain factors that will help you determine which among the following treatments will be beneficial for your skin. Regardless of whatever method of treatment you are going for, it is important to note that the sooner you are choosing and implementation treatments to treat crepey skin, the easier it becomes to witness a noticeable change in its texture, appearance, support, and thickness.
Before proceeding with any treatment techniques you see online, consult your dermatologist to know your skin type and then take advice from the on which treatment you should proceed.
Treatments By Dermatologists On How To Fix Crepey Skin
Treatments highlighted and often used by expert dermatologists for the treatment of crepey skin includes these treatments:
How To Fix Crepey Skin Using Tropical Retinoid
The presence of retinoids in either gel or cream you are using is important for treatment because retinoids are proven to encourage exfoliation in your skin and speed the turnover of cells.
However, it is very important to understand how to fix crepey using retinoids because these products should be taken after prescription and proper precautions along with a moisturizer that hydrates your body. Without any of these, it can worsen the condition of crepey skin by drying your skin more than earlier.
Fraxel or Fractional Laser Treatment
This treatment is performed by experts and includes heating of small areas present in your skin using lasers. This treatment is beneficial because it helps in increasing the collagen content under your skin and collagen helps in treating crepey skin. Collagen supports the skin along with providing a smooth texture to your skin that lowers the appearance of wrinkles.
When crepey skin is present under the eyes in the form of eye bags, this method of using fractional laser treatment works out the best as suggested by Dr. Kassouf.
Ultrasound Or Ulthera On How To Fix Crepey Skin
This process is quite similar to the previous one that is fractional laser treatment as it helps in tightening the skin by using ultrasound that helps in heating the tissue having supportive functions under the skin. Intense heat provided by this procedure leads to the breaking down of some cells and stimulating the extension of collagen that leads to skin tightening.
Ulthera or ultrasound treatments are typically designed to be used on the skin of your face and neck, they are not widely used for treating upper arms crepey skin. The reason behind this is the topical anaesthetics are not effective when it comes to upper arms. The nerves present in the upper arms usually make this treatment difficult for the experts and uncomfortable to the individual having crepey skin.
Cryolipolysis or CoolSculpting
It is a bit different from the above-mentioned methods as it uses noninvasive methods that are used for removing areas of fat that are localized. This treatment is done by freezing the lipids present inside the fat cells which causes them to dissolve at slow rates.
The process Cryolipolysis is often used when the loose or wrinkled crepey skin is preset over layers of excess fats. The treatment involves skin tightening after removing excess stored fat underneath the surface of your skin.
Fillers
A Biostimulatory agent of filling such as Sculptra or Radiesse can aid in the improvement of the appearance of crepey skin. These can also lead to improving the texture and thickness of the crepey skin you have. Fillers are injected into the skin of an individual which aids in stimulating the growth of excess or adequate collagen in their skin.
You can always visit any dermatologist in your area and find out more about which treatment is suitable for you.
Red Light Therapy On How To Fix Crepey Skin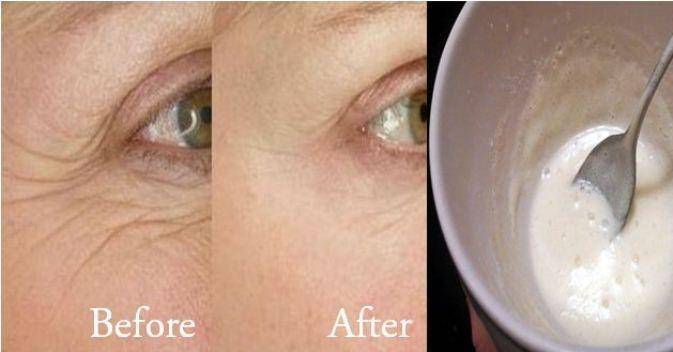 Red Light Therapy or RLT is popularly known as LLLT ( Low-level Light Therapy) is a popular treatment and created as an alternative to the above-mentioned laser treatments as they are slightly painful and this one does not cause pain.
It is used to treat skin-forming and wrinkles. It is better because it does not cause any damage to the surface of the skin that is painful. It gently penetrates along the deep layers of your crepey skin to help in repairing it from the inside out.
You can expect an RLT treatment in medical offices if the skin condition has become more serious including skin conditions involving psoriasis or wound healings. There are some devices available in the market that can help you perform it at home itself under guidance if the level of crepey skin is very low.
Over-The-Counter Treatments On How To Fix Crepey Skin
If you have a skin type that is highly damaged along with signs of aging, you can use products like retinoids that can benefit your skin. Ingredients such as alpha hydroxy acids and peptides are important along with using retinoids.
You can include them in the skincare products you are already using. They will aid in the growth of new cells under your skin and removing damaged or dead cells. Acids like lactic acid, glycolic acids, salicylic acid, and hyaluronic acids are often considered as best moisturizers for crepey skin, these make the skin more plumpy and naturally beautiful.
If you want to know how to fix crepey skin on your legs or underarms skin, you may use body moisturizing agents such as Lac-Hydrin or Amlactin as both of these have high ammonium lactate content which is highly beneficial when it comes to fixing crepey skin.
If you have a constant acne problem, follow these 15 remedies to have clear and beautiful skin.