People that live in places that are surrounded by woods, as in forests, or if you live in a place where the winters get extra cold, then you must be always in the need of cutting things up.
Mostly, these things would be trees. And not necessarily, healthy full-grown trees.
You might face the need to cut up timber or just any wood, to do a lot of different things. The most common thing being cutting up wood for the fireplaces in your house or to fuel fires for bonfires when you spend some bonding time with your friends and family.
Burning the wood is not the only reason that might want to cut up trees either. The wood can come in handy to build furniture or other such stuff where wood is required. Cutting wood goes on a large scale throughout the world.
The big trees are cut down to make space for buildings or farms or other things for humans to colonize. The big blocks of wood even come in use to build houses.
So when so many things are done through cutting woods, the question arises, what is used to cut them?
Best Electric Chainsaw | Info
What Are Chainsaws?
The best way to cut the heavy, dense and thick pieces of wood, is to use a chainsaw.
Chainsaws are machines that have a set of teeth that are stuck on a rotating chain.
When these rotating teeth put pressure on a surface while rotating, you get a fresh clean-cut piece of wood.
Did you know that chainsaws were first invented to help in the birth of children in the late 18th century? When babies got stuck and could not come out through the pelvis, chainsaws were invented to make the removal of the pelvic bone easier.
So now that you know what chainsaws are and what they do, it is time to know about what are the classifications of chainsaws.
Chainsaws come in various different versions. There are mainly three types of chainsaws:
Gas-powered chainsaws
Electric chainsaws
Battery-powered chainsaws
In this article, we are going to discuss Electric Chainsaws and their different types and also the things you should keep in mind when you buy them.
Electric Chainsaws
Electrical chainsaws are chainsaws that work on electricity. Sounds lame right? Well to be precise, electrical chainsaws operate on an electric connection or more commonly, on a battery.
Electrical chainsaws are not as powerful as their gas-operated counterparts. But they are powerful enough to do the job they get assigned for. That is to say, you can easily spruce up trees with these chainsaws or you can trim tree limbs or cut a few light logs.
Electric chainsaws are very useful to handle small tasks like these and some other stuff around the house too. These are the chainsaws that can be easily used to cut up wood for furniture, i.e. something comparatively smaller in size but nothing big like entire roof structures. That job should be left to the professionals who are trained in that kind of a job.
Electrical chainsaws are further divided into two more categories. These two categories are:
Corded Electric Chainsaw and

Cordless Electric Chainsaw
Let us discuss what makes these two types of electric chainsaws different from each other and which one should look to purchase.
Types Of Chainsaws
Electric chainsaws are classified into two categories based on the source that they receive their power to operate. Both of these categories have their own advantages and disadvantages as any other device does.
When it comes to the decision on how to choose between these two types, i.e. either Corded or Cordless, you must choose according to your preference and the tasks you are going to perform using these machines.
If you are worrying over whether you would be able to operate a chainsaw on your own without any professional training, worry not, there are chainsaws that can be used without any prior training too. You just need some basic knowledge about the workings of the chainsaw.
But also keep in mind that when it comes to chainsaws that you cannot operate, strictly leave that to the professionals and don't try to operate them.
Read ahead to find out which option would suit your needs best and what tasks you can carry out using these tools. The following information would hopefully help you in making the purchase of the Best Electric Chainsaw according to your needs.
Corded Electric Chainsaw
As is obvious from the name, corded electric chainsaws require a cord that is attached to a power outlet. These power outlets should be of at least a minimum power of a hundred and ten volts.
As these chainsaws operate on an electrical connection, they are more powerful than their cordless counterparts. These chainsaws can be used to carry out tasks like trimming tree branches and stuff. The corded electric chainsaws' weight ranges from 6 pounds to even 17 pounds in certain products.
Advantages of Corded Electric Chainsaws:
They generate more power than cordless chainsaws.

Because of using a cord, you do not have to worry about recharging the chainsaws over and over again.

These chainsaws are cheaper than cordless ones.

Some corded chainsaws come with an automatic bar oiler which minimizes the requirement for maintenance of the chainsaws as you would not need to oil or lubricate them repeatedly.

They are light in weight and pretty easy to handle.
Disadvantages Of Corded Electric Chainsaws:
Because these chainsaws are corded, they will restrict your motion. Even with extension wires, there is just so much distance you can cover.

The cord can become a nuisance and get in your way of work.
So that concludes that corded chainsaws do not really have many disadvantages, the only one being the restriction because of the cords, which could be a significant point while purchasing them. But the advantages far outweigh the disadvantages, I'd say.
Cordless Electric Chainsaw
The cordless electric chainsaws are powered by batteries, so that makes them portable. The cordless versions used to be weaker compared to the modern versions.
Nowadays, they are almost as powerful as corded chainsaws. A cordless electric chainsaw weighs usually between 5 pounds to 15 pounds.
Advantages Of Cordless Electric Chainsaw:
Being cordless, you can take these chainsaws anywhere to cut, there is no problem of getting restricted to just some distance.

You do not have to go through the hassle of handling the cords like in corded chainsaws.

They are suitable for cutting up lightweight firewoods, shrubs, and other such small plants.

Only take around an hour to get completely charged.

Light in weight.

There is a button that is provided on the chainsaw's frame. This helps you to retighten the chain if it gets loose.
Disadvantages Of Cordless Electric Chainsaw:
They have less power than the corded chainsaws.

They are costlier than their counterparts.

You need to either carry extra batteries with you or recharge them constantly because the battery power can only last for so long.

These chainsaws can get a bit costly due to the use of batteries which are of very good quality. And you would need to pay more money for additional batteries too.
So as is apparent, cordless electric chainsaws have a number of advantages as well as disadvantages. If you are unable to make a choice based on these factors, we will further discuss the features that an electric chainsaw has.
Which type of electric chainsaw is better?
The electric chainsaw comes in two different types: Corded electric chainsaw and cordless electric chainsaw. A corded electric chainsaw as the name suggests requires a power cord to be connected throughout the operation. The cordless electric chainsaw works on the battery which needs to be charged from time to time. Both types have their own set of advantages. Which one is better for you completely depends on your work requirements.
Corded chainsaw is the best alternative to a gas chainsaw. It cannot beat gas chainsaws in terms of power produced but it still can be used to cut average-sized trees. Being corded you don't have to worry about running out of battery. One disadvantage is as it is always bounded with cable, the work area is restricted. It cannot be used outdoors if you don't have a power source nearby.
Cordless chainsaw beats the corded chainsaw in terms of reachability. As it has a rechargeable battery you can carry them outdoors and trust me it is one biggest positive. Though the battery life isn't always the best. Most of the cordless chainsaws last up to 1hr. It comes with different power levels but it is not as powerful as the corded one. Cordless chainsaws are the most compact and lightweight options available to buy.
Both cordless and corded chainsaws beat gas chainsaws in most of the segments except power. Both electric chainsaws require almost zero maintenance, are lightweight and compact. Both electrics save lots of pollution and noise. Therefore you have to choose which one suits your needs the most. So with that being said, let us end the confusion and jump straight away to the conclusion.
Electric Chainsaw on Amazon | Review
| | |
| --- | --- |
| Brand | Oregon |
| Bar Length | 18″ (45cm) |
| Item Weight | 12.6 pounds |
| Item Dimension | 18 x 37.5 x 10.5 inches |
| Power Source | Corded-Electric |
| Voltage | 120 Volt |
| Customer ratings | 4.5 out of 5 stars |
The first Electric Chainsaw is one of the best electric chainsaws on this list. Oregon CS1500 Corded Electric Chainsaw is tagged as Amazon's Choice, as it is highly recommended by Amazon because of the low pricing and better features at this range. Oregon CS1500 Corded Electric Chainsaw is better at Maneuverability, it is safer and easy to use.
Speaking about its features, the good part is it is very quiet during cuts and much quieter than any gas saw. It requires no assembly, the package comes with well-assembled parts. The guide bar we gate is one of the best bars you will get, the guide bar is 18" long, this company provides its guide bar to many electric Chainsaw manufacturers.
The Guide bar has PowerSharp with it, this will save your time to sharpen your chain right away. PowerSharp will take 3 or less than 3 seconds to sharpen the chain. You can directly sharpen it while you are on the job. Along with this quick sharpening system, this machine has the ability to start instantly without any add on i.e. Oil, gas, etc.
Oregon CS1500 Corded Electric Chainsaw has a built-in lubrication System, so there's no need to keep oiling the chainsaw while using it. The system reduces friction and increases the efficiency of the Electric Chainsaw. Apart from that, the design of this chainsaw makes it well balanced in terms of weight and more comfortable to use.
Over this, the handle makes the grip tighter and comfortable to use, all these balanced features eliminates the high vibrations issues. With this efficient system, it has a tool-less chain tensioning system. This system has one red knob from which you can tension the chain. All this makes it flawless and puts it in the category of Best Electric Chainsaw.
Amazon Review
The review section is appreciating this product, globally 3,404 people have reviewed this product and expressed their experience in the comment section. Out of all those 3,404 people, 75% of them Loved this Electric Chainsaw and rated it as best of all. 75% of the ratings you will find on Amazon will be rated 5 out of 5 stars.
According to the features, it has 4.7 stars for safety features, 4.6 for maneuverability, 4.6 for useability, and 4.4 stars for weight balancing. Out of this only, 4% of people rated it 1 star and some of them rated it such a low rating just because of its complicated structure and that can be resolved by reading manuals.
Let me pick out some flaws from this product, usually experienced by customers after long use, in many cases, people experienced a motor failure during their job. Many people experienced chain off very frequently and it was a serious issue at a point. But support from Oregon was great and many of the problems were resolved afterward.
After heavy usage too, this machine played the role of beast and this was quoted by an Amazon Customer.
Frequently Asked Questions
Does this chainsaw have metal drivers?
Ans. Yes! All drivers of Oregon Electric Chainsaw are made of metal.
2. Oregon Electric Chainsaw has what type of protective cover?
Ans. The protective cover of the Oregon Electric Chainsaw is made of plastic.
| | |
| --- | --- |
| PROS | CONS |
| It has an 18-inch long guide bar which is perfect for every job you can do. | A significant part is made of plastic |
| It has a tool-less chain tensioning system, it becomes more convenient to chain it up. | Rarely but chain popping off is experienced. |
| Its special Power sharpening system helps you to sharpen the saw at the moment you are on the job. | |
| This machine needs nothing like a pull cord or gas oil to start, it starts very quickly. | |
| The design of this machine makes it more light and comfortable to use. | |
| The noise of this chainsaw is much silent during cuts. | |
Oregon CS1500 Corded Chainsaw: Buy Now
| | |
| --- | --- |
| Brand | Dewalt |
| Bar Length | 12" (30.48 cm) |
| Item Weight | 8.8 Pounds |
| Item Dimension | 25 x 9 x 9 inches |
| Power Source | Battery Powered |
| Voltage | 20V |
| Customer ratings | 4.7 out of 5 stars |
The #1 best seller Electric Chainsaw available on Amazon, DeWalt 20V XR Chainsaw is the Best Electric Chainsaw you can get at $179. It is top-rated because of its best maneuverability, safety features, and LightWeight.
DeWalt Offers a 12″ Oregon bar and chain which is best in the present time. The Chainsaw runs with a speed of 25.2 feet per second because of its high-efficiency brushless motor. The design of DeWalt makes it lighter and balances the weight throughout the machine. All this sums up to make it an efficient Electric Chainsaw.
This Electric Chainsaw works on a battery, this machine is included in DeWalt's 20V unit where you will find 100+ products using the same type of battery so in need you can take it from any of those products. The battery of DeWalt is sold separately, wherewith you can buy the battery for $219.52 on Amazon.
After being a machine with compact user control, it comes with an extra add on feature, tightening knob makes it easier to maintain the tension, and makes it a tool-free chain. The package rarely includes any tool item.
Amazon Reviews
As this product is topping the bestseller list, so you can understand that the reviews section will be full of appreciation. Still, I'll cover the exact ratings of DeWalt Electric Chainsaw. For Maneuverability, safety features, and weight, it is rated as 4.8 and 4.7 stars for both respectively.
From over the globe, 5,402 people have reviewed it and expressed their feelings in the review section. Here 82% of reviewers have rated it 5 stars as people loved its battery life. Mainly people loved how this product cancels out the noise while cutting, and makes it quieter than a gas chainsaw.
But, after all those good features you can face oil leaks after usage, as many of the reviewers mentioned this problem. Other than that, the cap of the oil filter is so tight that you cannot unscrew it easily and this is the issue reported by many customers.
Frequently Asked Questions
Does DeWalt Electric Chainsaw come with a case?
Ans. No, Dewalt Electric Chainsaw comes only with machines in the package.
2. What is the highest length of the bar that we can fit in this chainsaw?
Ans. 12" is the longest bar you can fit in a DeWalt Electric chainsaw.
| | |
| --- | --- |
| PROS | CONS |
| This product is included in the Dewalt 20V System. | Chain Oil leakage problem |
| The machine is much quieter than a gas chainsaw. | |
| It comes with a tensioning system. | |
| | |
| It has an Oregon Guide bar. | |
DEWALT 20V MAX XR Chainsaw: Buy Now
| | |
| --- | --- |
| Brand | Greenworks |
| Bar Length | 10 inches |
| Item Weight | 7.9 lbs. |
| Item Dimension | 24.8 x 8.07 x 12 inches |
| Power Source | Battery Powered |
| Voltage | 24 Volts |
| Customer ratings | 4.5 out of 5 stars |
The Greenworks Cordless Chainsaw is another best electric chainsaw that is Amazon's choice product. Even this chainsaw stands on the list of best electric chainsaws. It may seem a little more expensive than other chainsaws as it comes for $133.87. However, the features justify the price.
The chainsaw comes with a 24 Volts lithium-ion battery that is compatible with indoor as well as outdoor tools. The best part about this product is that it comes along with a battery and a charger as well. There are many chainsaws that come without a battery and charger.
With this electric chainsaw, you don't have to worry about adjustments as you don't need any separate tool to make tension adjustments so that you can do your work quickly. It also comes with an automatic oiling system that keeps the chainsaw always lubricated.
The automatic oiling system also ensures the durability of the product and helps to extend the life of the electric chainsaw. There is a translucent oil tank that enables you to keep an eye on the oil level. It is pretty much the most versatile system out there for a suburban home.
Amazon Reviews
Being one of the best electric chainsaws on Amazon's Choice list, this product has a rating of 4.5 out of 5 stars. It doesn't have as many reviews as the other chainsaws but has a total of 886 global reviews. Out of these only, 6% have rated below 3 stars.
The reviewers have rated maneuverability and lightweight equally with 4.7 stars. On the other hand, battery life has a rating of 4.3 stars which is also a good thing. Talking about the reviews on Amazon like the other products even this one has a few negative reviews along with the many positive ones.
Most of the reviewers who have posted a negative review said that the chainsaw didn't work after a few uses. One of the customers said that they didn't like that the outer casing is made of plastic as it is weak.
Apart from these negative comments, a good number of users have loved the product. Most of the reviewers love the fact that the chainsaw can cut surprisingly large sizes. People find it very easy to operate and simple to understand.
Frequently Asked Questions
Is there a variable speed trigger in the chainsaw?
Ans. No, the Greenworks chainsaw does not have a variable speed trigger.
2. Does the chainsaw need any specific oil?
Ans. You can use any chain oil for lubrication.
3. Do I need to assemble the chainsaw?
Ans. No, you don't need to assemble as the product comes fully assembled.
| | |
| --- | --- |
| PROS | CONS |
| | There may be charging problems in rare cases |
| | |
| | |
| | |
| Quick tool-free tension adjustment | |
Greenworks Corded Electric Chainsaw: Buy Now
| | |
| --- | --- |
| Brand | Sun Joe |
| Bar Length | 14 inches |
| Item Weight | 7.7 lbs |
| Item Dimension | 32.3 x 9.05 x 7.87 inches |
| Power Source | Corded Electric |
| Voltage | 120 volts |
| Customer ratings | 4.3 |
This model of the Sun Joe electric chainsaw is amongst the best buys because of its value for money. Its price is just $44.19
This model comes with the unique feature of a very low kickback. One of the most attractive features of this chainsaw is its safety switch which protects the user from accidentally starting the chainsaw when they did not mean to.
It has great maneuverability, is easy to use, and is light in weight. It comes with a 9amp powered motor and has a 14in (35.6 cm) bar and chain. And it has an oil tank capacity of 4fl oz.
Amazon Reviews
This product has been loved by almost all the people who used it and reviewed it. It has an overall rating of 4.3 out of 5 stars and over 1026 people have rated it globally.
A majority of those people, i.e. 65% gave it 5-star ratings while 16% gave it 4-star ratings. It has 4.6/5 ratings for both ease of use and value for money. Whereas, it got 4.5/5 stars for lightweight, 4.3 for Maneuverability and 4.1 for its safety features.
The reviews the customers gave it were exceptional but no product is without flaws. The parallel bar to chain caused some difficulties for some people but that is an issue that is easily resolved.
But overall, the people said that the only issue with using this product might have been their own inexperience with chainsaws and nothing else.
Frequently Asked Questions
Where can one find a replacement chain? And what are the specs?
Ans. The part # for the chain is SWJ699E-73. You can order it online at snowjoe.com or by phone at 1-866-766-9563.
2. Is it 120V or 220V?
Ans. It has 120V CA
| | |
| --- | --- |
| PROS | CONS |
| It is very light in weight with just a weight of 7.7 pounds. | The parallel bar to the chain can cause issues sometimes. |
| It has a powerful 9amp motor. | It takes time to stop after it's switched off, so there is a need to be extra careful. |
| Safety switches to protect from accidental starts. | |
| It has a very low kickback. | |
| | |
Sun Joe Master Electric Handheld Chainsaw: Buy Now
| | |
| --- | --- |
| Brand | Black + Decker |
| Bar Length | 10 inches |
| Item Weight | 7.6 lbs. |
| Item Dimension | 16.69 x 9.63 x 8.81 inches |
| Power Source | Battery-powered |
| Voltage | 20 Volts |
| Customer ratings | 4.5 out of 5 stars |
The BLACK+DECKER 20V Max Cordless Chainsaw is one of the products that is rated as Amazon's choice. It is one of the finest quality chainsaws available out there in the market. The electric chainsaw costs $99.45 which is a reasonable price given to the features and quality it renders.
The electric chainsaw has a 10 inches long premium Oregon bar and chain. It has a low kickback which makes the chainsaw efficient for use. There are quick blade tension adjustments available without any use of a tool.
The product has an oiling system for lubrication of the bar as well as the chain. The oiling system makes the functioning of the chainsaw smooth and hassle-free. It is light in weight as it only weighs 7.6 lbs. It enables you to perform smooth and fast cutting.
The chainsaw has an automatic oiling system so that you don't have to bother about whether or not the oil is present in the appropriate quantity. You can rest assured as the automatic piling feature ensures that your electric chainsaw is constantly lubricated.
Amazon Reviews
The Black+Decker being on Amazon's Choice list has a rating of 4.5 stars out of 5. Being rated by more than 4 thousand customers on Amazon it stands in the list of the top 10 best electric chainsaws available on Amazon. It has only 6% of uses who have rated this product below 3 stars.
The item is one of those best electric chainsaws which has an excellent rating for being lightweight. Amazon users have rated 4.7 stars for being light in weight and easy to carry. Similarly, users have also said that it has great maneuverability as it has 4.6 stars. Lastly, users have rated battery life with 4.1 stars which is not bad.
As the product is an electric product there are some negative reviews about the technicalities. Some of the reviewers have said that they faced some problems with the oiling system of the chainsaw. While some have also said that the packaging did not include a battery.
Apart from that, there are more than 1000 positive reviews about the product stating that the chainsaw works great and they would recommend it to others. Other than that reviewers have said that the chainsaw cuts smooth and fast.
Frequently Asked Questions
Does the electric chainsaw come with oil?
Ans. No, the chainsaw does not come with oil, you will have to purchase the appropriate oil separately.
2. When to refill the oil?
Ans. You have to refill the oil when the level goes down below a quarter.
3. Does the chainsaw come with a storage case or bag?
Ans. No, there is no storage case or bag.
| | |
| --- | --- |
| PROS | CONS |
| | |
| | In rare cases, there may be oil leaks |
| | |
| Blade adjustments without any tool | |
| | |
BLACK+DECKER 20V MAX Cordless Chainsaw: Buy Now
| | |
| --- | --- |
| Brand | WEN |
| Bar Length | 16" |
| Item Weight | 10 Pounds |
| Item Dimension | 31 x 10 x 6.5 inches |
| Power Source | Corded Electric |
| Motor | 12 Amp Motor |
| Customer ratings | 4.5 out of 5 stars |
WEN 4017 Electric Chainsaw is highly recommended by Amazon itself, as Amazon has given Amazon's Choice tag. This chainsaw is recommended because of its light and well-balanced weight of 10 pounds. This allows the chainsaw for better Maneuverability. WEN chainsaw is easy to use and very safe to handle.
The life span of the chainsaw is extended because of its Auto oiling system, this Auto oiling system lubricates the saw frequently and increases the efficiency of the blade which allows it to rotate at 44 feet per second speed with the help of a 12A motor.
This chainsaw is a fully electric machine so it doesn't require gasoline for any purpose, basically looking forward to emission-free operations, and it was designed for indoor use only.
The 16″ of long Oregon bar helps to cut finely without making much noise, for safety purposes you will have a handguard. Whenever you feel the chain is losing its tension or the chain is popping off, again and again, the tensioning knob can fix it in a couple of seconds.
Amazon Review
One of the top-rated electric chainsaws or the best Electric Chainsaw has 4.5 stars. People have loved this Chainsaw saw because of its maneuverability, ease to use, and for its safety features. Users have rated 4.1 stars for value for money, 72% of 881 audiences has loved and rated 5 on 5 stars.
This product is only for indoor use only so the power capacity compared to other chainsaws is quite low. Apart from that, people also experience oil leakage problems, however, the auto oiling system is better compared to many other oil fillers.
Many people liked this product because of the pricing. Including all the safety and advanced features, you will get a chainsaw like this easily around $300, but this will cost you only $52.
Frequently Asked Questions
Does the package include chain oil in it?
Ans. No, you have to buy it separately.
2. Does the Chain popping issue occur?
Ans. Yes! But it can be resolved by changing the chain tension.
| | |
| --- | --- |
| PROS | CONS |
| WEN comes with a 16" Oregon Chain. | It is for indoor use only. |
| It has a powerful 12 Amp motor. | |
| It has a special tool-free chain tensioning system. | |
| WEN has an Auto oiling system. | |
| The scabbard is included in the package | |
WEN Electric Chainsaw: Buy Now
Best Electric Chainsaw | Buyer's Guide
Features To Help You Make A Choice
As with anything that is a machine, you need to make sure the features that you need from the device you are purchasing. So it becomes essential to know the features like power, design, speed, etc when buying a chainsaw. If the features you need from a chainsaw match a particular product, buy it.
So let us take a look at these features of a chainsaw.
Power
Different types of products provide you with a different power outlet.
The corded chainsaws operate within the range of seven to fifteen amperes. The corded chainsaws come in various power ranges. The 12amp or above ones are suitable for heavy workloads like cutting up trees. Of course, the 15amp would provide you with more power. On these chains, Amps/hour and HP are used to show the power of the motor.
The cordless types come in 20v and 40v variants. Obviously, the 40v ones will give you more power than the 20v chainsaws. The motor power is represented in volts(v) and HP on a cordless chainsaw. You can choose which power variant to buy as per your needs.
Design
There are various types of chainsaws available. For example, some chainsaws come with an anti-vibration feature that helps lessen the vibration as much as possible so as to not harm your hands.
The construction of the chainsaws becomes an essential factor while buying them. If you have a bigger budget you can opt for the metal frame otherwise, go for the polycarbonate material. Certain models are compatible with extra additions. If you are going to use tools like debarkers or milling machines, make sure your chainsaw can have these extensions.
Speed
The rotation speed of the chain plays a major role in determining what product you would need to buy. If you are going to do light work, 2000 RPM blade speed should be sufficient.
If not, then go for 3000 RPM speed. The speeds are sometimes represented as 40 FPM or 50FPM. So keep that in mind.
Handle
Like with the electric chainsaws, their handles come in two categories too. These chainsaws are either rear-handled ones or top-handled ones.
Rear Handle:
These chainsaws have a handle at the rear-end. Having the handle at the rear-end is helpful for cutting jobs that are going to be done while you stand on the ground. Such operations include cutting small plants or logs or trees of small size.
Top Handle:
When you have to do some cutting job, like while cutting up tree branches that are high up from the ground, chainsaws with top handles are used.
The chainsaws with top handles could be a bit difficult to use unless you are a professional and have received the proper training to use them. It is definitely not recommended for untrained personnel to use a top handle chainsaw.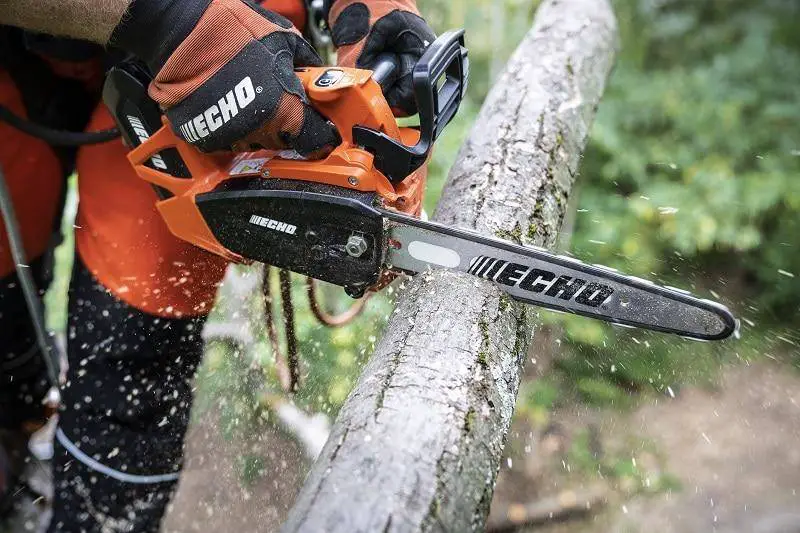 Durability
When you buy a product, one of the first and most important things to check about it is to check its durability. If a product is durable and if it is going to work for a long time, then you can even consider increasing your budget a bit.
The best to get information about a chainsaw's durability is to check its warranty. Most of the chainsaws come with 2 to 3 years of warranty. Some chainsaws even have a warranty period of up to four years.

So as it should be obvious, the more the warranty period is, the more a Chainsaw is going to survive.
Apart from the warranty period, something you can check to see if a chainsaw is going to last long is to check its quality. If a product is made by a renowned manufacturer, then chances are, it is going to last long. Chainsaws made from the hardest materials will serve you best.
Other Things To Look For
Apart from all these things, there are some other things that you should keep in mind while buying an electric chainsaw. These things are:
Weight of the chainsaw

The construction of the chainsaw

Price range and your budget

Ratings and reviews from other people who have used these products

Chain tension adjuster

Oiler or lubricating system

Chain brake system

Length of the blade
Best Electric Chainsaw | Basic Info
An electric chainsaw is a portable cutting tool similar to a hacksaw. In earlier days we had gasoline chainsaws which used to make a lot of smoke and noise. Electric chainsaws are an advanced version of gasoline chainsaws. Reliability, convenience, and safety made electric chainsaws popular in the current world.
Electric chainsaws are driven by an electric motor which can be either powered by a battery or power cord. A hacksaw has a saw blade, similar to that the chainsaw has a blade which is motorized. This blade is mounted on a chain which imparts motion to the blade. The electric motor drives the chain and in turn rotates the blade with teeths.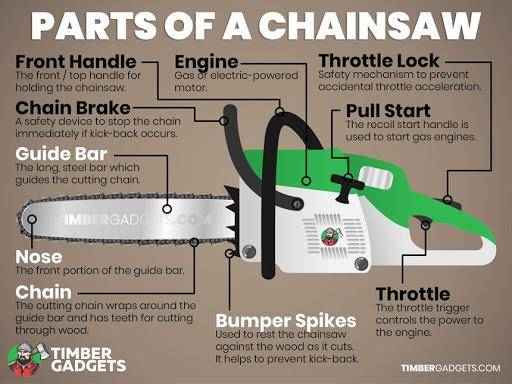 How to use an electric chainsaw?
Using chainsaws carelessly can be very dangerous and can have severe consequences. It is important to follow proper procedures to avoid any possible mistakes. All the chainsaws come with a user manual. It is advised to read the manual thoroughly once before using your new electric chainsaw. All the electric chainsaws work the same but do check out the user manual for any differences.
Here's the standard procedure you must follow to avoid any safety breaches.
Step 1: Inspect Your Chainsaw
Before commencing your work, it is important to inspect the chainsaw for any damage or lose parts. A loose tension can fly off the chain when operated. Make sure the teeth of the blades are sharp and undamaged. Check the oil levels if they are up to the mark or not.
The chain shouldn't be too tight or loose. You can check the tension by slightly pulling the chain below and then releasing it back. The tension is perfect if it seats back in the slot.
Step 2: Observe Surroundings and Yourself
Get familiarized with the work area. You should be able to take quick actions in case of any accident. Do not wear loose clothes as they can get caught in a rotating chain.
Step 3: Connect To The Power Source
If you have a chainsaw which needs to be connected via a power cord, connect the plug into a regular wall socket. If you are working outside, consider carrying an extension board or a generator. Some chainsaws are wireless which means they need to be charged before using Make sure it is charged.
Step 4: Test Run
Put the chainsaw on the ground, make sure its blades are above ground and free to rotate. Hold the chain saw firmly with one hand as the initial jerk can rotate the chainsaw. Press the power button and hold the throttle. Check once if it's working properly.
Step 5: Begin To Cut
Hold the chainsaw below shoulder height and start making your first cut. Never use the tip of the chain to cut. Apply steady pressure on the chainsaw. The RPM of the chainsaw will make the cut, not give excess pressure by your hands as it will make the blades blunt. Release the throttle once the cut is made.
Step 6: Power Off Chainsaw
After you release the throttle, put the switch to power off position and plug out from the socket. The chainsaw can get hot during operation. Keep it aside for 10 to 15 minutes before storing it so that you don't burn yourself.
Step 7: Storage
Storing properly can save you from a lot of damage. Make sure to lubricate the blades a little. It will prevent rusting of metal. Keep the blades wrapped or covered to keep it the same from foreign object damage (FOD).
Conclusion | Best Electric Chainsaw
Which of these two are best for you totally depends on your use and requirements. If you want a portable chainsaw for light work, get a cordless chainsaw. If you want something more powerful to work in your backyard, get the corded one.
Whatever your choice is, I have listed some of the best electric chainsaws you can buy right now. You won't go wrong with any of these as I have researched and gone through reviews and specifications to bring the best options for you. In the end, it's your choice.
Hopefully, all that information would help you in making the purchase of the best electric chainsaw available within the budget. So when you go to buy a chainsaw, purchase only the best product and never compromise.
After all, it is going to help you a great deal, whether it is for professional use or personal use. If you feel we missed anything or if u have any suggestions, do let us know in the comment sections.