25 ways Kendall Jenner street style looks can enhance your closet
Who doesn't know the gorgeous Kendall Jenner? Kendall Jenner is probably ruling the modelling industry which her fierce, pointed Diva looks and her dazzling fashion sense.
Kendall Jenner belongs to the multi-millionaire millennial family, the popular Kardashian/Jenner family. Among famous sisters like Kylie Jenner, Kimberly Kardashian, Kendall Jenner has managed to outshine everyone and chose a career for herself she's good at.
The gorgeous Diva has worked as a top model for Victoria's Secret Angel, a well-known prestigious modelling campaign or brand. She has also appeared as the cover face of many popular magazines and brands like vogue international.
Kendall knows to balance runway costumes and personal life articles of clothing. She is in contact with top fashion designers of Hollywood and the modelling industry. From strategic silhouettes to black leather bossy looks, she rocks them all to the finest level possible.
She has taken the "model off-duty" style to whole new level. She can go from a tiny crop top, a Goyard bag, and black flair pants to a full glam look without ever looking over the top or under dressed. Spoiler alert, she could make a trash bag look chic; but here are our favorite street style looks from Kendall thus far.
She also starred in a TV reality show "Keeping Up With The Kardashians". A popular show indeed. Also, Kendall Jenner is among the highest-paid models in the world right now. Let's check out some amazing Kendall Jenner street style looks that would want us to jump in the fashion stores one by one.
1. Bottega Veneta Wardrobe
While going for the Milan fashion week, The elder Jenner was spotted wearing this beautiful Bottega Venetta top which made her look like a boss ruling the streets. Kendall paired this mesmerizing top with simple black skinny pants from wardrobe NYC.
She went with square-toed heel boots that complemented her attire quite well. Good Choice Kendall. Kendall gave a glam touch to her look through a Mink Bag. This furry and cute bag went sleek with the outfit.
Not to forget Kendall Jenner street style looks must have tiny hoops. Just look at this minimal classy upfront look.
2. Trench style on point
Kendall Jenner never disappoints us through her styling. She rocks every outfit she wears.
This Kendall Jenner street style outfit is a must-have in every closet. She donned a leather trench coat with a black mini bodycon dress that went clearly well with the leather trench. Jenner paired her look with brown toed boots.
Not to mention the Pink Versace handbag looked pretty cool and worked as a statement for the entire look.
Rectangular canyon sunglasses looked gorgeous on this lady. Also, look at the supermodel bestie Gigi Hadid twinning with the trench. Ain't both the supermodels' friendship goals?
3. The Lean and Green Look
Kendall seems to rock every outfit she puts her hands on. This Kendall Jenner street style is perfect for parties and streets both. She wore this dress after-party while she was walking out. Never missing an opportunity to give us major closet goals, Kendall wore a beautiful green shiny two-piece suit.
Lime colour made her look prettier than ever. This amazing piece is from Saks Potts. Jenner paired it with minimal heels and a sober handbag not to outshine her pretty looking outfit.
4. Blondes be having a lot of fun lately
Again a two-way look. This Kendall Jenner street style outfit can be worn to a small party or gathering as well. The color block top looked agreeably nice on her blond hair.
She wore Black straight pants to complement the color block top and rocked the attire.
As usual, she never forgets to carry her minimal handbags with her.
5. Glorious Black Lover lady
This Kendall Jenner outfit seems to be perfect for walking on the streets during summer or spring. Kendall Jenner wore a black long shirt over black tight shorts and ended up looking glorious.
She sported a Staud brown bag, going well with the look. Jenner went with high-heeled boots to give her a chic look. She used gold earrings to complete the entire attire along with Alain Mikli's rectangular sunglasses.
Look at the vibes of this pretty dress.
6. The Linear Sophisticated Look
Kendall wore a super flattering Paris Georgia top that flaunted her body shape so nicely. This body-hugging attire made her look no less than a Diva.
Kendall is obsessed with black. She wore similar black straight pants that go with any outfit or tops. She also wore small hoop earrings not to make the look overdramatic.
Last but not the least, She went for her Staud brown bag and rectangular tortoise shades. Kendall definitely nailed this outfit on the streets.
7. Figure Flattering Yellow Dress
Jenner barely misses a chance to inspire us taking our closet to a next level through her looks. Kendall wore this amazing body-flattering outfit in yellow color. This pretty dress is from Bec and Bridge collection.
She wore not so dramatic heels that were nearly nude in color and styling that went crazily well with her minimalistic look.
Not to forget, Kendall Jenner Street style looks are incomplete without her trendy sunglasses collection. In this particular look, Kendall wore Velvet Canyon black sunglasses.
8. Purple Knit Top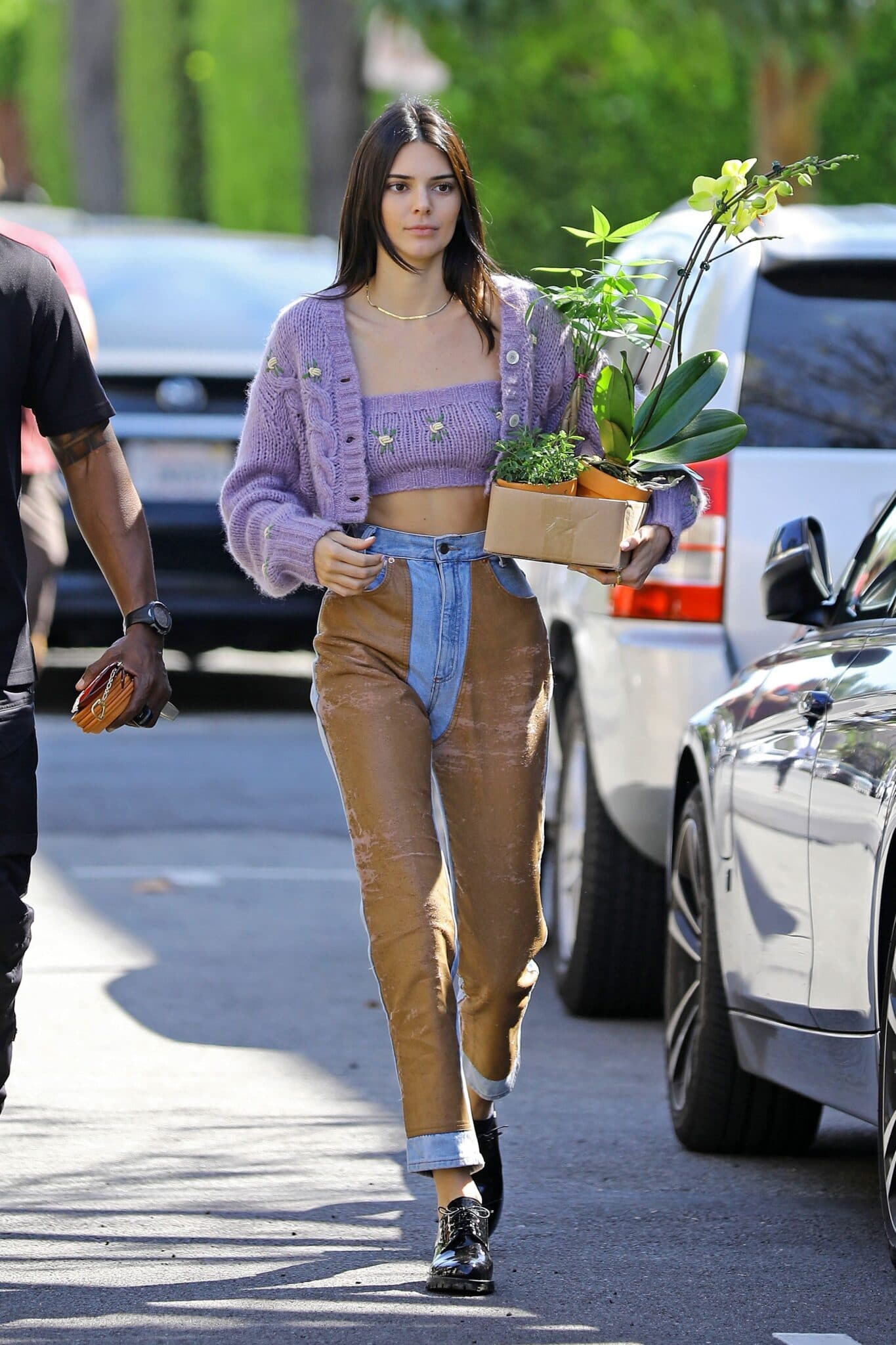 Kendall Jenner street style having purple top is best for a spring day out with homies. Kendall wore this purple knit bra jacket top with a pair of unique and beautiful jeans. This denim had brown patches all over the front and looked trendy plus unique.
She used a gold chain necklace with the top that made her neck appear beautiful than ever.
She wore black leather shoes to complete the outfit. A great spring day look it seemed to be.
9. Rainy weather Look book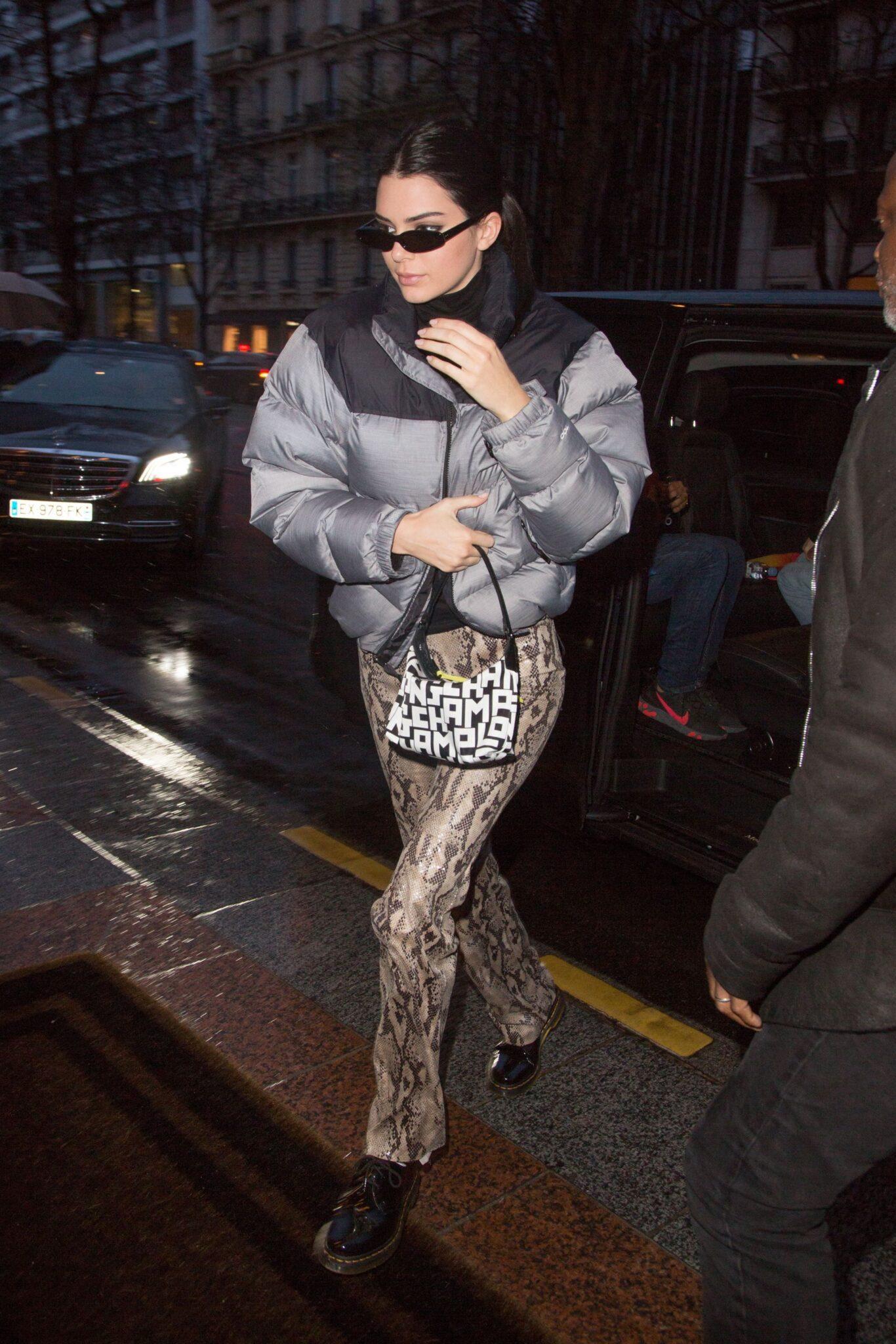 Kendall always makes sure she looks amazing and inspires us during the rainy days as well when we do not even want to jump out of our cozy blankets.
The diva wore a puffed, bundled silver colour jacket with a black turtleneck top. She went with unusual snakeskin pants that looked so trendy and super stunning. She carried a handbag with a printed unique design and furry black boots underneath her snakeskin pants.
This spiced up Kendall Jenner street style look would have been incomplete without her black shades, of course.
10. The Blazer Bossy Look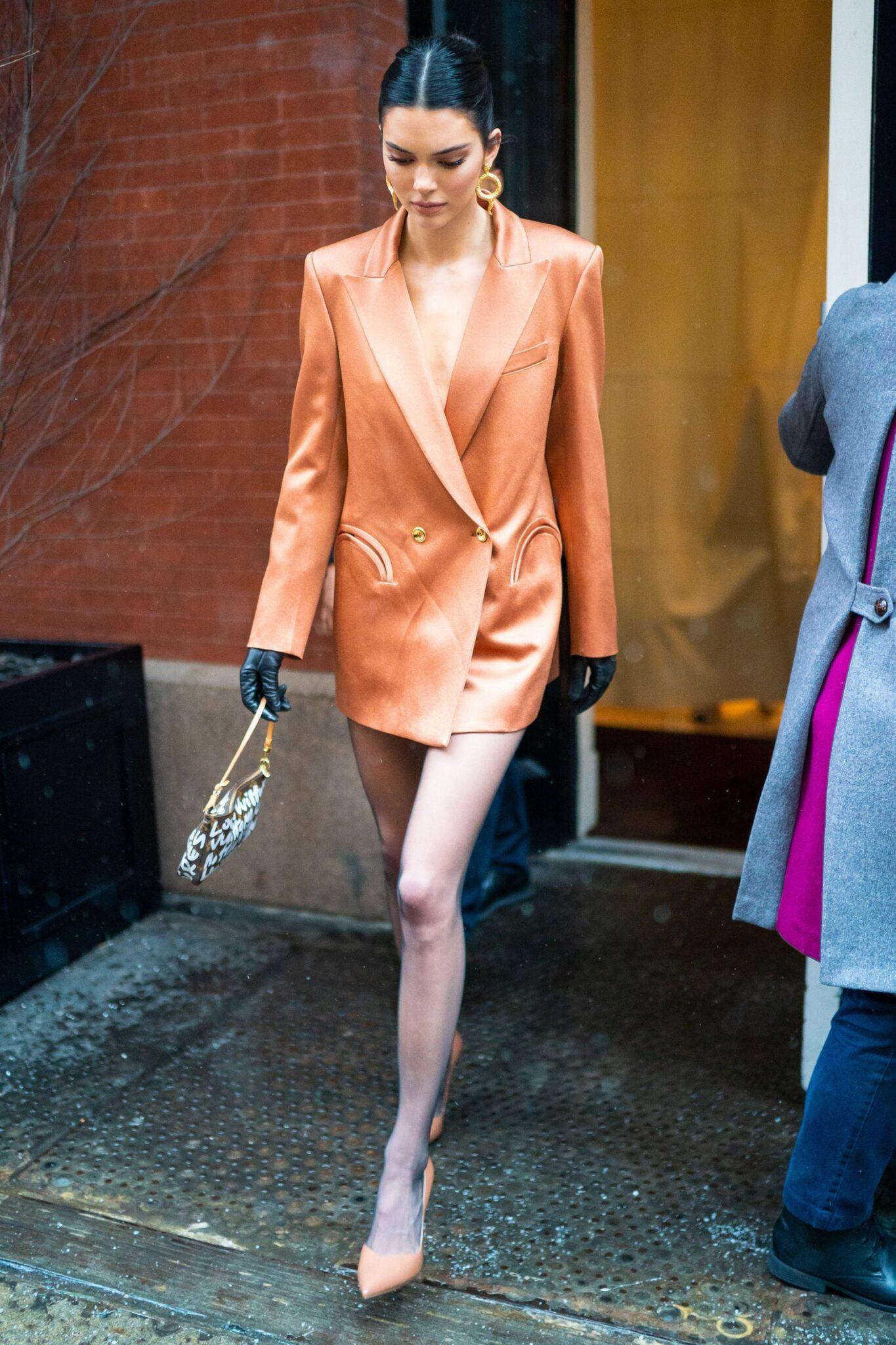 After going through this Kendall Jenner Street style look, I will definitely shop for a similar one. Look at this sophisticated, smart, and daring blazer outfit she is wearing.
It is so cool and trendy that our wardrobe must have a similar one. This orange Blazer dress is by Blaze Milano. An excellent design and choice. Kendall looked absolutely stunning and structured in this number.
She went for similar colored pointed heels and earrings to compliment this dress. Not to forget, she carried her minimal handbag as a statement creator.
11. Crazy Printed Look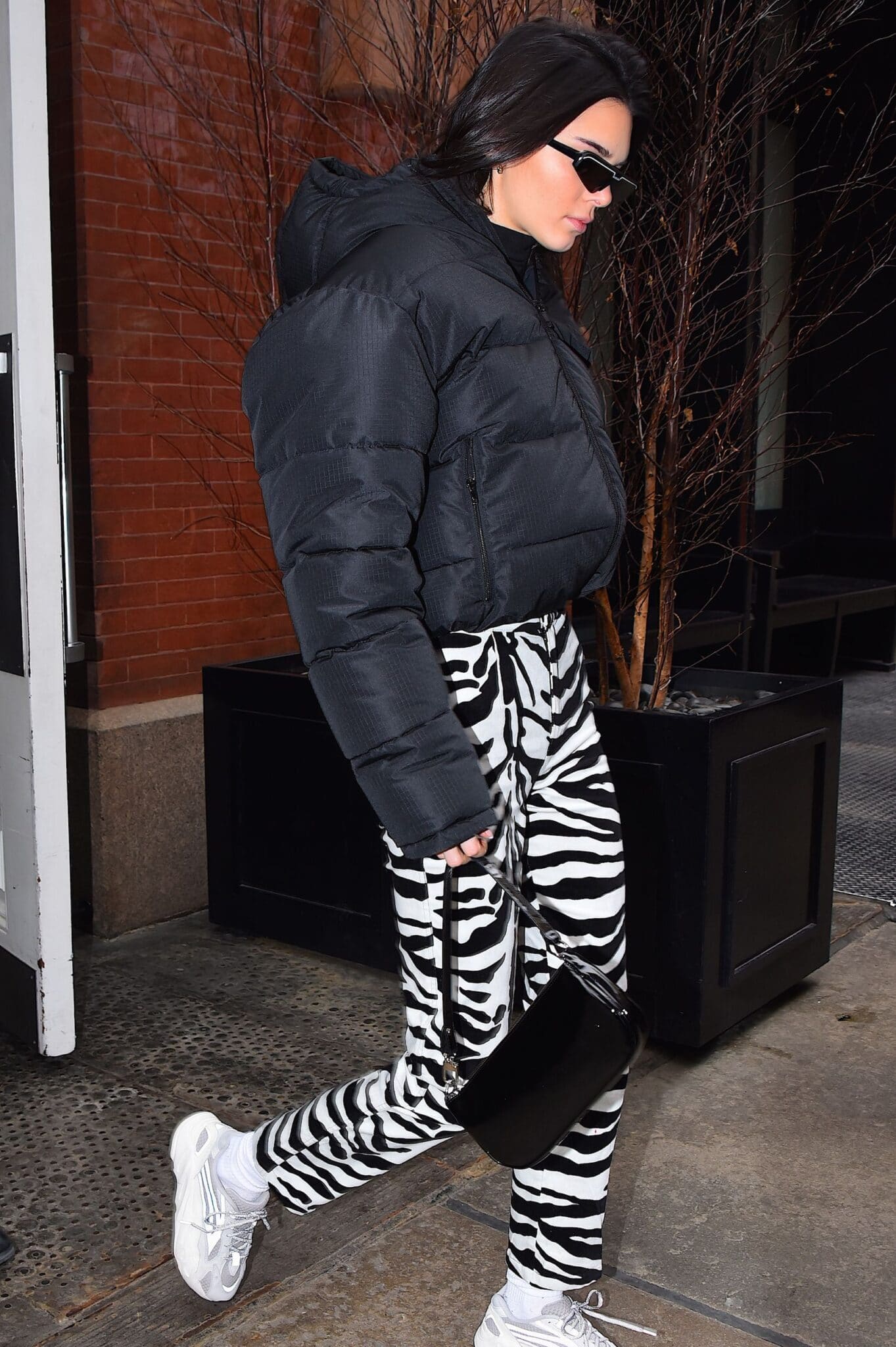 How can we expect Kendall Jenner Street styles without crazy prints? We definitely cannot.
Kendall wore these beautiful trendy looking zebra pants with this stylish cropped black puffer jacket. Her Dad sneakers complimented the outfit so brilliantly that it was worth giving it a stare.
As always, Kendall carried her black sling bag completely coordinating her look with those black gorgeous shades. She definitely throws sass around like confetti.
Her looks are so sporty yet chic at the same time.
12. Hot Coffee Attire (Go-to Kendall Jenner Street Style Look)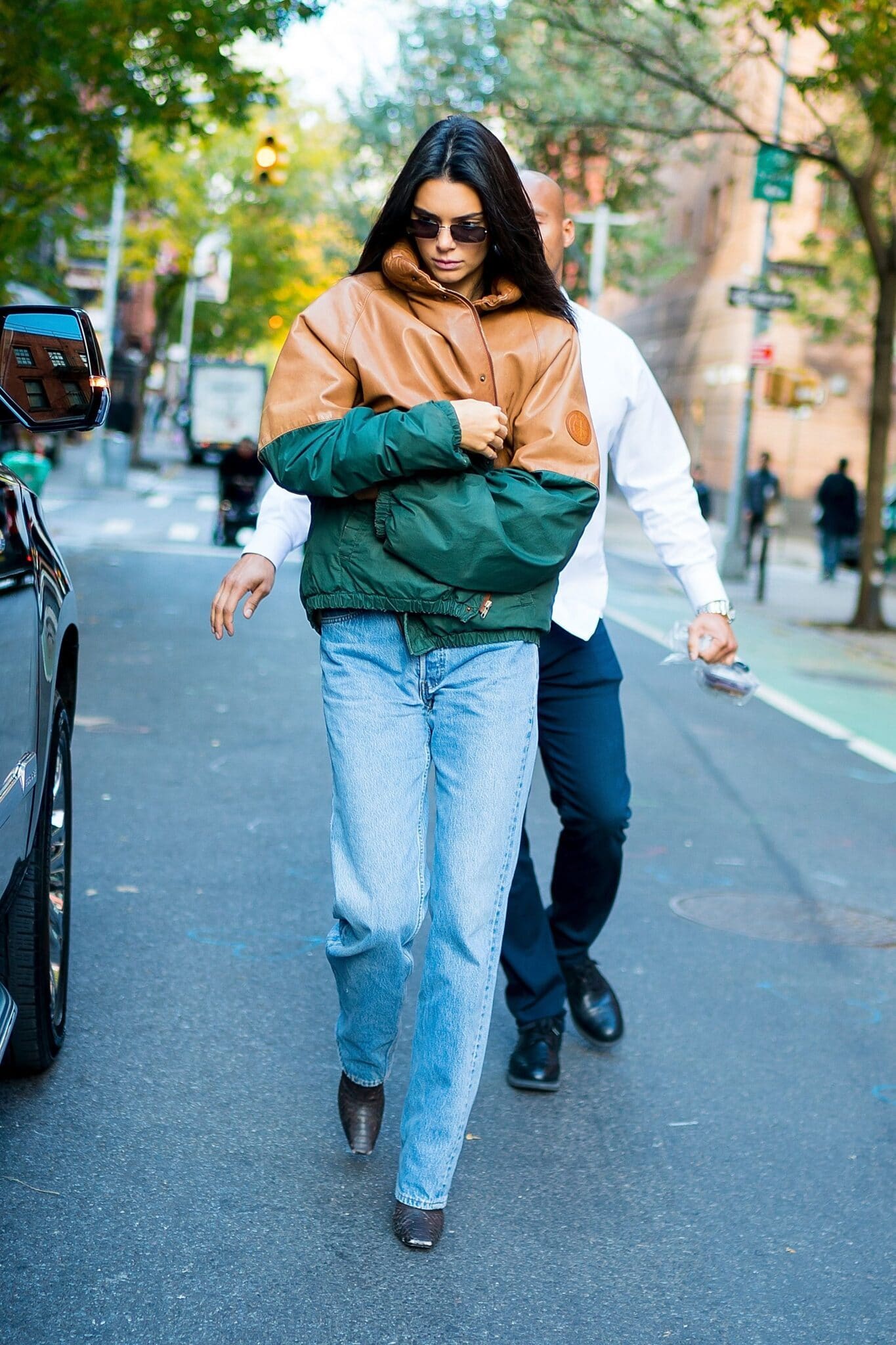 This blended Toffee-brown and green coloured puffer jacket is all we need for the cold breezes. Isn't it?
Kendall went with this super stylish and trendy bundled up jacket for fall in NYC. Kendall probably has one of the best outwear or personal wear collection in the whole Hollywood or modelling industry. She wore blue-coloured mom jeans that paired up quite well with the jacket
For this look, Kendall went with black square-toed shoes, and guess what? Of course, her black go-to shades clearly steals the show.
13. The Quick Ride Look
How do you wear when you set out on a simple bicycle ride in your city? Obviously a tee with blue or black denim jeans. Well, that doesn't seem to be Kendall Jenner's cup of tea. Kendall experiments brilliantly with her outfits for each and everything she does.
Do not believe me? okay, look at this green trench coat. This trendy furry green coat designed by Saks Potts is all you need in the degradation next time you go for a bike ride.
Kendall wore white funky sneakers to give a sporty touch to her outlook along with blue moon jeans and a white turtleneck tee.
And her Shades (not to forget).
14. Simple and Sober Kendall Jenner Street Style outfit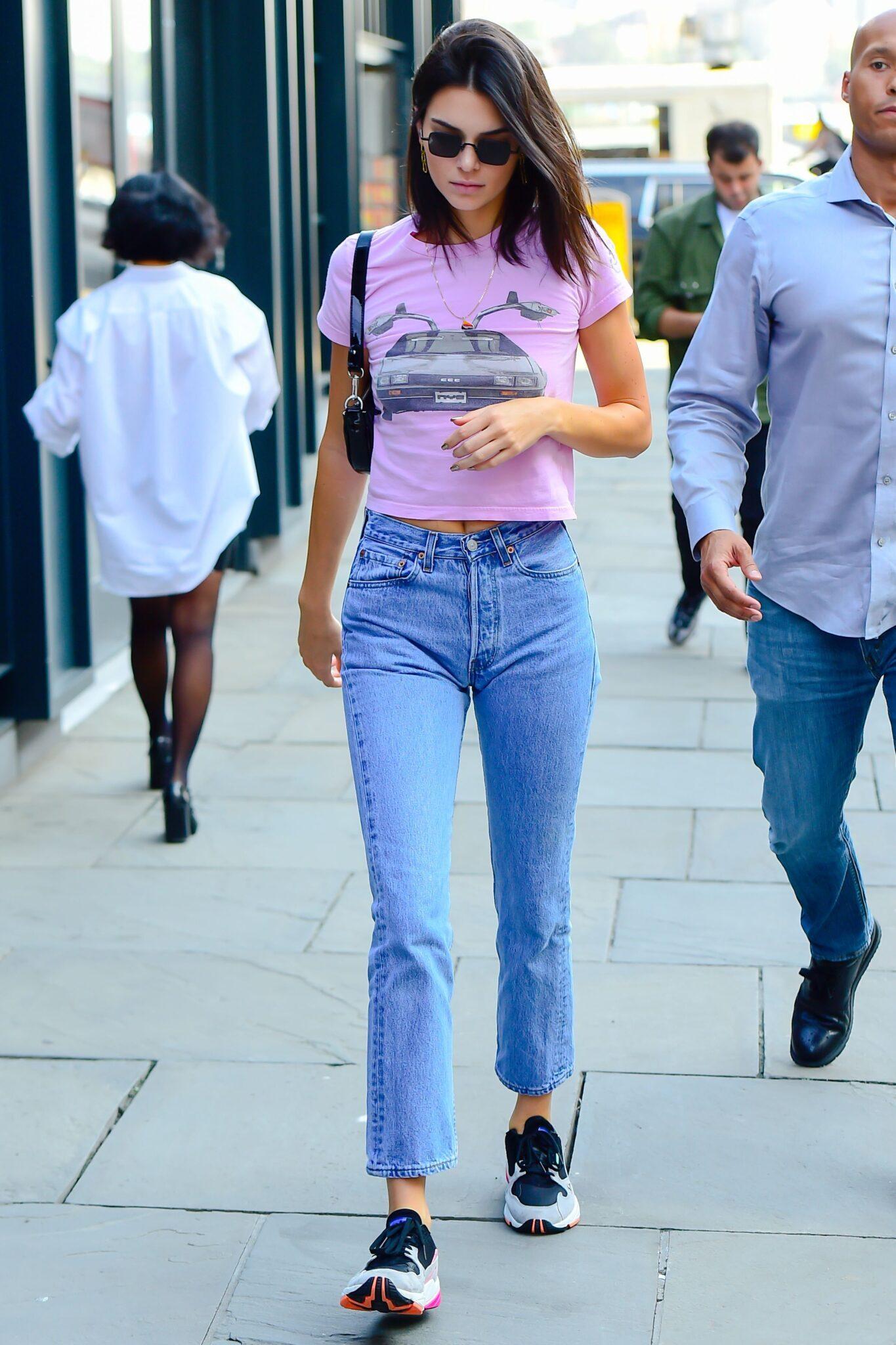 It's not always about being dramatic or chic, sometimes you have to let the comfort sink in above all the other factors like this supermodel from the Kardashian/ Jenner family.
Kendall wore a pretty pink graphic tee-shirt along with a pair of straight-leg types of denim. The diva complemented the outfit with a pair of cool and funky sneakers.
This completely casual outfit paired with her go-to sunglasses is all we need for a casual day out to any store nearby.
15. Black on Black
A deadly combination indeed. No one rocks black colour better than the supermodel Kendall Jenner. Black on black becomes boring sometimes, but Kendall knows how to glam the entire look into stylish trends.
Kendall chose to go with a simple full-sleeved black tee-shirt along with crocodile effect pants having lace-up designs. The flared bottom of crocodile print pants went absolutely amazing with her unique white-coloured boots.
Jenner carried her black mini bag and those black statement shades as usual. That's her charismatic style.
16. Funky Denim Cargo Pants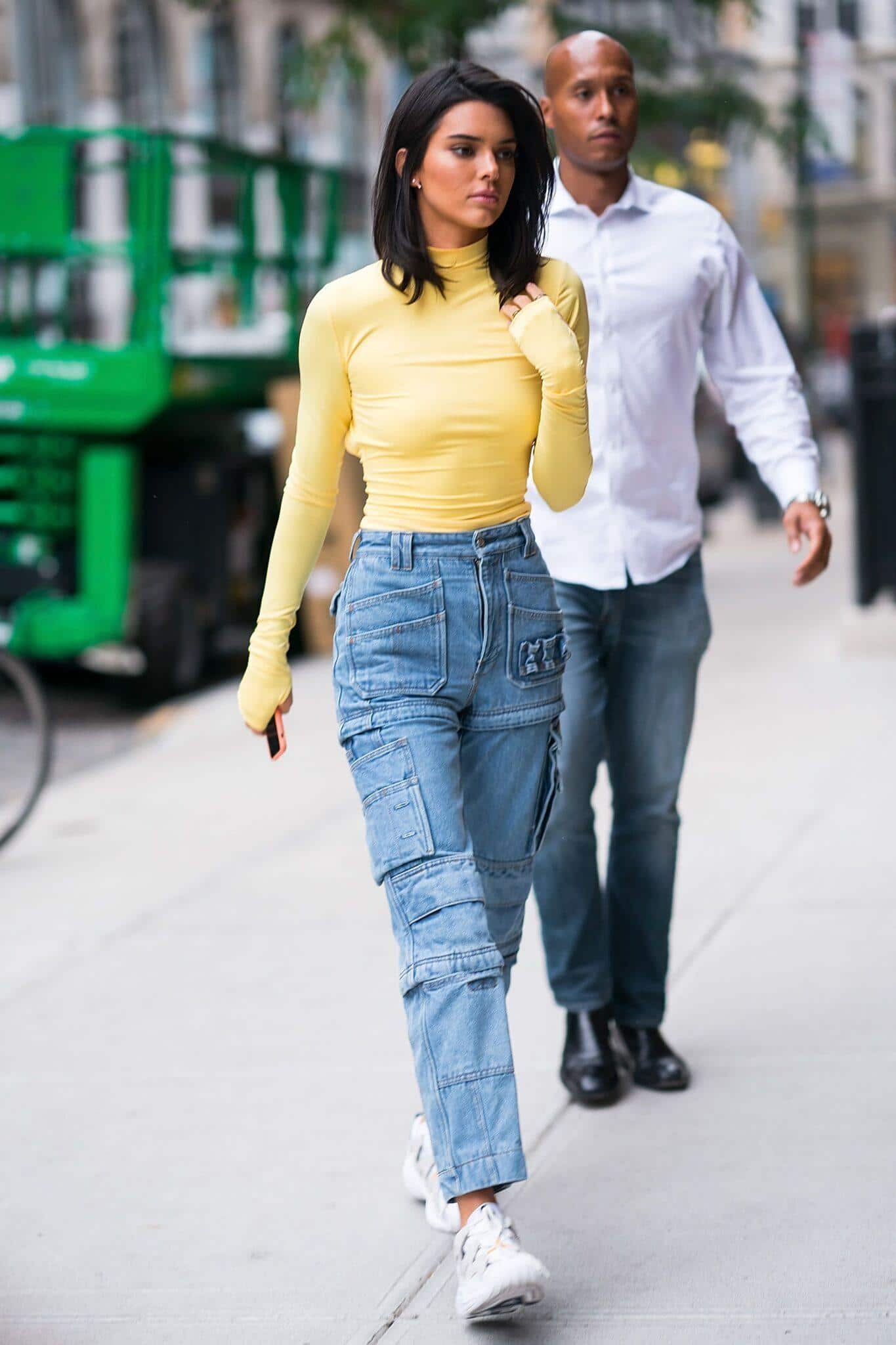 The diva was spotted in NYC after taking a pretty haircut. This Kendall Jenner street style look seems so sporty, doesn't it?
Kendall wore a fitted, figure-flattering yellow turtleneck tee-shirt having a classy thumb design at the sleeves. She chose to pair this super chic tee-shirt with a pair of cargo denim jeans that were high waisted.
She wore white trendy sneakers along with the outfit.
This happens barely that Kendall Jenner does not wear her shades and her go-to black mini bags or clutches.
17. Head to Toe Denim
Jenner was spotted with some close friends hanging out at the basketball wearing this pretty Kendall Jenner street style look.
She wore head to toe American Eagle. This denim on denim outfit is chic and classy. It's readily available and you can easily create this supermodel look using a pair of normal types of denim out of your closet.
Kendall carried her mini sling bag of the same colour to have a perfect match with the outfit. She wore simple white printed heels and at last her shades completed the look gracefully.
18. The Black and Blue Look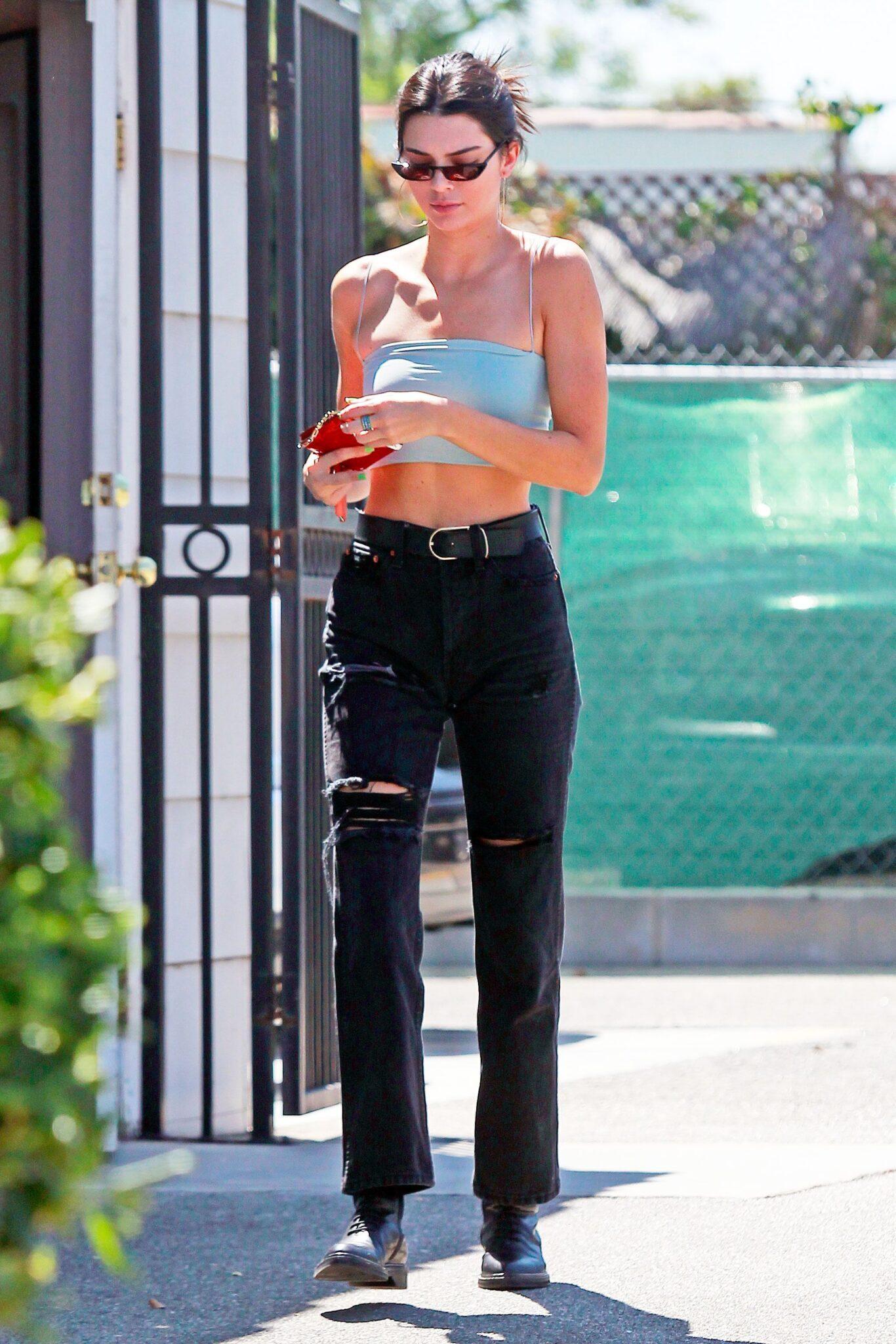 This chic outfit from the Kendall Jenner street style outfits is a must-have in our closet. The top and jeans both are extremely versatile and can be paired with other clothes giving us plenty of options.
Kendall wore a powder blue crop-top which was quite body-hugging. She paired it with a trendy black distressed denim. She wore a similar coloured belt to give a chic look to her denim pants. For this look, Kendall went with black leather shoes.
Het cat-eyes shades looked amazing on the beauty.
19. The Rainbow Soul
Sequin mini dresses are a part of Kendall Jenner street style wardrobes. Look at this pretty chic dress.
Kendall wore this amazing multicoloured sequin dress from Ralph Lauren. This look is mostly daytime appropriate and amazing to have pictures in. Kendall is definitely photogenic and appears so good outside the rampage as well.
She paired this dress with her go-to sporty white sneakers, black bag, and of course, her black sunglasses. Overall, a sporty look with a girly tint.
20. The Teal Trend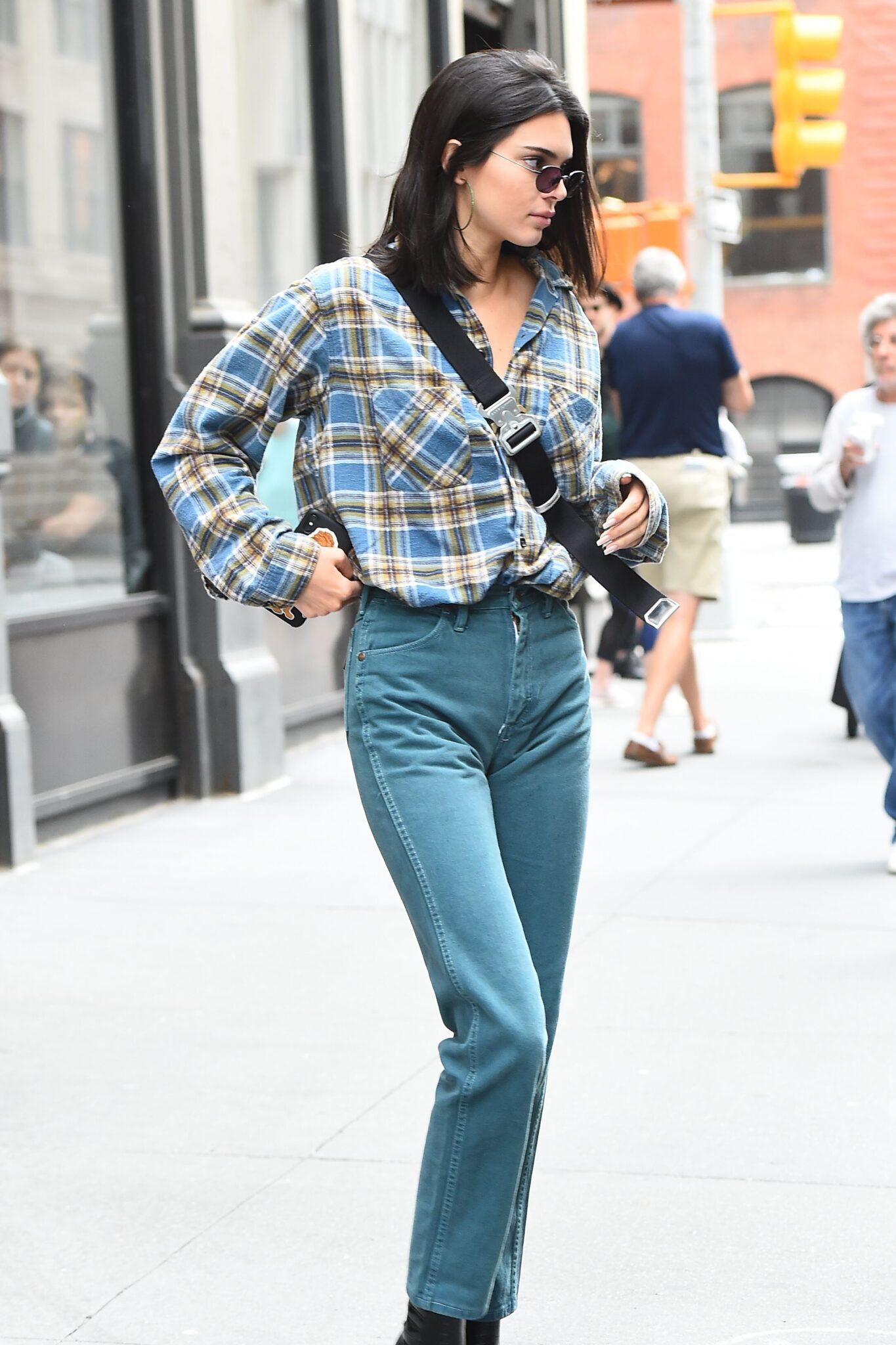 Kendall amazes us with her experiment in fashion every time she leaves her house inspiring us to upgrade our closets.
For this Kendall Jenner street style outfit, you need an oversized checkered shirt with teal coloured checks and teal-coloured denim jeans and you are good to go.
Kendall rocked this sporty outfit with her black shoes, hoop earrings, and black cat-eye shades. Doesn't she look mesmerizing?
21. Showing Off the American Pride
What is better than a Kendall Jenner street style outfit inspiring us to take pride in our nation. Kendall went with this Jean Paul Gaultier Sweater showing off the American pride.
Kendall paired this sweater top with a pair of teal-coloured denim. She chose to go with black boots having a little heel.
The cherry on the cake was her black bag and her shades which she never misses. Kendall rocked the outfit quite brilliantly with her excellent fashion sense.
22. Dolce And Gabbana Inspired Look
Teal coloured pieces of denim are an obsession these days. Kendall Jenner street style always includes teal-coloured types of denim.
She wore a Dolce and Gabbana inspired camisole along with her denim. As usual, Kendall went with her black mini bag, black shoes, and a pair of matching black shades that she never fails to carry in any street look.
Such a simple outfit, still Kendall makes it look so elegant and stylish at the same time. This lady has got some amazing fashion skills.
23. Statement Graphic Tee-shirts
It is known that graphic tee shirts make the boring outfit super funky, stylish, and cool. Kendall went for a basic white graphic tee-shirt paired with a pair of high-waisted blue coloured types of denim that made her look effortlessly gorgeous.
She wore tiny hoop earrings and carried a red-coloured handbag. The supermodel did extremely well with this super simple yet chic Kendall Jenner street style.
We love this lady for giving us such cool vibes with these trendy, fashionable clothes.
24. Long Skirt and Sneakers
Although the concept sounds a little weird and boring, Jenner made it seem pretty stylish. This Kendall Jenner street style look is quite eye-catching yet difficult for anyone to carry other than Kendall Jenner herself. She chose her gold tiny hoops and shades to accessorize the look.
She wore a clinging top paired with a waist flattering long skirt of the same colour. She went on with white sneakers to give a final touch to the outfit. The model looks astonishing and ultrachic in this outfit. Her looks are eye-catching, I must say.
25. Sheer White Dress
White is such a trendy colour. We cannot expect Kendall Jenner street style looks to end without the touch of this beautiful white mini dress.
While out in NYC, Kendall Jenner wore this pretty white sheer dress having unique designs all over. She paired it with white ankle knee boots that looked stunning.
For the few times in all her looks, she wore huge hoop earrings and a neckpiece to accessorize the look and make it more elegant. Jenner went with super trendy shades for this look.
Kendall Jenner has some amazing contacts and fashion designers to chose these outfits, she herself possesses a great sense of fashion as she knew as a child what she had to in the future which was MODELING.
If we have to describe Kendall Jenner street style looks in a sentence, it would be "effortlessly trendy and classy chic style".