Carpet beetle bites are dangerous – myth or a fact? Have you heard about carpet beetles, or are you the one who is facing carpet beetles infestation at your home and want to get rid of it? Don't worry! Please continue to read this blog; it will help you find a solution for every problem, whether related to carpet beetle infestation or carpet beetle bites.
Before moving ahead, let's know actually what carpet beetles are. Carpet beetles are common types of pests that are very normal to find in homes. These oval-shaped organisms usually lay eggs in fibrous material like carpets so that their offspring can feed on them. Other than carpets, they live in closets, air vents, baseboards, etc. Young carpet beetles (larvae) are generally ⅛ to ¼ inch long, brownish in color, and bristles. They shed their skin as they grow.
Carpet Beetle Bites – The Reality!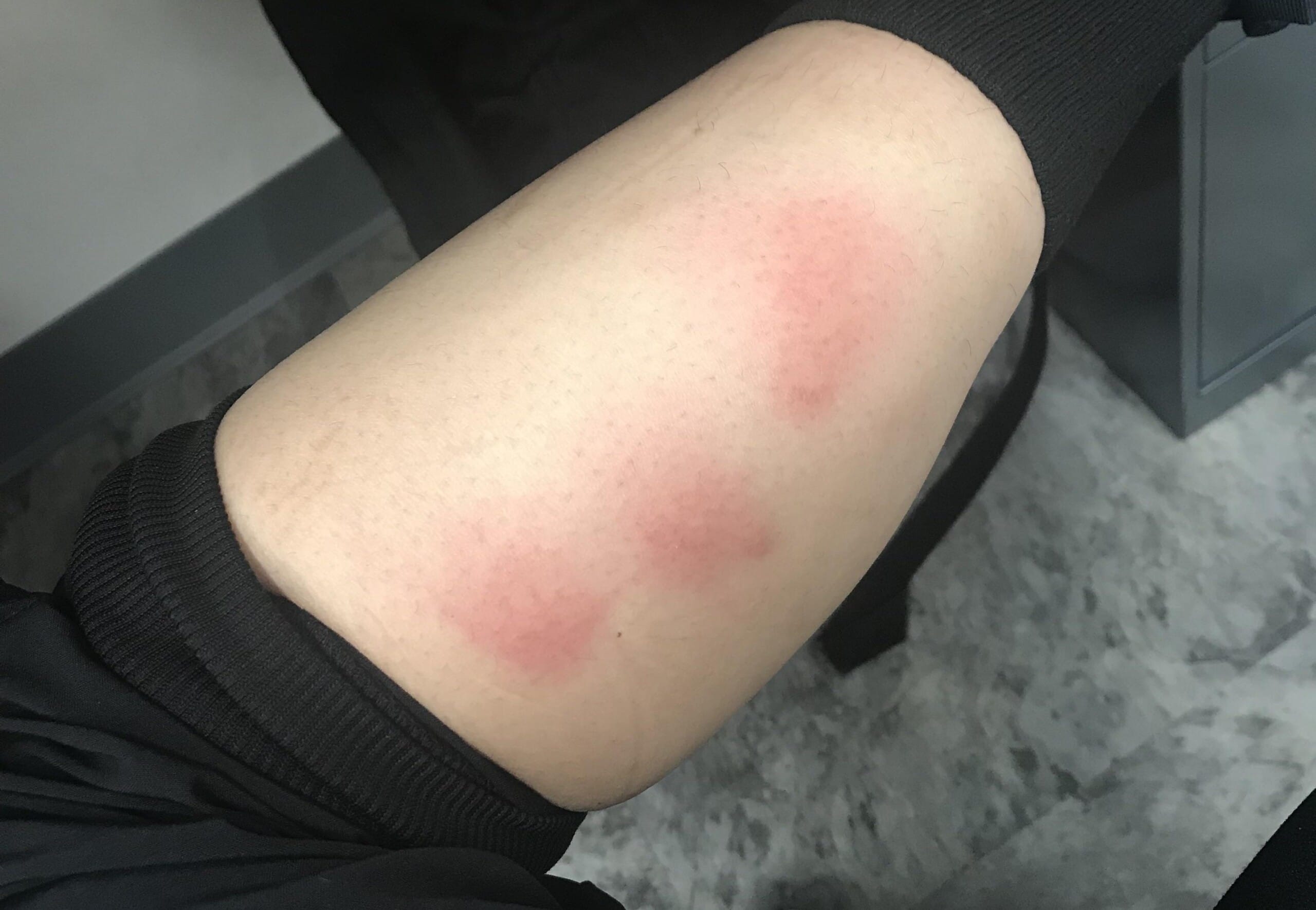 You may have heard that carpet beetles are vicious and harmful, and their presence in the house can be hazardous for you and your family. Yes, carpet beetles are dangerous, but not for you and your family but your bedding, clothes, carpets, and upholstered furniture. Carpet beetles are scavengers which symbolizes that they feed primarily on dead animal products or other debris or dry substances. So, the statement, "carpet beetle bites are dangerous," is just a myth. Neither grown beetles nor their larvae bite humans at all.
Carpet Beetle Bites are Harmful – Myth or a Fact
Yes, carpet beetles do not bite humans, but they can cause bumpy, itchy, rashed skin that you can mistake for bed bug bites sometimes. This is because of prolonged contact with their hair fibers. This problem causes only some people who are allergic to this. Larvae bristles or skin that's been shed may cause an allergic reaction to some individuals if they contact their skin, eyes, airways, or digestive tract.
Allergic Reaction of Beetles: Symptoms
Red, Itchy & Watery Eyes
Runny Nose
Itching on Skin
Rashes that Cause Burning Sensation (Looks like Welts or Bites)
Hives
Gastrointestinal Problems
Other Harmful Effects of Carpet Beetles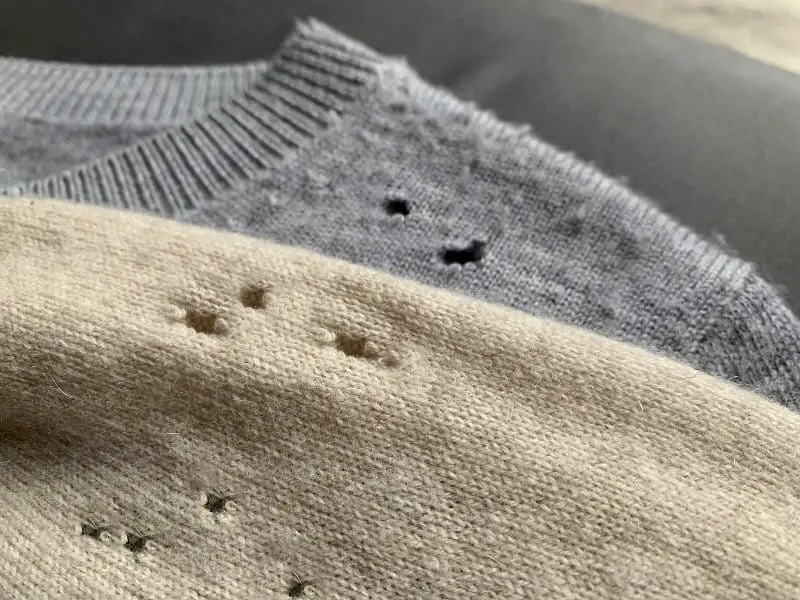 Carpet beetle bites are generally not dangerous for humans but are harmful to animal-based fabric products such as wool, feathers, felt, fur, silk, leather, etc. They also may attack natural hair brushes with natural fibers, hair, and other such items.
Some studies reveal that people become desensitized to these allergic reactions with long-term exposure to carpet beetles. However, the best way to get rid of these allergic reactions and their other effects is to get rid of carpet beetles.
Get Rid of Carpet Beetle Bites – Try Some Effective Ways!
It is mentioned above that if you want to get free from allergic reactions caused by carpet beetles, then the best way is to get free from these insects—however, the best way to get free from these insects is to know the reason behind their presence. So, let's dig into the things these carpet beetles are attracted to.
Carpet beetles are often attracted to warm places and usually lay eggs in fibrous material. They can hide in your clothes' carpets and can even hide in your pets' fur. The sweet odors of your clothes can attract these pests too. You can prevent and manage this beetle infestation by taking some simple preventive measures:
It may be possible that beetle's eggs are hidden in your clothes. So, it is always better to wash and dry clean them before storing them for a long time. It will also vanish away the sweet odor of your perfumes from your clothes that may attract carpet beetles.
Try to store your clothes in airtight areas as beetles get attracted to air vents, and they may also find in closets. So, use mothballs while storing clothes in your closet.
Ensure to clean your carpets, rugs, closets, air vents, baseboards, upholstered furniture, and other such things regularly and adequately. It will help you to prevent carpet beetle infestation in your house.
Do not forget to remove dead insects, spider webs, and bird nests from your home, and also do not bring any plants and flowers for these insects before bringing them to your home.
3 Ways to Get Relief from Carpet Beetles & Carpet Beetles Bites
Method 1
Wash or dry clean the infested products to eliminate such beetle bites. Use hot water to wash them, and other than this, you can also try to freeze the fabric for about one to two weeks to kill these carpet beetles.
Method 2
Use a vacuum cleaner to clean floors, carpets, and heating vents to get free from beetles hidden deeply in cracks and corners.
Method 3
If there is something present in your house with a beetle infestation that can't be washed or cleaned, use insecticide to kill pests. Use insecticides that are safe to use indoors and avoid spraying them on beds or clothes.
Carpet Beetle Bites v/s Bed Bugs Bites.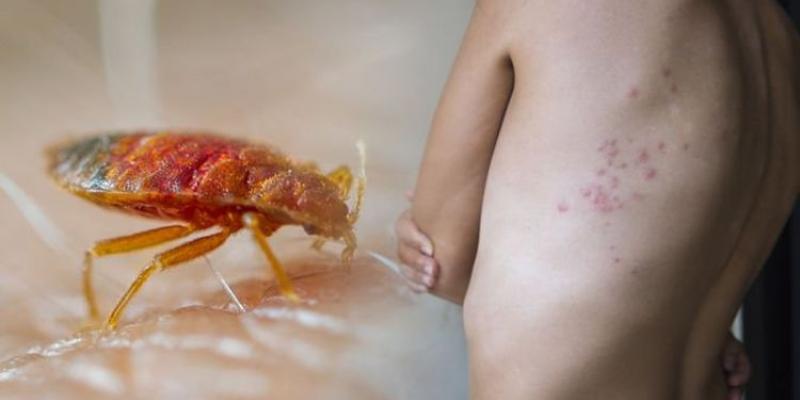 It may sometimes be challenging to identify a carpet beetle staying in your home or a bed bug. Both the pests can live in mattresses and beds, and both can cause welt-like rashes (bed bug bites can cause these rashes, and carpet beetle bristles can cause these allergic rashes). So, it may be harder for you to identify them. Here are some differences mentioned that can help you to differentiate between the two:
| | |
| --- | --- |
| Bed Bugs | Carpet Beetles |
| They are smaller than carpet beetles. | They are somewhat bigger. |
| Bed bugs eat human blood, i.e., they bite humans. | Carpet beetles depend upon wool and animal-based materials. Carpet beetle bites humans is just a myth. |
| They are generally found on mattresses or beds. | They live close to their foods, i.e., wool and animal-based materials. |
| Bed bug bites are harmful to humans. | Carpet beetle bites are not harmful to humans. Their bristles can cause some allergic reactions to those allergic to them. |
| Bed bugs usually leave red or dark stains on sheets. | Carpet beetles shed their skins so you may find them in your home. |
Other than the differences mentioned above, there is one other way to identify the pests in your home. If only one person in the bed is getting bites or a rash, then it may be a sign that it is because of an allergic reaction of carpet beetle as most people are non-allergic to these. However, if most people in the house are experiencing these rashes and itchiness, it's more likely due to bed bugs.
If you're not sure you have bed bugs in your home or carpet beetles, it is better to have an exterminator look for bedbugs. If they don't find any bed bugs, you might have carpet beetles. But do not worry, you can get rid of them by using the ways mentioned above or using the below-mentioned products.
Top Products to Get Rid of Beetles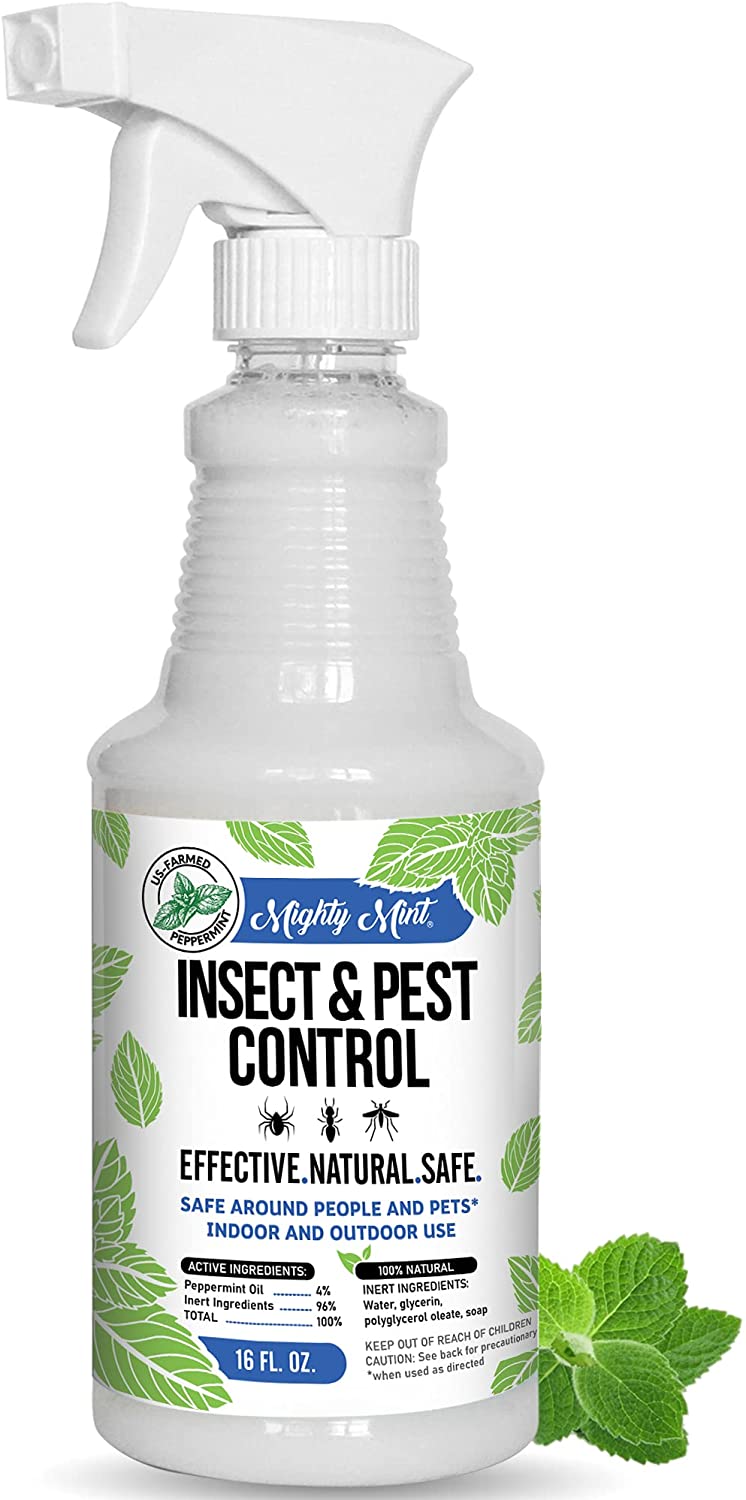 This home pest killer sprays by MDXconcepts is a perfect pest killer that invades, kills, and eliminates all kinds of pest infestations by its characteristic fragrance. It is made of 100% naturally procured essential oils that make it safe for you and for your pet too. It naturally kills home-invading pests like house roaches, spiders, ants, fleas, carpet beetles, etc. It is a fasting and long-lasting pest killer formula.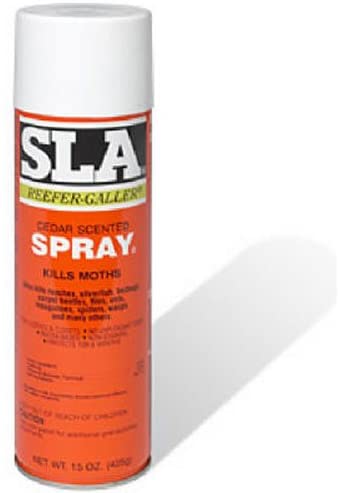 Willert Home Products is a reputed brand that started in 1946 with a single-moth repellant product. Today, it supplies over 100 home cleaning and pest control items, including SLA Cedar-Scented spray, an effective product to kill different kinds of pests like moths, ants, bees, beetles, cockroaches, crickets, etc., leaving behind a fresh cedar scent.

Ortho Home Defense Max is a no-fume spray specially formulated to kill indoor insects, including ants, beetles, roaches, and spiders, while not leaving behind any sticky residue. It is a long-lasting, quick-drying formula that lets you keep your house pest-free. Use this innovative spray system without any second thoughts. It will allow you to spray at any angle to reach any insect's space and work effectively.

Raid Flea Killer Carpet and Room Spray is an effective formula that kills fleas, bed bugs, carpet beetles, and other such pets within a few seconds. This formula is non-staining on water-safe fabrics and surfaces that is just made to make your home pest-free without harming your interiors and you.

$averPak JT Eaton Permethrin Clothing, Fabric and Gear Insect Repellent Spray is an effective treatment for protection against Mosquitoes, Ticks, Carpet Beetles, Chiggers, and other such pests. It is ready to use water-based 0.50% permethrin spray without mixing or further dilution. It is a quick-dering formulation that lasts up to many hours. Use this efficacious spray to protect your home from pest attacks without harming your interiors and clothes.

Harris Diatomaceous Earth Crawling Insect Killer is a powerful formulation specially made to kill various insects like roaches, fleas, ants, bed bugs, carpet beetles, and more. It comes in a puffer bottle that allows an easy surface application or spreads the powder deep into cracks and crevices. This powder can kill the insects within 48 hours of contacting them. It does not contain any harmful additives that make it safe and effective to use.
Frequently Asked Questions (FAQs)
Q1 Can carpet beetle live in beds?
Carpet Beetles' larvae generally feed on the fabrics in and around your bed, but it's not common for them to live in your beds like bed bugs. However, if you are doubtful of having bed bugs or carpet beetles in your beds and cannot identify them, in that case, you may prefer the differences mentioned between the two, or you can have an exterminator come to look for bedbugs. If they don't find any bed bugs, you might have carpet beetles.
Q2 Do carpet beetles make you itch?
Yes, carpet beetles may make you itch. If you think that carpet beetle bites humans, which is why you are feeling itchy or having rashes, you are wrong. Some people may get allergic reactions from getting into contact with beetles' bristles or shed skin, which is why they may feel itchy or have bumps. However, this rarely happens.
Q3 What are the signs of carpet beetles' presence in your home?
Some of the symptoms that reflect the presence of carpet beetles in your home are:
Thin, bare areas are on wool or wool-blend rugs present in your house.
You may be experiencing damage to your woolen clothes, blankets, and other such items.
Hairs are falling out of furs or trophy heads.
You may find shed larval skins in some hidden areas.
Even you may see some tiny apple-shaped insects with legs slowly climbing your house walls or dead at windowsills.
Q4 How do you get rid of carpet beetles?
Yes, carpet beetle bites humans, this is not true, but carpet beetles are still harmful to some of you who are allergic to them and can also cause damage to your clothes and furniture. So, you want to and should get rid of them. You can use some products to get rid of them, such as MDX Concepts Magma Home Pest Control Spray, Reefer-Galler SLA Cedar Scented Spray, Raid Flea Killer Carpet, Room Spray, etc.
Conclusion
Carpet beetles are prevalent in your homes but having carpet beetle bites is not common at all. This is because carpet beetles are not harmful to humans, but they cause some allergic reactions, which is very rare. However, they are for sure harmful for your clothes, furniture, carpets, and more such things. You can use some simple ways to prevent this pest infestation in your home, like regular cleaning and washing things these beetles can get attracted to and get rid of by using some indoor safe insecticides.
Also, check out our collection of ergonomic chairs to take care of your muscles and body structure.