Gluten-free Meal Delivery Services That Serves Best!
Finding the finest gluten-free meal delivery service is easier if you don't eat gluten. Some businesses have developed certified gluten-free meal plans, whereas others have established gluten-free brands. When tasty meals are delivered to your house, you don't have to worry about having gluten sensitivity.
The finest gluten-free delivery service will determine what is essential to you. Do you want to cook your meal or reheat one that has already been prepared? Are you seeking traditional comfort foods or nutritious meals? Whatever your preferences are, these gluten-free meal delivery services make getting food on the table simple.
Gluten-free meal delivery
There are many good things about meal kit delivery services: They can be a great way to make fun, tasty meals without running to the store every week. They can also be a good way to improve your cooking skills. But when it comes to a specific diet, like a gluten-free diet, which limits your intake of wheat, barley, and a few other grains, it can be hard to find the ones that fit your needs. Many meal kits and ready-to-eat meal delivery services offer gluten-free menu items that are tasty, creative, and easy to make when you're in a hurry.
Gluten-Free Meal Delivery Guide
There are pros and cons when deciding if a gluten-free meal delivery service is right for you.
Pros
Less stress and responsibility

More free time

Improvement in health and nutrition

More savings

 over restaurants and takeout
Cons
less to choose from

It costs more than making your meals

There could be problems and letdowns.
Given the abundance of 100% gluten-free or mostly gluten-free services on the market and the prevalence of significant new-customer discounts, we believe a gluten-free meal delivery service is worth trying at least once.
Comparing Gluten-Free Meal Delivery Services
After deciding to use a gluten-free meal delivery service, you may want to evaluate the various available services to find the one most suitable for your needs. The following are some of the most significant ways in which meal services can vary:
Price: 

Most services offer weekly subscriptions that cost money every week. How much does each serving cost, and how many do you need per week? And don't forget to include the cost of shipping.

Diet and Variety:

 The more diets a service can handle, the fewer choices it will have for each. The opposite is also usually true. The more a company specializes in one type of diet, the more choices you'll have. Ask yourself: What is the best balance between sticking to a diet or way of life and having a lot of options?

Adaptability:

How adaptable is the service? Can you choose the day of delivery? Is it still usable when travelling? Consider how the service will fit into your schedule and lifestyle.

100 per cent Gluten-free:

 Some services offer 

gluten-free

 and non-gluten-free options on their menu. Do you insist that a service maintain a 

gluten-free

 facility? The following is a list of the 

Best Gluten-Free Meal Delivery

 Services in 2022:
Best Gluten-Free Meal Delivery Services of 2022
Sunbasket

Freshly

Hungryroot

BistroMD

Sakara life

Purple carrot

Splendid Spoon

Daily Harvest

Provenance

Epicured
10 best services that deliver gluten-free meals in 2022
We listed some brands offering gluten-free meal delivery services with a gluten-free menu. They offer pre-made meals or a combination of meal kits and ready-made goods, as well as their prices, serving sizes, and the number of meals delivered per week.
1. Sunbasket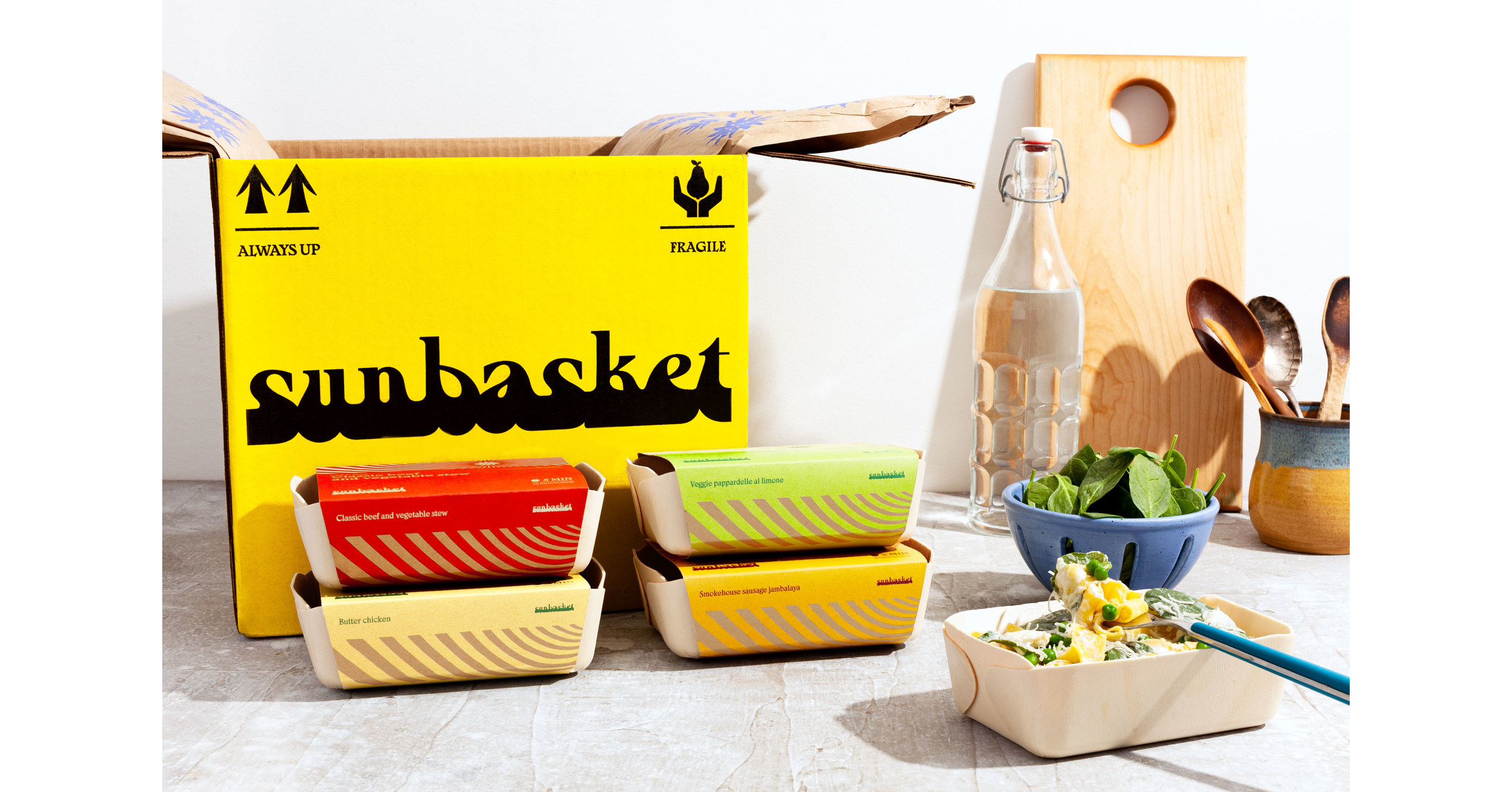 Sunbasket sells both meal kits with ingredients and already-made meals. The brand says its meals are made with high-quality ingredients and organic produce. The Gluten-Free plan is one of Sunbasket's 10 meal plans. It has five to eight gluten-free options each week. Sunbasket says that the Fresh & Ready option comes with single-serve meals that only take a few minutes to heat up in the oven or microwave. There are also several gluten-free options to choose from. You can mix and match meals from the service's weekly rotating menu if you don't want to commit to just one plan.
Cost

: Meal kits start at $12, and Fresh & Ready meals start at $13. Shipping costs an extra $6 for each plan.

Serving size:

 Meal kits have two or four servings, while Fresh & Ready meals only have one.

Several meals

: Every week, two to five recipes.

Our insight

: Sunbasket is our top pick for delivering healthy meal kits. "It has many options for meat-eaters and people who only eat plant-based foods."
Freshly
Freshly offers ready-made meals that are ready to eat in 3 minutes or less, and it has more than 50 gluten-free items on its menu. It also has pre-made meals that are dairy-free and plant-based for people with other dietary restrictions. You can choose to get anywhere from four to twelve meals per week. The brand says that all meals are single-serve and made by a chef. Freshly says its food can be stored in the fridge for three to five days. Some items, like seafood that the brand says should be eaten first, will have a badge on the package.
Cost

: Starts at $9 a meal — shipping varies depending on the number of meals ordered per week, beginning at $7.

Serving size

: Single-serving meals as well as multi-serving sides and proteins

Number of meals

: Four to twelve meals each week

Our insight

: Due to its flexible plans, the type of meals it provides, and its reliability, 

Freshly

 is the best choice and even scores high in the 

taste department

.
Hungryroot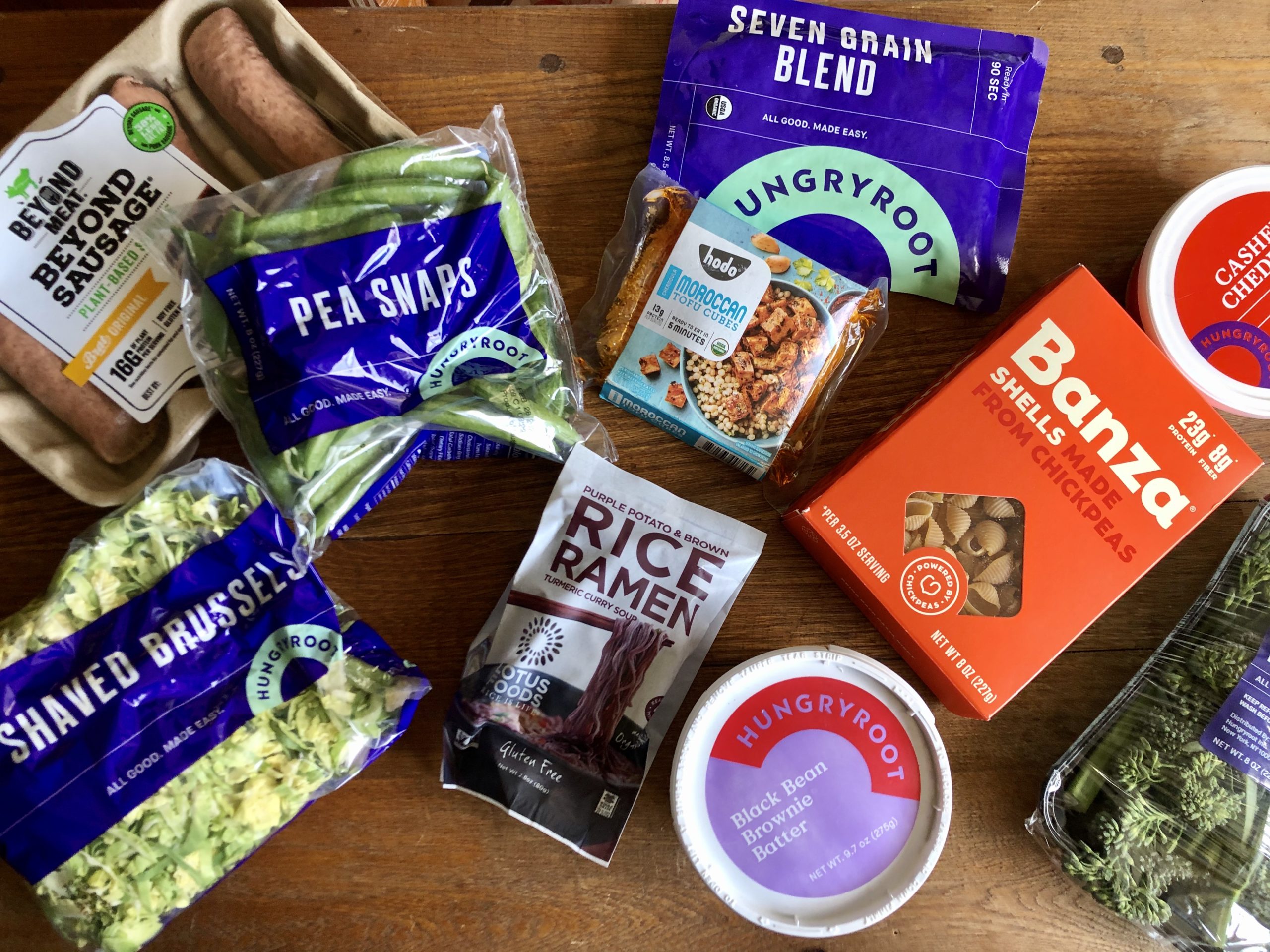 Hungryroot, a food delivery service that offers many of the same conveniences and customizations as the other meal kits on this list, includes various gluten-free options. Hungryroot produces a personalized grocery plan based on your interests and nutritional needs once you complete the initial quiz. It delivers fresh food for the week and sends you recipes based on the products in your order. You may change your delivery weekly if you require a certain ingredient or food item.
Cost

: Prices start at $65 for three two-serving meals (roughly $11 per serving) – shipping is extra. $7 for plans less than $70

Serving size

: 2 or 4 servings, depending on your plan size.

Number of meals

: 2 to 8 recipes per week

Our insight

: Hungryroot lets you choose the type of meal you want and customize the groceries you get. You can be more spontaneous in the kitchen or stick to the recipes.
BistroMD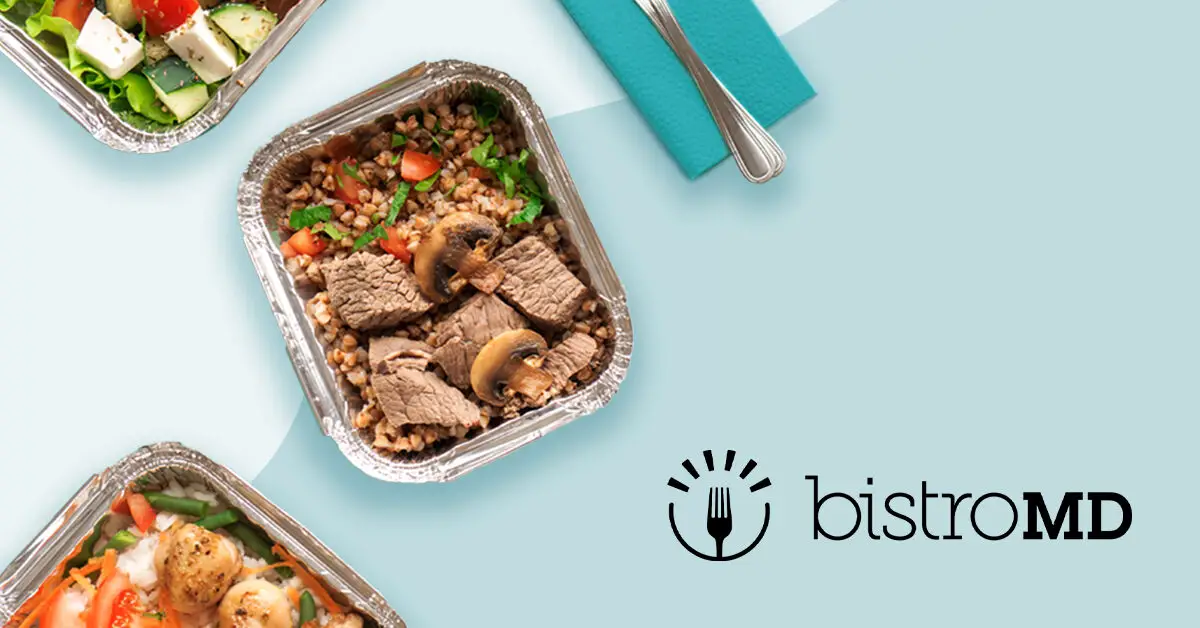 According to the service, BistroMD has a unique gluten-free program that allows you to choose from over 100 gluten-free meals each week. The Gluten-Free Plan includes breakfast, lunch, and supper for five or seven days. For an extra fee, the service also provides an EATS (Essential and Tasty Snacks) program that gives healthy snacking options.
Cost

: The Lunch & Dinner 5 Days Gluten-Free plan starts at $112, and the Full Program 5 Days Gluten-Free plan starts at $141 — delivery is an additional $20.

Serving size

: Single-serve

Number of meals

: 5 to 7 breakfast, lunch, and dinner meals every week

Our insight:

 "BistroMD takes great pleasure in being 'doctor-designed,' and as a result, the company offers more medically therapeutic options than the majority of its competitors,"
Sakara Life
Sakara Life is among the most expensive meal delivery services, but it has a wide range of ready-to-eat meals that are gluten-free, organic, dairy-free, and based on plants.
If you're starting, you can choose a one-week trial program or a subscription plan that automatically renews each week with a set menu of meals that changes with the seasons and the weeks. Sakara Life also lets you choose how many days you want to get food (three or five) and what kind of food you want (breakfast, lunch, or dinner).
The Signature Nutrition Program comes with up to three meals per day (breakfast, lunch, and dinner, depending on where you live) and your choice of two, three, or five days. The 30-Day Reset is a four-week program that lets you choose at least two meals (breakfast, lunch, and dinner) for up to 5 days per week.
Cost

: The Signature Plan starts at $53 per week when you choose only breakfast for two days. Prices increase depending on the type of meals and how long the program lasts. For example, all 3 meals for two days cost $159 per week.

Serving size

: Single-serve

Number of meals

: 2 to 15 meals per week for the signature plan

Our insight

: The full five-day 

gluten-free meal

 plan is a great way to jumpstart your wellness journey. "Sakara is very popular because of its varied menu, top-quality ingredients, and delicious taste,"
Purple Carrot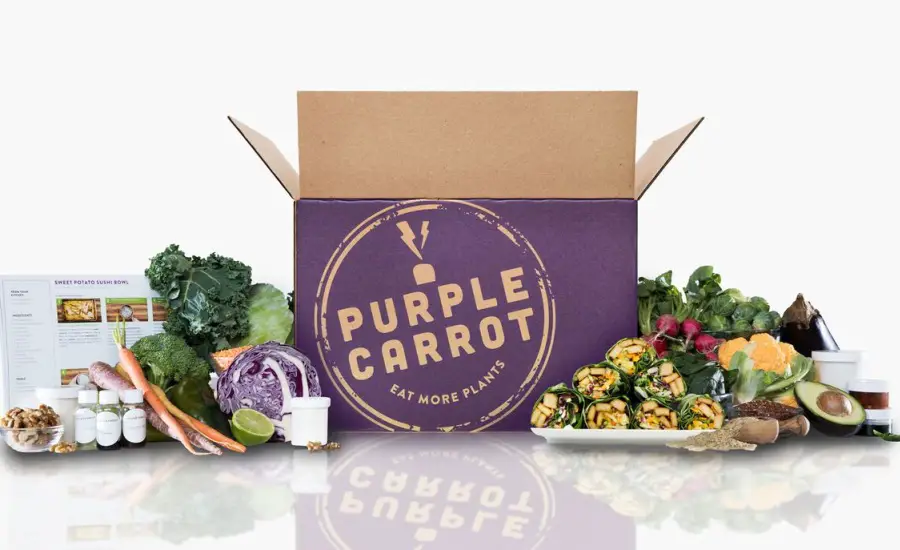 Purple Carrot has ready-to-eat meals and meal kits, so you can choose how much work you want to put into your food. All of the meals are made from plants only, and Purple Carrot offers both gluten-free recipes and gluten-free meals that are ready-made.
After choosing whether you want meal kits or ready-to-eat meals, you can choose how many dinners you want each week. You can get anywhere from two to four meal kits or six to ten ready-to-eat meals. Depending on where you live, deliveries happen on Mondays, Tuesdays, or Wednesdays. You also have a choice to skip delivery on any given week.
Cost

: Meal kits start at $10 per serving, and ready-made meals start at $13 per serving. Shipping is free.

Serving size

: For meal kits, there are two or four servings, and for ready-made meals, there is only one.

Several meals

: Two or three meal kits or six to ten ready-made meals per week.

Our insight

: "The meal kits are a great mix of familiar and new, like kimchi grilled cheese and Baklava overnight oats." Since all meals are prepared with plant-based ingredients, Purple Carrot can help people "eat more plant-based foods without having to become vegans."
Splendid Spoon
Splendid Spoon has more than 50 healthy ready-to-eat meals and snacks, such as smoothies, soups, grain bowls, and noodle bowls. All of these are gluten-free. You can choose from different meal plans, such as a Breakfast plan with five smoothies, a Lunch plan with five soups and grain bowls, or a plan that combines the two.
Some plans also have a Reset option, including low-calorie soups for people with digestive problems or who want a break from high-calorie foods.
Splendid Spoon doesn't let you change the number of meals you get per plan like most other delivery services do, but you can choose how often you want to get your meals: weekly or once a month. The service also lets you order a lot of food at once with an "On-Demand Box."
Cost

: It starts at $13 per meal ($65 for the plan) and free shipping.

Serving size

: Single-serve

Number of meals

: 5 to 20 meals per order

Our insight

: Their service is for anyone looking for "healthy meals in a flash." They taste as nutritious as they are, which is a disadvantage for some and an advantage for others. The variety of juices and smoothies and the ease of thawing one at a time is a huge plus.
Daily Harvest
Daily Harvest provides pre-made smoothies, harvest bowls, flatbreads, and soups that are gluten-free, dairy-free, vegan, and created from plant-based ingredients. According to the firm, all of the food is frozen, so the components don't spoil as quickly. For example, Daily Harvest's popular smoothies are delivered as pre-cut frozen fruits and veggies that you top with a drink of your choosing and blend.
You can choose between three weekly boxes: Small (9 things), Medium (14 items), and Large (24 items). The larger the box size, the greater the savings for each item – you may mix and match any pre-made meals and smoothies, but costs vary depending on your selection. You can also opt to get these boxes every month. There are also gluten-free and dairy-free dessert options, such as ice cream and chocolate pieces.
Cost

: It costs $6 to $12 per kit with free shipping. 

Serving size

: Single-serve only

Number of meals

: 9 to 24 meals per week

Our insight

: Their smoothie kits allow customers who want to make healthy smoothies to avoid using high-sugar fruit and buying items they won't use much. "Their bowls, flatbreads, and soups are brilliant in colour, a huge improvement over old's beige health food days."
Provenance
Provenance provides various clean eating programs, including complete gluten- and dairy-free prepared meals. The three-day Feel Good Fix package, the only nationwide option, contains a predetermined daily meal of plant-based breakfast, lunch, dinner, and snacks. According to Provenance, the Feel Good Fix meals come on Tuesdays and are eaten on Wednesdays.
Provenance also provides you with daily essentials and Detox programs, including weekly prepared meals, detox teas, probiotics, and other goodies – but only in Los Angeles and New York City.
Cost

: It costs $178 per week for the Feel Good Fix program

Serving size

: Single-serve only

Number of meals

: 6 lunch and dinner meals and 3 days of shakes, teas, and snacks every week

Our insight

: These organic ready-to-eat meals are gluten- and dairy-free for intolerant individuals. Most ingredients are locally produced and sustainable; the meals taste as delicious as they look.
Epicured
Epicured offers a changing selection of over 50 pre-prepared items encompassing breakfast, lunch, supper, snacks, and desserts, as well as tailored meal packages such as a Brunch Bundle, Taco Night Bundle, Freezer-Filler Bundle, and more. According to Epicured, all meals are gluten-free, which means they don't contain specific carbs and food additives that can be hard for individuals to digest.
Once you choose your meals and register, your weekly order is renewed automatically. If you don't manually choose your meals, orders are locked in on Friday evenings with the same meals you previously chose.
Cost:

 Each meal costs about $15 on average, and shipping is free if your total order for the week is over $100. If it isn't, the delivery fee is $10.

Serving size:

 Single-serve

Several meals:

 You can have as many or as few as you want.

Our insight: 

Not only are these ready-made meals and snacks 

gluten-free

, but they are also FODMAP-friendly, making them a great choice for people with SIBO, IBS, or a sensitive stomach.
Final words:
Having someone else cook your food can be scary when you can't eat gluten. But if you use a reliable gluten-free meal delivery service, you can get the help you need in the kitchen without worrying about whether or not the ingredients will make you sick.
What you value most—convenience, health, taste, or something else—will determine what the best gluten-free service is for you. Because there are so many choices, you're sure to find one that works for you. We think Freshly is the best overall because it has the most options for people on special diets and uses organic, ethically sourced ingredients at a great price.
FAQs
What Does It Mean to Be Gluten-Free?
Gluten is a protein complex present in wheat, rye, and barley. Gluten-free foods are those that do not contain gluten. There are several reasons why people choose not to eat food with gluten in it. Some people don't eat gluten because they choose to, while others have to because of health problems like celiac disease, an autoimmune disorder.
What Is a Meal Delivery Service?
A meal delivery service is a subscription business that sends you meal kits or completely cooked meals based on your preferences. Meal kits come with measured ingredients and instructions on making the recipes. In contrast, fully prepared meals must only be heated before being served.
What Is the Cost of a Gluten-Free Meal Delivery Service?
Prices depend on several things, such as the group size, the type of meal, and how much of it is being served. For example, the more meals you include in your plan, the more likely it is to cost less—prices for meals at the places on this list range from about $6 to $12.
Are Gluten-Free Meal Delivery Services Limited to Celiac Patients?
Certainly not. Gluten-free meal delivery services are for anyone who wants to avoid gluten, whether for celiac disease or another reason. Some services also offer gluten-free meals, which is good for couples with different dietary needs. On the other hand, people with celiac disease should stay away from these services and stick to businesses that only use gluten-free facilities.