Young Sheldon has been a very successful spin-off. The Big Bang Theory set up an interesting premise regarding Sheldon's childhood. The quirky little genius had a difficult time growing up in Texas. His extreme brilliance and sharp mouth always made him stand out in the crowd. Young Sheldon gives a detailed glimpse of Sheldon's childhood.
The fan-favourite series, Young Sheldon, has returned with its 4th edition. Season 3 production halted due to Covid and was reduced to 21 episodes. But, the cast and the crew took extreme precautions to deliver another brilliant season for their fans.
The story of Young Sheldon so far.
Till season 3, you saw Young Sheldon (Iain Armitage) getting bored with his school lectures. He started going to college to attend a few classes to enrich his knowledge. Meanwhile, his parents, Mary Cooper (Zoe Perry) and George Cooper (Lance Barber) are still having a hard time as their twelve-year-old wants to go to college. They find it hard to believe that their special son is growing up so fast so soon.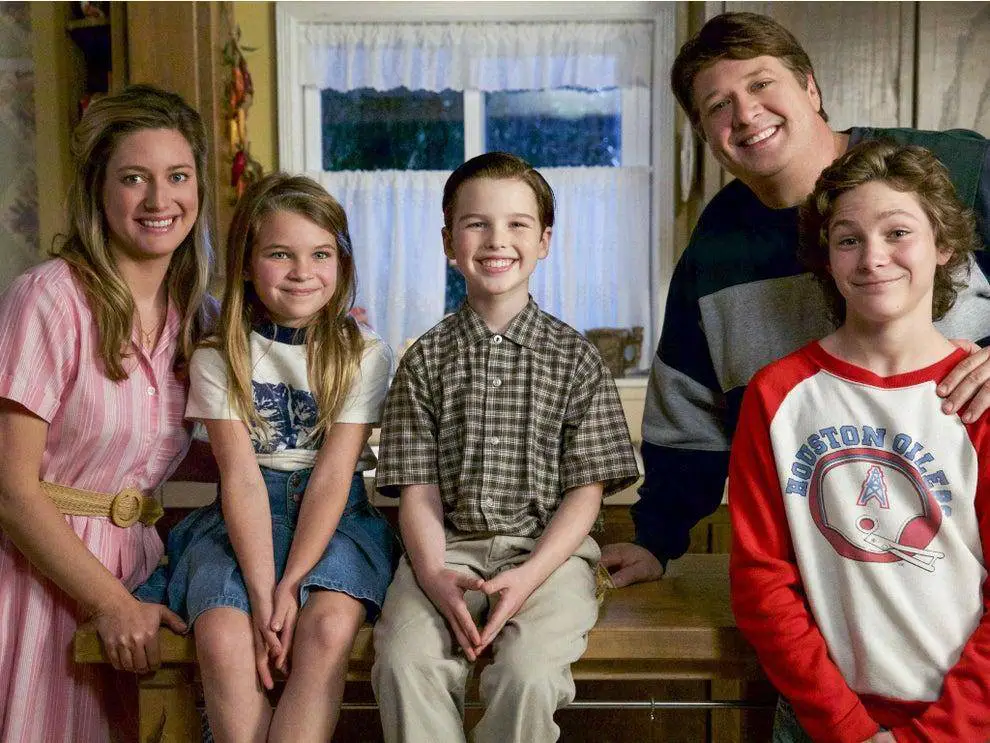 George Jr(Montana Jordan) is trying to balance between his job and his love life. Missy( Raegan Revord) is busy breaking stereotypes as she becomes the first girl to play in the baseball team. While Meemaw(Annie Potts) is still having a hard time dealing with the throng of proposals she gets now and then. Even though she is dating Dale (Craig T.Nelson), her heart can't stop caring about Dr. John Sturgis(Wallace Shawn).
The plot of Season 4.
The series begins with Sheldon preparing for his early college life. He believes that his body stature must look like an adolescent teen else he might be mistaken as a "child" in college. Because of his early graduation, he is being awarded as a valedictorian. Soon, he realises that the college experience might be too much for him since he is only a little child.
Meanwhile, Missy Cooper hits her menstruation cycle right before her big baseball match. Despite her physical change, she remains calm till the end and pacifies her father, George. She also becomes an inspiration for Sheldon. She makes Sheldon understand even though a change in life is scary, you've got to do it anyway. You've to grow up and face your adversities.
George Jr. tries hard to become a rebel. But this season shows that he develops a closer bond with Mary. Meanwhile, Mary and George realise that they have got a deeper love than they'd ever thought. This season brings them closer as parents and as a couple.
Meemaw is still stuck in her hard stance against marriage. She turned down Dale's proposal because she doesn't want anything in her life to change.
Analysis of Young Sheldon Season 4 :
This season of Young Sheldon has been extremely vivid and heartwarming. With so many changes coming up, the writers have managed to create an enticing script.
This season shows Sheldon's growth as an individual and as a child. He starts appreciating more of what he has in life. The episodes feature a very affectionate and doting bond between him and Missy. The season also focuses on how Sheldon tries to break free from the codependent relationship between him and his mother. He learns how to ride a bicycle and keeps a strong face when faced with hardship.
Mary Cooper also tries to embrace and come to terms with the fact that her Shelly is growing up. The episodes feature natural flow in humour, tenderness, and heartfelt situations. You'll find yourself amused as you watch the character growth of Sheldon.
Voiced by Jim Parsons as adult Sheldon, season 4 has a lot to offer. With surprise appearances, gripping story, affectionate bonds, and genuine humour, season 4 of Young Sheldon have been a joyful delight so far. Chuck Lorre managed to retain the quality of the show amidst such chaos. Though the show timing has been reduced, it surely brings in amusement and delight as usual.
You can watch weekly episodes of Young Sheldon on Amazon Prime. With only 5 episodes released so far, this season has a lot left to offer. In the meantime, if you're in a mood to watch something scandalous and raunchy, check our how Bridgerton is ruling Netflix since its release – https://sleck.net/bridgerton-a-scandalous-spin-to-an-intriguing-victorian-tale/