White ink tattoo is a new trend and is made with white tattoo ink blended with other colors. They give a 3D effect and look elegant on the skin. A pick for those who want something subtler and do not want to use black ink. People with dark skin who want a tattoo can choose the white ink tattoo.
White ink tattoos are good for those who work in a place that has a strict dress code and tattoos are a strict no. If you have light skin, these tattoos look like they are barely there and camouflage with the skin tone if you have light skin.
Black ink for tattoos is a standard color and is not an option for those with dark skin. White ink with other colors is usually used to make the designs pop up. Before going for the white ink, there are a few things to keep in mind as it is not the same as a black ink tattoo.
White Ink Tattoo – What You Need To Know
It is quite painful to get a white ink tattoo. This is because the needle is put deeper and needs more than one pass for the tattoo to appear on the skin. If you have sensitive skin, this tattoo is not recommended as it can get very painful for sensitive skin.
White ink is also used to accentuate black ink tattoos and is used sparingly when a motif needs a 3D effect. When mixed with other colors, the white ink tattoo gets a sheen effect. If you want to get it done, select experienced tattoo artists only.
The effect of the tattoo cannot be predicted. It could appear as pure white, transparent, greyed out, or very subtle camouflaged with the skin color. Avoid abstract motifs if you are choosing a white ink tattoo as it might look obscure, like a mosquito bite, or a scar. Pick large and intricate motifs that look lace-like as it adds a stylish element to the outfit.
After getting inked in white, the process of healing and fading is essential. It is essential to take care of your skin before and after the tattoo as it can easily contaminate the skin. But, there is a fun element to get inked in white even though it is conspicuous. The subtle tattoo is visible in UV or glows light.
They look like a natural motif on your skin though they are painful to be inked on skin. Get a motif that makes it look like a birthmark. It is delightful and interesting. Get a small motif as it looks beautiful and is less painful to get it done.
Though it comes with a host of drawbacks, choose the right artist and the best motif for your skin tone and skin type for the results you desire. In a nutshell, these are the pros and cons of getting a white ink tattoo.
White Ink Tattoo – Pros
They look like a natural birthmark
They are subtle
Apparent on dark skin
Elegant
Can be used as highlighters in tattoo design
Stands out better than the black ink
White Ink tattoo – Cons
Expensive
Fade easily and bleed
Not suitable for sensitive skin
Painful to get one
Desired results cannot be predicted
Need aftercare, healing, and regular care to prevent germs from entering the skin
White ink varies which affects the results
Can be done only by experienced tattoo artists
Takes more time to get one compared to the black ink tattoo
White Ink Tattoo – Women
Artistic, ornate, and elegant tattoo designs can be chosen for women who want to be inked in white. It looks pristine and lace-like. You can choose an intricate design for any area of your body. The best place would be the arm sleeve as it looks good on most of the outfits. It adds style to formals, casuals, off-shoulder, clubwear, or other outfits.
White Ink Tattoo- Men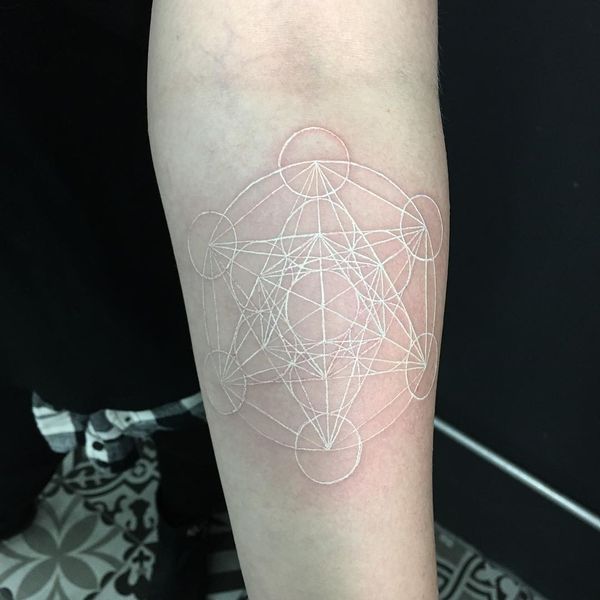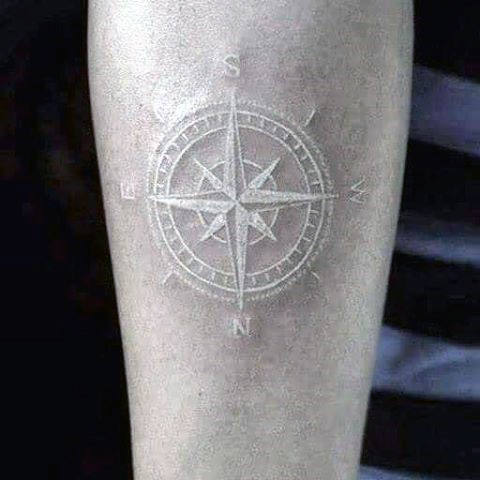 Men can choose from a wide range of designs depending on how subtle or colorful they want the design to be. Geometric motifs mixed with colors, or patterns that you relate to or love. Wrist, forearm, or shoulder white ink tattoos are the best placements for small or elaborate designs.
White Ink Tattoo – Dark Skin
Getting a nice looking tattoo on dark skin is no more an issue. White ink does the magic of making the dark skin look beautiful with motifs and patterns. Choose any area on your body to get inked in white as it looks stunning and enhances the beauty of the skin. Tattoos on the wrist, forearm, legs, foot, etc are recommended as they look great with footwear and any outfit.
White Ink Tattoo – Small Design Ideas
Minimalism and subtlety are your thing? Pick a motif of your choice. May be floral, your favorite animal, faith symbol, geometric motif, or a blend of your ideologies appearing in subtlety. This is a smart choice and a less painful way to get inked in white and flaunt the beauty like a birthmark. Aren't you a special human now? With that subtle art inked on your skin that blends with your skin color?
White Ink Tattoo – Offbeat
There are umpteen options if you do not want to go the floral way. Floral motifs are the most common choice because they look good on most outfits and look beautiful as body art. You could choose asymmetrical cuts, designs, motifs, or picture you could think of if patterns are not what you want.
White Ink Tattoo – Colors
Add some colors and hues to the white ink tattoo and make it stand out. The highlights of white ink used with other colors create a stunning effect making it look like an artwork happening on your skin. But, remember, the long time it takes with the white it, the painful it gets. So, the choice is yours.
White Ink Tattoo – floral
The most popular motifs and designs chosen for tattoos are floral patterns. Elaborate, subtle, or intricate, they look good in any form and shape. Inked in white florals can be painful but worth all the pain as they look like lace and super elegant. Find an experienced artist who can do a good job with this one.
White Ink Tattoo – Quotes
What is your favorite quote or a word? You can etch it on your wrist or arm with the white ink. An inspirational quote or a phrase that keeps you going and brings a smile to your face. Use it with typography and word art, or combine it with other patterns and designs.
White Ink Tattoo – Symbolism
Tattoos with symbols from any religion of your choice in white ink are like your faith etched into your skin. This has been the practice for many centuries only to turn into a fad. It not going to be demode anytime soon because it only gets better.
White Ink Tattoo – Mythical Elements
Fairies, unicorns, mystical beings, objects, elements, motifs, allegories, and more can be used as a motif to get inked with the mythical theme. Bring the good energies of angels and mythical beings with a beautiful white ink tattoo.
Conclusion
White ink tattoo is trend has spread like a wildfire because it looks much subtler and natural compared to black ink tattoo. Aftercare is essential when you get inked in white as you do not want germs making a habitat inside your skin.
Choose a design depending on how long it takes so you can analyze if you have higher tolerance of pain to go with it. A white ink tattoo needs a touch-up, just like hair colors. Weigh the pros and cons and pick a design that you fall in love with.