11 Superb Walk-in-pantry Organization Ideas to Try at Home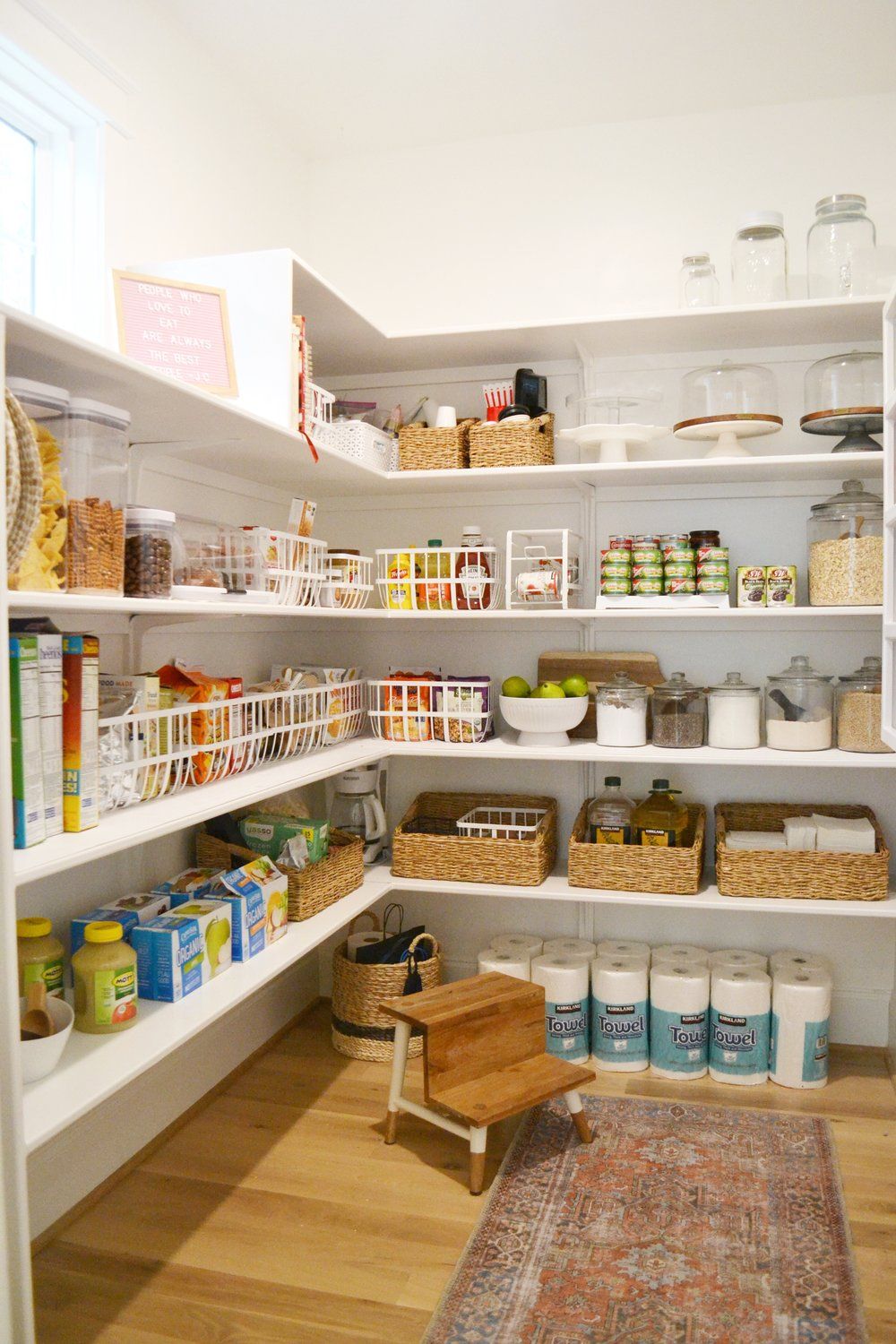 Whether you are a passionate cook or a cook with a passion for a tidy culinary place, a walk-in-pantry is a must. Walk-in-pantry or pantry in the shorter term is an ideal way to keep all kitchen belongings organized.
When you have a pantry in your kitchen, you can enjoy multiple benefits- from easy cooking to a tidy kitchen. For the people who love cooking, it is easy to take essential items from a pantry attached to the kitchen.
Thus, they can enjoy cooking without any hassle or interruption. And the cooks who love to work in clean and clear surroundings also can enjoy the walk-in-pantry organization ideas.
They become happy and satisfied seeing the neat and clean kitchen with all of the belongings kept well in the pantry.
You, too, must have been amazed by the idea of a walk-in-pantry. And now you are planning to have one. Well, you need to learn how to arrange such a pantry first.
Here we will share some interesting walk-in-pantry organization ideas to help you design the best pantry for your kitchen.
What is Walk-in Pantry? 
Before we delve into the details of the walk-in-pantry organization ideas, we will briefly discuss what it is and how it differs from a cabinet pantry. Surely, you would love to get yourself well-acquainted with the pantry before getting the ideas to design it.
Walk-in-pantry is an easy-to-use storage space attached to the kitchen. The cooks love to keep the non-perishable food items there.  A walk-in-pantry has room for everyone ranging from butter and jelly to pickles.
Yet, many people are still skeptical about which one they should go for a walk-in-pantry or a regular cabinet pantry. In the next section of our article, we will share the advantages and disadvantages of walk-in-pantry and cabinet pantry options.
Let's proceed.
Walk-in-pantry vs. Cabinet Pantry: Learn the Details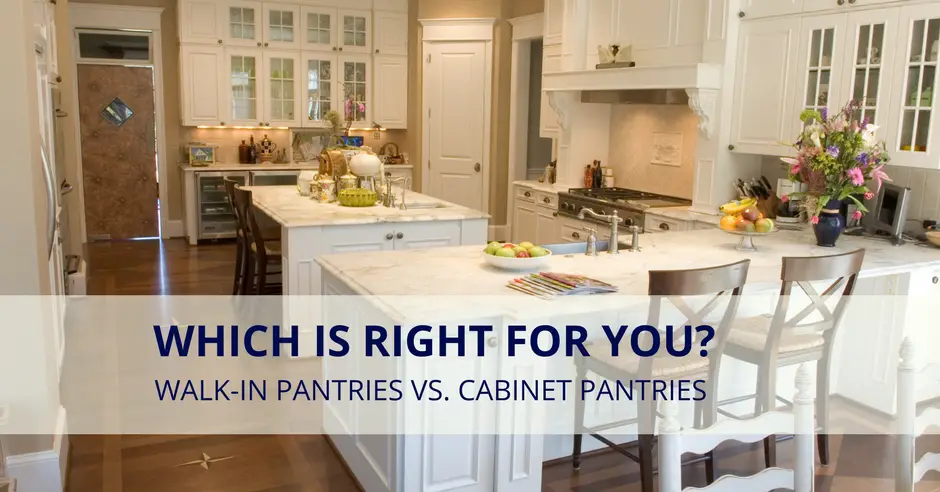 The major advantage of a walk-in-pantry is the vast storage space. With numerous wall-to-wall shelves, you can keep as many items as possible- from non-perishable food items and beverages to your cooking utensils and large kitchen appliances.
With such vast storage, you can maintain an organized rhythm in the kitchen. You can execute all your creative ideas to organize the jars, bottles, etc. You can easily store large appliances like juicers, deep fryers, microwaves, etc., and keep them safe from misuse.
Some of the pantries allow space for refrigerators as well.
On the other hand, cabinet pantries have limited storage space. So, things often get messy and disorganized in the kitchen. Also, the large appliances make the kitchen space claustrophobic when kept open due to no space in the cabinets.
Cabinet doors may take up extra space, while walk-in-pantries have abundant free spaces as they have no doors. Sometimes, walk-in-pantry organization ideas become costly and storage-consuming.
But, overall, in the long run, the experienced interior designers suggest going for a walk-in-pantry to ensure a neat kitchen and an enjoyable cooking experience.
Top 17 Walk-in-Pantry Organization Ideas: Interesting Affordable Ideas to Execute
If you are looking for walk-in-pantry organization ideas that can decorate your house and, at the same time, are affordable, you are at the right place. Here we will share some interesting ideas that come under your budget.
1. Plan a Beverage Section:
A unique and functional way to decorate and use the pantry! Create a section to keep all your beverage items, including tea, coffee, and honey. Also, you can design a small section for preparing the beverages.
Well, you can design it in two ways. Either you can keep only the beverages or add an alcohol section with these items. That is an easy way to find the beverages near your hand and quickly entertain your guests with the best champagne.
2. Pantry with Closets for Outdoor Items:
There may be some situations when you must enter the pantry section just after returning home. In that case, you should keep the outdoor shoes and dress accessories separately away from the kitchen items as they include dust, dirt, and germs.
So, you can design a closet in the pantry for them. Make sure that the area is separated from the other edible ingredients. You can plan this section at the back of the pantry door.
3. Organize Items in Labeled Sections:
Organize items with labels if you want to find them easily without getting lost in their abundance. Labeling the jars is always a good idea. Along with that, label the different sections accordingly. You can also use ready-made labeled jars to reduce writing stress or scribble the labels.
4. Keep Liquid Cooking Items in a Separate Section:
From vinegar to maple syrup, cooking requires multiple types of liquids. If any of them spill on the ground, it may be trouble. So, you need to keep them safely in a place. It is better to use a separate section for them. Whether a regular person or a professional chef, it always helps to find the items easily and cook better.
5. Install Sliding Shelves:
Instead of regular shelves, using sliding shelves is a good option to decorate the space and make it functional. It isn't easy sometimes to arrange the pots and pans on a regular cabinet-style shelf. Sliding shelves help to arrange things better.
6. Pull-out Pantry is a Useful Idea:
You can use the kitchen items both ways when you use pull-out cabinets. Static, single door, hinge pantry may hide the items placed towards the back. A pull-out pantry can solve this issue. And you can easily use whatever you want from wherever you want.
7. Mount a Metal Rack with Hooks: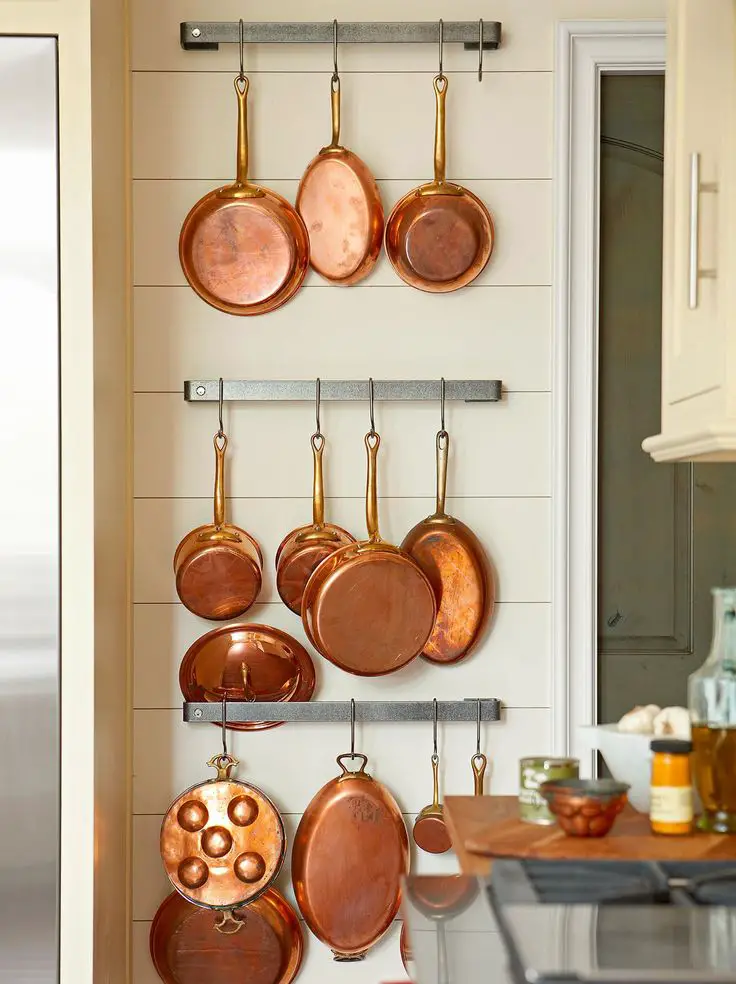 When placing the pots and pans, people often get confused. You can't keep them all open. And the cabinets get cluttered when you keep these large and medium items. To solve this problem, mount a rack with hooks on the walls. And place the pots and pans there.
8. Design a Spice-only Section: 
Spices are an indispensable part of cooking. Oregano, chili flakes, turmeric powder, herbs, and even salt must be placed properly to ensure easy access whenever required.
You can design this section along with the liquid sections, but you have to be careful that they do not get mixed up by any chance. The best option is to keep the spice section near the dry food sections in the pantry.
9. Use Tray Dividers:
For clean and hygienic cooking without any mess, you have to arrange plates to look organized and decluttered. You can go for tray dividers. These dividers help to create separate spaces for plates and trays.
Either keep one plate in one section or place two-three plates in each section. The color of the dividers should be light to ensure cleanliness and a minimalistic look.
10. Install Frosted Pantry Doors:
It is not possible to keep everything synchronized and well-arranged always. Mess is inevitable. So, you can use frosted doors in your pantries to reduce the sight of the mess.
If one pays attention to the pantry from the outside, one can only see a hazy view of the items behind the frosted glass. It is a popular option for many busy individuals and working professionals who do not get enough time to arrange their pantry.
11. Apply your Chalkboard Ideas on Pantry Doors: 
Whether the fall season or family gathering, chalkboard ideas are the best option to add to your home decor. You can incorporate your creative ideas into your pantry doors and make them look unique.
It is one of the most creative walk-in-pantry organization ideas. On the one hand, it will impress your children. On the other hand, it can mesmerize your guests visiting the pantry.
Other Walk-in-pantry Organization Ideas: 
A plethora of ideas is there to organize the pantry! All you have to do is decide on a preferred option for yourself. Along with the above-mentioned walk-in-pantry organization ideas, you can try some other ways.
Design a baker's rack with all the baking items on a series of shelves.
Decorate the jars with beautiful readymade templates or create your designs.
Use wooden crates for keeping various items like re-usable bags, kitchen dusters etc.
Multi-section door storage is a good option to maximize the pantry space.
Use a well-designed ladder to reach the top sections without any hassle.
Keep a space for cookbooks and enjoy a unique cooking experience.
Conclusion:
Well, walk-in-pantry organization ideas may not be for you if you are living a busy life. A quick lunch or dinner may be good for you at this moment. And with a walk-in-pantry, you may get troubled to find accurate items while going for a quick meal.
But, mark my words! Having a walk-in-pantry is always beneficial.
Even though you have a busy schedule, you can execute a sudden plan to bake your favorite cake on a fine evening! The pantry will take care of the ingredients! You do not have to rush to the shop.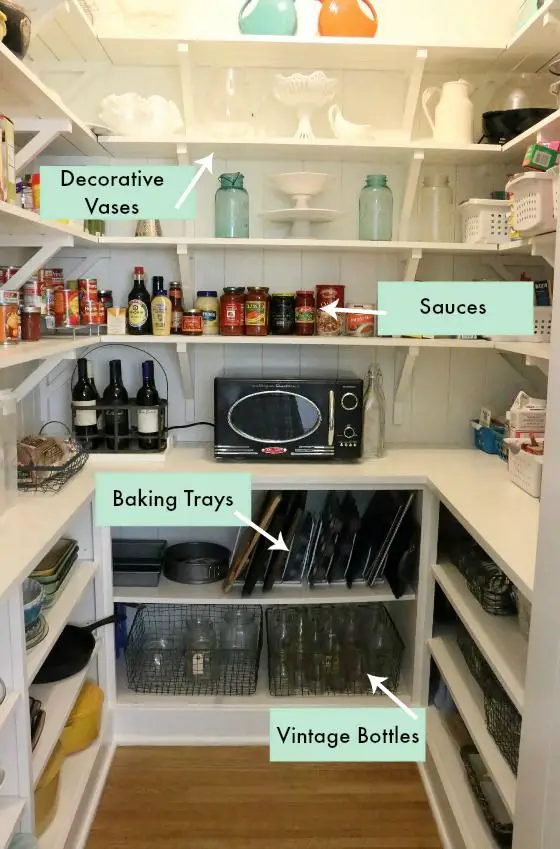 You can call your friends and enjoy a grand party. You do not have to worry about the diverse cooking ingredients needed for the party meals.
Enjoy a clean, neat, and happy kitchen experience with a walk-in-pantry installed where you apply unique walk-in-pantry organization ideas!