Stamped Concrete- Achieve The High-End Of Brick Pavements At Lower Cost
Stamped concrete is no less than a revolution in designing. Often termed as imprinted or textured concrete is specially designed to replace and replicate popular stones like tile, brick, flagstone, slate, and even wood.
Having plenty of colors and patterns makes stamped concrete a popular option for beautifying pool decks, patios, driveways, parking, and many more area you wish to add a sophisticated look on.
Other than this, these are highly affordable and requires low maintenance unline stones used.
While choosing a stamped concrete many questions float in our minds. Well, let us make this easy for you an decide you to chose the best stamped concrete designs for your pavements to make your house and surrounding look luxurious. Presenting the answers to most frequently asked questions by you.
Is Stamped Concrete Good Enough For Me?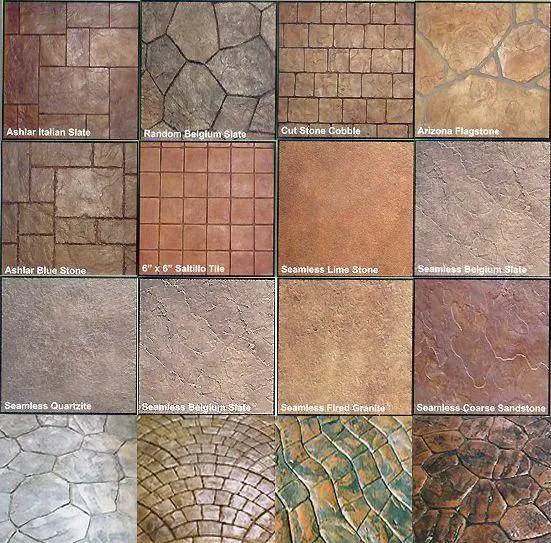 Want stamped concrete to your habitat, before proceeding to that why not have a look at some pros and cons related to stamped concrete.
Positive Features Of Stamped Concrete
It is highly affordable as compared to pavers, bricks, and natural stones to add.
These add immense value to your house.
They enhance the space outdoor much more than you expect.
You have limitless colors and patterns to choose from which makes it amazing to design your preferred space.
When it is treated using a non-skid additive, you can expect it to be slip-resistant.
These are long-lasting with high and amazing durability.
When sealed nicely, they can be easily maintained.
Negative Features Of Stamped Concrete
You cannot expect them to do it by yourself as they are not DIY friendly.
Have the tendency to develop few cracks over time.
Needs cleaning and resealing periodically.
These can be damaged by deicing salts, thaw cycles, or freeze.
It can be quite troublesome to repair them.
What Are The Options For Designs Using Stamped Concrete?
It's impossible to beat the alluring and smart stamped concrete when it comes to patterns, colors, and design looking from an aesthetic or expert point of view. These patterns you decide are virtually limited.
While choosing a pattern or design many people tend to receive inspiration either from the landscape surrounding them or the architectural overview of their house which would match the design most. Usually, it is highly advised to choose a color, pattern, or design that blends with the existing tiles, stones, and texture of concrete elements you are using.
For instance, if the house you live in has an exterior made up of bricks you can echo that theme itself by using simple yet beautiful brick-patterned borders. While choosing the pattern or scheme of color to be used make sure it matches the surrounding.
Patterns
The most amazing and popular types of stamped concrete include natural patterns having stone designs for example slate, fieldstone, and flagstone. Other than these bricks, wood patterns and cobblestones are closely behind using stones.
They appear as seamless stamps and give amazing texture without showing the joint type of patterns. You may also ask the workers to press these patterns along the fountains or stairs present in midway even the project is a little complex. The look they provide at the end seems beautiful and aesthetic.
Colors To Be Used
Talking about stamped concrete colors, the most popular and beautiful colors include earthy tones and gray colors. When going for inserting brick patterns in your concrete stamps you can use the natural colors of bricks to give it a major realistic look that appears luxurious. The colors you might use for bricks include a rusty-red hue.
You may use multiple colors and patterns based on preference. You can either mix colors or layer them. Colors when antiqued with tints and stains appears beautiful and gives you an endless list of options and possibilities to set in.
Multiple colors could be taken into consideration within the same kind of project to give the project a realistic outlook. Along with that, you may also insert contrasting patterns and borders of slightly darker hues.
Other Ideas To be Used
You can also use stamped concrete in conjunction with various decorative elements including acid staining and exposed aggregate patterns.
You can prefer the below-mentioned ideas as well to use your stamped concrete designs:
To obtain similar-looking looks for bathrooms, kitchen, basements, and family rooms if you are moving or renovating your previous house.
Stamped overlays are known for enhancing fireplaces and walls.
You can also rejuvenate your existing floors into concrete ones.
Stamp patterns can also be used for imprinting done on countertops to add a unique design element to it.
What Is The Cost Of Setting Stamped Concrete?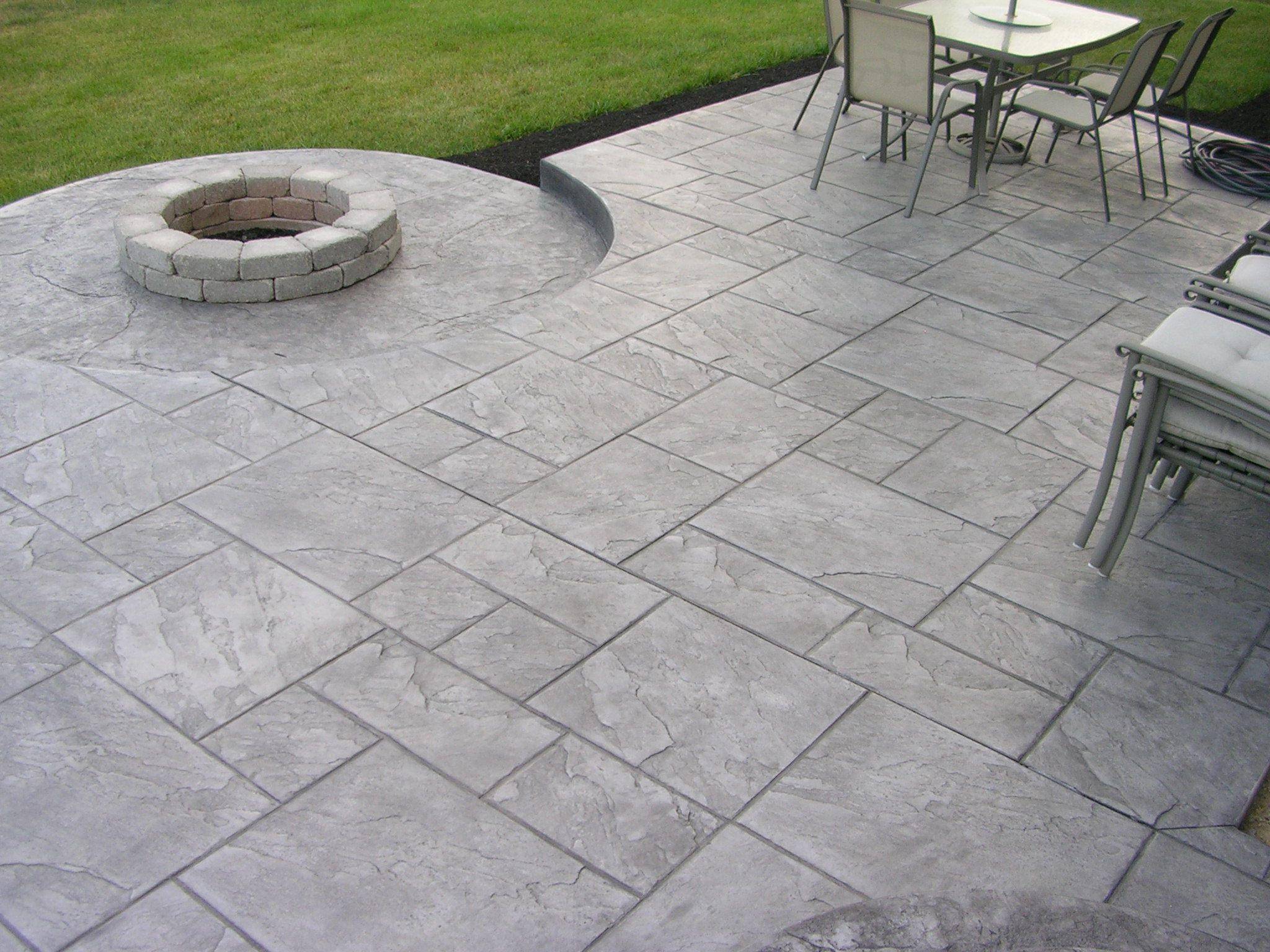 This is a general question that floats in our mind while searching for any sort of renovation in our house or building a new one. We have to apply all sorts of maths and calculations to decide our budget and see whether the material fits in or we have to settle for something else.
When talking of stamped concrete, these can be quite expensive but not more than using natural stones. The cost is highly based on what you are looking for. The cost of the material you purchase, the kind of labor you require, and the cost assigned by your local markets for particular materials altogether decide how much you have to invest in stamped concrete.
After seeing the positive characteristics associated with stamped concrete you might have gotten the idea that the surface you will achieve through this lasts generally longer, the maintenance trouble is quite lower, which indicates that over the lifetime of stamped concrete you will achieve huge savings.
Not only this will enable saving a lot of your money over time, but also it will curb appeal and give your house an aesthetic and appealing value you have been longing for. You can expect basic designs of stamped concrete having a single pattern and only one color anywhere between 8 dollars to 12 dollars per square foot.
If you need mid-range jobs having contrasting patterns and borders this can take an investment of 12 dollars to 18 dollars per square foot which is quite fair. When looking for high-end ranges having customized designs and patterns you will require nearly 18 dollars or more depending on quality and labor.
How Does Stamped Concrete Compare To Using Stone Or Any Other Material?
If you compare stamped concrete with other materials including similar stones you will be able to conclude how these materials easily excel over other materials in various categories. Let's discuss the features:
Customization: When you search briefly, you will witness that any other material except for stamped concrete does not offer so many variants of color and patterns. You can customize the type of designs and patterns including the borders you desire completely by yourselves based on how it will complement the house. You can watch how beautiful the area looks while sipping coffee from your aesthetic bedroom.
Maintenance: The maintenance you require is minimal in nature. After deciding and using one, you will see that it usually lasts for decades whereas other surfaces including natural stone or precast pavers need constant maintenance to prevent the growth of weeds in between them. Along with that the stone designs and pavers require sand fillings.
Installation: You will be highly elated to see that the installation is very quick and amazing as compared with pavers and natural stones.
Price: Another aspect that makes the stamped concrete excels. Pouring and using stamped concrete is considerably less costly than installing stones. Although, if you find some natural stone designs at a much affordable cost, after applying them you will have to spend a lot of money regularly for their maintenance which is not the case while choosing stamped concrete.
Will Stamped Concrete Appear Fake?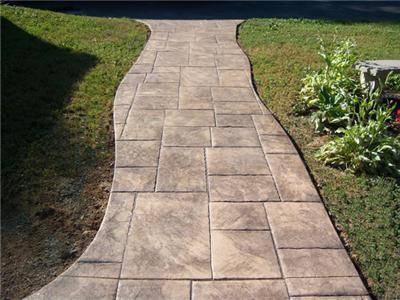 Do not worry about this aspect as when the materials for creating stamps in the concrete are made, it is made sure that they are created using the shape and design of actual stone or pavers to easily replicate them. Due to this, the end look of stamped concrete appears an exact replica of the original one.
If you wish to achieve natural-looking variations in colors that are present in real designs of stones and pavers, you can customize the design and color. The contractors of stamped concrete usually use dry shake colors or integral colors in concurrence with various surface applied mediums of coloring.
Know that stamped concrete appears far better and nicer than the real stones because after few years you will not have the issues of weed growing between them to overpower the look or growth of mosses that can spoil the aesthetics. If you have decided to mimic wood designs on stamped concrete, you do not have to worry about rotting or splintering of wood design unlike actual wood used.
Does Stamped Concrete Have Slippery Stature?
As you know by now that stamped concrete is textured due to which it is resistant to slipping, unlike conventional plain concrete designs. However, when it is wet, it may become slightly slippery like all the other materials do be it stones or pavers.
If you wish to install these concrete in public areas like pool deck or entryways that have high traffic, you would want them to be even less slippery be it wet or not. If this is the case you may ask the contractor while planning to use non-skid additives in the concrete or use a high textures concrete. Other than both these points, there are numerous things that you apply as an add-on by conveying your needs to the contractor.
How Long Will My Stamped Concrete Last?
As mentioned above you can expect these to last for decades when the maintenance and installation are done quite well and checked with time. Even if they are highly exposed to harsh climatic conditions like extreme winters or sun exposure, you will see that these are highly durable than the normal or standard concrete used. Many contractors often use sealers to concrete designs in order to protect them from wearing or abrasions which makes them much easy to maintain.
How To Install Stamped Concrete?
Stamping concrete to get your desired color and pattern is not an easy task to perform. There are various steps involved that should be executed well and carefully to get the most uniform results on the entire slab of concrete before the concrete sets in and you cannot do anything further. You have to make sure the patterns and designs you have set are pre planned.
The labor required and tools needed should be instantly available. Once the concrete is poured on the surface and allowed to get the desired consistency for stamping patterns certain release agents and color hardeners are applied to it.
When applying the pattern, the concrete is checked again. Detailing, cutting joints and finishing work ends up completing the entire procedure.
Mostly the stamping process is done on the concrete that is newly poured. You will be amazed and astonished at how the design appears and enhance the look of your surroundings.
It is highly advised to not try and do it by yourself. It is not a normal DIY project you have done earlier. The main reason behind this is that you get only a single chance to make it right, if you cannot do it in that chance itself, the concrete will solidify and the wrong pattern you have set becomes permanent unless you remove it.
Wasting time and money for removing it another headache many people have gone with. Other than this the tools and machines you require for stamped concrete cost hundreds of dollars, you have to purchase them separately while you can choose expert labors to do the task for you efficiently and accurately.
How Do I Maintain My Stamped Concrete Surface?
After successfully installing these materials, the question arises how do we maintain them successfully? As said earlier the maintenance is quite easy and long-lasting along with amazing durability.
If you want it to look as astonishing and new as it was during the time of installation you may consider resealing stamped concrete and cleaning it every 2 years or 3 years at an average rate. However, the cleaning and resealing also depend upon the area where you have installed concrete stamping, for example, if you want to clean the garden basic cleanings using a pressure washer or garden hose along with using mild detergents is all you need to do before carrying out the process of reasling.
Using color hardeners or sealers will eventually make the surface more strong and resistant to any sort of abrasions occurring in it. It will also aid in preventing and blocking the penetration of stains, chemicals, dirt, and water.
Will The Stamped Concrete Crack Overtime?
If you make sure it is installed correctly under expert guidance, the chances of cracks in your stamped concrete are quite less. Even if you witness minor cracks in it by observing too closely, you should not that others might not see them passing by. The cracks have the tendency that they often blend along with patterns and colors used. But, in case the cracks are huge and easily noticeable you can take help from the contractor that installed them at the first place as there are ways they can apply to fix this.
Will Color Of My Stamped Concrete Fade?
Efflorescence, dirt, traffic, and weathering can make the color appear slightly dull. To minimize the changes in colors you can use ways to clean the surface more often. Periodically resealing the surface will make it appear nearly new. Usually, the colors fade when decades pass after installation.
Is Using Salt On Stamped Concrete Crucial During Winters?
It is advised to avoid applying any deicing salt on the surface of these concretes during the first winter that has arrived after you have installed these on or near your house. By doing this you are making the surface more likely to get damaged.
Products that have substances like ammonium nitrate or ammonium sulfates are very harmful. Avoid using anything that contains any of this material because it will harm the chemical nature of installed concrete that will result in early damage.
Sodium chloride also known as rock salt commonly along with calcium chloride will produce fewer damages comparatively but using these are harmful too as they will corrode the metals and damage natural vegetation nearby. If you are looking for a great alternative for traction, you may try using sand.
These were answers to commonly asked questions on stamped concrete by you all. You will get all the information related to concrete and stamping by going through them.