The Hallway is the area of the house where the guests arrive. Everyone welcomes their guests straight to the Hallway. A well-designed hallway attracts visitors, making them curious to share your beautiful space. Whether you live in an apartment or a small place, you can always do something to style your Hallway or be hallway walls due to the variety of designs available.
So, we are here to provide you with some amazing hallway Wall decor ideas to transform your boring wall decor into a beautiful place.
9 Best Hallway Wall Decor Ideas.
1- Hallway Gallery Wall.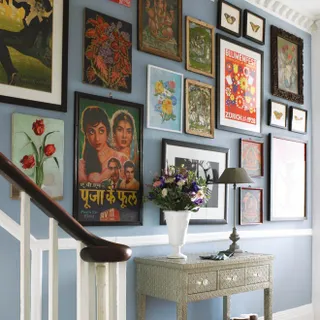 The first Hallway wall decor idea in the list is a gold-framed gallery wall popping with different colors. This is the best way to showcase your favorite family photos or snapshots on your hallway walls.
You can use gold frames with black lights to enjoy luxury. The different colored frames will provide a sophisticated space. The colors used in different parts of your house can be displayed in one place. So you must choose this option as you will love your Hallway Wall.
2- Corner Shelving.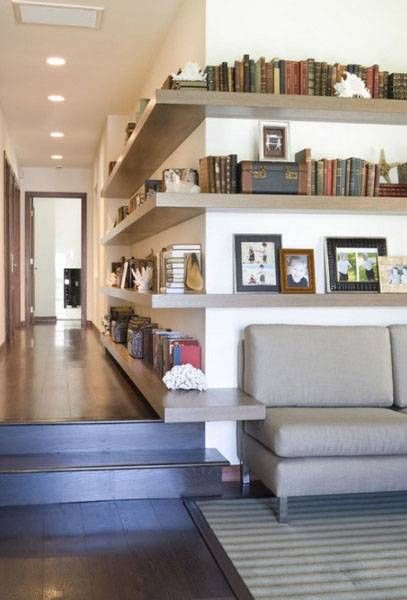 Sometimes, it's quite challenging to style a hallway wall, but creating a space for corner shelving at your place would transform your boring walls into a beautiful space.
You can install corner shelves in your space which will help you showcase a variety of things like flower pots, small vases, paintings, and many more. This hallway wall decor idea is best to show your creative skills and use them to decorate your shelves.
3- White On White Frames.
This is one of the best hallway wall decor ideas to try. If you want your Hallway to appear bigger than usual, you should use white.
You can prefer using white frames and white mattes for pictures but make sure that both the frames and the mattes don't smash with your wall paint. Try picking up frames that provide you with crafty shadow formation. You can also go for monochrome, as it looks elegant.
4- Use Of Board And Batten.
If you find your normal walls too simple as per your preference, then you can try this hallway wall decor idea, which uses boards or battens for your Hallway.
Using boards and batten is quite a distinctive style that can keep your mind relaxed whenever you walk through your Hallway. You can choose an elegant or bold palette of whatever size you want to be rigged out with boards and batten in your Hallway.
5- Storage In A Hallway.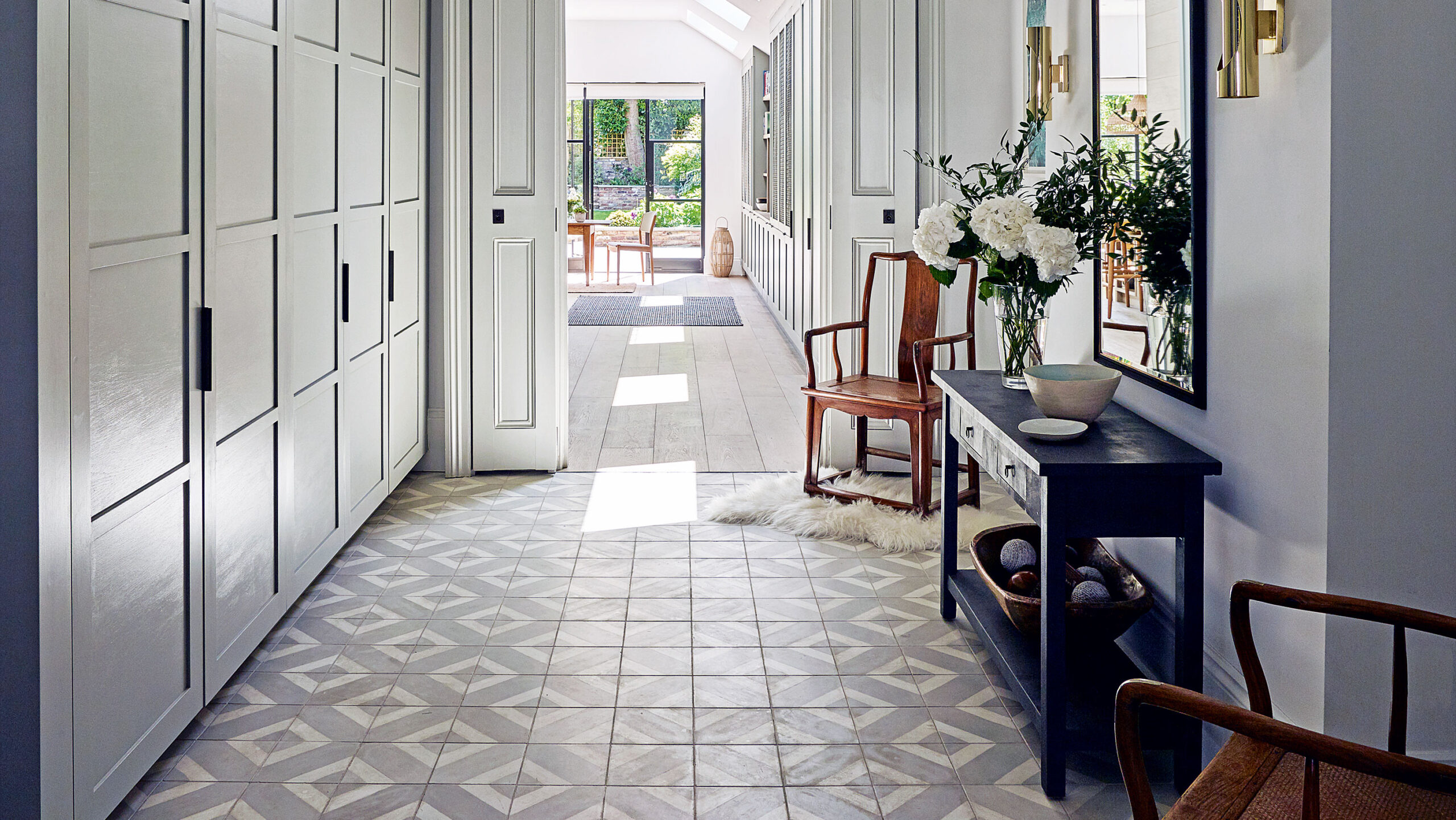 This hallway wall decor idea is a great option to hide boring walls behind storage. If you have a large hallway, you can go for shoe storage, a small desk, or a shelf for small things.
If you have a narrow hallway, you can use a slim storage set with drawers to keep your shoes. It is easy for you to put on your shoes while going out. Moreover, you can use creative artwork or accessories to make it appear cheerful or colorful. You can also install a key station that will help you find the right key in a hurry.
6- Mirror On The Wall
It's a great hallway wall decor idea to put a mirror on your wall. There's no doubt that a mirror makes a space appear much bigger and also reflects light entering your place. 
Since mirrors come in different shapes, designs, and sizes, you can choose the one which fits your hallway space and adds an aesthetic look to the overall space. You can even fix the mirrors above a console table to create an adorable look.
7- Opt For Wall Mural
Leave the guests amazed by this wonderful hallway wall decor idea by choosing a hallway wallpaper. The Hallway is where you can try your creative skills and choose some designs to enlighten your Hallway.
You can apply wallpapers on your hallway walls. Once you apply wallpaper, your walls will no longer look empty or boring, and you can easily fill large hallway spaces using wallpaper. You can prefer a mural to make your entryway look more interesting and beautiful. Also, use the paste-the-wall method to do so.
8- Add Small Accessories On The Wall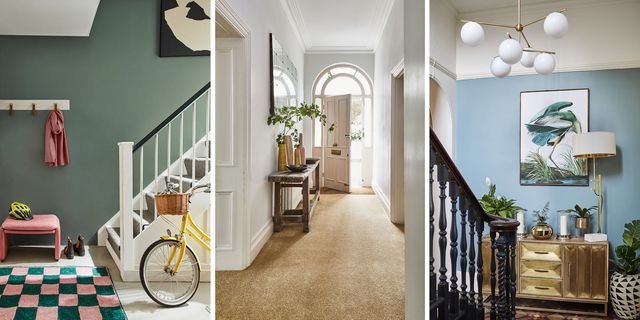 Though the entryway is a small space, it does not mean you limit any personality's space. Small steps can make a big change on your walls and add to the interest.
This Hallway wall decor idea calls for using cute prints on your walls, adding small baskets to the corner space, or putting a plant to create greenery and peace. You can hook your walls where you can hang some accessories for ease. Use decorative pieces to add shine to your hallway walls.
9- Consider A Darker Shade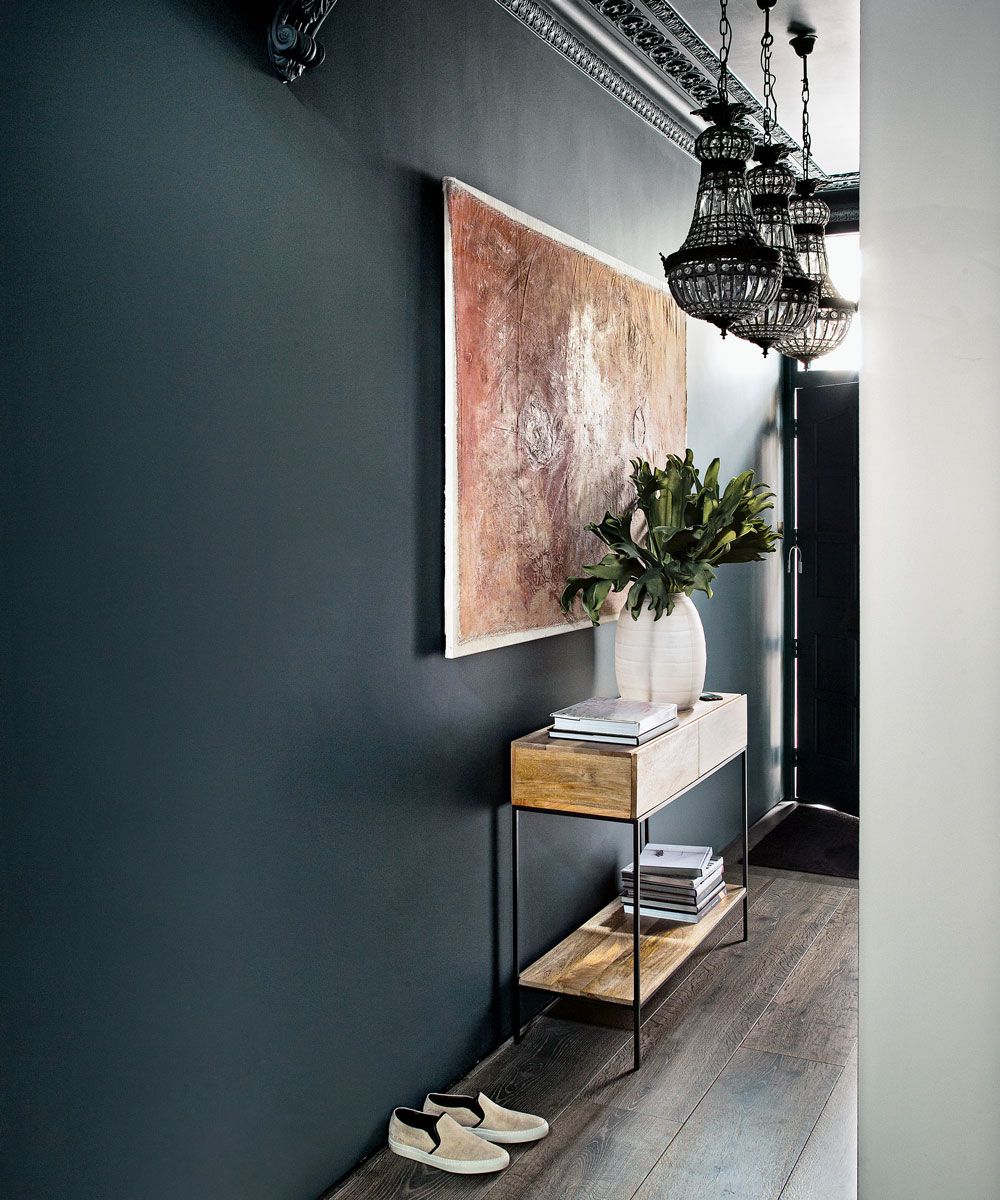 Most people love the neutral colors on their hallway walls, but you can't underestimate the darker paint on them. So, why not try a dark green shade for your Hallway?
The rich dark green color is one of the best hallway wall decor ideas to fill your space with personality. The green shade is a vibe and makes your space feel warm. So go for this idea to feel the vibe in your Hallway.
Cessation | Hallway Wall Decor Ideas
The Hallway is the first place that welcomes you and your visitors while walking through the place. So you need to pay attention to the Hallway by decorating its walls with different ideas and creating a sense of style in the Hallway. Since many people find it difficult to decorate or style their hallway walls, our thorough research has provided you with some of the best hallway wall decor ideas to bring the most out of the boring space.