"Life is too short to have boring hair". Yes, it's true and we all are lucky enough to have a wide spectrum of hair colors available right in front of us. People who think that natural hair colors like brunette, blonde, ebony black, etc. are way too boring for you, don't you worry. You have tons of options available.
There's a saying that "Nothing can go wrong with a little pink". Imagine yourself getting that pastel pink hair look that you have been eyeing on for ages. Even though pastel pink is trendy and cool, it is considered ancient as it holds an interesting history. The Pastel effect is one of the famous effects introduced in the early 1800s by the Frenchmen.
It is one of the vintage aesthetics that the ancients used to follow. The pink hair trend started way before the 20th century itself and the interesting part is that both men and women used pastel hair powder to dye their hair. Back then they used natural ingredients to create the pastel effect.
One more advantage of pastel pink hair is that even though they fade, they fade into an even more beautiful pink color that creates a great reflecting effect. Gear up for some super cool "pastel pink hair" trends that you need to know.
Top Six "Pastel Pink Hair" Ideas
Bubblegum effect
This "great for summer" aesthetic look is one of the trends that many are interested in. It gives a luscious and comforting look and one more thing to feel happy about is that it is suitable for both men and women.
The final output you get after the bubble gum effect is all worth the money. Also, adding a metallic touch to the bubblegum pink hair will make you get extra compliments for your look and it is also suitable for the autumn and winter look as well.
Peach 'n' pink
One of the most interesting ways to wear pastel pink hair is by combining it with peach. It gives an overall minimalist look and it is definitely worthy and cool to post on your Instagram too. (#just peachy things).
This aesthetic look is more suitable for people with naturally light hair. People with a naturally dark hair color may need to bleach their hair, beforehand. This aesthetic trend can undoubtedly be followed to top your autumn as well as a summer look.
Just streaks
If you are a minimalist and want your hair also to be similar then you can definitely follow this trend. This is definitely not as boring as it sounds. coloring just a few of your hair strands with pastel pink is definitely a game changer and it is cost as well as time efficient.
If you don't prefer dying your hair then you can go for the pastel colored clip-on strands which are available online. Also, it reduces the cost by half as you don't need to go to a salon to attain this look.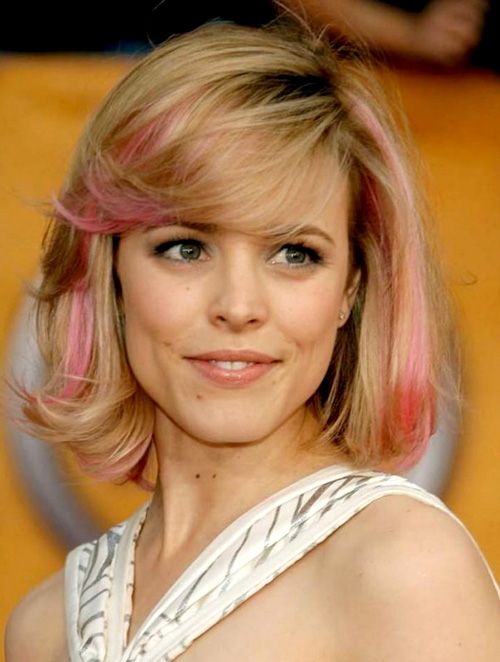 Pastel pink hair with dark roots
This look is evidence for the fact that pastel pink hair color is not only suitable for naturally light hair but also for dark ones. If you have full blond hair then your hair has to be darkened from the root to the part above your mid hair.
It can go on with almost every stylish look in the present times and it gives your hair an overall contrasting look.
The Ombre effect
Ombre is a French word that literally means "shadow". This effect usually involves two colors in which one is lighter than the other. Often people confuse it with balayage. Ombre is an effect created in your hair whereas balayage is a technique used to color your hair. This look is suitable for the pink gothic look as well.
Pastel pink hair with an Ombre effect can be achieved by using colors like lavender, dark purple, hot pink etc. Whatever color you are choosing make sure it goes well with the pastel pink hair or else the desired look cannot be achieved.
The neon effect
This effect can be done by using neon pink babylights. It gives a color popping effect to your hair and it goes well with most modern looks. This unbelievably wonderful look can not only be done by neon pink but also by using other neon colors like lime green, sequin pink, etc.
Frequently asked questions
Will the pastel pink hair color last longer?
Ans. The answer is no. It fades quickly when compared to other colors and other shades of pink as well.
Is it expensive?
Ans. Yes. It is quite expensive but it varies from salon to salon and stylist to stylist. However, the final output is definitely worth the price.
How to maintain the effect?
Ans. Pastel pink hair is a high maintenance trend and so think twice before getting it. This needs frequent touch ups and constant care. To maintain the effect, shampoo your hair less often (twice a month).
What are the disadvantages?
Ans. Not all are resistant to the effects caused by pastel hair dyes. Side effects include allergic reactions on the scalp, headache, conjunctivitis, excessive hair fall etc. Also, the pastel effect doesn't match with every look of yours and it fades very quickly.
Can pregnant women get their hair pastel colored?
Ans. It is advisable to wait until your second trimester. Instead, try using natural dyes instead of pastel tones as the natural hair dyes involve fewer chemicals. Whatever product you are applying to your hair, consult your doctor before making any decisions.