" I just can't believe that it's always somebody else's fault. Sometimes you just have you take a look in the mirror and reflect on what went wrong "
~ Kellyanne Conway
Kellyanne Conway, the then-campaign manager of the former US President Donald Trump, is considered as the first woman to have run a victorious US presidential campaign. Kellyanne is a renowned American political consultant and one of the best pollsters.
She served as the Senior Counselor of Donald Trump for three complete years(2017-2020). This article deals with the facts about Kellyanne Conway net worth, early life, career, and so on.
Early life
Kellyanne Elizabeth Fitzpatrick, popularly known as Kellyanne Conway, was born on the 20th of January,1967, in Atco (an unincorporated community in Camden Country, New Jersey), to Diane and John Fitzpatrick. Mr. Fitzpatrick owned a small truck company and Diane, Kellyane's mother, was a banker. She belongs to a catholic family.
Her parents separated when she was just three years old. After the divorce was finalized, Diane got custody of Kellyanne. Kellyanne was then raised by her mother Diane, her grandmother, and her two aunts in New Jersey.
She studied at St.Joseph high school in Atlantic County and graduated in 1985. Ever since she was a student, she has always been an all-rounder. In school, she used to indulge in several non-scholastic activities like singing in the choir, participating in parades, becoming the cheerleader, etc. She also played hockey during her school days.
She admired nature very much. This is pretty much evident from the fact that she worked on a blueberry farm in New Jersey for three consecutive summers. She learned many work ethics there and at the tender age of 16, she won the New Jersey Blueberry Princess pageant.
After graduating from St.Joseph, Kellyanne pursued a Bachelor of Arts in political science at Trinity College in Washington DC. Right after her college graduation, she joined as a judicial clerk in the Superior Court of the District of Columbia.
Personal life
In 2001, Kellyanne Conway tied the knot with George Thomas Conway Ⅲ, an American attorney. George came to know about Kellyanne through CNN & Company. When she was featured in one of the famous magazines, Capital Style (circa 1999), he approached his friend, Anne Coulter (who was featured in the same magazine too) to introduce them.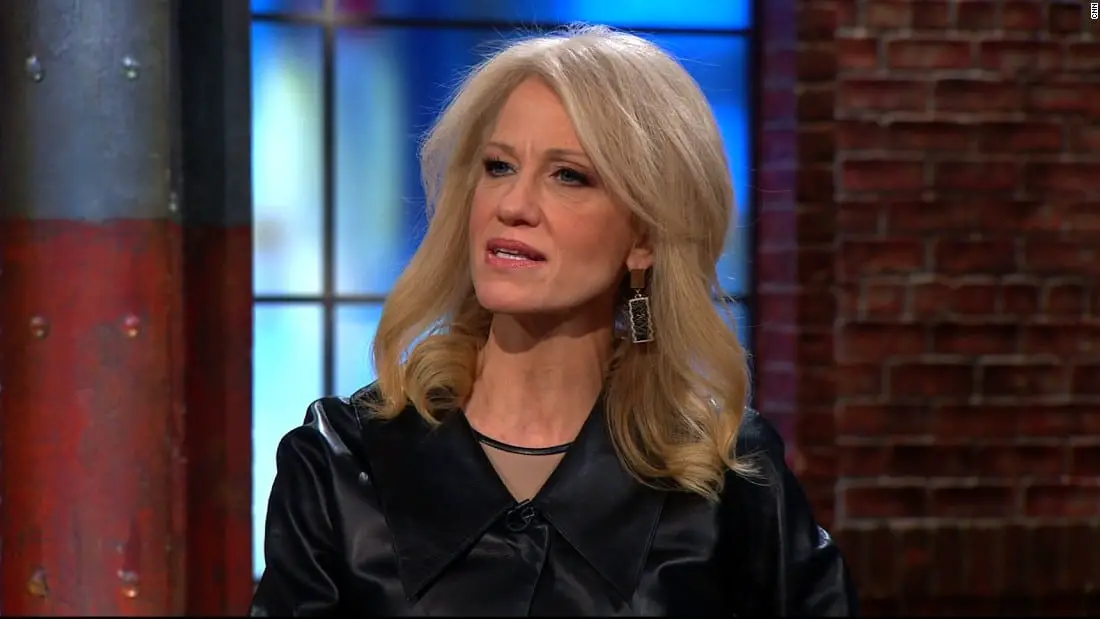 After two years of dating, they both fell in love with each other and decided to solidify their commitment. She also said to one of her closest friends that George was the person whose "near constant pressure" did not annoy her at all. She gave birth to four children (Claudia Conway, Vanessa Conway, Charlotte Conway, and George Conway).
Career
Have you ever heard about Wirthlin Worldwide? Wirthlin Worldwide was a political consultancy firm founded by Richard Bitner Wirthlin (one of the famous political consultants, a pollster, and the chief strategist of Ronald Reagan). Kellyanne started her career in polling by working as a search assistant for the Wirthlin group.
Kellyanne also rendered her services to famous personalities like Jack French Kemp, Newt Gingrinch, Mike Pence, Fred Thompson, and so on.
Kellyanne Conway was not only a renowned political researcher but also famous for directing several demographic survey projects for famous companies like American Express, Major League Basketball, ABC News, etc.
On the 1st of July, 2016, former US President Donald Trump, selected Kellyanne Conway as the senior advisor for his presidential campaigns. After that, she became the first-ever woman to successfully run a republican general election campaign.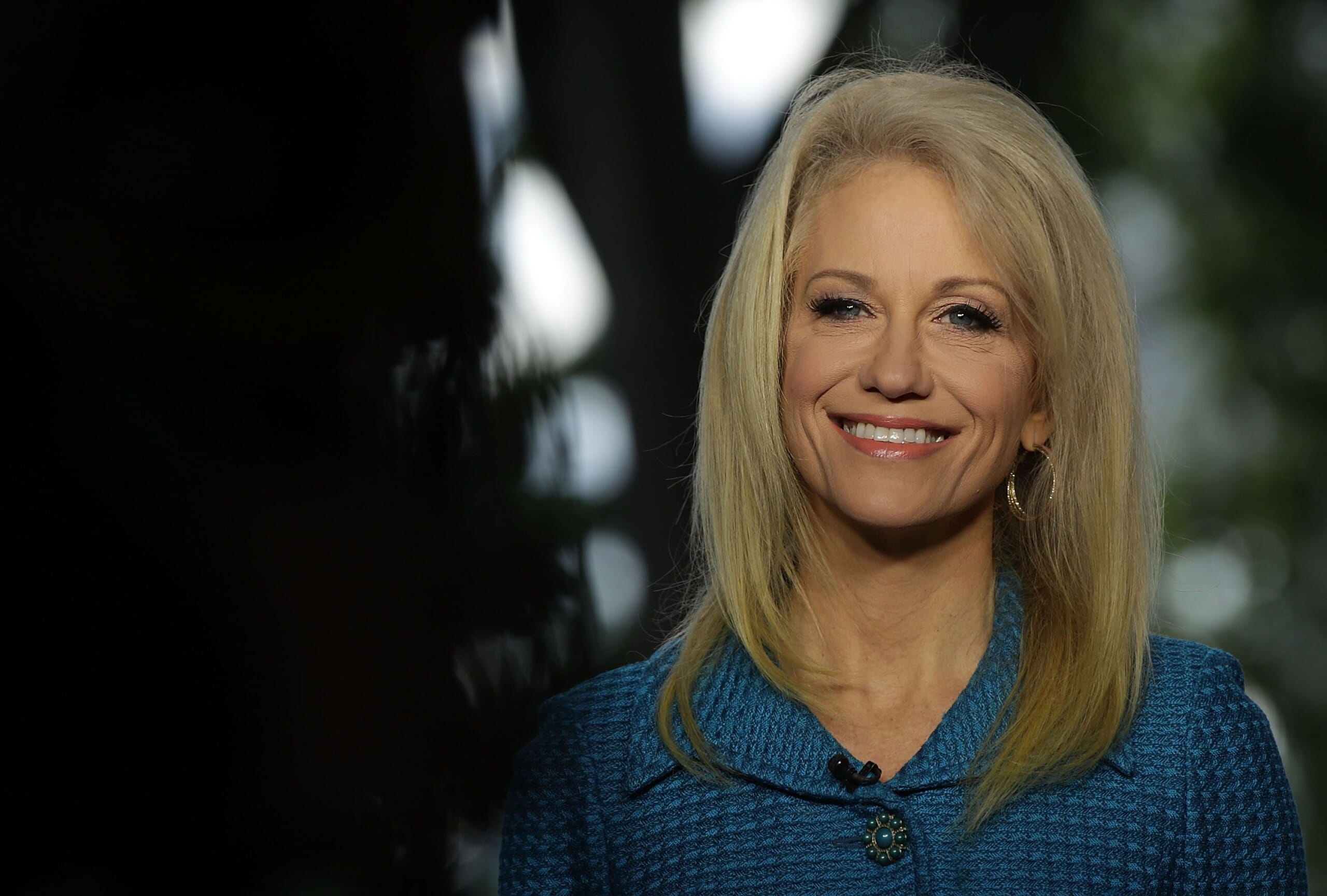 She was awarded the 39th Golden Raspberry Awards for worst supporting actress in 2019. She also co-authored the famous book "What Women Really Want: How American Women Are Quietly Political, Racial, Class and Religious Lines to Change The Way We Live.", along with Celinda Lake.
Kellyanne Conway Net worth
Her political career itself is evidence to the fact that the Kellyanne Conway net worth is more than just a few millions. Wondering what the Kellyanne Conway net worth is?
Well, It is believed that the Kellyanne Conway net worth is around $39 million. Her services before leaving The White House made her earn around $179,700 annually. This famous husband and wife duo also owned several other assets worth $10 million and $39 million.
After her departure from The White House, Kellyanne began to receive a stipend amount of $15,000 from the Republic National Committee. Around 2017, Kellyanne sold her polling company for around $5 million.
Kellyanne, George, and their four children reside in a mansion in Washington DC(15,000 square feet) which they bought for $8 million.
Kellyanne about Feminism
She says that she doesn't consider herself as a feminist as she believes that the term "Feminism" is closely associated with being "anti-male" and "pro-abortion". Anyways, she also says that she considered herself as an "individual feminist". She had also said that nobody didn't care about her words on "Me Too" and her experience on sexual harassment, due to her political career.
Cessation | Kellyanne Conway Net Worth
The Kellyanne Conway net worth has reached where it is today because of how talented and hardworking Kellyanne is. She understands her role in the society and tries to live by the ethics that she has set for herself. That is what has made her so successful.
She is truly an inspiration for many women. She can be considered as a living example for the famous saying "Never apologize for being a strong woman". Problems come and problems go. It is the experiences that you get and the lessons that you learn that matters the most.