During special occasions and festivals, Kare Kare is a good option that you can prepare. It is a Filipino stew, prevalent among the people of the Philipines due to its thick and rich peanut sauce. The stew contains oxtail and veggies in the traditional forms. However, there are many instances where ox tripe and tail, beef stew cuts, and pork hocks are now used with various vegetables like bok choy, eggplant, banana blossoms, and string beans. To thicken the sauce, lightly browned toasted ground rice is used.
This dish is prepared in a palayok or clay pot. The pot, at the same time, serves as a serving bowl. Kare Kare tastes best when served with plain white rice. Bagoong alamang, or fermented shrimp paste, adds flavor to the dish. Combine a spoonful of rice, Kare Kare, and bagoong with a small portion of bagoong, and enjoy!
Customarily, the choice meat is cooked down for hours until it reaches the desired tenderness. The dish is usually reserved for special festivals as the Kare Kare recipe is lengthy. However, using suitable rice flour and peanut butter turns it simplified enough to be suitable for everyday dinners. So, Give it a shot.
Take a look at where Kare Kare comes from
There are three general theories about where the Kare Kare recipe originated:
The Kapampangan version, a traditional dish called Kari, is thought to be the original Kare Kare.

The precolonial Moro elite claim Kare Kare is a traditional dish in Sulu and Tawi-Tawi.

The Sepoy soldiers from the Southern Indian British colonies, where Kare Kare evolved from a type of curry.
Whatever the origins of this delectable dish are, it has evolved into a rich and flavorful stew that is popular in both the Philippines and the United States.
Kare Kare recipe versions
The Kare Kare recipe has several variations. Before cooking and knowing the Kare Kare recipe, you must know about the different versions of the dish. The most noticeable distinction between these recipes is related to the meat ingredient. We now know that oxtail is the traditional protein in this dish. Tripe is another useful ingredient. Some variations use different types of meat and even seafood.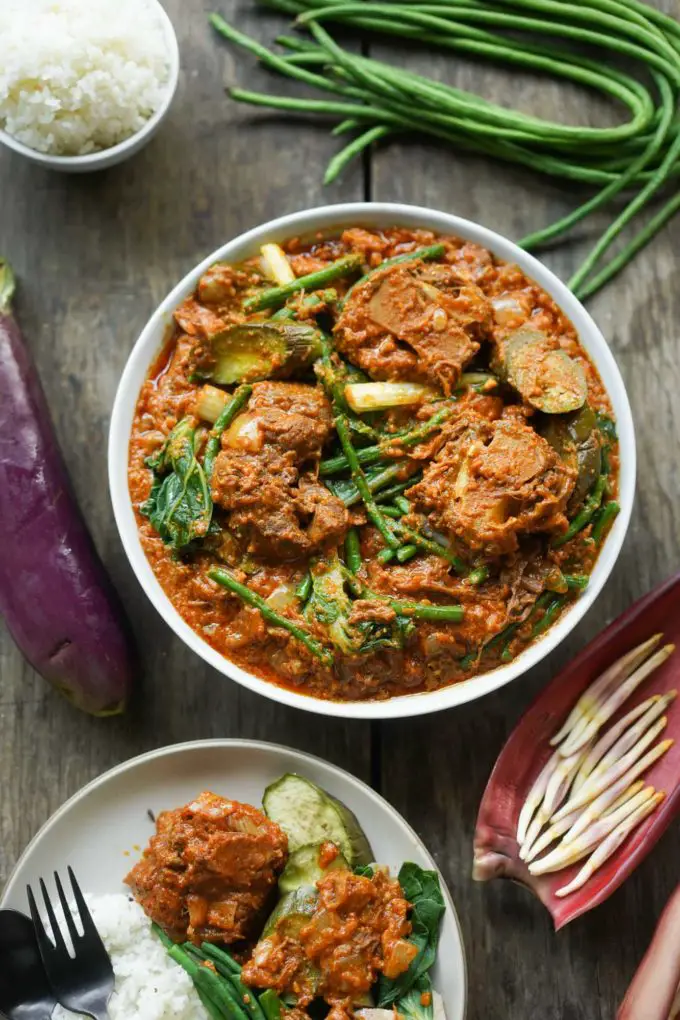 The traditional version is known as beef Kare Kare. This primarily applies to beef-based versions. Beef Kare Kare recipe is made with beef chuck, beef shank, and Maskara ng Baka, or cartilage from the cow's face.
Seafood includes shrimp, crab, mussels, and squid. A Kare Kare recipe that includes these ingredients is known as seafood Kare Kare. Fish can be used as well in this Kare Kare recipe.
Pata is a pig leg or a pork hock. It is the second most popular ingredient after oxtail. This cut of meat is popular because it is less expensive than beef and complements the other ingredients well. Pata is a favorite ingredient in the contemporary Kare Kare recipe cooked. The thick and flavorful sauce complements the pata's tender meat and fat. It's delectable!
Kare Kare recipe cooking instructions
Making Kare Kare from scratch can be time-consuming due to the braising process (up to 2-3 hours), but it's always worth it. The amazing thing about this dish, like pork adobo or chicken adobo, is that it gets more pleasing the next day because the flavors blend.
Let's get into how you can make the Kare Kare recipe anytime at your home for dinner or guests. 
There are three steps that you have to follow. The steps are to tenderize the meat, make the sauce, and prepare the vegetables.
The meat
Boil the meat with the chopped onion to prepare it. This will make it tender while also providing flavor. For the oxtail Kare Kare recipe, the oxtail should be very tender to get the best results. Many people like to sear the meat first to get a nice golden crust on each side, then finish by sautéing garlic and onions for the braise. You can also adopt the same.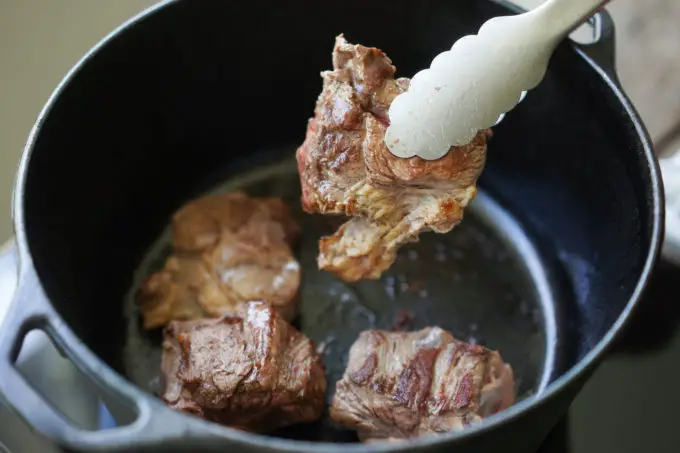 This prepares us for a flavorful braise; make sure to add enough water at the start and keep topping it off throughout the two to three-hour braising process. When using the traditional method, it takes about 3 hours to boil. A pressure cooker is a faster option. It cuts cooking time in half.
Peanuts, peanut butter, and toasted rice powder
The peanut sauce has the power to make or break your dish. Peanuts play an essential role in this dish and give it its distinct flavor, but there's a fine line between a nutty Kare Kare and a stew that tastes like you're eating straight peanut butter. It is critical to have the proper ingredient ratio to achieve the desired sauce consistency.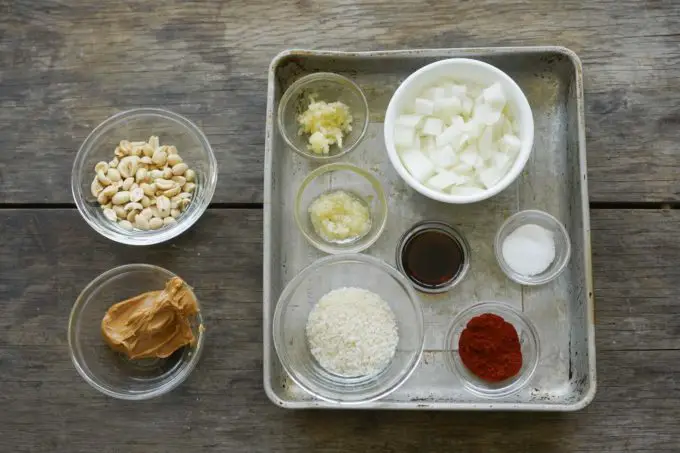 It should be neither too thick nor too thin. To make the sauce, you must combine peanut butter and crushed peanuts. It gives it a rich flavor. Use smooth peanut butter to thicken the sauce and add more peanut flavor. Use a powerful blender (that can grind ingredients like ice) to make ground peanuts. Grinding peanuts can be tricky because you want just enough fineness to avoid crunchy bits.
Other ingredients in the sauce include toasted and ground rice, which acts as a thickener and adds to the dish's complexity of nuttiness. Annatto seeds give the sauce a reddish hue. To extract the color, you'll need to soak the seed in warm water for about 15 minutes. The colored water, not the seed, is used to make the dish. After using the seed, throw it away.
Vegetables
Vegetables are an important part of the Kare Kare recipe. It can be cooked alongside the meat or added when the dish is served. However, most people choose to sauté the vegetables separately with garlic.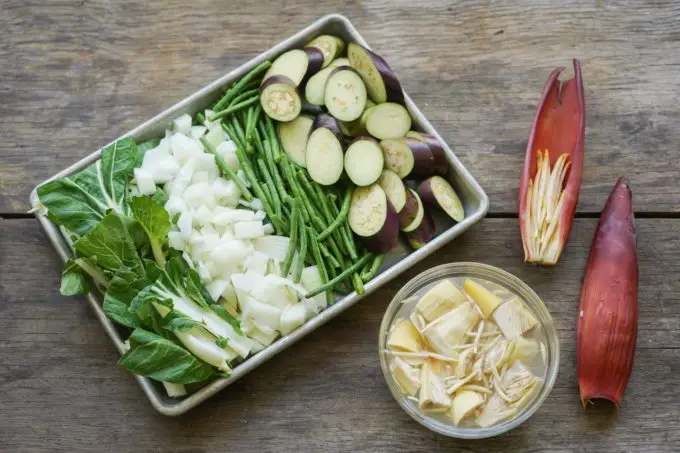 Traditional vegetables used in this Kare Kare recipe include eggplant, peachy (or regular bok choy), long string beans, and banana hearts. For banana flowers, peel the tough outer layers until you reach the light yellow center. This is the heart of a banana. Cut it into quarters and soak it in lemon or lime water to keep the colors from changing.
Green beans, cabbage, daikon, and other vegetables can also be added. Blanching the vegetables before adding them to the Kare Kare is vital. It ensures that all vegetables are evenly cooked when added to the stew.
Also, Read Braised Beef Cheeks: Learn to Cook it in 5 Simple Steps!
Tips for Cooking 
Below are some tips to help you cook the Kare Kare recipe properly. 
To quickly tenderize the oxtail, use a pressure cooker. It takes 30 minutes to complete the task instead of around 3 hours when done traditionally.

When boiling with the traditional method, keep an eye on the amount of water. Pour in more water as needed until the meat is completely tender.

Bagoong alamang, or 

shrimp paste

, is a necessary ingredient in the dish. It should be completely cooked before serving. Precooked bottled bagoong alamang is also available at supermarkets.

During Kare Kare recipe preparation, you can try every type of meat. The very familiar favorites of all are oxtail, pata, cow's face, or Maskara ng Baka, and tripe.

Traditionally, toasted ground rice is used to thicken the sauce. This is a useful ingredient. As an alternative, you can use cornstarch or potato starch.
Annatto comes in a variety of forms. Annatto powder or paste can be used in place of the seed. These are also more user-friendly.

To prepare your Kare Kare more reasonably, try using meat cuts commonly used in long braised stews, such as beef shanks.

If you're using extra meat, such as beef shanks, cut it into similar sizes to cook evenly during braising.

Use a powerful blender to pulverize the peanuts and toasted rice. Also, don't over-pulverize the ground peanuts, or they'll turn into peanut butter, which we don't want.

Before blending the toasted rice into a pulp, allow it to cool. It is mostly for safety if your blender or food processor reacts poorly to hot food. 

Blanch your vegetables before adding all those to the stew to ensure consistent cooking. You don't have to play the "will the beans cook simultaneously as the eggplant?" game. During the braising process, try to prepare the vegetables.

Kare Kare is frequently served with fermented shrimp paste on the side to add a nice salty flavor.
Kare Kare recipe
Like sinigang na baboy, Kare Kare is a traditional Filipino stew serving the ultimate comfort food. This hearty dish is a labor of love, but it's well worth making and serving at your next dinner party! Now glimpse at the ingredients and the Kare Kare recipe you should use to prepare the dish.
Ingredients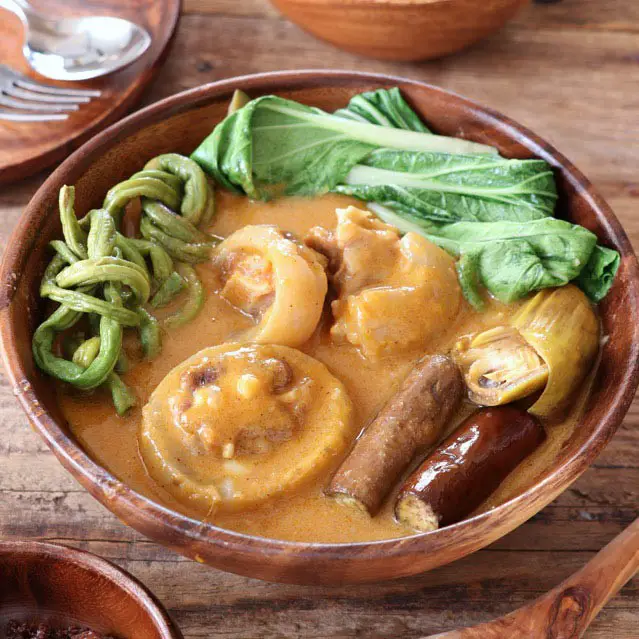 For Braising
2 tablespoons vegetable oil

1 pound (453.6 g) oxtail

1 pound (453.6 g) beef shank

1 cup chopped onion (about 1/2 medium onion)

1 tablespoon minced garlic (about 5 cloves)

12 cup water

1 tablespoon salt
For Prepping
1/2 cup unsalted and dry peanuts

1/4 cup white rice

Cut 2-8 inches Japanese eggplants into 1-inch pieces, 

1 peeled and chopped banana heart (1-inch cubes)

1 and 1/2 cup long string beans (approximately 5 string beans) cut into 4-inch pieces

3 cup bok choy (about 2 large heads) peeled and cut into 2-inch pieces
Kare Kare 
1 tablespoon vegetable oil

1 and 1/2 cup yellow onion (roughly 1 medium onion) chopped

1 tablespoon minced garlic (about 5 cloves)

2-pound oxtail and beef shank 

3 cups of the braising liquid 

1 tablespoon annatto powder

1/4 cup creamy peanut butter

1 tablespoon fish sauce

1 and 3/4 tsp salt

1/2 teaspoon black pepper
Toppings
How to cook Kare Kare recipe

Step One: Braising
Add the vegetable oil to a large pot over medium-high heat and roast the meat pieces till both sides have a nice brown crust. This should take about a minute per side. To avoid filling the pan, roast in batches.

Put the meat on a clean plate and set it aside. Now, cook for one or two minutes, or until the onions are slightly translucent. After that, add the garlic and cook for about 30 seconds, or until it is fragrant.

Deglaze the bottom of the pot with two cups of water.

Bring the meat, remaining water, and salt to a boil in a large pot. Reduce the heat to medium-low, cover, and braise for 2-3 hours, or until the oxtail and beef shank pieces are super tender and fall off the bone.
Step Two: Prepping Ingredients
Ground peanuts: Put peanuts in a food processor or powerful blender and process for about 10 seconds, or until finely crushed. It will turn into a paste if you crush it for too long.

Toasted ground rice: Heat the rice in a small saucepan over medium heat, constantly stirring, until it begins to brown on the edges of the grains. It will take approximately one minute. Move the pan around to keep the rice from burning. Allow the rice to cool for about five minutes after turning off the heat. Transfer to a powerful blender, such as a Nutribullet. Process the rice until it is finely chopped–like powder.

Banana flower: Remove the banana flower's tough purple leaves until reaching the lighter yellow center. When you've reached the center, cut the heart into quarters and soak it in a lemon or lime water bath to keep the colors from changing.

Blanching vegetables: Clean the vegetables (eggplants, banana hearts, string beans, and bok choy) in water and cut them into the appropriate size. Cook each of the vegetables in a pot of boiling water until slightly tender, then put them in an ice bath to control further cooking.

Step Three: Kare Kare 
Add the vegetable oil to a pot over medium heat and sauté the chopped onions for about one minute or until slightly translucent. After that, cook for 30 seconds once the garlic is added.

Pour in the braising liquid (minus the meat for the time being), annatto powder, and peanut butter. Stir until everything is combined.

Stir in the ground peanuts, toasted ground rice, and fish sauce until all ingredients are combined.

Then stir in the braised meat and season with salt and pepper.

Steam on low flame for nearly 15 minutes to thicken. Taste the sauce to see if it needs to be tweaked.

Cook for 3 minutes more, occasionally swirling, after adding the blanched vegetables.

Enjoy with fermented shrimp paste on the side.
This ultra-tender oxtail and beef shank stew is a Filipino classic with a buttery peanut flavor. For your upcoming family gathering, you can make this Kare Kare recipe.
Kare Kare is stewed meat with a debated culinary history in the Philippines. It's most likely derived from the dish "Kari-Kaari," which has Indian curry influences. Technically, people would not call Kare Kare a curry, but it does have curry influences in its perplexing history. Many people believe that Kare Kare originated with Indian soldiers from a Southern Indian British colony who visited the Philippines before Spanish colonization. Whatever be its history, enjoy the savory dish with your friends and family to taste something new.