How To Clean Golf Clubs- Best Ways With Upkeep Tips!
If you love playing golf quite often, you must learn How to clean golf clubs as soon as possible to avoid your friends or colleagues judging you.
If your golf clubs have been accumulating dust or debris and still show last round's dirt and mud all over them, now is your perfect time to learn how to clean golf clubs and get your clubs as close to perfectly new as you can. Let's face the truth, a dirt-free set of clubs in your bag is a stunning and appealing site, and without a doubt, there are noticeable performance benefits, too, primarily when it comes to eliminating mud grooves.
So then, how to clean Golf clubs as if they are brand new? Well, that is where the guide below comes in. Ensuring all the golf appliance is clean and maintained is key to conserving them for an extended time. Golf clubs are pretty expensive too, so it's helpful to maintain them in excellent condition to prevent bringing brand new often.
Now, you must be thinking what the perfect way to clean your golf clubs, and the solution is much easier than you may think. This simple handbook will take you through different steps to learn how to clean golf clubs.
How to clean golf clubs
There are numerous ways you can use to clean your golf clubs, from making the utmost of that vending machine style established at modern driving ranges to a decent old-fashioned bucket filled with soapy water in the back of your pretty garden. Without wasting a lot of time- here's how to clean golf clubs.
How to clean golf clubs
1. Cleaning irons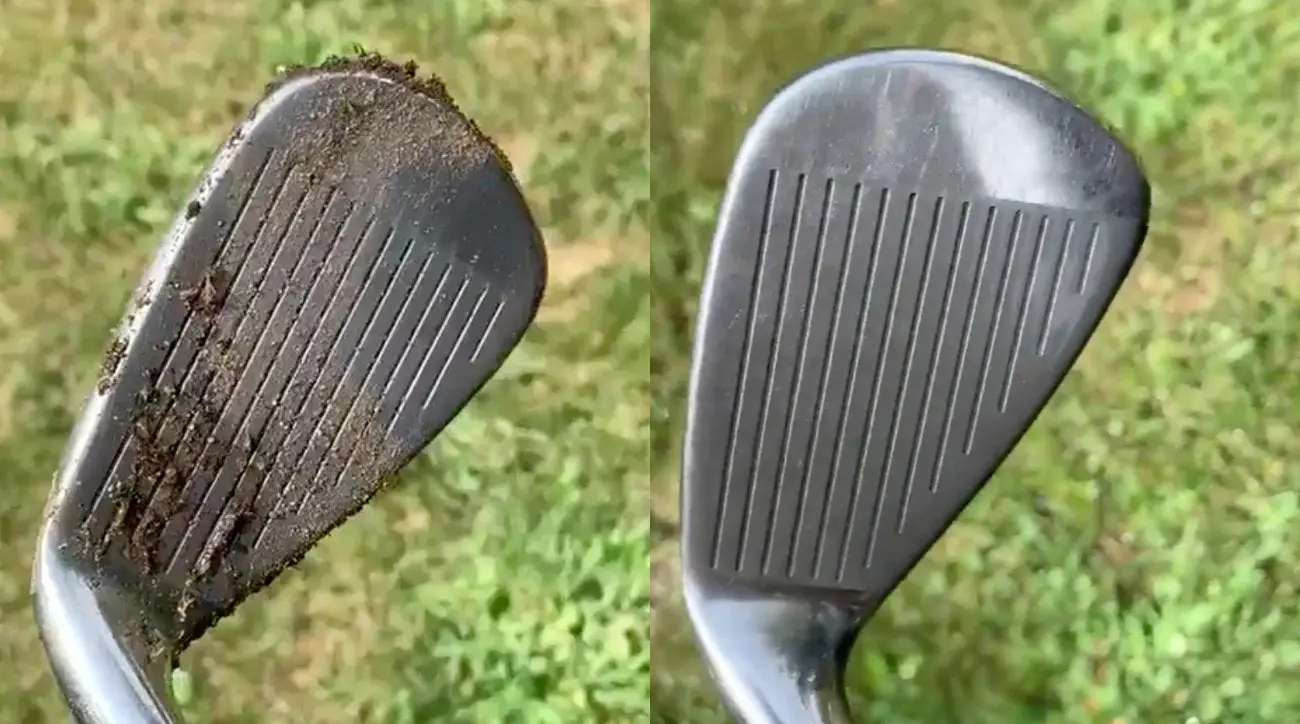 1. Combine warm water with mild dish soap in one medium-sized bucket- Fill your bucket using simply sufficient water to fill in the head on the golf clubs. Mix a few drops of any dish soap, then mix it. Make certain that the water in the bucket is warm, not boiling, or else you have the risk of making the bucket ferrule.
Irons is a kind of clubhead. If you own a "wood head" or a "metal wood head," try another way of cleaning it.
2. Clean the grooves using a soft-bristle brush- Any brush having smooth, plastic bristles will do just fine. Vegetable brushes and toothbrushes are famous choices. Begin cleaning the face first, then back, then the bottom and top portions.
Do not use a wire-bristle brush, even if you notice the surface to be filthy, as this will sabotage the face of your club and influence its performance.
If there is dirt on your club head, you can drag it using fine-grade steel wool.
3. Wash the head using clean water- If you still find dirt on the grooves, you might require to scrub them again. Make sure to attempt to prevent getting the ferrules wet, though slight moisture will not be the end of your game.
2. Clean woods and metal-woods
1. Dry its head using a soft and dry towel- Make foolproof the whole club is neat and dry upon assessment. If you notice any moisture left on it, you may again end up with rust on the clubs.
Shine the clubhead using a chrome or steel polish for a pleasant touch. Observe all the instructions mentioned that came with that polish.
2. Wash the metal wood heads using warm, soapy water and a moist cloth- Load a container using warm water, then mix in a few pumps of any dish soap. Immerse the head into the bucket water, then instantly lift it out. Dab the head clean using a moist cloth, then dab it dry using a clean cloth.
Do not sponge metal wood heads into the bucket. This is because they are hollow; on the other hand, iron heads are solid.
3. Use a toothbrush to release dirt accumulated on the grooves from a metal wood head- Occasionally, cloth and soapy water are not sufficient to remove the debris. In such a case, use a toothbrush or other soft-bristled brush to clean the dirt away that has been surfaced on the grooves; do not operate the brush on any other region of the club's head.
Never use a toothbrush on a wooden (or non-metal) head.
4. Dab wooden heads using a damp cloth- Do not soak wooden (or non-metal) heads in clear water or different liquids. Instead, brush them clean using a soft, moist cloth. Parch them off instantly afterward using a clean, dry piece of cloth.
You can likewise clean wooden heads using wood wax. Spread the polish according to the guidelines mentioned on the product's label.
5. Employ head covers once you finish using your golf clubs- Wooden heads get impaired readily, so they require more protection. The cover of the head will not only cover the head against dents and chips but will furthermore help maintain the paintwork intact.
Irons do not require head covers, but you may use the covers if you like to.
Make sure to dab the head clean before putting it on the cover. If you do not do so, you endanger trapping dampness and damage the head.
3. Maintaining your club shafts for a long time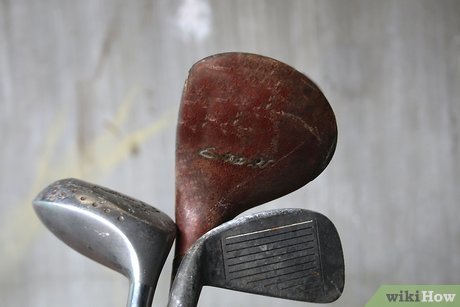 1. Clean steel shafts using a cloth- You might not know this, but steel shafts are the most manageable to clean and watch for, but they need a little more maintenance and effort if you own graphite shafts. This is since they possess a polyurethane coating, which is thin.
2. Pat graphite shafts using water and a gentle cloth- Do not utilize any brushes or solvents, as this will damage the polyurethane layer and ultimately cause snapping. Just dampen a clean cloth using the water, then wipe down the shaft. Tap the shaft once again using another dry cloth after that.
3. Polish graphite shafts using needed wax- You can try using a high-quality table wax or wax mainly made for graphite shafts. Since all these products are different, you must carefully read the guidelines given on the label.
4. Discard the shaft if you see any nicks or dents in it- This is particularly essential if you own graphite shafts, as their outer layer helps keep the shaft jointly. If the graphite shaft goes damaged, you must bring another one immediately.
If you do not replace a dented shaft, it may snap during playing, which will cause injury.
Shield shafts from wear by employing long neck headcovers. This could help avert them from being damaged in your golf bag during transportation and storage.
Additional details for golf club shafts
It would be best if you didn't overlook the golf club shafts once you have washed your golf club heads. Golf club shafts are highly inclined to get dirty. To clear any dirt, you may try a damp cloth to wash and clear the filth from the club shaft and then dry it entirely using a towel.
If you are thinking about how to clean golf clubs – apply vinegar on those shafts using a clean cloth and remove the residue slowly; also, be careful not to rub the shaft. After you have completed this, make foolproof to dry the shaft thoroughly.
4. Maintaining the grips for a long time
While you might be thinking- about how to clean golf clubs, do not overlook the grips. Sweat and sun cream, over time, will decrease the amount of grip they offer, and a momentary clean will reinvigorate old grips.
The most straightforward way to scrub the golf grips is to dab them down using a moist cloth and then pat them using a towel. This will release any exterior dirt or filth and take no more time than just a few minutes. If they require a more detailed cleaning, follow the steps given below:
Wash the grips using water, bristle brush, and hand soap- Wash the grips using water initially, then put a little soap. Gently clean the grips using that bristle brush, then flush them clean once more.
Make sure to dry those grips instantly afterward using a clean towel. Do not keep steel-shafted clubs immersed in water, even if you require to dip the grip. This may provoke rust to gather in the crannies and nooks.
Repeat the procedure at least once every month- Bear in mind that you might need to wash the grips quite often based on how hot the weather is, how greatly you sweat, and how frequently you employ the clubs. If the grips begin to look polished or feel greasy and exit black marks on the hands, it is the right time to get them cleaned.
Form a cleaning routine for the grips. For instance, you may wash them on the last or first day every month. This makes it more straightforward to remember.
Rub the grips if they begin to wear out – Gently buff them lengthwise, from bottom to top, using rough or medium-grit sandpaper. Flush the remains off using water, then pat dry using a clean towel.
This must help repair their surface and might eliminate some surface dirt also. This must help restore the texture and quality of the grip well.
What if the irons are forged?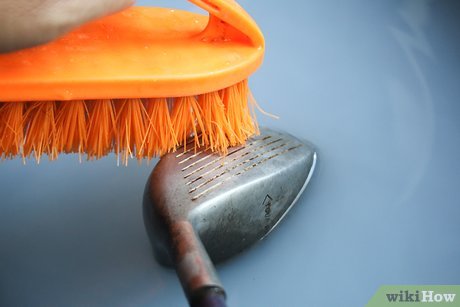 If you play using forged irons, you must use a gentle nylon brush, but otherwise, you are free to follow all the steps given above. If the forged irons begin to reveal signs of rust (when the soft carbon steel evolves exposed when you play a shot that chips the chrome plating), you may spray their exterior surface using WD-40 and clean them using a nylon brush.