Date and walnut loaf recipe is one such recipe that attracts both beginners and experts. If you are planning to make the cake on your own this Christmas, you are at the right place.
Date and walnut loaf are standard in Britain. You will find these cakes often at any local cafe and tea room. The date and walnut loaf are traditionally made in Scotland. However, you will find these cakes all over the US and UK during Christmas and Thanksgiving.
If you are planning to bake yourself a date and walnut loaf, then this Christmas season might be a perfect time for you to try it out. To help you make a soft and delicious loaf cake, I will take you through a step-by-step recipe for date and walnut loaf cake.
I have broken down the recipe into ten easy-to-follow and straightforward steps. Additionally, I have mentioned alternatives to some of the main ingredients for your convenience. But first, let's take a look at those main ingredients.
Ingredients
Most ingredients required for this cake will be already present in your kitchen, as it does not require any unique ingredients. Here's everything you need for a perfect date and walnut cake.
1. Walnuts
Walnuts are the heart of your loaf cake. Get some fresh walnuts from the market. If you already have walnuts at home, make sure they are stored in an airtight container and a cool and dry place. Otherwise, there are chances that they may become rancid, which their odor can easily find out.
You will need about 2 ounces of walnut for this recipe. Chopp them, and they are all ready for our loaf.
2. Dates
Dates are the ones that will give your date and walnut loaf the authentic taste and flavor. Dates also work as a sweetener for your loaf cake. You will need about 4 ounces of dates. Chopp and keep them ready along with walnuts.
3. Margarine
Margarine is the spread you will be using. Margarine does the work of flavoring your cake and helping in the baking process. It will make your cake lighter. It also gives more rise to the loaf than the butter.
You will need about 2 ounces of margarine for this recipe. However, you can use butter as an alternative to margarine.
4. Baking Soda
Baking soda is a must-have if you wish to make your date and walnut loaf fluffy, spongy, and raised. We will need only one teaspoon of baking soda to mix with flour. In the case of self-raising flour, you probably need to lower the amount of baking soda.
5. Self Raising Flour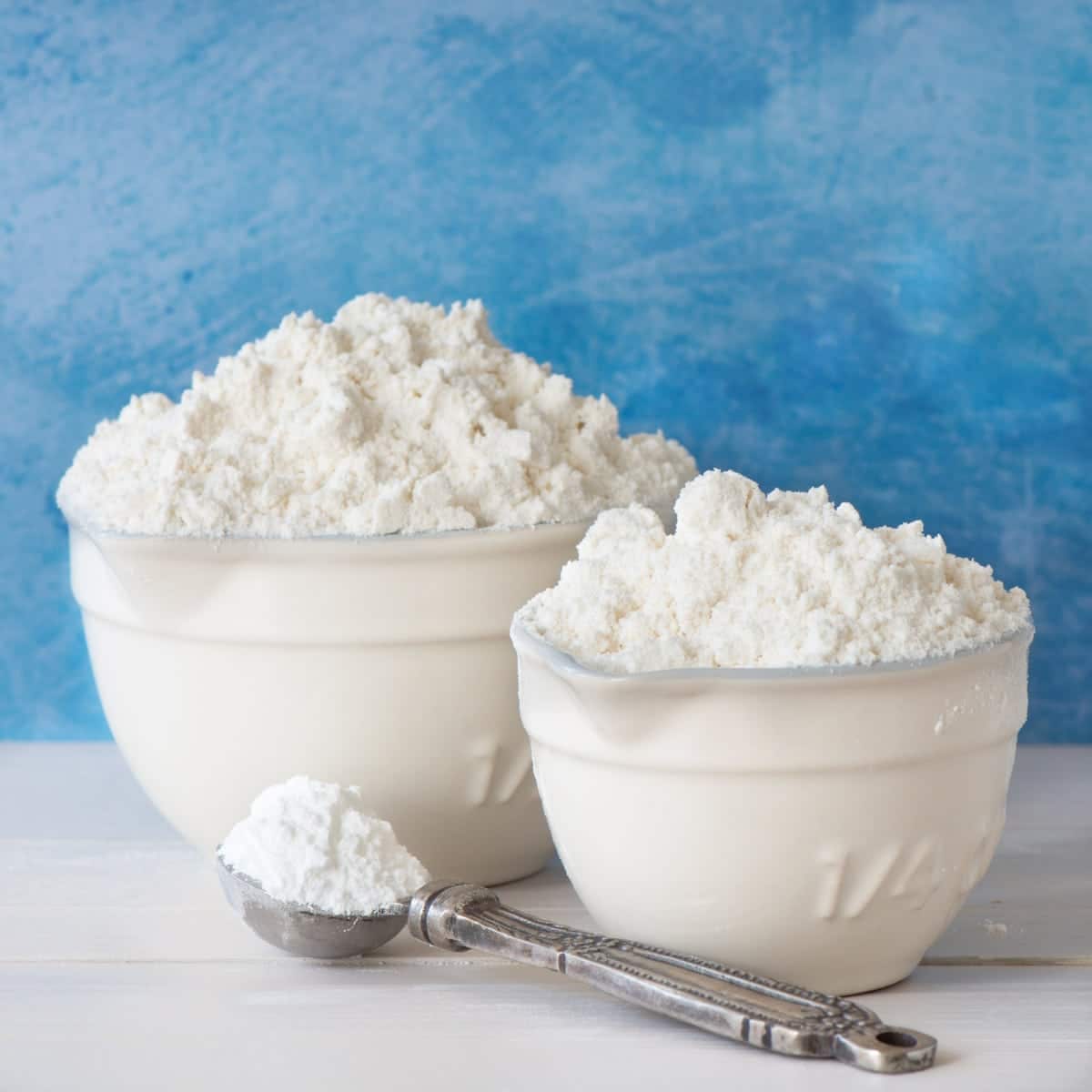 In this recipe, we are going to use self-raising flour. It helps to make the cake perfectly spongy. Take 8 ounces of self-raising flour in a bowl and keep it ready for our recipe.
6. Brown Caster Sugar
The reason for choosing brown sugar instead of ordinary sugar is that brown sugar gives a more caramel-like taste. The amount of sugar depends on your preference.
7. Egg
If you are not planning to make an eggless cake, you will need one egg for the recipe. Break the egg and keep it ready in a bowl.
8. Boiling Water
To make the loaf softer, we need to add Water. Water also helps soak the walnuts not to stay sticky and chewy. We will need 1 cup of boiling Water to soak the walnuts.
These are all the ingredients you will need to make a perfect date and walnut loaf. If you cannot get your hands on some of the ingredients mentioned above, then you can take a look at the following alternatives.
Alternatives To Some Of The Ingredients
As we are baking the date and walnut loaf, dates and walnuts will need for sure. But apart from these two, there are alternatives to all other ingredients we will be using in this recipe.
1. Margarine/Butter
As per my personal preference, I have used margarine in this recipe. However, If you are okay with dairy products, then you can use butter in place of margarine. Margarine is a healthy substitute for butter, but you can use either of them, and your loaf will taste the same.
2. Self Raising Flour/Plain Flour
In general, self-raising flour is used for baking most cakes. It makes the cake softer and lifts the loaf a little. But it is not compulsory to use self-raising flour. You can use plain flour and add baking soda to it. This will make the cake spongy, just like the self-raising flour.
3. Brown Caster Sugar/White Sugar
Again, I have chosen to use brown caster sugar instead of white sugar as per my personal preference. Brown sugar gives a caramel-like taste and form to the loaf, and additionally, it is more nutritious than white sugar. However, using white sugar will make little to no difference to your loaf.
4. Egg/Yogurt or Buttermilk
Finally, if you want to go for the eggless date and walnut cake, you have to replace the egg with yogurt or buttermilk, and you are good to go. Preferably use about 60 grams of yogurt in place of 1 egg.
Now that we have all the required ingredients ready, we can proceed to the actual recipe.
Instructions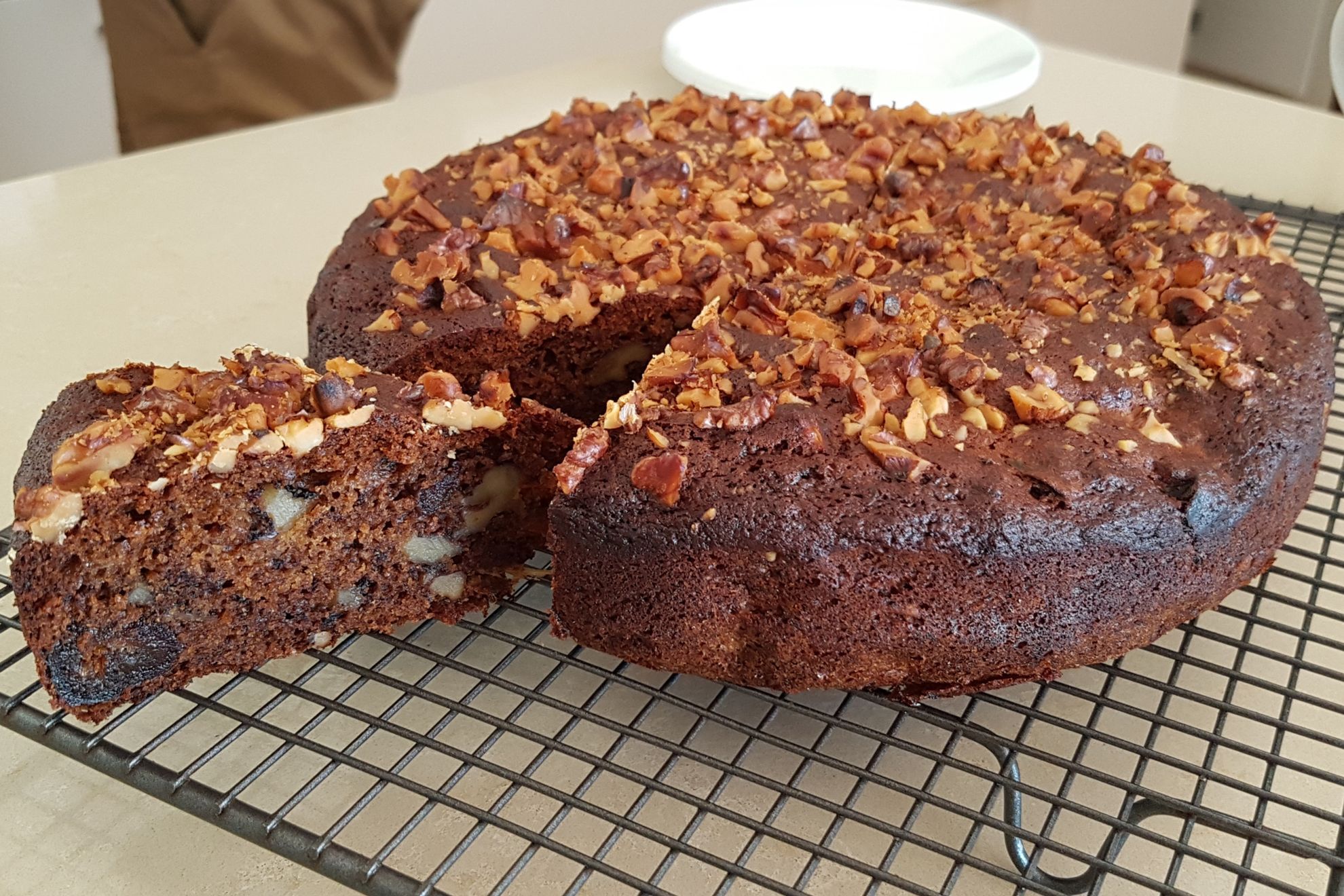 Take a bowl and place dates, margarine, and baking soda into it.

Now add 1 cup of boiling water and stir the mixture well until the margarine has melted.

Let the mixture cool down for 30 minutes.

Set the oven's temperature to 325ºF/156ºC and let it preheat.

Take a 2-pound loaf pan and line it with parchment paper.

Now take another bowl and add self-raising flour, brown sugar, and chopped walnuts in it.

Add the egg to the bowl and mix it well.

Now combine this mixture with the mixture of dates and place it into the pan.

Place the pan into the preheated oven and let it bake for 60 to 70 minutes.

Once done, allow it to cool down to room temperaturIt'st's

Time To Serve!
If you have followed the recipe well by now, you will have a delicious date and walnut loaf ready to serve. Once you get better at it, you can experiment a little, like adding choco chips to the cake or adjusting sugar levels according to your taste.
This quick recipe will require 10 minutes of preparation like chopping dates and walnuts, preheating the oven, etc. Another 1 hour for baking, and that's it. In less than 2 hours, you will have a large loaf with at least eight servings.
This loaf does not require any complex and unique ingredients. It's great to have a slice of date and walnut loaf alongside your morning coffee or as an on-the-go breakfast. Give it a try and let me know in the comment section below.