So you were casually surfing the internet looking for your new bed, and this Alaskan king bed caught your attention? Or were you already well aware of the Alaskan king bed but aren't sure whether you should buy it or not?
Well, in either case, don't worry, today we will talk all about this best in class Alaskan King Bed. We will discuss who should consider buying this bed, where you can get one, what to look for while purchasing one, and much more.
By the end of this article, you will be able to make up your mind and choose a suitable Alaskan king bed for your room. But before that, there are a few things you should know in advance.
Before we board on this train of questions, some of you might wonder what an Alaskan king bed is? So, let us see what exactly it is so that our following discussion will make sense to all of you.
What is an Alaskan King Bed?
The one-line answer for that would be that it's a king of all beds. The Alaskan king bed is the most significant size of bed currently available in the market. You probably won't need anything bigger than this, and if you do, you can always specifically craft one for yourself.
The bed mattresses come in a variety of sizes and are named after states. The California king, the Eastern king, the Texas King, the Wyoming king, and then the largest Alaskan king. The Alaskan king bed is 9′ x 9′ in size.
Such a huge bed is used in big houses or used by those with more people in their family. These mattresses can easily fit a couple and their child or even a dog (if you are a dog lover like me).
What Specifications And Dimensions To Expect From Alaskan King?
The Alaskan king bed mattress is a large mattress size and is larger than standard king-size mattresses. It has dimensions of 108 inches by 108 inches or 274.32 CM by 274.32 CM. The Alaskan king bed mattress comes in a square shape, unlike Texas king.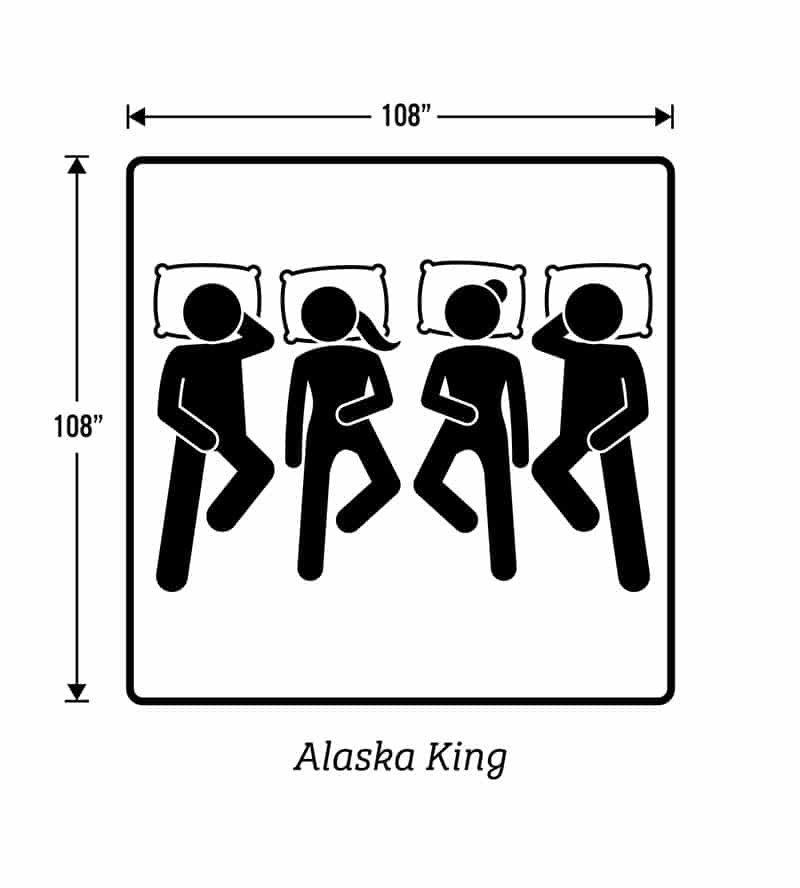 This oversizMattressess will be a good option if your master bedroom has dimensions of 16 feet by 16 feet. If you have a smaller bedroom than this, say 14 feet by 16 feet, it might get congested with just a little space left to move around.
Now that we are done with specifications, the next important question is how much will it cost to own an Alaskan king bed mattress?
What Is The Average Price Of An Alaskan Bed?
Considering its large size and the variety in material quality, the prices can vary anywhere between $2500 to $5000. But you will require an Alaskan king bed frame to fit in mattresses. You can expect the cost of an Alaskan king bed frame to be somewhere around $2000-$3000.
Who Should Consider Buying Alaskan Bed?
When it comes to mattresses, for most people, a standard king size bed mattress is enough. But for those who have different requirements and expectations from the mattresses, an Alaskan king bed can be one of the best options available.
Consider buying this oversizMattressess if you have a family with people who prefer to co-sleep or if you want to sleep with your partner, a kid, or a dog in between. Even if you're going to flex in front of your friends or arrange a movie night with them, then the Alaskan king bed mattress should be your choice.
Now let's put all these factors like dimensions, price, specifications, and uses together and see how the Alaskan king bed is.
Brief Information About An Alaskan Bed
So Alaskan king bed mattress is, so far, the large mattresses currently available in the category of oversized mattresses. It has dimensions of 108 inches by 108 inches. ThMattressess comes in a square shape and not a rectangle like Texas king.
An Alaskan king bed would make more sense to those with more family members and prefer to co-sleep. This mattress/bed can fit your whole family or is suitable to sit and munch popcorn while watching a movie.
Alaskan king bed can be the ideal choice for those people who are 6.4 to 6.5 feet tall. ThMattressess provides that extra legroom you might be looking for. Therefore, tall people no longer have to hang their legs out of bed.
Advantages
Provides extra legroom for tall people

It is wide enough to fit a whole family of 4 members on a single bed

An ideal choice for large master bedrooms
Disadvantages
They cost a minimum of $2000 for just mattresses; hence they are expensive.

Only suitable for specific room sizes
With that, we have covered almost all the aspects you need to know about the Alaskan king. This much information is enough for you to decide whether you need to buy mattresses or not.
However, if you have already decided that you need to buy one, here are a few key things you need to consider before purchasing an Alaskan king bed.
Things To Consider Before Buying
We don't buy beds and mattresses often, and it is a one-time investment. Therefore, giving a thought before buying an Alaskan king bed would be a clever thing to do. Here are the factors that you need to consider before making the purchase.
1. Choosing the right type
First things first, determine the usage of your bed Mattresses. If you want the Alaskan king bed to sleep on every night, you will need a premium, good quality mattress that has proper cushioning and supports your body weight while you sleep.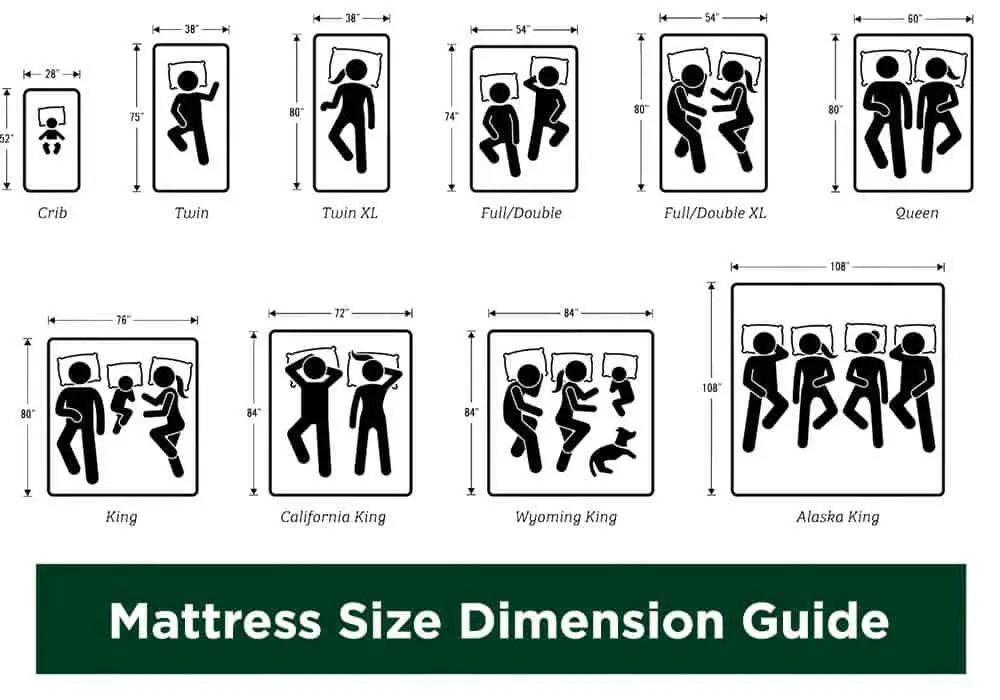 On the other hand, if you are going to put mattresses or beds in your lounge area just for fun activities like movies and stuff, you should consider a cheaper version of the Alaskan king bed, as you won't be using it much to sleep on. This way, as per your use, you will be able to save a few bucks.
2. Consider your bed frame before buying an Alaskan king mattress
Not all mattresses fit on an Alaskan king bed perfectly. Sometimes the Alaskan king bed requires a mattress of a certain thickness that fits perfectly on your bed frame. Make sure the depth of your Alaskan king bed matches the thickness of mattresses.
3. Finally, the price
For most people, price is the primary concern while purchasing an Alaskan king bed mattress. However, if you are well aware of your requirements and the types of mattresses available, you can save yourself up to $500-$1000.
Buy a mattress based on your comfort requirements, usage, and quality, and avoid buying the best quality mattress available in the market if it doesn't meet your needs. It makes no sense to spend that extra $500 for the comfort you are not going to enjoy.
Based on the above factors, you can go ahead and buy any Alaskan king bed from the offline markets or an online store. However, I am mentioning my top 3 picks for the best Alaskan king bed, which you can check out.
Our Recommendations
MattressInsider's Alaskan King Bed ($3,999)

The Sky Ridge Alaskan King Bed ($5,700)

Alaskan King Bed Company's Platform Bed ($1,700)
Cessation
An Alaskan king bed and the corresponding Mattresses are an excellent option for those who have no limitations in case of space. It does take a lot of space in your room, but it pays off for that by providing you better comfort, extra legroom and eliminating the need of joining separate beds together.
Whether you are planning to get a new Alaskan bed or replace your mattresses with a new one, do pay special attention to the dimensions of both bed frames mattresses. Any differences between them can spoil the whole experience.
Lastly, by considering the three main factors I have mentioned above, you can buy an Alaskan king bed or check out my recommendations and see if any of that fits your needs. If you still have any doubts left in your mind, do let us know in the comment box given below. You can also visit this site for Best Alaskan King Beds