Small Box Braids- Stunning Hairstyle Ideas. which one will you choose?
Small box braids are probably the most popular hairstyles right now that the black women cycle has. This protective hairstyle does not require any prior introduction or pictures to visualize, you most likely know what it seems like. Not only this hairstyle seems super stylish, but it is also for someone tired of manipulating their hair through heating tools.
A protective hairstyle like small box braids helps revert the breakage and protect your hair against a lot of hair issues. In this article, you will get to know small box braids hairstyle closely with some pretty ideas to try it yourself. Let's get started and start your hairstyle makeover.
Small Box Braids
In short, small box braids get their name from the small squares shapes in which your hair is sectioned. Most often, small box braids are installed with extensions that come in a wide range of colors, sizes, and lengths. If you are thinking of getting a small box braids hairstyle on yourself, there are a lot of things you must know beforehand.
Forst things first, you should treat and trim your hair. Natural hair is blowdried out often to make the installation of braids easier. You should also r remain slightly conscious of the parts in your scalp that are more sensitive during braiding. If you possess a weak or thin hairline, do not exert too much pressure or tension on those areas.
Once the box braids are in on your scalp, it is easy to forget from the root hair which still needs moisturization. Use products having penetrating ingredients such as olive oil, jojoba oil, ad coconut oil. These oils are great for someone who prefers small box braids. You can keep box braids for 1 to 2 months maximum.
Not that you have pretty much all the ideas of what small box braids are, we have rounded up some of the most amazing small box braids hairstyles for you to try out as soon as you can and protect the damaged hair.
Small Box Braids- Gorgeous Ideas For Everyone To Try
1. Black small box braids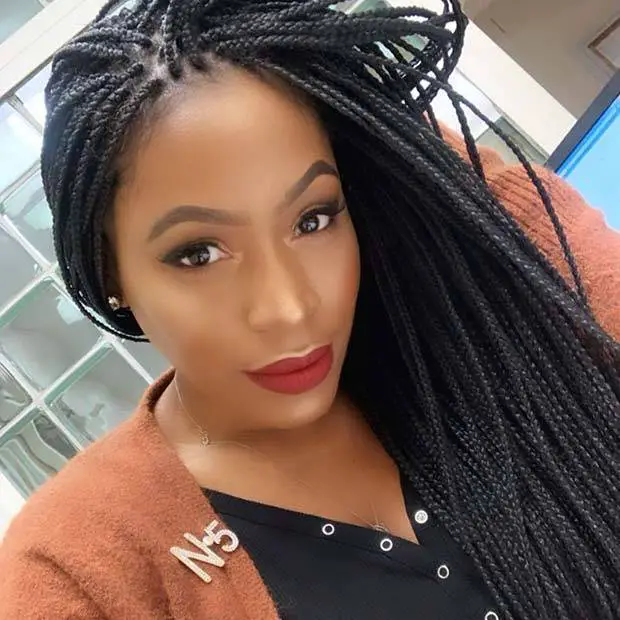 First small box braid hairstyle- we present you with these stylish small box braids. For this appearance, the hair must be long and is weaved into elegant and simple braids. This hairstyle is an easy-to-wear fashion and it will entertain everyone who wishes to wear it this month. It is handy and extremely versatile as it will look marvelous for all occasions, it simply depends on what clothes you choose to wear with it or your outfit complements it or not! Recreate this amazing hairstyle or you may try shorter braids also.
2. Box braids with curls
This next small box braided hairstyle we have is simply gorgeous! Here we present you these goddess knotless small braids. The hair highlights small braids with loose curls and multicolored cords that are used appropriately with delicacy. All these factors formulate such a charming and unique fashion. Try a related look or you may use distinctive colored cords for adding your personality to the braids.
3. Black and blonde braids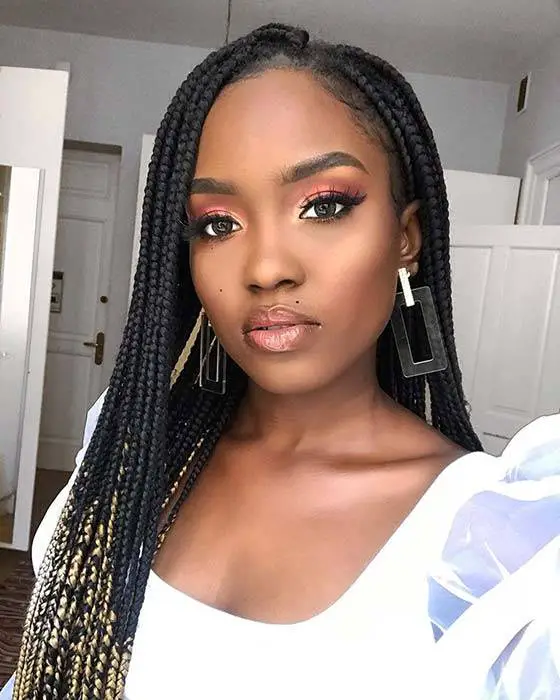 If you are searching for a contemporary style and wish to try any distinct yet fresh hair color, then the aforementioned idea is perfect for you. Here we present you with these long and small box braids with attached blonde color. The hair begins black and then gradually mixes into blonde providing the style a beautiful ombre impact. You may recreate the given blonde look or try using a different hue of blonde. A more throbbing color such as red may be used too as per your preference.
4. Box braid bun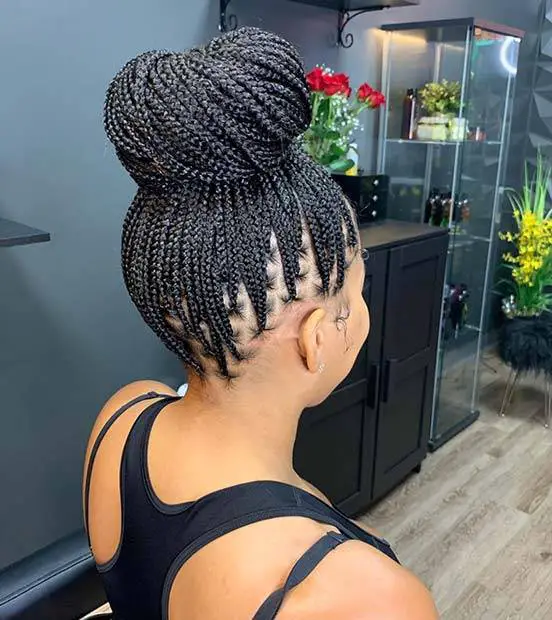 Next up, we would love to show you an elegant bun. The bun is a highly popular hairstyle and if you have hair as thick as this one, we can surely make out why. So, knotless small box braids have been molded into this unique sky-high bun. It is a minimal-looking and super stylish hairstyle that will look wondrous on anyone who tries it. Hair like this may be worn everywhere as you can glam it up or down to fit into any occasion of your choice. You will resemble a Queen each day with this delightful style!
5. Multi-tone braids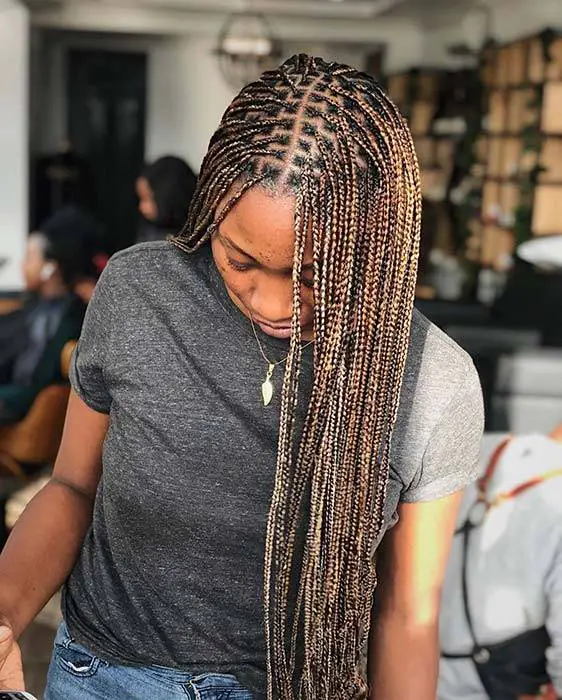 The coming hairstyle is so popular and simple to manage. Here we show you these long and gorgeous box braids. The color initially begins black and then gradually mixes into contrasting shades of blonde and brown. As distinctive shades have been implemented with this hairstyle, it forms a natural-looking, fresh, and multi-tone color. We embrace this style and consider it to be astounding for the coming spring and summer months as it has this sun-kissed vibe.
6. Bold three share braids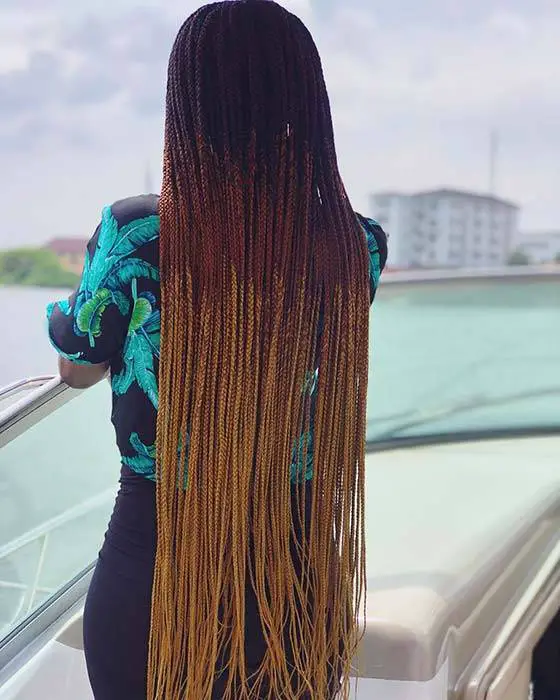 Most of the hair color ideas usually emphasize an ombre with pair of colors. Have you considered using more ever? You can easily ask the stylist to create something as shown in the picture. Here we show you these long box braids having three separate shades! So, the hair in this begins with black color, combines to brown, and then eventually, to a warm and brilliant shade. We cherish this as the colors mix beautifully and form a gradient result. Attempt this style or you may use any different three shades of your choice.
7. Glam ponytail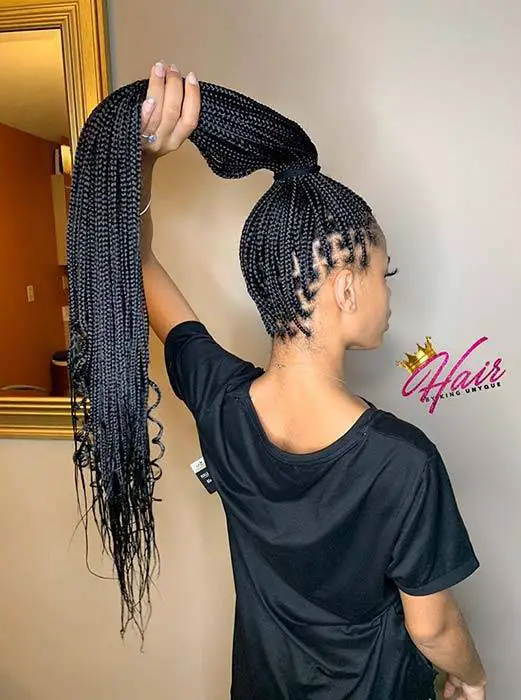 Next up, we present a glam ponytail to convince you to get small box braids in your hair. Now we perceive that a ponytail might not seem too glamorous to many people, but this particular one is! Small box braids have been adopted and styled into this high ponytail. The hair also possesses some curls as we gradually move towards the end. This is a beautiful hairstyle that will hold your hair to look trendy each day. This fashion was founded with Spectra hair in a different color.
8. Burgendy ombre braids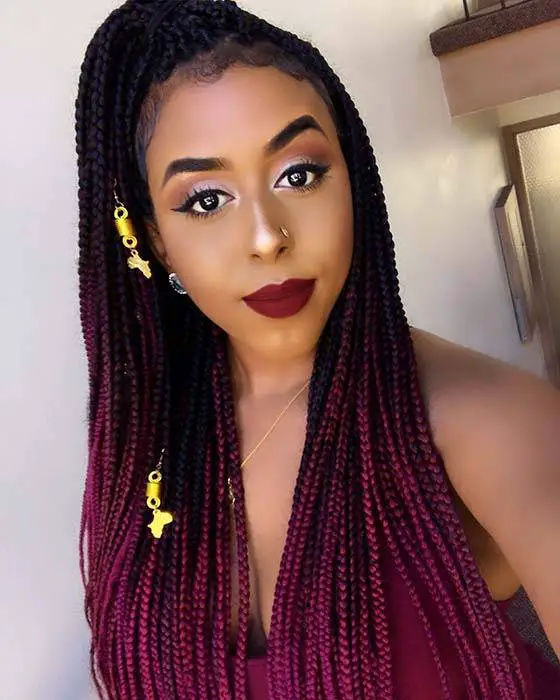 One more beautiful hair color which we all adore is burgundy shade and next, we possess a beautiful way to style it. So, for the aforementioned look, the small box braids begin black and then combine into a gorgeous burgundy color about halfway. We embrace this ombre glimpse as it will satisfy every skin color. You may recreate this ombre or be extra daring and prefer to have your version with color from the beginning of the braid to the ending tips. Distinctive hues of red can also be used. We recommend light, pastel tones for the summer and spring and more ominous tones for the winter and fall.
9. Half box braids bun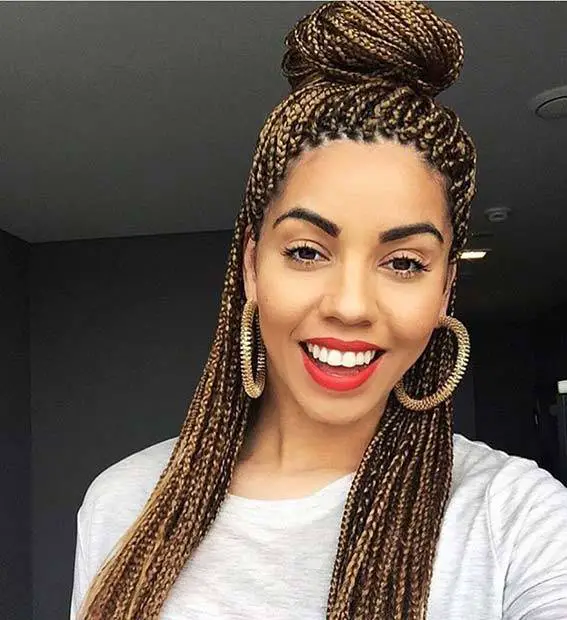 This next hairstyle inspiration is one of our most preferred! For this appearance, elegant multi-tone box braids are made in a half-up fashion. Half of the hair in braids are quite loose and the other equal part are formed in a sky-high bun. This is a charming and fashionable look. You may recreate the multi-tone braided look with some effort or have the half-up vogue style created in any other hair color of your choice. You may also try smaller braids, but that will suggest the bun will also be smaller. Each way though, your hair is going to look marvelous.
10. Simple and stylish braids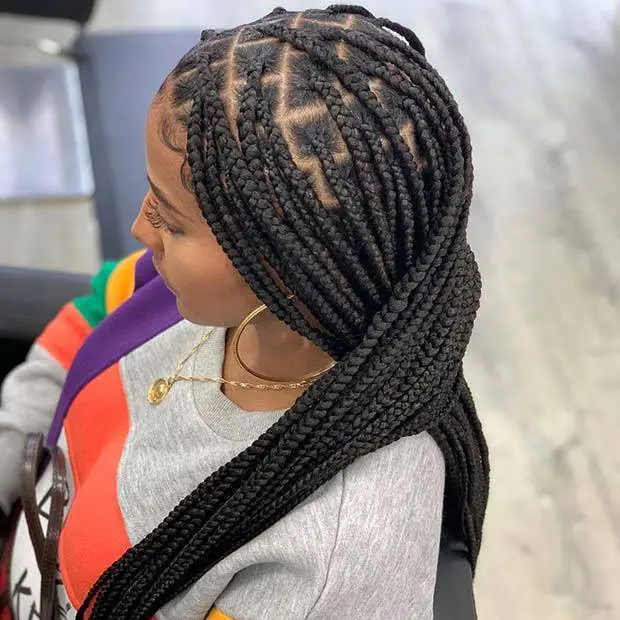 If you simply wish to have fashionable but simple hair, then this small box braids hairstyle might be the one for you. This hair idea features both small and long braids. What we truly adore about this one are the contemporary box parts as even though small box braids have these, the partitions made here are created into a popular style feature. It is a beautiful style and this style will suit everyone. Recreate the same or you may opt for any shorter braid length.
11. Trendy box braids plus cords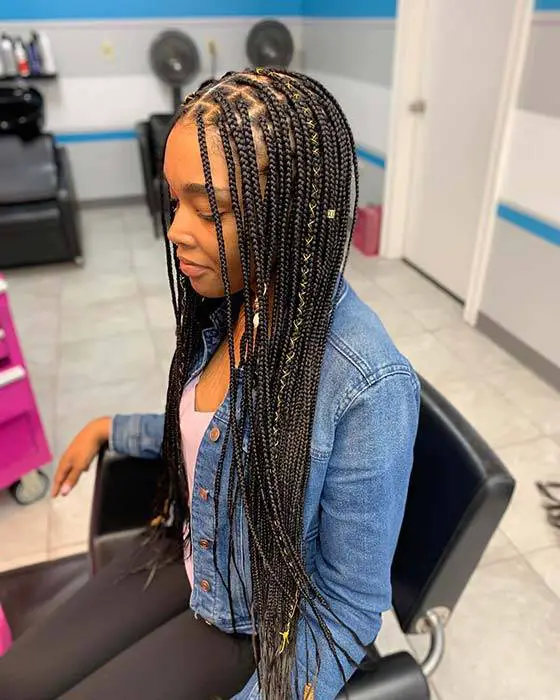 The coming hairstyle emphasizes another fashionable braided idea. For this appearance, the hair is extended with a modest and smart box braid design. The hairstyle is completed off with golden cuffs and strings. We embrace the accessories and evaluate the overall fashion to be very easy to use. Recreate the same look or you may use gems, charms, and accessories of your preference to make the hair appear unique.
12. Blonde ombre small box braids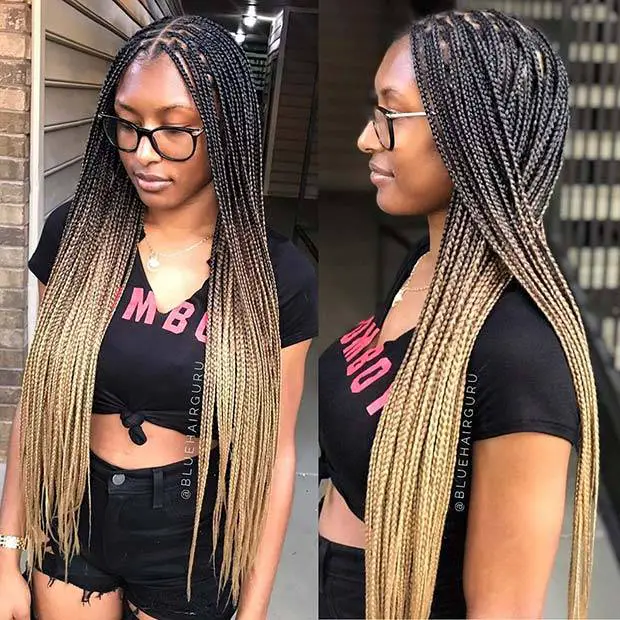 Have you fallen in love with ombre hair ideas lately? If Yes, check this hair idea out. Here we present you with these long braids that begin dark and then gradually blend to blonde. The blonde hue used is striking and it provides the hair with a summery vibe. Try this extended braided version or you may also go shorter. An ombre bob hairstyle would look marvelous too. This hair was designed with Luxidara Hair in shade Salted Caramel.
13. Chic Bob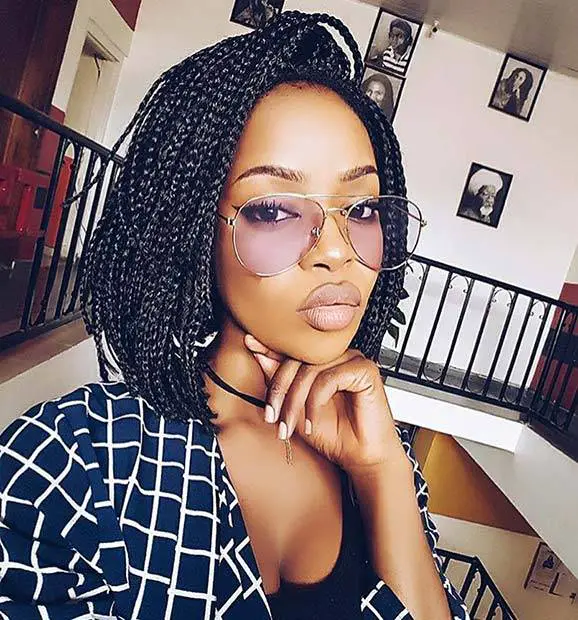 Talking so much of Bob, the coming hairstyle is none other than a beautiful braided bob to present to you. So, as you are witnessing, the hair is done into a fashionable small box braid bob. It is truly a stunning and easy-to-wear method. A bob usually suits everyone and it will also suit any season. Recreate this similar bob hairstyle or you may go even a bit shorter, nearly to a chin-length.
14. Side Ponytail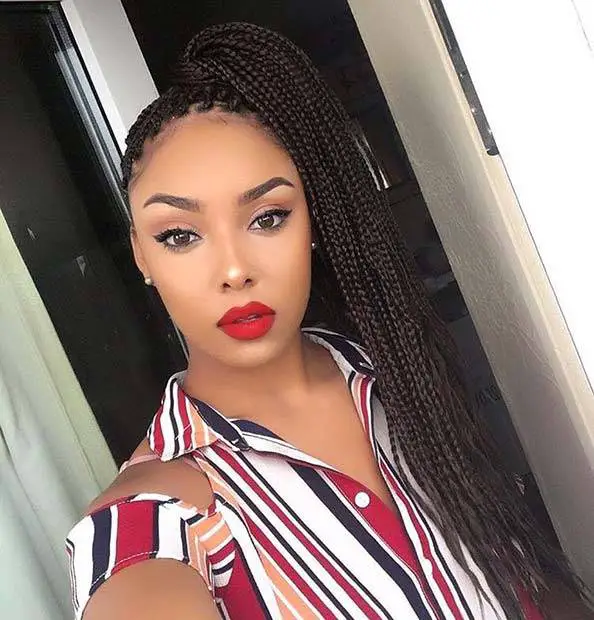 Next up, we have added a ponytail to reveal to you. For this appearance, the braids are done into a sky-high ponytail. All the knots in braids are also worn to a single side which formulates a side updo. It simply shows a distinct way to wear a chic ponytail. Try a related style or combine ombre color. An ombre type of ponytail would seem marvelous.
15. Stylish red box braids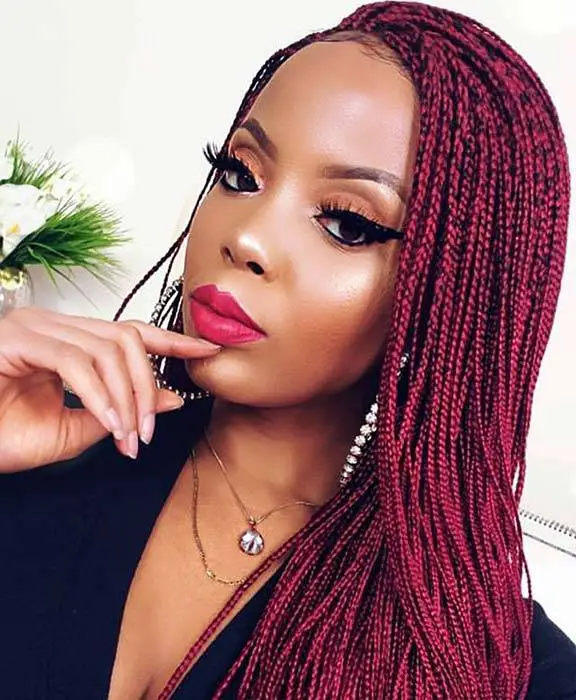 If you wish to attempt a red hair color, then you are required to see this coming hairstyle. This style shows an elegant way to tiered braids. The hair is plaited into chic small box braids and the shade is later added beginning from the roots to the tips. This is a strong and contemporary style that will deliver you a complete hair transformation. You may use this red color in any braided technique.
16. Long small box braids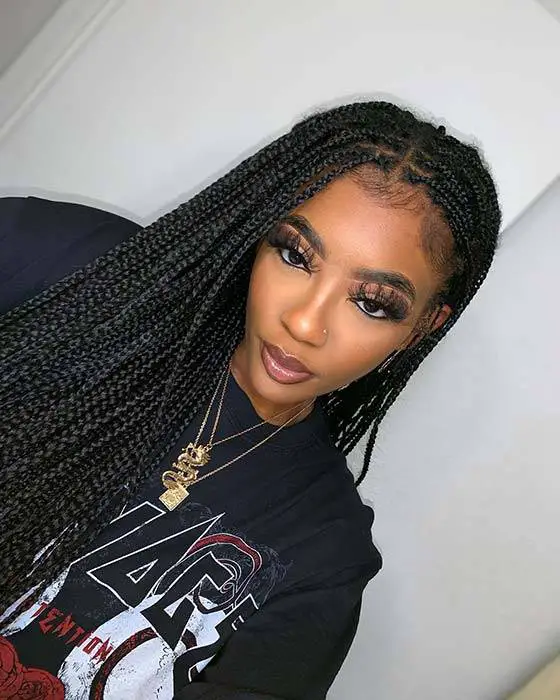 If most of the bold shades and accessorized hair are not meant for your personality, then prefer going for something more modest like this. Here we show you these long, small box braids. As you can already see, the hair holds a modest braided pattern. It simply seems effortlessly impressive. A hairstyle like this one is great for an occupied or busy noblewoman on the go that requires no-fuss hair that will be perfect for any occasion.
17. Bold blonde box braids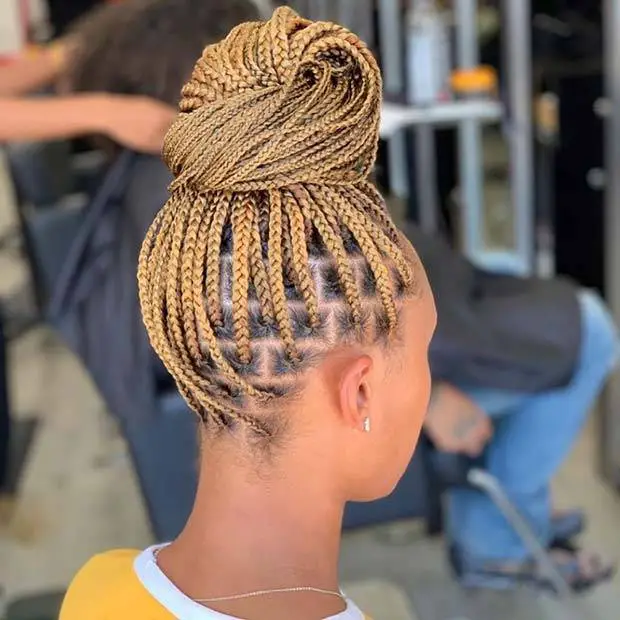 Next up, we have one more bun hairstyle to present to you. For this hairstyle, the hair is an elegant blonde color and the twists in the hair are styled high. This is a stylish bun and we embrace how the small box parts surprisingly make a statement. A hairstyle like this will be ideal for the summer. Attempt a comparable bun or you may use a distinctive variation of blonde.
18. Gorgeous honey braids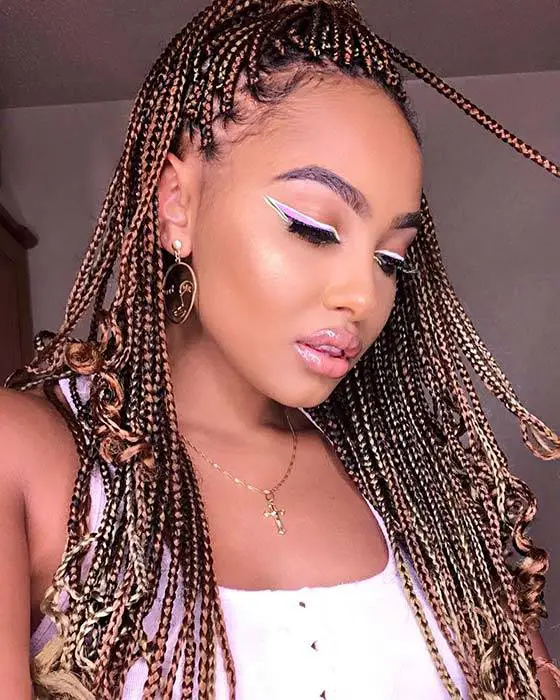 There are numerous colors that you may consume in your hair. One of the colors we adore in our favorites is this honey shade and this coming braided style demonstrates how to wear it perfectly. Here we show you elongated box braids with wavy or curly ends. The hair is also made into a stylish half-up ponytail. As seen in the picture, the melting honey shade simply looks marvelous with this style. Recreate the complete look or simply try the honey knots. This color will glance gorgeous throughout the year.
19. Trendy Bun With Undercut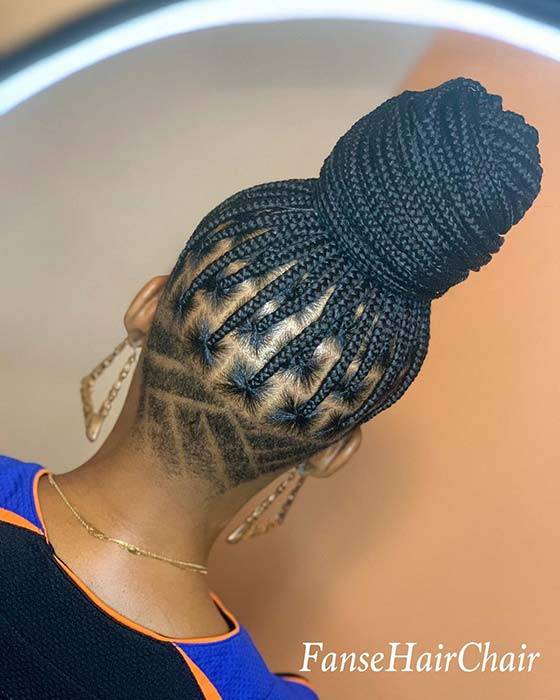 The following hair idea is ideal for trendsetters! This hai idea highlights a high bun with a super chic undercut. When your hair possesses an undercut, a division of the hair will be barbered while the remaining is still long. As you could see, it is such an impressive hairstyle. You may recreate a similar look to this one or have any design shaved into your hair.
20. Long box braids with curly ends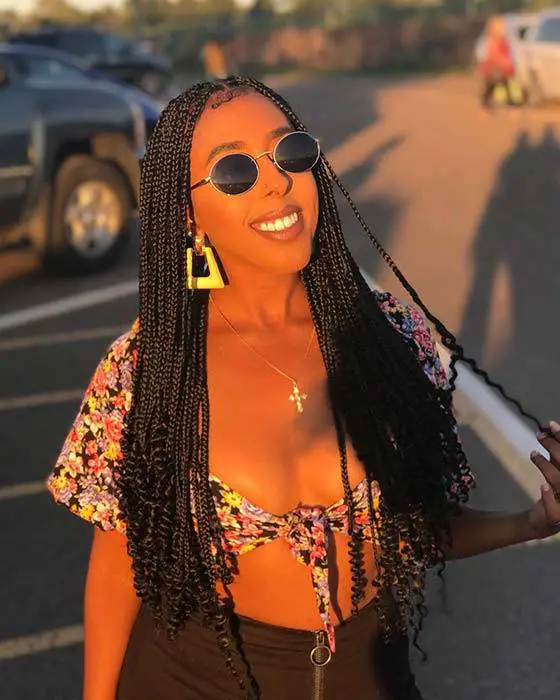 This next hairstyle is one more on the list of our favorites. Here we hold long braids with curled ends. We relish this blend as it presents you with the best of each world. You can have elegant braids and beautiful curls too. Recreate the same look or you may prefer to have added curl by reducing the braid length.
21. Summary box braid hairstyle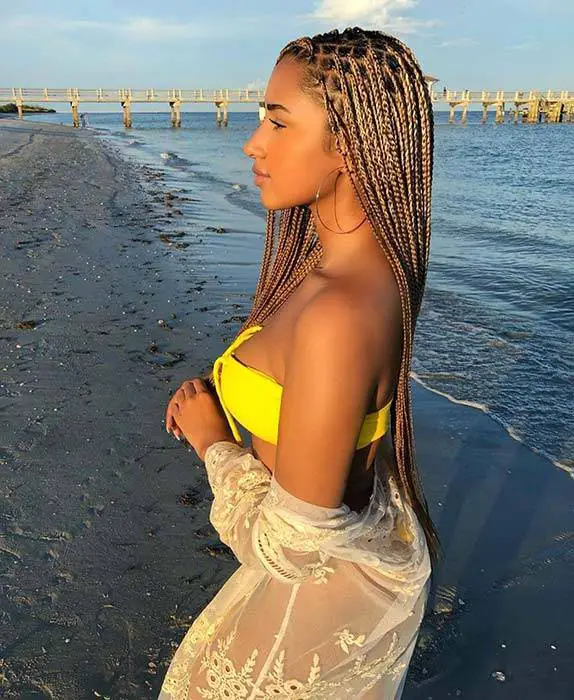 Already considering a hair makeover for summer or maybe you are flying off on vacation to a beautiful beach? If yes, this hairstyle is excellent for you. Here we show you these summery small box braids. These braids are extended and used a multi-blonde hue to formulate a sun-kissed effect. This is a beautiful braided idea and it will satisfy everyone. The fashion was formulated with Luxidara Hair.
22. Beautiful box braids
The next hair idea looks simply beautiful. The style stars small and knotless small box braids. We admire this style as the area of the decision truly makes a statement. It is simply a smart and charming braided look. You may recreate this look or you can also try this braided fashion in an unconventional shade like red.
23. Stylish braid ponytail with loose curls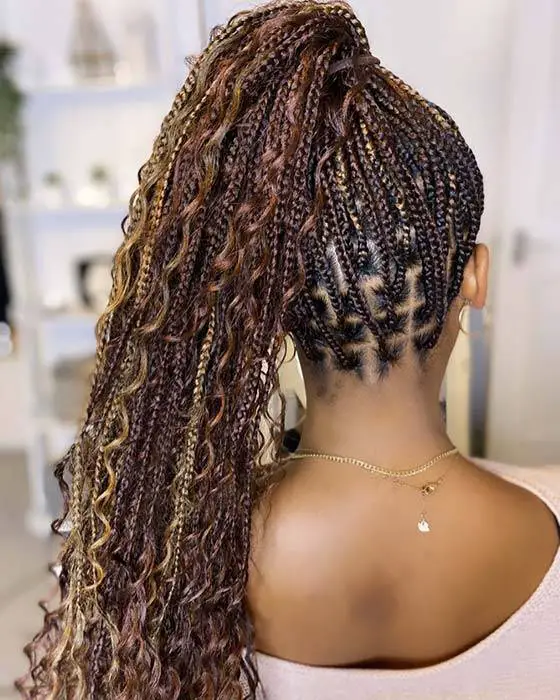 The coming small box braids hairstyle that we have saved to show you emphasizes another ponytail. This hairstyle uses tender brown and blonde tones. Relaxed curls are also attached which formulate a stylish hairdo. This is a different braided look that will be excellent for the summery vibes. The ponytail was designed with hair shades 33 & 12 with the Freetress Deep Twist.
24. Pretty Ombre braids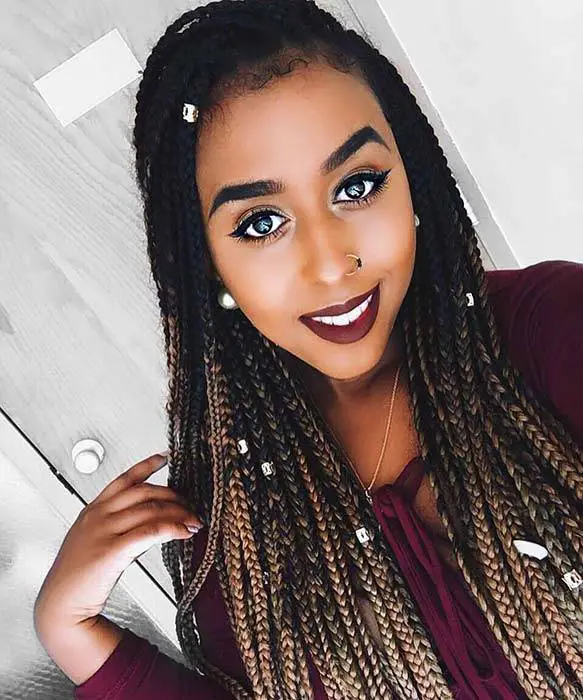 Next up, we hold these elegant ombre braids. So, this begins black and then shifts gradually to a light brown hue midway. This hairstyle is perfect with braid cuffs and one-side partition. It is a stylish and easy-to-wear hairdo that will satisfy everyone. Recreate a similar look or use a distinctive shade for the ombre effect.
25. Chic Small Box Braids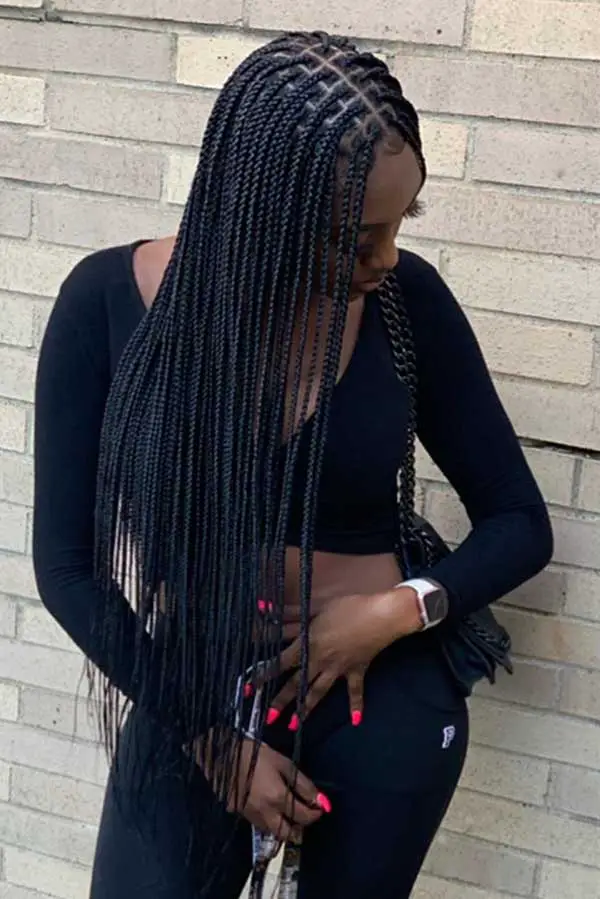 Scanning for a contemporary box braid style? If yes, this is ideal for you. Here we show you long and small box braids with beautiful box parts. The hair is remarkable and it may look so fashionable or edgy based on how you wish to wear it. Attempt this long version or you may try any shorter length too. Both ways, your hair will appear astonishing.
26. Bold and high braided bun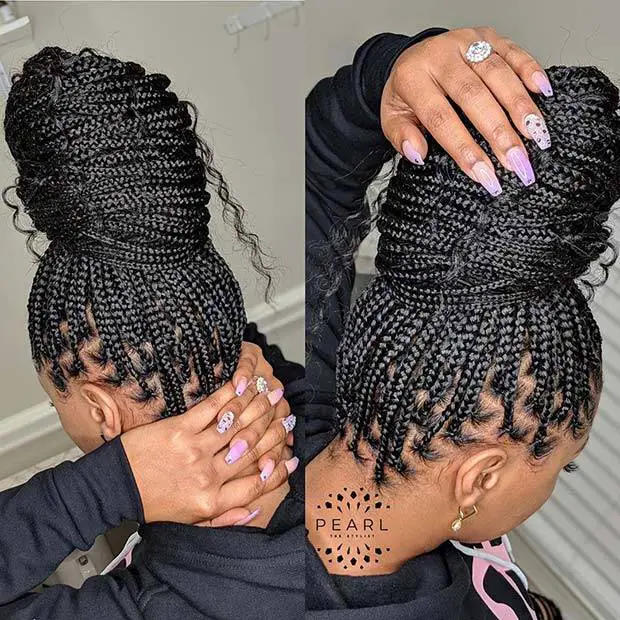 If you want a hairstyle that will wow, then this is perfect for you! These gorgeous box braids have been made into a big sky-high bun. It is a beautiful hair design and it truly forms a statement. Hairdo like this one is excellent for events where you require a glam appearance. This hairdo will certainly wow.
27. Pretty dark blonde braids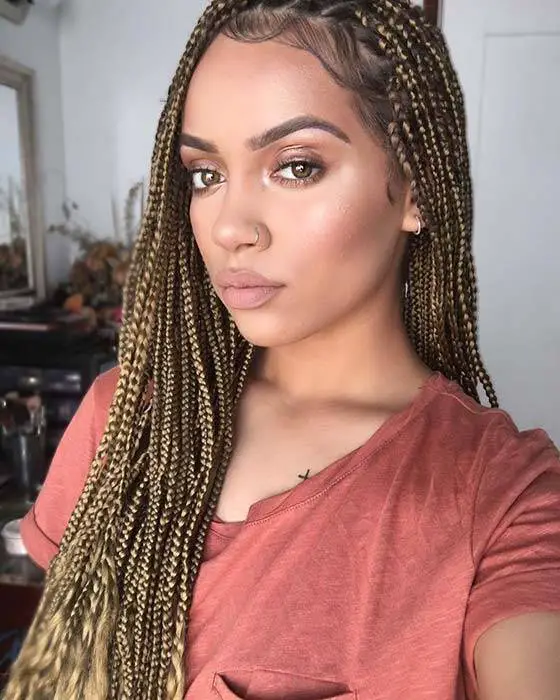 Next, we have lovely blonde shade braids to present to you. These small box braids are long and small. Not only this, but these are in a beautiful blonde shade. This is simply another remarkable and easy-to-wear appearance. Lighter shades like blonde are excellent for the summer period. Recreate the same look or try a distinctive hue of blonde.
28. Super Small box braids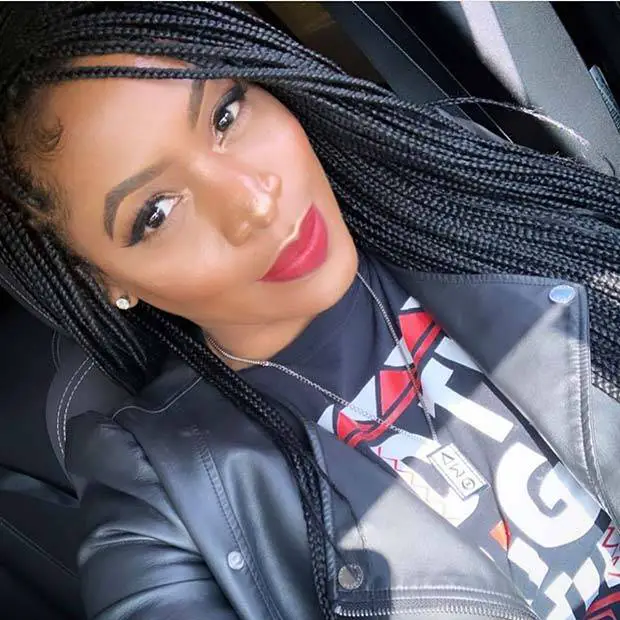 If you like other easy-to-wear and modest hairstyles? You must examine this out. Here we show you long and pretty small box braids. This style is manageable and seems super fashionable. Hairdo like this one will amuse everyone and it can be created again in different dimensions. This style will suit all occasions as you can glam it up or down based on what makeup and outfit you choose to wear.
29. Blonde braids with triangle parts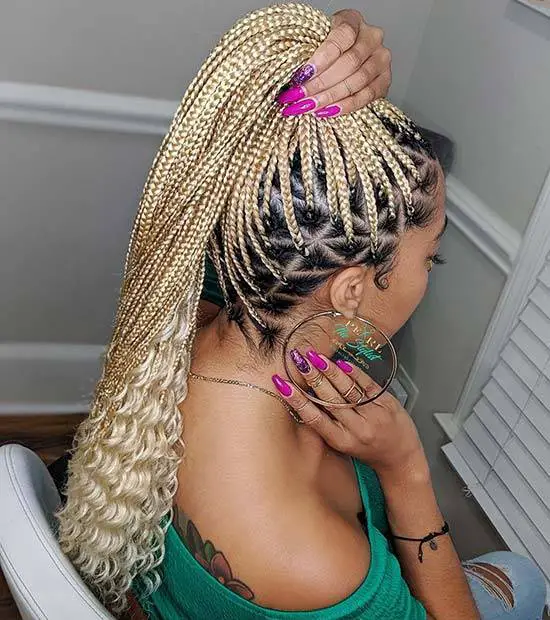 The Triangle parts also seem as cool and stylish as square boxes. Do not simply take our term for it, review out this subsequent look. Here we show you brilliant blonde box braids with these triangle partitions on the scalp. We adore this as there are color variations on the partitions and the shape of this is also bold and fashionable. The wavy edges of these braids appear impressive too. Hair like this one will help you to stand out from the mob in vogue.
30. Dark red small box braids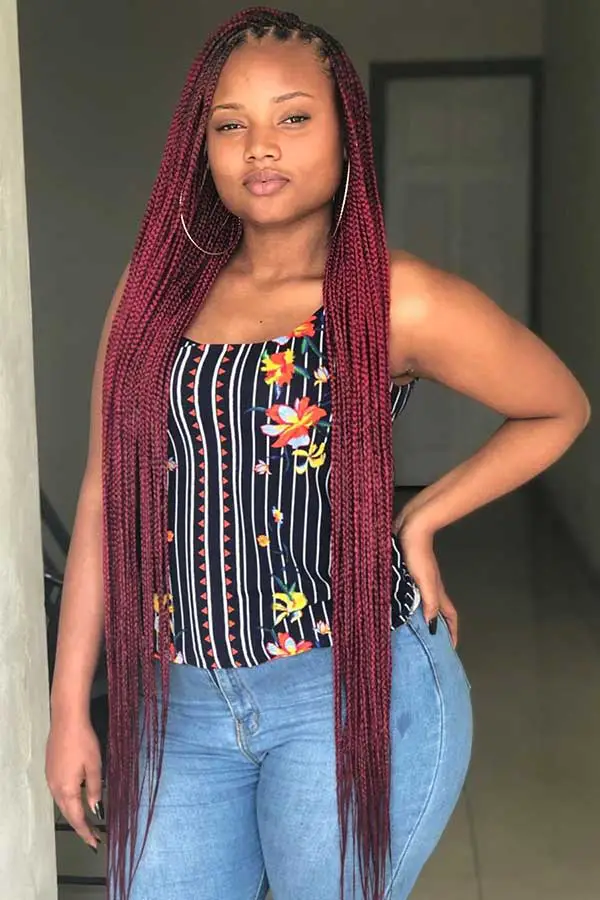 The following hairstyle idea highlights a gorgeous hairstyle with color. For such a look, the hair is done into both long and small box braids. All the braids are also in a dark and gorgeous red color. We adore this darker red as it appears trendy and striking but it is still extremely modest and easy to wear. Recreate a similar look or try a more radiant red for an extra statement-making style.
31. Brown and red braids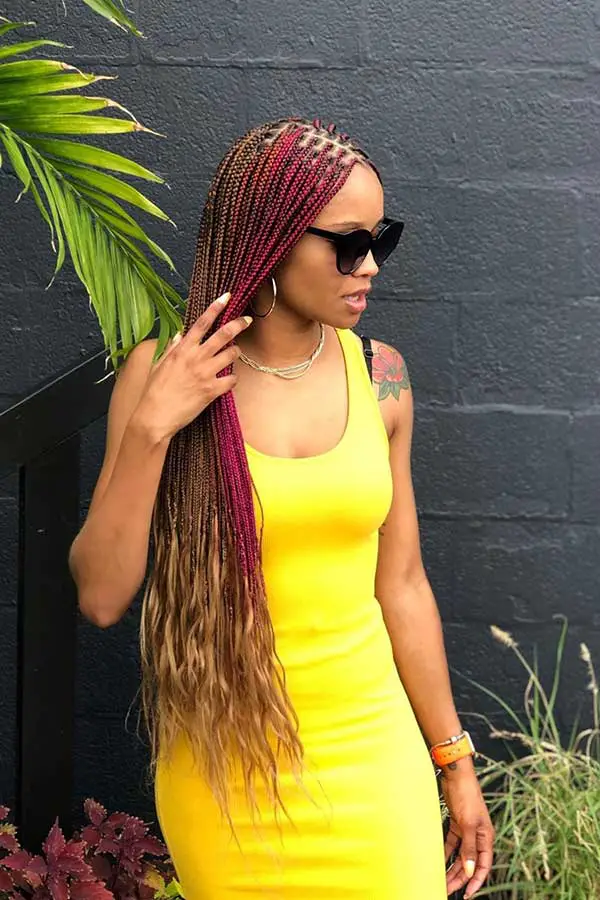 This following hair idea is yet another one of our favorites! The hair is elongated and three distinctive shades have been implemented to do the braids. The red shade is used at the display, accompanied by a coppery orange and then finally a brown shade. It is a beautiful color combination and so unusual too. Hair like this one seems fun, popular and it will seem astounding on everyone.
32. Half bun hairstyle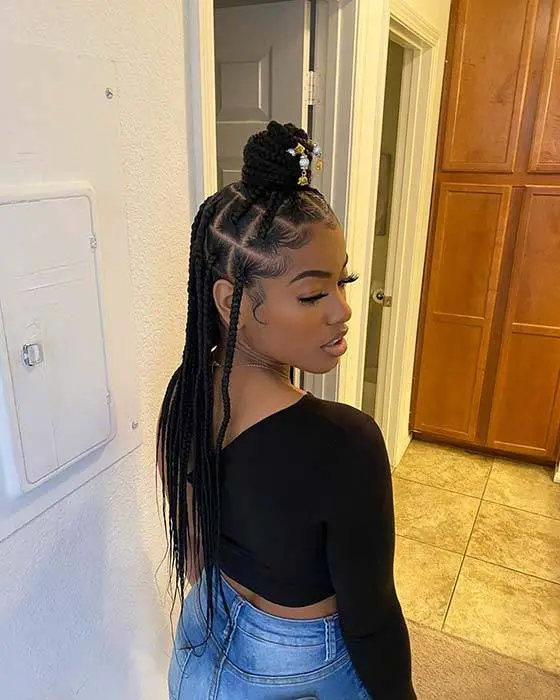 We embrace this coming hairstyle. Here we present to you these long and small box braids with deep box partitions. Half of these braids are toed loosely while the remaining half is tied up to form a cute bun. The little bun also has stylish accessories to glam up the entire look. It is such a fun, trendy, and cute look. Those more extensive box parts look astonishing.
33. Multi-tone micro braids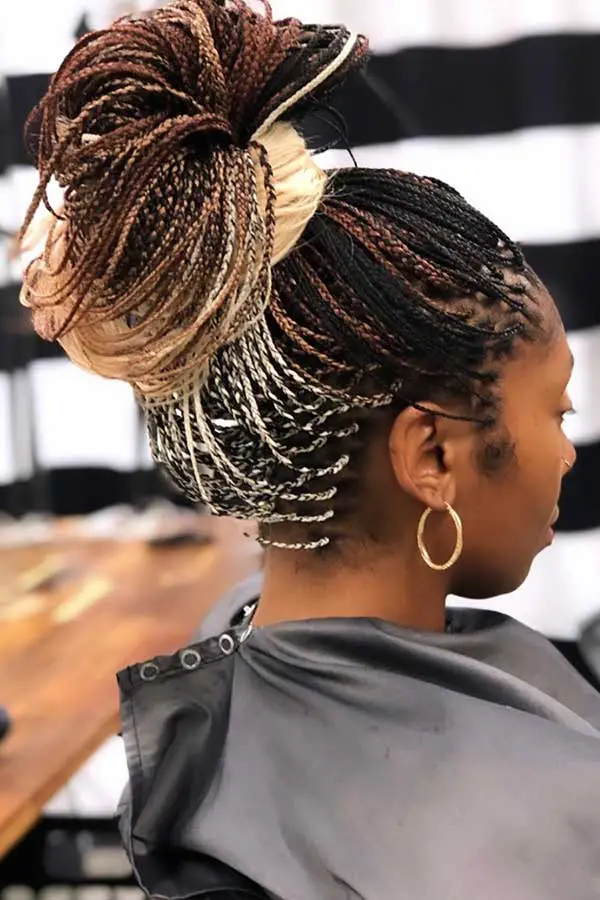 Next, we present to you another one of this multi-tone look. We have these cute micro braids. They are additionally a blend of multiple colors including brown, black, white, and luminous blonde shades. We adore this color combination and believe that it is so pleasant yet bold. This multi-tone appearance is ideal for the summer. Recreate the same look or you may attempt a slightly more thickset braid.
34. Coppery long box braids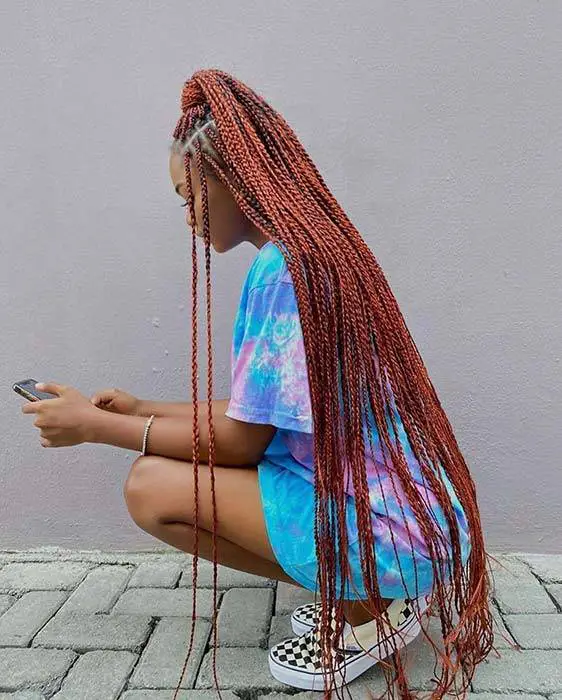 The following hairstyle idea emphasizes long and coppery chains. These hairstyles are exceedingly long, half of the hair is left loose and another half is done into a half ponytail. Both the tone and style are highly trendy and will look marvelous on anyone who aspires to have this one. Try something alike or you may go for a shorter braid length.
35. Cute braided ponytail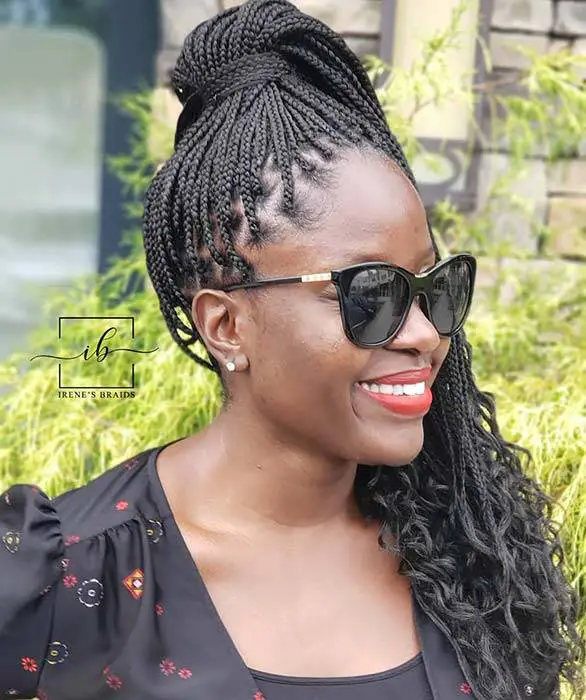 This hairdo is so adorable and it is added to the list of our favorites! Here we show you small box braids that are done into a leading side ponytail. The braids also possess curly ends. It is such a pleasant and stylish hair idea that will be ideal for everyone. A side ponytail is a magnificent look for the summer.
36. Stylish multiple tone braids
Are you in love with the multi-tone braids? If yes, take a glance at this hairstyle. This time we show you a super long small box braid and the leading section has brilliant blonde zigzagged into it. It is such a detailed but bold pattern. You may recreate this blonde look or similarly use a different color. It is an effortless and trendy approach to add a distinctive color to the hair.
37. Simple yet pretty hairstyle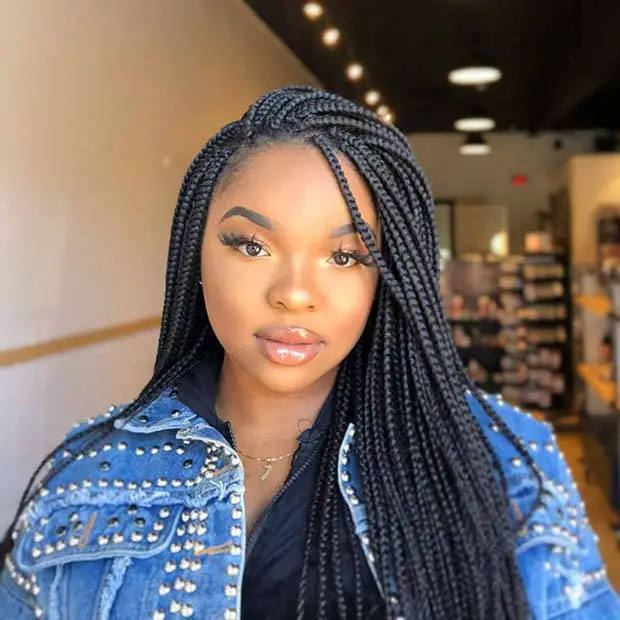 Next up, we have got another one in our simple and pretty hairstyle idea to reveal to you. For this particular look, we hold small box braids that are extended with a side partition. Hair like this seems chic and classy, and the best part is will suit ladies of all ages. Keep it modest like this or you may jazz it up with certain cute hair accessories like shells or cuffs.
38. Easy to wear small box braids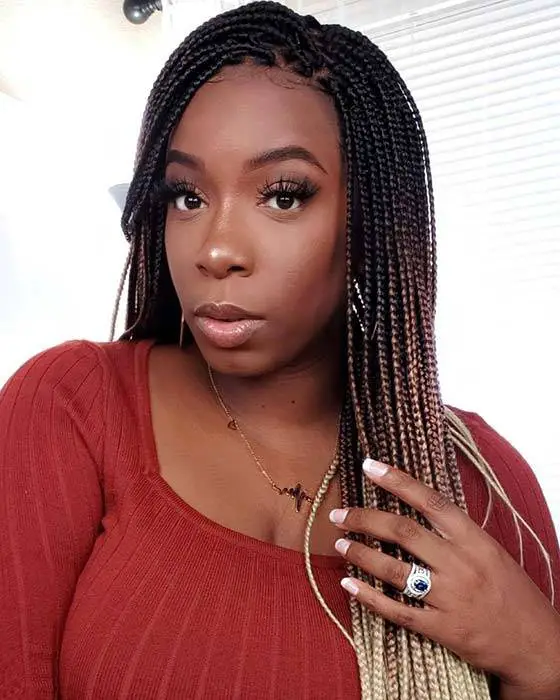 The next hairstyle idea is another one that seems easy to wear. This time the hair seems extended along with small box braids. The braid begins with a black shade, then transforms to a brown, and eventually blends to blonde. We prefer and adore the color combo, it produces a beautiful ombre inclination. A color difference like this is highly satisfied with long braids as it can truly make a declaration.
39. Small box braids into a long ponytail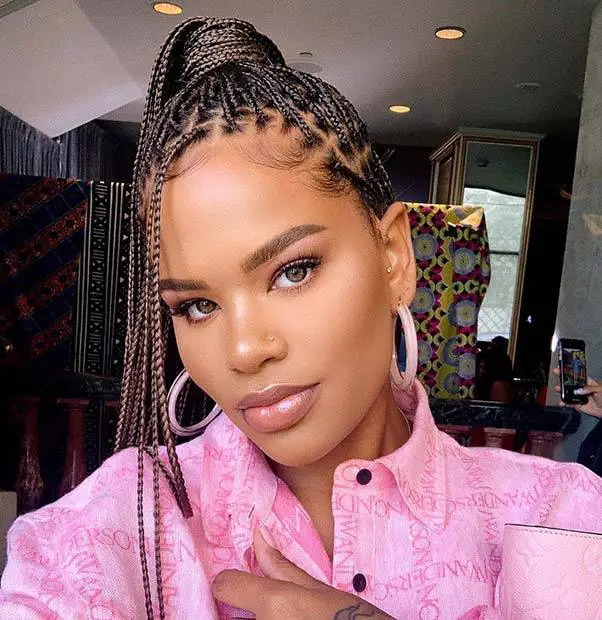 In love with cute ponytails? If Yes, you are required to check this one out. Here we show you a stylish and high popular ponytail. The ponytail shows a wrap-around at the bottom and there are relaxed braids at the beginning. It is simply a cute and delightful hair idea. You may also recreate the same ponytail in any color of your choice. This is yet another style that seems perfect for every summer.
40. Super long box braids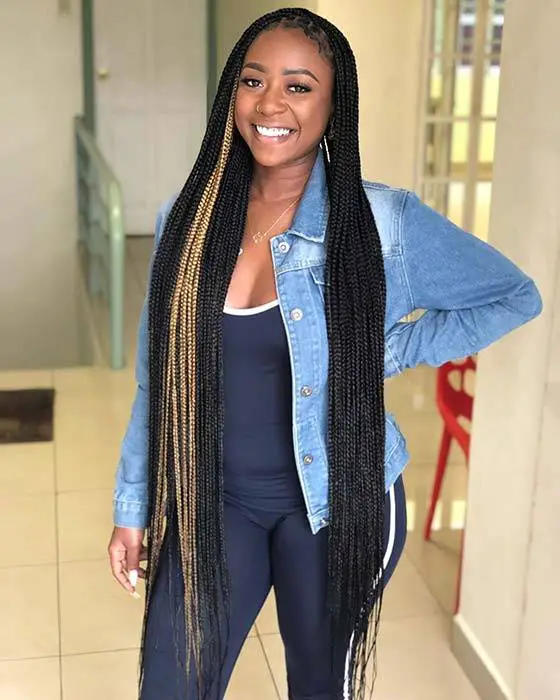 We adore this coming hair idea! This idea emphasizes super long small box braids with a length that reaches down the knees! Also, there are several braids on each side that are in a blonde shade. The length of the braids is astounding and the blonde shade simply makes a remarkable statement. This hairdo is astonishing but you may also try a slightly shorter version if you wish the hair to be more manageable and comfortable to carry everywhere.