Smart Alarm Clock: Start your Day in a Smart Way
The recent modern time asks for smart technology in every sphere of life. The emergence of smartboard, smart TV and other smart devices have provided us the much-needed convenience. These products have made our life easier than ever. One of such smart products is the smart alarm clock. A smart alarm clock is an alarm clock with exceptional features. Think of the ringing of your alarm clock from your bedside and your lights are on automatically!
How Does Smart Alarm Clock Work
Such clocks come with two variations like multi-purpose and one-purpose. The multi-purpose smart alarm clocks are versatile in nature. It serves a wide range of purposes at once. On the other hand, there are other types. These clocks usually are dedicated to one single purpose. They have fewer features than the multi-purpose ones. However, many people prefer to buy less complex alarm clocks. These one-purpose devices are the best for them.
The traditional alarm clock is about just ringing a bell and waking you up. But these technologically advanced smart ones perform other tasks. Some of them help you to control your smartphones, manage your smart home. You can also play your favorite music with some clocks. You can even manage your schedule for the day. Many of these clocks work as smart assistants like Amazon Alexa or Google Assistant.
Now, let's know about some of the best smart alarm clocks available online. We are going to discuss these devices in detail. It will help the readers to choose the best one as per their requirements.
1. Emerson Smartset Alarm Clock
Product Dimension: 6.5 x 3 x 3.5 inches
Weight: 10.6 ounces
Batteries included: Yes
Shape: Rectangular
Customer rating at Amazon: 4/5
Waking up in the morning is not tough anymore. Get Emerson Smartset Alarm Clock Radio at Amazon at the best price. With 1.4″ Blue LED display, you get the perfect visual experience with this smart alarm clock. The clear display soothes your eyes and helps to read the time easily even from a distance.
The alarm clock is quite easy to program. You can manage it the way you want. Whenever you plug it in, this clock automatically programs itself to the current year, month, day, and time. You can sit back and relax; the clock sets the date and time automatically for you. It also shows time after power interuuption
You can easily program it to operate on specific days in the week. Whether it is a reminder for a weekend party, or a wake up call for the busy weekdays, the alarm clock helps you in any way.
FM Radio is also included with this alarm clock. You can program the alarm in a way that it wakes you to your preferred FM tune. With USB ports in it, you can charge your phone, iPad etc.
The Pros:
Large and prominent display
Lightweight
Automatic day and time setting
Easy to program
Simple and compact design
Decent alarm sound
The Cons:
Gradually increasing volume of the radio alarm clock may give a trouble.
2. Echo Spot- Smart Alarm Clock with Alexa
Product Dimension: 4.1" x 3.8" x 3.6" (104 mm x 97 mm x 91 mm)
Colour: Black
Shape: Round
Weight: 419 gram (It may vary as per the manufacturing process)
Audio: In-built speaker, 3.5 mm stereo audio output
Warranty: 1 year limited warranty and service
Amazon rating: 4.5/5
What else do you want when your smart alarm clock comes with a smart appearance and useful features at once? You can easily find Echo Spot smart alarm clock with a superb Alexa voice control feature at Amazon.
The compact 2.5″ smart display makes it visually attractive. This smart alarm clock combined with Alexa features helps you to manage your daily schedule. You can plan your day accordingly and take the help of the device to remind you gently.
With this device, you can enjoy listening to music, audiobooks, and so on. This device comes with technologically advanced features including noise cancellation, four microphones, and so on. With easy voice control for your music, it lets you enjoy your favorite music without any hassle. it can be easily connected with Apple Music, Spotify, Pandora, etc. You can play various other kinds of music via Bluetooth on this device.
Take care of your smart home with this smart device. you can use it to watch every corner of your home through a live camera feed. Sit on your couch and relax while the smart echo spot will do everything for you from turning the fan on to switching the lights off. It works well with various home devices including cameras, thermostats, TVs, etc.
It has fine technical details including a superb front-facing camera, 4 microphone combinations, 3.5 mm audio output, volume buttons to adjust the sounds, etc.
You can easily check weather updates and traffic details of the day. The device has the excellent feature of tracking useful information and send it to you. You can also make video calls with your family, friends with the help of this smart device. However, new features are being added with this device like tracking fitness, playing games, etc. With such a bunch of features, it is considered one of the most useful smart alarm clocks.
The Pros:
Multiple-layer privacy protection
Easy-to-use
Combined with Alexa device
Compact and stylish design
Easy to fit in a room of any size
Personalized collection of clock faces
Easy compatibility with multiple music platforms
The Cons:
The frequent on-screen tutorials of basic Alexa tips may disturb the user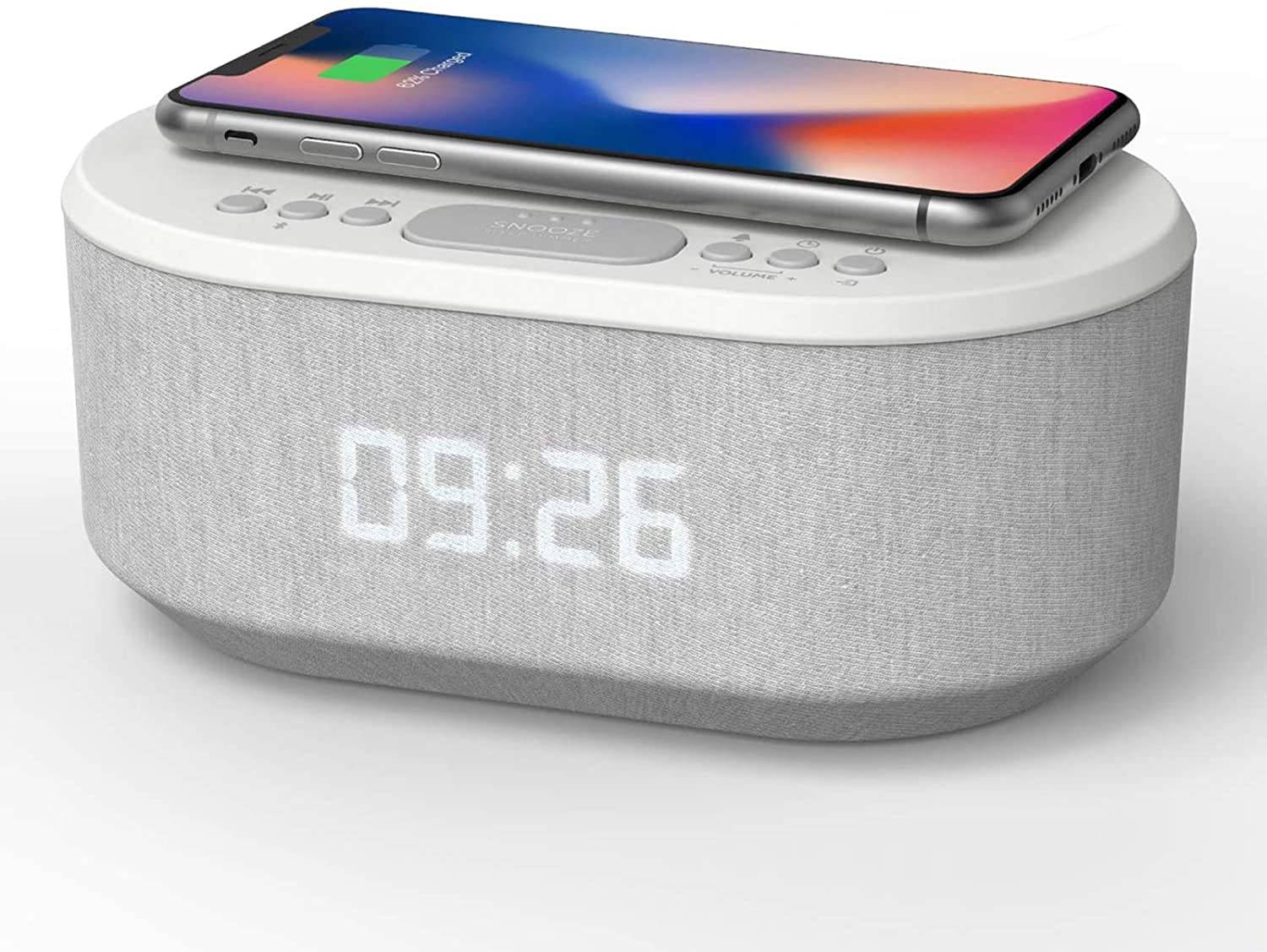 Product dimension: 10.67 x 5.87 x 4.49 inches
Weight: 2.09 pounds
Batteries included: No
Brand: I-Box
With a dual alarm function, this device helps you to set two different wake-up times. From a prolonged, relaxed sleep to a shooting wake-up experience, it provides everything. The perfect brightness of the display helps you to avoid fatigue at night.
When it comes to an alarm sound, it helps you with improved sound performance. You can stream your favorite music wirelessly from Spotify, Apple Music, Pandora, etc. It also lets you tune in to your favorite FM radio station.
The smart alarm clock comes with an exclusive soft-touch top face and fabric wrap surround. You can place it anywhere from the dining room to the kitchen, to the bedroom to the drawing-room. However, this is a perfect all-inclusive smart alarm clock for your bedside table.
The Pros:
Good sound quality with 6W stereo speaker and passive subwoofer
excellent style and functionality
high-quality smart audio product made in UK
12 months warranty and easy return policy
Built-in QI wireless charging pad
Convenient 1A USB port
The Cons:
Setting alarm time is a bit confusing.
4. SZRSTH Alarm Clock for Bedroom
Product dimension: 7.68 x 4.06 x 1.93 inches
Weight: 9.1 ounces
Manufacturer: SZRSTH
Batteries included: Yes. 1 Lithium Polymer batteries.
Customer review: 4.7/5
With a 7.4 large LED Mirror display, this digital alarm clock is considered to be one of the best of its kind. You can get this SZRSTH Smart Alarm Clock at Amazon. The clear display helps you to see the screen from a long distance. you can also use it as a make-up mirror. The mirror is sturdy enough not to get scratch by any chance.
It has enhanced technology of time projection and brightness dimmer. With a soft, red light the alarm clock projects the time on your wall so that you do not get disturbed in your sleep. Also, the clock includes a high-sensitivity sensor. The sensor adjusts the display brightness as per the surrounding. It turns on the night mode if necessary. You can manually set the 3 level brightness as per your convenience.
With a dual clock facility, it is quite useful for the rooms of two people. You can set different times for two different individuals. The snooze button helps to wake you up from your heavy sleep without disturbing your partner.
The radio function includes a wide range of FM radio stations between 76-108 MHz. It also has an auto-off function which can help you to sleep well.
The Pros:
Good battery back-up
Auto dimmer facility is available
Large display for clear visual
Dual alarm setting for convenience
Stylish design with multi-functional features
The projection function is cool and unique
The Cons:
The temperature Control function does not work for some users.
5. Hatch Restore Sunrise Alarm Clock
Product dimension: 3.54 x 7.1 x 8.82 inches
Item weight: 2.1 pounds
Shape: Semi-Circle
Mounting type: Tabletop
Customer reviews: 4.5/5
Manufacturer: Hatch
Uplift your mood with pleasant sounds and soothing lights anytime with this Hatch Sunrise Alarm Clock. Along with multiple unique features, the clock helps you with a customized sleep-wake routine with which you can enjoy a night of sound sleep and stay relaxed.
If you are tired of the usual blue lights of the alarm clock, you must get this device. You can enjoy a pleasant, soft reading light that soothes your eyes like nothing. So, with this smart alarm clock, you do not need to worry about eye bags or dark circles.
You can find relaxing contents that prepare your body and mind for sleep. You can get up in the morning refreshed after a good sleep. You can control the functionalities with soft-touch buttons in the device. Also, you can use multiple companion applications for both iOS and Android.
The Pros:
Smart and sleek design
Create different alarms for different days of the week
Adjustable adapter to plug into any outlet in your home
Free companion Hatch sleep app is available
The Cons:
No battery for backup is available.
FAQs
Can I set multiple alarms in the smart alarm clock?
Yes, you can easily set more than one alarm at your convenience.
How can I set alarms in a smart alarm clock?
Every smart alarm clock comes with specific instructions for setting up. You can find it within the package of the alarm clock.
Does the light from the alarm clock disturb sleep?
Usually, it does not. The lights are mostly designed in such a way that it fills the room with an ambiance perfect for sleep.
Bottom the line
So, here are the best smart alarm clocks for 2021. The article contains all whereabouts of the alarm clocks including the features, pros, and cons. Go through it and find the most suitable one for you. You can find all of them available on Amazon at the best price.