Maternity Photoshoot Stunning And Creative Ideas You Are Looking For
Maternity photoshoot is never getting out of trend, and why will it? After all, it is a moment to be cherished by everyone.
Pregnancy is an amazing time of your life and is entirely filled with giddy anticipation and astonishing changes. No wonder why women are so much fond of documenting this phase of their life.
The ideal time when you should hire a photographer is to schedule a maternity photo shoot is between pregnancy weeks 28 to 32. This time is the best to show off your amazing baby bump.
Maternity photoshoot ideas are hard to create once you are unaware of different ideas or lack creative ideas because the timing is not the only perfect thing that you should keep in mind.
Presenting you some of the most amazing maternity photoshoot ideas that you can replicate gracefully.
Maternity Photoshoot Ideas
1. Find Unusual Backdrops Or Background
An amazing maternity photoshoot will require a stunning background. Without background, it couldn't do much better. The best photoshoots always comprise an amazing background. If you wish to take jaw-dropping pictures of this beautiful journey to reach motherhood, begin with looking for a stunning location to start with.
Your setting is the one to decide your outfits and lighting in the pictures you want to take! The first step involves looking for background, deciding what to wear, and you are good to go.
2. Ask Your Partner To Cooperate In Maternity Photoshoot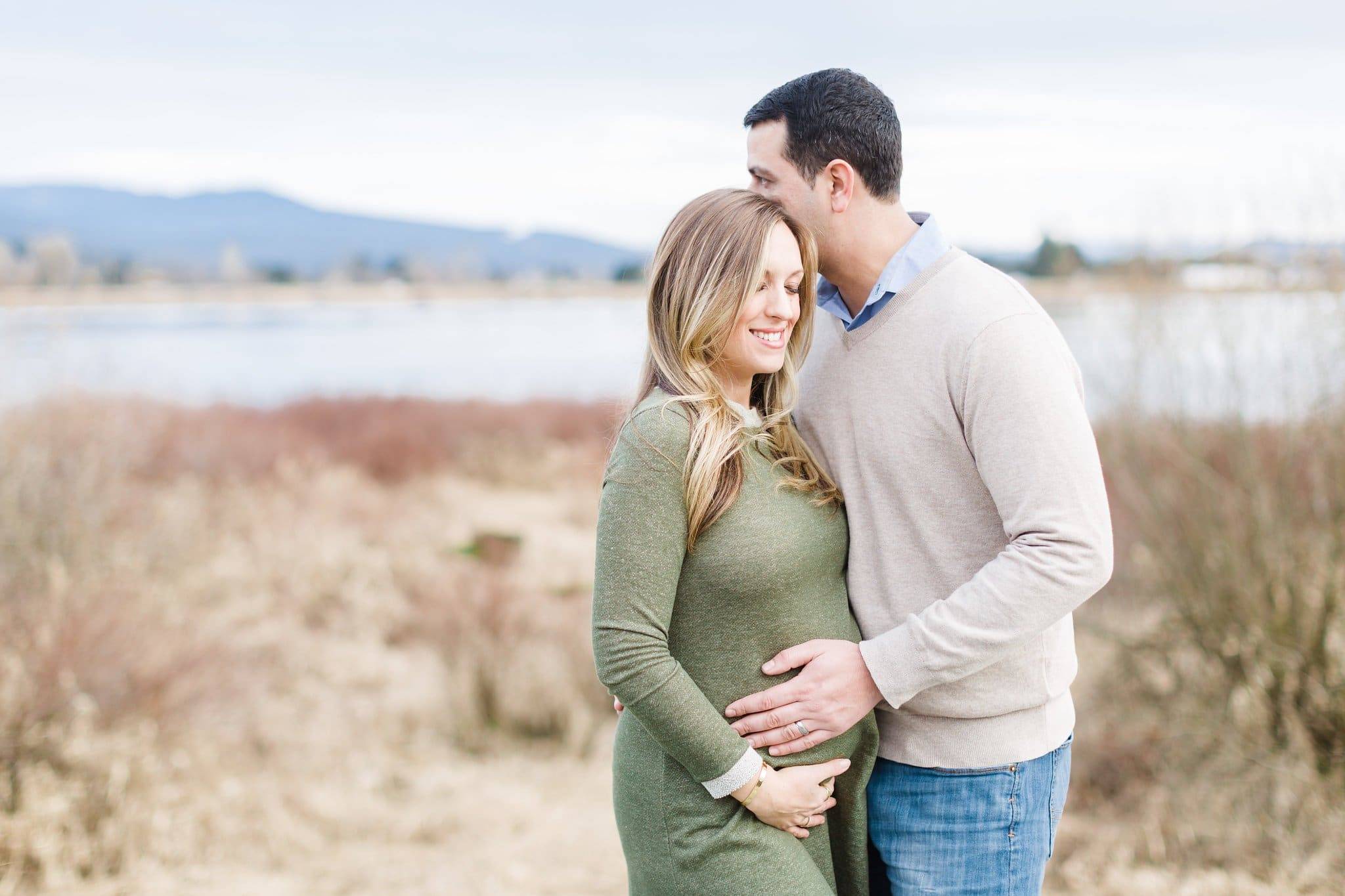 We never realize and talk about it too often but men are as excited about this phase as you are. They love taking care of you and wait for the child as much as you do. You both are preparing for the world of joy that parenthood brings to you. Your parenthood is incomplete without your spouse, similarly, this photoshoot is also not complete without them.
The shared excitement you have for the coming little member will easily show up in these pictures that you are about to cherish life-long.
3. Try Out Various Positions For Maternity Photoshoot
You are not a robot. You do not have to stand still quietly facing the camera. Just a straight pose with your beautiful smile filled with joy is undoubtedly amazing for pictures, but you cannot keep that for all the way. Try out other positions, play with the poses. Just look for props or pieces of furniture you could use to get pictures worth staring at.
Ask your cameraman to change camera angles and click as much as you want.
4. Just Play With Perspective
Some ideas might be common and you are certainly familiar with them, but this one is unique and alluring. If you do not feel comfortable facing the camera and posing too much, the best thing you can do is ask your photographer to use unique perspectives and scales while clicking pictures.
This will not only make you look better, but it will also help you avoid too much attention towards you due to unique twists in the perspective.
5. Get The Right Timing
Timing and lighting together combine can either break the flow of your maternity photoshoot or enhance the pictures beyond imagination. Decide how you want it. It is best to schedule your pregnancy or maternity photoshoot at an optimal time during the day to receive amazing hues and contrast of the light.
If you are a huge fan of sun-kissed pictures, you will understand what we mean. Even photographers love experimenting with "golden hour" while they shoot pictures. Just after the sunrise or shortly after the sun sets, is the best time to receive the most stunning pictures. Wait for capturing the golden hues.
6. Ask For A Close-Up
When the idea of a maternity photoshoot comes to your mind, I am pretty sure most of you have thought about full-length pictures with astonishing backgrounds, but it is not always the best case to click pictures.
I am not at all asking you to avoid full-length pictures, but, it is always safe to snag few close-ups. Later you can decide which photos to keep. Focus on the gestures by your arms and show-off that cute baby bump you love.
7. Your Favorite Candids
It is not necessary to pose hard. Sometimes the best you could do is go with the flow. Candid pictures are definitely our favorites but they are difficult to get. You can look for many ideas from Pinterest on how to pose for candids (Candids are after all not so candid).
Whether you are lounging on your beautiful sofa holding your partner's hand or eating your favorite food, candids are the best. Just enjoy the moment with a spontaneous laugh and you will look no less of a goddess.
8. Sense Of Humour
Pregnancy includes a lot of wild emotions difficult to deal with, why not just roll with changes? Doesn't matter if you are hankering after toothsome cookies or just can't get over the taste of pickles, the crazy all-time cravings for food can be a great idea to take your maternity photoshoot on another level.
Experiment with your sense of humor with your partner along with candid poses, the best you could turn out your photoshoot into.
9. Look For A Beautiful Field
Are you hunting around too long for a beautiful location for your maternity photoshoot? Look no more. The most opted and beautiful location includes open spaces. For example, you can find any open field near your house. The tall, lush grasses of this beautiful fiend will end up making a magnificent background just like a fairytale.
Extra points for your outfits. Find something beautiful with a pair of a tiara on your hair to welcome your prince or princesses. You are the MOTHER to be, which makes you ultimately the queen.
10. Bad weather Ideas? Have A Look
We feel you! At times you cannot decide the weather in advance. It might be the day of your maternity photoshoot and suddenly started raining. At this stage, mood swings are intense and common. Do not put a whole lot of stress on yourself and the baby.
Bad weather or a rainy day can turn out to be the most amazing maternity photoshoot idea. You can get some magical pictures you will fall in love with. Find a window to pose nearby and enjoy the rain. The candid shots will turn out beautiful. Just try them out.
11. Do Not Shy From The Studios
By now you might have decided which idea to go for, or you might have mixed all these ideas to create a blend of beauty. Every idea discussed above includes natural scenes and weather. But, you never know how professional photoshoots in the studios can turn out.
Studio photoshoots are totally a show-stopper. You can ask the photographer to take high-contrast pictures that will suit the background. It is not always vibrant colors that make your photoshoot stand out, sometimes all you need is a black and white filter or pictures that will be worth trying out once you have clicked a photo.
Just have a look at supermodel Gigi Hadid's Studio maternity photoshoot. You will fall in love with how it turns out.
12. Get Your Hands On White Boards
Adding playful elements always work, be it regular photoshoots or maternity photoshoots, Just use a letterboard is enough to add playfulness. These are highly in trend on social media. We can easily figure out why they are so popular, right?
These whiteboards make the cutest way to share a hilarious or cute message that you will enjoy seeing later on. We bet, you have ample things to speak on your pregnancy, just write some and experiment with pictures.
13. Highlight Your Bump
The body of a female is nature's best creation. During birth your body goes through plenty of changes that are easily visible, from your curves to that pregnancy glow, all these changes are quite evident.
You can discuss with the photographer to take pictures from different angles in which you can highlight your baby bump. These incredible curves to achieve are worth showing off ladies!
14. Ask Your Older Kids To Join
If you are a second-time mother-to-be, this list definitely has ideas to incorporate your older kids into the pictures. After all, you and your husband is not the only one who is excited to welcome the new member. Your kids are as excited and sometimes thrilled to know what will happen.
With your kids and husband in it, you can later on frame these pictures into your family portrait wall or gallery.
Isn't it perfect to have all the members together whom you love? Undoubtedly YES!
15. Just Be A Homebody
We know posing for maternity shoots and hiring professional photographers can be highly glamorous and amazing, but if you wish to keep it more intimate and in your zone, the best you could do is sit in the comfortable and cozy environment of your house. It is the perfect location for you.
You definitely go on a roller coaster ride with changing emotions in your pregnancy phase. The best you could do is picturing certain emotions from eh cozy corner of your house to remember them forever. This feeling is rare and needs to be cherished.
16. Why Not Hit The Streets?
We totally understand, curling on the comfy couch is not every women's cup of tea! Do not worry, we have something for you. If you wish to embrace all the industrial feels and vibes you love, You can always hit the streets up. Your city streets have an attached industrial feel.
If you wish to create a Urbanic, chic, and aesthetic look of your pictures, find some textured backdrops such as metal or stamped concrete that appears fabulous.
17. Indulge In Your Most Performed Or Favorite Activities
Favorite activities changes from person to person, you might be a bookworm or a beach lover, does not matter. Just try and include these ideas in your pictures. Just enjoy your most favorite activity and ask to click pictures in that.
This way, you will cherish that memory life-long. Whenever you will perform that activity, you will remember your adorable baby bump that has so many emotions associated with it.
18. Underwater Photoshoot
You might have come across so many pictures that include an underwater theme. Photographing your baby bump beneath the water is a fabulous trend, no wonder why it is so much in trend. The distortions and reflection beneath the water create a professional picture as if you were a model. This is really cool and we highly insist you try this one out, but do not get carried away and take all the safety measures needed for your future baby.
19. Find The Perfect Attire
After a while, your maternity photoshoot might be the best opportunity you can turn out in your favor to don an astonishing attire with splendid looks. Just find outfits you have always wanted to wear but couldn't due to some reasons.
You can wear a hot red tutu, or maybe a ballgown and rock your photoshoot. Make the best out of it. So that you remember it throughout your life.
20. Embrace The Rainbow

Rainbow babies are very special. Consider your maternity photoshoot to give homage to a child that was never born and celebrate your rainbow baby.
You can add a rainbow effect in the background using colored smoke. This turns out to be one of the best maternity photoshoot ideas we can seek for. The striking background is so alluring that you will stare at the picture for long.
Later on, you can frame them and share the story with your rainbow baby.
21. Create A baby Nursery
Another thing you can take full advantage of is a baby nursery. You might have searched for various ideas to create a room for your baby inside the house that appears like a nursery. You can always use that to click pictures.
A gorgeous baby nursery appears splendid in the photoshoots. Take advantage of the props you have gathered for your future baby and make the best out of it.
22. Look For Traditional Garbs
Nothing beats a beautiful, traditional outfit when it comes to a maternity photoshoot. We all know our heritage and lineage are central to our senses of ourselves. It is so meaningful to take pictures in your traditional attire. Your kids can cherish these pictures too and with this you can pull them one step closer to your heritage.
To make it more beautiful try adding vibrant colors in the background or choose a unique background that symbolizes your culture.
23. Celebrate A Themed Costume
No one of us will miss an opportunity for being a princess or queen for a day, right? Your fairytale maternity photoshoot will help you achieve your fantasy. We all have some of the other favorite Disney characters. Mine is Cinderella, what is yours?
Just find the answer and get your costume customized and designed through stores. Flaunt your curves through this costume and rock your photoshoot like a queen.
24. Show Your Love For Artwork
Are you an art lover? If yes! you might be familiar with so many locations in your city that have great artwork and famous for it. Taking pictures near or within these artworks looks fabulous and is a great idea to go for. This creates focus and intrigue.
25. Get In Touch With Mother Nature
Another amazing maternity photoshoot idea. This creates a natural aura and vibes to your pictures. You can seek permission from any local fruit farm and visit it with a professional photographer.
It is an add-on if you find an outfit that complements this aura pretty well. Your natural mama earth essence will look so magnificent that you will never get over these pictures. It is so beautiful to get these framed in large sizes.
26. Enjoy An Amazing Soak
Trendy maternity photoshoot ideas cannot be complete without the addition of a good soak. When you are scrolling through social media, you will come across a lot of people posting pictures with milk baths. It is indeed great.
You can surround the milk bath with beautiful lotus or any rose flowers to make it magical. These delicate petals spread over milk makes the perfect scenario for taking pictures.
27. Go For a team
If you have a friend who is pregnant at the same time as you, you have an opportunity to create the best out of your maternity photoshoots.
Get yourself a pair of similar outfits and give random poses in which you appear similar to your best friend. You will be surprised how amazing it looks at the end.
Don't hesitate to ask your friends to cooperate. Just revel in the excitement and the beauty of having the best phase of your life pictured in the maternity photo shoot.
These were some amazing maternity photoshoot ideas you can replicate to create the best pictures for your gallery and enjoy this phase through pictures life-long.