YouTube Studio is an accessible home for creators. Get every detail of your YouTube channel on the go. You can manage and grow your Channel. You can also interact with your audience, and earn money in the YouTube Studio.
YouTube tries to aid creators' in every best possible way. Well, they've got the plan to facilitate creators. YouTube Studio app is one of the best means that allow creators to outstretch over 1.5 billion people. They keep on improving the Creators Studio. Make it more efficient across users' PC and smart phones as well.
What about the New update? YouTube Creator Studio app is now called "YouTube Studio". A lot of useful updates arriving with it soon.
Product Manager Jacquelle Amankonah Horton clarified:
"Even with the packed schedules, you still find the time to create amazing videos, manage your channel, and engage your communities. At YouTube, it's our job to make lives easier. That's why we designed our mobile app with you in mind."
Horton added that in the upcoming few months YouTube will also be "allowing users to use the creator's hearts and pin comments directly from mobile.
YouTube Studio – Sign In
You can now go straight to the YouTube Studio app or follow these steps to get there:
Sign in to your YouTube channel.
On the top right corner, select your profile picture.
Now select YouTube Studio.
Managing your YouTube channel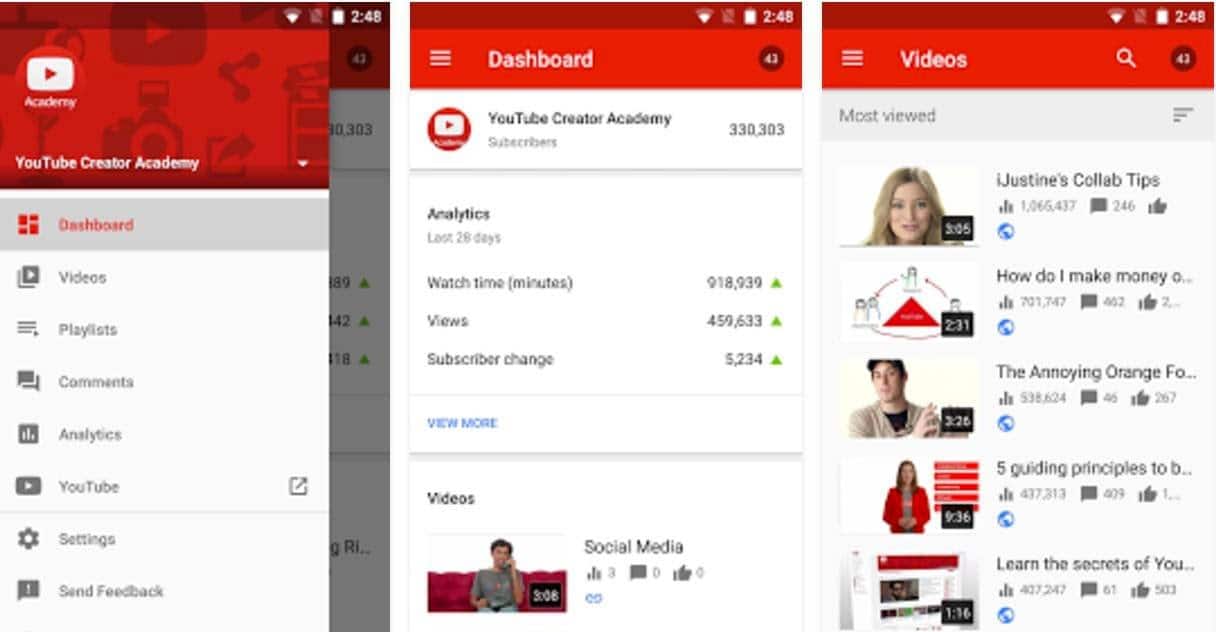 In YouTube Studio, you will see different tabs in the left menu. You can view your entire channel or even a specific video.
Dashboard
Get an overview of the latest activity on your YouTube channel.
Get personalized suggestions, and best practices for your YouTube channel.
Check out how your latest video is performing.
Check out the latest updates from across YouTube.
You can have a brief look at Channel analytics.
You can also see a card of your recent subscribers and top videos of your YouTube channel.
Content
Visualize individual videos.
Edit thumbnails of specific videos.
You can also filter videos.
Edit and Check activities such as likes and dislikes, views, and visibility settings.
Playlists
Add or remove playlists.
Edit your current playlists.
Add or remove videos from a playlist.
Rename your playlists.


Analytics

Get detailed information about your views, watch time, and subscribers.
Check out the organic reach of your videos as well as of your YouTube channel.
Get to know about your engagement and audience.


Copyrights

You can submit a copyright take down request.
Also, you can have look at a copyright claim made on your videos.


Monetization

If you have 1000 subscribers, 4000 public watch hours in the last 12 months then your YouTube channel will be monetized.
You can earn money from your videos and get creator support by monetizing your account.


Customization

Specify a featured video to the top of your YouTube channel.
Edit your brands' or channels' Basic information.
Write a description of your YouTube channel.
Add links or banners.
Add a custom URL for your YouTube channel.


Audio library

Use music from this library and incorporate these music files in your videos.
Filter different sound effects.
Star audio tracks that you would like to access on the go.
New Update
Schedule Your Posts
With the new update of YouTube Studio, creators can schedule their videos from their phones. Creators only have to choose the desired time, date. Also, whether to keep it private, unlisted, or public and there it is, scheduled.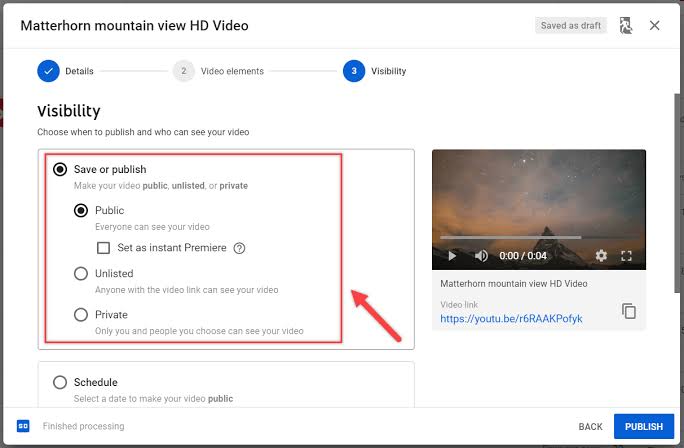 Actionable Insights In YouTube Studio
Creators can now see a distinguished subscriber card. Now it'll appear on the top of the YouTube Studio app dashboard. You can also get suggestions and links on how to grow your YouTube channel and to get skilled up. They added the feature to upload your custom thumbnails straight from the mobile.
Read More
https://support.google.com/youtube/answer/7548152?hl=en
YouTube said that there are many more features coming on creators way within the next few months. They are making the YouTube Studio app way better and creators to be facilitated more.
You might find it interesting
GeForce Now – Cloud Gaming Service By Nvidia
How To Prepare Yourself For The Future I 6 Best And Practical Tips