As the name suggests, raw shea butter is a fat extracted from the nuts of shea trees (Vitellaria Paradoxa). The Shea tree often referred to as the Shi tree, belongs to the Sapotaceae family and is indigenous to Africa. Raw shea butter is unscented and a bit tinted. 
As we all know, shea butter is primarily used to attain a well-nourished skin texture. We have you covered if you are wondering how to use raw shea butter for better skin. This article will teach you how raw shea butter can be used as a skincare supplement, its possible side effects, and many more. So, gear up for a fact-filled read.
Refined Vs. Raw Shea Butter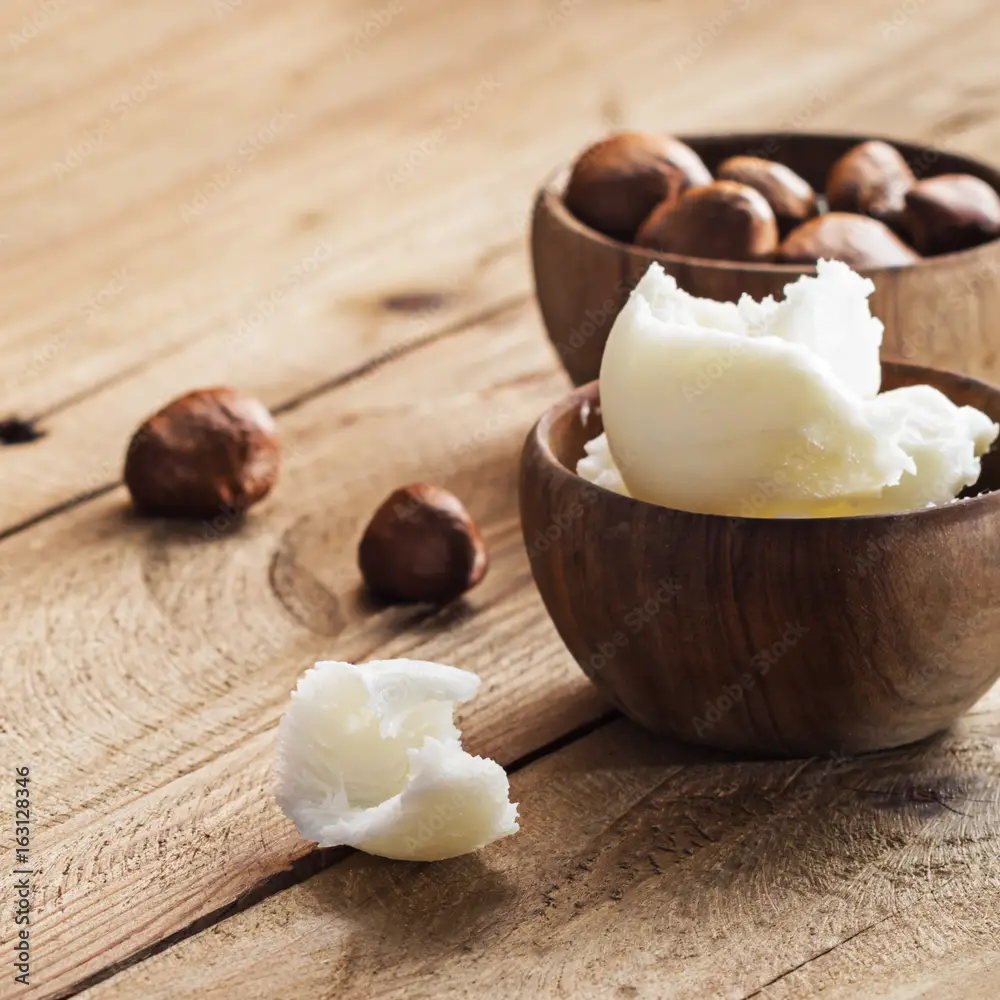 As its name hints, the preparation of refined shea butter involves chemicals and heat. At the same time, raw shea butter is so earthy and is extracted using traditional African methods. So, this is the first and foremost difference between them.
Another major difference is the color. Raw shea butter has a slight ivory hue with an earthy scent. Whereas the refined is completely white and extremely odorless. Raw shea butter contains more vitamins and fatty acids, making it an ideal skincare ingredient.
Benefits of Raw Shea Butter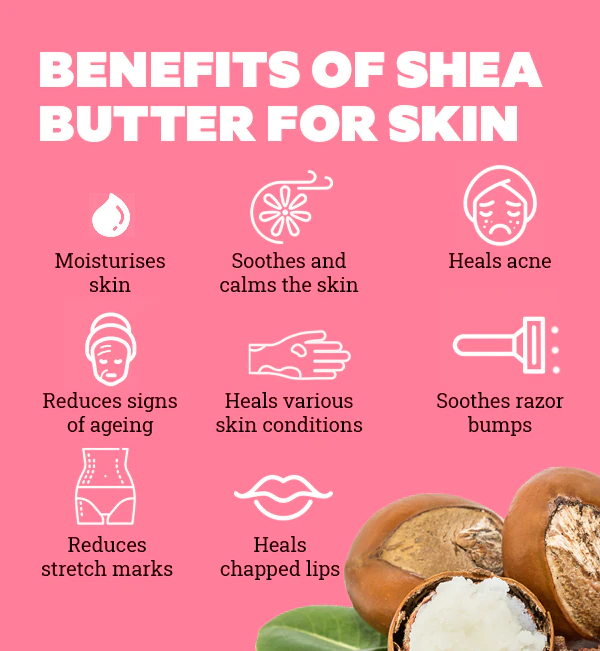 The moisturizing properties:

In terms of moisturizing skin, it can take your skincare game to finer levels. Shea butter is suitable for almost every skin type and is believed to be allergen-free. 
Shea butter is jam-packed with fatty acids like linoleic acid, palmitic acid, oleic acid, and stearic acid. Application of raw shea butter prevents flakiness of the skin, retaining the moisture and the natural oils. So, this is a perfect remedy for adverse skin conditions like eczema, psoriasis, dermatitis, and so on.
Prevents Breakage of Hair:

If you suffer from hair-related issues like dandruff

(atrophic dermatitis), split ends, and so on, it is certainly one of the best solutions available. Also, if your hair isn't voluminous enough, you can opt for shea butter. The raw shea butter adds a coating to hair, giving it a voluminous and fuller look.
Fine Lines and Wrinkles: Raw shea butter is another important benefit of increasing collagen production, which regenerates cells and repairs the skin. It greatly helps reduce fine lines and wrinkles from your skin, making it healthy and lustrous. You can also apply raw shea butter to treat stretch marks and wound scars.
Antibacterial and Antifungal properties:

Researchers say that shea butter, especially the unrefined one, has antibacterial and antifungal properties. The topical application of raw shea butter prevents bacteria and fungi from causing various skin ailments. 

Prevents Acne:

As mentioned before, shea butter retains the oils and moisture, preventing the skin from being acne-prone. The application doesn't make your skin feel all dried out. Also, it is suitable for every skin type. 
Possible Side Effects
Raw shea butter is composed of natural latex. So, people with latex allergies aren't supposed to use it, especially on the face. Even though shea butter prevents acne, it tends to cause acne breakouts for some people.

So, it's always safe to do a patch test beforehand. Just apply some butter to a part of your hand and see how it goes.
You have to avoid it even if you have tree protein allergies. It is full of fatty acids and amino acids. So, chances are high you might develop allergic reactions to it. 

Over application of shea butter on hair makes it look greasy. It's okay to use it after a shower to treat the ends, but using it daily can also cause serious damage. 
Takeaway: DIY Masks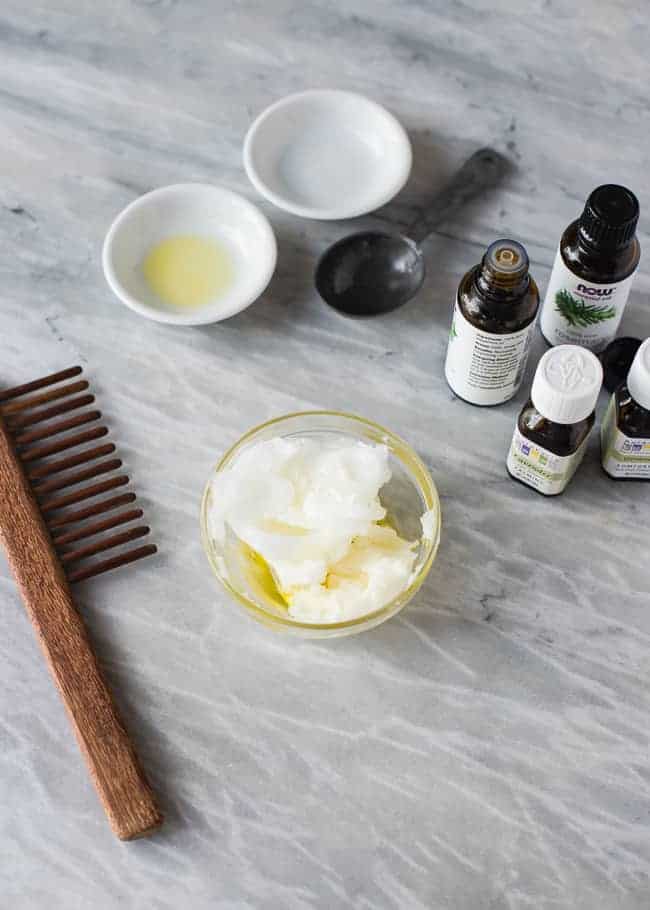 Why go to parlors when you can get smooth skin and silky hair at home? Yes. As a part of this article, we have added a few of the DIY skin, hair, and lip masks, which, on applying regularly, give you promising results. 
For Skin:

Take a bowl and add 2 tablespoons of raw shea butter, 2 teaspoons of sweet almond oil, and one big spoon of aloe vera gel or extract. Mix the ingredients well and gently apply to your face, neck,  legs, and hands. Please wait 15 minutes and rinse them off your face using lukewarm water. Do not forget to apply a mild moisturizer of your choice afterward.

For Hair:

Take 2 to 3 tablespoons of raw shea butter and microwave it for a few seconds until it melts. You can even use the double boiler method. Then add a few drops of Vitamin E oil and onion juice. Using your finger, apply the mixture to your scalp and massage it for a few minutes. After 40 minutes, wash your hair using a gentle shampoo. 

For Lips:

Take a tablespoon of raw shea butter and microwave it. Add a few drops of beetroot extract, rose water, and honey. Mix all the ingredients and apply them to your lips, and massage. After 15 to 20 minutes, rinse them off. Repeat the process at least thrice a week to see visible results. 
Cessation | Raw Shea Butter
Do you know that raw shea butter is consumed in some African countries? Shea butter is non-comedogenic; you can even say it is one of the finest skin ingredients ever. Feel free to share your views on using shea butter as a skincare ingredient. Do follow us to know more about other skincare regimens. 
Frequently Asked Questions | Raw Shea Butter
Is it safe to consume?
Ans: In some parts, raw shea butter is consumed for its benefits. It is low in cholesterol and prevents the risk of heart diseases.
Does it whiten skin?
Ans: Yes, it whitens skin to some extent if used regularly. However, it doesn't change your skin color entirely.
Does it have anti-inflammatory properties?
Ans: Yes. It is anti-inflammatory and minimizes the skin irritation triggered by various factors.