Kinder beauty box is a cruelty-free subscription of skincare and beauty products at an affordable price. Do you want to buy makeup and skincare products tested on animals? You are probably not aware of the cruelty bestowed upon them during the testing procedure, and it's unwatchable.
Beauty is not skin-deep. It is also cruelty-free. Buying products that have hurt animals in the process of making them is not a beautiful decision to make. Most of us do not get into the details of how products are made, but we should. Unknowingly we encourage the sale of products where animals have been treated with scathing cruelty, and we could do good and stop that from happening.
Many such incredible beauty and skincare products like the Kinder beauty box are available that are vegan, organic, without sulfates, parabens, or any harmful chemicals. Many people in the world care about animals and have become vegetarians and vegans for a good cause. Kinder beauty box is kind to animals, and the environment as the products are boxed in an eco-friendly box and cost as much as $25.
Kinder Beauty Box – Founders
Evanna Lynch is a famous actress who starred in the role of Luna in the Harry Potter series. She is also an activist who founded the Kinder beauty box. As a child, the young actor was a fan of the Harry Potter series and would send letters to J.K Rowling. She turned a vegetarian in 2015 because she hated blood from raw meat and has been an animal rights activist since then.
In 2018, Evanna Lynch founded Kinder beauty box, along with American actress, singer Daniella Monet. This beauty box has vegan beauty, haircare, makeup, and skincare curated products. They started the beauty box subscription after finding vegan makeup and beauty products because the jargon is confusing on most of the products. It makes it difficult to tell whether it is a vegan product or not.
The Kinder beauty box includes haircare, skincare, makeup products, and accessories. They have a subscription plan starting from $25 with a 3 and 6 months membership, discounts, and coupons. With this subscription, those who care about 100% cruelty-free and vegan beauty products can have beauty boxed at your doorstep.
Kinder Beauty Box – Subscriptions
The Kinder beauty box comes with numerous monthly and years subscriptions you can choose from. When you choose from these subscriptions, you are sure to get cruelty-free beauty and skincare products packages in a box. Not only do you get cruelty-free but also skincare, haircare, and body care products that do not contain harmful chemicals such as parabens, sulfates, etc.
Everything about the beauty box is eco-friendly. The packaged boxes are made from recyclable materials, the ink is made from soy, and has 5-6 cruelty-free products in each box. They collaborate with brands that are 100% cruelty-free and have no harmful chemicals.
They are shipped for free within the U.S, and international charges of shipping are $5 something. These subscriptions come in a lot of variety and are highly customizable. They do not provide the info card about the products they ship to avoid paper waste. You can find out all the information about the products that come in Kinder boxes online.
Tips to Find The Best Beauty Box For First-Timers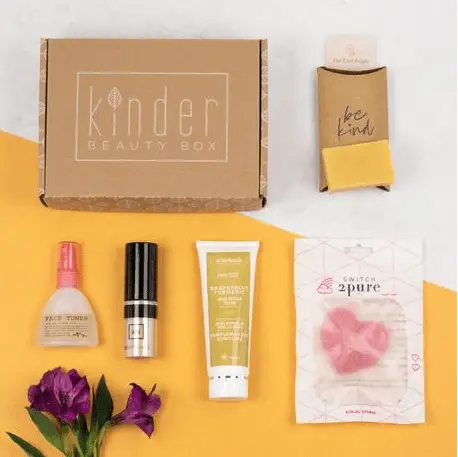 The spring and summer collection boxes are the most versatile boxes to opt for if you are subscribing for the first time.
They have a return and a refund policy if you do not like them
Every monthly subscription box contains products you can choose from, and they are not the same
Products like lip balm, glow cream, roll-on perfumes, eye-creams, etc. are some of the most popular products in the box. They are suitable for all skin types and made from natural ingredients
If you are looking for makeup made with natural ingredients, you can choose from the monthly or yearly subscriptions that have carefully curated makeup products
They are well-scouted and provide a large variety to choose from.
Conclusion
There are numerous cruelty-free and vegan beauty boxes that come at a lesser cost but do not have the variety that you find in the Kinder Beauty Box. Though the subscriptions seem a tad bit more priced, the products boxed are well-curated and sourced from a huge list of cruelty-free and vegan brands of beauty, hair care, makeup, and skincare.