Here's How to stop McAfee pop-ups using 2 simple methods.
Just like most antivirus software solutions, McAfee also displays dozens of pop-ups. Those pop-ups show you all kinds of pop-ups why protecting your device from spyware, malware, and other dangerous files. Whenever the antivirus can detect a threat, it can alert the user through those pop-up notifications. However, sometimes you do want those pop-ups to disturb you; in those cases, you will need to know how to stop McAfee pop-ups.
Usually, the alerts appear in the bottom right part of the screen of your computer to inform you when any security incident happens on your PC. This warning offers you information regarding guidelines, events, and even strategies for addressing those security-related issues. Though you can tweak the settings to some extent, it cannot be much help; hence, you need to know how to stop McAfee pop-ups.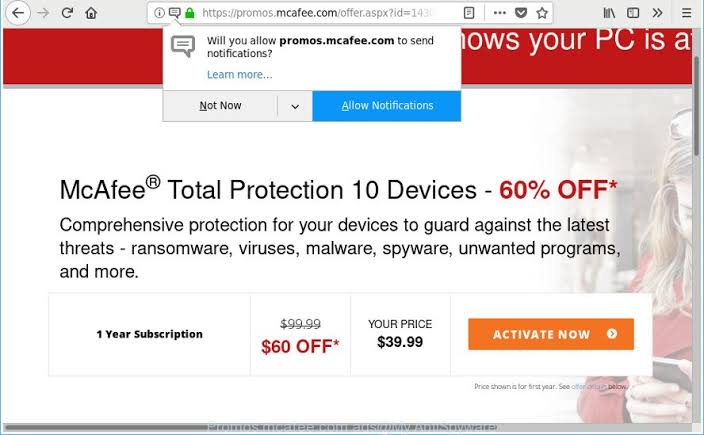 Method 1: How to stop McAfee pop-ups
Active Shield Prompts
You can disable those Active shield pop-ups by turning off all the security warnings in the Security Center of McAfee. You can erase those pop-ups linked to your subscription through the security center. McAfee uses Windows notifications for all its pop-ups, so you can mask all the alerts or notifications from McAfee by modifying the settings of Windows notifications. As alerts are an important part of the defense system of McAfee, you can easily disable them. You can monitor which kind of warning or notification will appear before you and set up some simple alert actions.
If you are using Windows OS, you can control the notifications by making several changes under the screen known as Notifications and Actions. You can either select some specific apps or turn all the notifications off. Thus, you can perform the task of how to stop McAfee pop-ups on your device.
Method 2: How to stop McAfee pop-ups
Disable Alerts
If you wish to keep some alerts and only disable the rest of them, you might find the choices under the software's settings menu. To tweak those settings successfully, you can follow the steps mentioned below:
First of all, you need to load the Dashboard of McAfee.
After that, go to the top-right part of the screen and click on the option Navigation.
Next, you need to click on the option General Settings and Alerts on the next tab.
You have to select the option Informational Alerts and Protection Alerts to manually turn off the pop-ups. For this, you can
Check the boxes to get the alerts
Uncheck those to stop getting unwanted alerts.
Lastly, click OK to save the changes done by you.
Thus, you can easily complete the process of how to stop McAfee pop-ups through these steps.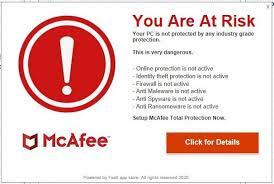 How can you get rid of the browser extensions?
With McAfee, you can get the browser extension that is dedicated and known as McAfee WebAdvisor. This dedicated extension works seamlessly with Mozilla Firefox, Google Chrome, and Internet Explorer. This extension works in real-time and even can monitor your online activities, including giving you warnings about infected downloads and potentially weak passwords. This powerful antivirus can scan your device downloads for malware, regardless of the extension. In addition, extensions can take over the default search engine and set it to the custom one or even another third party. If you wish to become free of this issue, you must disable or even erase the browser extension.
If you are using Google Chrome, you can follow the steps:
First, open your browser (Firefox, IE, Chrome).
After that, click on the settings menu>More Tools>Extensions.
Next, on the Extensions part, choose the McAfee WebAdvisor>Trash.
If you are using Internet Explorer:
Open the settings menu.
Then click on the option Toolbars and Extensions.
Next, on the new tab, choose McAfee WebAdvisor and click on Disable.
If you are working on Firefox, then:
First, open the Menu settings, and click on Add-ons.
After that, on your new tab, select McAfee WebAdvisor and click on the option Disable.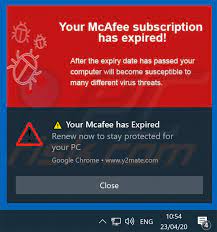 In an alternative way, you can uninstall the extension from the control panel of your device; the steps are:
Go to the option System Settings> Apps and Features on Windows devices.
After that, choose the product and click on the option Uninstall. If required, you should restart the device.
So, these are some alternative methods to stop McAfee pop-ups on your device.
The alternative method of how to stop McAfee pop-ups
Hide Firewall Prompts
McAfee enables the users to customize firewall prompts. McAfee is just an add-on feature for the existing Windows Firewall and doesn't offer any advanced firewall feature. Hence, you can turn it off and only rely on the firewall that is the default one.
You can force notifications for several individual apps when they connect to the Internet. Alternatively, you can turn it off completely and allow the antivirus to work on it. To do this process of how to stop McAfee pop-ups, you can turn off the feature Smart Advice by performing the steps below:
First, Open the dashboard of McAfee.
Then Select the options Home>Manage Security.
After that, click on Web and Email Protection, and then choose Firewall.
Next, click on expand to open the additional settings menu.
Lastly, choose Enable Smart Advice option to permanently stop firewall notifications.
Therefore, these are a few easy methods of how to stop McAfee pop-ups, through which you can prevent those notifications from disturbing you. Thus, if you wish to complete all your tasks without interruption or unimportant pop-ups, you can easily follow the methods of stopping McAfee pop-ups mentioned above before uninstalling the product completely from your computer. Though those pop-ups can be disturbing, still hiding all of them means you may not get some crucial updates as well. So, do not uninstall the feature but make some changes in the Settings, to get important alerts and notifications.
Pop-ups are very disturbing. Most of us do not know that we can stop them. If you are using Avast and want to stop the pop-ups, try this blog on How To Stop Avast Popups – 6 Easy Methods For You.